The Christmas spirit is set to hit Plymouth with a bang this weekend with the official Barbican Christmas Lights Switch-On.
This is a collaborative post
The Plymouth Waterfront Partnership Barbican Christmas Lights Switch-On is always one of the best dates in the city's calendar. And crowds will flock to the area and fill the streets in their thousands if last year's event is anything to go by!
Southside Street will be flooded with festive cheer, and is surely one of the prettiest and most Christmassy sights in the whole of Plymouth at this time of year. The event will also have a Strictly feel to it, with former judge and dance extraordinaire Dame Darcey Bussell DBE helping to flick the switch. No wonder it's set to be the biggest and best yet!
The event, sponsored by JHAV, will take place on Saturday November 18, two days after the city centre lights go on, and promises to be a festive frenzy of fun and excitement. It will feature free activities and entertainment for all ages, followed by the all-important switch-on at around 5.30pm and is one of the biggest events going on this Christmas in Plymouth.
Fun for all the family at the Barbican Christmas Lights Switch-On
This year's festivities will start at 12pm with a variety of family-friendly activities, including Christmas crafts, storytelling and Santa's grotto. There will also be live entertainment from local performers, including choirs, bands, and dance groups, and a 'Santa Paws' inspired dog show run by Gables.
At 5:30pm, the Christmas bus will arrive on Southside Street, carrying Santa Claus, the Lord Mayor, Dame Darcey Bussell DBE, and the nominated community hero who will be switching on the Christmas lights. After the switch-on, Santa will take a trip on the festive bus around the waterfront, spreading his Christmas cheer. So be sure to get a good position to spot him!
Jon Walton, CEO, Plymouth Waterfront Partnership, said: "We are so excited for this year's Barbican Christmas Lights Switch-On – it's going to be the brightest and best yet! We've got miles of brand-new lighting installed ready to add some more sparkle to the Barbican and the waterfront – we can't wait for when Dame Darcey and our nominated Christmas hero hit that light switch next Saturday!"
Children will love the enchanting street performers, elf workshops, crafty delights and Christmas Fairy's Tales, the popular Snow Globe extravaganza, and a Christmas Reindeer trail.
In addition to the main event, there will also be a selection of stalls on The Parade selling festive refreshments and gifts. If you've not started your Christmas shopping yet, now's your chance.
What's On At The Barbican Christmas Lights Switch-On?
So what can you expect from the afternoon of fun? Well, here's what:
Santa Will Be Arriving By Boat
Santa Claus will be arriving at the event in style – on the RNLI Lifeboat. You'll be able to see him reach dry land at the Barbican Landing Stage on Commercial Wharf (not by Cap'n Jaspers like in previous years, so don't get caught out). He'll also be serenaded during his arrival by Plymouth Soundhouse Brass Band who will be playing from 4pm.
Strictly Star Switching Lights On
Dame Darcey Bussell DBE will be switching on the Christmas lights along with this year's chosen community hero. If you want to see the actual switch-on, be on Southside Street ready for 5.30pm to start the countdown.
Festive Bus Parade Around Plymouth's Waterfront
Once the lights are on, you'll be able to Spot Santa as he's driven along the waterfront with other special guests on a festive bus parade. So if you can't face the crowds, head further along the waterfront to give him a wave. You'll be sure to see him.
Live Entertainment By Local Groups
There will be live music and entertainment from local choirs, bands and dance groups performing on The Parade and Southside Street. Groups performing on The Parade will include SA Singing & Acting (12pm), The Groovement Project (12.30pm), Gracenotes Acapella (1pm), Natasha's Bollywood Dance School (1.30pm), Sounds Musical Theatre Company (2pm), SJ Performing Arts (3pm), Devon Theatre Arts (4pm) and Plymouth Performing Arts Academy (4.30pm).
Then in the Santa Bus performance area there will be Mayflower A Cappella Chorus (12pm), Plymouth Ukulele Band (12.30pm), University of Plymouth Student Choir (2pm), Stevie Little Jays (2.30pm), Italia Conti (3.30pm), Stevie Jay (4pm), and Cat Rose & Jon Fazal (4.30pm). On Southside Street, you'll be able to catch Mayflower A Cappella Chorus (1pm), Gracenotes Acapella (2pm) and University of Plymouth Student Choir (3pm).
Santa's Grotto
Children will be in for a festive treat when they visit Santa in his grotto. Booking is essential and slots are available from 12pm to 4.30pm. Book your slot here.
Street performers are always popular at the Barbican Christmas Lights Switch-On
The Barbican Lights Switch-On is renowned for its amazing Christmassy street performers and stilt walkers getting crowds into the festive spirit. There will be lots of acts to look out for including Vinny the magician, the dazzling Roller Skaters, and the Barbican Theatre eels floating around. And keep an eye out for the mischievous Grinch and delightful Martha Mae. They make some great photo opportunities!
Elf Circus Workshops
If your kids fancy learning some new skills, they can take part in the Elf Circus Workshops. Enchantment and magic is promised at the Higher Beings Elf Circus Workshops on Southside Street near Harbourside. The Elves bring the equipment and will give your children a magical experience.
Christmas Fairy's Tales For Little Ones
The Maritime Inn is hosting Christmas storytelling sessions as part of the Barbican Lights Switch-on event. Little ones can gather round for the heartwarming Christmas Fairy's Tales and a hot chocolate at 1pm, 2pm, 3pm, and 4pm.
Christmas Craft Delights
Do your little ones love a bit of arts and crafts? If so, then head to the Barbican Theatre for some free Christmas craft workshops. They'll be able to make some memorable festive keepsakes whilst unleashing their creativity. And whilst you're there, they can also have their faces painted.
Snow Globe Extravaganza
And if they're still not worn out with all this fun, kids will love the Snow Globe. Located on The Parade, it's an enclosed bouncy castle for all the family to enjoy.
Barbican Christmas Lights Switch-On Dog Show
There's no need to let your furry friend miss out on all the festive fun either. Gables dogs and cats home are running the Gables Dog Show from 2pm to 3.30pm on West Pier. Show off your Christmassy canines for just £2 per dog, with all proceeds going to Gables. Registration is on the day.
Reindeer Trail
If all of the above isn't enough fun for you, then why not take part in the Reindeer Trail? You can help Santa find his team of reindeers by collecting a sheet from the Tourist Information Centre and follow the trail to find individual reindeer in the shop windows. Once you've found the whole team, head back to the Tourist Information Centre to collect a Christmas treat. But don't panic if you don't find them all – the trail starts as part of the Barbican Christmas Lights Switch-On but will run until December 21.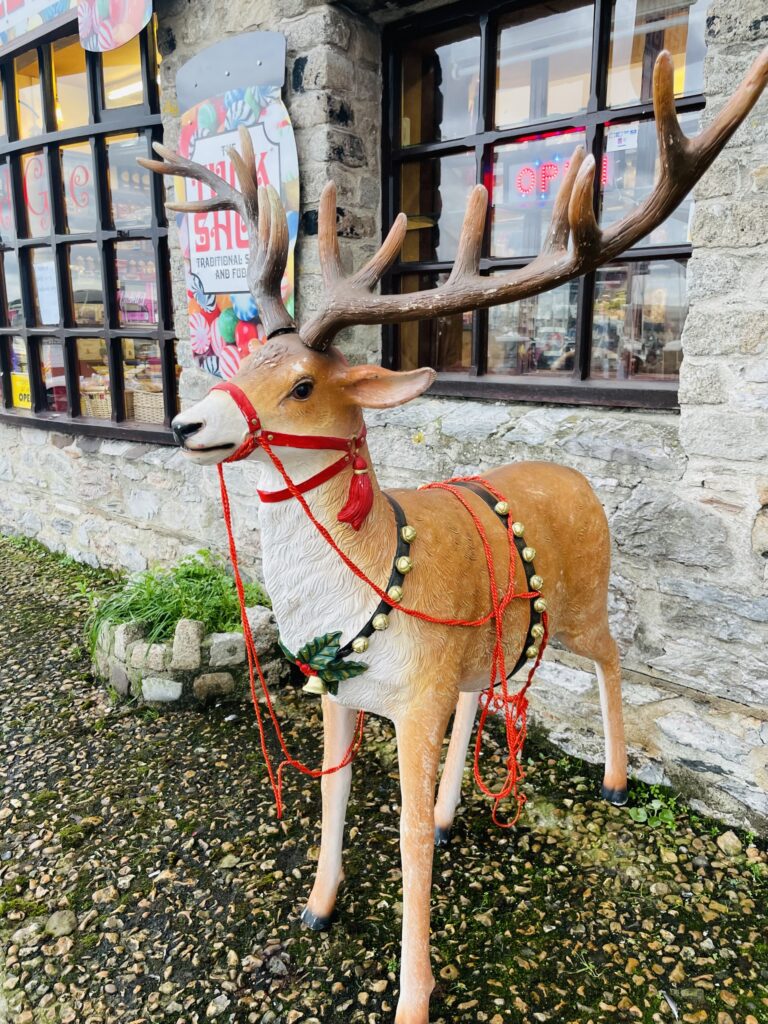 Santa at the Royal William Yard
Santa is also putting in not one but two guest appearances at Royal William Yard on Saturday, as part of his tour of Plymouth's coastline for the Barbican Christmas Lights Switch-On.
Setting sail from the RNLI station at 4:20pm, Santa's boat will make a stop at Royal William Yard Marina, greet guests, and then set sail again for the Barbican. You can catch him again a little later at the Yard's main gates, when he returns by bus at 6:10pm. Why not make an evening of it; stop for a tasty meal, a hot chocolate, or a warming mulled wine for adults!
So there you have it, SO much going on this Saturday. If you want to take in all the activities before it gets hectic, then head there early, as once it gets close to the big moment, the streets will be rammed with festive cheer. It's safe to say the Barbican Christmas Lights Switch-On is the perfect way to get into the Christmas spirit.
How did I do?
Did you enjoy this post? Then you definitely need to have a read of my massive Christmas in Plymouth 2023 guide. Then keep an eye out for the latest Local Stuff here. And why not check out some of these:
Or if you're after some more Christmassy content, then how about these blogposts?
You should check out the 'usual' type of stuff I write. Honest, relatable rants about parenting three boys. With a touch of swearing and a lot of sarcasm. You'll like it! Check out my Mum Life section or head to my Travel Section for some UK family holiday and days out inspiration.
If you like a bit of social media madness, pop over to my Facebook page where you'll be able to have a laugh at what ridiculousness goes on in my house with three boys on a daily basis. Warning – there is often sarcasm, and usually swearing. There are also great travel reviews and the odd giveaway. Feel free to join my Twins, Tantrums and Cold Coffee – Shits and Giggles Parenting Group too, where everyone shares their hilarious stories.
If you like what you see, how about you check me out on Pinterest, Instagram, Twitter, Threads and TikTok too.
And if you want to work with me, feel free to give me a shout at helen@twinstantrumsandcoldcoffee.com and I'll get back to you.