Whether it's your first year of venturing into the whole thing, or you're an experienced veteran, you'll need a few things up your sleeve – so here are LOADS of Elf on the Shelf ideas.
Some people keep it simple, some people go to town, but if you're planning to go for it this year there are some great Elf on the Shelf ideas here.
My fellow bloggers and followers have helped me out with some brilliant pictures of what they get up to with their Elf on the Shelf.
Elf on the Shelf ideas your kids will love
I'M A CELEBRITY, GET ME OUT OF HERE!
CLING FILMING SHOES UNDER THE TREE
SNOWBALL FIGHT WITH POM POMS
DIGGING IN THE CEREAL BOWL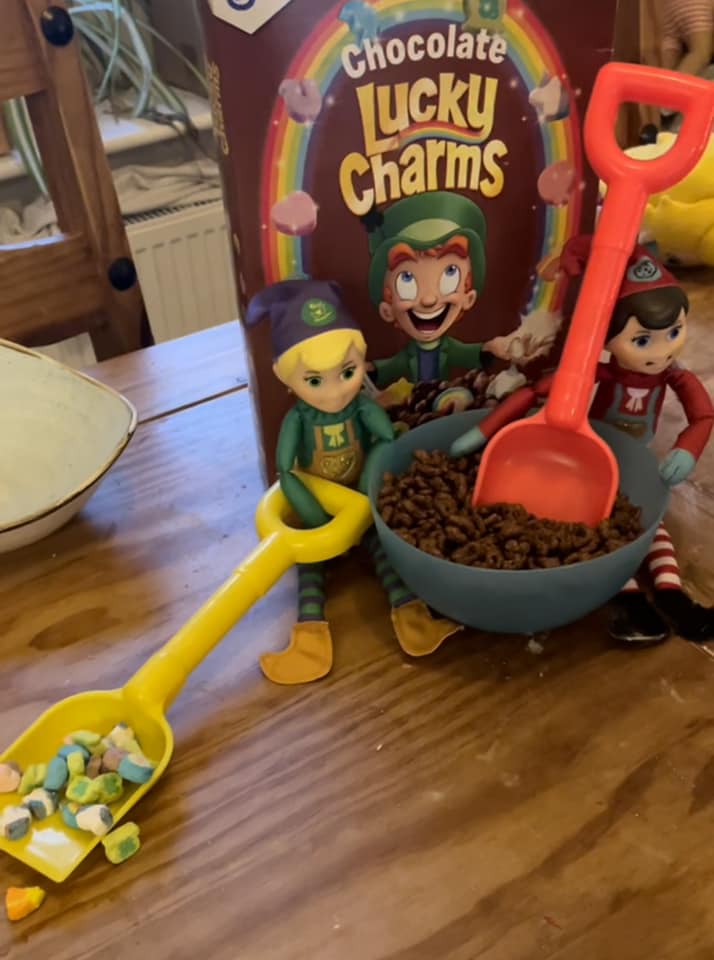 GETTING HANDY WITH THEIR TOOLS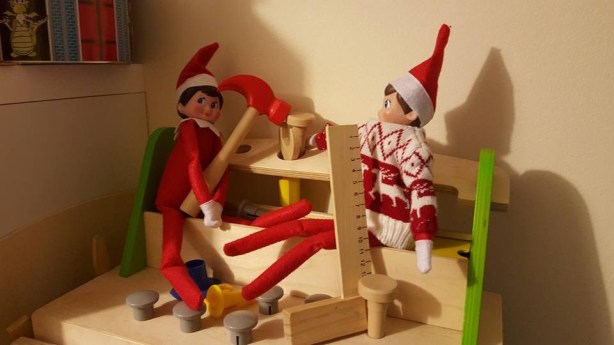 BEING HELD HOSTAGE ON THE CEILING FAN
GETTING ARTY WITH THE BANANAS
SNOW ANGELS WITH FLOUR OR ICING SUGAR
JUST HANGING AROUND ON A ROPE SWING
FRIDGE RAIDER!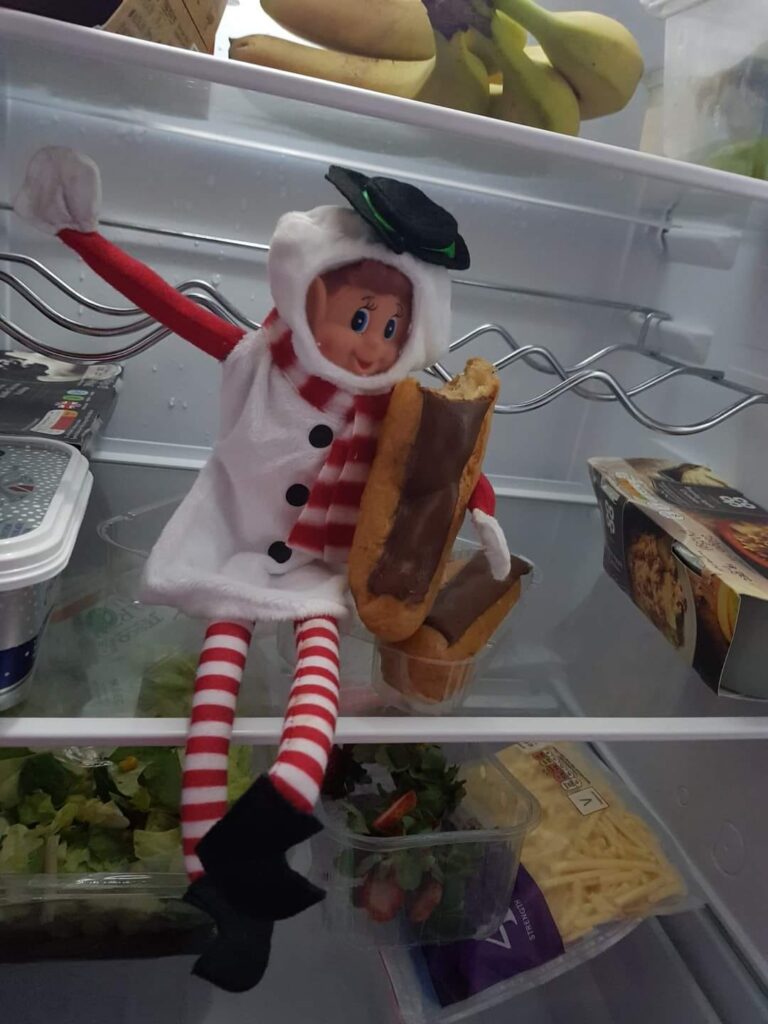 GAME OF TWISTER ANYONE?
COOKING A FRY UP
ENJOYING SOME QUIET READING WITH TED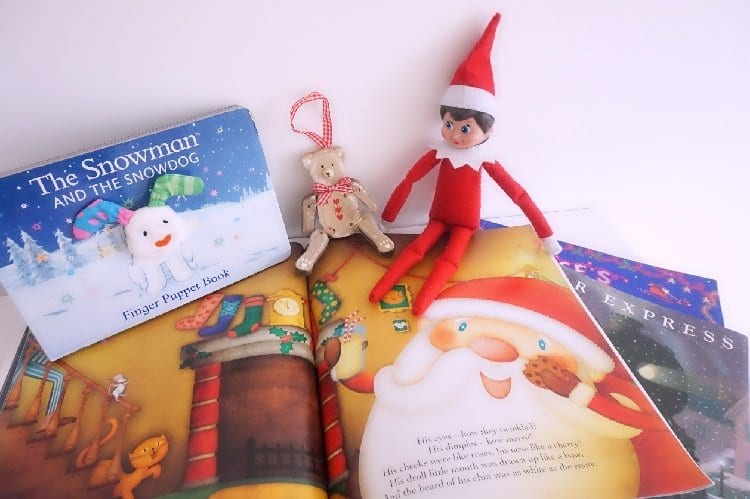 ARRIVING AT THE HOUSE BY HIDING IN THE TREE
GETTING UP TO MISCHIEF WITH FATHER CHRISTMAS AND A LOO ROLL
HAVING A CHRISTMAS SING SONG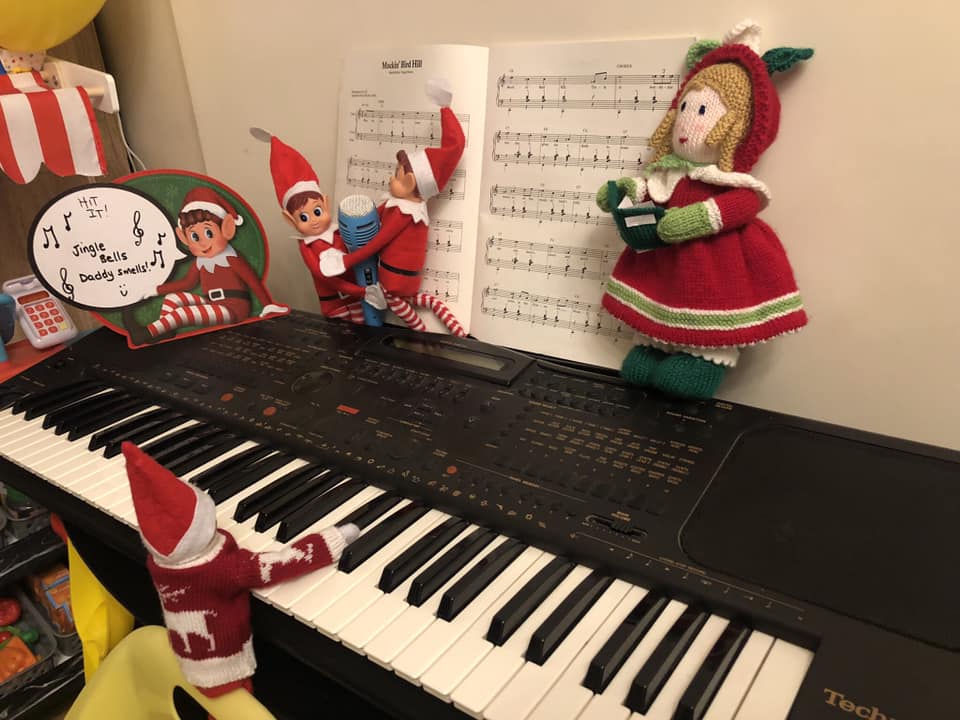 MAKING FRUIT FACES
BATH TIME!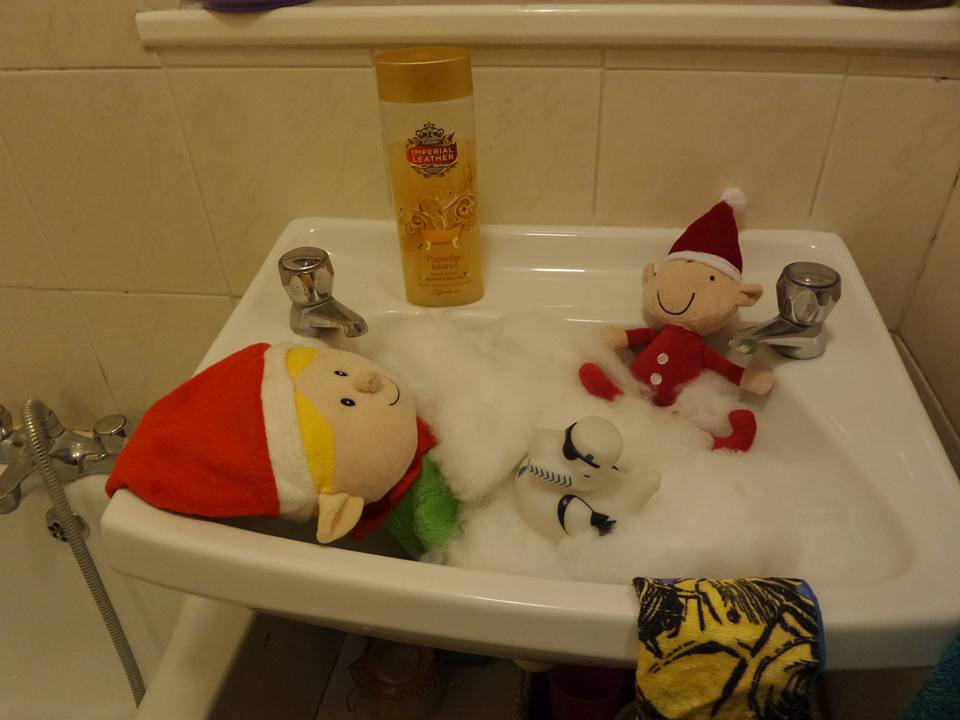 FUN WITH BARBIE (AND NOT KEN!)
DRAWING FACES ON THE EGGS IN THE FRIDGE
FUN WITH THE PRINTER
CAUGHT IN THE ACT WITH THE NUTELLA JAR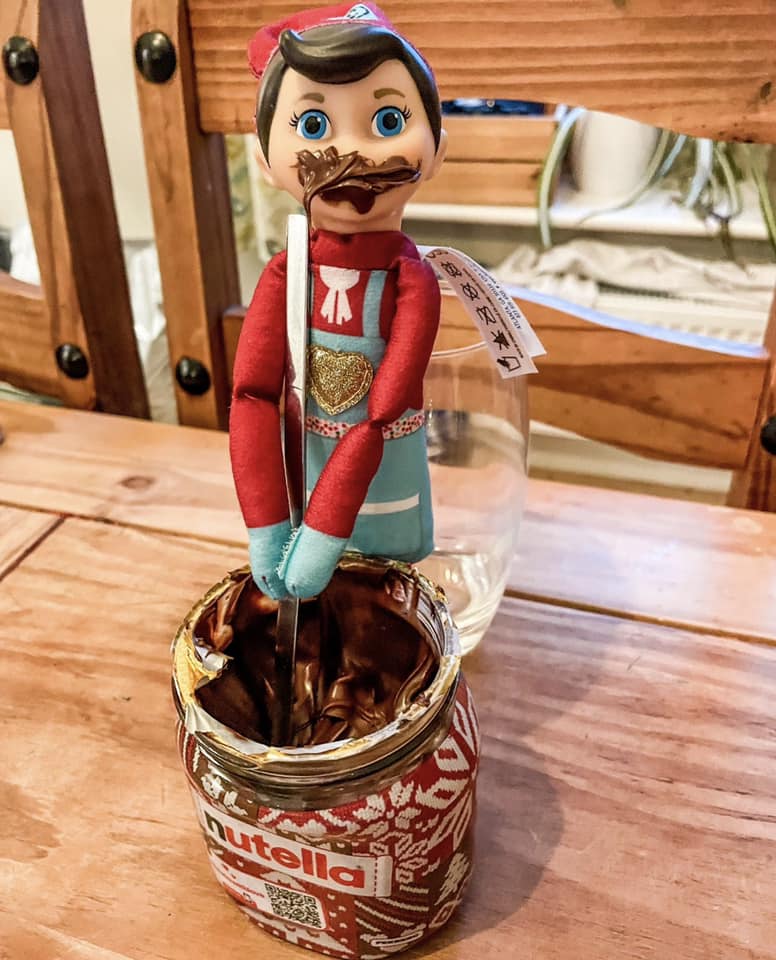 More fab ideas for Elf on the Shelf
COUNTING DOWN TO CHRISTMAS IN ICING SUGAR
ELF PINATA FUN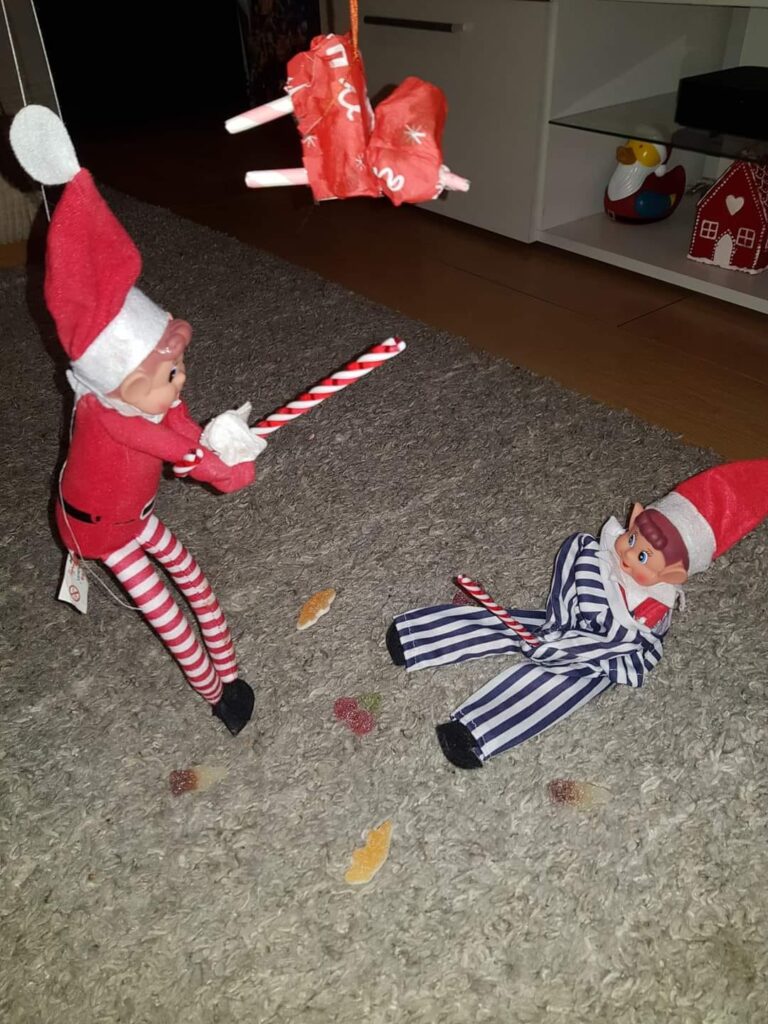 LIGHTSABER FIGHT WITH DARTH VADER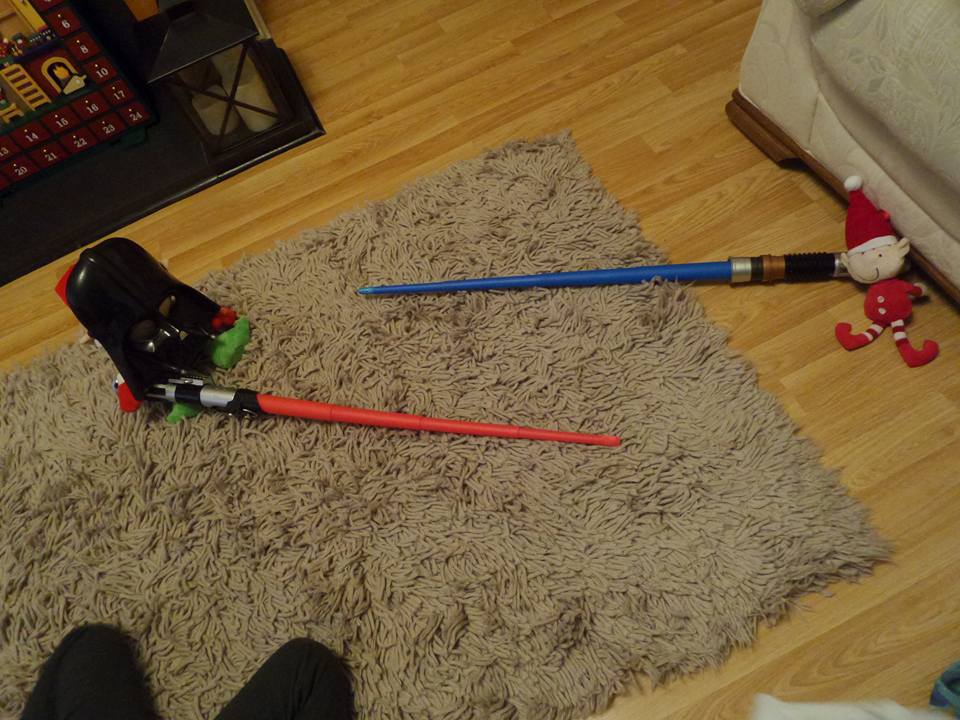 POTTY TIME!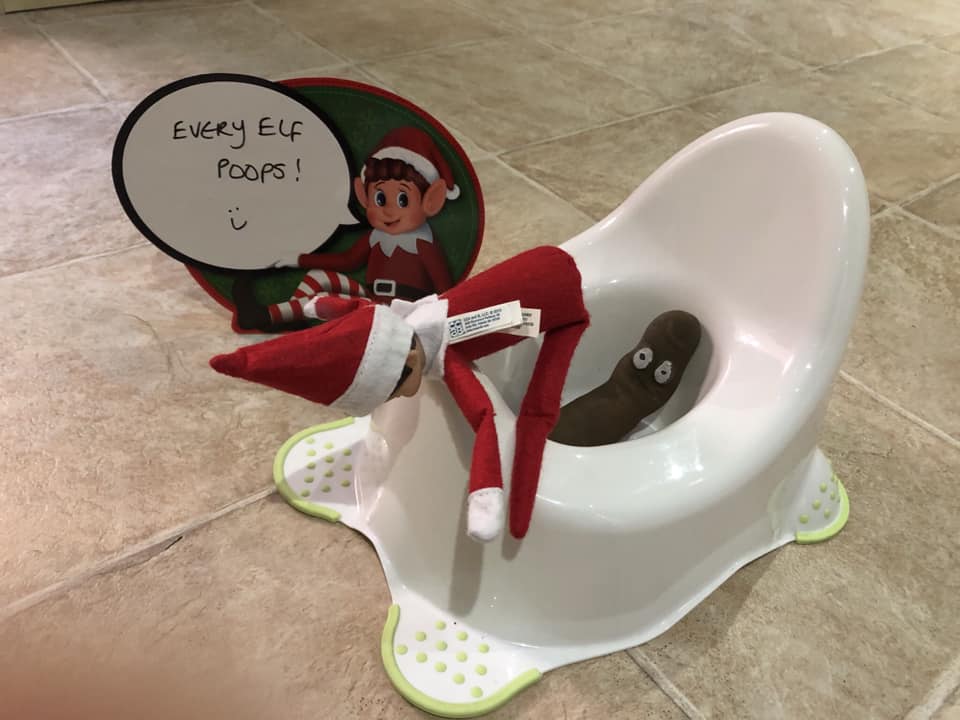 SNOW ANGEL IN SPRINKLES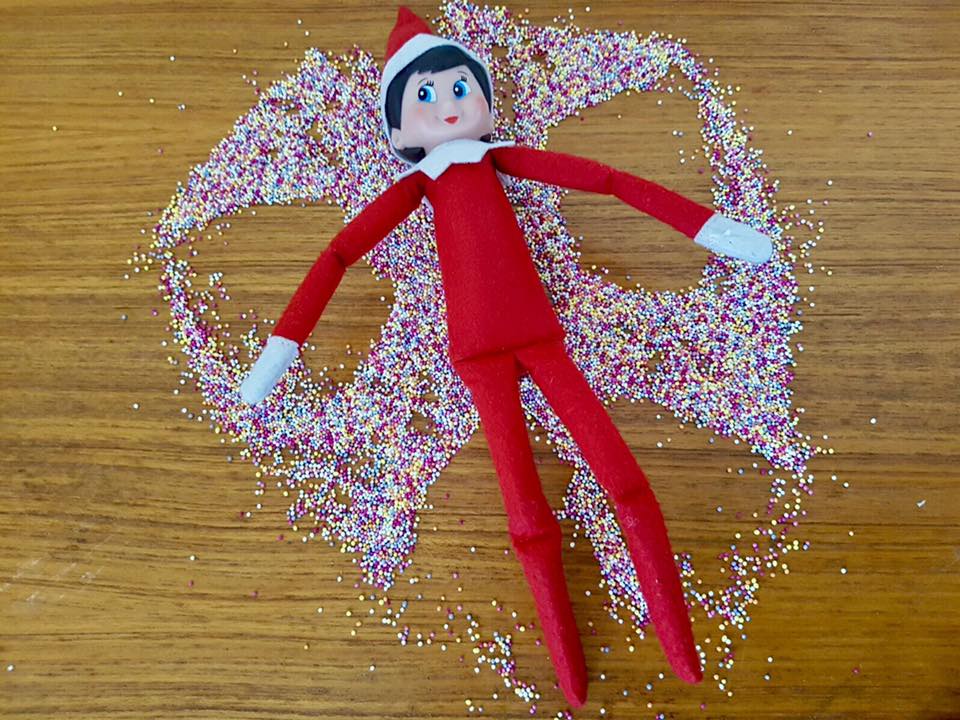 MAKING A MESS BAKING
SUPERMARKET SHELF FUN!
TGIF! WEEKEND PROSECCO AND GIN DRINKING WITH BARBIE
CAPTURED BY STORM TROOPERS
S'ELF ISOLATION AREA
RAIDING THE FRIDGE!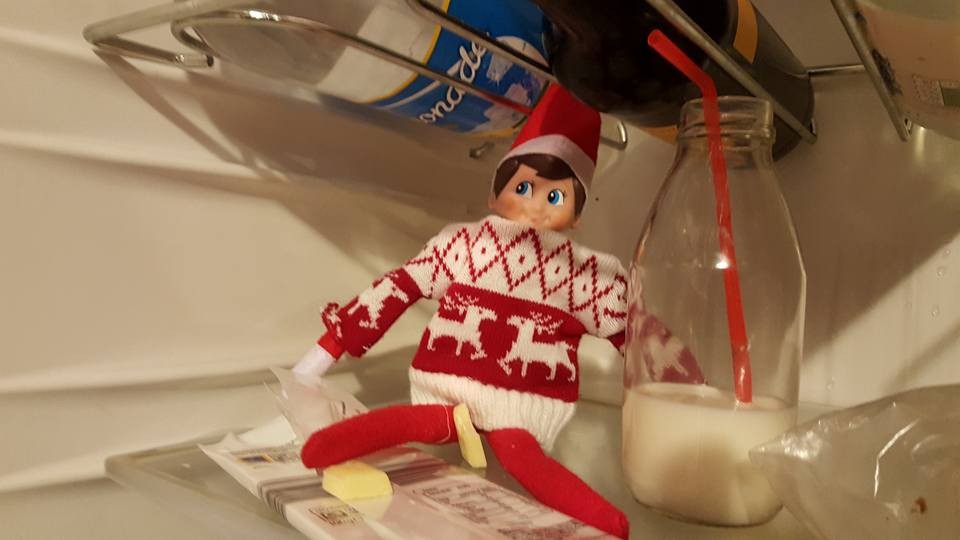 PLAYING DOMINOS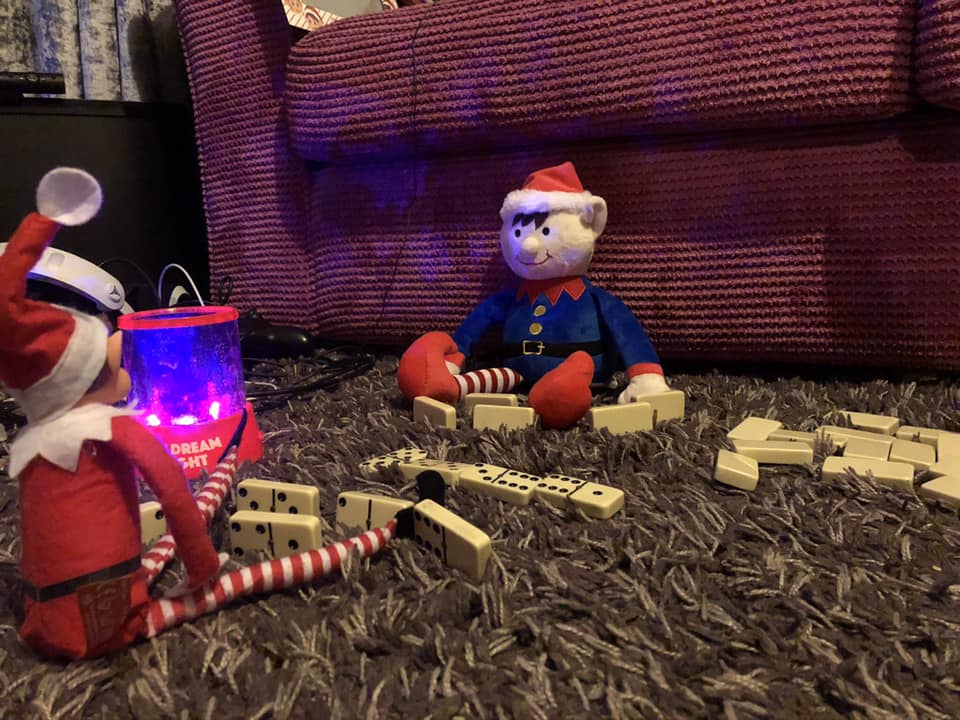 NORTH POLE BREAKFAST
GRAFFITI ON THE MIRROR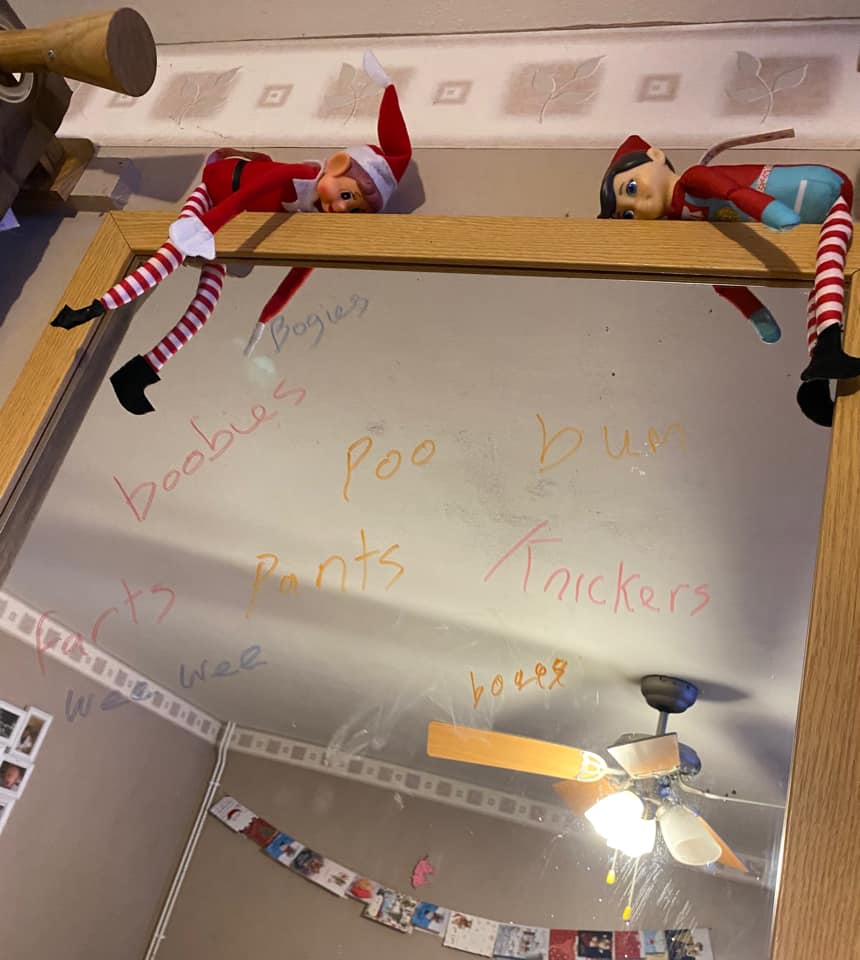 GRATING THE POOR SNOWMAN!
CHEEKILY DRINKING AND SMOKING ON THE SHELF WITH YOUR MATES
SEX EDUCATION LESSONS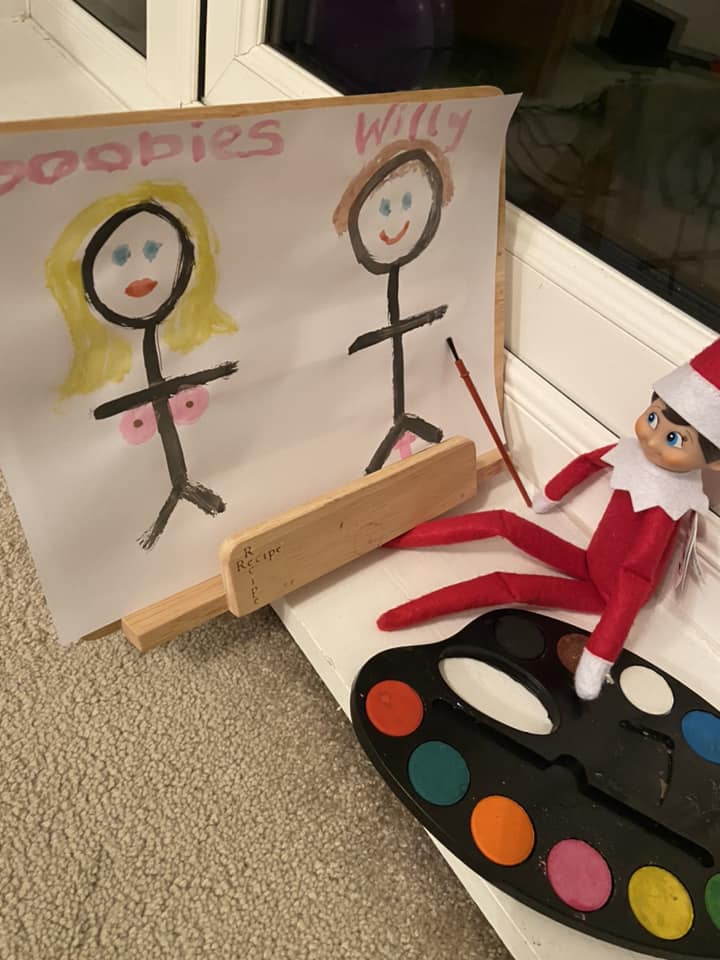 HIDING IN THE FRUIT BOWL
CANDY CANES AND MILK FOR BREAKFAST
HIDING IN THE WASHING MACHINE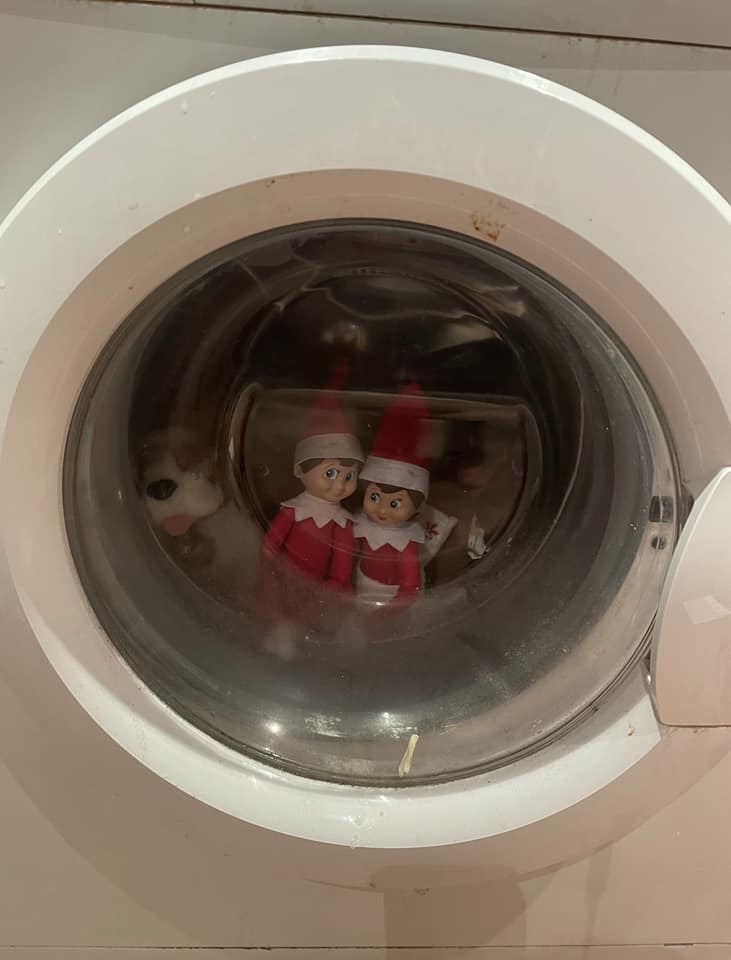 SPA DAY IN THE HOT TUB
WRITING A FEW CHRISTMAS CARDS
HIDING IN THE CHRISTMAS TREE
MORE 'I'M AN ELF GE ME OUT OF HERE!'
SKIING THROUGH ICING SUGAR
KICKING BACK WITH A DRINK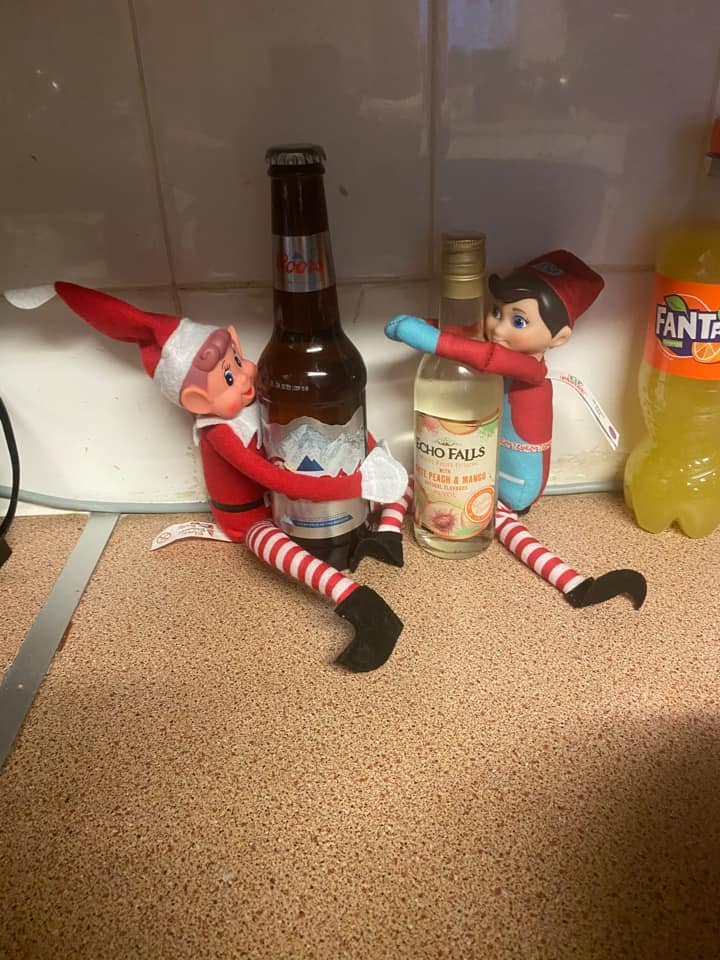 DELIVERING THE CHRISTMAS EVE BOX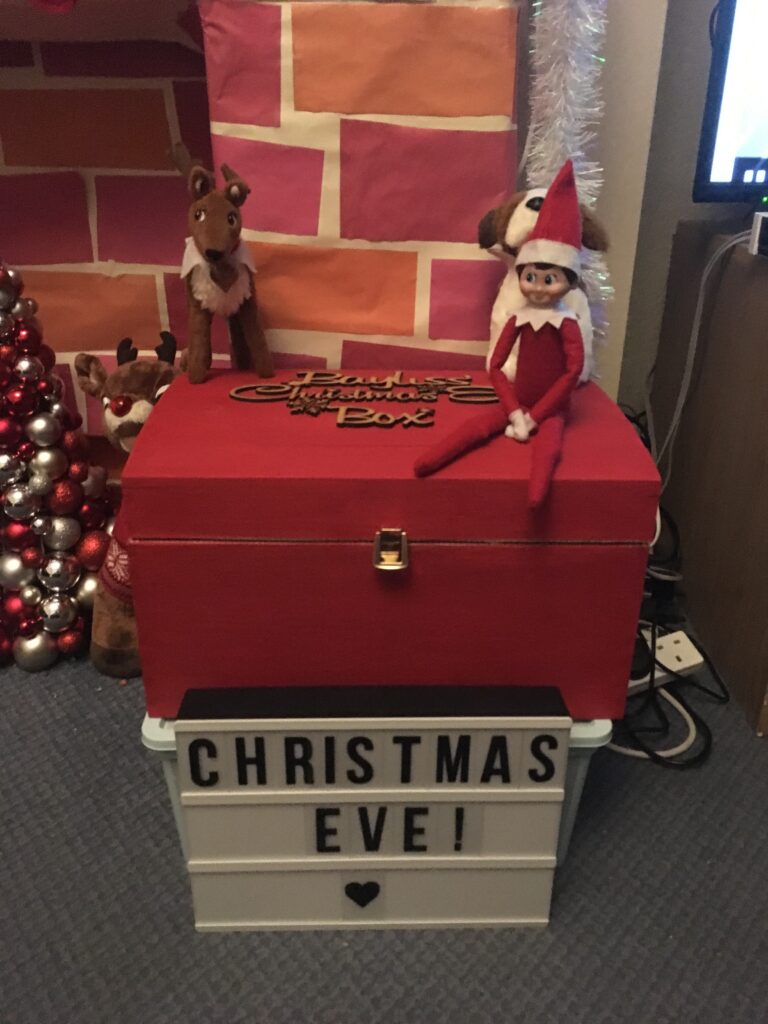 MORE CHRISTMAS EVE FUN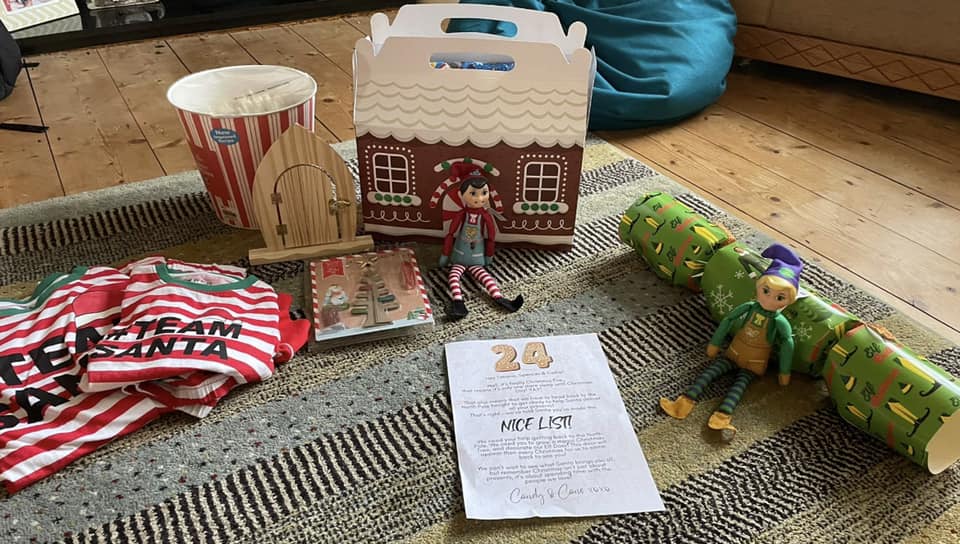 And if those aren't enough to give you a few new Elf on the Shelf ideas, how about this from The Mum Diaries:
And if any of you know me, you'll know this is much more up my street than actually doing the Elf:
Do you do Elf on the Shelf?
Whilst we're on the subject of Christmas, have you started shopping yet? Have a look at these fab Gift Guides for some great ideas of things that the kids (and you!) will love.
How did I do?
Did you enjoy this post? Why not look at a couple of my other Christmas post Christmas Traditions to Start With Your Family, and Top Must-See Christmas Movies for Kids, 20 ideas for Christmas Eve Boxes, or Simple Christmas Crafts for Kids. Or check out some of my more usual parenting rants in my Mum Life section or Travel section for days out and family holiday inspiration.
And if you want the ultimate Christmas post head to read Mom of Two Little Girls' 40+ Ways of Celebrating Christmas 2020 or Tales from Mamaville's Mega Christmas Gift Guide For Her.
If you like a bit of social media madness, pop over to my Facebook page where you'll be able to have a laugh at what ridiculousness goes on in my house with three very small boys on a daily basis. Warning – there is often sarcasm, and usually swearing. There are also great travel reviews and some AWESOME giveaways. Feel free to join my Twins, Tantrums and Cold Coffee – Shits and Giggles Parenting Group too, where everyone shares their hilarious stories.
If you like what you see, how about you check me out on Pinterest, Instagram and Twitter too.
And if you want to work with me, feel free to give me a shout here or at helen@twinstantrumsandcoldcoffee.com and I'll get back to you.