Anyone for some Christmas craft? If you've read my blog or social media pages before you may have got the idea that I'm not the world's most accomplished crafter. But my boys seem to be into it all of a sudden, so here are some easy craft ideas to try.
The twins and my eldest seemed to love trying out some Baker Ross Christmas craft the other day so I thought I'd put this post together to help anyone else who is slightly 'challenged' when it comes to craft skills.
Of course I've not come up with these myself, so I can't claim the credit. I've asked my fellow bloggers to help me out, and they look pretty good don't they?
Even I might give some of them a go. The ones without too much glitter obviously…
15 Easy Christmas Craft Ideas
Get the newspaper down, get the paints out, and get the wine in the fridge ready for when everyone's had enough – possibly the first being you? These Christmas craft ideas are great, so let me know how you get on.
Handprint Christmas Wreath
I love this idea, from Hodgepodge Days, it looks really simple but so effective. All you need is a pencil, paper plate, scissors, coloured paper, glue and some ribbon. Find out how to make it here.
Christmas Snowmen paper plate bunting
If you need some bunting to brighten up a room how about this simple idea for snowmen paper plates? All you'll need is white paper plates, thread, black, white and orange card, a pencil, glue stick, hole punch, scissors, and a couple of round shapes and an oval to draw and cut around. Find out how to put them together here.
Giant 3D paper snowflakes
How lovely do these look? They'd be great hanging in your window this Christmas. And as much as they look intricate, they're apparently really simple to make! (Famous last words of course!) You'll need 6 sheets of A4 white paper to make one large and two small snowflakes. Then some scissors, Bostik tape discs, double-sided sticky tape, then some gold twine or ribbon. Read the instructions on how to make them here.
Lolly stick snowman
Seriously, this is definitely my favourite Christmas craft so far! It looks amazing – and pretty cheeky if you ask me. To make a lolly or popsicle stick snowman, you'll need is black and white paint, paintbrushes, regular and small lolly sticks, ribbon for scarf, orange felt for the nose, black marker, craft eyes, red and green glitter glue, and a glue gun. And if you want to try it yourself, read how to here on the Emma and 3 blog.
Christmas tree bunting
I love this bunting, from Baby Not Included, and I reckon it might even be within the realm of my very limited crafting skills! All you need is some A5 green card, scissors, Christmas themed stickers, string and glitter glue. Have a read here of how to do make them. I'm definitely going to give them a go with my twins.
Glitter tape bauble
If you have a child who is obsessed with sticky tape like I do, then put their hands to good work with these glitter tape baubles. Will beat them sticking it all over your walls and wrecking your wallpaper!
All you need is a roll of sparkly glitter tape, one styrofoam ball, ribbon and a brass paper fastener. Just tear small pieces of tape and stick in random places all over the styrofoam ball. For more information on how to make it look great read this.
Salt dough Christmas decorations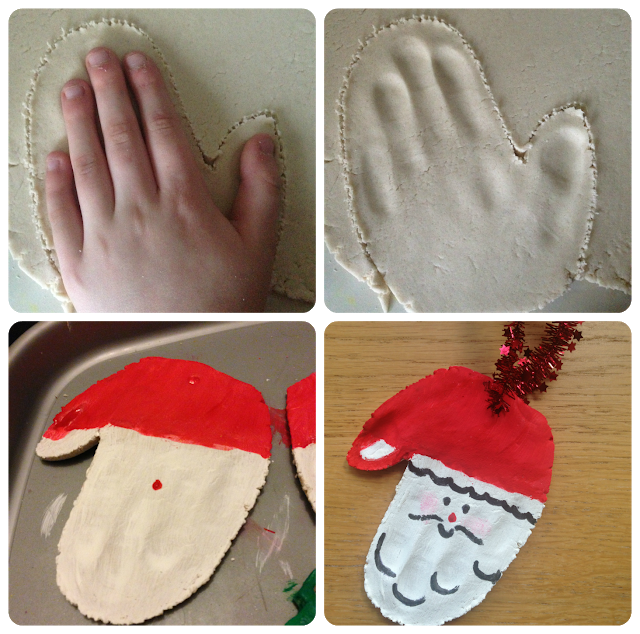 I've never made salt dough before but these decorations look so cute I *may give it a try! Once you've made your salt dough out of salt, plain flour and water, all you need is some Christmassy cutters, paint and brush, ribbon and things like glitter, sequins or pens to decorate. Find out how to do it here.
Santa hat bunting
Here's an idea for even more bunting, because you can never have enough, right? These Santa hats are seriously cute and will look fab strung along your fireplace. All you need is some red card, scissors, a circle cutter or saucer to draw around, glue, tape, string, needle or kebab stick, and cotton wool. And here's how to make them.
Reindeer footprint card
If you want to make your own Christmas cards to send, how about these great reindeer footprint ones during one of your Christmas craft sessions? You'll need brown paint, card or paper, googly eyes and red pom poms. Paint your child's foot with the brown paint and place two footprints on your card. Then draw antlers near the toes and wait to dry. Then add the googly eyes and a pom pom for the nose, then a festive message. Aren't they great? Read more about them here.
Air drying clay Christmas decorations
Air drying clay is a bit like play-doh (apparently, obviously I've never used it MYSELF!) so it's ideal for little ones to use. As well as the clay, you'll need a rolling pin, small cookie cutter of whatever shape you like, a cocktail stick or skewer, a non-stick surface to roll it out, some items to imprint the surface, some paints to paint the finished decoration. Read all about what to do here.
Christmas party crowns
I just know one of my twins would LOVE these and probably end up wearing them to bed. And they look quite simple to make too. You need some glittery craft card, sparkly silver and gold stars, or whatever decorative touches you like, some PVA glue, sticky tape, and scissors. Find out how to make them here.
Potato print snowmen
If you're like me, there's always a few spuds kicking about, so why not be creative with them and make these potato print snowmen. You'll need potatoes (obvs), a cookie cutter, white paint and some glitter pens. Read what to do with it all here to create your masterpiece.
Christmas craft Advent Calendar
If you want to have a go at making your own advent calendar, this one is lovely. You can print off a template here, and you'll also need pegs, scissors and a frame. Then once you've cut out the numbers from the template you just attach the right numbers to the pegs each day, and there you have it!
Toilet roll reindeer
See to me, this cute Red Ted Art reindeer from Boo Roo and Tigger Too looks like it could be a bit too difficult. But that's because I am rubbish at all Christmas craft. But actually the instructions aren't too bad! You'll need two toilet rolls or one kitchen roll, enough straight-ish sticks for four legs, one shorter neck and two forked sticks for antlers, brown and white paint, scissors, glue, googly eyes and a red fluffy nose. And find out how to put it all together here.
Button Christmas Decoration
How cute are these as a Christmas craft? They'll look fab on your tree, and the children will love making them. You need a selection of mostly green buttons in different shapes and sizes, and some fine jewellery or craft wire. Read how to come up with your masterpiece here.
So which Christmas craft are you going to try?
AD | This is a collaborative post, so I may have received payment for including one or more of the links it contains.
How did I do?
Did you enjoy this Christmas craft post? If you wanted some more Christmassy posts check out these – 24 Days Of Elf On The Shelf ideas, Christmas Traditions To Start With Your Family or Top Must-See Christmas Movies For Kids. And if you want anymore craft ideas, head to 20 Easy Craft Ideas For Mums Who Hate Craft.
If you like a bit of social media madness, pop over to my Facebook page where you'll be able to have a laugh at what ridiculousness goes on in my house with three very small boys on a daily basis. Warning – there is often sarcasm, and usually swearing. There are also great travel reviews and some AWESOME giveaways. Feel free to join my Twins, Tantrums and Cold Coffee – Shits and Giggles Parenting Group too, where everyone shares their hilarious stories.
And if you want to work with me, feel free to give me a shout here or at helen@twinstantrumsandcoldcoffee.com and I'll get back to you.