I thought it was about time we started some Christmas traditions as a family this year.
Up until now we've not bothered too much seeing as our twins are only two, and basically all they were concerned about last year was how many decorations they could pull off the Christmas tree. I'm not sure they're quite in tune with the whole Christmas traditions thing just yet.
But the oldest is now 4.5 and obviously 'gets' a lot more of what's going on, so this year is the year, I reckon. I want to start some stuff we then do every year and it becomes 'our' thing. Even though it'll no doubt be the same as thousands of other people's 'thing'. But you know what I mean.
Getting ready
So I've ordered some *Christmas Eve boxes, and some *personalised hessian sacks to go with the beautiful stockings a friend made them. Spent ages choosing the designs but ended up playing safe and going for three all the same to avoid fights. As my boys definitely like to fight.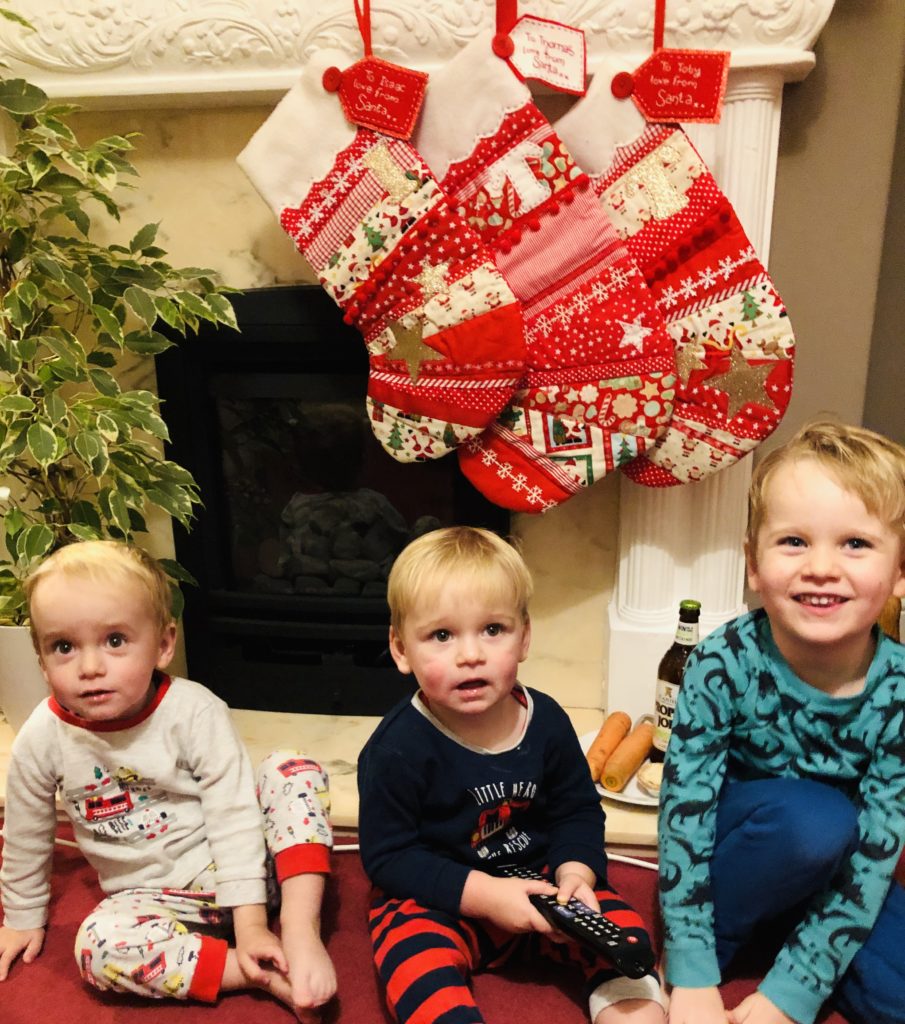 Now I have to decide what to put in the boxes. Pyjamas, I know. But I can't be arsed with Christmas pjs. I know that's kind of the whole point, but I don't want to dress them in Christmassy things in March, and I'm not buying five sets of pjs for them only to be worn once! I'm also thinking a Christmas *book each and maybe a *festive film to watch?
I've ordered a *personalised plate ready to put out for Father Christmas. And he's going to love us this year – he's also going to be getting the Twins' dummies too. Lucky chap. Let's hope it actually works and that leaving them out every year doesn't become one of our Christmas traditions!
We're also going on a Santa train with my parents, that we've done for the past few years and have booked to see Father Christmas at a Grotto. And of course we've already done an AMAZING weekend at Bluestone's Christmasland that you can read all about here. That is definitely going to become one of our new Christmas traditions – we've already booked next year's!
But I feel like I want to add a few more things and needed some ideas. Although am firmly steering clear of Elf on the Shelf until I absolutely HAVE to do it. So I asked my fellow bloggers. Here's what they do:
Christmas Traditions ideas
Any of these take your fancy? There are some brilliant ones here. What are your Christmas traditions?
*This post contains affiliate links indicated with a *. Clicking these links and buying the product means I may earn a small commission, but it does not affect the price you pay.
How did I do?
Did you enjoy this post? You might like some of my others. If you're local and looking for some ideas for Christmassy things to do with the kids, check out my Ultimate Family Guide to Christmas in and Around Plymouth, or read all about our weekend at Bluestone's Christmasland. Or check out some of my more usual parenting rants in my Mum Life section. And if you want to read more about different people's Christmas traditions, head over to the lovely Carly from Mom of Two Little Girls blog here.
If you like a bit of social media madness, pop over to my Facebook page where you'll be able to have a laugh at what ridiculousness goes on in my house with three very small boys on a daily basis. Warning – there is often sarcasm, and usually swearing. There are also great travel reviews and some AWESOME giveaways. Feel free to join my Twins, Tantrums and Cold Coffee – Shits and Giggles Parenting Group too, where everyone shares their hilarious stories.
If you like what you see, how about you check me out on Pinterest, Instagram and Twitter too.
And if you want to work with me, feel free to give me a shout here or at helen@twinstantrumsandcoldcoffee.com and I'll get back to you.