If you are a parent of twin babies, you'll know only too well that having multiple babies does not mean that you need duplicates of absolutely everything. There are, of course 'must-have item' products that are a great help if you have a set of twins. So here are some examples of best gifts for twin mums.
Most families, if you already have children, have all of the basics. But there are lots of products on the market that are made specifically for twins that will help you cope a little easier with your tiny humans and can make some of the best twin baby gift ideas.
Or if you are new parents of twins or know parents of multiples who don't already have other children and want to know some great ideas for best baby gifts to give them, you are in the right place.
Here are just a few ideas of gifts that you could buy for a twin mum or twin parents.
Best gifts for twin mums
Twin feeding pillow
A large, double, multifunctional twin z pillow for feeding twins will make life SO much easier. It is honestly the most useful thing I had when my twins were tiny and would be one of the best gifts for twin mums. It can be used as a support pillow during pregnancy, as a cuddle nest, as a positioning pillow for the child in bed, as a side support or as a side sleeper pillow.
The baby cushion is ideal for breastfeeding and bottle feeding. When the babies are bigger, it strengthens their back and neck muscles and maintains balance when pulling up, crawling and sitting. It is machine washable and help out with the daily routines so much. It really would make the perfect gift for a new mother or mother of twins.
TwinGo Baby Carrier
The TwinGo Original is the first dual-child carrier that allows you to carry newborn twins in an ergonomic front/back position. The clever design also allows you to divide the TwinGo Original into two single-child carriers so two adults can independently carry one child each. It has two generously-sized pockets that help you get out without having to lug a big bag around.The pockets are just the right size to fit nappies and other essential baby items. It would make such a special gift for a new twin mama.
Baby bottle starter set
Even if you are planning on breastfeeding, having a starter set of bottles is so useful as you will have times where you may want to express milk. This also means a family member can help out. The MAM Self-Sterilising Anti-Colic Bottle Starter set is a total solution for feeding babies from birth until a year old. It contains everything you'll need for your babies, the set contains eight bottles in two different sizes, complete with handles and a spout to move them onto a cup when they are ready. There is a lot of stuff twin mothers may think they'll need and won't, but this set is an ideal gift and would really help out a twin family.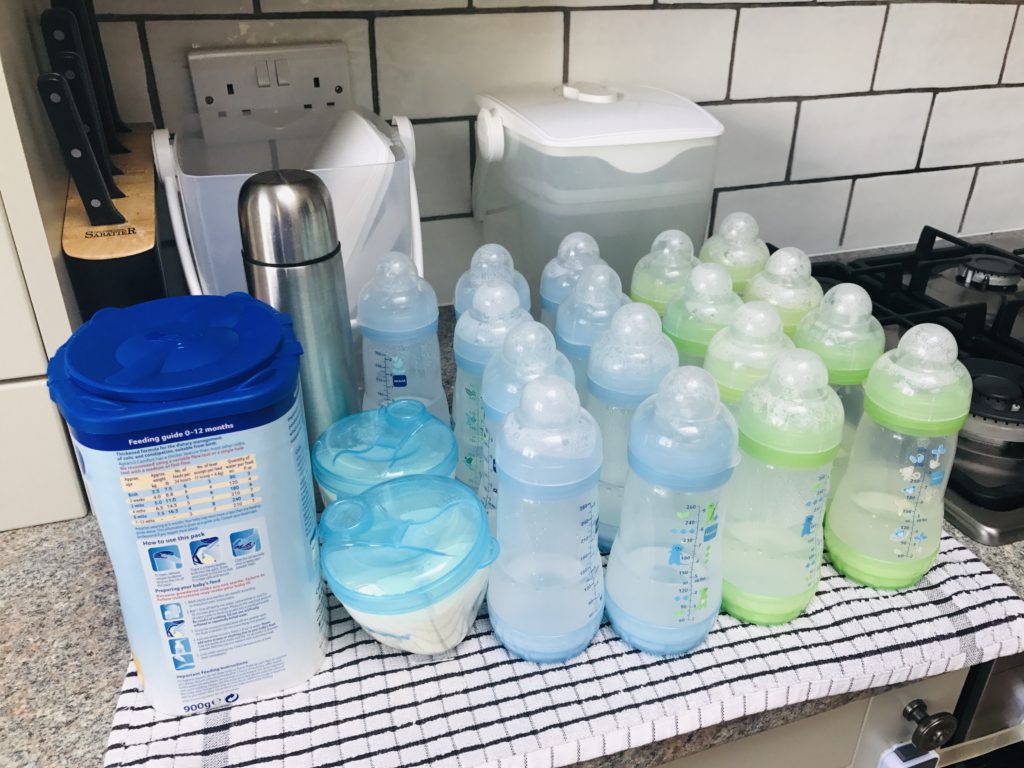 Table for Two – twin baby feeding seat
A Table for Two is a godsend for parents of twins. This sturdy twin feeder saves you time and makes mealtime more comfortable for you and your twins. They'll be no more struggling to position your babies in order to bottle-feed them at the same time. Whether you're bottle feeding or they've started on solids, this feeding seat is a really great addition to your home and will keep your baby twins in a safe place whilst feeding. Especially if you don't already have baby bouncers from older children to use. If you want to see how I bottle-fed my twins at the same time, read this.
Tiny Love Gymini
I love a play gym, even when babies are small, they are great for laying them down on or giving them some tummy time. This playmat is suitable from birth and has adjustable arches and musical toys attached. The bright colours make it a gender-neutral gift and will capture your babies' attention and help to stimulate and keep them entertained in a safe position. Although my pair used to just fall asleep if they spent much time on theirs, it's definitely one of the best gifts for twin mums that you can buy.
Tommee Tippee Advanced Steri-Dry Electric Steriliser and Dryer
A large steriliser will be your best friend. You don't have to have a super-fancy one, but a large one will help you out so much. Just to give you an idea, I was making up 16 bottles a day on some days. Sterilisers kill 99.9% of bacteria without using any chemicals. This one has three functions and space for 6 baby bottles. The steriliser can be used for baby bottles, dummies, breast pumps and other feeding accessories and it also contains an air filter to keep dust and dirt particles out. The other way of doing it, which is how I did it, was to get a Milton cold water steriliser where you could just keep the bottles in it all day. I basically used it as a place to store the and sterilise the at the same time. It could make a great gift if you didn't want to spend too much, but would be super useful to twin mamas.
Milestone blankets
Absolutely not an essential baby item, but cute none the less. Milestone blankets are a favourite of new parents, especially for Instagram posts.This blanket's size is 40in x 60in especially good for two babies, You can easily capture the most unique baby pictures of them in cute onesies from 1 month to beyond the first year of your babies' lives. Record their growth on these blankets and capture your babies' first milestones. It's really not a vital purchase but would make a lovely baby shower gift and is one of those cute extras that is always nice to have on a list of gifts.
Nappy bag
Whilst you are out and about with your babies you will want an organised nappy bag to carry all your essentials in. And speaking from experience (and going through several 'normal' ones first), I would 100 per cent recommend a back pack as your nappy bag. Either get a regular rucksack, or opt for a specific baby changing back pack. It is absolutely the best choice for mums of twins, especially when you have older children too, and need both your hands free. It would be the best choice for a thoughtful gift too if you know someone having twins or multiples.
I used mine for years and it was so spacious! This one above is spacious at 42 x 21 x 31 cm. It has a wipe-clean foldable changing pad, features built-in buggy clips, and a detachable dummy case. The structure has all sorts of useful pockets, this baby nappy bag includes two main compartments, 5 insulated pockets, a wipe pocket, a key loop, and a dedicated multi-function changing pad pocket that holds tablets and laptops.
These are just a few useful ideas for the best gifts for twin mums that you could buy, and I absolutely know they'd use. Other items that cost a bit more would be baby monitors or changing table, but would be a good gift if you're clubbing together for a friend at a twin baby shower. Or if you're splashing out on new twin grandchildren and want to buy a more expensive, unique gift, why not think about a double stroller or infant car seats that are essential but can be super expensive. Especially when you need to buy two seats!
If you want to read more twin posts, here are a few that may come in handy:
First time parents of twins? Here's everything you're going to need
Tips on setting a feeding schedule for your baby
How to make travelling with twins easier
5 practical tips for looking after twins
10 'must haves' to survive the early days with twins
*This post contains affiliate links. If you click on and purchase a product through these links I earn a small commission. It doesn't affect the price you pay, but helps me buy clothes for my kids and wine for me. So, thanks!
How did I do?
If you liked this post, how about you hang around and have a read of some more. You'll definitely like this one about how I ignored advice to survive the newborn days. Or this one about how my toddler wasn't too keen on the twins, ooh, for about six months. Then head over to my Mum Life stuff for more tongue-in-cheek parenting rants, or the Twins section for more hacks about looking after twins. If you want some days out and travel inspiration, then check out my Travel Section.
If you like a bit of social media madness, pop over to my Facebook page where you'll be able to have a laugh at what ridiculousness goes on in my house with three very small boys on a daily basis. Warning – there is often sarcasm, and usually swearing. There are also great travel reviews and some AWESOME giveaways. Feel free to join my Twins, Tantrums and Cold Coffee – Shits and Giggles Parenting Group too, where everyone shares their hilarious stories.
And if you want to work with me, feel free to give me a shout here or at helen@twinstantrumsandcoldcoffee.com and I'll get back to you.