If you're looking for things to do indoors in Plymouth with kids then luckily you will be spoilt for choice.
So I may be kind of biased, being born and bred in this beautiful city, but I have to say there are some awesome things to do on a rainy day with children in Plymouth.
Instead of sitting at home and doing corny painting with paints and brushes like these, you can visit many different places.
Whilst we all want glorious sunshine, and if you have it, then check out Things To Do In Plymouth With Kids, but if the weather is a bit off, don't despair. Have a look at these options and you'll be sure to keep the kids entertained despite the rain.
Best things to do indoors in Plymouth with kids on a rainy day
1. The Box
New museum The Box opened in September 2020 and is absolutely fantastic. Its main attraction for my boys is the life-size Woolly Mammoth but there is so much else to see too. There are 15 enormous and impressive Royal Navy figureheads. A '100 Journeys' exhibition exploring momentous voyages from the city. And 'Port of Plymouth' where you can discover the epic and historic relationship between Plymouth and the sea with some amazing digital displays.
There's an in depth look inside the city's historic Dockyard, and a Media Lab where you can read the TV news and weather, as well as see Plymouth's most famous rabbit, Gus Honeybun. Among other fascinating galleries is an impressive Mayflower 400: Legend and Legacy temporary exhibition which tells the story of the sailing of the Mayflower to America in 1620 with a huge model of the ship. The Box is an absolute must if you're looking for things to do indoors in Plymouth with kids.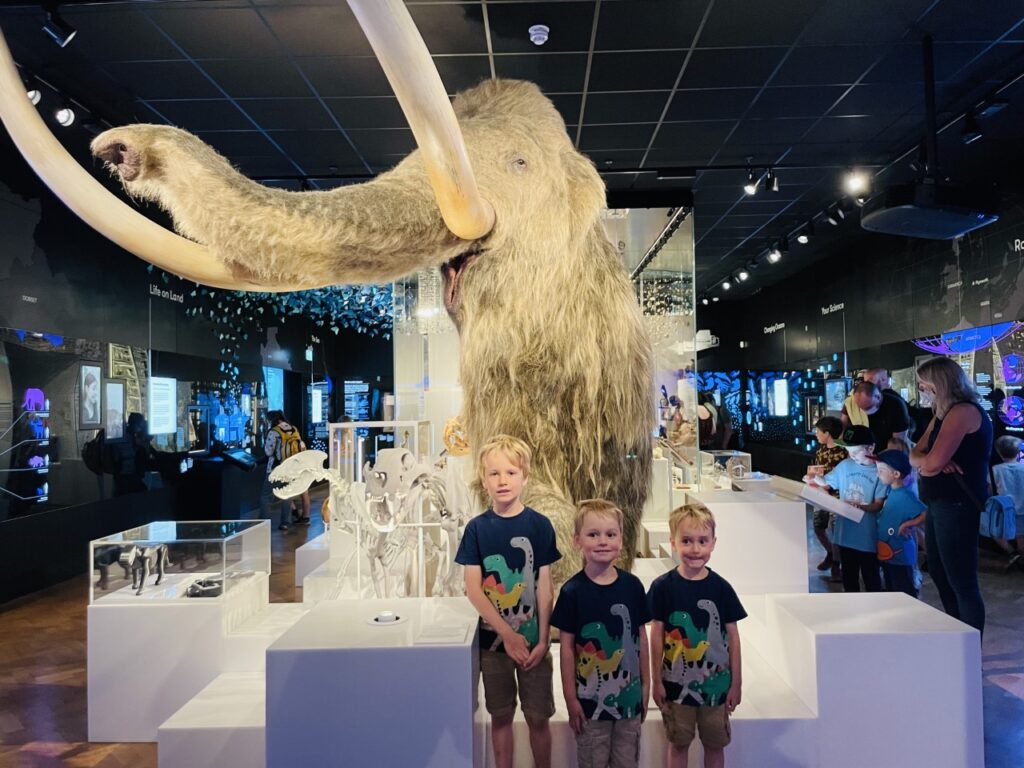 2. National Marine Aquarium
Any wet day in Plymouth can be made better by a visit to the National Marine Aquarium. It's the UK's largest aquarium and your children will not be disappointed. It is made up of zones, with visitors starting their journey in the local waters of Plymouth Sound (which incidentally is just a stone's throw from the NMA). The further you move around the aquarium the further you journey around the world's ocean, ending up at the Great Barrier Reef.
Kids will be delighted with the sharks, giant turtle, and well-known octopus, as well as be able to have an up close view of sea horses, starfish and others they might recognise such clownfish. There are activities to do along the way, and also a soft play and cafe. It's a perfect rainy day activity for kids in Plymouth.
3. Cinemas
Catching one of the latest films is always a good way to spend a rainy day in Plymouth. And luckily there are several cinemas to choose from in the city centre. The big releases are always at Vue Cinema in the Barbican Leisure Park and the Imax Cineworld at the Barcode, Drake Circus. If you fancy something a bit different to watch, then check out what independent Plymouth Arts Cinema is showing.
4. The Market Hall
New for summer 2021, the Market Hall is a world-class space for digital innovation and learning situated in the heart of Devonport in Plymouth. It was formerly the market for the whole of Devonport, and has been renovated by the Real Ideas Organisation to feature a state-of-the-art 15 metre immersive dome.
It is hosting immersive experiences without the need for a VR headset in the dome, with showings of Sea Monsters: A Prehistoric Adventure, and Immerse Yourself: Outer Space. Tickets get snapped up quickly though so don't hang around.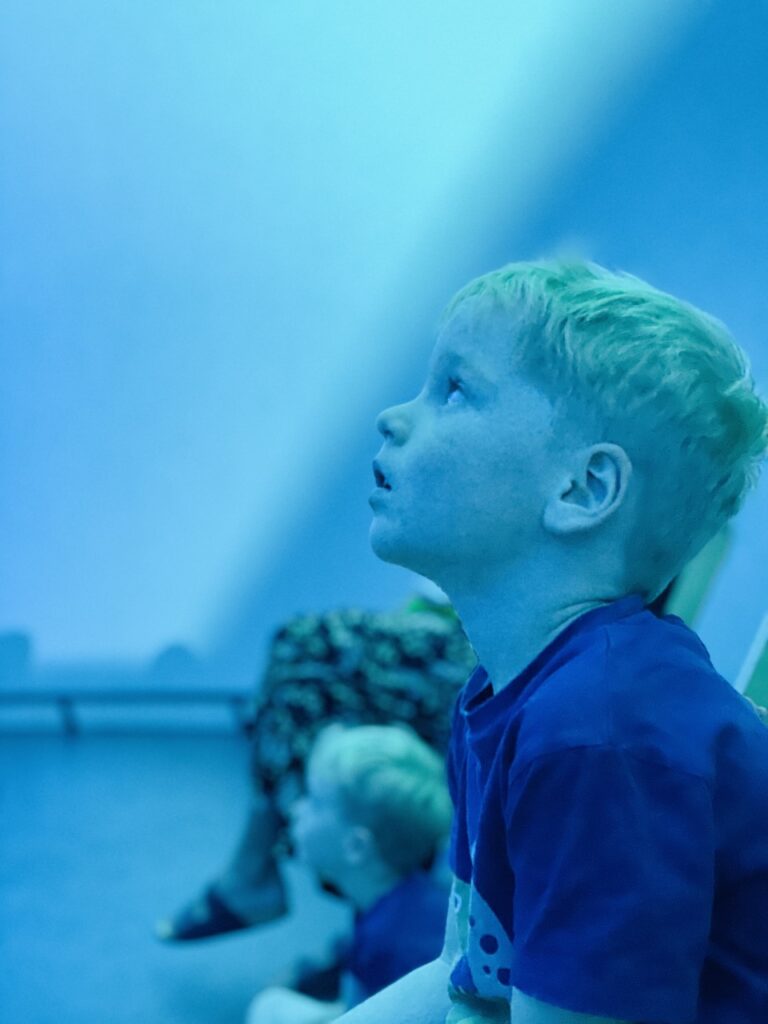 5. Bowling
Tenpin bowling is always a bit of a laugh if your children are old enough. We've just taken ours for the first time and they loved it. Plymouth has Tenpin at the Barbican Leisure Park, complete with restaurant and arcade games.
6. Indoor Crazy Golf
Fancy a spot of crazy golf but don't want to get wet? Head to Paradise Island Adventure Golf at Drake Circus' Barcode in the city centre. It's huge and has two 18 hole courses for kids to try out, as well as a restaurant. Perfect for a family activity on a rainy day.
7. Theatre
Plymouth is lucky to have a top offering when it comes to theatre, and there's always something on for children to enjoy whether that be at Soapbox Children's Theatre Plymouth, Theatre Royal Plymouth, or the Barbican Theatre Plymouth.
8. Swimming
Taking the kids swimming is always a great rainy day activity in and around Plymouth. There's a choice of places to go including Plymouth Life Centre, Plympton Swimming Pool, Saltash Leisure Centre, and Ivybridge Leisure Centre. There's always Tinside Lido or Mount Wise Pools if you fancy an outdoor swim in the rain! And there are several private gyms with pools you may be able to buy a day pass for.
9. Elizabethan House
Plymouth's Elizabethan House has reopened to visitors in 2021 and is a rare example of its time – built in the late 1500s when Plymouth was a thriving port. It's been restored as part of the city's Mayflower 400 celebrations and visitors can now enjoy an immersive journey through the history of the house meeting its first owner, a washerwoman, a wig maker and get a glimpse at what life was like for the rich and the poor.
10. Soft play
No list of indoor activities in Plymouth for kids would be complete without some soft play centres included. Whether you love it or hate it, there's no denying it's an easy go-to on a wet day. And luckily Plymouth has a choice. Head to Jump at Christian Mill Business Park, Drakes Den in Estover, Endsleigh Garden Centre near Ivybridge or if you want somewhere smaller for little ones there's a great soft play at Moo Music Plymouth's play cafe on Mutley Plain. Their cakes are to die for and you can read more about it here. Or check out Just Imagine Plymouth which is a is a space for kids from pre-school to primary school age to create their own worlds through play. There are creative activities, soft and sensory play, imaginative play and a pirate ship.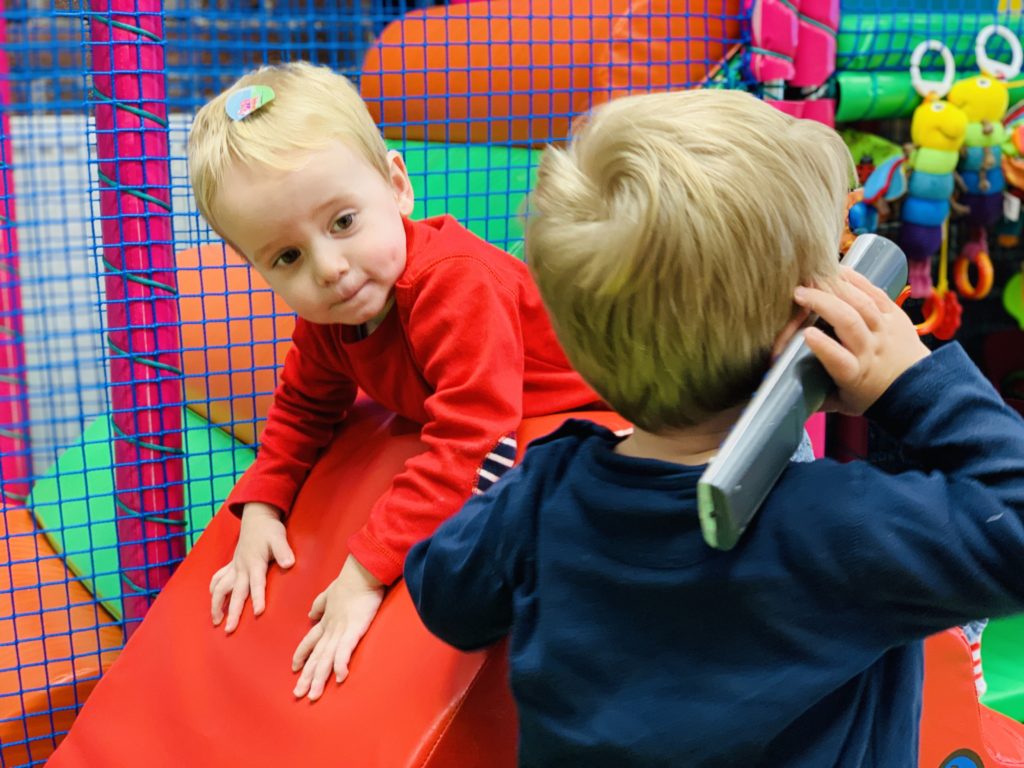 11. Clay Art
Clay Art on the Barbican is a cute pottery studio where you and your children can enjoy a few hours painting pottery to take home. There is a huge selection of items to choose from and super-friendly staff to help you and your kids along the way. You don't need to be artistic, they can offer tips, then you collect it a week later once it's been finished off in the kiln.
12. Clip n Climb
The perfect rainy day activity in Plymouth for adventurous youngsters. Clip n Climb in Derriford offers sessions for children of all ages and adults to try their hand at the multiple walls and challenges available. There's a mini mountaineers session too for toddlers, so they don't miss out. There's also a small soft play area in the cafe for under 4s.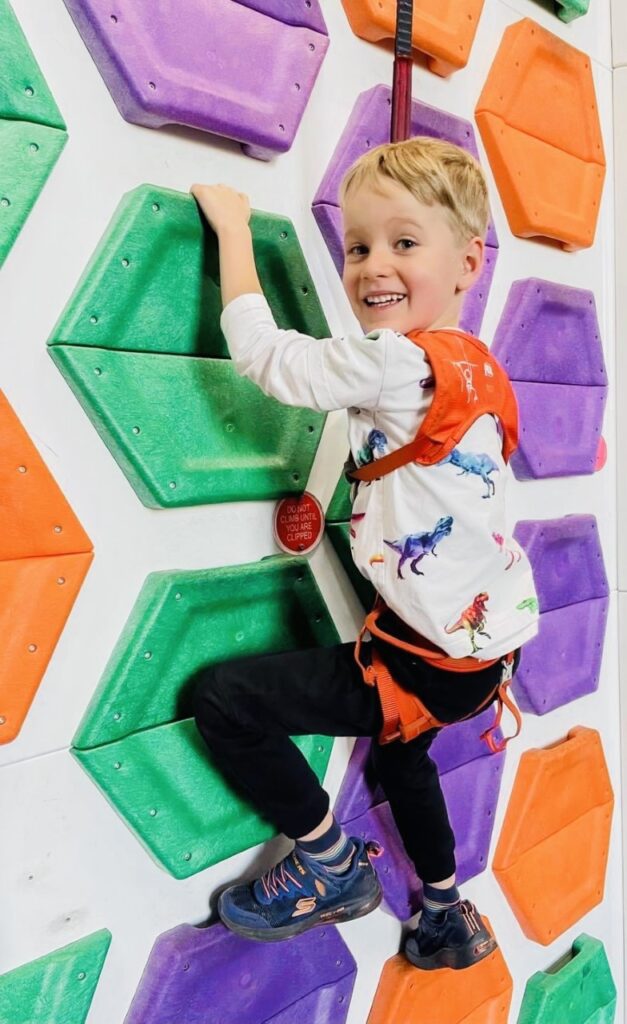 13. Trampolining
Still need your kids to burn off all their energy despite the rain? Head to one of Plymouth's two trampoline centres and they can do just that. Adrenalin is in Derriford (in the same building as Clip n Climb in case you fancy a double-whammy), with a huge trampoline hall and inflatables section, and also has a soft play in the cafe for little ones. Or Super Tramp is in Plymstock which offers extras such as basketball, dodgeball, volleyball and interactive wall running as well as the trampolines.
14. Indoor Karting
For a full on adrenalin-filled activity, head to Plymouth Karting in Ernesettle. Youngsters who are 125cm tall or 8 years old can race around the indoor karting track against their friends. It's apparently home to the fastest indoor karts in the South West!
15. Laser Tag
If you want to test your aim and reflexes and be the hunted at the same time as the hunter, then try out Laser Tag. Laser Fighters Combat Gaming close quarters battle is at the same place as Plymouth Karting and is open to over 8s. It offers participants the chance to creep around fog-filled corridors, ramps and elevations in search of your enemies. Are you brave enough?
16. Saltram House
You might not fancy running around the gardens or parkland in the rain, but Plymouth's local National Trust properties have some great historic houses to explore on a wet day. Saltram House in Plympton was home to the Parker family for several generations and is a Georgian jewel rich with original collections and architecture. There's so much for the kids to see.
17. Buckland Abbey
Buckland Abbey, Sir Frances Drake's former home, is another gem to visit. The original Abbey was converted into a Tudor mansion home in 1541. Visitors can discover over eight centuries of history, fascinating tales and amazing architecture.
18. Virtual Reality Experiences
Have older children who are into gaming? Then why not try Plymouth's Player Ready Virtual Reality centre at Lockyers Quay. It has 8 multiplayer VR stations, 4 VR racing simulators and a 6 player console room. Sounds pretty cool to me!
You can find lots of virtual and in-person escape team events that are great for local team building, working with friends and family or colleagues to help build better skills, team work, and friendships whilst having fun solving a puzzle together.
19. Mayflower Museum
If you want to teach your children more about the history of the famous Mayflower voyage of the Pilgrims to the New World in 1620, then head to the Mayflower Museum on the Barbican.
Set over three floors, it includes a model of the Mayflower ship built on a 1:11 inch scale by apprentices at Devonport Royal Dockyard. It features 360 fathoms of rigging, 332 handmade bloxs and six handmade sails totalling 64 square feet in area. And the museum is right next to some of the best ice cream shops in the city. And we all know ice cream in the rain is perfectly acceptable, right?
So there you have it – absolutely loads of things to do indoors in Plymouth with kids. And don't worry, the sunshine will be out soon and you get to enjoy all the REST of the awesome things the city has to offer.
This post may contain links I have been paid to include.
How did I do?
Did you enjoy this post? Make sure to read Things To Do In Plymouth With Kids. You may also like some of my other Local Stuff or the days out reviews in my Travel Section. And if you want to read some of my usual tongue-in-cheek parenting rants, head to my Mum Life section for a giggle.
If you like a bit of social media madness, pop over to my Facebook page where you'll be able to have a laugh at what ridiculousness goes on in my house with three very small boys on a daily basis. Warning – there is often sarcasm, and usually swearing. There are also great travel reviews and some AWESOME giveaways. Feel free to join my Twins, Tantrums and Cold Coffee – Shits and Giggles Parenting Group too, where everyone shares their hilarious stories.
If you like what you see, how about you check me out on Pinterest, Instagram and Twitter too.
And if you want to work with me, feel free to give me a shout here or at helen@twinstantrumsandcoldcoffee.com and I'll get back to you.