Back to school. Three words us mums either love to hear, or totally dread.
I'm sure you can guess which camp I'm in, right?
Don't get me wrong, I don't utterly hate the holidays. But those 'back to school' words sure as hell fill me with fucking glee.
After the 6.5 weeks school holiday, I think it's safe to say us parents are a bit done in.
Oh and let's just talk about that '6.5' bit, shall we. Since when did the six weeks summer holiday become six and a sodding HALF?? It never becomes FIVE and a half, does it? Nope! 
But breaking up on a Thursday and going back on a Wednesday actually meant our school had nearly SEVEN weeks off. They don't mention that in the school newsletter, do they? Again, nope!
I do love my kids but I like them going back to school too!
Okay so I'm at risk of sounding like I don't love my kids. Or even like them, actually.
Of course I love them. But yes, there were *several occasions this summer that I didn't particularly like them very much. There I said it. And I bet I'm not the only one either. Just maybe the only one to say it quite so publicly. I'd even go so far as to say I'd have happily drop-kicked them out of the window. You know, if that was allowed and all.
(Nearly) seven weeks is a long time for children to be out of routine. It's a long time for them to spend away from their friends on a daily basis. It's a long time for them to be in the company of their siblings constantly, and it's a long time for parents to juggle work and childcare. I can't even imagine how other countries do it with their 3 MONTH long summer breaks.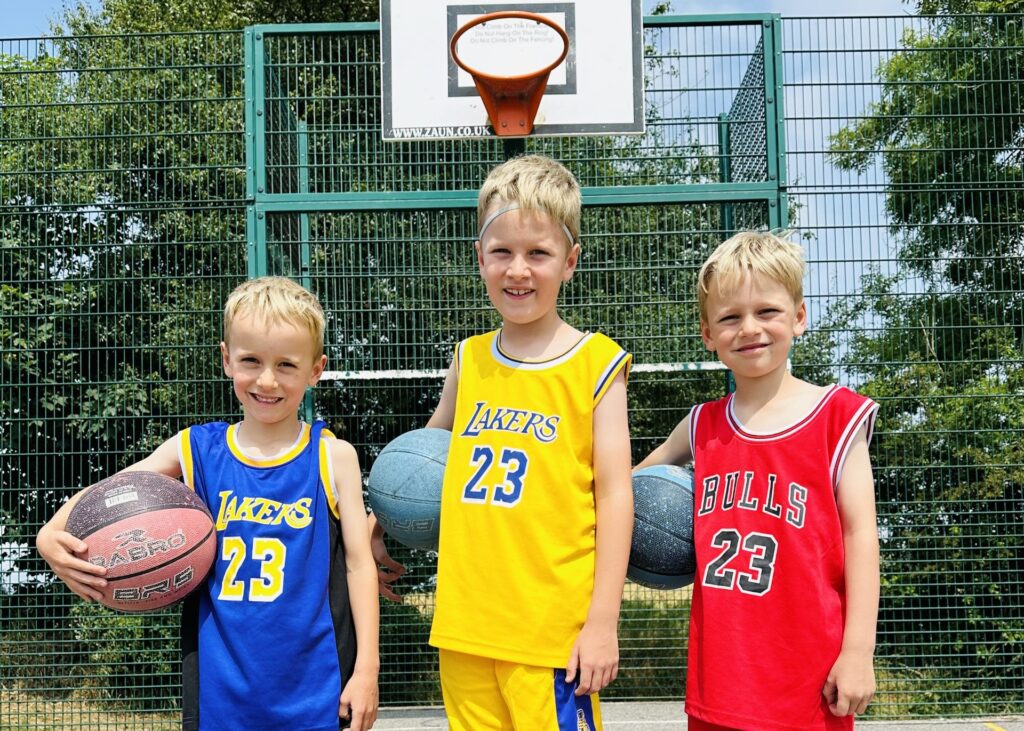 We were lucky that I was able to send my boys to a High 5 holiday club at school one day a week for the first four weeks, and my parents had them one day a week so I could work. The rest of the time I was catching up in the evenings once they were in bed. 
But there are some parents I know from school with full-time, high-powered jobs, who clearly can't do that. And there were some kids in that holiday club for the entire 4 weeks it was open. That's A LOT.
How we broke up the seven weeks holiday
We broke up our seven weeks by camping! We'd had our main holiday in May half term, so whilst friends were jetting off to sunny all-inclusive resorts, we stayed in sunny (ish?) Devon and put up our tent! We did four nights with friends where the kids had a blast, then another four nights by ourselves. And then the last week before they went back to school we stayed in a safari tent in France! 
So basically every other weekend, we were packing up and going away. It was perfect timing. Just as the boys were driving me batshit crazy whilst my husband worked full-time in Plymouth with bonus trips to London (bonus for him, not me!), it was time to pack up the van again. 
I mean it's not like the boys then miraculously became perfectly behaved, but at least I had back-up on our trips.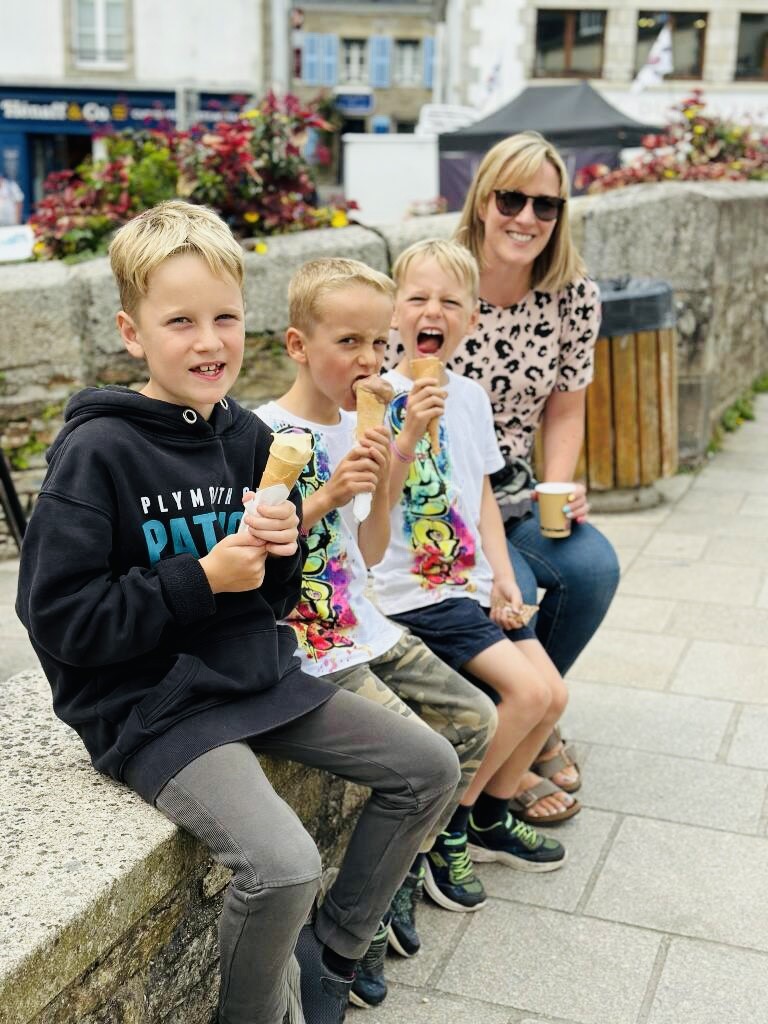 It wasn't just me coming up with the plan for the day like the rest of the weeks. Organising what we were going to be doing. Arranging to see friends, booking tickets for days out, trying to keep everyone entertained. (iPads might have played a part, by the way). Oh, and don't even mention the snacks.
And most importantly it wasn't me refereeing the Entire. Fucking. Time. Because that's basically what school holidays turn me into. One giant shouty referee. Breaking up fights every five minutes, and trying to keep the boys from killing each other. I think I might have mentioned before how they like to fight? And over absolutely ANYTHING. 
The back to school photo for Facebook
So September rolls around and back to school they went. See ya later, lads! Not without the first day back drama of my eldest's school shoes not fitting. Despite me asking him on sodding numerous occasions throughout the holiday about getting new shoes, he was adamant his were still okay. So I just got new ones for the Twins. Epic mum fail to not have checked again the week before. Oops! Everything else was fine. But not the shoes, and there was absolutely fuck all I could do about it at 8.30am on the first day back. I did then spend an hour frantically searching online for shoes later and opted for express delivery though! 
At least his strop made for a funny first day back photo. The stereotypical social media front door one already messed up by opening my door to find it surrounded by scaffolding due to our ongoing building work. So the refusal to smile and the utter scowl just makes for a real life moment captured I guess! Yet another one to bring out on his 18th. 
Then the craziness starts again
Then the madness of school bombards you:
The choosing of the school dinners.
The injury notification within 2 hours on the first day.
The email inviting you to sign up to after school clubs.
The pressure of actually getting them into those after school clubs which are on a first come first served basis.
The newsletter.
The email to tell you about the newsletter.
The online messages setting out the rules for pick-up, PE days and expectations on how many times our kids should be reading a week.
The homework.
The spellings.
The dates for Harvest Festival, Children in Need and even Christmas nativities and carol services! (All dutifully transferred to my diary, as I'm definitely not one of those annoying mums who say on the What's App group the night before that they knew nothing about it.)
But worst of all – the nits email. FUCKING NITS. "It's come to our attention that head lice have started the year with us." Instantly we all start itching.
All of a sudden playing referee the entire summer doesn't seem quite so bad…
*PLEASE don't let my boys catch nits.
How did I do?
Did you enjoy this post? If so, it's most unlike me to be so useful and you should check out the 'usual' type of stuff I write. Honest, relatable rants about parenting three young boys. With a touch of swearing and a lot of sarcasm. You'll like it! Check out my Mum Life section or head to my Travel Section for some UK family holiday and days out inspiration.
If you like a bit of social media madness, pop over to my Facebook page where you'll be able to have a laugh at what ridiculousness goes on in my house with three boys on a daily basis. Warning – there is often sarcasm, and usually swearing. There are also great travel reviews and the odd giveaway. Feel free to join my Twins, Tantrums and Cold Coffee – Shits and Giggles Parenting Group too, where everyone shares their hilarious stories.
If you like what you see, how about you check me out on Pinterest, Instagram, Twitter, Threads and TikTok too.
And if you want to work with me, feel free to give me a shout at helen@twinstantrumsandcoldcoffee.com and I'll get back to you.