If you're looking for Plymouth places to go in lockdown for exercise, then don't panic, there are still some great outdoor areas we can visit, despite the restrictions.
The full Government guidance on lockdown restrictions is here and we are being told to stay at home, but we are allowed out locally to exercise as a household and with one other person.
So I've updated a post I wrote back in the first lockdown of Plymouth places to go in lockdown. We are lucky enough to have beautiful places everywhere around us, although admittedly we don't have the weather we had first time round…
But if the alternative is staying at home with young kids, I think it's time to dress up and get out there!
Best Plymouth places to go in lockdown
Plymouth Hoe
This has to be the best, doesn't it? You can't live in Plymouth and not love Plymouth Hoe. You can gaze out of Plymouth Sound, one of the world's finest natural harbours, walk past Smeaton's Tower, breathe in the fresh sea air, and take the children along the promenade on the bikes/scooters. Or grab a takeaway coffee or ice cream from one of the cafes on the seafront. It's the perfect tonic for staying in all day!
Mayflower Steps and Barbican
Whilst you're up at The Hoe, take a wander down to the Mayflower Steps and the Barbican. If you don't know the history behind them, the Mayflower Steps was where the Pilgrims set sail for America in 1620. They eventually landed in 'New Plymouth' and over 20 million Americans are believed to be descended from these travelers. It's such a shame the Mayflower 400 anniversary celebrations in 2020 were postponed. Damn you global pandemic! And whilst it's relatively quiet, have a wander around the Barbican's cobbled streets.
Sutton Harbour
The kids will love looking at the boats on Sutton Harbour, and you'll love checking out the restaurants and bars there ready for when restrictions ease again. Surely we'll be owed a few child-free evenings out by then? There's a one-mile circular route off the South West Coast Path which is on level tarmac so great for pushchairs.
Central Park
The fabulous play park is one of the best Plymouth places you can go in lockdown. Unlike the first lockdown, play parks remain open. Thank God! And there is plenty to explore around the rest of Central Park. You can get a takeaway coffee from the new (ish) cafe. It's been pretty busy when we've been over the last few months so you definitely need to keep your wits about you for social distancing. But if you head off the main thoroughfare there's lots of room to ride bikes, scooters, skateboards, run and play. The skatepark is open too, my boys loved watching the skaters!
Devil's Point
Tucked away on the edge of Stonehouse, Devil's Point is a beautiful spot. Visit to have a picnic and play whilst watching all the action on Plymouth Sound. You can enjoy the spectacular views out to Drake's Island and across to Mount Edgcumbe, and there's plenty of space to kick a ball around. Most definitely one of the loveliest Plymouth places to go in lockdown.
Royal William Yard
If you're at Devil's Point, you'd be silly not to include a wander around Royal William Yard as part of your outing. The Grade I listed former naval victualling yard has been lovingly brought back to life. It now houses bars, restaurants, businesses and homes. It was constructed between 1825 and 1831, so is steeped in history and boasts stunning views out over the River Tamar and out to the Sound. Kids will love running around on the Green and discovering the little nooks and crannies. Although I'm biased – I used to live there! There is lots of socially distant signage around to guide you and parking charges still apply at £1 an hour.
Freedom Fields Park
There are some fabulous parks around the city. And Freedom Fields is definitely one of the nicest Plymouth places to go in lockdown. The play park is open and there's lots of space for the kids to play. Close to Greenbank and Lipson, the historic park has amazing views out to Plymouth Sound. There's also a wildflower meadow to enjoy.
Devonport Park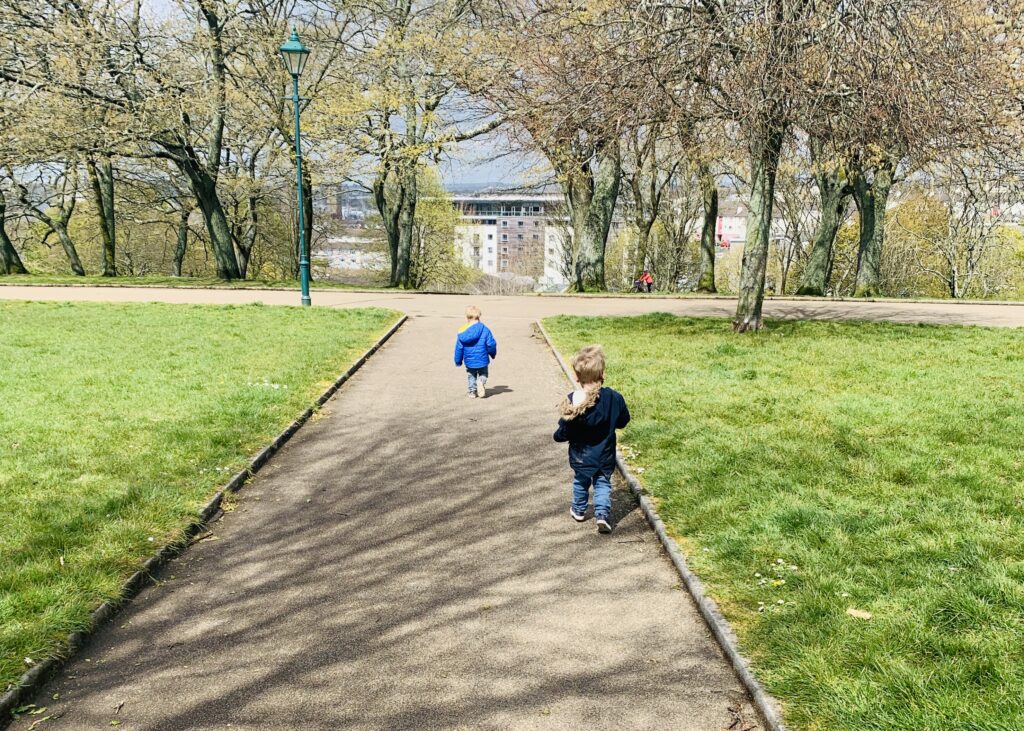 Pre-Covid we used to love going to Devonport Park with friends. The play park is great fun, and there's lots of open space for kids to ride bikes on both the grass and pathways. Dating back to the 19th century, it's apparently the oldest formal public park in Plymouth. You learn something new every day!
Radford Park
If you're in Plymstock you'll have no doubt already been to Radford Park during the other lockdowns, but if not, you MUST. It's a beautiful place where kids can feed the ducks, play hide and seek, and explore the woods. There are pathways for bikes and views across Hooe Lake. It's situated in the grounds of the former Radford House, a grand Tudor building and home of the Harris Family and their successors the Bulteels. But all you need to know is that it's a lovely place to spend an afternoon and is one of the lesser known Plymouth places to go in lockdown.
Ham Valley
Now I am ashamed to say that despite being a proud Janner, I've never been to Ham Woods. And it sounds like a great place. It has a nature reserve, woodland, rough grassland and marsh with more than 200 species of plants and almost 80 species of birds spotted there. Great for those kids who are wildlife enthusiasts!
Cann Woods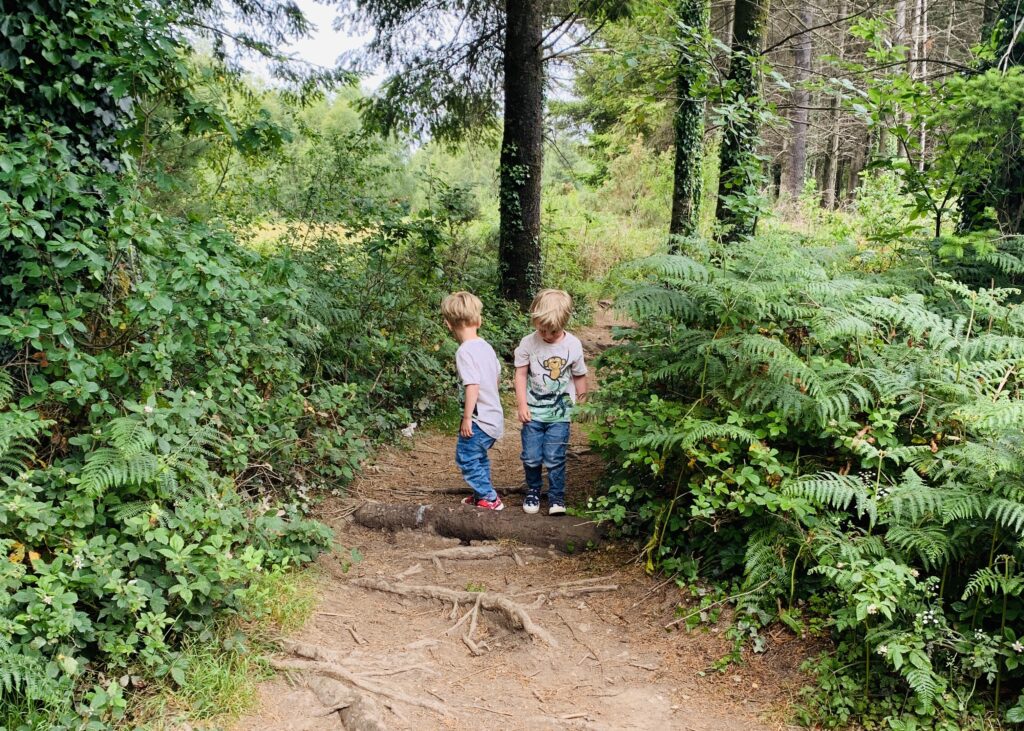 If exploring woods is your thing, there are plenty to choose from in Plymouth. Have you tried Cann Woods yet? We did for the first time during the first lockdown and had a great time. Situated between Plympton and the moors, the car park is open and there are several routes to take. Paths are suitable for bikes, and there are picnic tables there for when you need a break.
Plymbridge Woods
My facebook feed has been full of people enjoying Plymbridge Woods since Covid, and it's a beautiful place. You can reach it easily via the cycle path from Coypool. Or if bike rides have become your family's thing try out part of the 29km route from Laira Bridge through Plymbridge up to Dartmoor. If you want a more sedate outing have a wander along the path through the wooded valley of the River Plym. You can watch out for wild flowers, birds and even deer. It's one of the most beautiful Plymouth places to go in lockdown.
Dunstone Woods
Sticking with woods, I'm actually wondering if I should let this little secret out of the bag. Dunstone Woods in Plymstock is literally less than five minutes from my house and I'm embarrassed to say I only went there for the first time in Lockdown 1.0. You can access it from various residential streets, and it comes out onto a Green ideal for a game of football, or hide and seek. Before we could drive anywhere in the first lockdown, it became my new go-to place. Possibly going there slightly too often – I may have heard my five year old say "not the woods, again!…"
Playing Fields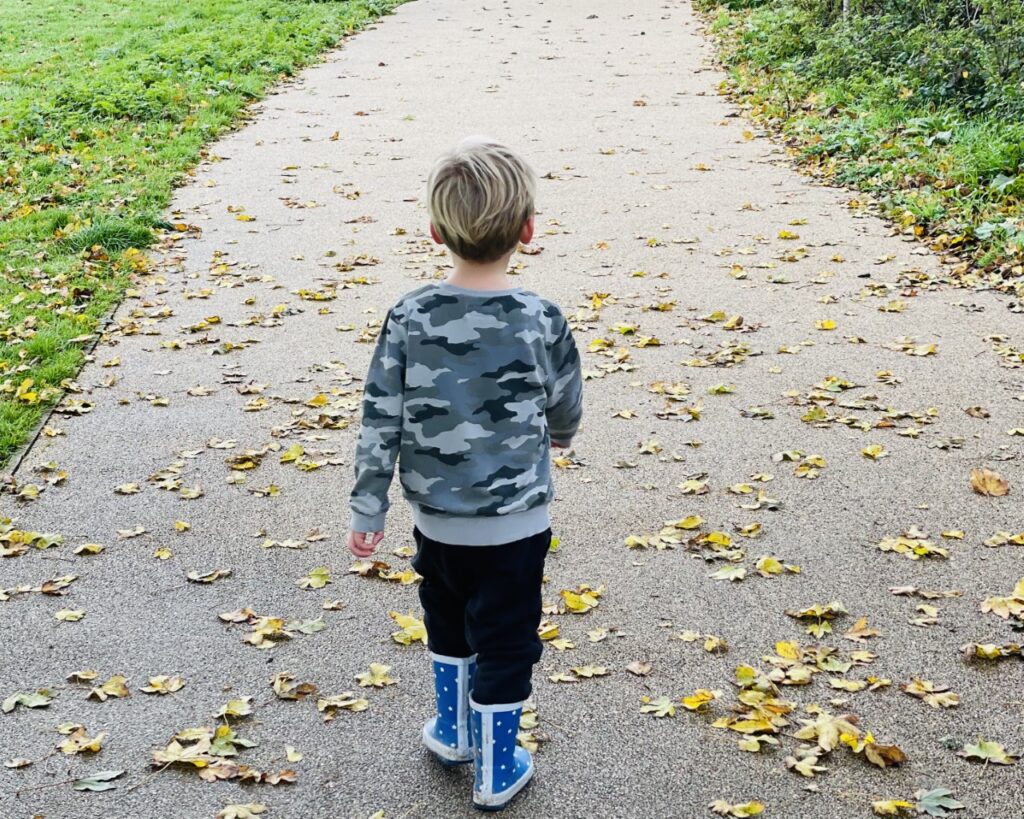 The other place we've been to on more than one (100) occasion have been our local playing fields – King George's on the edge of Elburton. You'll no doubt have playing fields within easy reach of where you live too. They've been ideal for a quick bike ride, playing with monster trucks, and even attempting to fly a kite. When you just want a quick half an hour's breath of fresh air, they've been ideal. And for us will continue to be one of the best Plymouth places to go in lockdown.
Burrator Reservoir
If you want to take a drive out, try Burrator for a little wander, although it is often busy. But once you get away from the parked cars and ice cream van, the number of people thin out. You can cycle, walk or run around the circular route beside the reservoir. Or there are different areas where you can fork off and play, even having a little paddle in the water – if you're brave enough in this weather!
Jennycliff
Jennycliff is another one of the great outdoor spaces in Plymouth to head for. It was the last place we went before Covid restrictions came into force last March, and we love it there. Obviously the magnificent view over Plymouth Sound helps. But there's also plenty of green space to run around, play and sit. You can also take a steep path down to the beach from there too.
Beaches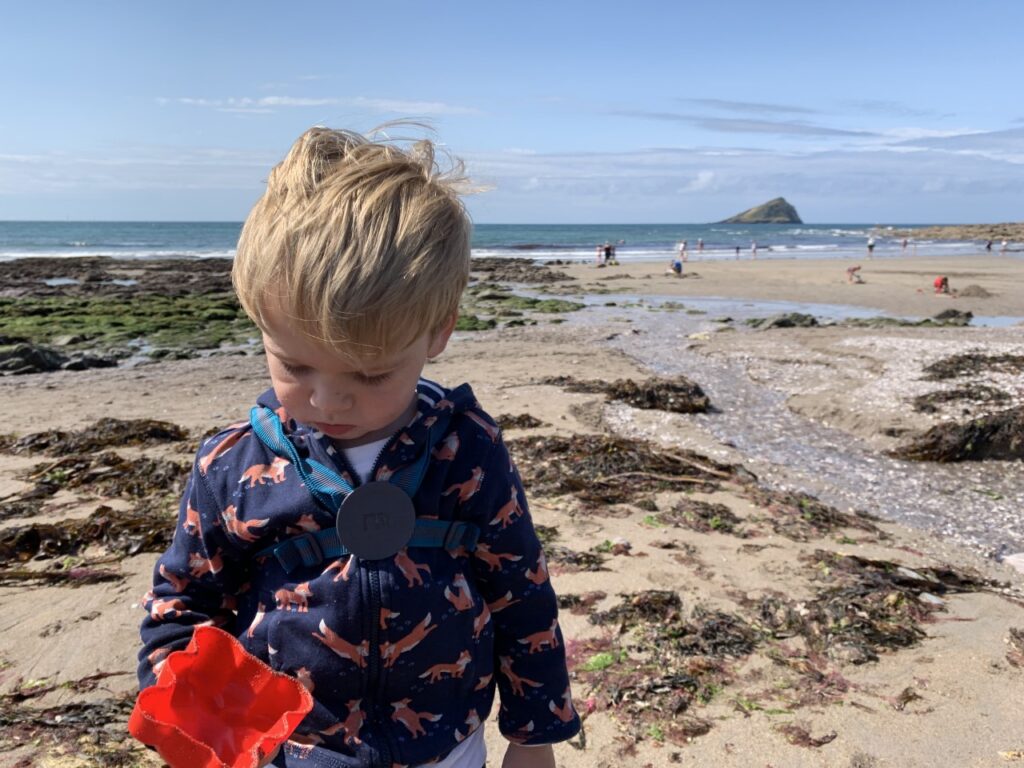 Living in our part of the world, beaches are always going to be top of the list for people to head for. And you can't blame them – we've got so many beautiful beaches so close to us. And seeing as we're not allowed to go far, then head for Bovisand, Mountbatten or Wembury. Once we're allowed further afield again I love Bantham, Bigbury, Thurlestone and South Milton. Or I'd head across the Tamar Bridge where you'll find some beautiful ones in South East Cornwall.
Mount Batten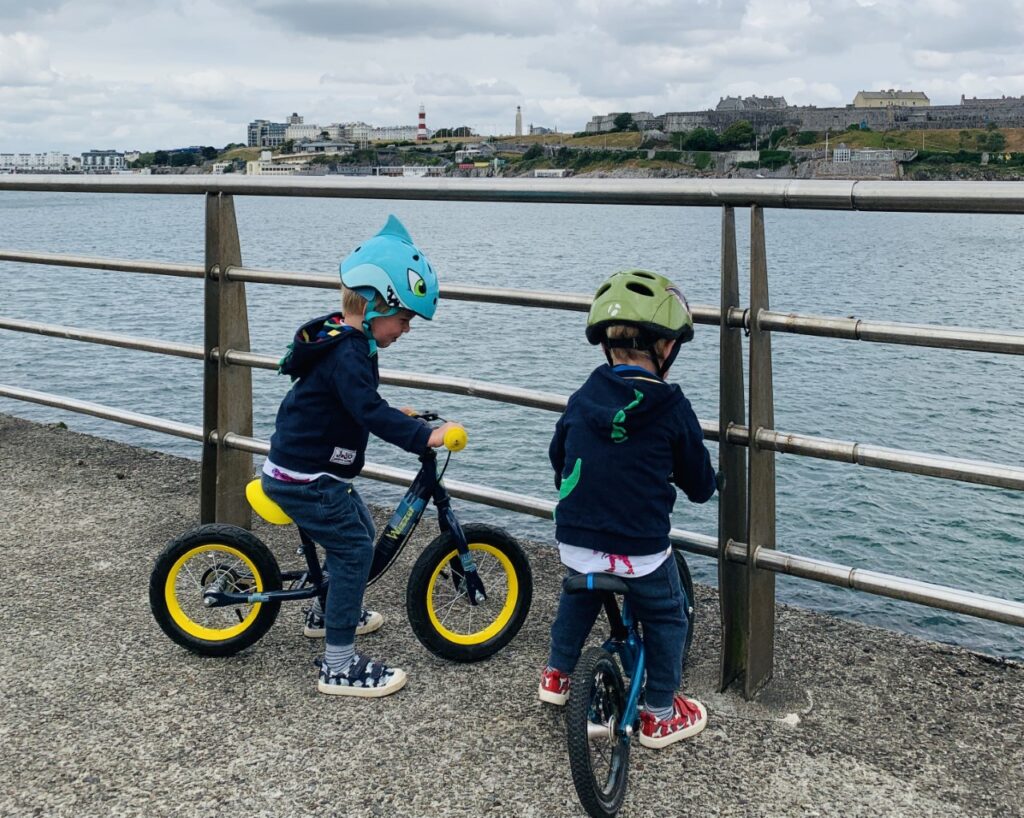 We've done lots of trips to Mount Batten during the restrictions. The pier jutting out into Plymouth Sound is perfect for my boys on their bikes. There is also a green area for them to kick a ball around, and plenty of benches to have your picnic. It's one of those ideal Plymouth places to go in lockdown.
Dartmoor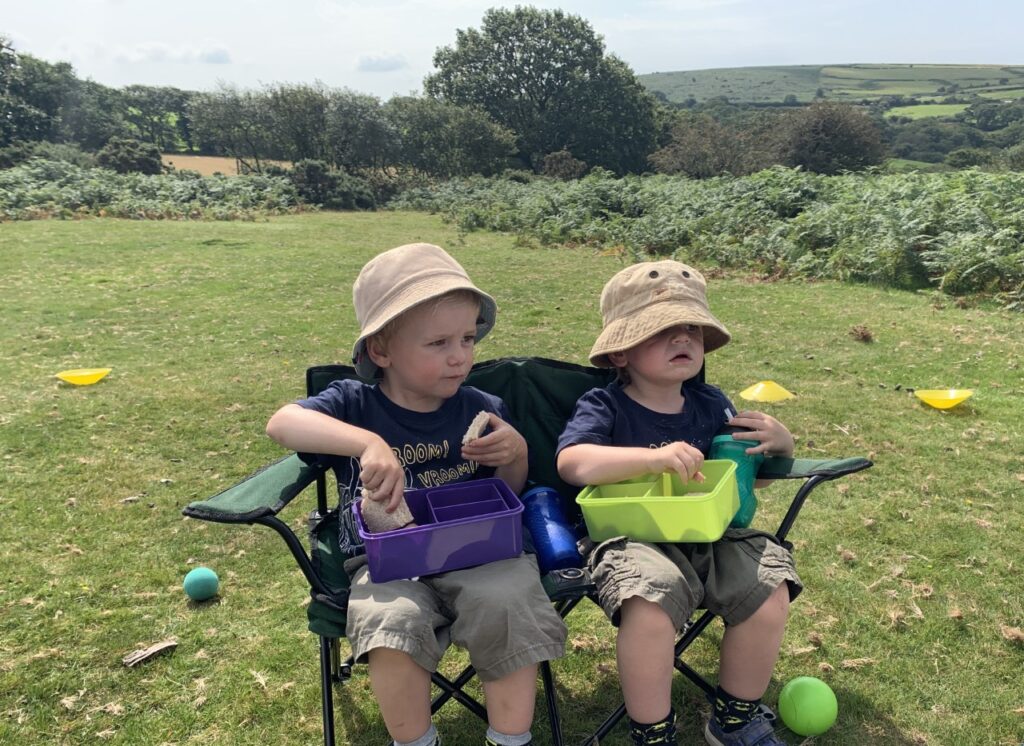 Living in Plymouth, you'd be silly not to have headed for Dartmoor whilst restrictions have been in place. Although it's definitely more tricky now we have to stay more local. With wide open spaces, the National Park offers the perfect setting for the kids to run free and not have to worry about distancing. Obviously some places are busier than others, but if you avoid those such as Cadover Bridge (where it seems the two metre rule does not apply!) you can find some fabulous spots. We enjoyed the old airfield at Yelverton once we were allowed to drive again for exercise last time. The kids have vast amounts of space to ride their bikes and play hide and seek in the gorse bushes. There's even an ice cream van – bonus!
Saltram
No list compiled by me would be complete without a mention of my beloved Saltram, would it? The parkland and pump track is open, but the house remains closed. You might even be lucky to spot the snowdrops. But beware how busy it gets, and Saltram bosses have already put out a warning that if it gets too rammed, they'll shut the car park like the first lockdown and we'll only be able to get in by foot or bike. Every man and their dog will think it's one of the best Plymouth places to go in lockdown.
Where is your favourite outdoor space in and around Plymouth? Where will you be heading for some fresh air?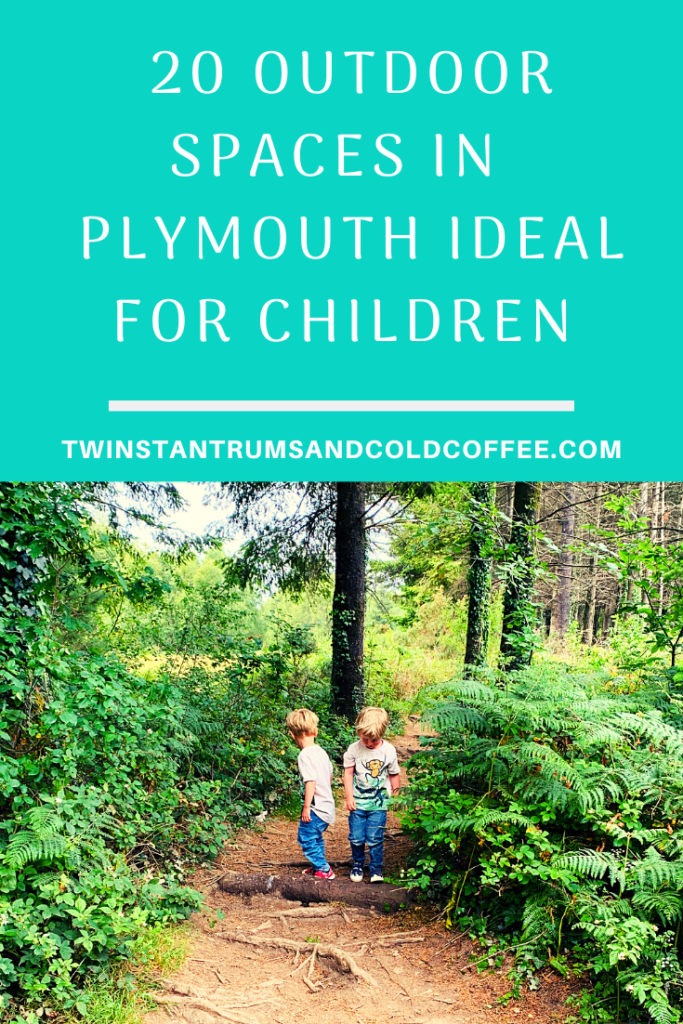 How did I do?
Keep an eye out for the latest Local Stuff here. And if you enjoyed this post, and it's made you want a bit more freedom, why not have a read of 10 top UK family holidays ideal for young children. If you're back to teaching the kids at home and want some ideas, check out my posts on homeschooling ideas and resources. And if you're feeling overwhelmed by it all, read my post on Feeling the pressure to be a supermum in lockdown? There are also some awesome ideas of things to do with kids in Plymouth over on Devon with Kids blog.
If you like a bit of social media madness, pop over to my Facebook page where you'll be able to have a laugh at what ridiculousness goes on in my house with three very small boys on a daily basis. Warning – there is often sarcasm, and usually swearing. There are also great travel reviews and some AWESOME giveaways. Feel free to join my Twins, Tantrums and Cold Coffee – Shits and Giggles Parenting Group too, where everyone shares their hilarious stories.
And if you want to work with me, feel free to give me a shout here or at helen@twinstantrumsandcoldcoffee.com and I'll get back to you.