The county of Devon is famous for its incredible landscapes – from its stunning coast to its woodland, the parks, rivers and lakes – there is so much to see. Whatever the weather, there's really nothing better than working up an appetite by exploring Devon with the kids on foot. Whether you live here like us or are here on holiday or a day trip, here's a little guide to some of the best walks for kids in Devon where you can stop and enjoy the scenery and maybe even have a picnic along the way.
Knapp Copse Local Nature Reserve, East Devon
The nearest postcode is EX10 0QG
A perfect mix of woodland, meadows, a stream and spectacular views set in a hidden valley in the heart of East Devon. There are a number of attractive walking routes through and around the nature reserve, including the East Devon Way. This long-distance trail runs from Exmouth to Lyme Regis and links with the South West Coast Path at both ends. Two permissive paths through the site link with the East Devon Way, providing a selection of circular walks. Some paths are steep and can be very muddy after rain so we recommend wearing wellies or sturdy walking boots. There is a free car park at Knapp Copse.
Woolacombe Beach Walk
Marine Drive car park, grid ref SS458433
From the car park at Marine Drive drop down into the sand dunes until you reach the National Trust dog bin and bench. From this point, follow the South West Coast Path until you reach a large waymark post. At the waymark post turn right down the track until you reach a junction in the sand dunes. At this junction go right and descend through the dunes on to the beach. Once on the beach turn right towards Mill Rock. Just past Mill Rock climb up a gap in the dunes to return to your starting point. This is easily one of the best walks for kids in Devon.
Coly Valley in Colyton
Walk along the River Coly from Colyton, across fields to Rockerhayne where you follow bridleways and tracks to Parehayne Wood and Hill to enjoy views across Devon and Dorset. The return walk offers sea views as well as views to the town itself. You can also continue on to Northleigh, where you will find the flint and stone church of St Giles, dating from the 14th century with its carved doorway, wooden screens and Jacobean pulpit.
Peppercombe Valley
National Trust Peppercombe Valley; Grid ref: SS383239
If you are feeling up for it, and want to try one of the most scenic walks for kids in Devon, take the almost five mile walk around Buck's Mills which dates back to Saxon Times and Peppercombe Castle, which takes you along the coast and through ancient woodland with the option to stop at beaches along the way. Part of the coastline between Peppercombe and Portledge, Horns Cross, is made up of red mud and sandstone. The wooded valley itself is a mix of grasslands, woodland and marshy habitats owned and managed by the National Trust and leads to a sheltered rocky foreshore.
Croyde Bay
Walk along the National Trust owned Baggy Point, the 3 mile stretch of Saunton Sands, the estuary at Crow Point. There are great walking trails along Putsborough, Woolacome and Morthoe. Follow part of the Tarka Trail and the South West Coastal Path through a network of old lanes to take you above Saunton offering views across Bideford Bay, the Taw and Torridge Estuary. Starting at the National Trust car park at Baggy Point, you walk via Braunton to Saunton Sands, and on to Croyde Bay, with its clean sands and rippling dunes. This area is stunning and easily one of the most beautiful walks for kids in Devon.
Cockington
Take a walk via fields and woods offering beautifull views to explore this historic, picturesque village full of thatched cottages, where you can also enjoy a horse and carriage ride to the South West Coast Path in Livermead. The route takes you across the outer boundaries of the Cockington Estate which is a 450-acre country park, complete with lakes and gardens and managed by Torbay Coast and Countryside Trust. Park in the car park near the old school house.
Lydford Gorge
Lydford, Tavistock, Okehampton EX20 4BH
Hike through a prehistoric world filled with lush green plants, trees and wildlife, where the River Lyd crashes and trickles around every corner, This gorge was formed over 1000s of years and you can walk the three miles through it, across narrow, slippery paths and steep inclines, but the views down into the gorge and of the waterfalls and whirlpools are worth the effort. At one end is the Devil's Cauldron whirlpool and at the other is the 100ft high White Lady fall and in between watch the River Lyd crashing and flowing.
Exmoor National Park
Exmoor has endless possibilities for walks with its mix of wooded areas, rivers and moorland and more than 620 miles of footpaths and bridleways. You could begin at Lynmouth, following the East Lyn River upstream past Watersmeet where you may spot otters or kingfishers to Rockford where the path rises into the woods before heading back via the coast.
Please do let us know, if you can recommend any child-friendly walks in Devon. We would love to hear from you. And if you're looking for somewhere you can take a buggy or wheelchair, check out these 15 Accessible Places To Visit in Devon.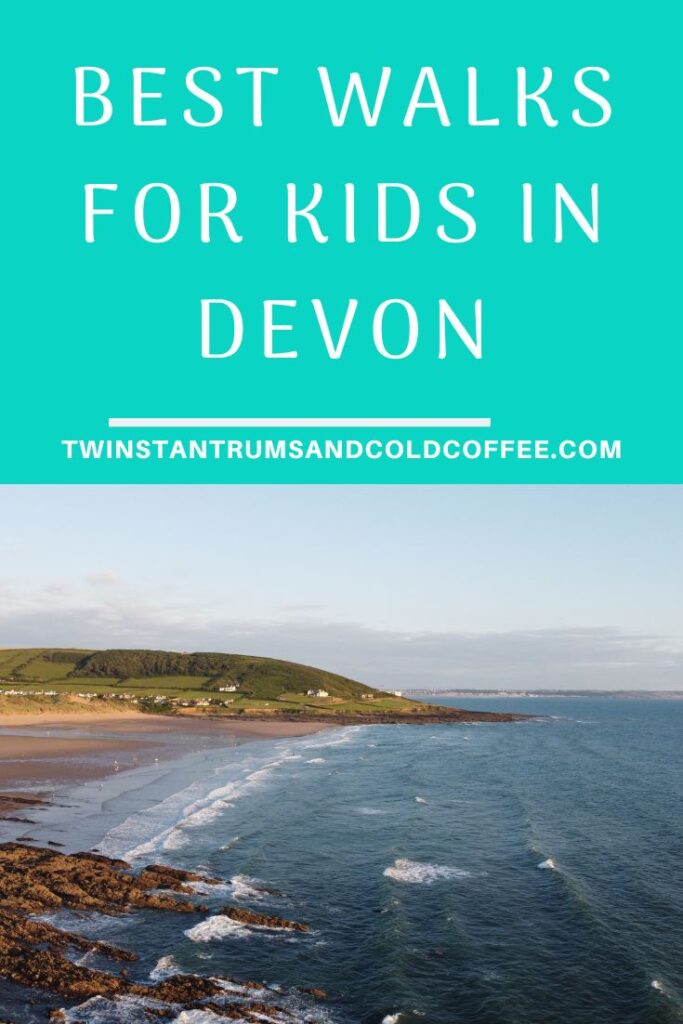 How did I do?
Did you enjoy this post? If you live in Plymouth, (like all the best people), keep an eye out for the latest Local Stuff here. And why not check out some of these:
Or if you want to have a giggle at my parent ramblings, and tongue-in-cheek (possibly a bit sweary) posts, head to the Mum Life section.
If you like a bit of social media madness, pop over to my Facebook page where you'll be able to have a laugh at what ridiculousness goes on in my house with three very small boys on a daily basis. Warning – there is often sarcasm, and usually swearing. There are also great travel reviews and some AWESOME giveaways. Feel free to join my Twins, Tantrums and Cold Coffee – Shits and Giggles Parenting Group too, where everyone shares their hilarious stories.
If you like what you see, how about you check me out on Pinterest, Instagram and Twitter too.
And if you want to work with me, feel free to give me a shout here or at helen@twinstantrumsandcoldcoffee.com and I'll get back to you.