Halloween in Plymouth isn't going to be the same this year due to Covid, but that doesn't mean the kids can't still enjoy it.
It seems the general consensus is that trick or treating is a big no-no this year for obvious reasons. That doesn't bother me at all as we've never done it anyway and had no intention of doing it this year, but for some families who love it, it's a real shame.
So here are some alternatives:
The Big Neighbourhood Pumpkin Trail
You may have seen an alternative doing the rounds on Facebook – creating our own pumpkin trails in our local areas. The Big Neighbourhood Pumpkin Trail is being organised by ARTventurers and is encouraging everyone to put carved pumpkins or pictures of pumpkins in our windows for children to spot.
Families can then do a family walk on or around Halloween and spot the pumpkins much the same as we all did with the rainbows back in lockdown. I guess if you wanted to make it an alternative to Trick or Treating, you could get your child dressed up and give them a sweet for their bucket each time they spotted one. If you don't want to do a pumpkin carving, you can download a pumpkin picture from ARTventurers here to colour in and decorate.
Saltash Pumpkin Trail
Truly Scrumptious Sweets in Saltash is organising a pumpkin trail around the town on Saturday October 31 from 10am to 8pm. Residents and businesses are being encouraged to fill their shop windows, doors, gardens and windows with pumpkins for families to spot. Children are then being invited to dress up in their Halloween fancy dress and go for a family walk around the town to spot them. Truly Scrumptious Sweets will be giving out treats to their favourite pumpkin designs.
Businesses already signed up to decorate their windows for the Saltash Pumpkin Trail include:
The Ploughboy pub
Truly Scrumptious Sweet Shop
The Bookshelf & Team Rooms
Ronnie's of Saltash
Nicky's Glow Beads
Cath's Scentiments
Chapple Property Management
There is to be no door knocking, only a visit to people's gates or driveways to see the pumpkins, and families are asked to respect those households who don't wish to join in.
Plymouth City Centre Halloween Trail
Children will be able to take part in the city centre Halloween Trail during half term from Saturday October 24 to Sunday November 1.
More details are set to be announced by Visit Plymouth, but families will need to find Halloween characters hidden in 15 shop windows around the city centre. They can then be in with a chance of winning £100 to spend in Footloose and Fancy Dress.
Pumpkin Picking at Pips Pick Your Own
UPDATED: THIS EVENT WAS SO POPULAR THE PUMPKINS HAVE NOW BEEN SNAPPED UP AND PIPS IS CLOSED FOR THE SEASON.
If you fancy picking your own pumpkin this Halloween owners at Pips Pick Your Own in Yealmpton are opening their fields early this year in case we end up locked down again by half term. You can go and pick your pumpkins from Saturday October 3 and every day from 10am to 5pm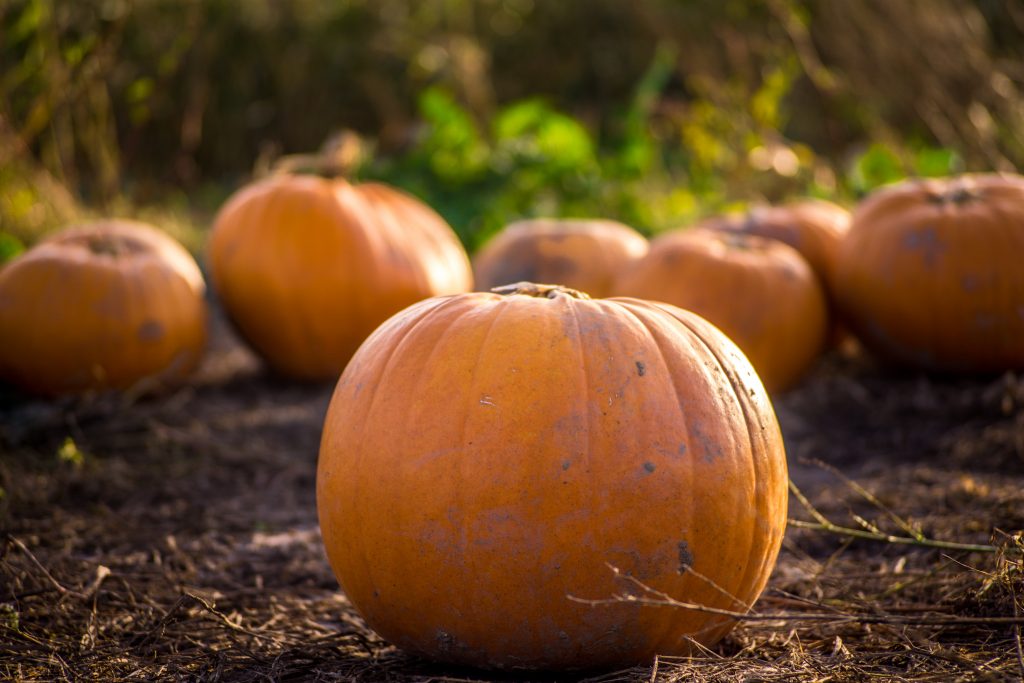 Owner Neil Hawken said: "The pumpkins will last better at your homes than they will in the field so don't worry about them being picked well in advance of Halloween. We have loads of pumpkins this year and some are the biggest I have ever grown. I have white ones, warty ones and traditional. No need to book, just turn up and explore the pumpkin patches and pick the ones you like."
Pumpkins will be prized based on size from £3 to £6, with cash and card accepted.
Pumpkin Fest 2020 at Lifton
You can also pick your own pumpkins at Strawberry Fields, Lifton's Pumpkin Fest 2020. It runs from October 24 to November 1. We went last year and I've never seen so many pumpkins. Although I'd recommend getting there early as it was a bit crazy!
Halloween Pumpkin Patch and Horror Maze
Head to the Cornish Maize Maze and Fun Farm for a pumpkin patch with pumpkin picking, and a short maze with a pumpkin quiz – ideal for families with younger children. It will take place on the weekend of October 17 and 18, and then half term October 24 to 31. It will be 10.30am to 5pm each day. Entry is £4 per person with under 3s free. Pumpkins will be £1 for a small one, £2.50 for medium and £4 for large.
And if you have a family of thrill-seekers, head to the venue for the Halloween Maze of Horrors on Saturday October 31 from 6pm (timed ticket entry).
This event is not for the faint hearted with fire jugglers and performers as well as scare actors. Maybe not quite right for the little ones but sounds great for the older kids!
The halloween Horror Maze consists of a set route through the maize with scare scenes with live actors along the way. It will take you about 15 minutes to complete The Horror Maze. Organisers are saying it's likely to be the scariest 15 minutes of your life! Flippin' heck!
A BBQ will be available along side normal cafe food. Your timed ticket allows you entry to The Horror Maze between the times on your ticket, although you can arrive on site earlier and leave later if you wish.
Halloween boat trip cruise
If you fancy something a bit different this Halloween how about a spooky boat trip cruise? Plymouth Boat Trips are running a Halloween-themed children's disco on Saturday October 31 from 5pm to 6.30pm. It's a chance to dress up for the fancy dress competition, and there will be on board music, games and an opportunity to play the Trick or Treat Treasure Chest. It departs from the Barbican Landing Stage and tickets can be booked online.
Tots Play Halloween Specials
Tots Play baby group in Plymouth are holding special Halloween classes at the Kidslingo Hub, Christian Mill Business Centre on Thursday October 29. The Discovery Tots group which is for 8 weeks to crawling will include yoga, learning some spooky sign language, some scary sensory play and some magic massage on your little monster. It's also a chance to dress your baby up in cute Halloween costumes! There are three sessions running, at a cost of £8 and they can be booked here.
Spook-Fest at Crealy
Unlike many other attractions this year, Crealy are pushing ahead with their Halloween 2020 events this half term. There is something for all ages with a Witches of the Wilderness trail, singing pumpkins, a Scarecrow Scare Maze, Tik & Tok's Terrifying Tricks, Buddy & Blossom's Scare Bear Show, as well as free pumpkins to take home and carve.
Are you holding a Halloween event in or around Plymouth? Let me know and I'll add it to the list.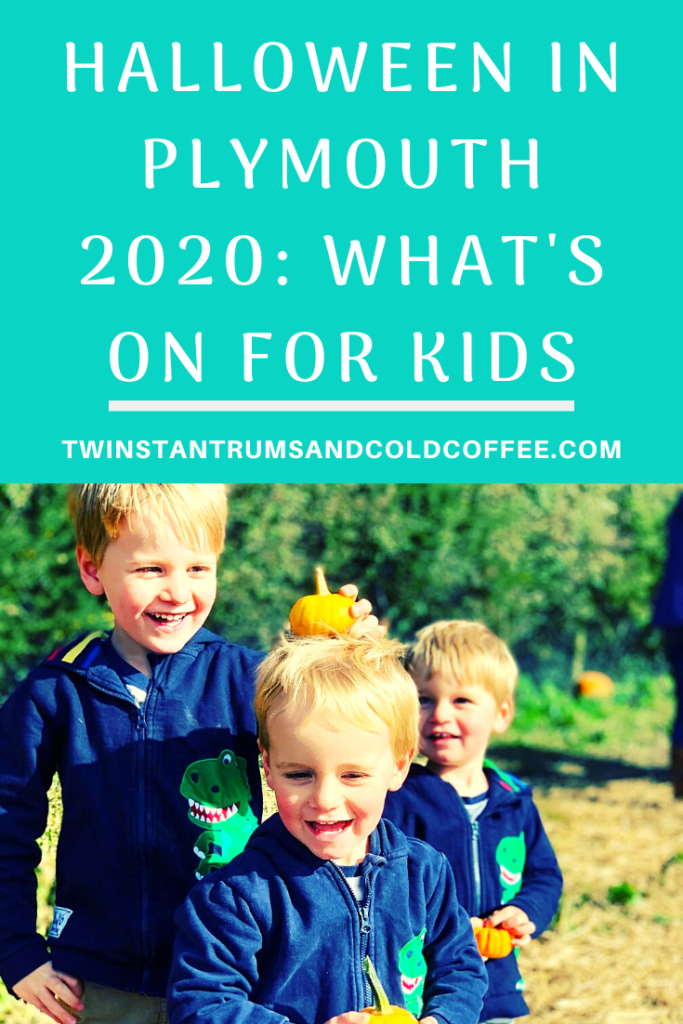 How did I do?
Did you enjoy this post? Keep an eye out for the latest Local Stuff here. If you're looking for some more Plymouth stuff, then check out my blogpost about what there is for kids at the city's new museum The Box. Or how about reading the Top 20 Outdoor Spaces in Plymouth for Families. And keep your eye on my Local Stuff section for more Plymouth goings-on. Or if you want to have a giggle at my parent ramblings, head to the Mum Life section.
If you like a bit of social media madness, pop over to my Facebook page where you'll be able to have a laugh at what ridiculousness goes on in my house with three very small boys on a daily basis. Warning – there is often sarcasm, and usually swearing. There are also great travel reviews and some AWESOME giveaways. Feel free to join my Twins, Tantrums and Cold Coffee – Shits and Giggles Parenting Group too, where everyone shares their hilarious stories.
If you like what you see, how about you check me out on Pinterest, Instagram and Twitter too.
And if you want to work with me, feel free to give me a shout here or at helen@twinstantrumsandcoldcoffee.com and I'll get back to you.