Halloween in Plymouth is here! And there is SO much spooky entertainment going on in our fabulous city, you'd better be ready for it.
So get your costumes organised, stock up on sweets for the Trick or Treaters, and get those pumpkins carved. Obviously once you've picked one from some of the awesome pumpkin patches near Plymouth.
Halloween events in Plymouth 2022 – what's on and where
City Centre Halloween Trail
If you love a trail, then you'll be in for a treat this year. The Visit Plymouth city centre Halloween trail is back again for 2022.
It will be running during half term, October 22 to 31, and is the perfect thing to do to keep the kids entertained during the holidays. You have to locate the 15 Halloween characters displayed in shop windows to be in with a chance of winning one of three £50 gift cards to spend at Waterstones. What a great prize!
Once you've found them all, complete the entry form on the Visit Plymouth website to be in with chance to win.
Halloween on the Barbican
A whole host of 'sea-riously' spooky events and activities are set to take place on Plymouth's Barbican from October 24 to 30. There will be a Barbican Halloween Trail in which children need to look out for posters of real sea creatures in shop windows around the Barbican. But in true spooky-style, they might have a gruesome twist such as a Zombie Worm! Find them all and take your completed trail to the Tourist Information Centre to collect your prize.
More details are soon to be released on the Barbican Waterfront website and Facebook page about other activities planned.
Spooky Science at The Box
The Box is holding a spooktacular Spooky Science kids event from 5.30pm to 8.30pm on October 29. Explore the galleries by torchlight, perform a science experiment in the museum's Learning Room and dance away to some spooky tracks in your Halloween outfits. Book your tickets here. And if you've not been to The Box yet, find out more and what we thought of it here.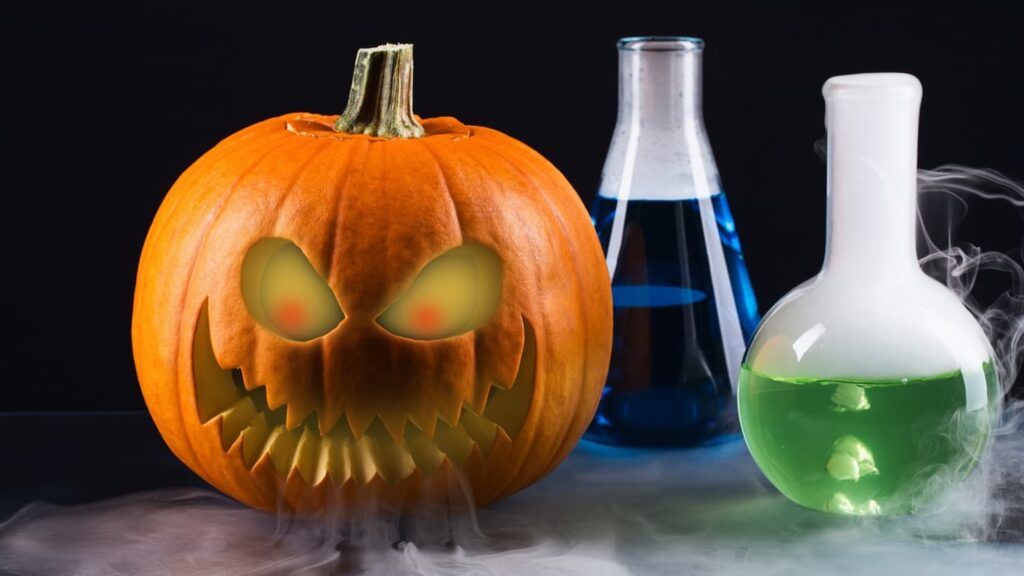 Halloween Story Telling
Get yourselves dressed up and head down to the Soapbox Children's Theatre at Devonport Park for some spooky story telling beside a fire on Friday October 28 at 6pm. Storyteller Jacqueline will delight the whole family with a tale of grave diggers and ghosts, whilst toast and hot chocolate will be provided for the children. Book here.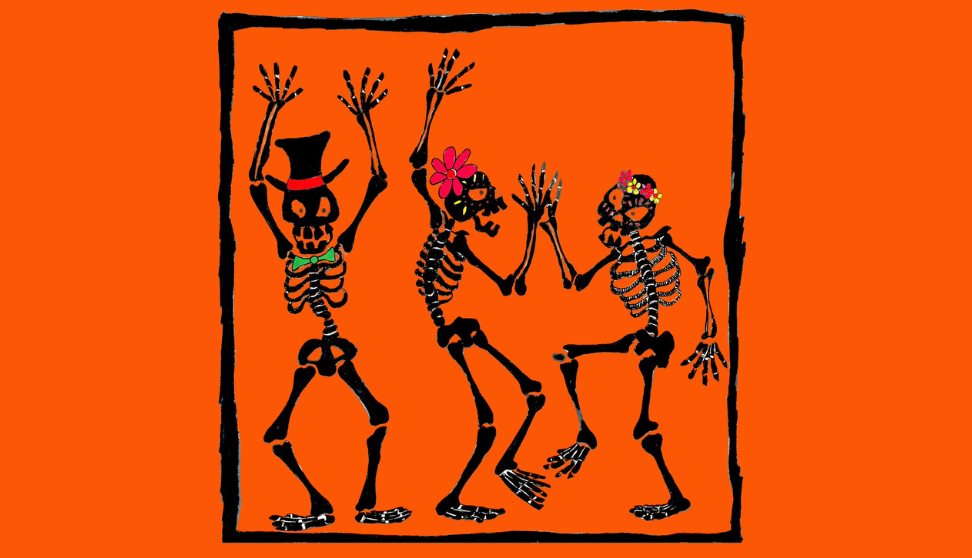 Pumpkin Picking at Pips Pick Your Own
If you fancy picking your own pumpkin this Halloween, owners at Pips Pick Your Own in Yealmpton have opened their fields early again. You can go and pick your pumpkins from Saturday October 2 and every day from 10am to 5pm. And it's a good idea to be quick. The event was so popular last year that all the pumpkins had been snapped up way before Halloween.
Owner Neil Hawken said: "As always, I urge you all to come pumpkin picking earlier in October. If you wait until close to Halloween you may be disappointed. It also gives you a much larger choice of pumpkins."
Pumpkin Fest 2021 at Lifton
You can also pick your own pumpkins at Strawberry Fields, Lifton's Pumpkin Fest 2022. It will be held on October 8/9, 15/16 and October 24-30. It will include family fun activities from pumpkin picking and carving, a mystical magic show and a haunted maize maze. This year you need to book a slot, which is great as it gets totally manic. Buy your tickets beforehand here. And if you're not a Devon local, find out where your nearest pumpkin patch is in this ultimate UK pumpkin picking guide.
Halloween Pumpkin Patch and Horror Maze
The Pumpkin Patch at the Amazing Cornish Maize Maze at Pillaton near Saltash will take place on October 15/16 and then October 22-30. Not only will there be pumpkin picking, but also a short maze with a pumpkin quiz ideal for families with younger children. It will be open from 10.30am to 5pm. Make sure you buy your tickets in advance as it's set to be busy.
And on Saturday October 29, the Halloween Maze of Horrors will be opened at timed slots from 6pm. It's not for the faint-hearted and costs £15 each. Find out more details on their website.
Saltash Pumpkin Trail
For the third year running, there will be a Pumpkin Trail in Saltash on Monday October 31. Shop owners and residents are being encouraged to fill their windows, doors and gardens with pumpkins of any kind for local families to go and spot. Fancy dress is encouraged and it's hoped children and their parents can enjoy this lovely community event at the same time as collecting a few treats along the way.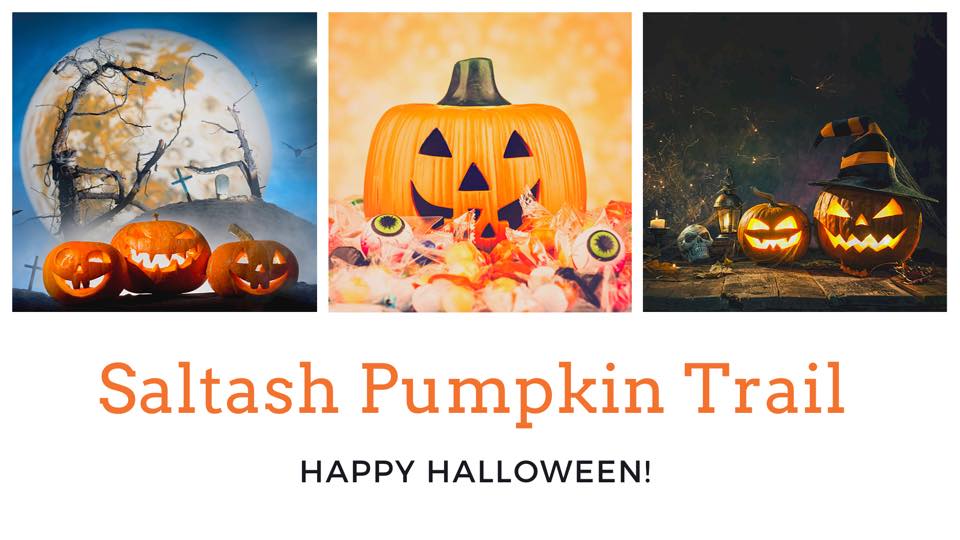 Plym Valley Halloween Extravaganza
It's going to be a spooky weekend at the Plym Valley Railway in Plympton on October 29 and 30. Spookily decorated trains will be running hourly throughout both days with games and activities for children.
Plymouth Market Halloween Party
Halloween fun will be taking place at Plymouth Market in the city centre at a special spooky party. The event will run from 11am to 4pm and will involve exciting (and spooky) activities such as face painting, competitions and trick or treating. Find out more here.
Halloween Adventure Golf
Get yourself to Woodland Adventure Golf at China Fleet Club for a spooky adventure from Saturday October 22 to Sunday October 31. Are you brave enough to tackle the course in the dark after 6pm? It's been taken over by scary creepy crawlies, and visitors are being invited to dress up and have a spooktacular time. It's open from 10am to 8pm.
Spook-Fest at Crealy
Crealy's Spook-Fest is a real favourite among locals and it's set to be even better this year. There is something for all ages with a Sounds of the Wilderness trail, the Spooky Street Circus, a Scarecrow Scare Maze, a 'Creaky Hotel', Buddy & Blossom's Halloween Bash, and free pumpkins to take home and carve.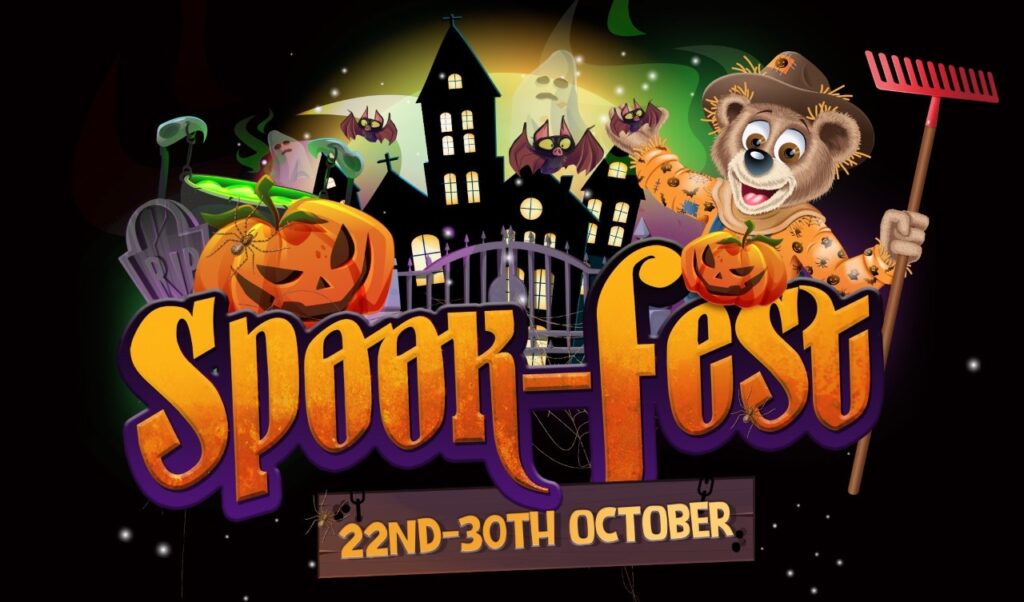 BOO at the Zoo
Dartmoor Zoo's Boo at the Zoo is back and is set to be scarier than ever. The zoo at Sparkwell is opening its gates after dark on Friday October 28 and Saturday October 29 between 5.30pm and 8.30pm. Guests will be invited on a spooktacular trail through the zoo and are promised a FRIGHTfully good evening. Be aware not all of it is suitable for children. You can roam the haunted zoo grounds where creatures maybe lurking in the shadow. Watch your step in the Wicked Woodland and Dolls Demise (apparently not for the faint-hearted!) and see if you can make it out alive from the Dark Maze where it's so dark you'll need to feel your way out. Visitors can also meet the zoo's reptile and beastly bug residents, and there'll be spooktacular entertainment, moreish cuisine and tricks or treats galore. It's got to be one of the scariest events for Halloween in Plymouth and if you're feeling brave, buy tickets here.
Halloween Workshop
If you fancy a spooky Halloween makeover, then head to a special Halloween Workshop at Lipson Community College on Saturday October 29. There will be face painting, Halloween styled glitter makeovers, hair styling with glitter or added coloured spray, glitter tattoos, a spooky colouring competition, lucky dip and Halloween sweet treats. Find out more and buy tickets here.
Halloween Fayre at Wembury
Bowel Cancer West are holding a free family friendly Halloween Fayre at Wembury War Memorial Village Hall on Saturday October 29. The event from 3pm to 7pm will include local stallholders, a fancy dress competition, pumpkin carving, and Halloween themed games. Refreshments will be available and donations to Bowel Cancer West will be welcome.
Poisonous Potions and Pesky Pumpkin trail at Saltram
My absolute favourite place is holding a Poisonous Potions and Pesky Pumpkin Trail in the garden during half term from October 22 to 30 from 10am to 5pm.
Collect your potions sheet from the Welcome Centre and head around the gardens searching for all the ingredients to add to your potion. Along the way you'll discover the plants, herbs and trees once used to make love charms or bring good luck. You can also spot the pesky pumpkins which have returned to the garden. Return your completed sheet to the second-hand book shop and collect your Halloween sticker.
Spooky Silent Disco
Fun-lovers of all ages are invited to Keyham's Spooky Silent Disco on Wednesday October 26. The event takes place at Keyham Green Places in Renown Street, from 5.30pm to 7.30pm. The free event, organised by Keyham Sparks and Diverse Events CIC, will include three channels of music all played through headphones, and a prize for the best fancy dress costume. Book tickets here.
Halloween at Pennywell
One of our favourite places, Pennywell Farm is having its very own Pumpkin Patch this year. From October 1 to 30, everyone is invited to meet Paddy the Pumpkin and his friends who have left clues all around the farm. Follow the trail and answer the quiz questions to win a prize. You can then roam around the pumpkin patch and find your own locally grown pumpkin to buy and take home.
Tots Play Halloween Specials
Tots Play baby group in Plymouth are holding special Halloween classes at William Sutton Village Hall and Tamar View Community Resource Centre on Wednesday October 26 and Saturday October 29. The multi-activity sessions are for babies aged two months up to 2.5 years. Siblings and other family members are welcome. Do you need any more of an excuse to dress your little ones up in cute Halloween costumes? Find out more and book here.
Canonteign Falls
There's set to be some spooktacular fun at Canonteign Falls during October half term. There is a special pumpkin hunt and pumpkin colouring competition. Belle the Shetland pony will be in fancy dress, and visitors are invited to join her in donning their spooky costumes.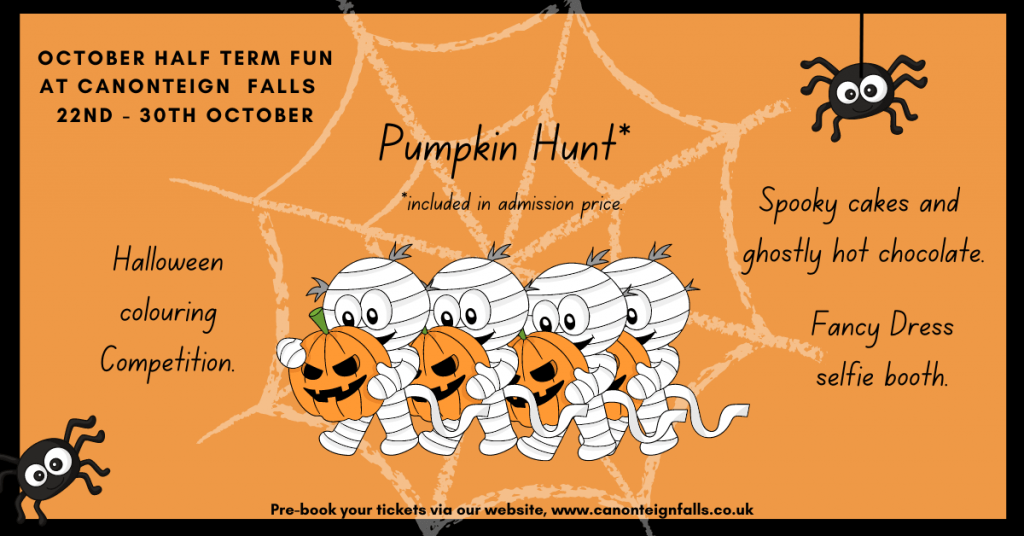 Halloween fun at Moo Music Plymouth
Moo Music Plymouth on Mutley Plain will be transforming into a spooky farm throughout half term! But one thing that isn't scary about the firm favourite for under 5s, is the price! A 90 minute stint (which includes a structured music and movement session and time to play in the softplay) is just £8 or £10 for siblings. But, as always, during school holidays older school aged siblings go for free! Book your spot here.
Diddi Dance Halloween Party
If your little ones like to get down to the music, take them along to the Diddi Dance Halloween Party on Saturday October 29. The event, at Harewood House in Plympton, will be from 1.15pm to 3pm and include spooky dancing, a creepy craft to take home, a scary snack and a terrifying treat to make and take home. For more information and to book click here.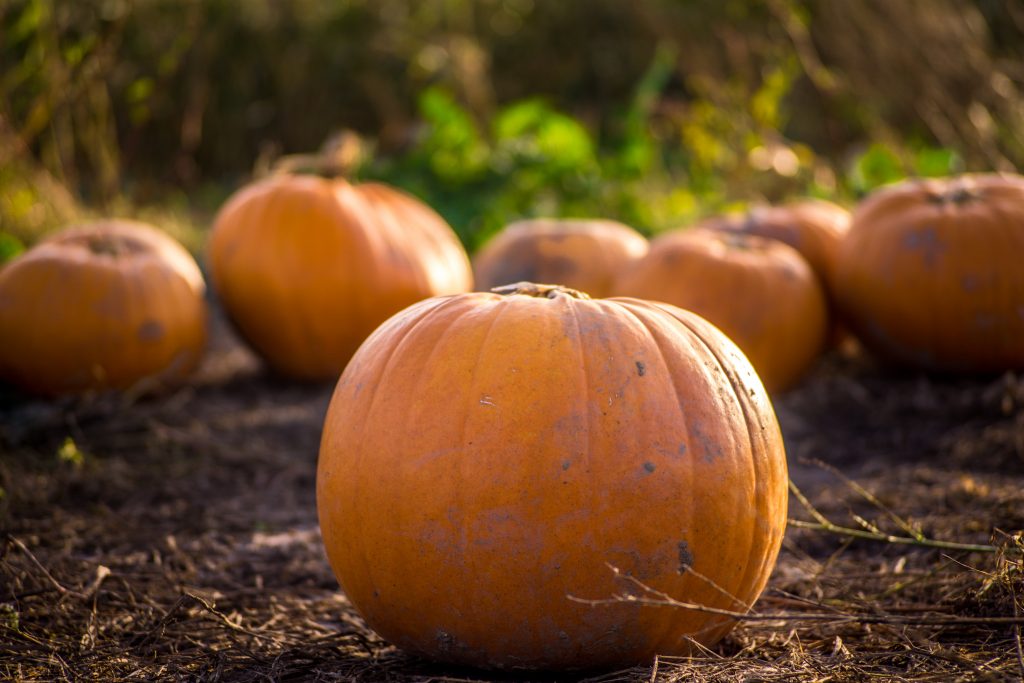 Woodford Primary School's Pumpkin Hunt
If you're looking for something spooky to do this half term why not join in with Woodford Primary School's Pumpkin Hunt? It costs just £2 to enter and involves following a map to find the letter at certain haunted addresses to be entered into a prize draw. Maps are being sold at Yield Bakery on the Ridgeway and must be returned there. It runs from Friday October 21 to Monday October 31.
Spooky Fun at Plymouth Libraries
Various libraries across the city are putting on spooktacular craft and storytime sessions throughout half term. There will be a different craft each day such as scary spiders, ghoulish ghosts and stinky slime. Find out times and locations here.
Halloween Disco at Adrenalin
Trampoline centre Adrenalin at Derriford is holding a Nightmare Disco for over 5s on Saturday October 29 from 6pm to 8pm. There is a fancy dress competition, raffle, and spooky music. Find out more on their Facebook page.
Halloween Fun at Jump
There's lots of spooky goings-on at Jump Plymouth at Christian Mill Business Park this half term. Their Halloween discos are sold out, but there's plenty of other spooktacular activities going on such as Halloween games and competitions.
Halloween Party at Chaddlewood
If you're in Plympton and looking for a spooky event to go to, a Halloween Party is being held at Chaddlewood Farm Community Centre. The event will take place on Saturday October 29 from 5pm to 11pm. Find out more here.
Freaky Fete
A Freaky Fete is being held at Brunel Primary School in Saltash on Saturday October 22 from 10.30am to 1.30pm. Fun will include an UNlucky slime dip, wheel of MISfortune, hook a vampire duck, poke a pumpkin, pin a spider on a web, witches hat hoopla, scary skittles, make a Halloween lantern, creepy cake sale and a children's book sale. It's organised by the Friends of Summerfields Park.
Dad's Group Halloween Fun
A pumpkin party is being held at the Green Ark Children's Centre in Devonport for Dads/Male Carers and their children aged 0-5 and siblings. It takes place on Saturday October 22 from 10am to 11.30am. Fancy dress is encouraged for the morning of messy play, arts and crafts, and pumpkin play. Find out more on their Facebook page.
Baby Sensory and Toddler Sense parties
Pumpkin parties for babies and Spooky Wooky parties for toddlers are being held at the WOW centre in Plympton at the weekend. The Baby Sensory Pumpkin Parties will be on Saturday October 22 at various times, and the Toddler Sense Spooky Wooky Parties will be at different times on Sunday October 23. It's a way for babies and toddlers to be introduced to a gentle, non-scary Halloween with bouncing pumpkins, a magical pumpkin patch, apple bobbing and much more.
Baby Sensory Plymouth Pumpkin Parties
Baby Pumpkin Parties are being held at different places across the city by Baby Sensory Plymouth and there are a few places left. They take place at Elburton on Saturday October 22, and Manadon on Tuesday October 25. The Saltash ones on Sunday are full. Check out more details here.
Zombie Alpacalypse
No it's not a typo, it's a very clever play on words. The Zombie Alpacalypse is being run by Jeans' Family Farm at Bohetherick Farm, PL12 6SZ. The south east Cornwall location is an alpaca trekking centre situated on a working family farm and were featured on Channel 5's Our Family Farm Rescue with Adam Henson. The Zombie Alpacalypse will run from 3pm to 7pm on Saturday October 29 and you can buy tickets for a timed entry slot. Visitors are encouraged to turn up in their best Halloween costume to meet the alpacas and gather clues around a spooky trail. Find out more here.
Hogwarts and Wonderland Craft Day
A Hogwarts and Wonderland themed craft day is taking place at St Aidan's Community Hub in Ernesettle, Plymouth on Thursday October 27 between 10am and 2pm. The event will be in aid of Debbie's Days. It costs £2.50 per person or £7 for a family of four including one adult.
Are you holding a Halloween event in or around Plymouth? Let me know and I'll add it to the list.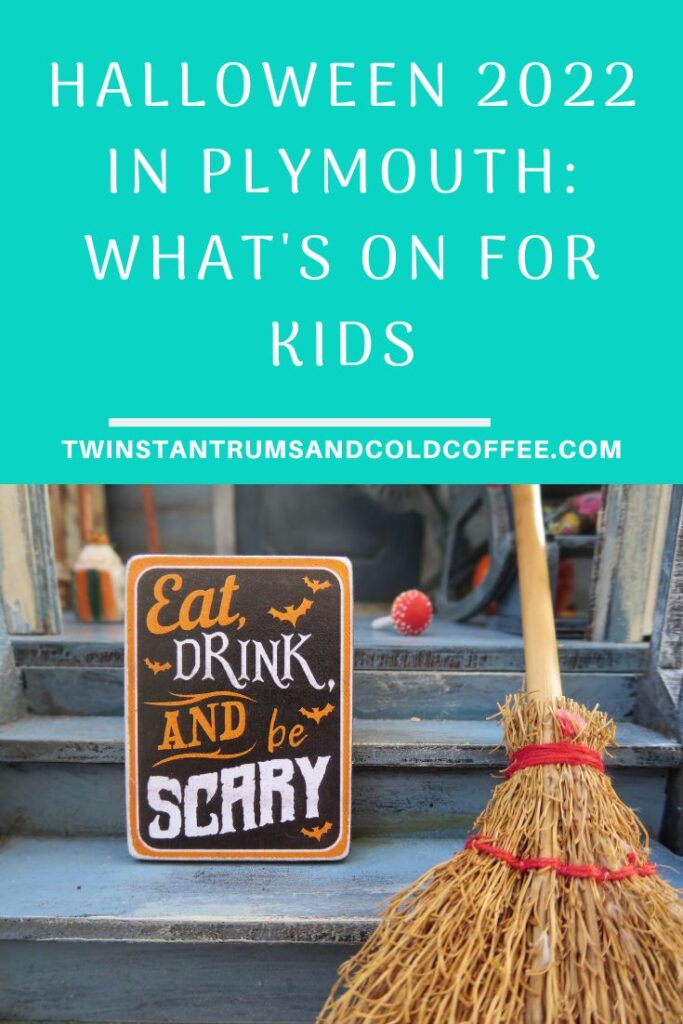 How did I do?
Did you enjoy this post? Want some more spooky Halloween bits to read? Try these:
And if you live in Plymouth, (like all the best people), keep an eye out for the latest Local Stuff here. And why not check out some of these:
Or if you want to have a giggle at my parent ramblings, and tongue-in-cheek (possibly a bit sweary) posts, head to the Mum Life section.
If you like a bit of social media madness, pop over to my Facebook page where you'll be able to have a laugh at what ridiculousness goes on in my house with three very small boys on a daily basis. Warning – there is often sarcasm, and usually swearing. There are also great travel reviews and some AWESOME giveaways. Feel free to join my Twins, Tantrums and Cold Coffee – Shits and Giggles Parenting Group too, where everyone shares their hilarious stories.
And if you want to work with me, feel free to give me a shout here or at helen@twinstantrumsandcoldcoffee.com and I'll get back to you.