The summer holidays 2023 are upon us, and whether we love them or hate them, we're somehow going to have to keep our children entertained with days out in Plymouth for SIX WHOLE WEEKS. But how??
I'll tell you how – you're not going to panic. Have a little read through this huge list of ideas. Save it to your phone to come back to again and again. Make a bit of a plan. And did I mention not to panic?
Okay, so it might take you a while to get through them all (aren't we lucky Plymouth is so awesome!) but there are bloody LOADS of ideas on here to keep every member of the family happy. There are details of events, days out, places to go, and new things to try – all in and around our fabulous city.
Some are free (yay!), some are not. Some you can turn up to, some you need to book. If the weather isn't looking too great, head to The 20 Best Things To Do Indoors In Plymouth With Kids. And if you need a drink at the end of a hard week entertaining (likely), head to Family Friendly Pubs With Parks in Plymouth.
So check out the details and have loads of fun!
Whether you're a Plymouth resident or are coming here on holiday, there is bound to be something new for you and your kids to do this summer. I mean, not even I have been to EVERYTHING on this list. Almost though..
National Trust properties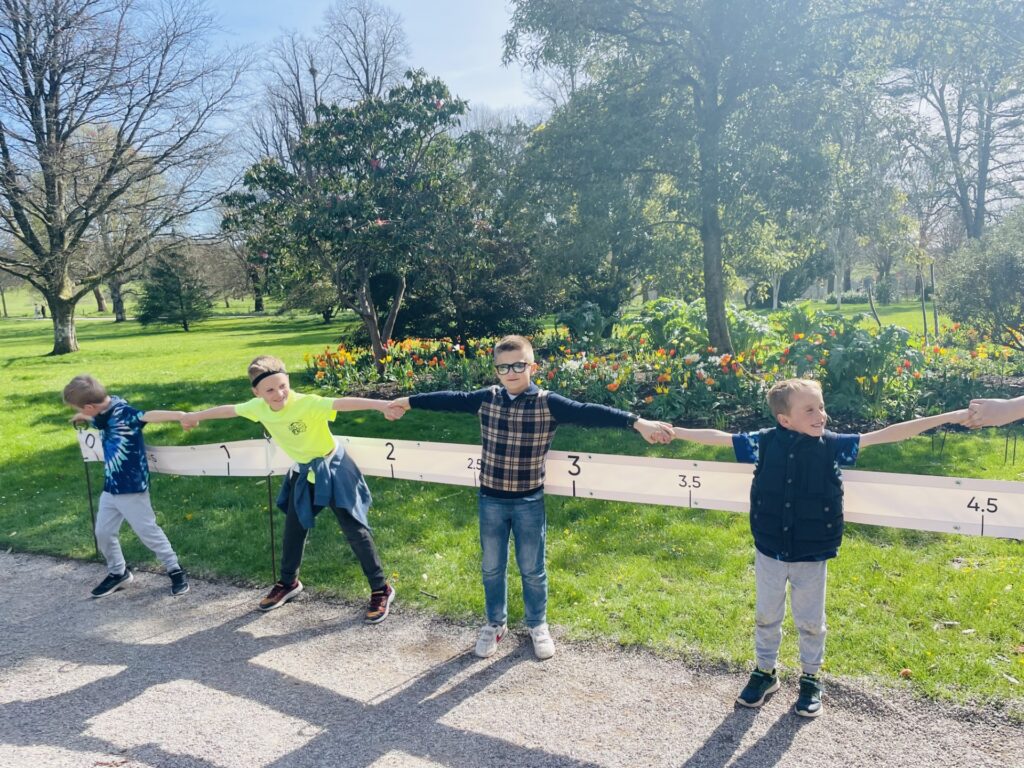 If you've spent any time looking at my social media accounts, you'll know I love a National Trust property and basically spent my children's newborn to starting school years at various ones. (Mainly because I found them the easiest of places to not lose my twins. Apart from that one time…). So I'll probably see you out and about at any of the following local NT places. I'll be the one shouting at a runaway child.
Saltram – It's a go-to place for any Plymouth parent, and this year looks set to be no different with its Summer of Play event. For 2023 visitors will be enrolled into the Saltram Summer school of art and become an artist apprentice following in the footsteps of famous Sir Joshua Reynolds. Collect your sketchbook trail (costs £1) from the Welcome Centre and become the Master Painter by completing all the challenges and activities. They include chilling out in the artist tent play area for some lawn games, exploring family portraits, dressing up every Monday and Thursday, or family art sessions every Thursday. Once they've completed their artist journey, kids can collect their medal and certificate from the bookshop.
As well as the school of art event, Saltram is also hosting Wild Wednedays this summer. They are events of either pond dipping or a bug safari between 11am and 1pm every Wednesday in partnership with Green Minds. The events are for those aged 5 and older, and are free but must be booked here. All children must be accompanied by a parent or guardian who must also book a ticket. Quick though as many are sold out already. Hopefully more dates will be released.
Saltram Summer of Play runs from Juy 22 to September 3 from 10am to 4.15pm. And whether you join in the organised activites or do your own thing, there's always fun to be had at Saltram. Plonk a picnic rug down and let them loose on the lawn, take them to the pump track on their bikes (good luck dragging them back up the hill – one of the worse days of my life!), feed the ducks, climb trees, head down to the beach or do the circular walk around the parkland. Whatever you do finish it with an ice cream (that you used all morning as a bribe) and a cheese scone!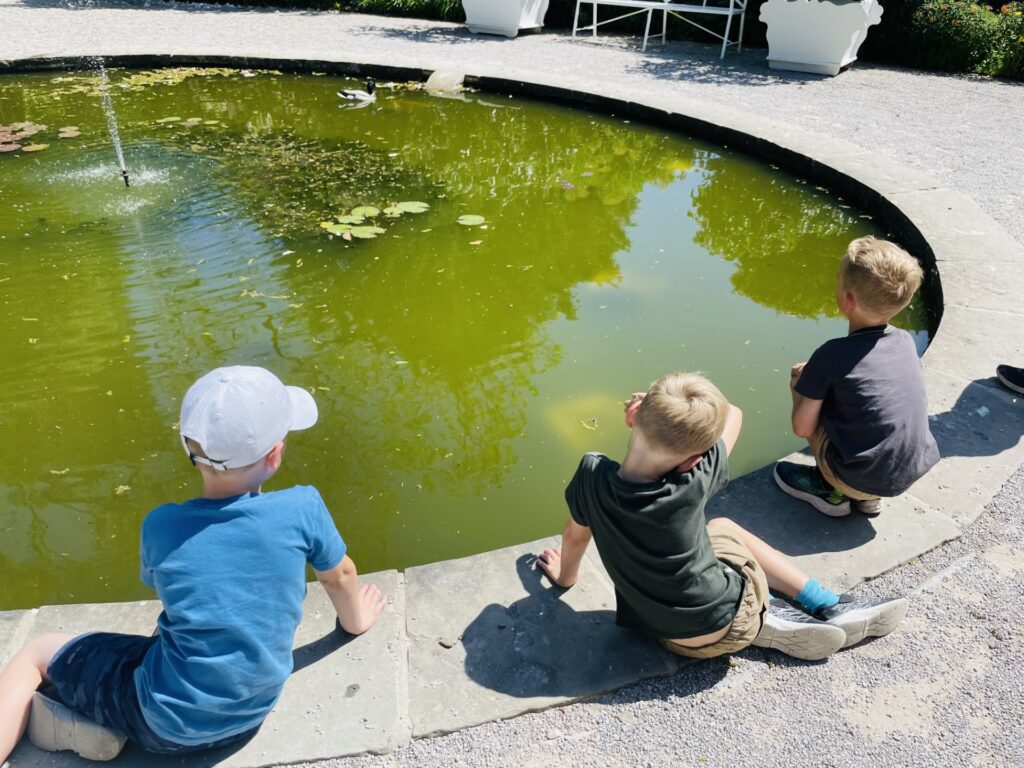 Buckland Abbey – The Summer of Play event is also taking place at Buckland Abbey from July 22 to September 3. This summer, kids can immerse themselves in Tudor and nature themed activities across the gardens, Great Barn and Abbey. Featuring Tudor sports, an opportunity to act and dance Elizabethan style, Tudor cooking in the sand kitchen, a jousting arena, a 'book nook', lawn games and much more, there's something for everyone to enjoy.
The first weekend of the holidays will also see a special Elizabethan Weekend take place at Buckland Abbey. There will be falconry displays, Tudor cookery demonstrations, and Elizabethan dancing, as well as the rest of the Summer of Play activities
Cotehele – If you're heading to Cotehele this school holiday then your kids will love its Summer of Play activities. Stop off at Visitor Reception to pick up a summer activities map, then choose what to do first. Challenge the family to a race around the orchard, get creative in the performance area, see who can build the tallest tower, or who can throw the most bean bags at a game of corn hole. Make the most of it from July 22 to September 3.
Antony House – Yes you've guessed it, the National Trust's Summer of Play is also taking place at Antony House in Torpoint! So if you fancy a day out of Plymouth then head over on the ferry on a Sunday, Tuesday, Wednesday or Thursday when it is open from 12.00pm to 5pm between July 16 and August 31. Activities will include den building, dressing up, hoop toss, cricket, tennis, block building, corn hole and lots more.
Plymouth's Big Hitters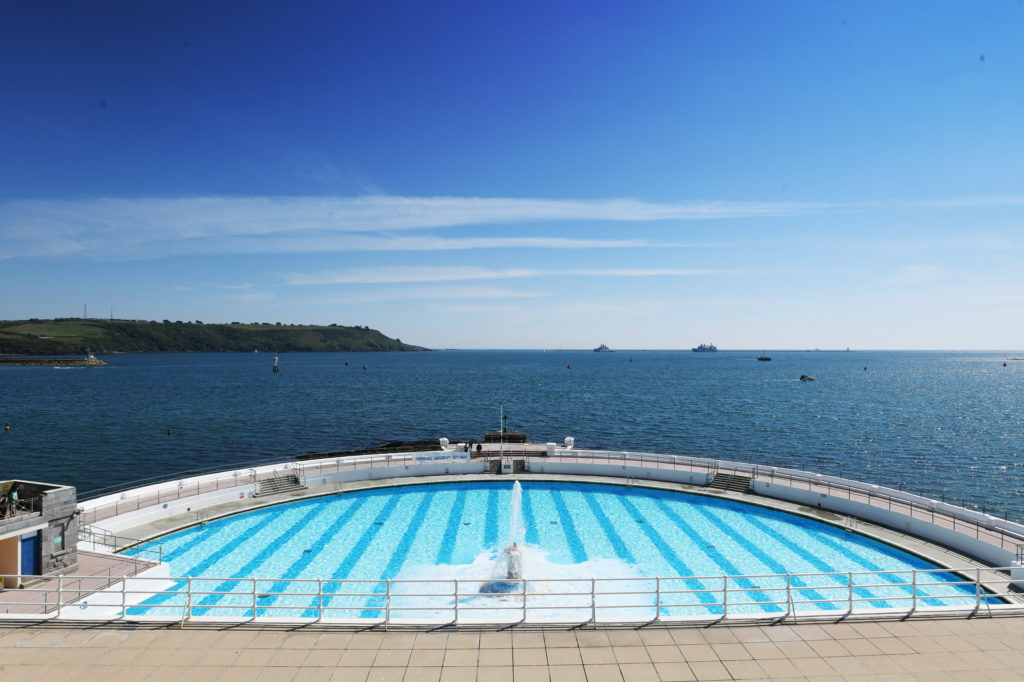 Tinside and Mount Wise Pools – if we're lucky with the weather and you need cooling down, why not head to either Plymouth's Tinside Lido or Mount Wise swimming pools. Tinside has a shallow end perfect for kids, and Mount Wise has three pools – a 25m main pool, a fun pool with fountains, stepping stones, a whirlpool and a bubble pool, and there's a small pool for children to paddle in. Both are filled with salt water so they'd definitely be refreshing on a summer's day, and are also both perfect spots for soaking up the sun. Oh hang on, you have children. That doesn't happen anymore. Remember you have to book a session online beforehand. Both are open from 10am to 6pm daily in the summer holidays.
The Hoe – You can't spend six whole weeks with children in Plymouth and not go to The Hoe, can you? Smeaton's Tower is open until the start of October and is great fun to go up. You can climb the lighthouse from Tuesday to Sunday from 10am to 5pm (last entry is at 4pm) with tickets available online here. Due to its historic nature there is limited disabled access, and bear in mind it has 93 steps, steep ladders, low ceilings and small openings inside. Children under 12 need to be accompanied by an adult.
Other fun you can have on The Hoe includes riding bikes on the promenade, enjoying a game of pitch and putt, having a picnic on the grass, taking a tour of the Royal Citadel or heading down to West Hoe park. What's not to love about Plymouth's most stunning and popular spot?
The Barbican – If you're on The Hoe, why not wander down to the Barbican too? Hop on a boat with Plymouth Boat Trips (seriously, you can't avoid doing the Dockyard and Warships one ANY LONGER!), nip across to the National Marine Aquarium, paint your own pottery at Clay Art, or if your kids are old enough teach them a bit of history by showing them the Mayflower Steps, Mayflower Museum, or Elizabethan House. Or do what I would do and just buy ice cream!
Drake's Island – So I said there weren't many things on this Plymouth list that I've not done, but visiting Drake's Island is one of them! After being out of bounds to the public for what seems like my entire life, you can now take a boat across Plymouth Sound and do a tour of Drake's Island. They're even holding a family activity day on July 23 where you can go and enjoy a full day on the island with unlimited use of activities such as airsoft, abseiling, and a survival camp – so possibly for the older ones.
The Box – have you been to The Box yet? If not, then summer 2023 is the time to go! There is loads for kids to do there (I mean, seriously, whose children aren't going to be wowed by Mildred the woolly mammoth?) And this summer they are celebrating light and colour with a brilliant range of family friendly activities inspired by its art exhibitions. They will be running every Tuesday, Wednesday and Thursday throughout the holidays from Juy 25 to August 31. They will incude children's yoga and mindfulness sessions, science activities, making and using paint from natural matierials and colourful printing with gelli plates (whatever they are!)
National Marine Aquarium – known as a go-to on a rainy day, the NMA is always a great day out. You can join their marine biologists at the beach to discover more about the ocean. The Rockpool Safaris will take place at Mountbatten Beach on various Sundays throughout the holidays. The NMA's Ocean Discovery Rangers will guide children around the rockyshore, and use science and storytelling to help them understand more about our local wildlife
As well as that, the Aquarium is also continuing its Snorkel Safari sessions for beginners, intermediate and advanced snorkellers. Launched a couple of years ago, these sessions are aimed at those wanting to take the first steps into snorkelling. The Ocean Discovery Rangers are fully qualified BSAC Snorkel Instructors and will be on hand for the one-and-a-half-hour session, where participants learn how to use snorkel equipment, cover basic snorkel techniques and explore the Ocean. Kids must be aged 8 or over to take part, and be able to swim 25 metres, and those aged between 8 and 16 must be accompanied by an adult in the water at all times. How awesome does that sound?
For 2023, you can join an organised hour-long NMA boat trip to explore the National Marine Park of Plymouth Sound on selected dates throughout the summer. The aquarium's Ocean Discovery Rangers will point out British wildlife from big to small, as well as the history of the natural harbour. Little ones can also get in on the NMA action with Ocean Todds, open to 2 to 4 year olds. Ocean Discovery Rangers put on the hour-long session on a Tuesday morning in the Waves Cafe. There will be adventures around the aquarium, crafts, songs and stories.
Sutton Harbour – If you're on the Barbican or at the Aquarium, take a stroll around Plymouth's beautiful Sutton Harbour. My boys love looking at the boats (and swans) in the marina, and lunch out at Rockfish, Boston Tea Party or The Stable is always a winner. (Note to readers: trying the flight of cider in The Stable is WAY more enjoyable without kids around though).
Royal William Yard – The RWY is a must for a day out in the holidays, especially on a sunny day. (I used to live there so I'm kind of biased though). And there's loads going on that kids can take part in this summer holidays. Many events are yet to be announced, so check back here in the next few days.
Plymouth Life Centre – as well as all the usual activities available at the Life Centre, there will be a holiday club for 8 to 12 year olds running from July 24 to September 1. It will provide a safe and fun environment where children can experience a wide range of different activities from swimming to science workshops and climbing to arts and crafts.
Market Hall – One of Plymouth's newest attractions, only opening a couple of years ago, the Market Hall is a world-class space for digital innovation and learning in Devonport. It has a state-of-the-art awe-inspiring 15m dome – the first of its kind in Europe, which invites you and the kids to explore immersive realities without the need for a VR headset.
Try to catch Katie's Black Hole Adventure on various dates from July 30 to August 27. The hour long children's STEM event is a live immersive storytelling show about Black Holes and a chance for kids to learn about space, science, Cornish identity and strong female characters that are happy to be different and learn from their mistakes. Find out more here.
Plymouth Snowsports Centre – it might be the summer but it doesn't mean you can't try out snowsports! The kids will have LOADS of fun sno-tubing, tobogganing, and the Viper Drop or maybe they want to have a snowboard or ski lesson? The centre is also running tots activity days and holiday camps throughout the summer, so check out their website for more details.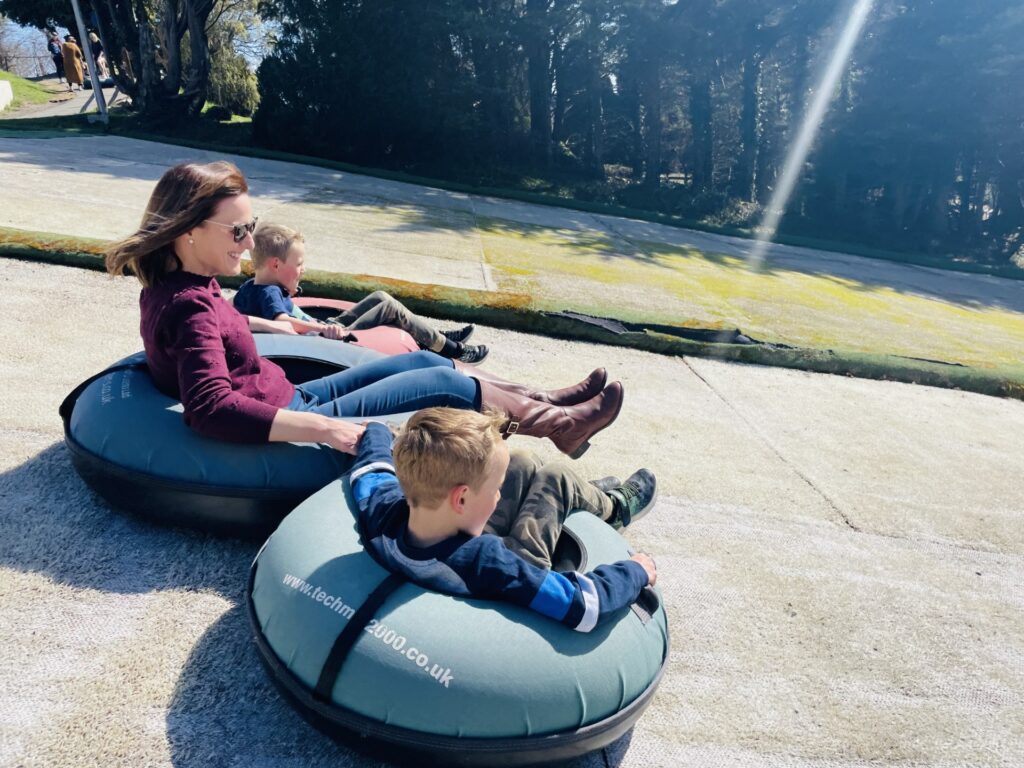 Plymouth Parks
West Hoe Park – You can't live in or visit Plymouth with kids and not go to West Hoe Park. Mainly because it's home to THE BEST THING EVER – the Gus Honeybun train. (If you know, you know. If you don't, google it.) You can't possibly call yourself a Janner if you've not been on it either as a child yourself, or with your kids. But it's also got a Treasure Island Pirate themed park with trampolines, crazy golf, karts, remote control boats and cars, as well as a play park, bouncy castle and tea cup rides. Sold!
Central Park – head to Plymouth's largest park for a fun (and free) day out with the kids. Enjoy a picnic on the grass, a bike ride or play in the huge revamped play park. The park is in three key areas based a on birds, bees and butterflies theme. The first two are fenced and include sand and water play, multi-person swings, a roundabout, balance beams, water pumps and huge sandpit. The third area is open and includes a huge climbing/sliding frame, a low ropes course, trampolines, hammocks and double zip wire. There is also the skate park which is brilliant for skaters, scooters and BMXers.
Obviously there are great parks all over Plymouth (they've not all got Gus Honeybun though, have they?!) but these two are always great. Others we like are Devonport Park, Freedom Fields Park and Victoria Park – mainly because they have cafes. Anywhere I can buy a coffee to recover from regular search and rescue missions on climbing frames, is always a winner for me! Or if you just want a run around and aren't bothered by the cafe or play equipment Radford Woods, Cann Woods, Hardwick Woods, Plymbridge Woods, Dunstone Woods and Ham Valley are great fun.
And tucked away in the rapidly growing new town of Sherford is a great skate park, complete with ramps, rails and ledges – suitable for all ages and skill level. Created by skater-run business, Maverick, the park is for skateboards, scooters, bikes and rollerblades. It's next to a playground with an array of equipment, woodland play trail and shady picnic spots – and also within a couple of minutes walk to Sherford's Country Park in one direction, and family-friendly café House of Brews in the other. And it's approximately 5 minutes from my house so you're bound to see my boys here at least once a week throughout the holidays!
Plymouth's Big Events
British Firework Championships – If your children are old enough (or you're prepared to have to leave early when they whinge!), the British Firework Championships has got to be a highlight of any summer in Plymouth. Head to the Hoe, Jennycliff, Devils Point, or anywhere you can basically find a postage stamp of space around the waterfront to watch this awesome event. One year I took the eldest to Burrow Hill in Plymstock which was popular. If you go to the Hoe you'll be treated to family entertainment, live music and fairground rides. Six top firework companies will be battling it out over two nights on Wednesday August 16 and Thursday August 17, 2023. Get it in your diary and find out more at Visit Plymouth.
And this year a special group of young judges will have a central part in the judging process. Up to ten care-experienced children and young people will supplement the judging panel of industry experts to score the spectacular displays.
They'll have exclusive access to view the vibrant extravaganza from the walls of the Royal Citadel, directly opposite the firing site on the Mountbatten breakwater. And they'll get the chance to grade the displays on four categories – variety of fireworks and sequences, rhythm of the display, use of colour and the wow factor. The New Young People's Choice Award will then be presented to the winner by the young judges, the Lord Mayor and Plymouth Citybus, headline sponsors of the prestigious new accolade.
Outdoor Cinema – If you fancy catching a movie in the open-air there are plenty to choose from this summer. A series of showings will be taking place at Tinside Lido over two weekends in the summer- August 11, 12, and 13, then August 18, 19 and 20. Films include:
Grease
Jaws
Enys Men
Everything Everywhere All At Once
The Blues Brothers
Roman Holiday
The Big Tribute Fest -after the success of last year, this festival of tribute acts is returning to Central Park in Plymouth for 2023. Taking place over the weekend of August 11-13, organisers say it will offer entertainment for the whole family.
Friday is family friendly day and features the UK's best tribute acts to some of the biggest pop acts around along with fun fair rides, bouncy castles, face painting, food and drink plus more activities to be announced. Saturday and Sunday are still family friendly but the music will be geared towards a more adult audience.Acts include tributes to Little Mix, Ed Sheeran, Pink, Dua Lipa, Harry Styles and Beyonce on the Friday. Saturday will see tributes to superstars including Robbie Williams, Queen, ABBA, Steps, Dolly Parton and UB40. Then acts taking off stars including Elvis, Meat Loaf, Oasis, Coldplay, Tina Turner and Elton John will perform on the Sunday.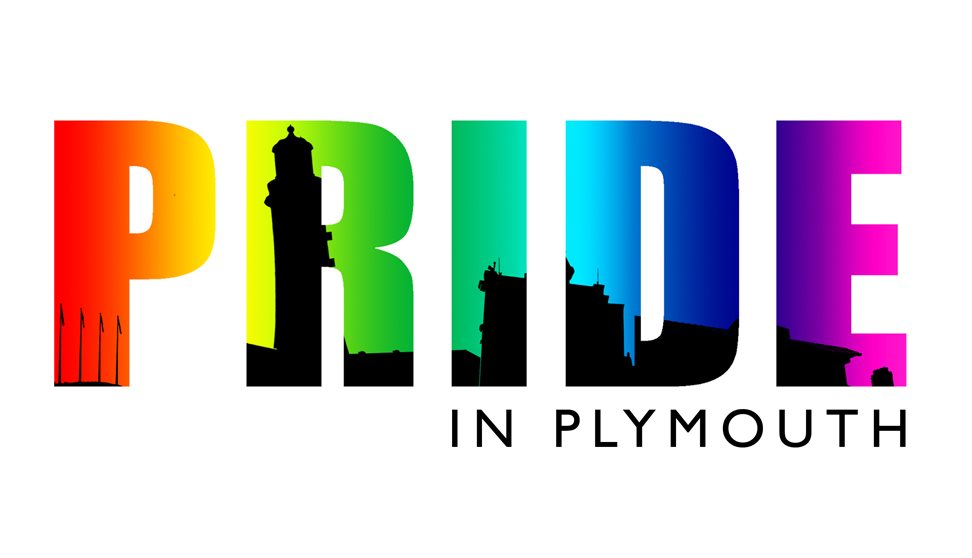 Plymouth Pride In The Park will take place on Saturday August 5. No details have been confirmed yet other than it's a Central Park, but expect it to be colourful, loud and proud to celebrate and promote the diversity that exists within the city's LGBTQ communities. More information will be released soon.
Love Summer Festival – is taking place on August 4 to 6 at Newnham Park Estate in Plympton. It's an independent family friendly music festival. Children's zones include pottery, circus skills, arts and crafts, DJ Academy, Animal HQ and graffiti.
West End Carnival – if you're looking for some free family fun, then get yourselves down to Frankfort Gate and the Market in Plymouth's West End on Saturday August 26. Organised by Plymouth City Centre Company and there's set to be a full day of carnival flair. Expect live music, street performers a trail and free children's activities to enjoy.
Local festivals, fun days, summer fairs and other events
Devonport Park will ot be hosting Park Fest this year, but instead will be holding a summer community event on Juy 15. Plymouth Music Zone will also be holding a Summer Singalong at the Bandstand on Friday Juy 21 between 10.30am and midday.
Tamar Bridge Visitors Centre – Children can join the team from West Country Rivers Trust during National Wildlife Week for some fun family activities at the Bridging the Tamar Centre. They can learn about the fabulous river and its spectacular habitats, take part in some Water Beastie identification, learn to identify all manner of creepy crawlies under a microscope, and become a Citizen Scientist by performing testing on water samples taken from the Tamar.
International storyteller Clive Pig will also be holding two events at the Tamar Bridge Visitors Centre on August 22 and 24. Children and adults can take a stroll across the River Tamar with Clive and hear tales of rivers and stories of bridges on this promenade walk across the Tamar Bridge. There will also be free guided talks and bridge tours throughout the holidays.
Buckfast Abbey's summer fair – Children will have loads of fun at this summer fair with live entertainment, a family treasure hunt and kids' zones. It's on from August 3 to 5.
Plymouth's Summer Holidays Inflatable Theme Park – If more inflatable fun is what you're after, head to Tor Bridge High in Miller Way, Estover on July 29 and 30 for an inflatable fun day. Check out the facebook page for details. Kids will have unlimited access to 15 large bouncy castle included in the entry fee. There is also a designated under 5s soft play zone.
Yelverton Free Fun Day – take your kids to the airfield at Yelverton on August 2 from 10am to 3pm for a day of free entertainment. There will be sports, crafts and other activities aimed at primary aged children or younger. Older kids will also love an assault course, games, races and crafts.
Super Hero Fun Day – head to The Square in Saltram Meadow, Plymstock on Saturday August 12 for a Super Hero Fun Day. Raising money for Barnados, the event from 10am to 3pm will feature a bouncy castle, dog show, penalty shoot-out, soft play, cake sale, glitter tattoos, face painting, and a range of stalls and games. Sounds like fun!
Out and about near Plymouth
Pennywell Farm – If your little ones love animals, a visit to Pennywell Farm near Buckfastleigh is an absolute MUST this summer. All three of my boys love it there, it's a great day out. Activities are scheduled throughout the day such as egg collecting, goat milking, meet a hedgehog, ferret racing, pond dipping, bottle feeding, pony rides, shows and the popular miniature piggy cuddles and piggy racing.
But if you don't want to be tied to time, your children will love cuddling a pet and meeting all the animals, as well as the tractor-trailer ride, red rocket ride, and run rabbit go-carts. Our favourite has always been the Rainbow Railway – unless you're 8 months pregnant with twins, then it's a bit of a struggle to get out again! If you've not been, add it to the list!
River Dart Country Park – Slightly older children will love all the activities on offer at River Dart Country Park. Set in 90 acres of parkland within Dartmoor National Park, the tourist attraction has an adventure playground, agility trail, Anaconda slide, bike trail, climbing pods, commando assault course, low ropes course, dam pool, mini zip wire, obstacle course, pirate ship, and Wooden Fort. For the little ones there's a Toddlers' Beach and Toddlers' Playground. They also have a campsite and holiday park if one day isn't enough! Read my review of when we camped there.
Crazy Golf – got yourselves a budding Tiger Woods in the family? Take them to Woodland Adventure Golf at China Fleet in Saltash for an 18-hole round of crazy golf. Or if the weather isn't looking too great, head to Paradise Island Adventure Golf for a choice of two 18 hole courses – all indoors!
Crownhill Fort – If your children would enjoy stepping back in time at one of Plymouth's best preserved Victorian Defences, head to an open day at Crownhill Fort. Owned and managed by the Landmark Trust since 1987, visitors can get a peek behind the walls on Saturday July 15, from midday to 4pm, and Wednesday August 30 from 4pm to 8pm. Explore the grounds and museum and enjoy a programme of events including gunfire and guided tours. The Fort is also holding a special gunfiring evening on Thursday September 14 from 6pm to 8pm, and a batwalk on Tuesday September 21 from 6pm to 8pm.
Woodlands Theme Park – there is so much going on at Woodlands this summer, you will literally be spoilt for choice. There will be Fizzpop science workshops and shows where kids can make slime and Titan the Robot will be showcasing his unique blend of comedy, street theatre and music in his popular show. There are Dinosaur Days for all those dino-fans, and there will also be appearances by Sonic, Minions and Bluey. What's not to love?!
Plymouth Miniature Steam – Chances are you may not have been to Plymouth Miniature Steam as it's tucked away in a nature reserve in Plymouth's Southway valley – but it is AMAZING! Run by a group of volunteers who are model engineers, steam enthusiasts and railway nuts who have developed the railway as part of their hobby, children and adults can ride the steam engines, diesel electrics and rolling stock around a fab little track. It's open to the public for rides on the first and third Sundays of each month. And if full-size trains are more your kids' thing, then head to Plym Valley Railway.
Dartmoor Zoo – This summer Sparky the Dragon needs your kids' help at Dartmoor Zoo. He's lost his belongings and needs help to find them and save his summer travels. From July 22 to September 3 children can take part in Sparky's trail around the zoo and mark off where they've found his items at the same time as saying hello to all the animals. The reward is some yummy gold coins at the end.
China Fleet Country Park – there's loads of fun to be had at China Fleet in Saltash this summer. As well as their Woodland Adventure Golf, they're also holding Inflatable Mondays and Nerf War Wednesdays for 5 to 12 year olds. It looks LOADS of fun!
Mount Edgcumbe – Everyone loves a day out at Mount Edgcumbe whether you drive round or take the Cremyll ferry from Stonehouse and this summer the events look amazing. There is a Street Food Festival on Saturday July 22, Lovey Bubbly Festival on Sunday July 23, and the Armchair Adventure Festival from July 27 to 30. Then the popular Classic Car Rally will be back for its 27th year on Sunday August 6 followed by the Magical Summer Festival on Sunday August 27, and Doggy Day Out Summer Fete on Sunday September 1. Find out more about all the events here.
Plymouth Golf Centre – you don't have to be a pro to enjoy a few hours at Plymouth Golf Centre. Kids can try out their swing on the driving range, or head outside for a spot of putting or Footgolf. Plus there's now a new Costa Coffee there so perfect for some refreshments afterwards.
Theatre fun
Soapbox Children's Theatre – If you've not seen the Stiltskin Production company perform at the Soapbox Children's Theatre in Devonport Park then add it to your list for summer 2023. 'Tamara' is their latest show and is on at various dates in the holidays. Tamara is an Earth Nymph who is supposed to live underground with her Royal Family the King and Queen of the Gnomes. Until one day she finds her way to the surface and discovers the whole new world of Dartmoor, which is steeped in stories, adventure and danger. The 90 minute show is recommended for families and will be performed outdoors behind the theatre in the Spellbound Wood unless the weather is bad and then it'll be in the theatre.
The Theatre Royal Plymouth is one of my favourite places and if you look at its calendar of shows suitable for children this summer it's easy to see why! Shows the kids will love include Dragons and Mythical Beasts, Shrek, Alice in Wonderland, Annie, The Spongebob Musical, and Zoe's Peculiar Journey Through Time.
The theatre is also running Play in a Week workshops for 5 to 7 year olds, and 8 to 12 year olds led by a professional theatre practitioner. Young people will be able to make new friends and build in confidence during a week of games, crafts, drama and fun. They will get to devise and rehearse a brand new play to perform to family and friends at the end of the week. Sounds fabulous!
Soft play centres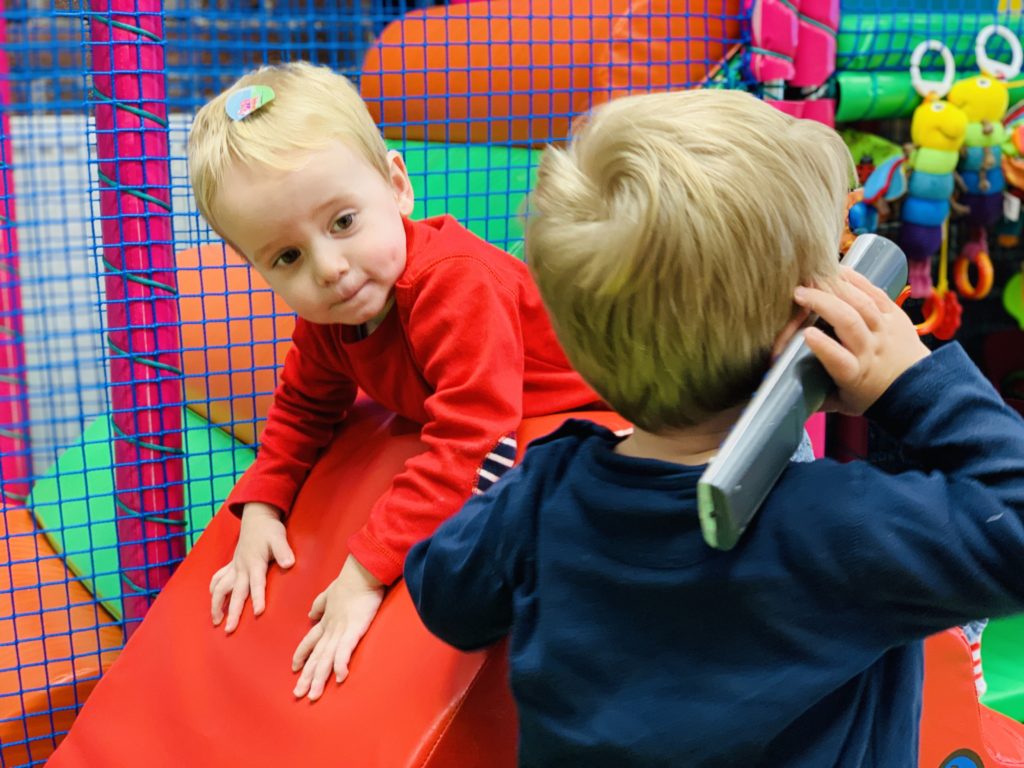 Whatever your thoughts are on soft play centres, you have to admit on a rainy day they can come in handy. But which one is your favourite? Plymouth has several to choose from. You have Plymouth Soft Play Cafe in the city centre (which also does a Twin Tuesday!), Jump at Christian Mill Business Park, Bounce Playzone in St Budeaux and Drakes Den in Estover. Or your under fives can enjoy the soft play equipment at the Moo Music Cafe on Mutley Plain. Pop in for a quite frankly insanely delicious coffee and cake whilst your little ones play, or book onto one of their awesome music sessions. I miss our weekly visits!
Seaside and water fun near Plymouth
You can't spend a summer in Plymouth and not head to the beach. We're so lucky to have such amazing ones so close to us. Head to Wembury, Jennycliff, Mountbatten or Bovisand if you want something close, or my favourites further afield are Bigbury, Bantham, Thurlestone and South Milton. Or nip across the bridge into Cornwall for some more fabulous ones. And if your kids are just going to eat all the sand, how about the moors? Plenty of beauty spots – busy and secluded, for a day out. How lucky are we to live here?
Wembury Marine Centre – There's loads going on at Wembury beach this summer, with regular activities at Wembury Marine Centre such as rockpool safaris for toddlers and older children, night time rockpool safaris, as well as snorkelling safaris on selected dates throughout the summer. There is also a special performance of the Selfish Shellfish during National Marine Week on Tuesday August 1 from 5.30pm to 7.30pm. Bring a rug and picnic for the sunset performance of the special tale about a shellfish and his fishy friends and the perils they face in a changing ocean!
If your kids fancy trying their hand at Stand Up Paddleboarding or Kayaking, then there's loads of opporunities at the Mountbatten Watersports Centre. The centre also runs a holiday club for the summer, with either morning or afternoon sessions, or a full 5 days. Activities include bellboats, soft archery, climbing, inflatable rafts, abseiling, pirate ladder climb, giant paddleboards and The Great Egg Race.
Rainy day activites in Plymouth
Yes okay we know we want to be outside enjoying the endless sunshine (!) during the holidays, but if we have the odd wet day, don't despair, Plymouth has some great places to go on a rainy day. I've got a separate blogpost about where to do on a wet day, but here are a few good ones.
Trampolining – Plymouth has two trampoline parks, Adrenalin at Derriford and Supertramp in Plymstock. Adrenalin has a large inflatable area, airbag, foam pit and climbing walls as well as the trampolines, and now has a new Virtual Reality Arena which my eldest loved. Supertramp has a huge airbag, basketball, dodgeball area and wall running area. Both places to family sessions and set times for different age groups so your little ones won't get bashed to pieces by teenagers. And what's even better is they both have cafes that us mums can sit and drink coffee whislt the kids play!
Climbing – If your kids are anything like my Twin One, they will LOVE climbing, and we're lucky enough in Plymouth to have several great places to do it. There's Clip 'n Climb at Derriford, the Climbing Hangar at Burrington Way, the YMCA and the Life Centre.
Cinema – If you fancy catching a film, Plymouth has plenty of cinemas to choose from – Vue Plymouth, Plymouth Arts Cinema and the new Everyman at Royal William Yard. Or check out Cineworld during a fun family day out at Drake Circus' Barcode.
Bowling – If your kids are old enough to try bowling, head to Tenpin at the Barbican Leisure Park. They do good deals for food and bowling, as well as Laser Tag and the arcade. Or if they want to try something new walk round the corner and give Player Ready Virtual Reality a go.
Library activities and reading challenges
For those of you with school aged children, why not sign them up to the library service's Ready Set Read challenge. Sign up at any Plymouth library from July 15, and if they read six (or more) books throughout the summer holidays they receive a medal and certificate. They can also create a profile on the Summer Reading Challenge website to get online rewards, play games, and earn badges as they discover new books to read. It's a great way to keep up their reading whilst they're off school.
Rhymetime, Storytime and Lego clubs are also taking place across the city's libraries in the summer holidays. Check out the timetable here for more details.
Baby and preschool groups
The problem with the school holidays for those with children of pre-school age is that a lot of the normal groups stop and it can be a massive pain in the arse trying to entertain them when all the big kids are around. Luckily lots of baby and preschool groups are running summer specials, so check this little lot out.
Moo Music – It's business as usual over at the Moo Music Cafe on Mutley Plain. Newborn, baby & toddler music, movement and multi-sensory sessions will not only continue over the summer they are going outside! Outdoor Moo is taking place at the beautiful bandstand in Devonport Park so rain will absolutely not be stopping play! If you're looking to escape places busy with school aged children, the Moo Music Cafe is the perfect spot. Their soft play cafe is aimed at under 5s and they sell delicious dairy and egg free cakes. (I can DEFINITELY vouch for them!) The session space is fully air conditioned, making it cool in every sense of the word! More info and session bookings can be found here.
Diddi Dance – The amazing Rachael and Liz are running special fun and funky summer Diddi Dance classes over the holidays. They are open for kids aged from 18 months to 5 years, plus siblings aged up to 8 can come along to join in the fun! Sessions are running on various dates between July 31 and August18, at locations including Pomplett, Plympton , Tothill, Woolwell and Manadon. To book logon to www.diddidance.com and search for Plymouth in the view/book classes tab. Anyone is welcome to go along, you don't need to be a regular Diddi Dancer!
Baby Sensory and Toddler Sense Summer Specials – If you need to get your fix of Baby Sensory and Toddler Sense throughout the holidays then you're in luck. Baby Sensory Plympton and South Hams will be putting on Beach Party, India Day, Music Therapy and Boogie Colour Party sessions at the WOW centre in Plympton in Augus. Click on Baby Sensory, or Toddler Sense to find out more.
Then Baby Sensory Plymouth will be doing Beach Party and Music Therapy summer specials at St Matthew's Church Hall in Elburton, Manadon Sports and Community Hub and Saltash Girl Guide HQ during the holidays. Book classes here.
NCT Bumps and Babies – Parents with children aged from birth to 5 are invited along to the NCT Bumps and Babies groups throughout the holidays. The Plymstock group will run every Thursday morning, and then other Bumps and Babies On Tour events will take place across the city. Dates and locations are to be confirmed so check out their Facebook page for details.
Mudpies and Mischief – Outdoor playgroup Mudpies and Mischief Plymouth will be running their sessions for four days a week throughout the school holidays, and siblings up to the age of 8 can tag along too. It is held in a safe enclosed location in Central Park. The group provides a completely child-led environment with setups that are open-ended, allowing your little one to create their own way to play come rain or shine. Whether that be cooking up a storm in the mud kitchen, making a splash in the water play area, serving fresh produce at Mudpie Market or building a wall in the construction zone, whatever they choose to do, they will be learning all about the natural world around them and developing key life skills while exploring and playing. Find out more and book onto a session here.
Plymouth Holiday Clubs
There are loads of different holiday clubs going on in and around Plymouth. Here are a few to whet your appetite:
High 5 Holiday Club – Kids will be treated to an Around the World in 80 Days adventure at a High 5 Holiday Club this summer. The scheme runs for the whole of the six weeks at Elburton Primary School, Mount kelly, Plymouth College, Widey Court Primary School, Stowford Primary, China Fleet Club and Stover School. Kids will 'travel' to a different continent each week and take part in adrenalin-filled activities such as Human Table Football, a slip 'n' slide, Sumo tournaments, Nerf wars, Japanese archery and zorb football. My boys can't wait to go. Find out more about it here. There are also basketball, football and tennis camps for kids to enjoy too.
Vixen Dance and Fitness Holiday Club – Young performers will have a whale of a time at the Vixen Dance and Fitness Summer Workshop. It will take place from August 14 to 17 at Hooe Primary Academy. It will be four days of learning a variety of dance styles, feature lessons with two West End guest teachers, a day of learning new circus skills and a day of learning acrobatic skills. Find out more on their Facebook page or email vixendanceandfitness@outlook.com.
Ninja Holiday Club – Budding Ninjas will be in their element at a special Ninja Holiday Club run by Miss B's Martial Arts Academy. It takes place from August 7 to 11 from 1pm to 4pm at venues in Saltash, Plympton, Elburton, Derriford, Lipson and Ivybridge. Kids will take part in learning Ninja skills, basic martial arts techniques, board breaking and games. To book, go to their Facebook page.
Photography Holiday Clubs – If your youngsters love to get behind a camera, why not send them to a photography holiday club run by Community Photographic Studios CIC in Plympton. Suitable for 8-14 year olds, the 3 Day Kids Art and Photography Holiday Club takes place on August 14, 15 and 16. It'll cover a range of art and photography sessions both in and out of the studio with 4 mini workshops a day.
Agricultural Shows near Plymouth
These are always great days out for the kids – mine have LOVED Yealmpton Show in previous years and we're excited to go again this year (although here's hoping it doesn't take an hour to get out of the car park this time!) But let's face it, what's not to love about a day out in a field with tractors, animals and all sorts of fun activities?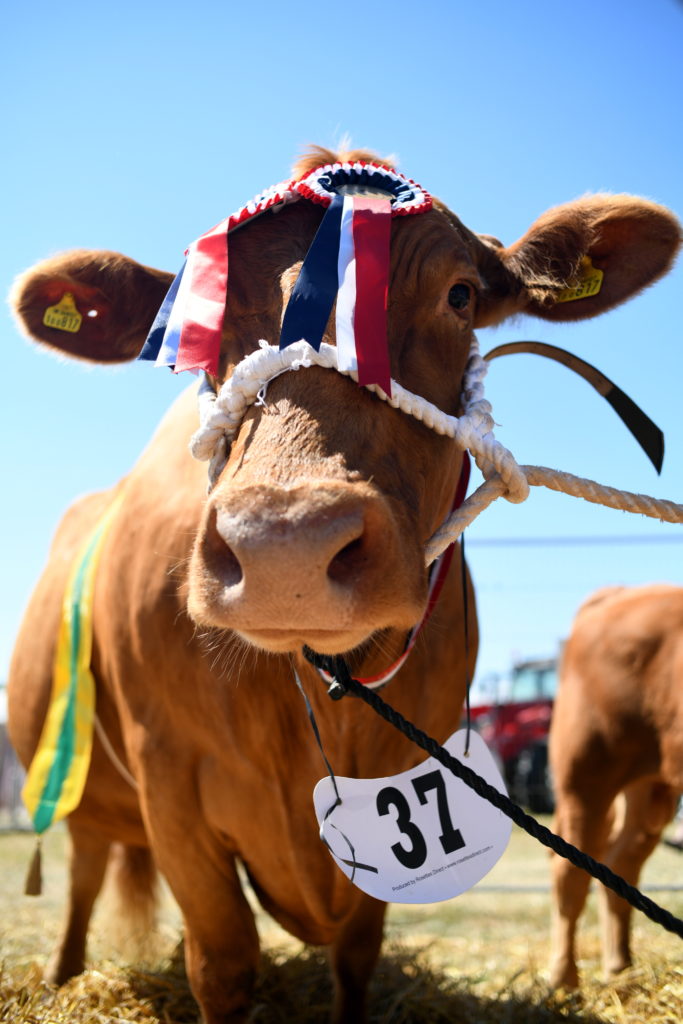 Here are some to choose from:
Yealmpton Show – Wednesday July 26
Launceston Show – Thursday July 27
Totnes Show – Sunday July 30
Okehampton Show – Thursday August 10
Kingsbridge Show – Saturday September 2
Head further afield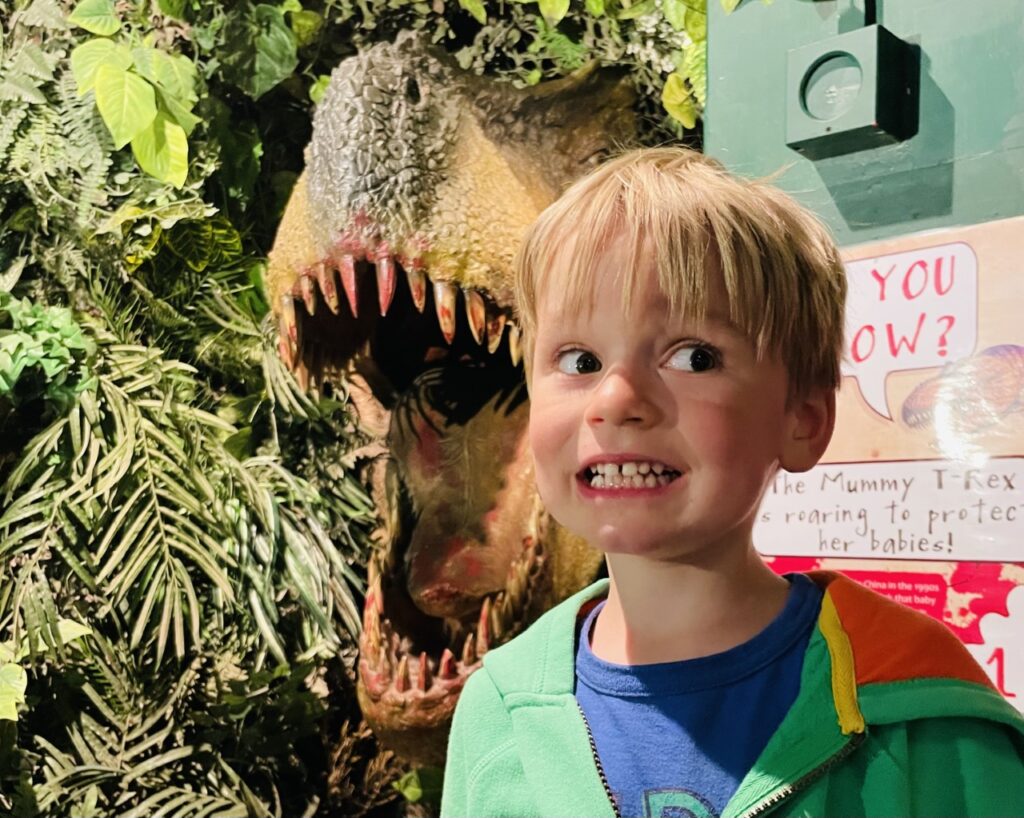 And if you've exhausted all possibilities on our doorstep, how about going a bit further afield. I mean seriously, we live in Devon and Cornwall – it's the best place in the world! Here are some of my favourites which are worth a try.
If you're heading to the Eden Project this summer, check out the fabulous new park that's just opened. Covering nearly 500 square metres, the new Nature's Playground is one of the biggest outdoor play areas in the south west. It features a huge nine-metre-tall Tree of Life Tower, as well as a water course, china clay pit, slides, ladders, and swings. It looks amazing!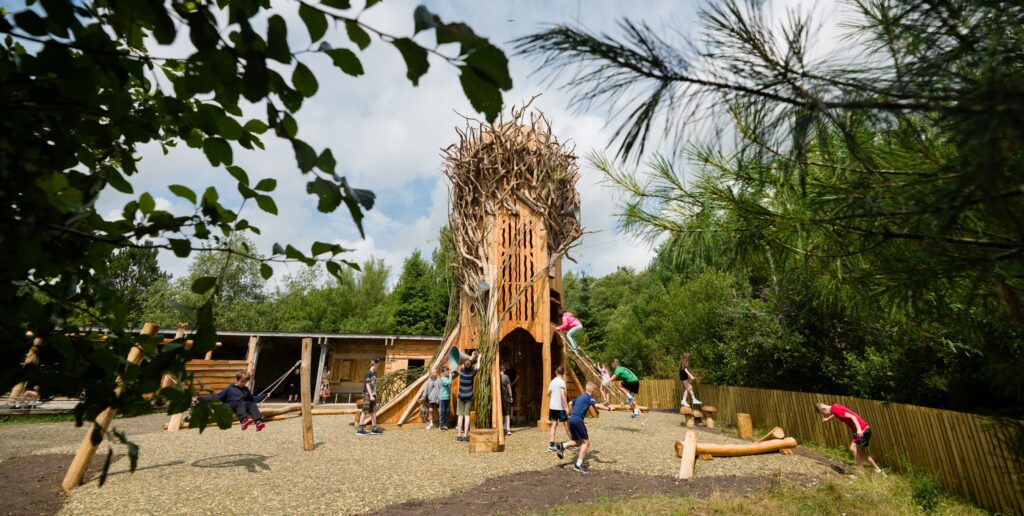 And if you want even more different ideas check out Experience Days for some fab experiences in Devon.
PHEW! There you have it, a pretty extensive ideas list for days out and things to do this summer holidays in and around Plymouth. All that's left to say is, GOOD LUCK, PEOPLE! See you on the other side.
If you have any events going on this summer email me at helen@twinstantrumsandcoldcoffee.com.
*This post contains links I have been paid to include.
How did I do?
If you liked this post, hop over to the lovely Claire's Devon with Kids blog and read the Top things to do in South Devon with Kids or 20 Fun Things To Do In the Summer Holidays. And if you want more Plymouth ideas, head to:
Or you may like some of my other Local Stuff or the days out reviews in my Travel Section. Or if you want to read some of my usual tongue-in-cheek parenting rants, head to my Mum Life section for a giggle.
If you like a bit of social media madness, pop over to my Facebook page where you'll be able to have a laugh at what ridiculousness goes on in my house with three very small boys on a daily basis. Warning – there is often sarcasm, and usually swearing. There are also great travel reviews and some AWESOME giveaways. Feel free to join my Twins, Tantrums and Cold Coffee – Shits and Giggles Parenting Group too, where everyone shares their hilarious stories.
If you like what you see, how about you check me out on Pinterest, Instagram and Twitter too.
And if you want to work with me, feel free to give me a shout here or at helen@twinstantrumsandcoldcoffee.com and I'll get back to you.
If you like a bit of social media madness, pop over to my Facebook page where you'll be able to have a laugh at what ridiculousness goes on in my house with three very small boys on a daily basis. Warning – there is often sarcasm, and usually swearing. There are also great travel reviews and some AWESOME giveaways. Feel free to join my Twins, Tantrums and Cold Coffee – Shits and Giggles Parenting Group too, where everyone shares their hilarious stories.