It's that time of year where we might be lamenting the end of the good weather, but Halloween isn't too far off and it's time to go pumpkin picking in Plymouth.
If you've not taken your kids before, they're in for a treat. And it seems to have become a real 'thing', doesn't it?

Rather than just buy one from the supermarket to carve, head to one of the many pumpkin patches near Plymouth and make a day of it. If nothing else – you can get some great photos (if your kids are more obliging than mine!)
There aren't many actually IN Plymouth itself mainly because, er, it's a big city. But our favourite is right on the edge at Yealmpton, and there are loads if you are prepared to travel for a bit.
Pumpkin Patches in Plymouth and nearby
Pips Pick Your Own
Kitley Farm, Yealmpton, Plymouth, PL8 2LT
Based at Yealmpton on the edge of Plymouth, Pips Pick Your Own is awesome! They will have pumpkins to pick from October 2 from 10am to 5pm. Then every day until they are sold out. But don't leave it too late, as this place is POPULAR. You can also grab some honey from Pips' bees whilst you're there. 
Strawberry Fields, Lifton
Strawberry Fields, Lifton, Devon, PL16 ODE
Another popular place is Strawberry Fields at Lifton. We went a couple of years ago and it gets super busy, but luckily they are selling tickets for £2.50 this year so should be less hectic. The Pumpkin Fest will be held on October 8/9, 15/16 and October 24-30. It will include family fun activities from pumpkin picking and carving, a mystical magic show and a haunted maize maze. Buy your tickets beforehand here. 
Amazing Cornish Maize Maze
Smeaton Farm, Pillaton, Saltash, Cornwall, PL12 6RZ
The Pumpkin Patch at the Amazing Cornish Maize Maze at Pillaton near Saltash will take place on October 15/16 and then October 22-30. Not only will there be pumpkin picking, but also a short maze with a pumpkin quiz ideal for families with younger children. It will be open from 10.30am to 5pm and costs £5 per person, under 2s free. Pumpkins cost £1 for a small one, £2.50 for medium and £4 for large. Make sure you buy your tickets in advance as it's set to be busy. This is one of the best ways to do pumpkin picking in Plymouth and nearby.
And on Saturday October 29, the Halloween Maze of Horrors will be opened at timed slots from 6pm. It's not for the faint-hearted and costs £15 each. Find out more details on their website.
Pennywell Farm
Lower Dean, Buckfastleigh TQ11 0LT
One of our favourite places, Pennywell Farm is having its very own Pumpkin Patch this year. From October 1 to 30, everyone is invited to meet Paddy the Pumpkin and his friends who have left clues all around the farm. Follow the trail and answer the quiz questions to win a prize. You can then roam around the pumpkin patch and find your own locally grown pumpkin to buy and take home.
Terawhiti Farm, South Milton
South Milton, Kingsbridge, TQ7 3JT
Head through the South Hams to South Milton and Terawhiti Farm for a fun day of pumpkin picking. It's taking place on October 8/9, then again on October 15/16. According to the farm's Facebook page there will be big ones, small ones, warty ones and ghost pumpkins. The patch is even bigger than ever with over 10,000 to choose from! 
There will also be a chance to ride the Pumpin Express, face painting and a coconut shy. Fancy dress is also welcome – just to make those pictures even better! Admission is free, and no need to book. Remember it's cash only, and likely to be muddy if wet so bring wellies. 
Shute Fruit and Produce, Teignmouth
Shute Farm, Bishopsteignton, Teignmouth, TQ14 9PN
Keep an eye on Shute Fruit and Produce's picking today page of their website for full details of their pumpkin patch when it's announced. Then pick, pick, pick!
Devon Pumpkin Picking, Bickington
Stoneford Farm, Bickington, TQ12 6LH
If you're no good with a camera but dream of some fabulous pumpkin patch photos, head to Devon Pumpkin Picking and a professional photographer can do it for you! The patch just off the A38 at Bickington will be open October 15/16, then October 22-30. There's no need to book. See their website for details about a photography session. 
Pumpkins at Teals
Teals, North Cadbury turn off on the A303, BA22 7FS
Get your carving knives at the ready and generate pumpkin envy, with one of these locally grown, glorious specimens from TEALS.  To celebrate Halloween, this sensational eco farm store in Somerset, has teamed up with local farmers Alfie and Lucy Barber, who have been busy growing the most amazing crop of pumpkins near Babcary.  Just be warned: you may come away with more than one… 
The Jolly Pumpkin, ​​
Silverston, Exeter, EX5 4DU
As the name suggests, kids will be in for a jolly fun day out at the Jolly Pumpkin near Exeter. With over 50 varieties of pumpkin, squash and gourd to choose from, kids will love the wrinkly ones, knobbly ones, and shiny pumpkins to take home. Picking days are from 10am to 5pm on October 8/9, 15/16, then October 22 to 30. Admission is £1.25 and can be booked online. 
There you have it! Some great places to go pumpkin picking in Plymouth and nearby. Where will you go?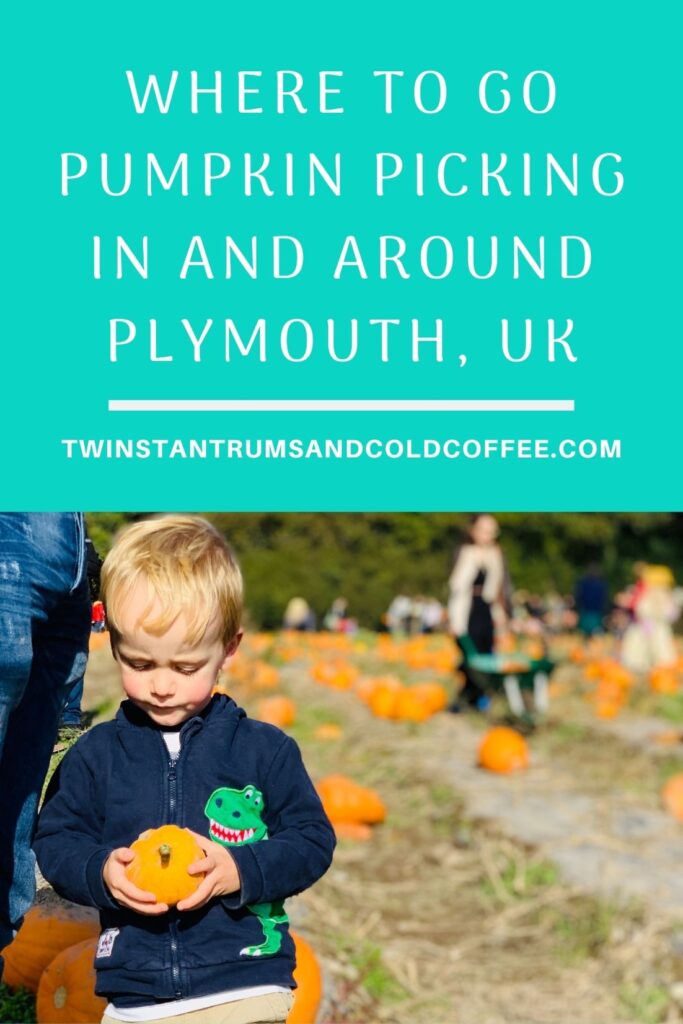 How did I do?
Did you enjoy this post? Make sure to read Things To Do In Plymouth With Kids. Or Rainy Day Activities – the 20 best things to do indoors in Plymouth with kids. You may also like some of my other Local Stuff or the days out reviews in my Travel Section. And if you want to read some of my usual tongue-in-cheek parenting rants, head to my Mum Life section for a giggle.
If you like a bit of social media madness, pop over to my Facebook page where you'll be able to have a laugh at what ridiculousness goes on in my house with three very small boys on a daily basis. Warning – there is often sarcasm, and usually swearing. There are also great travel reviews and some AWESOME giveaways. Feel free to join my Twins, Tantrums and Cold Coffee – Shits and Giggles Parenting Group too, where everyone shares their hilarious stories.
If you like what you see, how about you check me out on Pinterest, Instagram and Twitter too.
And if you want to work with me, feel free to give me a shout here or at helen@twinstantrumsandcoldcoffee.com and I'll get back to you.