They say men are difficult to buy for when it comes to Christmas and birthdays, and I think that can be true! But I've got some brilliant ideas for best presents for Dads here that'll make life easier.
Whether you're searching for the perfect gift for your children's' Dad or your own father, or your father-in-law, there is something for everyone in this list.
*AD Disclosure: I have been gifted some items for this post. It also contains affiliate links I may receive payment for. It does not affect what you pay.
KIKKERLAND SELFIE RING LIGHT
£20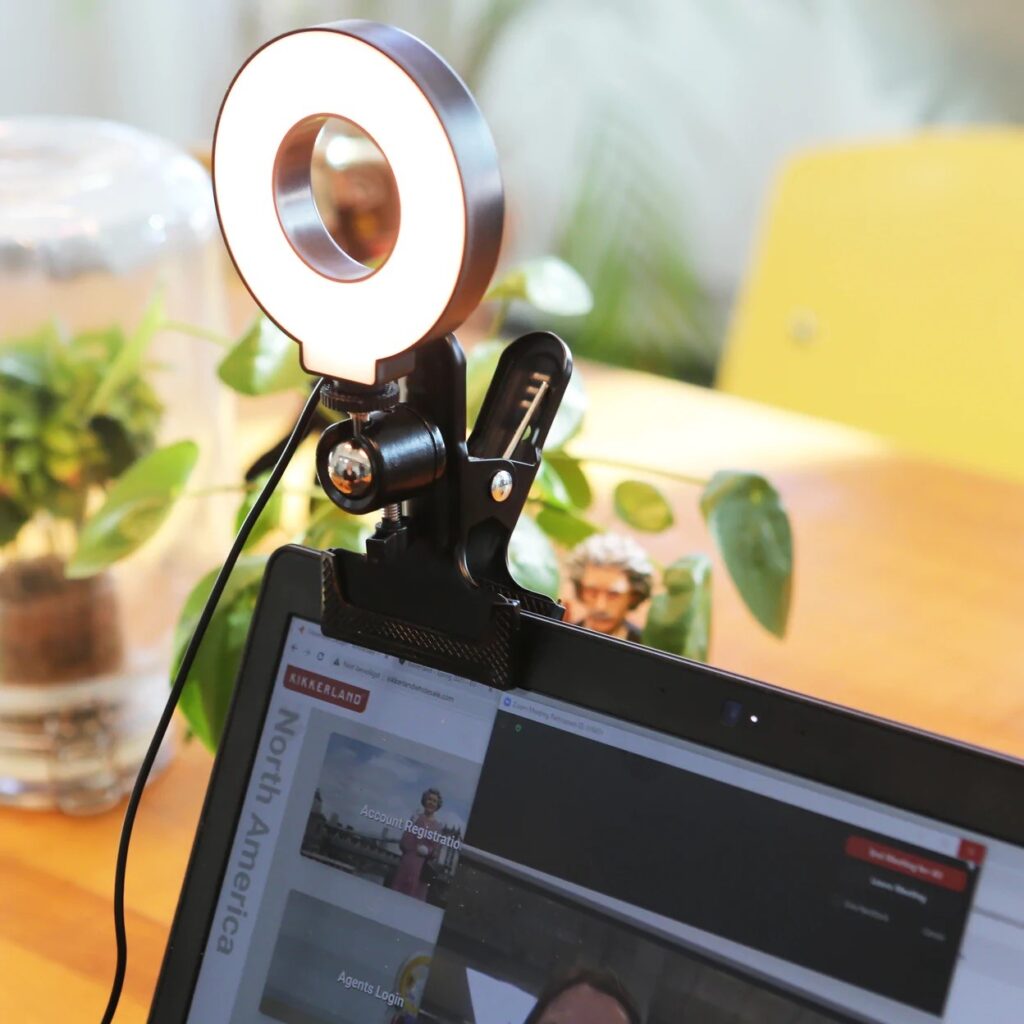 Okay, okay, we know it's usually us that want the selfies, but if you're anything like me I usually get my Other Half to take them as he's got longer arms! So this Kikkerland Selfie Ring Light could come in pretty handy! It's USB powered and comes with 3 adjustable light temperatures and 10 brightness settings. Just clip it onto your phone, laptop, bed, desk, office, table or anywhere else you can think of and off you go. It can also stand by itself.
LEGO
Various prices
No don't worry, I've not got confused with my gift guide for eight year old boys, Lego is a big hit in our house with ALL the men. In fact, I'd be sure enough to say my husband likes it even more than my boys – judging by the amount of it he has! If you have someone in your life the same, then Lego is surely one of the best presents for dads you can get. It's definitely served me well over the last 9 years! This Star Wars Lego would go down a storm (trooper).
BEX & BOLT CUFFLINKS
£18.50
You might have seen the beautiful Bex&Bolt jewellery on my Instagram stories or in my Best Presents For Mums post, but it's not just about us girls. Bex makes awesome items out of scrap leather and has just added these fab cuff links to her collection, which would make a great present for those Dads in your life. (But obviously whilst you're there check out her earrings, rings and necklaces – the lightning bolts are my fave!)
CHOCOLATE HAMPER
£22.99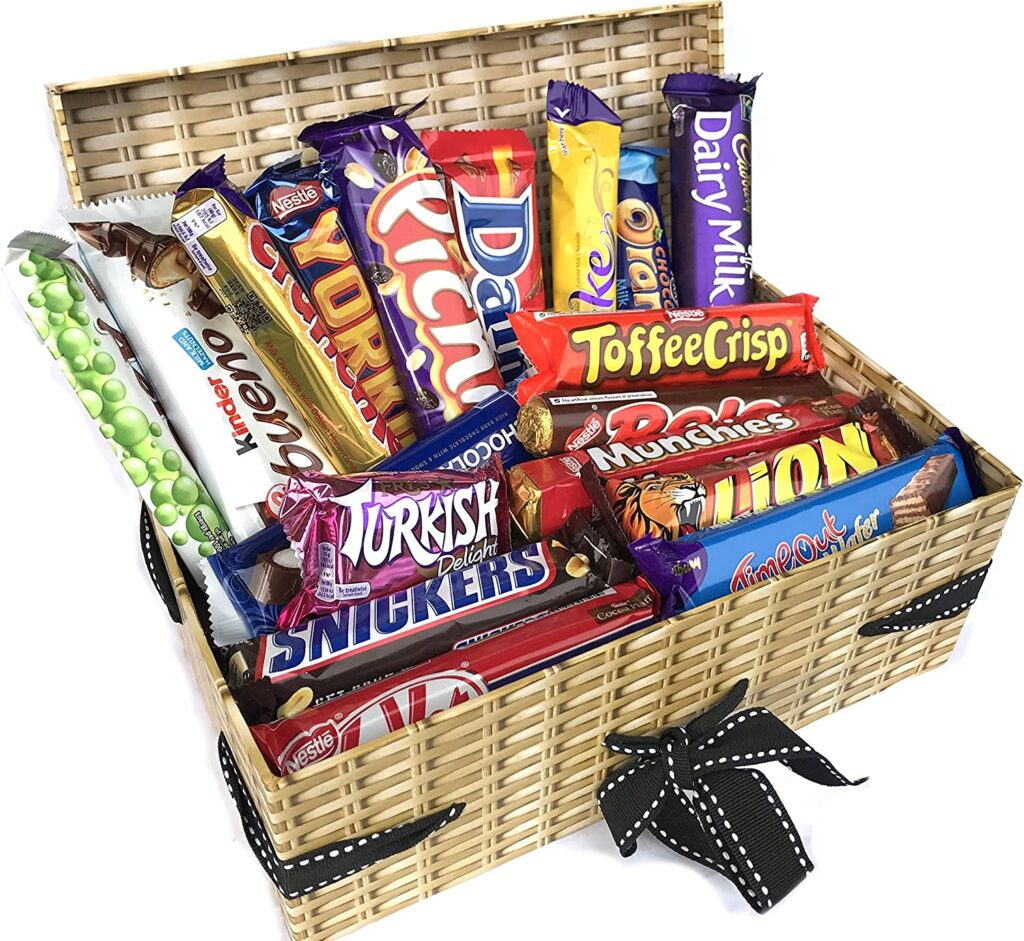 If there's a chocoholic in your life, then this 18-bar mega chocolate hamper has got to be one of the best presents for dads you can give. And if they can't manage it all by themselves, we're always here to help them out, right?
BEDSIDE ORGANISER
£29.99
How flipping great does this bedside organiser look? If you want to tidy up the bedroom from all the 'stuff' lying around this is the perfect solution. In fact it could work just as well on a desk. The wooden organiser is a docking station, key holder, wallet/glasses stand and watch organiser all in one. And let's face it, this COULD mean they don't lose their stuff every five minutes.
FOOTBALL HISTORY BOOK SET
£69.99
Is your Dad or partner an avid sports fan? If so, this could be right up their street. Whether you are looking for the perfect gift for a football fan or looking to celebrate your team in style. This deluxe Football History Book and IPA Gift Set includes your teams history as told through newspaper coverage and 3 Mary Jane IPA's. Choose from 10 popular football teams with coverage dating back to the early 20th century. They also do rugby and cricket gifts if football isn't their thing. You can even have them personalised with their name and a message.
ARRAN SENSE OF SCOTLAND MEN'S SHOWER AND SHAVE GEL DISCOVERY GIFT SET
£10.00
If you're looking for a stocking filler for the Dads in your life, then this Arran Sense of Scotland Men's Shower and Shave Gel Discovery Set looks perfect. Containing shave gel and shower gel from both of ARRAN Sense of Scotland's best-selling men's ranges, this handy discovery set includes four 30ml bottles – Lochranza Shower Gel & Shave Gel and Machrie Shower Gel Shave Gel – that will fit neatly in hand luggage and give you ample supplies for a trip away. 
MORE GREAT PRESENTS FOR DADS
PLASTIC-FREE VEGAN SHAVING BRUSH
£14.97
If it's the toiletries route you want to go down, how about this plastic-free vegan shaving brush? The Clear Confidence wooden-handled brush is the only shaving brush on the market that's both vegan and plastic-free, so perfect for eco-conscious people. It offers a 'uber luxurious feel', plus a closer shave, reduced skin irritation and fewer ingrown hairs. And I'm guessing even if you're not vegan you can use it too!
BLACKMOOR COOKWARE
£26.99
Is the Dad in your life a dab hand in the kitchen? I'm lucky to say that my husband is (although not my Dad!). If they are, head to Blackmoor for a huge choice of some amazing cookware and homeware. I've chosen this lovely looking Blu Pro 28cm frying pan in the hope there might be a few more bacon sarnies up for grabs on a Sunday morning! It's made from aluminium and features an innovative 5-layer construction that not only allows the heat to conduct faster during cooking, but also retains the heat for longer, giving you a more consistent finish to your meats, fish, and vegetables when you sear, fry, or brown them. The 5-layer hybrid stone coating also adds to the hardwearing nature of the frying pan, as it allows it to be used in the oven at temperatures up to 220°C without compromising the quality. It can also be used on all hob types, such as gas, electric, and induction hobs, as well as on hot plates. Which from experience of having an induction hob – is a handy feature!
WHISKY TODDY KIT
£13.50
If the men in your life are quite partial to a whisky toddy, then head over to Steenbergs for some fab gift sets. This Fair Trade Whisky Toddy Spices and Glass Set would make a great present for Dads. It contains a Bodum bistro heatproof glass and 5 Old Hamlet fairtrade whisky toddy spice mix in a hexagonal gift box.
HAACHT BEERS
£30.95
If the man in your life likes a cheeky drink, then you can't go wrong with this mixed case of 12 Belgium Haacht Beers. This would make an excellent gift for anyone who loves great beer and amazing flavour. They're signature Primus Pilsner is still brewed to the exact same recipe as it was back in the 1920s and they're SUPER 8 range of craft beers have a fantastic Belgian twist. They look pretty good to me!
NEITIV COCONUT FLOWER CRAFT BEER GIFT SET
£36.30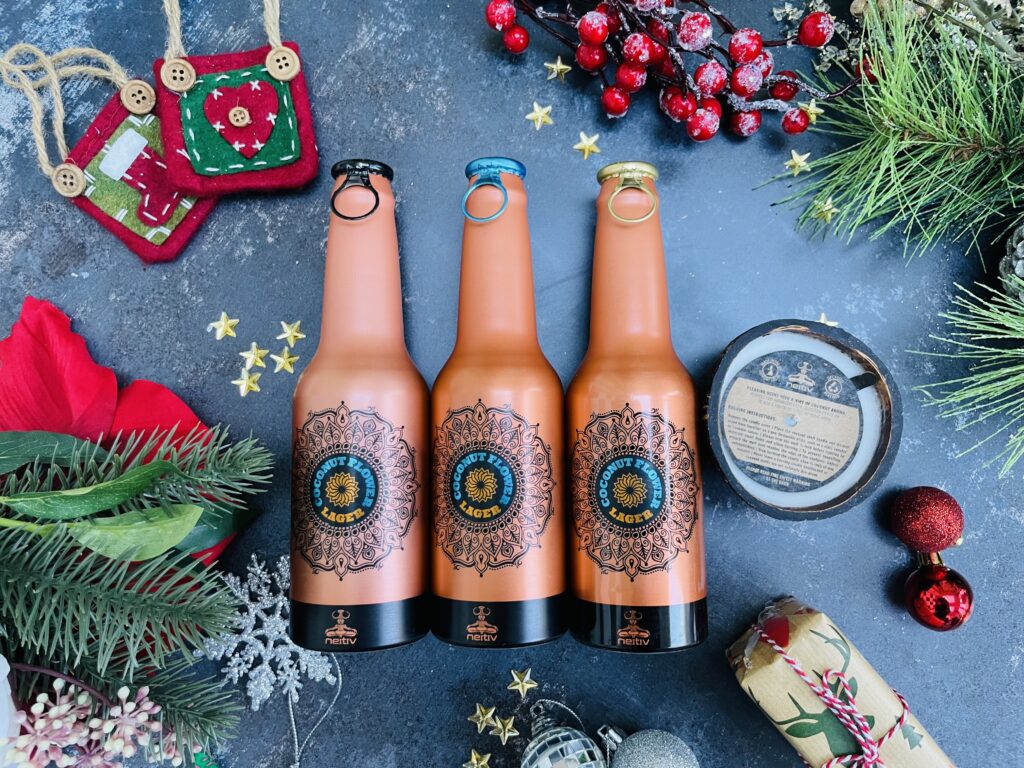 Staying on the subject of beer, how about giving them something a little bit different to try? This Neitiv Coconut Flower Craft Beer Gift Set is, according to Neitiv, the perfect retreat from a busy life and is a fine quality premium lager carefully brewed and bottled in the UK. Its rare and special ingredient – coconut flower drops- apparently will bring holiday vibes into your home! And let's face, we could all do with a bit of that! It's a beer that's aimed at both men and women, and with a fabulous smelling candle as part of the set, I reckon it could do either too!
RICHARD OSMAN'S HOUSE OF GAMES BOARD GAME
£24.99
Do your family love a board game? Ours do now and again, so what about giving this Richard Osman's House of Games as a present for Dads for when you all get together? It's based on the hit BBC 2 show hosted by Richard Osman, and is the ultimate test of knowledge and skill. (Which might count me out as being any good at it, I suppose!) You can team up to tackle some trivia or face off against each other in the iconic Answer Smash. Sounds like loads of fun!
YOUR CHOICE VOUCHER
From £10 to £250
We all know men are notoriously difficult to buy for so if none of the above tickles your fancy on your list of best presents for dads, then why not take the simple way out and let him choose his own! This VEX Gift Card is the perfect multi-choice gift, giving your friends & family the choice of over 150 Gift Cards and eGift Cards featured on Voucher Express – home to some of the biggest retail brands in Britain. There are a multitude of spending options, from Fashion and Home to Experience Days. For food-lovers, fashion enthusiasts, thrill seekers and grocery shoppers, they're guaranteed to find a brand they love. The cards are available in values for £10 to £250. So that's why it's definitely on my list of best presents for dads.
Found any good ideas for presents for Dads in your life? What would you choose?
If you want some other gift ideas, check out these posts:
Gift Guide For Six Year Old Girls
Gift Guide For Six year Old Boys
Gift Guide For Eight Year Old Boys
Gift Guide For Eight Year Old Girls
How did I do?
Did you enjoy this post? What a great list of best presents Dads. So why not hang around and read a few more whilst you're here. If you want to get in the Christmas spirit I've got several posts you'll like:
If you fancy reading more of my usual kind of parenting stuff, head over to my Mum Life section. You'll find all things parenting with a tongue-in-cheek twist. And if you want some family holiday inspiration or days out, head to my Travel Section.
And if you like a bit of social media madness, pop over to my Facebook page where you'll be able to have a laugh at what ridiculousness goes on in my house with three very small boys on a daily basis. Warning – there is often sarcasm, and usually swearing. There are also great travel reviews and some AWESOME giveaways. Feel free to join my Twins, Tantrums and Cold Coffee – Shits and Giggles Parenting Group too, where everyone shares their hilarious stories.
You can also find me on Pinterest, Instagram and Twitter too.
And if you want to work with me, feel free to give me a shout here or at helen@twinstantrumsandcoldcoffee.com and I'll get back to you.