If you're looking for a truly magical experience for all the family this Christmas, a trip on The Polar Express Devon train at South Devon Railway must surely be top of the list!
AD | Disclaimer – This post is an advertisement feature with The Polar Express and South Devon Railway.
After the strangest of two years, and the event being cancelled last year, why not treat yourselves and children to one of the most festive and fun experiences they are ever likely to have. Take them on board The Polar Express at Buckfastleigh Station and make their Christmas dreams come true.
I can't wait to see my boys' faces when the steam engine rolls into the station ready to take them on a magical journey I know they'll be bowled over by. I'm getting excited already!
Experience the magic of The Polar Express story on a real steam train
If you've not heard of it, The Polar Express train ride is based on the 2004 animated movie starring Tom Hanks from the original 1985 children's book. It tells the story of a young boy, who on Christmas Eve, sees a mysterious train bound for the North Pole stop outside his window and is invited aboard by its conductor.
The boy joins several other children as they embark on a journey to visit Santa Claus preparing for Christmas. And that's exactly what will happen when you join The Polar Express train and watch the story be theatrically recreated in real life!
And yes, THIS is the train that invites you all to wear your pyjamas! How cool is that.
Buckfastleigh station will be covered in festive decorations, and the kids will be able to hear the faint sound of sleigh bells in the distance, before watching the steam engine roll into the platform ready for them to climb aboard.
Chefs will greet children through the windows, whilst the conductor shouts "ALL ABOARD!" and you're shown to your seats. You'll get to meet the characters from the film including the dancing chefs, the hobo, and Father Christmas himself during the hour-long journey.
The Polar Express movie scenes will come to life before your eyes
Whilst en route to the North Pole scenes from the movie come to life as dancing chefs serve cookies and hot chocolate to the children, and tell them the original story of The Polar Express, complete with all its magic. The whole carriage can follow whilst the chefs show pages from the original book by Chris Van Allsburg.
You're also welcome to bring your own copy of the book along to follow the story.
Excited passengers are invited to share their magical Christmas experiences and stories with the characters from the film. And as the journey continues, more and more elements of the story spring to life before your eyes.
Meet Father Christmas on board The Polar Express
Then it's onto the main event. Arriving at the North Pole and keeping your eyes peeled for Santa, his sleigh and Christmas tree. I think my boys may well have passed out with excitement by now!
As the train slows to a halt, make sure you're watching the entrance of your carriage as Santa climbs on board The Polar Express.
Along with his Elf, Father Christmas will then make his way around talking to all the passengers. He also gives them a Silver Sleigh Bell just as in the movie. Only if you're on the Nice List, of course.
As The Polar Express heads back to Buckfastleigh station, the chefs will help children to write a letter to Santa before or after meeting him. They will then be able to put them in a special post box to ensure the Polar Express takes them back to Santa.
Then everyone is ready for the fun to continue when passengers depart the train.
Write letters to Santa and test out the Elves' 'Naughty or Nice' scanner
Once back at the station, children can post their letters to Santa, and colour in their favourite characters from the popular story. They can also (if they dare!) check out the Elves' scanner to see who's been naughty or nice! Might be touch and go with my three…
There will also be souvenirs available to buy in the station gift shop.
As I mentioned earlier, organisers encourage all guests of any age to wear their pyjamas just as in the movie. I can imagine the children absolutely love it. And once they've persuaded the adults to join in too the atmosphere in the train comes alive.
Mark Haynes, Digital Marketing and Ecommerce Manager for PNP Events Ltd, said: "We are so excited to be running a Polar Express in Devon after running the event in other areas of the UK. We are sure visitors to the railway will love the experience. So what are you waiting for? Come and join us by getting your Polar Express tickets today. We can't wait to see you all."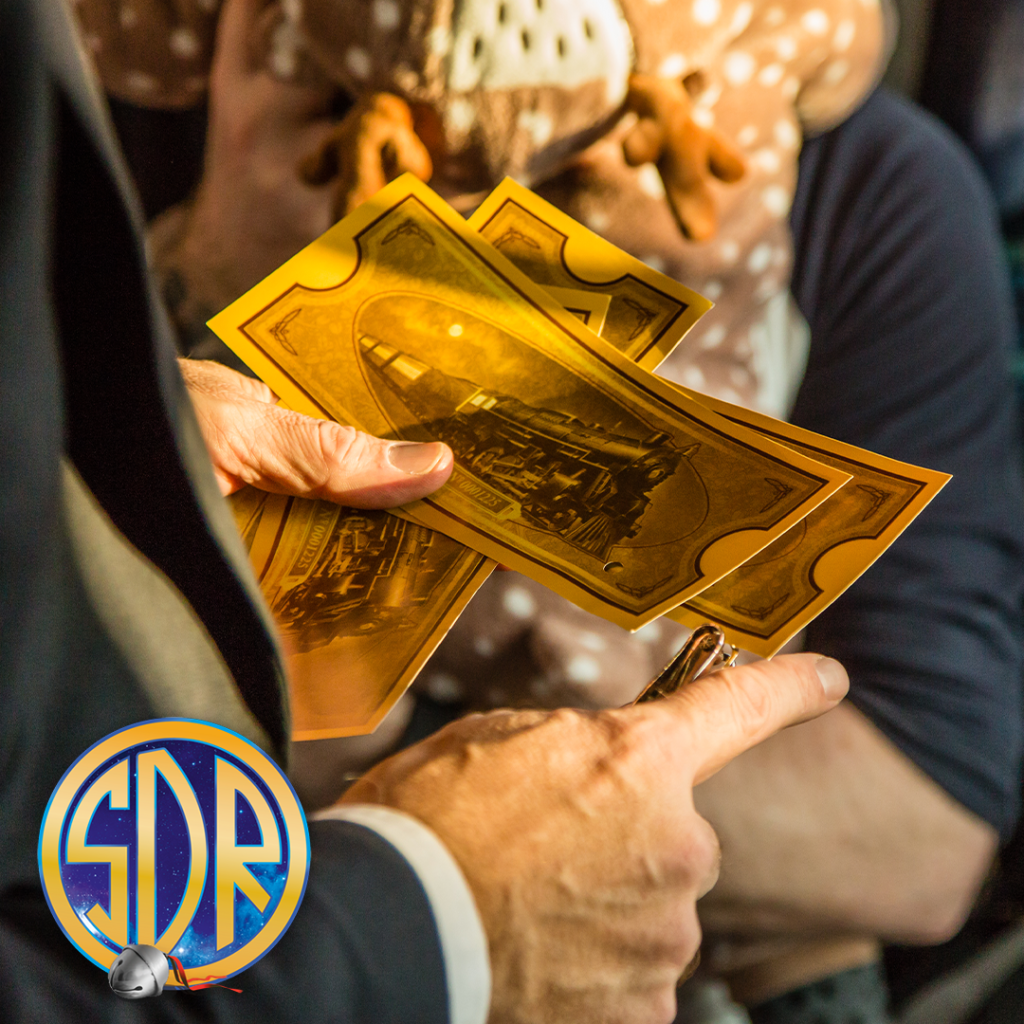 Keeping The Polar Express safe: Covid rules
This year's event (2021) will adhere to current Covid 19 guidelines and organisers are keeping an eye on what the latest will be.
In line with other public transport, masks should be worn on The Polar Express by passengers over the age of 11 who are not eating and drinking.
Not all tickets are being released. This ensures seats can be allocated at a distance and that different parties are not sharing tables onboard. Linked orders may share tables.
The Polar Express will be running several times a day from South Devon Railway at Buckfastleigh station on the weekends of November 20 and 21, November 26 to 28, December 2 to 5, and December 9 to 12 December. Then it will run daily from December 15 to 23.
Tickets range from £24.95 to £43.95 depending on dates and whether you go for Standard or Premium class. And if you are closer to the Midlands, you could try The Polar Express Train Ride in Staffordshire.
So get your Christmas PJs on, your festive spirit at the ready and hop aboard for the most magical experience of the year. But hurry, with many carried over from last year, it's the hottest ticket in town! Book here now.
How did I do?
Did you enjoy this post? Find out other Polar Express train ride locations in the UK here. Or if there's not one near you, there might be a different Santa Train Ride in your area. Then how about you head to my Local Stuff section to find out about any other events going on in and around Plymouth. Or check out my Mum Life posts if you fancy reading a few parent ramblings. And head to my Travel section for some UK holiday and days out inspiration.
If you like a bit of social media madness, pop over to my Facebook page where you'll be able to have a laugh at what ridiculousness goes on in my house with three very small boys on a daily basis. Warning – there is often sarcasm, and usually swearing. There are also great travel reviews and some AWESOME giveaways. Feel free to join my Twins, Tantrums and Cold Coffee – Shits and Giggles Parenting Group too, where everyone shares their hilarious stories.
And if you want to work with me, feel free to give me a shout here or at helen@twinstantrumsandcoldcoffee.com and I'll get back to you.