AD | we were invited to spend a weekend at Bluestone's Christmasland for the purpose of this review but all opinions are my own.
If you're a family who loves to embrace Christmas, then a Bluestone 'Christmasland' break is definitely the thing for you.
Other than actually flying to Lapland itself, I honestly don't think you could find anywhere more Christmassy in the UK.
I'll be honest, before having kids I wasn't that bothered about Christmas. I didn't even put a tree up some years, and obviously as children came along I was forced by the Other Half to be less Scrooge and more Will Ferrell's Elf. So for me to say a trip to Bluestone's Christmasland was AMAZING, definitely must mean something.
You may know I'm a big fan of Bluestone anyway – a 500 acre holiday park in the beautiful Pembrokeshire National Park in west Wales. This trip was our fourth break there, and I can't get enough of the place. You can read about my first visit here, and also how going with another family is awesome.
Bluestone's Christmasland is awesome
So when we were invited to Christmasland for a long weekend, I was hardly going to say no. And having spent three days getting Christmassy I'm already planning which weekend we can go next year.
The folk at Bluestone love Christmas so much, they make it last for two whole months in the form of Christmasland. And I can't overemphasise enough – it would be IMPOSSIBLE to spend just a single hour there and not come away dying for it to be Christmas Eve already.
Christmasland sees Bluestone transform into a winter wonderland. Everywhere you look there is something festive. Beautifully-decorated trees on every corner, colourful lights around the site, and Christmas music playing wherever you go. The Village is lit up like something off the front of a Christmas card, and the Adventure Centre is like one giant Santa's grotto with trees, decorations and music. Even the Blue Lagoon swimming pool has been transformed into the Elf Lagoon complete with festoon lighting, towering pine trees, presents, icicles, and giant candy canes everywhere. It's magical.
It seems all the staff have been given the two months off and replaced with Santa's actual elves instead. And they are FABULOUS. Everywhere you go they are on hand to help, chatting to the children sackfuls of Elf-like enthusiasm and fun. Nothing is too much trouble for them, and the kids are mesmerised. It's so lovely to see.
Experience Christmasland in the new Serendome
Bluestone opened their new attraction Serendome in July, and this was the first time we'd seen it – we certainly weren't disappointed, and spent most of our time there.
The biggest umbrella in the UK, Serendome is a brand new adventure dome, which lets you experience outdoor activities whatever the weather and certainly captured our kids' imagination. They didn't want to leave it.
It's home to activities such as Wacky Races where families race to put together and decorate their own go kart before competing against others in the Bluestone Grand Prix. Twin One was desperate to have a go so we know what we'll be doing when he's big enough!
Kids loved the all-weather play
My three were completely taken with the Sand Play, Water Play and Imagination Garden areas of Serendome. We struggled to get them out of the Sand Play fort on all three days of our stay.
There's also Starcatcher where kids over the age of 6 can scale a 10ft tree, and both Skywalk and Skywalk Mini vertical adventure courses built over seven towers and 24 climbing stations. It was fascinating to watch people taking part.
Serendome is also home to Bluestone's 400-seat amphitheatre, a restaurant and two bars. Not one to point out the obvious or anything, but to be able to watch your kids play whilst sipping a glass of wine was, well, just the ticket! Talk about civilised.
All this whilst listening to Christmas music and watching Elves bounce by, of course.
But back to Christmas. Or Christmasland should I say.
Just wandering around Bluestone is enough to get you into the Christmas spirit. But if you want to go one step further (your kids will love you for it) there are lots of festive activities to join in with.
Why you should visit Christmasland
So here are my top 6 reasons to go to Christmasland:
Kingdom of the Elves
As part of your Christmasland break, you and your family get to join in the fantastic festive adventure to Kingdom of the Elves for free. With preparations for Christmas day well underway, the elves at Present Control have noticed things have been going missing. Your kids join the ELF.BI as detectives to help them discover who is behind the mysteries and get the presents back before Christmas Eve. First things first, they need their ELF.BI costumes and face-painted rosy cheeks. Quite possibly the cutest thing I've ever seen. The hour-long interactive experience saw us uncovering clues, solving puzzles and helping the Elves discover the dastardly thieves causing trouble across Christmasland.
We moved through different locations from turtle-spotting under the sea in a submarine, to getting creative with our magnifying glasses in the Christmas Post Office, putting Santa's broken sleigh back together, and celebrating rescuing the festive spirit with some singing and dancing inside Father Christmas' present sack. It was so well done, and every minute of it was magical for the children. It's great that it's included in your Christmasland break, and you get to take home your ELF.BI costumes (and rosy cheeks!)
Santa's Workshop
Santa's Workshop. No Christmas experience is complete without getting to meet the big man himself, right? So book onto a visit to Santa's Workshop and prepare to be swept up in the Christmas spirit instantly. Elves Jingle and Jangle invite you into the wintery workshop where you can make yourself comfortable on giant cushions and wait for Santa to arrive. Making his own special entrance, the man in red appears down the chimney and the kids are instantly enthralled. Santa tells the tale of one of his most special magical friends and how they got their name.
The children are then given their own book of his story, the chance to write their present wish list in the back and do some colouring in. All whilst the adults are offered warm mulled cider and a mince pie. (Did I mention I liked this place?) Children can then take their books to see Santa who goes through the list and has a lovely chat with them all. Well, unless you're Twin One who wasn't too enthusiastic. Santa tells them they have to leave the book by the fireplace on Christmas Eve for him to check the list when he arrives.
The four year old was beside himself that Santa actually knew what a Power Ranger was – even singing the theme tune to us – which has left him convinced he'll be getting one in his stocking. This was one cool Santa – definitely the best one I've ever seen. Jangle the Elf takes an official photo you can buy, but also snaps away on your phone too, and the children are given an activity pack to take away as well as their book. It was all flippin' adorable.

The Little Merelf Christmasland Spectacular
Each time we've been to Bluestone we've taken the four year old to see a show which he's loved and this time was no exception. The Little Merelf was the twins' first theatre experience and they were smitten. Performed in Serendome's Cloud amphitheatre, the magical tale was the story of the Little Mermaid with an Elfish twist. We were invited to dive straight into the kingdom below the waves where Air-elf and her fishy friends went on a Christmas adventure encountering larger-than-life characters, acrobatics, dance cirque, juggling, singing, dancing and special effects. The boys got right into it!
Festive Dining Fun at Christmasland
A sure-fire way of getting into the Christmas spirit is to go to one of Bluestone's interactive Festive Dining events. Book onto the Elves Christmas Dinner Show and your family will sing, dance and play seasonal games whilst tucking into a merry feast with Christmasland's mischievous Elves. Based on the tale of the Snow Queen who has forgotten the magic of make-believe, the Elves and the audience have to use the spirit of Christmas to recapture her imagination.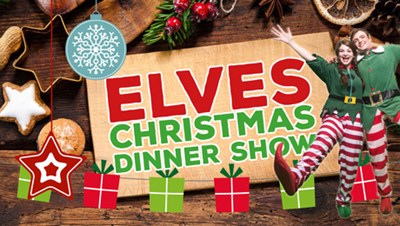 And if you don't fancy a Christmas dinner (or if you're like me have kids that probably wouldn't eat it!) book onto Rudolph's Breakfast Barn event instead. You'll join Rudolph a cheeky elf toy and other charming characters for a Christmas breakfast show where the reindeer will reveal a merry tale about a toy's quest to be loved. What a way to start the day!
Christmasland Workshops
If your children fancy getting their Christmas creativity on, then head to one of Christmasland's festive workshops. They can take part in the Enchanted Workshop to create a fancy sweet treat Gingerbread House to devour as soon as they get back to your lodge, or you COULD try and persuade them to keep it until Christmas. Not sure I fancy your chances though.
The less sugar-option is for them to make their own Christmas wreath in a family workshop. Whilst the older children can assemble the willow core, the little ones can get creative with pine cone characters and wooden creations. A great way to come up with a festive masterpiece for your front door. (Or downstairs loo, depending on how creative you are…)
Free Festive Christmasland Fun
It can often feel on a break like this you have to fork out even more money on activities to have fun. But as well as Kingdom of the Elves being part of your holiday, there are other free events to get you into the festive mood without spending a penny. Every day except Mondays and Fridays there are Advent Calendar Mornings in the Village. It's the resort's very own version of the Advent Calendar where the Bluestone band of loveable Elves tick off another day with Christmas songs and a surprise or two for guests on their Christmas countdown.
Not content with one grand Christmas Lights Switch On, Bluestone are doing it every day (apart from Mondays and Fridays) in the Village. Guests can head to the Village at 6.15pm for some festive fun and enjoy the twinkling lights.
The staff at Bluestone LOVE a parade and festival. I think I've seen one each time I've stayed, and Christmasland is no different. The Christmas Parade and Festival takes place on a Thursday and a Sunday so whether you're staying midweek or for a weekend, you won't miss it. You'll be able to see it going from the Adventure Centre to Serendome, where you can then enjoy the magical festive celebration of games and entertainment under the giant umbrella whatever the weather.
Feeling Christmassy yet?
If this little lot doesn't get you into the Christmas spirit NOTHING WILL. It seemed there was no problem on that score when we were there though despite it still being early November. Lots of families obviously go to Christmasland every year and know the score. I mean, I'm not surprised – Christmasland is the IDEAL place to get into the spirit of Christmas.
Everyone wore Christmas jumpers – despite it being the first weekend of November. A lot of families even wore MATCHING Christmas jumpers or outfits. They'd thought about this and they were going for it. I'm ashamed to say it didn't enter my head to bring a Christmas jumper in November so must have looked a right miserable git. But the rest of the guests were on it, and they were loving life. People had even taken fairy lights and tinsel to decorate their golf buggies. How amazing is that? It was brilliant to see.

But I'm already planning next year's trip, so I'll know to go all out. Wonder if the Other Half would appreciate matching Christmassy onesies…
If you're thinking of going, or you've already booked a trip to Bluestone read this post Everything You Need To Know About A Stay At Bluestone for some top tips and advice on how to make the most of it.
*This post contains affiliate links. Clicking these links and booking your Bluestone break means I may earn a small commission, but it does not affect the price you pay. Featured image pic credit: Bluestone.
How did I do?
Did you enjoy this post? You might like some of my others. If you're feeling Christmasy check out my Ultimate Family Guide to Christmas in and around Plymouth or if you want more family travel ideas, have a look at my Travel Section. And if you fancy a giggle, click on my Mum Life section for all my sweary rants about parenting.
If you like a bit of social media madness, pop over to my Facebook page where you'll be able to have a laugh at what ridiculousness goes on in my house with three very small boys on a daily basis. Warning – there is often sarcasm, and usually swearing. There are also great travel reviews and some AWESOME giveaways. Feel free to join my Twins, Tantrums and Cold Coffee – Shits and Giggles Parenting Group too, where everyone shares their hilarious stories.
And if you want to work with me, feel free to give me a shout here or at helen@twinstantrumsandcoldcoffee.com and I'll get back to you.