There's loads to do with kids this Easter 2023 in Plymouth, they're sure to have a brilliant time. So have a look through this great list, and start planning your Easter holidays in our wonderful city.
What is going on for Easter 2023 in Plymouth?
Easter Trails in and around Plymouth for Easter 2023
Saltram House
If you know my blog, you'll know I'm a big fan of our local National Trust places, particularly Saltram. Although I don't get to go there as much as I used to now everyone is at school!
So top of mine, and most Plymouth parents' list is always the Easter Egg Hunt at Saltram. And 2023 will not be a disappointment!
From Saturday April 1 to Sunday April 16, families can join in the National Trust's Easter Adventures at Saltram event. Pick up an Easter trail from the Visitor Welcome centre from 10am to 5.00pm daily. Then head around the garden to complete some fun, active games and challenges inspired by nature.
The trail costs £3 each, plus normal admission prices if you're not an NT member, and includes a chocolate or free from Rainforest Alliance Easter egg. I'll see you there, I expect! Find out more on the National Trust website.
Buckland Abbey
A similar Easter Adventure is also taking place at Buckland Abbey near Yelverton. It will be on from 10am to 4pm from April 1 to 16. Hop along to the Welcome Centre to join in the fun of the Easter Trail. There will be colouring, nature spotting and a whole host of fun activities along the way for all ages to enjoy. Just make sure you claim your chocolate egg at the end! It costs £3 for a trail map, pencil and chocolate prize. What's not to like? No advance booking is necessary.
Cotehele
Yes, you've guessed it. The trail is also on at Cotehele in south east Cornwall. If you want a different NT property to visit once you've exhausted Saltram then head over the Tamar to Cotehele. Like the others, it's on daily from 10am to 5pm (last entry 4pm) from April 1 to 16 and is £3. Just don't forget to collect your chocolate egg at the end. Like you would!
Antony House
If you've never been to Antony House near Torpoint, then this is a great chance to visit. It's not open as much as the other local National Trust properties, so grab the opportunity while you can. It's been closed all winter and reopens for the Easter holidays. The Easter Egg Hunt is on from Tuesday April 4 to Thursday April 13, excluding Easter Saturday, from 12 noon to 5pm (last entry 4pm). There will be nature-inspired activities to do along the trail, as well as the chocolate egg prize. Antony really is a beautiful place to explore – my boys love its open space. And obviously the ice cream…
If you want to go further afield, other National Trust properties which would be great to visit during Easter 2023 include Killerton, Arlington Court, Castle Drogo, Coleton Fishacre, Greenway, Knightshayes and Lydford Gorge.
But I'll be sure to see you at Saltram, no doubt. Probably shouting at my boys for doing something wrong. Come and say hi!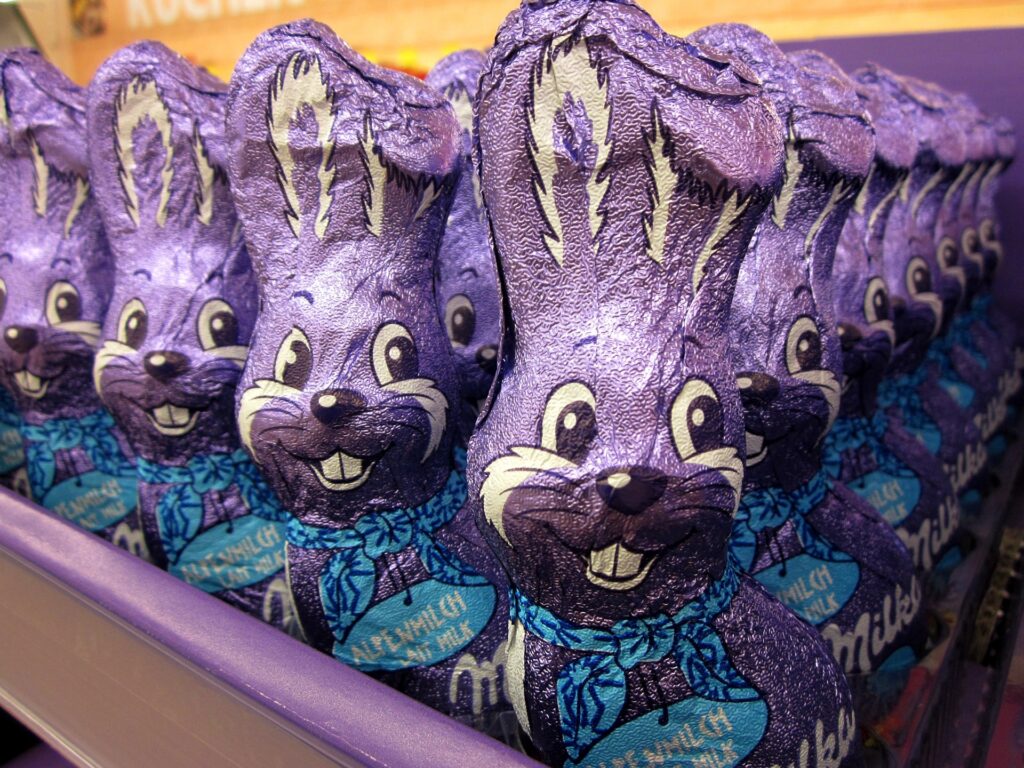 Plymouth City Centre
Follow Plymouth's egg-citing new family-friendly Spring Time Egg Hunt from April 1 to 17, 2023. With 10 large eggs to discover in West End shop windows you'll be in for a real treat. Each beautifully decorated egg is inspired by a different local habitat in Spring time and the animals that live there. Find bunnies hiding in the flower meadows and bees making honey in their hive. There is a letter hiding on each egg, and once you've found all 10 letters, and worked out the 10 letter word they spell, you can go online to complete a form to be in with a chance of winning one of three £50 vouchers to use in one of the following places: Cineworld, Las Iguanas, Waterstones, Turtle Bay, WHSmith, The Entertainer, Five Guys, Paradise Island Adventure Golf, Smiggle, JD Sports or The Body Shop. Find out more here.
The Barbican
The Barbican has an Easter 'Tail' to tell this year. There's a bunny warren hidden under the Barbican cobbles and all that visitors to the area can see are little bunny tails disappearing into their burrows. Hop on down to the Barbican and match the name of the bunny with their bunny bum! This Easter 2023 trail is perfect fun for all the family and will be on from April 7 to 16. Pick up your free trail leaflet from the Tourist Information Centre or download a printable copy from the Barbican Waterfront Website (available from April 6). Just don't forget to collect your sweet treat when you've finished.
The Box
If you're looking for an Easter Hunt with a difference head to The Box over the Easter weekend. During your visit find the West Country's very own Easter Bunny – Gus Honeybun! Find his different jumpers throughout the museum with their special seasonal trail and receive a special Easter treat.
Other activities going on at The Box this Easter include Family Fun: Bee Positive. It's a craft session for children and parents where they can also learn about the Six-Banded nomad bee – Britain's rarest bee that lives close to us in South Devon. As well as the craft activities on offer there will also be some visiting experts who will share their knowledge too. It takes place on April 1, 2, 4-6, 11-15 and 22.
A family-friendly Silent Disco will also be taking place on April 5. Take your little ones in and strut your stuff to some fab tunes on the dance floor underneath the Royal Naval figureheads. Two different music channels will be available – one with Disney and Pixar tracks and one with classic pop hits especially selected for a family audience. Fancy dress is encouraged, so book your tickets, pick your outfits and show The Box your best dance moves to your favourite songs. Sounds awesome! Read all about our first visit to The Box here. Plus if you head to the museum for the craft workshops or silent disco, you also get to see beautiful Mildred the Mammoth!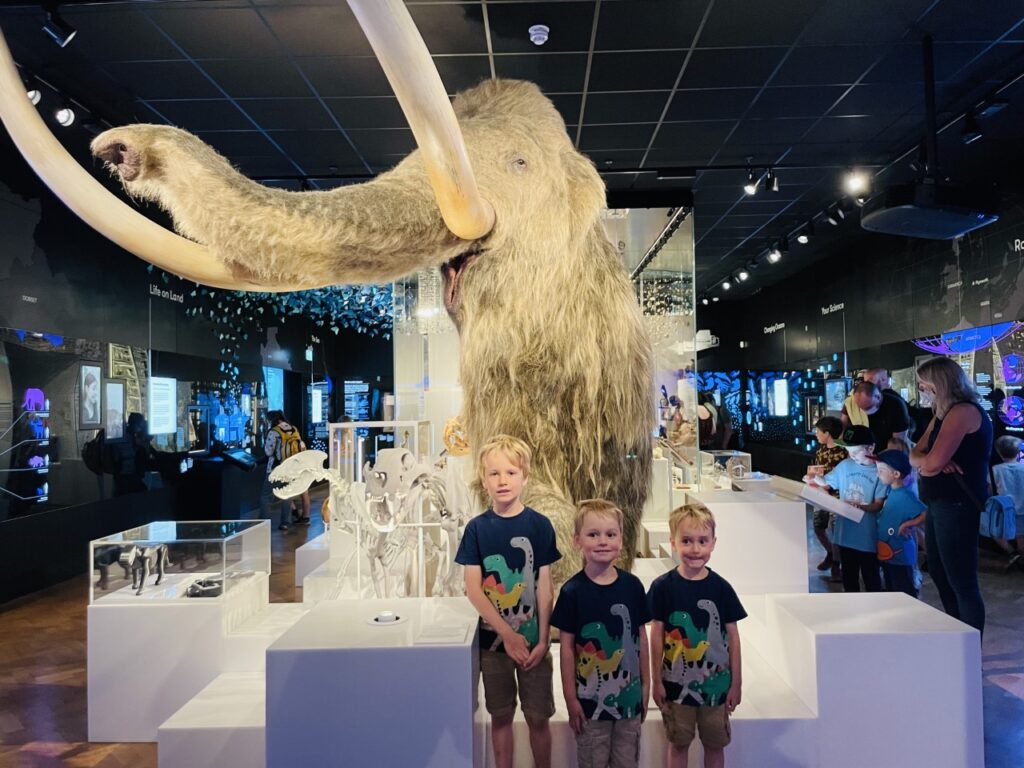 Central Park
Plymouth Argyle Community Trust are holding an Easter Egg Hunt on Saturday April 8 from 10am to 2.30pm. The hunt is raising money for Project 35, and will see those taking part visiting points of interest around Central Park, collecting clues then claiming their all important chocolatey prize. Pick up your map from the Central Park Hub. Entry is either £2 or a donation of 2 tinned goods per child.
River Dart Country Park
Head up the A38 to River Dart Country Park for a weekend of Easter Trails from April 7 to 10. There will be an Easter Egg Hunt and Trim Trail Egg-ercise Course as well as all the usual activities the park offers. We loved it there when we stayed for the weekend.
Plymouth Snowsports Centre
If you fancy an Easter Egg Trail with a difference, head to Plymouth Snowsports Centre over Easter weekend. There will be Easter eggs hidden all over the centre and with no minimum age, it's something the whole family can enjoy. Follow the map to find all 10 eggs and win a prize. And whilst you're there, why not try your hand at one of the awesome activities they have on offer. Throughout the holidays from April 1 to April 16, children aged 8 to 15, can join the Kids Activity Days for a full day of fun for £40 per person. Fit and Fed funded spaces are also available. It includes 2.5 hours of your choice of either skiing or snowboarding, as well as tobogganing, sno-tubing and the Viper drop. There's also a special school holiday toboggan offer of 4 rides for £10. My boys absolutely love the sno-tubing and toboggan so I'll see you there! Find out more here.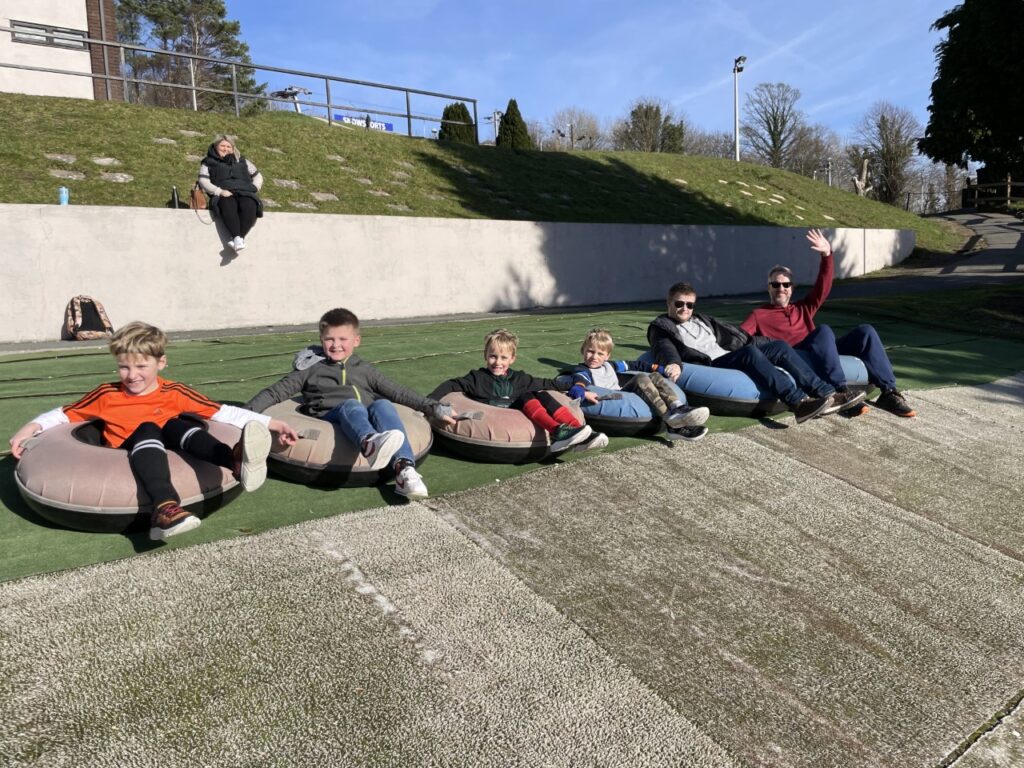 Trethorne Leisure
Kids can take part in an Easter egg hunt at Trethorne Leisure near Launceston. It's just one of a whole load of 'egg-cellent' Easter events taking place. Other activities include a design an Easter egg competition, Easter arts and crafts sessions, and meeting Trethorne's new mascot, Lola. Keep an eye on their Facebook page for more details.
Mount Edgcumbe
Mount Edgcumbe usually holds an Easter Egg trail but according to its website it's not running in 2023. It hopes to be back in 2024. Just in case you head over there and are disappointed. Find out more here.
Events and activities for Easter 2023 in Plymouth and surrounding areas
Bridging the Tamar Centre
There will be free family activities at the Bridging The Tamar Centre during the Easter holidays. On Monday April 3, from 10am to 4pm, join the team from the West Country Rivers Trust as part of National Wildlife Week for some fun family activities. Learn about the Tamar River and its spectacular habitats with activities including 'Water Beastie' identification, and water quality testing.
Or take a stroll across the Tamar Bridge with well-known international storyteller Clive Pig and hear tales of rivers and stories of bridges. The event takes place on April 8, 12, and 14 and costs £3 per child. Find out more about the Bridging The Tamar Centre events here.
Beach and Sea Explorers
Join marine biologists from the National Marine Aquarium on a boat trip to explore the UK's first National Marine Park. Setting sail on April 12, 2023, the NMA's Ocean Discovery Rangers will help you discover British wildlife from big to small, as well as the history of Plymouth's stunning natural harbour. Find out more here.
If you'd rather stay on dry land, the Wembury Marine Centre is running several events over the Easter holidays. An Eggcase Hunt will take place on April 2 at 10.30am at a cost of £3. Those taking part will be taken on a walk along the beach in search of mermaid's purses (shark and ray egg cases) and other interesting finds along the way, ending with a small chocolate prize. There will also be a number of Rockpool Safari events on April 5, 6, 7 and 9.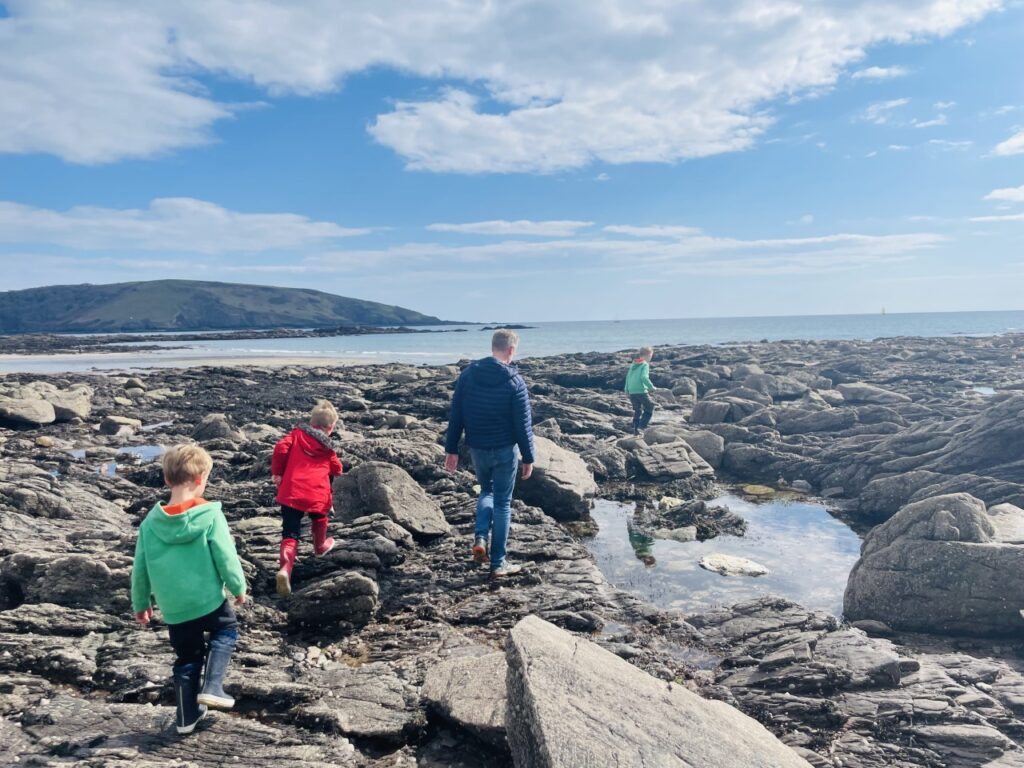 Dinomania
You may have already seen this advertised, but dinosaur fans are going to LOVE Dinomania. The show comes to Plymouth on April 1 and 2, at the YMCA in Honicknowle. Kids can meet the award-winning YouTube Rangers from Dinomania who will teach them all about dinosaurs and other prehistoric creatures. With realistic dinosaurs, fossils and replicas, any dino-fan will have a roarsome time! It is on at 11am and 2pm with tickets costing £15, with under 2s free (although they still need a ticket).
Market Hall
There is loads going on at the Real Ideas Organisation's Market Hall in Devonport and Ocean Studios at the Royal William Yard this Easter Holidays. There will be several immersive Dome experiences at Market Hall including The Life of Trees, Outer Space: Aliens and Guardians, Antarctica, BUGS! A Rainforest Adventure, DINOSAURS: A Story of Survival, Into The Fruit Bowl, Legend of the Enchanted Reef, Worlds of Ice, Rainbow Aurora and Bebe Symphonique. There are also various film making sessions suitable for 8-12 year olds, and parent and children together. Find out more details here.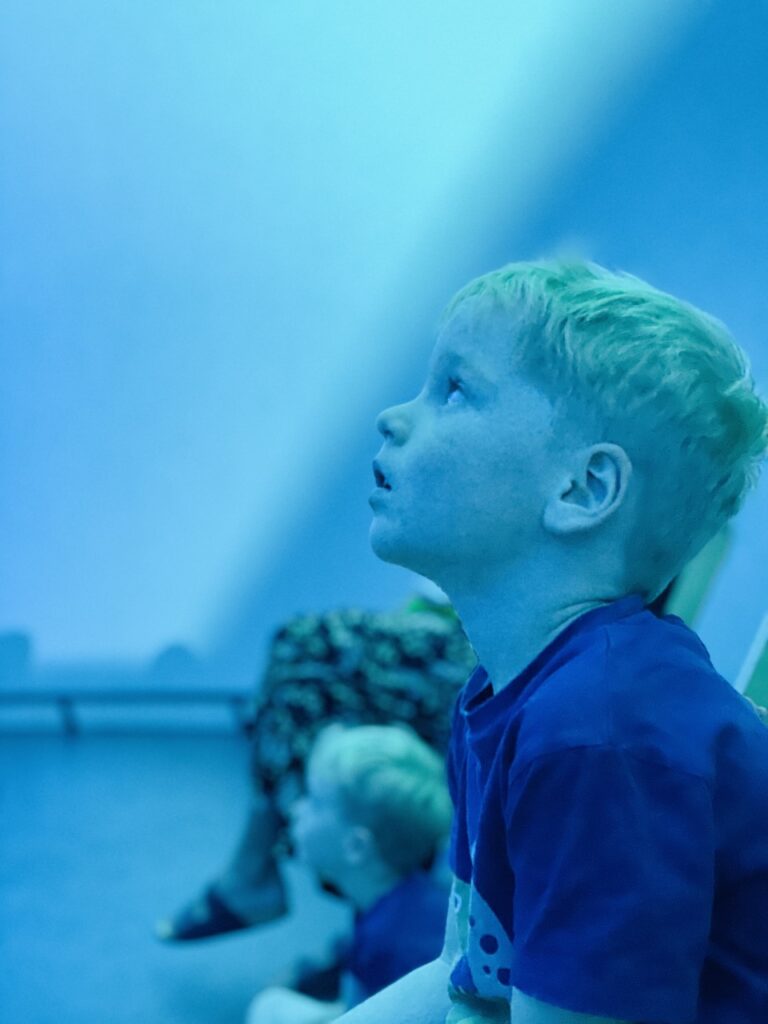 Dartmoor Zoo
Hop on over to Dartmoor Zoo and join in their Easter EggstravaganZOO event, taking place from Saturday April 1 to – Monday April 10, 2023 from 10am to 4pm. Celebrate Easter with the whole family and enjoy acres of 'egg'tastic themed fun! Activities during the event include and Easter egg trail (cost of £3 to receive a chocolate egg), Easter games, meet the Easter Bunny, a fantastic falconry display and much more. Buy tickets here.
China Fleet Club
Head over the Tamar Bridge to China Fleet Club and you'll be in for a treat this Easter. Play Woodland Adventure Golf and take part in the free Easter Egg Hunt, between April 1 and 16. Or head to the Woodland Fairy Trail which has been taken over by fairies and solve the clues in a special activity book.
House of Marbles
The House of Marbles at Bovey Tracey is holding a free Easter Egg Scavenger Hunt on April 7, 8 and 10. Solve a series of clues to help gather all the forensics and make your case. Investigate some invisible forensics to gather your evidence and shine some light on the main suspects. Then, hop along to the photobooth area to take a mug shot. Involving a Zebra, Little Bo Peep and The Big Bad Wolf, are your kids ready to take a journey down the rabbit hole at the House of Marbles?
Pennywell Farm
If you're looking for things to do for Easter 2023 in Plymouth and surrounding areas then a visit to Pennywell Farm has surely got to be on your list? Farmer Chris and his staff are looking forward to welcoming everyone to Pennywell's Egg-Stravaganza this Easter 2023 from April 1 to 10. There are thousands of chocolatey prizes up for grabs, and an Easter trail. Games include guess the weight of the Easter Bunny's helpers, guess how many eggs in the jar, a colouring competition, photo competition, find the Golden Egg, a quiz and Easter Bunny's Orchard games. Plus there are miniature pigs to cuddle, so what's not to love!
Crealy Theme Park and Resort
If you want to go a bit further afield, there's an awesome Eggo-Saurus Dino Hunt planned during the holidays at Crealy. Kids can go on a Jurassic adventure across the park to find all the dinosaur egg locations and win themselves a chocolatey prize. They'll be asked to figure out the clues and riddles that will reveal the secret dino egg locations, and using their very own prehistoric map, children can tick off all the eggs to claim their prize.
Woodlands Theme Park
The Easter Bunny is returning to Woodlands Theme Park from April 1 to 9. Kids wil need to traverse through the rabbit warren into Bunny's Easter Grotto featuring amazing Easter themed rooms. They can then collect their special gift from the Easter Bunny and let Bunny's helper take a photo of them together. The Grotto entry is £6.95 (on top of park entry).
Crownhill Fort
If you were hoping to take a visit to Crownhill Fort you're in luck. Their second open day of the year takes place on Friday April 14 from 1pm to 4.30pm. This event will feature a collaboration with Crownhill Library as well as a programme of tours, talks and firing to be confirmed. More details will be posted on their website and social media pages once they've been announced. As well as the open day, the 1.3km permissive footpath outside the Fort is open. It runs around the defensive ditch so if you fancy somewhere new to wander this could be an option.
Royal William Yard
If your kids love crafts then get yourselves down to the Royal William Yard on Saturday April 8. 'Yard Create: Children's Crafts' will run from 10am to 1pm at Hub Box and see an array of craft materials for kids to choose from to make fun and unique Easter-themed creations. And on Sunday April 2, the Yard's popular Good Food and Craft Market will take place inside the iconic Melville building and surrounding area outside. Visitors will be able to enjoy the freshest local produce from the South West's top suppliers and unique arts and crafts by artisan makers. Older kids will especially love the Soapbox Science event, where scientists from University of Plymouth will share their research in a fun and accessible way, with interactive presentations, props, and questions welcomed.
And if you don't fancy either of those specific events, go when it's a bit quieter. A visit to the Royal William Yard can definitely wile away a couple of hours. Grab some takeaway food or drink at one of the many lovely eateries down there, play on the green, spot the boats or climb the staircase up to Devil's Point. A couple of Easter offers include a 'kids eat for free' deal at Hub Box. It's available from April 4 to 6 and again from April 10 to 13 and it applies to any child that visits with an adult that is dining. The Club House is also planning to hold a family day over the Easter weekend (and for parents, there's a local gin celebration going on!) – keep an eye on its Facebook page for more details. The Yard is certainly on my list for Easter 2023 in Plymouth.
Boat trips
Plymouth Boat Trips are running several family-friendly cruises over the Easter holiday, including a Sundowner Cruise and a special Kids Nauti-cool Disco. On Monday April 10 between 2.30pm and 4pm, mermaids, super cool sailors, pesky pirates and cute sea creatures are invited along on the (optional) fancy dress cruise. There will be face painting, a nautical fancy dress competition, kids' music and lots of fun.
Bouncy Castle Fun
Bouncy castle discos are taking place at Brickfields on Wednesday April 5 at 10am, 12 noon and 2pm. It promises to be a day full of musical fun, bouncing, dancing, a mega slide, assault course, and musical games with prizes to be won. There will also be light up toys, sweets, cookies and glitter tattoos. And if you can't get enough of the bouncy castle fun, head to Central Park opposite the Life Centre where Bounce In The Park will take place on most days of the Easter holidays. There will be a different variety of inflatables there each day, with more details on their Facebook Page nearer the time.
Easter Fun Fair
Anderton and Rowland's fun fair will be at Central Park next to the Life Centre for the entire Easter holidays. It opens on March 24 and will run until April 23 and will be open weekends and school holidays from 1pm. There will be dinosaurs for the kids to meet on April 1, 8 and 16, whilst fun characters will be putting in an appearance on April 2 and 15.
Plymouth Miniature Steam
If your kids love a miniature train ride then head to Pendeen Crescent in Southway on the first and third Sundays of the month. These just happen to fall in the Easter holidays (April 2 and 16) where you can visit Plymouth Miniature Steam from 2pm to 4.30pm. They are also putting on an extra session on April 9 which will include an Easter Egg hunt. It's a cash only site and no need to book.
Plymouth Libraries
There is loads going on at libraries across Plymouth during the Easter holidays. Clubs include Lego, storytime, rhymetime for little ones and craft. Check out the timetable here.
Theatre – What's on stage during Easter 2023 in Plymouth
A trip to the theatre could definitely be on the cards for Easter 2023 in Plymouth. There are some great shows on to choose from!
Theatre Royal Plymouth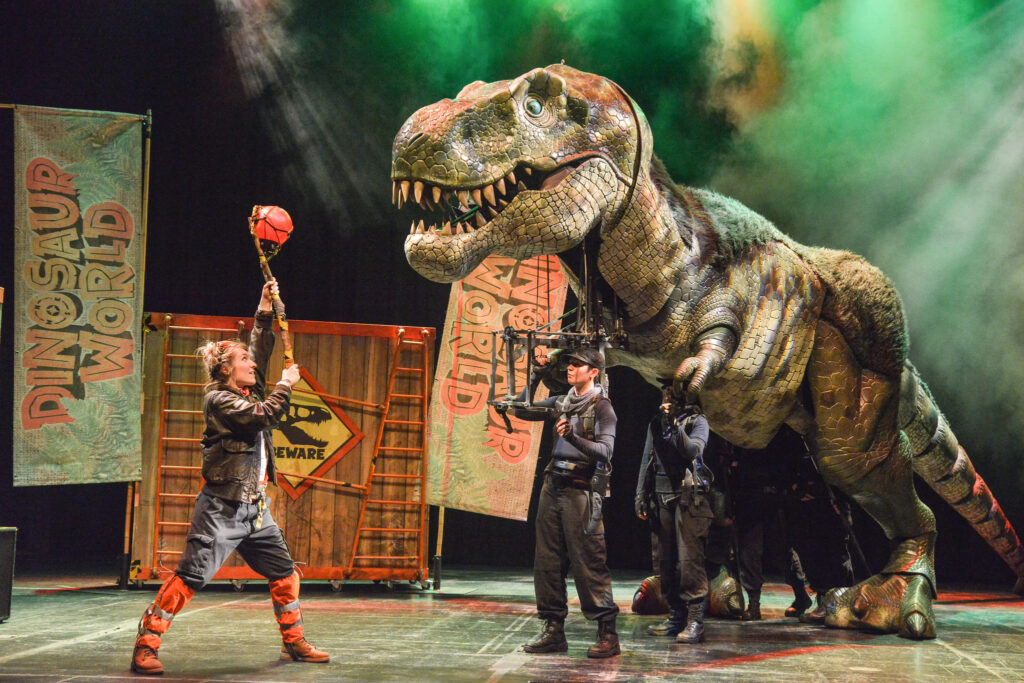 Dinosaur World Live
If you have dinosaur fans in your family, then get booked up for Dinosaur World Live at the Theatre Royal Plymouth's Lyric from April 9 to 11. Direct from the West End, this is a roarsome interactive show for all the family. The audience will have to grab their compasses and join intrepid explorers across uncharted territories to discover a pre-historic world of astonishing (and remarkably life-like) dinosaurs. Meet a host of impressive creatures, including every child's favourite flesh-eating giant, the Tyrannosaurus Rex, a Triceratops, Giraffatitan, Microraptor and Segnosaurus! The show is suitable for children over 3 years old, is 50 minutes long with a 15 minute meet and greet with the dinosaurs afterwards. If your kids are brave enough. My twins can't wait!
Attenborough and His Animals
When David Attenborough himself doesn't turn up for a live appearance with real animal guests, two virtuosic clowns bring the largest range of animals you will ever see onstage to life in vivid detail, while one of them commentates as Attenborough. An award-winning must-see for the whole family, Attenborough and His Animals is a two-person, physical theatre show in The Drum, packed with laughs animal impressions and highlights from David Attenborough's documentaries. It's recommended for children aged 6+.
Treasure Island
All the family will enjoy Le Navet Bete's funny performance of Treasure Island at the Theatre Royal Plymouth from April 12-15. Their swashbuckling, smash-hit comedy is set to feature dastardly pirates, tropical islands and a mermaid you'll never forget. Theatre-goers will set sail on the Jolly Todger with Jim Lad, Long John Silver and a whole host of other characters for a hilarious voyage across the seas.
Soapbox Children's Theatre
Kick the Easter Holidays off with a Family Twilight Tales session at the Soapbox children's Theatre in Devonport on Friday March 31 at 6pm. The whole family can enjoy a storytelling performance with the Stiltskin Children's Theatre company's storyteller extraordinaire, Jacqueline. The event includes toast, jam and hot chocolate or juice for the kids and parents are encouraged to bring their little ones already in pyjamas ready for an easy bedtime afterwards!
The Stiltskin Children's Theatre are also running two Easter Holiday Theatre Camps for children aged 8 – 12. They will be on from April 3-6 and April 11-13 and will be three or four days of theatre fun where youngsters will work together to devise a show to be performed to friends and family on the final day.
The Dance Shed
A four day Easter musical theatre workshop for those aged 12 and over is taking place at Plymstock's Dance Shed from April 3 – 6 from 10am to 3pm. Children will learn songs and dances from Heathers The Musical, Mean Girls The Musical, Descendants and Wicked. Contact Sarah on savoiceworks@outlook.com.
The Watermark, Ivybridge
Children are invited to a Circus Skills Workshop at The Watermark in Ivybridge on April 6. The event will be a morning or afternoon workshop where they can learn various circus skills followed by a short performance to parents/carers. There are two sessions for those under 8, and those older children aged 8 and above. Then on April 14 popular children's magician Billy Wiz will be performing an Easter magic show.
Getting out and about this Easter 2023 in Plymouth
And if none of the above take your fancy, get your picnics packed and get out and about – let's hope for some sunny weather. You could head to Central Park for a bike ride or play in the huge play park, West Hoe Park, the Hoe itself, Plymbridge or Radford Woods, the beach, the moors. Remember some of the outdoor spaces we would go to in lockdown if you're looking for something cheap… we live in such an awesome place! And if it just happens to be raining (which I'm SURE it won't!), then check out some Rainy Day Activities in Plymouth here.
Do you have an event for Easter 2023 in Plymouth? Get in touch via email and I'll add it into this post.
How did I do?
Did you enjoy this post about Easter 2023 in Plymouth? If you're feeling crafty then check out this post about simple Easter crafts to do with your kids. Or you might like some of my others whilst you're here. Keep an eye out for the latest Local Stuff here or the days out and holiday reviews in my Travel Section. And if you want to read some of my usual tongue-in-cheek parenting rants, head to my Mum Life section for a giggle.
If you like a bit of social media madness, pop over to my Facebook page where you'll be able to have a laugh at what ridiculousness goes on in my house with three very small boys on a daily basis. Warning – there is often sarcasm, and usually swearing. There are also great travel reviews and some AWESOME giveaways. Feel free to join my Twins, Tantrums and Cold Coffee – Shits and Giggles Parenting Group too, where everyone shares their hilarious stories.
If you like what you see, how about you check me out on Pinterest, Instagram and Twitter too.
And if you want to work with me, feel free to give me a shout here or at helen@twinstantrumsandcoldcoffee.com and I'll get back to you.