With the Easter holidays approaching during which some lockdown restrictions will still be in place, what will Easter 2021 in Plymouth look like?
It may not be the usual two weeks we're used to due to Covid, but Easter 2021 in Plymouth can still be loads of fun.
The Government's second step of easing restrictions is set to take place from April 12, which is the second week of the holidays in Devon. Although it could all change, and we should check with venues, it hopefully means lots of places will be open again.
The 'stay at home' rule will end on March 29, so we can go further afield. And from then we will also be able to have outdoor gatherings, including in private gardens, of either six people or two households. So playdates are back! Albeit possibly rainy ones…
What is reopening around Easter 2021 in Plymouth?
Here are a few things we can look forward to. Hopefully! And some more that are yet to be announced.
National Trust places
If you know my blog, you'll know I'm a big fan of our local National Trust places, particularly Saltram. And I can't believe I've not been there since before Christmas because it's always so busy during lockdown.
The National Trust website says they're not planning to open indoor places until May 17, when restrictions are eased further, but the gardens at Saltram will reopen on March 22 for booked visits. Hurray! You can book from March 19. It's hoped the cafe will also be open for takeaway by April 12 too.
And the REALLY good news is that Saltram will be doing their lovely Easter Egg Hunt. But we need to book a visit for it, so don't go just turning up and expecting them to let you in. However much you're in need of that chocolate!

It's also expected to be announced by the end of the month that Buckland Abbey and Cotehele are also running their Easter Egg hunts, so keep an eye out for any info here.

Plymouth Waterfront and Barbican
In previous years the Association of Barbican Businesses has organised a free family Easter Trail which has seen children searching in shop windows to see if the Easter Bunny and friends have been. I've asked them but no announcement has been made yet. You can keep checking here.
Woodlands
Woodlands Theme Park has announced they will be reopening on April 12, which is GREAT news! That's a definite thing to do for us one of the days! It's not yet known if there will be any Easter activities, but at least we'll have somewhere to take the kids!
Miniature Pony Centre
I don't know about you but we love a day out at the Miniature Pony Centre. And we'll be able to go there again very soon as they are opening on April 12. Woohoo!
Pennywell Farm
If you're looking for things to do for Easter 2021 in Plymouth and surrounding areas then a visit to Pennywell Farm has surely got to be on your list? Farmer Chris and his staff have announced they will be reopening on April 12 for pre-booked visits. So I'll see you there!
National Marine Aquarium
Sadly our beloved NMA isn't able to reopen until May 17 as it's indoors. BUT they are doing virtual tours over the Easter holidays – great option if it's a rainy day! Find out about them here.
Paignton Zoo
Paignton Zoo has announced that it will be open again from April 12. As before we will need to pre-book our visits. But we're just happy to be able to go again!
Dartmoor Zoo
Also reopening on April 12 is Dartmoor Zoo. You have to pre-book visits again and you can even listen to keeper talks virtually via a QR code outside each animal's enclosure. Pretty cool!
Crealy Theme Park
If you're reading this and are closer to Exeter than Plymouth, then Crealy has announced they are opening again on April 12.
Getting out and about this Easter 2021 in Plymouth
And if none of the above take your fancy, get your picnics packed and get out and about – let's hope for some more sunny weather. There are a few more ideas below, but also head to Central Park for a bike ride or play in the huge play park, West Hoe Park, the Hoe itself, Plymbridge or Radford Woods, the beach, the moors… we live in such an awesome place!

Crownhill Fort
If you were hoping to take a visit to Crownhill Fort you'll have to wait a little longer. It's not opening until July for school or pre-booked visits. But the manager has told me the 1.3km permissive footpath outside the Fort has remained open throughout lockdown. It runs around the defensive ditch so if you fancy somewhere new to wander this could be an option. Just be aware there is no onsite parking or toilet facilities though. But there are plenty of places outside the Fort to lock a bike.
Royal William Yard
There might not be any Easter activities planned as such, but a visit to the Royal William Yard can definitely wile away a couple of hours. Grab some takeaway food or drink at one of the many lovely eateries down there, play on the green, spot the boats or climb the staircase up to Devil's Point. It's certainly on my list for Easter 2021 in Plymouth.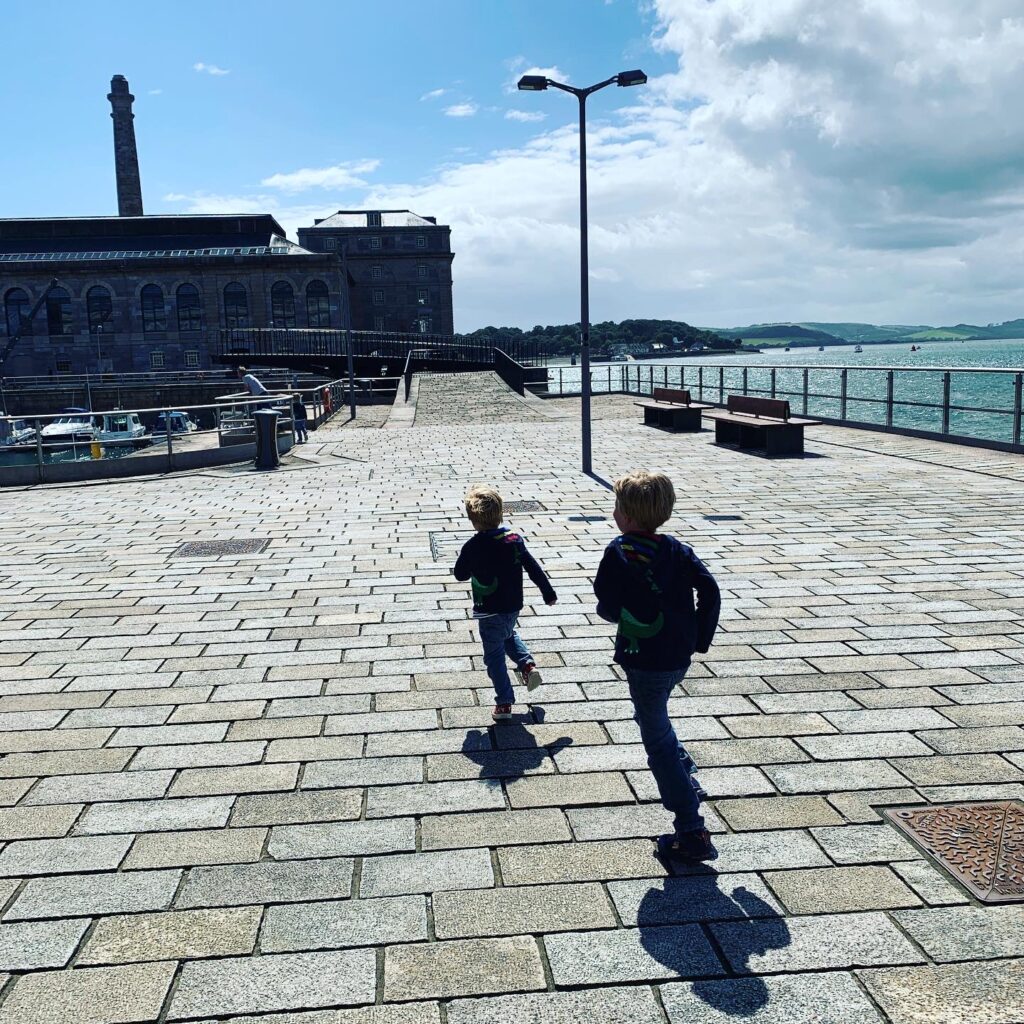 Mount Edgcumbe
There is often an Easter Egg hunt at Mount Edgcumbe but nothing has been announced so far. At the moment the park area is still open for pedestrian access but the vehicle gates remain closed. All the shops, cafes and toilets are closed, but I will be checking here for updates regularly!
Obviously any of this could change if Boris decides to alter restrictions, and I'm in no way encouraging you to flout any rules. I'm just telling you what is reopening. We all have to do our bit to do the right thing. But there's light at the end of the tunnel. And Easter 2021 in Plymouth is set to be way better than we first thought it would be. Stay safe and Happy Easter!
Want me to add the reopening of your attraction to this post? Get in touch!
How did I do?
Did you enjoy this post? You might like some of my others whilst you're here. Keep an eye out for the latest Local Stuff here. Check out 20 Plymouth Places To Go In Lockdown, Feeling the Pressure To Be Supermum In Lockdown, or 10 Top UK Family Holidays. And if you want to know what's going on slightly further afield, check out Things To Do In Devon This Easter 2021 by the lovely Claire at Devon with Kids.
If you like a bit of social media madness, pop over to my Facebook page where you'll be able to have a laugh at what ridiculousness goes on in my house with three very small boys on a daily basis. Warning – there is often sarcasm, and usually swearing. There are also great travel reviews and some AWESOME giveaways. Feel free to join my Twins, Tantrums and Cold Coffee – Shits and Giggles Parenting Group too, where everyone shares their hilarious stories.
If you like what you see, how about you check me out on Pinterest, Instagram and Twitter too.
And if you want to work with me, feel free to give me a shout here or at helen@twinstantrumsandcoldcoffee.com and I'll get back to you.