We've all been there, struggling to think of the best presents for eight year old boys. Whether it's for a Christmas present or a birthday gift, there's just too much to choose from!
You either figure out what they're into or take a stab in the dark. Is it dinosaurs? Lego? Video games? Superheroes? Here are some brilliant presents for eight year old boys to choose from. My eldest would be over the moon with ANY of these.
*Disclosure: I have been gifted some items for this post. It also contains affiliate links I may receive payment for. It does not affect what you pay.
THE BEST PRESENTS FOR EIGHT YEAR OLD BOYS
ROBOTS IN MOTION BUILDING SET
£46.00
If your child is into building things, then they will love this Gears! Gears! Gears! Robots in Motion Building Set. The special components mean kids can use this construction set to build machines that move and transform. You can build your own unique robo-toy or follow the instructions to create a machine with rolling treads, spinning eyes and more. Gears! Gears! Gears! Building sets provide open-ended play opportunities to encourage hands-on learning and problem-solving so no wonder it's among the best presents for eight year old boys.
BAKUGAN GENESIS COLLECTION
£40.00
Kids looking for a bit more action this Christmas will love the brand new Bakugan Genesis Collection. These battling toys, based on the Bakugan TV series, are a great option for children looking for some excitement on Christmas morning. The Genesis collection is the biggest Bakugan collection yet. The play pack includes everything needed to battle Bakugan- style with two Light-Up Bakugan, four exclusive Bakugan, two exclusive Nanogan and more. And I've spotted it for more than half prize online, so fingers crossed it stays at that price of £22.50 *Adds to cart!
GEOMAG MECHANICS CHALLENGE STRIKE
£37.50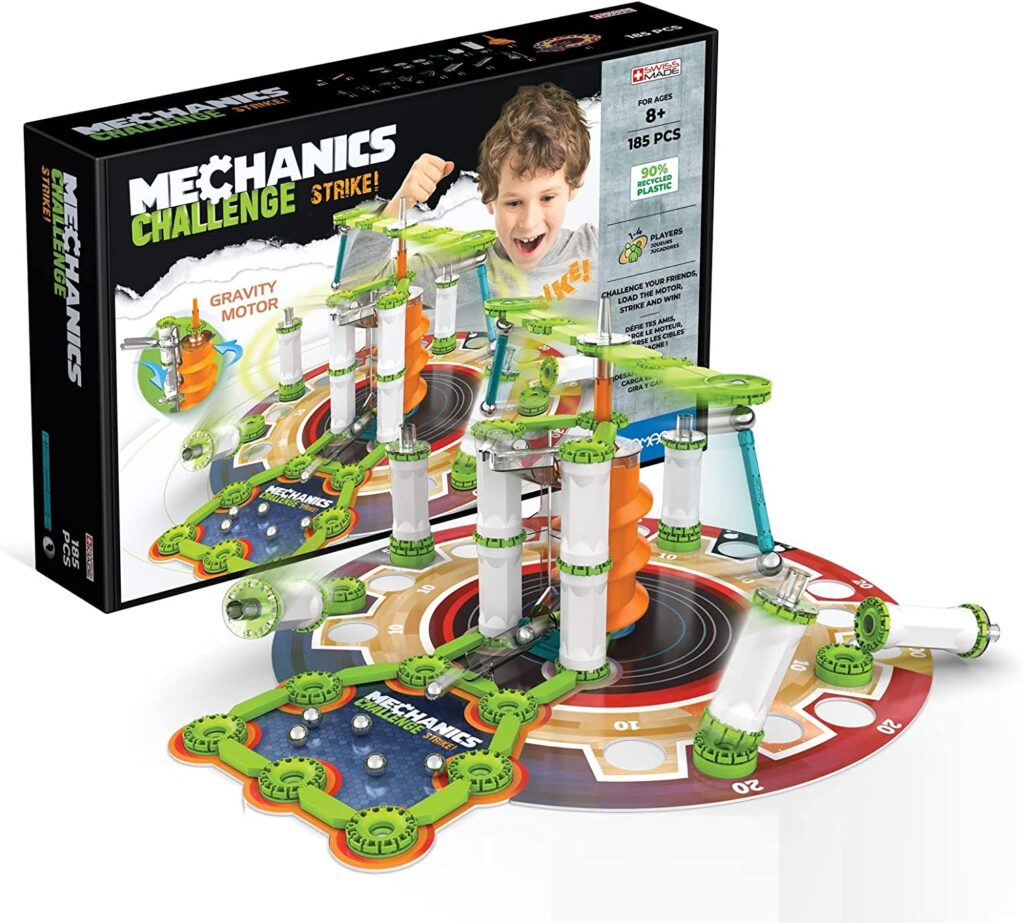 Geomag Mechanics Challenge Strike lets children learn about the amazing world of magnets and mechanical construction in a super fun game. Build the construction first, and then be ready for hours of fun either alone or in competition with others, where precision, timing and dexterity are the key to victory. With as many as 185 individual parts, both the construction itself and the subsequent gaming experience are challenging and educational for everyone involved. Sounds like a great present to me!
POKEMON FLAME AND FLIGHT DELUXE CHARIZARD
£34.99
It's ALL about Pokemon in our house and this Pokémon Flame & Flight Deluxe Charizard would go down an absolute storm if it was opened on Christmas morning or on a birthday. Unleash the full power of Charizard, the Flame Pokémon! This 6-inch Deluxe Feature Figure includes over 25 unique sounds, lights, and articulated movement features! Charizard reacts differently to swooping up, spinning around, and many more combinations of action packed flight. Load up one of three included flame projectiles and Charizard can perform a powerful fire attack. Train and battle with the included 2-inch Pikachu and 2-inch figure launcher accessory. Definitely sounds like one of the best presents for eight year old boys around.
SPYBOTS SECURITY ROBOTS
From £19.99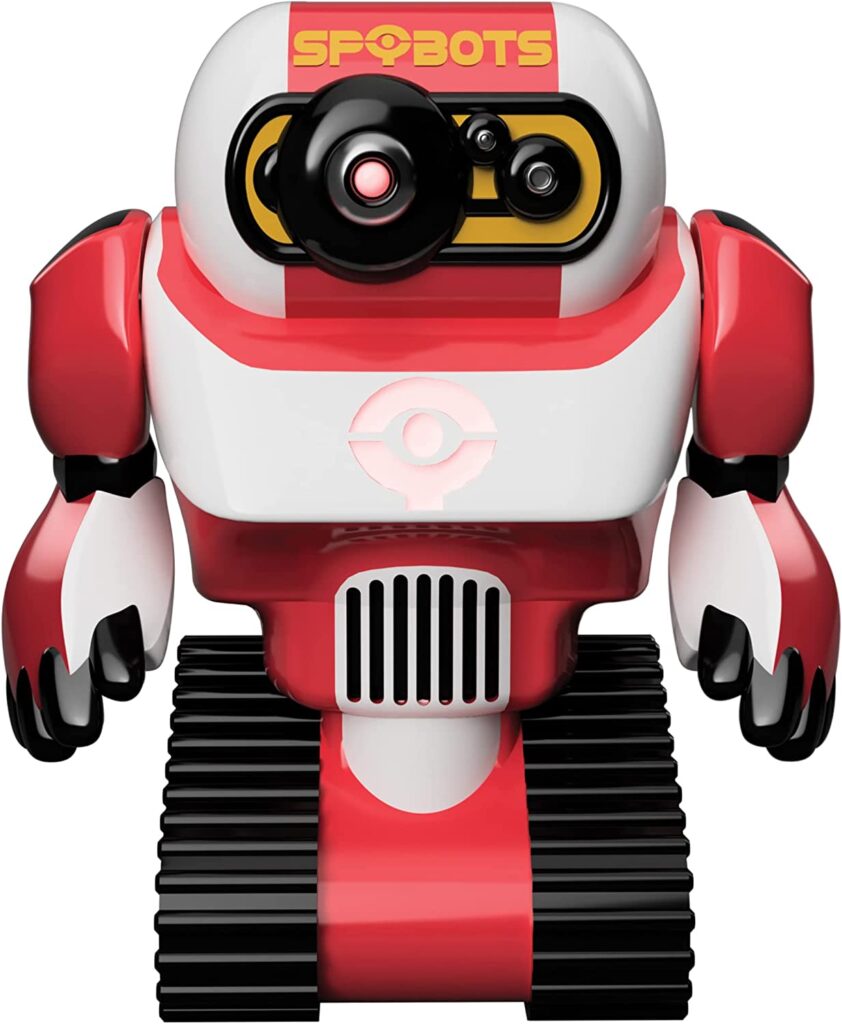 High on the list of my boys this year have been this SpyBot TRIP security robot. You'll know you're safe with this powerful LED Tripwire Alarm Robot by your side. Power him up and station him anywhere. T.R.I.P. stands guard quietly – until an intruder crosses his path. Once his invisible motion-sensor beam is "tripped", it sets off a screaming siren and flashing lights that will scare away unwelcome guests. T.R.I.P. will even chase down the trespassers! So I'm looking forward to that going off in my eldest's bedroom in the middle of the night!
NINTENDO SWITCH
From £249
So here's the biggie – a Nintendo Switch. It feels like this age group is when they start talking about wanting a Switch, and are always telling us that all their friends have already got one. Guilt trip for us parents! Whether you've already got one or are thinking of getting one for this Christmas or birthday, there are some great deals out there on them so it's worth shopping around.
NINTENDO SWITCH CONTROLLERS
£33.99
If you have more than one child and your'e thinking of buying a Switch, it might be worth considering an extra wireless controller to go with it – save the fights! This NexiGo Wireless Pro Controller for the Nintendo Switch comes with dual haptic feedback motors and six-axis gyroscopic sensors to give you the best possible gaming experience. But obviously I have no idea what any of that means. I'm just glad it'll stop the arguments!
HEROES OF GOO JIT ZU – GALAXY ATTACK
From £10.99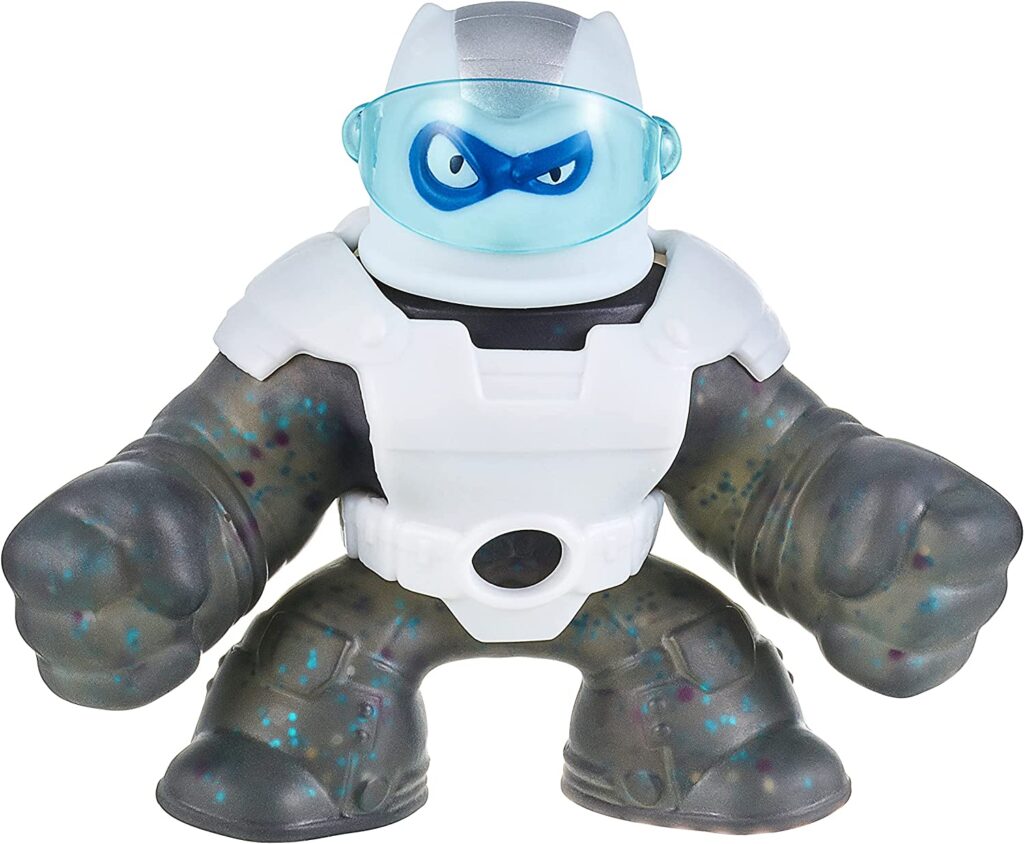 My boys love Goo Jit Zu and now there are even more figures to choose from. This year your children will love the all-new Galaxy Attack series including Cosmic Pantaro, Saturnaut and the ultra rare Crusticoid. The seven new stretchy figures have blasted into space to search the Galaxy for the origins of Goo! The Goo has gone Galactic and some of the Heroes are back to battle against the squishiest, stretchiest and scrunchiest aliens in the universe.
​
KLIKBOT ZANIMATION STUDIO
From £19.99
From the makers of Stikbot, KLIKBOT is a line of collectible, all-action figures. With interchangeable pieces, articulating limbs and accessories, your KLIKBOT is ready to travel the universe and go on any adventure your child can come up ! This supercool racer transforms into a rocket glider, and the Klikbot Zanimation set comes with a green/blue screen. This allows your child to upload their own background images or use backgrounds included in the free Stikbot Studio mobile app to make their own stop-motion videos. The set includes a phone tripod and the app helps you to create professional movies with built-in music and sound effects. This is one of the best presents for eight year old boys around right now.
THE #UPSIDEDOWN CHALLENGE GAME
£16.99
How flipping funny does this game look? The #Upsidedown Challenge Game literally turns your world upside down! Put on the special upsidedown goggles and experience how easy tasks such as drawing, high fiving, and pouring water into a cup become a LOT harder! It's great for a family games night and will have you laughing out loud for hours – believe me, we've played it.
BRITANNICA MAGAZINE SUBSCRIPTION
from £5.99 to £59.99
What about something a bit different other than toys this Christmas? This Britannica Magazine subscription is an exciting factual magazine for seven to 12 year olds in which you turn the cover and a wild and wonderful world awaits. It's packed with amazing and amusing facts, plus puzzles, jokes and the Big Britannica Quiz. You can sign up to a 12 month subscription then your child will receive the print and digital editions every month including a bumper December/January issue for Christmas and July/August summer issue. Or buy the Christmas issue for £5.99 as a great stocking filler. You also get a free copy of Britannica's All New Children's Encyclopedia worth £25. This all sounds amazing to me – and totally taking me back to my own childhood with a shelf full of Britannicas.
VTECH KIDIZOOM SMART WATCH
From £29.99
This new generation VTech Kidizoom Smart Watch is a great introduction for your kids to the world of tech and would make a great gift for an eight year old who's into it. The durable and splashproof watch has got two cameras, an alarm, a pedometer, games and a variety of educational features.
STOMP ROCKET STUNT PLANES
£27.50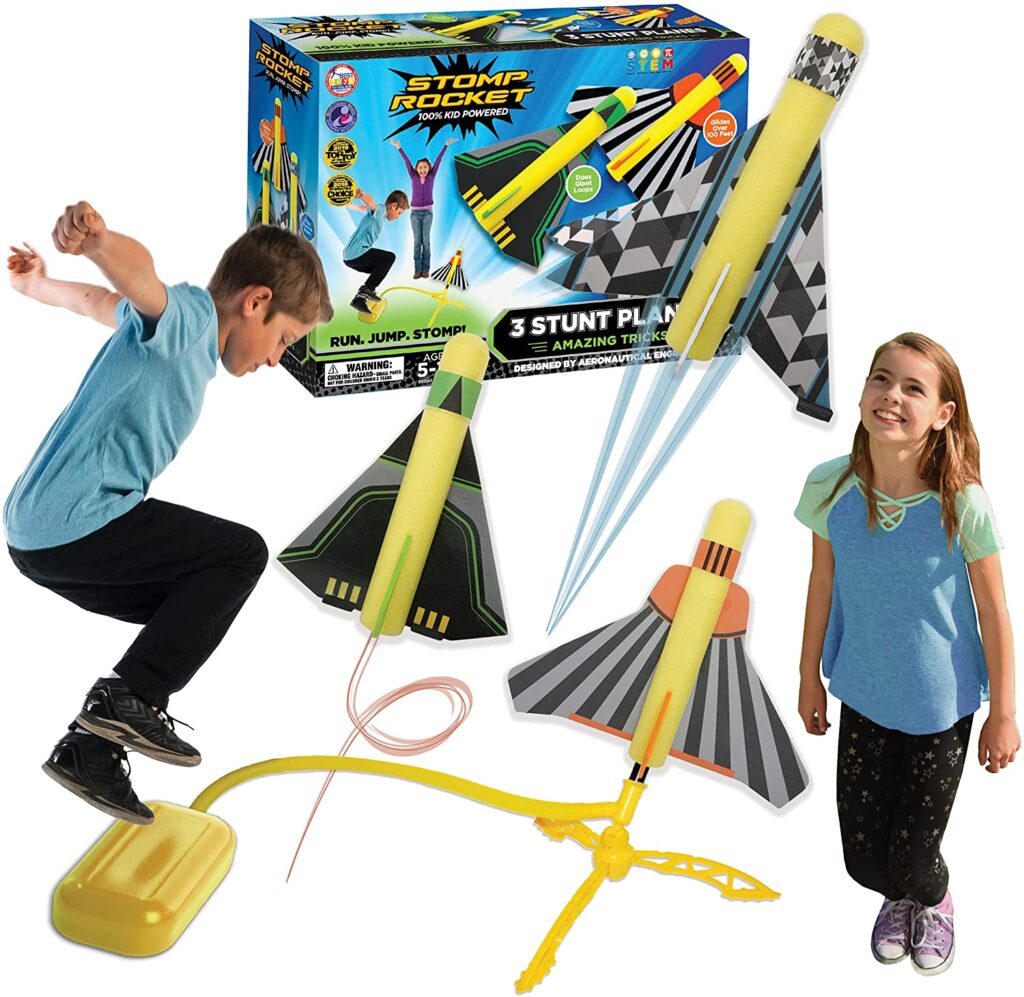 Is your child a budding engineer, pilot or astronaut? Why not inspire them with these brilliant Stomp Rocket Stunt Planes? This set includes three unique planes: the Looper which makes giant loops, the Glider which does tricks and glides over 100 feet, and the Wild Cat which flips, turns and soars. Kids can learn about trajectory by changing the launch angle, about force by stomping harder or softer, and about aerodynamics by launching with wind or no wind. No wonder it's on my list of best presents for eight year old boys. It would make a great birthday or Christmas gift for an eight year old ready for those days in the garden or to take out and about. We take ours camping and they have great fun with it.
PULL BACK INVINCIBILITY CAR
£12.99
If you're looking for a great birthday or Christmas present for an eight year old boy, then this pull back Invincibility Car is sure to go down a storm. It has 132 pieces, with bricks also being compatible with other leading brands, and includes an easy to use instruction manual. It's simple to use for children aged 5 and over, so they get the enjoyment out of building it then playing with it.
MORE OF THE BEST PRESENTS FOR EIGHT YEAR OLD BOYS
TOM FLETCHER – DINOSAUR THAT POOPED 6 BOOK SET
£21.95
Books are always an awesome present for eight year old boys, and they're guaranteed to enjoy these brilliant ones from Tom Fletcher. The Dinosaur That Pooped book set includes six of Tom's funny stories – and who doesn't like a story about poo? They include The Dinosaur That Pooped A Princess, The Dinosaur That Pooped The Bed, The Dinosaur That Pooped A Planet, The Dinosaur that Pooped A Pirate and The Dinosaur That Pooped The Past. Perfect for sharing at story time. 
KIDZLABS POCKET VOLCANO
£5.99
Science lovers will be delighted with this pocket volcano present. They'll be able to perform volcanic eruptions on the table, in the bath or even inside a glass. They'll be captivated from the off, and are sure to grab their friends' attention with this fab gadget.
EVEN MORE OF THE BEST PRESENTS FOR EIGHT YEAR OLD BOYS
GENROUND OUTDOOR EXPLORER KIT
£23.00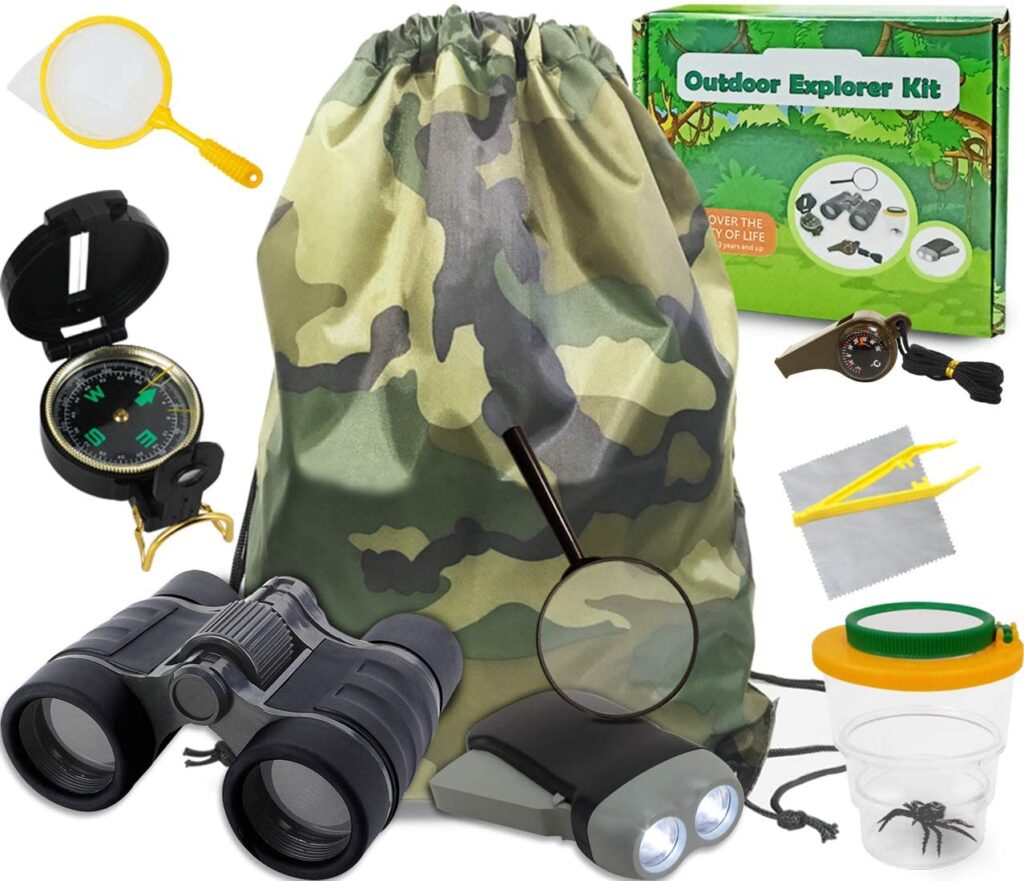 Get set for some fun with nature with this Outdoor Explorer Kit. Whether they're exploring the back garden or the local woods, this set includes loads to turn them into little adventurers. There is a flashlight, binoculars, insect net, cleaning cloth, compass, whistle, magnifying glass, bug viewer jar and storage bag. It's an ideal present for eight year old boys and encourages children to explore nature and learn.
NINJAGO LEGO LEGACY JUNGLE RAIDER CAR
£8.97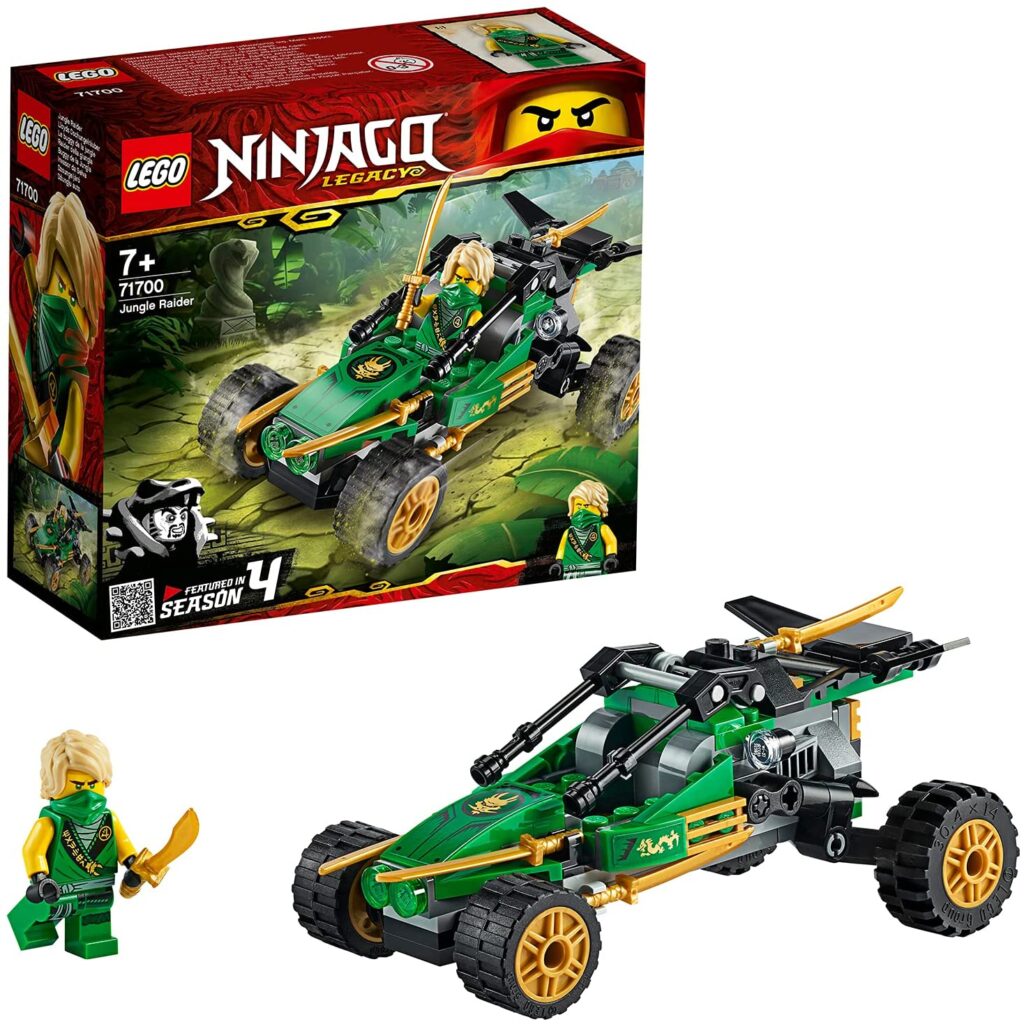 My eldest has this and it's one of his absolute favourites. He's obsessed with Ninjago Lego so it's an awesome Christmas gift or birthday present. And it comes with the all-important Lloyd minifigure. This Legacy Jungle Raider Car features a brilliant buggy with built-in suspension and large rubber tyres to help Lloyd tear across the jungle terrain, race or battle.
WALKIE TALKIES
£21.98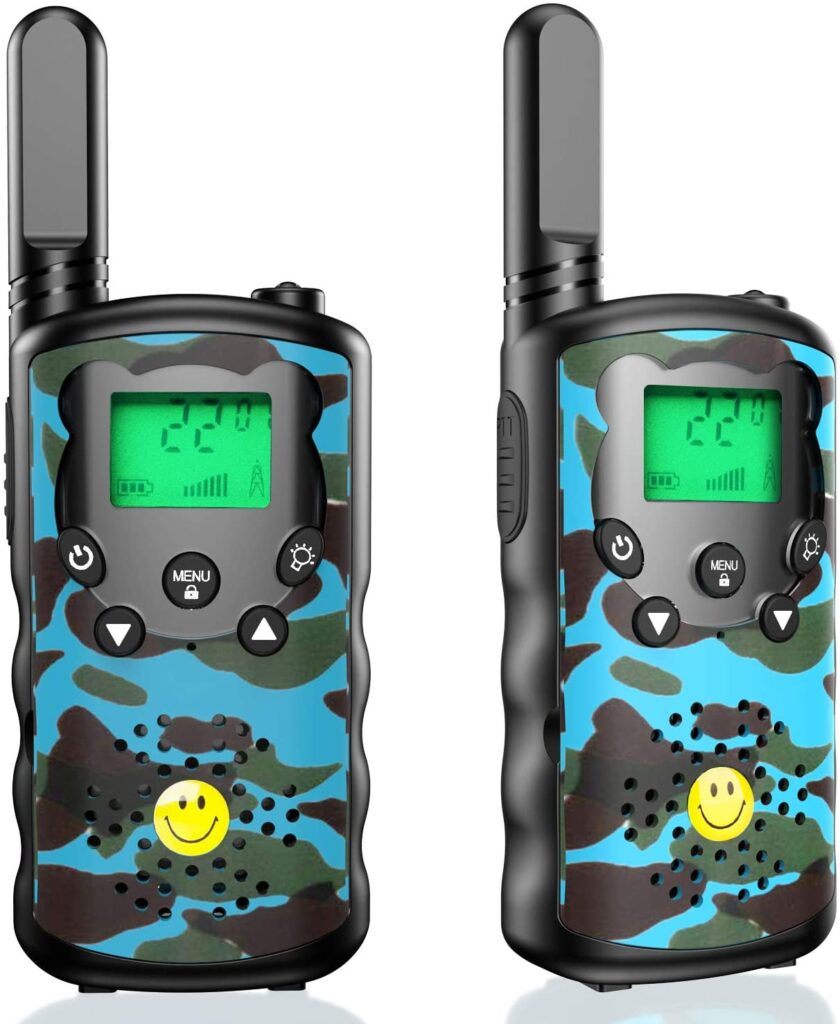 Open up a world of possibilities in your child's outdoor play with these easy-to-use Nehope Walkie Talkies for Kids. They can feel like true agents on a real mission with 8 channels and a 4 mile range. We take ours camping when we go with friends and the boys love them.
So there you have it, some of the best presents for eight year old boys currently on the market. Which ones would you choose?
If you want some other gift ideas, check out these posts: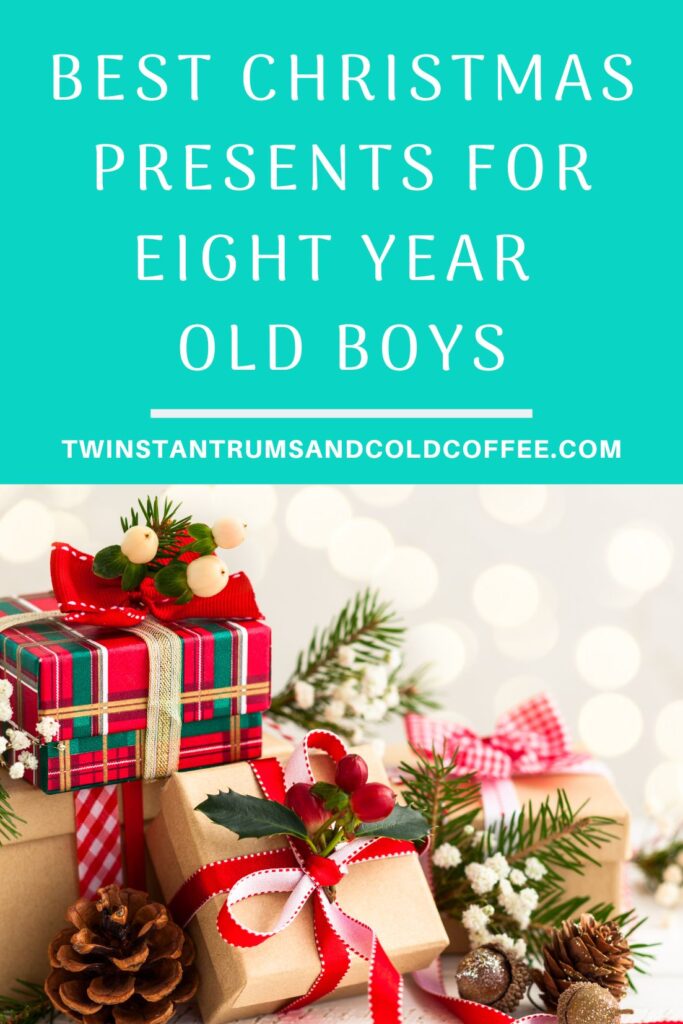 How did I do?
Did you enjoy this post? What a great list of best presents for eight year old boys. So why not hang around and read a few more whilst you're here. If you want to get in the Christmas spirit I've got several posts you'll like:
If you fancy reading more of my usual kind of parenting stuff, head over to my Mum Life section. You'll find all things parenting with a tongue-in-cheek twist. And if you want some family holiday inspiration or days out, head to my Travel Section.
And if you like a bit of social media madness, pop over to my Facebook page where you'll be able to have a laugh at what ridiculousness goes on in my house with three very small boys on a daily basis. Warning – there is often sarcasm, and usually swearing. There are also great travel reviews and some AWESOME giveaways. Feel free to join my Twins, Tantrums and Cold Coffee – Shits and Giggles Parenting Group too, where everyone shares their hilarious stories.
You can also find me on Pinterest, Instagram and Twitter too.
And if you want to work with me, feel free to give me a shout here or at helen@twinstantrumsandcoldcoffee.com and I'll get back to you.