This is a collaborative post. Disclaimer – we were given the use of a Land Rover Discovery for three days free of charge for the purpose of this review, but opinions, words and pictures are our own.
Finding a car to fit three young children in bulky car seats is a bit of a nightmare. So could the Land Rover Discovery be the answer?
When we first found out we were having twins, literally the first thing the Other Half said was "We're going to need a bigger car". Mainly because we also had an 18 month old, so we'd have three children under the age of 2.5 – all in baby car seats to fit into a back seat.
To make matters worse we'd only just bought a brand new BMW which had to go back within a few months, as it couldn't fit all three car seats. You can imagine how pleased we were about that. If you can't – feel free to read all about it here.
After hours of research it became apparent, not many cars can accommodate this kind of family set-up. Yes they have three (or more) back seats. But can they fit the car seats?
Trying out a Land Rover Discovery HSE
So when we were asked if we'd like to drive a Land Rover Discovery HSE for a few days, we were happy to put it through its paces – and not just in terms of its performance on the road (and off!) albeit of course the Other Half was more than happy to see what it was made of. What we really wanted to know was – how good is it as a family car for people like us?
A family in our situation with three or more young children, three big car seats, and a double buggy to fit in. To be honest it feels like the kitchen sink is thrown in the car for good measure some days.
His 'n' hers review
So rather than me attempt to write knowledgeably about something I have, er, no knowledge on, I'm handing over the reins (or should that be key fob) to the Other Half. He's a bit of a car nut, has had some nice motors in his time, and even though he wouldn't admit it, dreams of the day when the kids aren't the main factor in choosing what his next car will be. I won't remind him, there are probably a good few years left yet before that happens.
If you're not at all interested in technical stuff like torque, V6 engines, and terrain response, feel free to skip the next bit. (He'll never know…)
I will then tell you what we REALLY want to know. Colour (obvs), where I put my coffee, how easily can I get the kids to and from the car in the pouring rain, can I PARK the damn thing, and does it make me look like a Yummy Mummy? (Told you they were the important bits).
So here is our 'his and hers' review of the Land Rover Discovery. Enjoy.
WHAT HE SAYS…
A bit of background
First up, let's clear up the whole 4×4 and SUV confusion. Land Rover don't make SUVs (Sports Utility Vehicle), they make proper 4wd vehicles, and I'd go so far to say that if you want to go off-road in a serious way, then a Land Rover (or Range Rover) is just about all you need to look at. This isn't a BMW X3 or Nissan Qashqai. It's not basically a car that's raised suspension, big tyres, and 4wd added as the last thing on the list. This has been built from the ground up to be as much at home in a muddy field, as it is on the road.
Compared to the previous Discovery models, this fifth-gen car is a lot different. It's been built upon a new all-aluminium platform which it shares with the new Range Rover Sport, which Land Rover claims is up to 480kg lighter than the really heavy old model.
This new, relative lightness, means for the first time ever, you can get a 2 litre 4-cylinder engine, and a far lower entry price of £43k. Of course, this would be a wise choice for fuel consumption and emissions, but because it's still a 2 tonne car, a 2.0 litre engine won't be much use dragging it up Haldon Hill (a notoriously long and steep hill) near Exeter, with a full load.
The Disco (that's what Discovery owners call 'em) we had for the weekend was the V6 diesel model. It's a far wiser engine choice but does put the starting price beyond £50k. The one we drove was specced out to £69k… ouch.
So how does it drive?
I have never driven the previous Discovery models but I'm reliably informed this new one is far happier on the road than any of its ancestors. It drives beautifully, and it's no longer a rural workhorse, this is now affirmably a luxury car. It responds really well to a throttle press – 7.7 seconds to 62mph is not to be sniffed at – and it reacts even better when you put it in Sport mode.
The V6 diesel develops 258bhp and 443lb ft of torque, returns mid-30s to the gallon, and accelerates to the nearest horizon smoothly through its eight-speed automatic gearbox. I'm a big fan of big engines, but this V6, mated to such a huge body, did make me feel like the Paris Climate Agreement's worst enemy. I felt like the engine was sucking up butterflies when I accelerated hard… but I soon got quite used to it, the smoothness is quite intoxicating.
That huge girth though is a problem. Driving one through a built-up area, with poor visibility makes it an intimidating car to use. Parking it, despite the cameras, is very frightening, and don't even ask me what it's like to take through a McDonalds drive-thru. (Yes, we actually did do that.)
What's it like off-road?
Off road, I believe there's quite simply no better car around today. I didn't try too much rough stuff but what we did find, the Disco managed it all effortlessly. It will monitor what surface it's driving over and adjust its differentials, traction control, ride height, throttle response, gearbox mode and more to best deal with the given terrain.
Yes, you can still pick specific modes like rock crawl or desert mode, but why would you, when the Terrain Response software is so clever? No car on sale today will make novices look more expert in the rough.
This isn't really about driving, but I may as well mention the look of the thing. It has grown on me over the last couple of years, but it's fair to say it still divides opinion. For many people it's the hulking back-end, and the off-set number plate is an unnecessary nod to the previous car.
Who cares about that… what's the inside like?
It's basically a Range Rover dashboard and seating position, which means you sit very loftily, and it all feels a little inappropriate. But for most people a Range Rover interior will be viewed as a good thing. Heated seats, massive touch screen, LED dash, full leather, are all awash, and it generally feels opulent.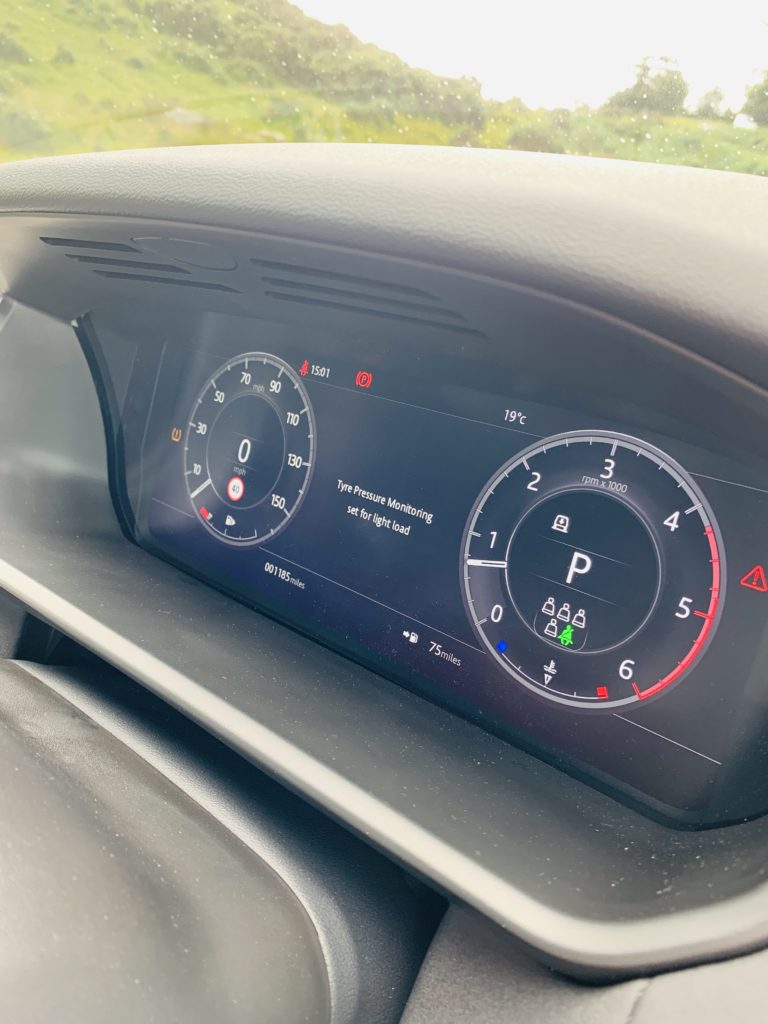 For such a massive car, the inside isn't quite a big as I would have thought. It has seven seats and they're all versatile; you can individually fold each rearmost seat (electronically), and the second row has a 60/40 split, recline and load-through facility. However, that 60/40 split is the reason this car doesn't quite work as a family vehicle for ferrying around 3 young kids, but the wife will explain that far better than I can further on.
The old Disco had a split tailgate, but for weight reduction reasons, this has been dropped and it has been replaced with a fold-out shelf. Land Rover says this can support up to 3 adult males, but it neither looks nor feels that tough. Picking holes further, the steering wheel feels far too thin for such a muscular car.
The Disco we had was fully kitted out, and the V6 engine is where, I believe, you should start looking. If you can't afford £52k, then the four-cylinder Discovery S gets plenty of kit as standard: an eight-speed auto box, air suspension, 19in alloys, a powered tailgate, seven seats, cruise control and a heated windscreen plus lane departure warning and anti-crash braking. No sat nav, though.
Leather seats come in at SE grade, with handsome LED headlights and mood lighting inside. HSE (which is what we had) brings 20in wheels, a very useful blind-spot monitor on the wing mirrors, on-board internet, and keyless entry.
WHAT SHE SAYS…
Okay so the Other Half has given you the spec – in glorious detail. I mean thank God I didn't have to do that. I do like to think I know a bit about cars. But what this actually means is that I know I LIKE nice cars and I'm guessing that's not actually the same thing?
So what did I think of the Land Rover Discovery?
It's huge. Like REALLY huge.
Well first off this bad boy is a BEAST. I'll openly admit I was a tad nervous to drive it because of its size at first. And I didn't even attempt to reverse it onto my (very awkward, narrow, steep) driveway. Main problem being I couldn't see over the front of the bonnet. Don't get me wrong, I'm 5ft 8ins so it's not like I need three cushions to sit on or anything. It's just the Land Rover Discovery has a bonnet that can only be described as on the large side.
Parking in a child space at the supermarket was terrifying enough, and that's with all the parking bleepers and cameras you could wish for. I'm not sure how I'd get on in a normal space though, as the doors are massive, and obviously you need to open them wide to unstrap your kids.
But like with all cars, you soon get used to it, and I have to admit I loved being in a higher driving position. Looking down on everyone. It basically felt like you were in a monster truck and you could easily drive OVER any car that got in your way. How fun would that be? Goodbye queuing in traffic. Just drive over the top of it all!
Despite its size, it had reasonably good visibility, although the back windscreen did feel a long way away. It had cameras for parking though which I'm sure I could soon rely on once I'd got used to them. And I think you'd have to, especially if you are using one of the seats in the boot.
It has all the gear
It's got all the electronics and gadgets any car fanatic could ask for – I'm not even going to go through them, mainly because I ignored 99% of them during our test drive. Like the Other Half has mentioned, it's got buttons for this, knobs for that, and a touch screen for the other. It can pretty much do anything you would dream a luxury car could do. I expect it would probably make me a fresh cup of coffee if I asked it to.
And yes, it does have cup holders in between the front seats for my daily in-car travel mug of coffee. If it hadn't, it would not be getting a good review, believe me. Priorities and all that…
So the colour was nice – kind of a light silver, and the seats were black leather, with fancy-looking interior trim. It had plenty of little nooks and crannies to store your stuff (wet wipes and lip balms being my usual). Can you tell I'm not a car reviewer? I'm not really down with the motor trade lingo, am I? But more importantly…
Does a Land Rover Discovery make me a 'Yummy Mummy'?
I think I can also safely say, driving a Land Rover Discovery 110% restored my Yummy Mummy status. I mean, you don't get more Yummy Mummy than this, do you? We'll ignore the fact I bottled it reversing onto my drive. I'm sure that's not a prerequisite for looking good in a nice car.
Is a Land Rover Discovery suitable for us?
But enough flippancy, what you really want to know is does it WORK for a family with three young children. And I have to say, no I didn't think it did. Well, certainly not for us. How bloody annoying.
I've mentioned the whole three car seats in the back thing already, and how most cars have a 'half' seat in the middle which isn't wide enough to accommodate a stage 0/1/2/3 car seat. Well I'm gutted to tell you that the Land Rover Discovery is the same!
It has seven seats (two in the boot) so you can travel with three children, or more in fact, but you can't get them altogether across the middle row of seats behind the driver. Or at least we couldn't.
With a lot of huffing and puffing we tried the seats in all manner of ways. (The Other Half did, whilst I stood and watched obvs). We have a *Cybex Sirona, a *Maxi Cosi 2 Way Pearl, and an *Apramo Ostara Fix high back booster. And we couldn't get it to work. The booster SQUEEZED in the middle, but it was so tight that it overhung the seatbelt socket, so you couldn't do it up. This was a DISASTER! The one thing we need a car to do, and this huge, beefy, beautiful Land Rover Discovery couldn't do it. We actually couldn't believe it.
You may be able to do it with other car seats, and it would become much more doable once they were in smaller seats, but we certainly couldn't make it happen. That middle seat is not full-width, whatever you try to put onto it.
How did we fit the kids in?
The Land Rover Discovery has five Isofix points which is great, but the middle seat doesn't have one. So even if we could have fitted our booster there, it would have only been held in place with the seat belt (that we couldn't do up). The Isofix points are in the front passenger seat, the outer seats in the middle row, and the two seats in the boot.
Putting one of the boys in the boot was the only way we could do it. That was until the four year old announced he didn't want to sit there. He soon got over it luckily. But I don't want him all the way back there. I want him right behind me where I can reach him if need be, or pass him a drink and check on him. Albeit the fact I couldn't hear what he was saying half the time because he was so far away wasn't a bad thing…
Does a double buggy fit easily in a Land Rover Discovery?
Some of you may wonder why I'm bothered about them not being able to sit together in the back seat. Apart from being closer to them, the other reason is that as soon as you use a seat in the very back of the car, you're effectively losing half your boot space.
And when you have a double buggy (not to mention all the other crap that comes with three kids) – THIS IS NOT GOOD. We have a *Mountain Buggy Duet, and admittedly it's almost the size of the Land Rover Discovery itself, but we had a hard time fitting it in. For those of you who know it, it's a bulky, heavy bit of kit that lies flat when folded. The only way we could get it in the boot of the Land Rover was to have it up on its end – and it tipped the second you went round a corner. Not ideal. A single buggy would fit but I can't imagine many doubles would leave you any space for much else.
So what's our verdict?
HE SAYS:
Should you buy one?
If you have young children, then no. But if you go off-road a lot then it's almost a no-brainer. It's off-road ability transcends what the vast majority of buyers will ever ask it to tackle, and it's also so relaxed and refined on the road. For this reason, if you have older children (not in car seats or boosters) then it could well be one of the finest family cars on the market.
I personally found it awkward and unnecessary at first, but by the Sunday of our test drive I was very much at home in it. We didn't go too far but I can only imagine it to be a truly wonderful place to sit for long distances.
For me though, the reason I wouldn't buy one is not because I can't afford it (although that's a very, very big reason) the main reason is with the image. Its looks, interior, and character, describe a certain type of lifestyle, one that I don't actually have. I may be alone in the world in choosing cars based on how well they reflect my life or personality, but right now, the Land Rover Discovery is not the brand of vehicle for me.
SHE SAYS:
From my point of view it totally turned me into a Yummy Mummy, was lovely to drive, made me feel like I'd gone up in the world, went very fast very easily (which I liked a lot) and does pretty much anything you'd ever want a car to do. Except fit my three boys in the back seat.
So will we be buying a Land Rover Discovery?
Sadly not. Not until we can use smaller seats. Or until the folk at Land Rover make that bloody middle seat wider! It's a fabulous car, and we loved driving it but annoyingly it didn't work for us. But I'm thinking of the money we're saving ourselves – and at nearly £70,000 that's a fair few nappies!
How did I do?
Did you enjoy this post? You might like some of my others, so how about you read some of my early posts, such as this one Will I Ever Nip Anywhere Again? or Surviving the Early Days with Three Under Three. Or head to my Travel Section for some great UK family holiday ideas. And if you just need to let off a bit of steam and fancy a giggle, my Mum Life Section is the place to be!
If you like a bit of social media madness, pop over to my Facebook page where you'll be able to have a laugh at what ridiculousness goes on in my house with three very small boys on a daily basis. Warning – there is often sarcasm, and usually swearing. There are also great travel reviews and some AWESOME giveaways. Feel free to join my Twins, Tantrums and Cold Coffee – Shits and Giggles Parenting Group too, where everyone shares their hilarious stories.
And if you want to work with me, feel free to give me a shout here or at helen@twinstantrumsandcoldcoffee.com and I'll get back to you.
This post contains Amazon affiliate links marked with a *. If you click on and purchase a product through these links I earn a small commission. It doesn't affect the price you pay, but helps me buy clothes for my kids and wine for me. Thanks!