We've just got back from our fifth stay at Bluestone in Wales. I guess you could call us big fans of the place. So I thought that would make me pretty well placed to tell you everything you need to know about a stay at the Pembrokeshire resort.
Okay so I'm not an ACTUAL expert, but I've been at various times throughout the year, with various aged children – I've even been snowed in there. So I'll do my best to tell you what anyone thinking of booking a stay at Bluestone, might want to know, and that you may not be able to find out.
This isn't a review. I've already done several of them that you can find here.
So I'm not going to go on and on about how amazing the place is as you can find that out from the above posts. (It is, by the way) This is more about the nitty gritty and answering any questions you might have.
So here you go.
Everything you need to know about a stay at Bluestone.
What age children is a holiday to Bluestone best for?
I would say the simple answer to this is any age children would love it. We first went when my twins were just 9 months old and my eldest was 2.5 – and had the best time. And we've just got back from our second Christmasland Break with the twins aged 4.5 and the eldest 6.5. Again, they had the best time! Equally older children would also have a fab time with all the more 'grown up' activities on offer.
There are activities for all ages of children from tiny babies to teenagers. Some are only on at certain times of the year. Here are a few examples (with way too many age brackets, if you ask me!):
All Ages
Adrenalilne indoor zipline (height restriction)
Power Jump (height restriction)
Power Tower climbing wall (height restriction)
Mother Christmas' Gingerbread Workshop
Legends Trail guided tour
Pirates of the Blue Lagoon
Babies 0 – 1
Ages 0 – 3
Bubbles Swimming Sessions
Ages 0 – 10
Ages 1-10
Ages 2+
Secret Village – magical interactive woodland adventure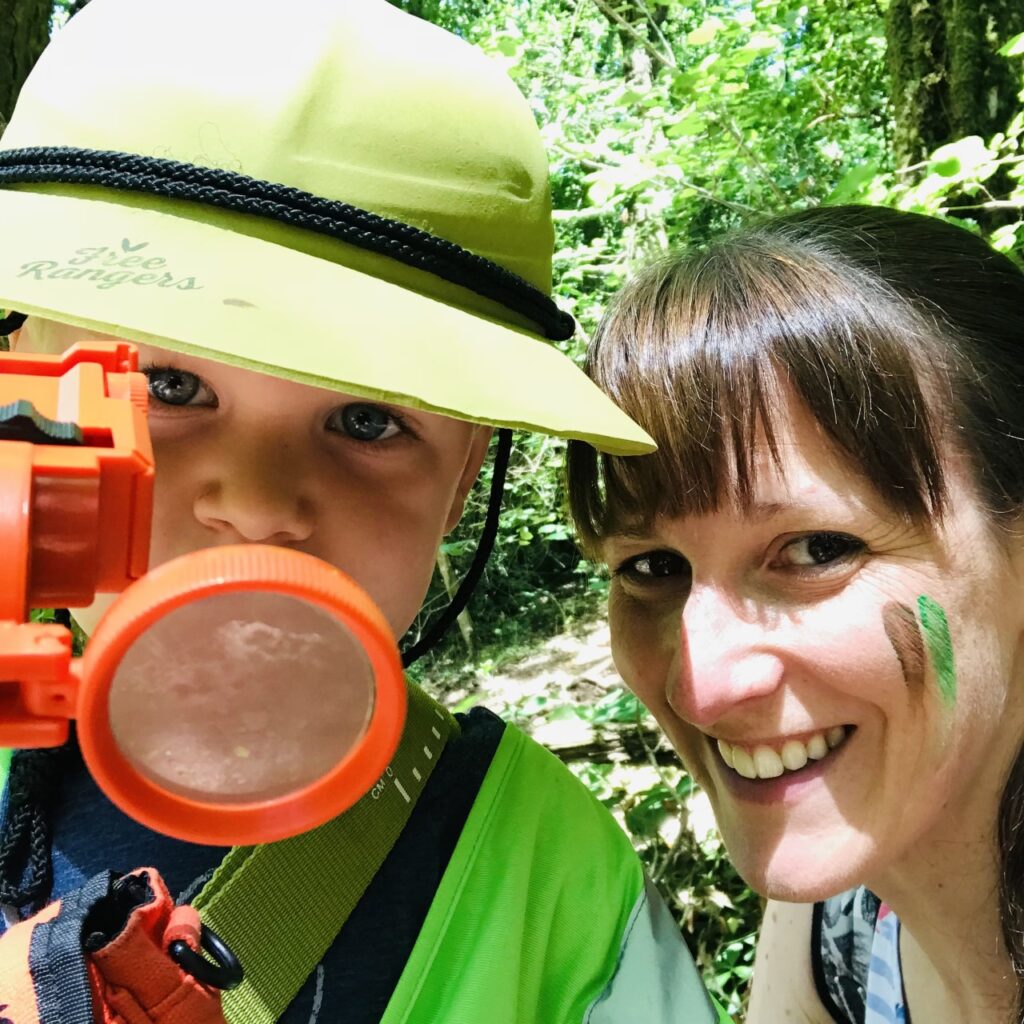 Ages 3-7
Outdoor Detectives beast and bug hunt
Ages 3-8
Skywalk Mini obstacle course
Ages 4-7
Nature Art – crafts using what you find in the forest
Ages 4-10
Fun and Film night – you can even leave your child in the care of staff for 2 hours 40 minutes!
Ages 4-12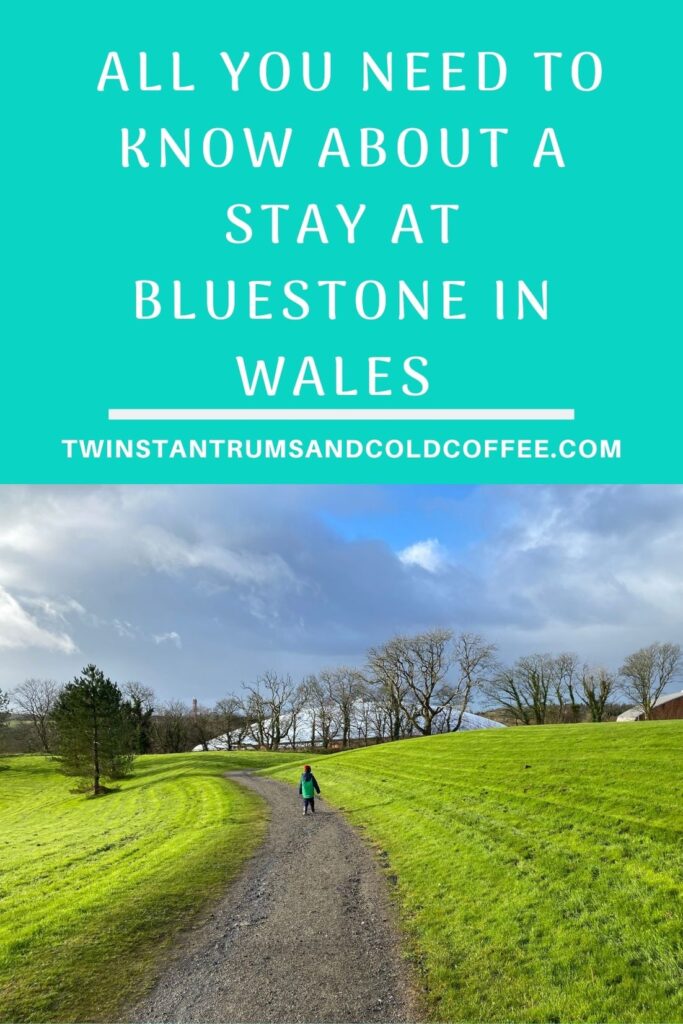 Ages 6-10
Off-Road Rangers Safari 4×4 driving
Ages 6-12
Ages 6+
StarCatcher climbing tree
Ages 8+
Sky Walk aerial adventure course
Sky Wires – 2 mile zipwire course
Woodland Warriors – laser combat game
Ages 10+
High Ropes – 60ft high tree tops adventure course
Ages 12+
Which time of year should we go to Bluestone?
Bluestone splits the year into five different seasons, each with its own unique feel and focus. So there is always something new, special and one-off to see and do whenever you visit. Every year the activities can be different so even if you make it an annual trip, you'll have a different experience each time.
The seasons are:
Bwbach Festival – lots of Autumn activities such as pumpkin carving, a Scarecrow Hunt, Spooky Science Workshop and Harvest market.
Christmasland – if you want to get festive then this is the place to go. Visit Santa in his workshop, watch a Christmas Show in the Serendome's Cloud Theatre, have breakfast with singing and dancing reindeer, make a gingerbread house with Mother Christmas, and see Santa on his sleigh around the resort. Other attractions include things like the Toymakers Trail, Reindeer Village and Rudolph Light Show.
Winter Lights – on from the start of January to the third week of March, we loved the Winter Lights on our first trip to Bluestone. This time round there's an enchanted trail that tells the story of Mr Wonder and the Wonder Wood. His spells have caused some rather wonderful things to happen. There's a Light Maze, Wonder Pods and Rainbow Bridge, as well as Wonder's Emporium, the Mellow Marshes, Mr Wonder's Silly Circus and the Light Garden.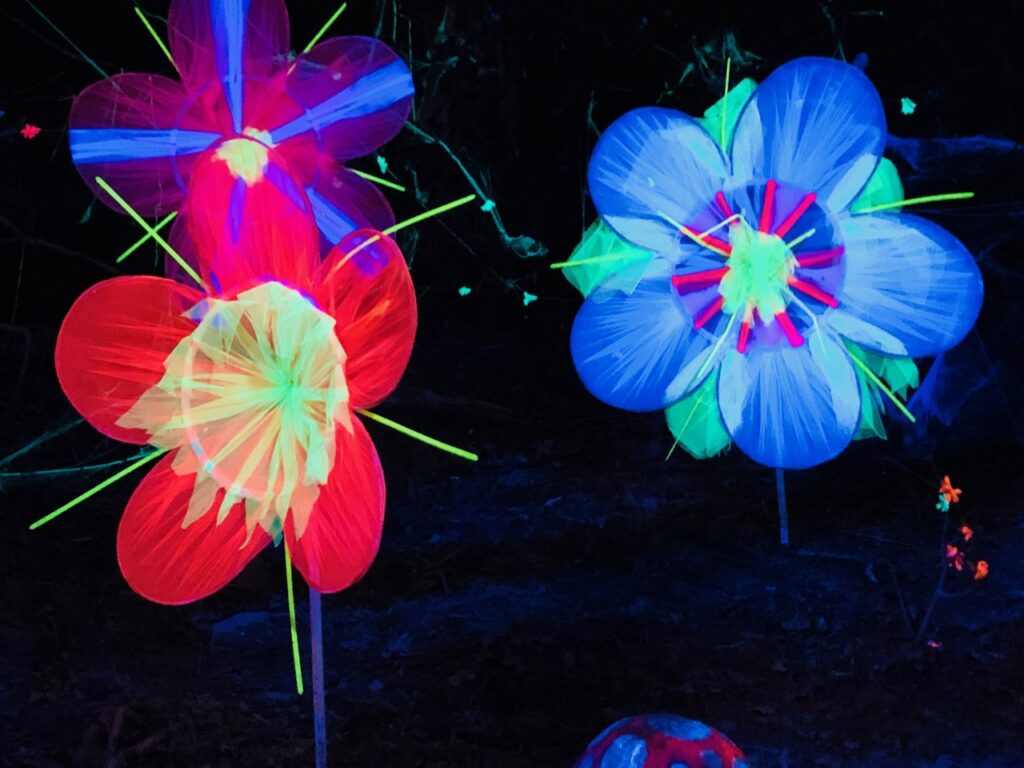 Myths and Legends Festival – from the end of March to mid July. Pirates, wizards and warriors will be able to join in some swashbuckling adventures and tales from the forest, land and sea at this fantastic festival. Get lost in a world of Celtic warriors, chivalric knights, medieval fair and Welsh folklore. Activities include a Legends of the Forest Nature Trail, a medieval market, craft workshops, archery and axe throwing.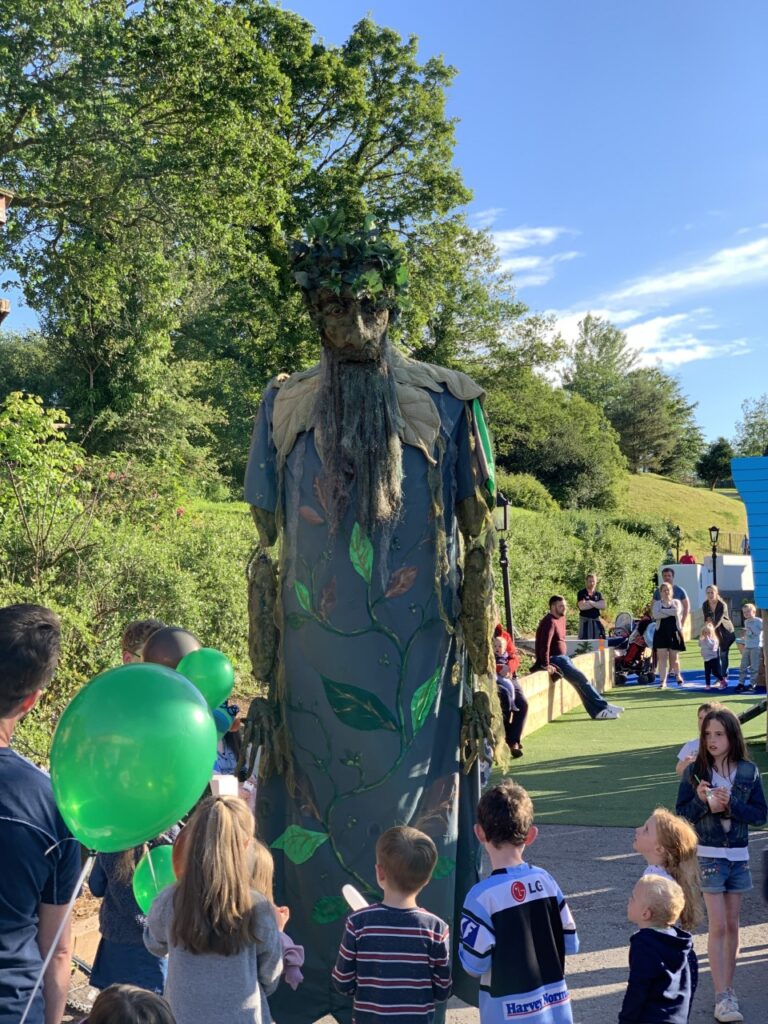 Summer Festival – from mid July to the start of September, there is a celebration of the elements Earth, Fire, Air and Water with all activities based around them in different ways. Fun includes bushcraft sessions, live entertainment, feasting at Camp Smokey, and activities on the lake.
Remember these are the seasons and events Bluestone put on, but activities are different each year. The above is what they have planned for 2022, but if you're reading this at a later date, it will be different.
Do I need to book extra activities?
As I've shown above, there are LOADS of activities you can book onto during a stay at Bluestone. And obviously a lot of these cost extra. There are also free ones too.
We have had trips there where we've not booked anything, and other times we've booked onto a couple and paid. I can honestly say you can fill three days there without booking onto anything. The Blue Lagoon pool is free, as is the Serendome and The Hive. There is also plenty of open space to play when the weather is nice. You really don't need to book anything to have a good time at Bluestone.
The only time of year, I would suggest booking something if you wanted to, would be for Christmasland. Again, there are still plenty of free things to do, and you can't NOT feel Christmassy within five minutes of arriving. But the festive activities you can book and pay for are fabulous. If you only do one, book to see Santa. We did it both times we've been at Christmas and both times it's knocked the socks off any other grotto or experience we've ever done. I mean seriously, Santa ACTUALLY comes down a chimney!
If you have older children, they might like the adventure activities such as skywires, tree surfing etc in the Steep Ravine during the spring and summer. There isn't much for the little ones to do down there in terms of activities although it's definitely worth a wander down. We took a picnic down once and loved watching all the adrenaline junkies. There's also the Camp Smokey restaurant there.
If there are certain activities the children are desperate to do, I'd add them on when you book your holiday as things get filled up. It's still worth trying whilst you're there though, as you could be lucky.
Which activities can I do for free at Bluestone?
Don't panic if you think you'll only have a great time by booking tonnes of paid-for activities. That's simply not true.
The Blue Lagoon swimming pool is free, and you can go as many times as you like during your stay without booking.
The Serendome is free, although it does have a few bookable activities in there. The Serendome is Bluestone's new outdoor/indoor area – of the like you'll have never seen before! It is basically an outdoor area with loads of activities, food places, and even a theatre, but with a giant transparent roof. So you can enjoy the activities whatever the weather. It's still outside though so in the winter you'll need to be wrapped up warm. But you'll be out of the rain. Free activities there include huge water and sand play areas, plus a small park for little ones. By the time you've had some snacks or a drink, you can be there for several hours without spending a penny.
The Hive is similar in that there are paid for activities, but it's mainly free to use. It's a huge indoor activity and play centre called WonderPark which my boys ADORED! It has five interlinking Play Towers with multiple slides, tubes, climbing nets, bridges, ladders and tunnels. The main tower leads to four different zones – the historic, modern, classic and toddler zone. There are also bumpy slides, and an inflatable play area – all free to use. The only problem is getting the kids out when it's time to go! But having said that, there's no rush as there are comfy sofas for the adults to sit on, and, wait for it, even a BAR!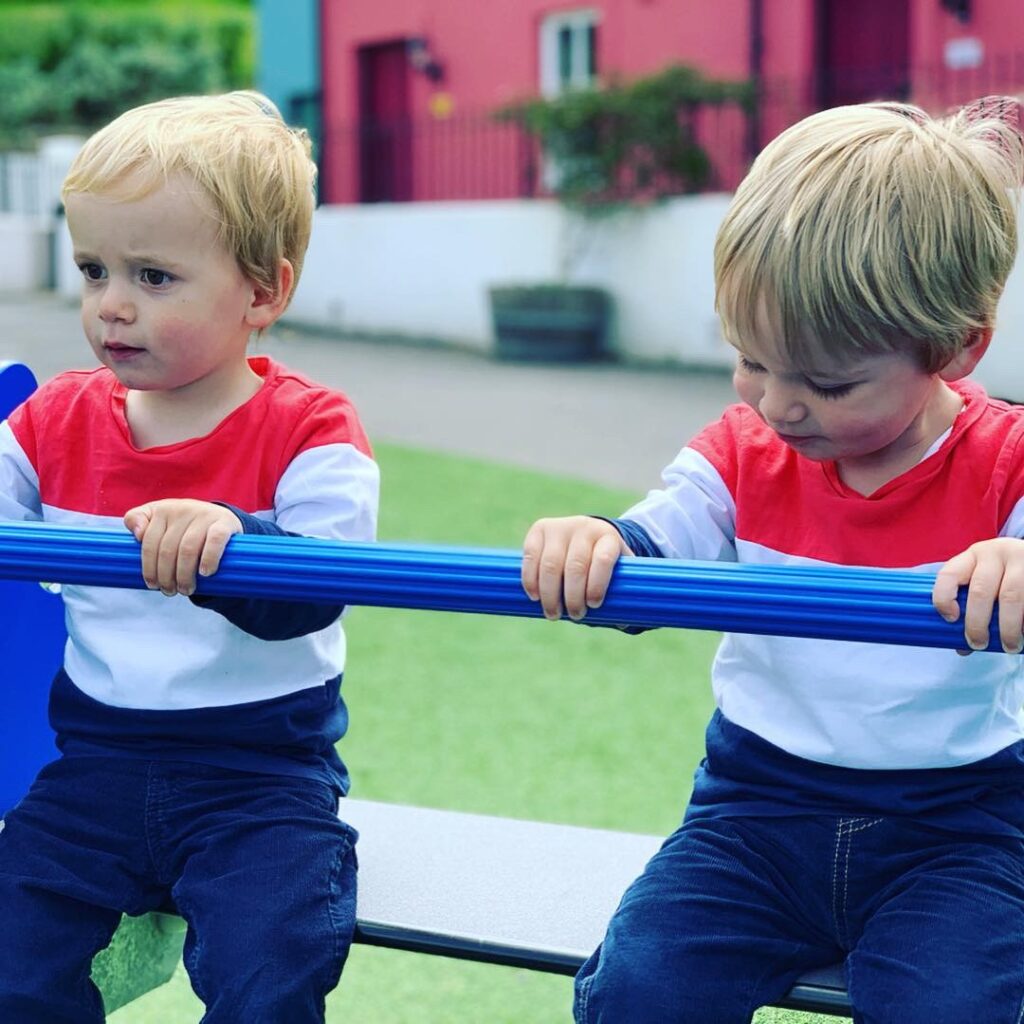 There is also a great play park in the Village that my boys love. It's right next to the pubs and coffee shop too, so you can enjoy a drink whilst watching them.
Can I take all my young children swimming together at Blue Lagoon?
If you're like us with three young children close in age, including twins obviously, then you'll know why I'm raising this point. We've spent the first four years of my twins' life not being able to take all three of my boys swimming with just myself and my husband. All due to ratios about how many adults and children are allowed in the pool together. I'm afraid to say Bluestone is no different.
For children aged 3 and under, supervision is one adult to accompany one child in the water at all times.
For children aged 4 to 7, it is one adult to accompany up to two children.
We've managed to take them when we've been to Bluestone with friends, but when we first went just the five of us, it was impossible. And so disappointing! This last trip in December 2021 has been the first time my husband and I have been able to take all 3 boys by ourselves.
The pool is gently sloping so little ones can play in the shallows, and it also has a separate cordoned off area for babies and toddlers called Nippers Cove which is brilliant, and includes water features, little slides and fountains. The main pool has a lazy river that goes outside, a wave machine and two flumes. There are height restrictions, (from memory, I think it's 120cm) but my six year old can now go on them – which he loved!
The changing rooms are unisex which is super useful when you're there with your family. They are mostly cubicles, with lots of big family ones which are great. The cubicle has a baby changing unit, and one of those fabulous seats with straps attached to the wall to plonk your baby in once they're dressed. There is plenty of room for all 5 of us to get changed in a family cubicle. Although I can't comment on how stressful it is when they start whinging that they're cold!
Food and drink at Bluestone
If you're the type of family that doesn't want to lift a finger when you're on holiday, Bluestone is perfect for you. It has The Oak Tree restaurant, The Farmhouse Grill, and the Knights Tafarn pub where you can eat. It also has the woodland diner Camp Smokey open in the spring and summer. If you fancy takeaway, there's The Chippy, and you can also get food and drink in the Serendome, The Hive and a cafe at the Blue Lagoon. And if you fancy coffee and cake, whilst the kids have an ice cream or milkshake, head to Ty Coffi in the village. It's certainly yummy!
Don't want to cook but going out with young kids is more hassle than it's worth? I know that feeling! Bluestone now has a wide choice of dining in options. You could have meals delivered to your lodge, or book a hamper for your stay, with a whole load of choice from breakfasts, barbecue packs, and afternoon teas.
Bluestone's Newton Stores is in the Village for all your essentials, but this is relatively small. So you'll need to bring some stuff with you. It's also worth noting that since Covid, Bluestone is completely cashless, so make sure you bring your cards.
Can I have a supermarket delivery at Bluestone?
No you can't. Bluestone is car-free so you can totally see why they don't want 300 Tesco/Sainsburys/Asda delivery vans all over the place when everyone arrives on a Friday or Monday afternoon.
We stop off at the big Tesco Extra at Carmarthen on the way. It's about half an hour before you get to Bluestone. The best way we've done it, is to do a click and collect shop online, then pick it up on your way through so it doesn't hold you up. We've now got a VW Transporter so we have more room. Other times when we've been, we've had to check in, unpack the car, then head back for the shopping which is a bit of a pain.
What time is check in and check out?
It depends which lodge you are in, but generally check-in is around 4pm/4.30pm. You can arrive at the resort earlier though. Our booking email said 2.30pm on our latest trip but we arrived at about 2pm and there were already loads of people checking in before us. You are sent to put your car in the car park and are then welcome to enjoy the facilities before checking into your lodge. It's the same on the day you leave too. You have to be out of your lodge by 10am (and the cleaners are pretty much waiting outside for you to get out) but as long as you move your car back to the car park you can stay on the resort for longer.
Which Bluestone accommodation should I book?
The accommodation you book is basically going to depend on how many of you are going. There are seven different types of one and two level lodges that sleep from 4 people to 12. Plus a studio apartment sleeping two, and one and two bedroom cottages.
The cottages and studios are based in the Village, in the centre of the resort. And the lodges are situated all over the 500-acre site. The different types are dotted around, so just because you have, say a three bedroom lodge, it doesn't mean you'll be in a certain location. You won't find out where your lodge is until you're allocated it on arrival. Although you can pay extra to choose where you're located.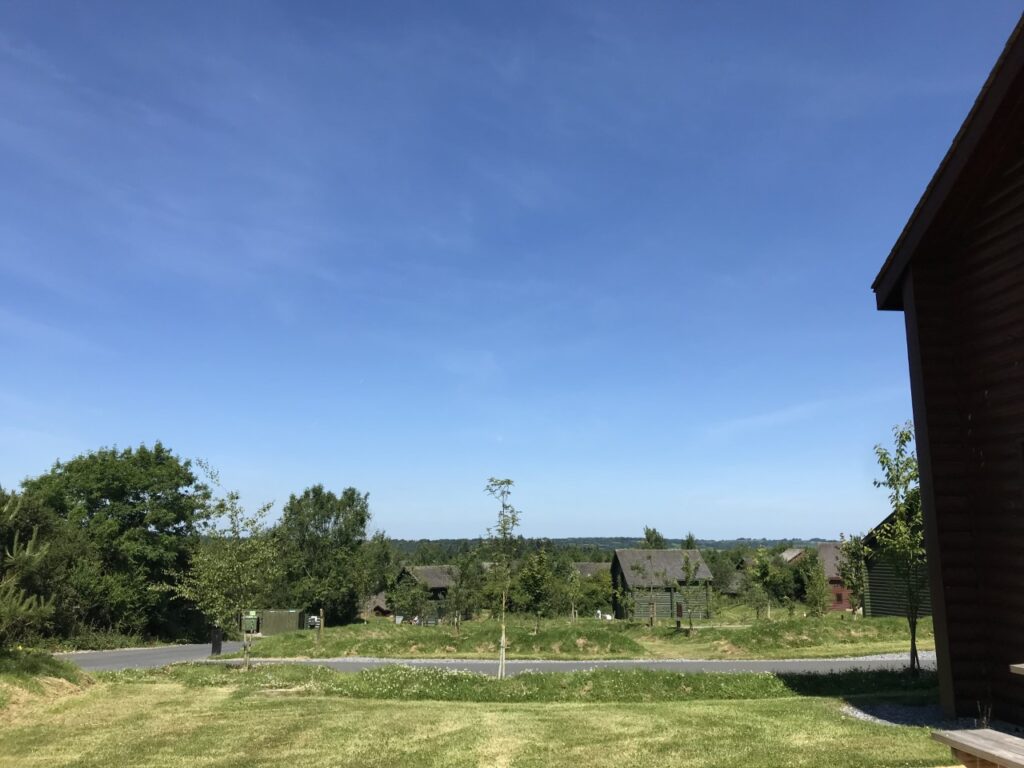 What is in my Bluestone lodge?
Each lodge is slightly different in terms of what it contains, as you'd imagine. You can actually download an inventory from the Bluestone website to see exactly what is in the lodge you've booked. Literally down to how many mugs and plates there are! We've stayed in three different types of lodges during our trips, and all have been brilliant. They're spacious with plenty of room for the kids to play and leave their stuff in the way, or for you to have your pram/buggy inside.
There are plenty of towels for everyone, and there are extra pillows for each bed. Each lodge has one travel cot (with a mattress but no linen), and one bed guard, but you can request more if you want. You can also ask for a high chair and children's crockery when you book.
In all the lodges that have stairs, there is a fixed stair gate at the top and bottom which is super handy for those with little ones.
What do I need to take with me?
The kitchens have fridge/freezer, oven, microwave, toaster, kettle and dishwasher. One thing they don't have, if you're expecting it, is a washing machine. There's a laundry service you can pay for, but just pack plenty of clothes for your stay as there's no launderette on site either.
There is a cleaning pack left on the sink, which includes washing up liquid, one tea towel, one dish cloth, and spare bin bags for each bin. There are also a few dishwasher tablets. The most recent time we've been, there were 4 so we had enough for each day, but previous times there haven't been enough. So if you're definitely not wanting to do the dishes by hand, it might be worth bringing a couple from home.
One thing we noticed during our latest trip is that the kitchen wasn't exactly overflowing with cooking utensils. It had a few things, but could have done with more, so don't go planning to cook any complicated meals that you need lots of things for!
Other things you might want to pack are extra toilet rolls – there is only one per toilet, which is definitely not enough if your kids go through it the same way as mine do. Also, there are no sachets of tea/coffee/sugar etc. Or salt and pepper.
We didn't have a hairdryer in our lodge on our latest trip, although we have had one previously. So if you can't survive a few days without one, make sure you pack it just in case. This is the reason my fringe was looking so bad!
How easy is it getting around the resort?
Bluestone is a big place. In fact it's 500 acres, with nearly 300 lodges. It's spread out with the lake at the bottom of the site, and the Blue Lagoon pool, Serendome, and The Hive activity centre at the top of the site. And the Village in the centre. You've also got Camp Smokey and Steep Ravine down in the woods. These are all places you will want to go to during your stay, so be prepared to get around a bit.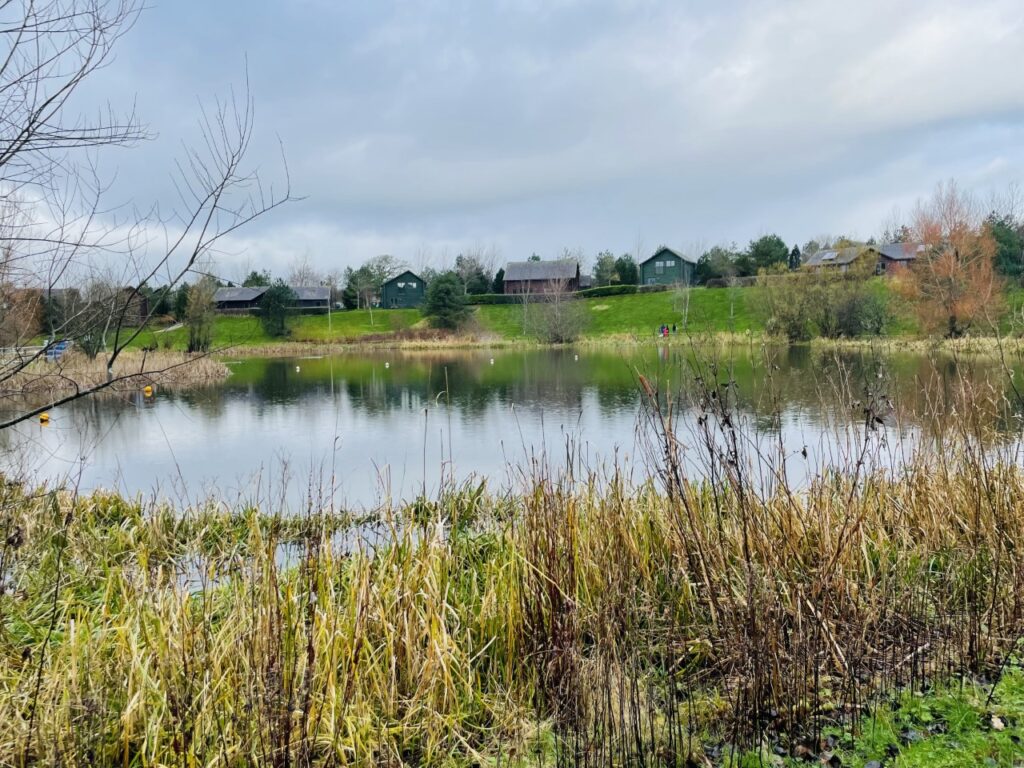 If you have young kids who aren't particularly fast walkers, it could take you a good 15 minutes to get from the lake, for example, up to the swimming pool. The site is also fairly hilly – some dragging or bribing might be involved! But the best bit is it's car-free so you don't have to worry about traffic. You can take your car down to your lodge when you check in, but it then needs to be brought back to the car park for the duration of your stay until you pack up (Blue Badge holders can park outside their lodge). There is a barrier to enforce this, so it really does feel safe. Although you will need to keep an eye out for the Bluestone golf buggies on the orads as they are everywhere!
Should we book a golf buggy?
In my opinion, YES! Not because you actually need to. But because a Bluestone buggy is SO MUCH fun. They all have their own individual names and you'll see loads of them decorated with tinsel and lights at Christmas.
We have had buggies on 3 out of 5 of our trips. It is absolutely viable to have a holiday at Bluestone without one. But flipping heck, the trips where we've had a buggy have been brilliant. It makes your holiday with young kids SO much easier. You don't have to counter in walking times, or dragging them up a hill when they're tired. Nip for a swim, then back to your lodge. You can nip to the shop, and back again within 5 minutes. You can spend a couple of hours just driving around the resort as an activity all by itself!
The buggies are not cheap. For three days when we were there in December 2021, it was £95. But I would say from experience that they are worth every penny. If you are going to book one, I would HIGHLY recommend booking it at the same time as you book your entire trip. There are not enough for every lodge to have one, so they get booked up quickly. I stupidly forgot to do this for our latest Christmasland trip and we didn't have one. I was annoyed at myself the entire time we were there. You can also book one just for the day if you don't want to pay for a whole weekend.
If you don't have a buggy, you can make use of Bluestone's land train/bus. It's a Land Rover pulling two trailer carriages and is brilliant. It does a constant loop of the resort stopping at the Blue Lagoon and Village centre every half an hour. You can either wait at the bus stops or flag it down. This was a lifesaver for us when it was raining, so we tried to time our activities around when we could get the bus. It was so easy and the boys loved it. So don't despair if you can't get a buggy. (But certainly try to!)
You can also hire bikes, bike trailers and tag-a-longs if you'd prefer to get around on two wheels.
Can I take my dog to Bluestone?
Bluestone is a dog-free resort. But they can recommend various kennels nearby if you want your dog to be close and still be able to take them for walks in the local area. Obviously guide dogs are welcome.
What is there to do in the local area?
I'm by no means an expert on this one, because in all the five times we've been to Bluestone, we've never left the resort once we are there! We've just not felt we needed to as the boys have been having such a good time on site. But if you did want to venture out and about Pembrokeshire has some stunning beaches, and its own National Park to explore. There are some great days out to be had too and you're only 10 miles away from the beautiful seaside town of Tenby.
There you have it, probably not an exhaustive list, but a pretty good overview of everything you need to know for a stay at Bluestone. Let me know if you have any more questions.

Have you been to Bluestone? Find out more and book your holiday to Bluestone here.
This post contains affiliate links. Clicking these links and booking your holiday at Bluestone means I may earn a small commission, but it does not affect the price you pay. Thank you for supporting my blog!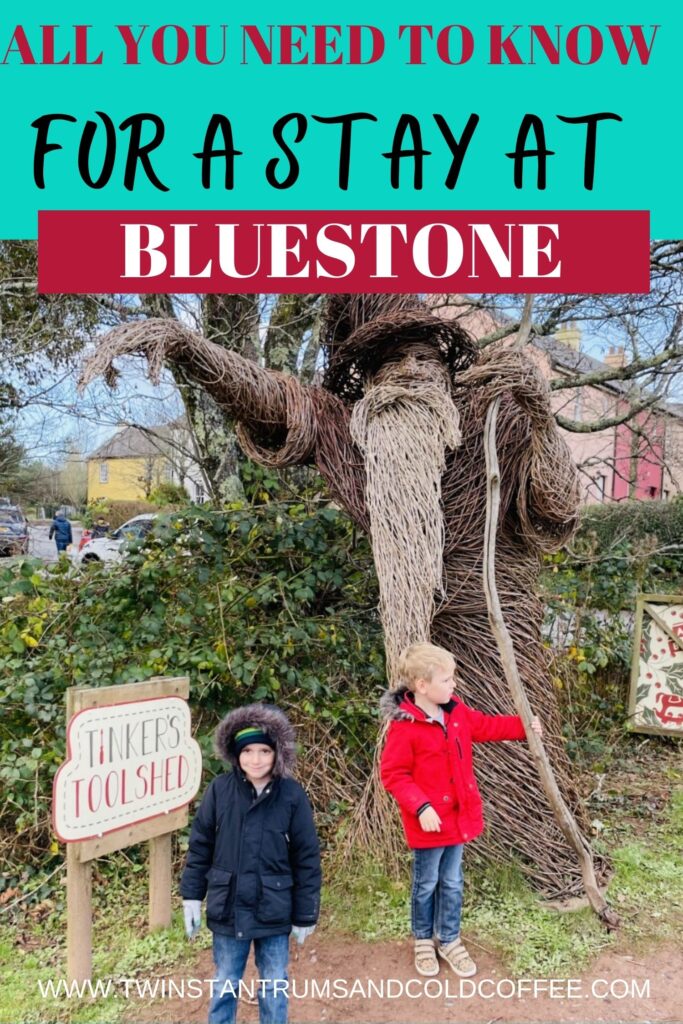 How did I do?
Did you enjoy this post? You might want to read a few more of my travel reviews. How about one on Rockley Park caravan park in Dorset, staying in a New York loft apartment-style caravan at the New Forest's Sandy Balls, or something completely different with a farm stay experience at Tredethick Farm Cottages in Cornwall. And when you're about to head off on your hols, use my packing list for babies and toddlers to save you time. Then have a giggle about 5 ways holidays are never the same after having kids.
If you like a bit of social media madness, pop over to my Facebook page where you'll be able to have a laugh at what ridiculousness goes on in my house with three very small boys on a daily basis. Warning – there is often sarcasm, and usually swearing. There are also great travel reviews and some AWESOME giveaways. Feel free to join my Twins, Tantrums and Cold Coffee – Shits and Giggles Parenting Group too, where everyone shares their hilarious stories.
If you like what you see, how about you check me out on Pinterest, Instagram and Twitter too.
And if you want to work with me, feel free to give me a shout here or at helen@twinstantrumsandcoldcoffee.com and I'll get back to you.