If you're looking for a family friendly hotel in Cornwall then look no further.
The Esplanade Hotel in Newquay could basically rename themselves 'Perfect For Kids' as that's 100 per cent what it is.
AD: We were given a one night stay at The Esplanade in return for this honest review.
Overlooking the famous Fistral Beach, the luxury family hotel has had a multi-million pound refurbishment during lockdown and is now looking super swish. Each bedroom has had a makeover and the communal areas now have a cool, chic, coastal feel.
Parents can relax whilst kids have fun at this family friendly hotel in Cornwall
With a laid back beach vibe, The Esplanade offers parents the chance to relax, whilst their children have a whole load of fun.
Spectacular views over arguably the best surf beach in the UK lends itself perfectly to The Esplanade's slogan of 'The Beach Is Our Playground'. And it most certainly is.
The friendly and professional staff welcomed my three boys (aged 6, 4 and 4) with open arms, and straight away they were drawn to the huge windows in the lounge area to watch the hundreds of surfers down below.
That view is kind of addictive, and no matter what time of the day, and how early in the morning I looked out, the surfers were in there bobbing around. Anyone would think it was the surf capital of the country!
First thing we did after checking in was head to our room. The boys were beyond excited to discover two sets of bunk beds for them, and straight away bagged their spot.
Gifts for children go down a treat
But excitement reached whole new levels when they realised the hotel had left gifts for them. Each child gets a drawstring bag containing pens, an activity book, and a pair of cool wooden glasses to decorate. However the 'best thing ever' according to my boys were the Be My Bear cuddly toy kits they could build themselves. Forget exploring, Twin One was straight in there with the stuffing to create his cuddly doggy he named Douglas. And subsequently carried around for the rest of the weekend.
The hotel really spoiled us too with a personalised bottle of gin for the Other Half and I, and even robes with our names embroidered on them as a special treat! The boys also had buckets and spades with their names on which they loved. Guests at the hotel can borrow buckets and spades to take down to the beach – an absolute must, and there are robes in each room to use.
We stayed in a sea view family room which slept six. The spacious room had a comfy king sized bed, plus two sets of bunks for the boys. It was so nice to find holiday accommodation that slept six in proper beds. Normally at least one child is on a sofa bed – so this was a lovely bonus!
There was a small table and chairs, perfect for Twin One to do his colouring, two bean bags for the other two to fight over, and a large dressing table.
Sweet treats for kids at the family friendly hotel in Cornwall
I said The Esplanade was a child-focused hotel, and this was just as evident in the room. Whilst we got tea, coffee and biscuits, there was a special board of goodies just for the boys. It contained hot chocolate, marshmallows, shortbread, and sachets of squash. Funnily enough my three were quite taken with the marshmallows!
After declaring this was the 'best holiday house' ever, we went for an explore around the rest of the hotel.
First up was the Cove Restaurant – obviously overlooking the beach. But surprisingly the view wasn't the best bit. The fact they had a games room and soft play ADJOINING the restaurant was sheer genius.
The boys were straight in there having a play, a quick game of table football and a promise to play pool at some point during our stay. 'Play' maybe being an overly-generous description for my six year old. But he enjoyed it none the less.
We then headed out to the back of the hotel where there's a super wooden play area and pirate ship. The boys could have spent hours here. And with plenty of picnic tables for the adults to sit on, we could relax and let them get on with it.
Hotel's 30-seat cinema is a winner with kids
Back inside the Newquay family hotel, the boys were dying to find the cinema. Yep, that's right. The Esplanade has it's very own cinema – you can imagine the squeals when they saw it!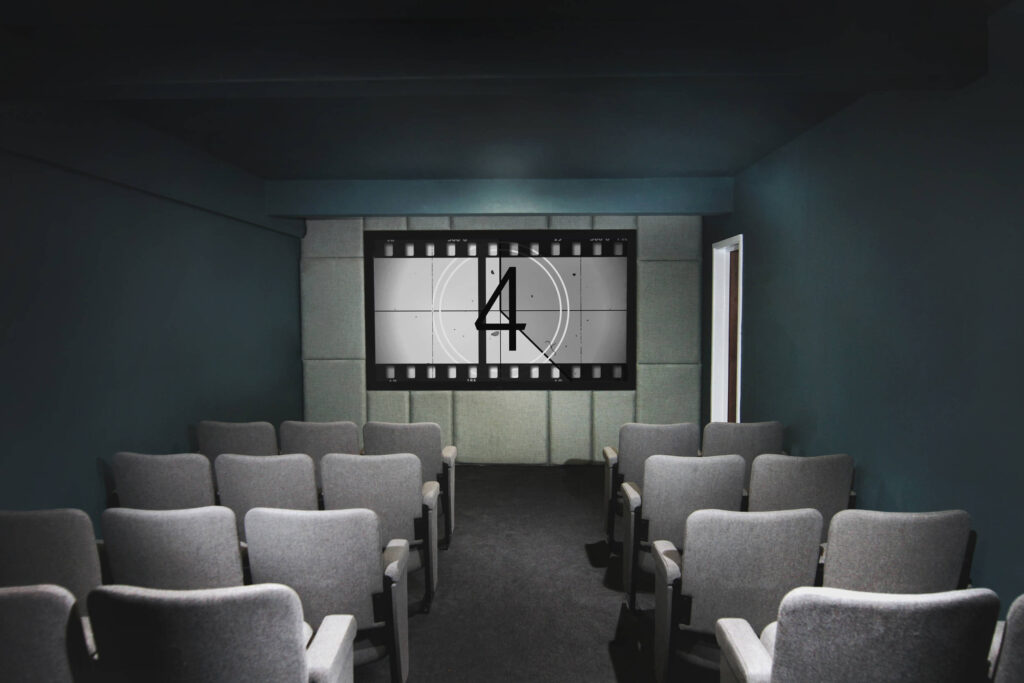 The 30-seat in-house cinema has four showings a day at 10am, 1pm, 3.30pm and 8pm. With a different schedule of films each day, the children will love movies such as Moana, The Incredibles, Shrek, Lion King and Monsters Inc. Jurassic Park, The Greatest Showman, Pirates of the Caribbean and Harry Potter are some of the 8pm showings so both older children and adults alike can grab some popcorn and enjoy them.
We watched a bit of Paddington before heading to the beach for an explore.
With the beach right on your doorstep, any stay at The Esplanade has to be centred around seaside fun. There are two flights of steps down to the sand, so don't attempt to take a buggy. But once you're down there the beach is massive when the tide is out.
World-famous Fistral Beach is your playground
We timed it just right, and with the tide having just gone out revealing some fabulous rock pools, that was where the boys immediately headed. On our second beach visit the following day the tide was in, so they had great fun building sand castles in the wet sand, throwing stones in the water and playing chicken with the tide. Although we probably stuck out like sore thumbs as we didn't have surf or bodyboards with us!
If you've got older children who fancy trying their hand (or should that be feet) at surfing then you're obviously in the right place. The hotel even has its own Quiksilver Surf School. So long as they are competent swimmers, the qualified lifeguard instructors can help youngsters who have never tried it before, right up to those who want to brush up on their surf skills. And there's no roughing it, the surf school has free parking, hot showers and indoor changing rooms. So none of this stripping off next to your car on the street like most do. Not that I was watching, of course!
And if surfing isn't your thing, there's plenty more to keep the kids entertained. As a family hotel in Newquay, The Esplanade has an jam-packed entertainment schedule during the school holidays to keep the children busy no matter what the weather. There are also arcade games, and both a caricaturist and magician visit the hotel regularly to entertain the children.
Also right opposite the reception desk is the Book Nook. This is a reading and colouring corner for the children that they can use any time they like during their stay. There's also a bedtime story with cookies there at 7pm each night. How cute is that?
The Cove serves 'best food ever' – according to my boys
Although we missed it as we were doing what we love best – eating! The Cove and the delicious food it offers was one of the best bits of our stay. The children's menu is the best I've ever seen offering starters of soup, garlic doughballs (my six year old's new favourite thing apparently), cucumber and carrot with houmous, halloumi fries or cheese nachos. Then for main they can choose from four different types of pizza, fish goujons, sausage, cheeseburger, chicken tenders, pesto or tomato pasta, Quorn nuggets or macaroni cheese! I mean, WOW!
Twin One's pizza was bigger than him, and the other two spent their entire meal saying 'best food ever'. That was before they'd even seen the dessert menu. They then had a choice of baked cookie dough, brownie, fruit kebab, mini doughnuts or ice cream. Predictable as ever, they all went for ice cream, and wolfed it down with huge grins on their face. We couldn't have asked for more from a family friendly hotel in Cornwall.
Us grown ups were seriously impressed too. The food was fantastic, and without wishing to copy my own children, my starter of crispy squid was the best squid I'd ever had, likewise for the Other Half's homemade Scotch egg. And our mains of sirloin steak and crispy Harissa spiced lamb shoulder were fabulous. The diets went out the window as we both tucked into baked cookie dough and ice cream for dessert.
Soft play next to the restaurant is genius idea
But the BEST thing about the restaurant, despite it's great food, was the soft play. Sorry chefs, but whoever decided to position the soft play right next to the restaurant should get a medal. It meant that we could see the boys from our table, and were happy for them to play in there whilst they waited for food – and we drank wine. We could watch and hear them to check they weren't causing trouble, and it meant we didn't have to make them sit quietly at the table between courses. Twin One is always happy to do a bit of colouring at the table, but the other two couldn't care less, and would just be a massive pain. This is the sole reason we hardly ever eat out with them, as it's just not enjoyable. So this was BRILLIANT!
The restaurant was full of families doing the same too, so nobody felt like they couldn't allow their children to let off steam. And it meant no kids were tearing around the restaurant, they had their own place to do exactly that without getting in anyone's way or bothering anybody. Absolutely flipping perfect.
The Esplanade offers babysitting service for parents to have a night off
Although if you fancied feeding them earlier and putting them to bed, the hotel offers a babysitting service, so you could enjoy a nice meal together and some cocktails in the adult-only bar. Exactly what you want from a family friendly hotel in Cornwall!
We did exactly the same in terms of the boys playing at breakfast the following morning. They had fun whilst they waited for their food – again a huge choice. They ended up going for pastries, fruit, Coco Pops, hashbrowns and pancakes with bacon between them! We tucked into a full English and Eggs Royale. Again delicious.
I've purposely saved the best until last though. The swimming pool. My boys were SO excited about being able to have a swim. The twins have only just started proper swimming lessons without me and are loving them, and my six year old is a total water baby. So all week they'd been talking about going for a swim.
Swimming pool was the highlight of the weekend at The Esplanade Hotel
Historically we've not been able to take them to pools on our own as most have strict adult to child ratios and don't allow two adults to take three children under the age of three in. So they've missed out big time on most holidays we've been on. But now they've just turned four and with no ratio rule at The Esplanade they were LOVING LIFE.
The indoor pool is another thing that adds the luxury to this luxury family hotel in Cornwall. The heated pool also has an adjoining splash area for little ones, a sauna and a hot tub. The splash pool was ideal for less confident Twin One before he built up to the big pool, whilst Twin Two impressed us all by just going for it with his arm bands in the big pool. And the six year old spent the entire time diving down to the bottom and jumping in. It was so lovely to finally be able to do what most smaller families can do without thinking.
The one thing that was a shame was having to wait to use the pool due to Covid restrictions. There was a maximum of 14 allowed in at a time, but you couldn't book a slot. You just had to get ready in your room, then ring reception and be told whether there was availability or not. Which was quite annoying when you had three boys sitting with their armbands on pestering you to go to be told you couldn't!
We tried throughout the day but eventually ended up only being able to go after our dinner which wasn't ideal. Although it meant we had the pool to ourselves and the boys thought they were having a massive treat still splashing around at 9pm when they'd normally be tucked up in bed fast asleep. I guess that's the best bit about being on holiday, routine goes out the window!
Newquay offers 12 superb beaches and great attractions for families
If you're planning a holiday in Newquay, you're obviously going to head to the beach. And with seven miles of beautiful sandy shores across 12 superb beaches you're spoiled for choice. There are also some smaller hidden coves to discover. Each is different and worth exploring.
If you want to go further afield for days out there are plenty of Cornwall attractions to keep the children entertained. Newquay Zoo is a must, my boys love it there. And if the weather isn't quite up to scratch, head to Newquay's Blue Reef Aquarium. There is also Dairyland Farm World, Flambards and Lappa Valley. But to be honest, nowhere in Cornwall is too far for a day out. Some of our other favourites are Springfield Fun Park and Camel Creek Adventure Park.
Or if you're able to leave the kids with the husband for an afternoon, head a few doors down the road to The Esplanade's sister hotel Fistral Beach Hotel and Spa for a spot of pampering.
But with The Esplanade being so welcoming, absolutely ideal for children, and within metres of one of the best beaches in the world, we were happy to stay put and relax.
It was honestly one of the best weekends away we've had with the boys, and their excitement to be there was brilliant to see. They even cried when we had to come home, so we'll definitely be back.
If you're searching for a contemporary, luxury, family-friendly hotel in Cornwall then you can stop looking. You've just found it.
How did I do?
Did you enjoy this post? Find out more about what Newquay has to offer here. And why not check out a few of my other travel reviews. Can't get enough of Cornwall? I have reviews on Tredethick, Glynn Barton, Polurrian or The Park, or read this one about the Rame Peninsula in South East Cornwall. If you still want more, head to my Travel Section. And if you fancy reading more of my usual kind of stuff, head over to my Mum Life section. You'll find all things parenting with a tongue-in-cheek twist. In fact, on the subject of travel, you'll like this one Five Ways A Holiday Is Never The Same After Kids.
If you like a bit of social media madness, pop over to my Facebook page where you'll be able to have a laugh at what ridiculousness goes on in my house with three very small boys on a daily basis. Warning – there is often sarcasm, and usually swearing. There are also great travel reviews and some AWESOME giveaways. Feel free to join my Twins, Tantrums and Cold Coffee – Shits and Giggles Parenting Group too, where everyone shares their hilarious stories.
And if you want to work with me, feel free to give me a shout here or at helen@twinstantrumsandcoldcoffee.com and I'll get back to you.