AD: This is a collaborative post, so I may have received payment for including one or more of the links it contains about making your home warm and cosy.
When it comes to the colder months, there are ways of making your home warm and cosy without needing the heating on full blast constantly.
While you most likely have access to central heating, you probably don't want to keep it turned up to the highest setting on a constant basis because of the cost.
The fact is that heating your home isn't cheap, is it? This can mean that throughout the winter months your house feels somewhat cold and sterile. However, it doesn't have to be this way.
Believe it or not, you can try making your home warm and welcoming throughout the winter months, regardless of not having the heating constantly turned on. It's just a case of taking the steps to get creative, that's all. In need of a little winter home inspiration? Below are a few tips and ideas for making your home warm and cosy and wonderfully welcoming this winter. 
Photo source: Pixabay
Adding rugs to each room is ideal for making your home warm
If there's one thing that makes a home feel cold it's having cold hard flooring. Instead of leaving your flooring bare, consider adding rugs online to each room that has hard flooring. Whether it's wood, stone or vinyl, adding a cosy rug to the rooms throughout your home can add a welcome splash of warmth, while also protecting little toes from getting cold when running around the house. 
Add alternative heat sources
Don't forget to add some alternative heat sources to your home. You might not want to have your heating constantly on, but that doesn't mean that you will struggle to keep your home warm. There are lots of alternative ways that you can keep yourselves warm while at home, such as by dotting a hot water bottle around your home, for you and your little ones to fill up as and when you need to.
Keep blankets within easy reach
A great way to add cosiness to any room in the house is by investing in a few cosy blankets to add to the space. It's amazing how much cosier a folded blanket can make a room feel, but amazingly a blanket dotted here and there can have a big impact on how cosy your home feels. Plus, if anyone gets cold there are blankets everywhere for you to reach for.
Add ambience to try making your home warm
When it comes to adding warmth to any space, a lot of the sense of cosiness and warmth comes from ambience. Think mood lighting; instead of white sterile light, add warm yellow bulbs to your home. Layer your lighting with overhead lighting, table lamps, and fairy light strings. You could also invest in an electric wax melter – fire light wax melters just aren't safe with kids around – to melt scented wax melts in and add a further sense of cosiness to your home.
There you have it, a few simple ways to add cosiness to your home this winter without having the heating constantly turned up.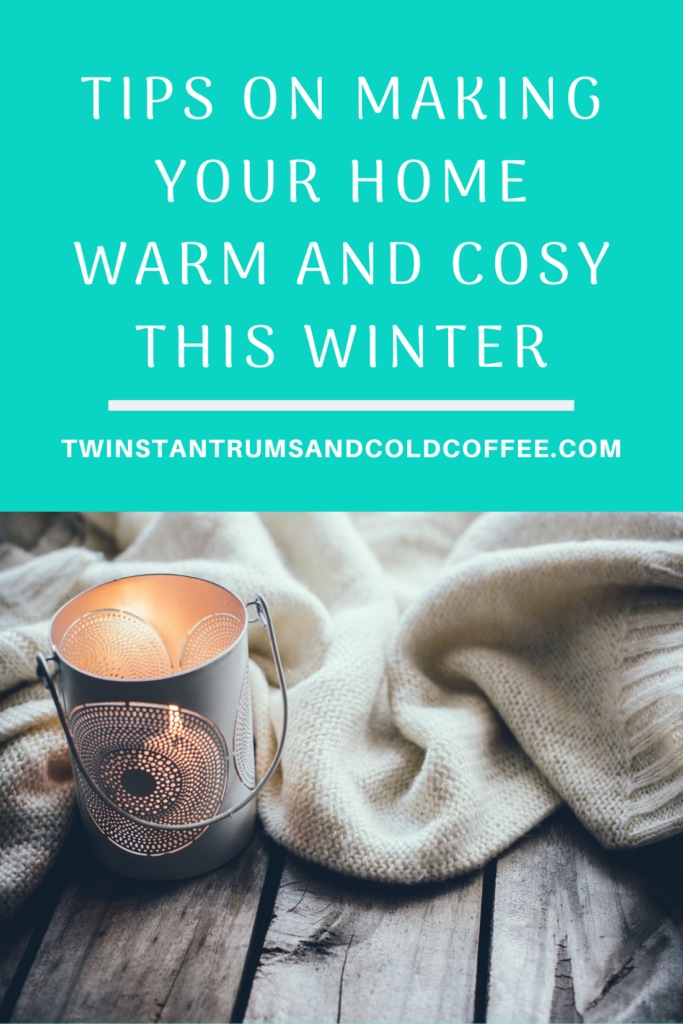 How did I do?
Did you enjoy this post? Why not hang around and read some more. If you want more funny real-life parenting head to my Mum Life section. Or for UK travel and day out inspiration click on my Travel Section.
If you like a bit of social media madness, pop over to my Facebook page where you'll be able to have a laugh at what ridiculousness goes on in my house with three very small boys on a daily basis. Warning – there is often sarcasm, and usually swearing. There are also great travel reviews and some AWESOME giveaways. Feel free to join my Twins, Tantrums and Cold Coffee – Shits and Giggles Parenting Group too, where everyone shares their hilarious stories.
And if you want to work with me, feel free to give me a shout here or at helen@twinstantrumsandcoldcoffee.com and I'll get back to you.