Halloween has come a long way over the years. Growing up in the 80s, I remember flimsy plastic masks, cheap witches hats and attempting to make costumes out of bin bags. It seems to be far more of a fun celebration these days with Halloween crafts, parties and trick or treating and pumpkin carving. Hell, we even have pumpkin patches in the UK now!
If you have little ones you will probably get caught up in the Halloween hysteria and start adding decorations to your home and if you're feeling creative, you may even want to partake in some Halloween crafts.
These cute and easy Halloween crafts for kids are great for a mixture of ages from preschoolers to primary school aged kids, these fun ideas will keep them entertained and happy for Halloween. You'll find fiendishly fun projects for papercrafting, junk modelling and even a bit of cookie decorating thrown in.
Simple Halloween crafts the kids will love
Read on to discover monstrous makes, cheeky characters and even some potion making.
Decorating Halloween biscuits
For these you don't even have to turn on the oven (unless you fancy baking your own). Most supermarkets will have some sort of spooky shaped biscuits on offer near Halloween (think pumpkins, skulls, and witch hats), these will come with icing and sprinkles and other decorations. You may even find a spooky gingerbread house kit to decorate.
Toilet paper tube bat
Take a disused loo roll, add a few basic craft supplies like paint, tissue paper, and googly eyes and what do you get? A toilet tube bat. You could really make any character using the toilet roll tube, Frankenstein, a witch, a ghost. Just let the kids use their imaginations to create some fun and spooky characters.
Egg carton characters
For the ultimate in quick and simple Halloween craft ideas, egg box bat decorations are perfect for giving your home a spooky makeover. You'll just need some acrylic paint, glue, googly eyes and some paper or card.
Spooky glass jars are perfect Halloween crafts for kids
Save those pasta sauce jars or similar to use for these type of projects. Not only do they look great, they are also pretty much free to make, the ultimate in upcycling. Just remember to save the lids too, depending on what you are making. You can really go to town with materials such as paints, tissue paper and LED candles inside.
Halloween cupcakes
Decorate frightfully easy cupcakes with kids of all ages and have fun decorating them with icing and sweets to make scary monsters and cute cats. Check out your local supermarket and see what sort of spooky edible decorations they have on offer.
Lolly stick spiders web
Ice lolly sticks are great supplies when it comes to Halloween crafts for toddlers. You can easily turn lolly pop sticks into spider webs using some pipe cleaners to attach them to form the web shape.
Paper plate characters
How about turning a paper plate into a pumpkin? You can cut the shapes for them in advance if you need to and then let them decorate with paints, pens, wool – basically anything goes with these paper plate characters. You could even make them into masks.
Painting pebbles is one of the simplest Halloween crafts
So simple but so effective! Collect a few pebbles (flat ones work best) and get to work with paints to turn them into a spooky gang of characters, from ghosts to pumpkins. The possibilities are endless.
Pine cone spider
Kids of all ages will enjoy collecting pine cones to create pinecone spiders for Halloween. For this nature craft you can wrap 4 full-length pipe cleaners around the pine cone to make a total of 8 legs. Next, attach googly eyes with glue to the bottom of the pine cone. Voila, you have a spider!
Potion making
Show me a child who doesn't love mixing up a potion or two at Halloween. With big imaginations you can easily make some at home or in the garden with a mixing bowl and some basic household supplies such as food colouring and glitter. If you have some small glass bottles the kids could even have a go at making some labels for their potions. Frog burp syrup anyone?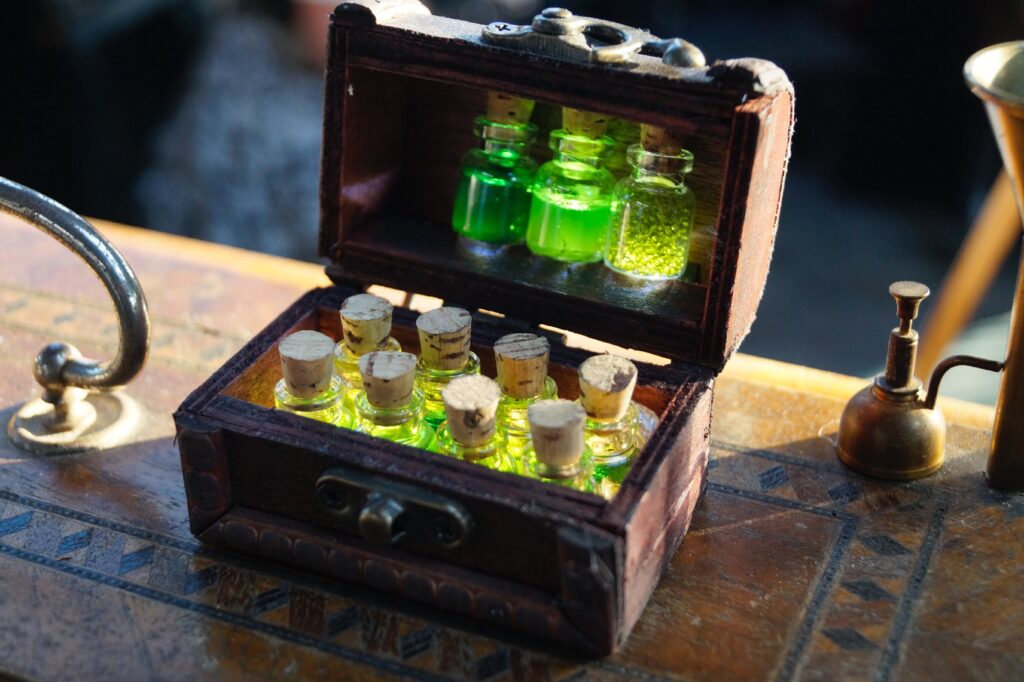 Do you celebrate Halloween with the kids or is it just a bunch of Hocus Pocus?
How did I do?
Did you enjoy this post? You might like these other Halloween ones:
Halloween: What's On In and Around Plymouth
Why not hang around and read a few more posts whilst you're here. If you want to read some more of my usual kind of stuff, head over to my Mum Life section. You'll find all things parenting with a tongue-in-cheek twist. Or if you want some days out and UK family holiday inspiration, click on the Travel section.
If you like a bit of social media madness, pop over to my Facebook page. You'll be able to have a laugh at what ridiculousness goes on in my house with three very small boys on a daily basis. Warning – there is often sarcasm, and usually swearing. There are also great travel reviews and some AWESOME giveaways. Feel free to join my Twins, Tantrums and Cold Coffee – Shits and Giggles Parenting Group too, where everyone shares their hilarious stories.
If you like what you see, how about you check me out on Pinterest, and Twitter and Instagram too.
And if you want to work with me, feel free to give me a shout here or at helen@twinstantrumsandcoldcoffee.com and I'll get back to you.