If you are feeling slightly stretched thin trying to come up with fun Halloween activities – join the club. With half term and Halloween well on their way, you may be thinking about planning a few days out and spooky activities to keep the little ones entertained.
From visiting pumpkin patches to themed days out, there is usually plenty going on. If your kids are a bit little for trick or treating, you've exhausted the Halloween crafts and baking, and you think a nice cosy night in would be far better, here are just a few ideas of some fun Halloween activities you can do at home.
Pop Some Pumpkin Balloons
Order yourself a bag of orange balloons online, before you blow them up fill each one with a surprise, maybe some small wrapped sweets or a little fake spider. Once you have blown your balloons up you could use a black marker to draw on a Jack 'o Lantern face. Then all your kids have to do is stamp on or pop the balloons to collect their prize.
Face Painting Is One Of The Best Halloween Activities
If you've got some face paints at home why not do the kids' faces and turn them into even scarier monsters? If they're anything like my Twin One, he'll have his face painted at any opportunity, and luckily my husband is a pretty dab hand at doing it.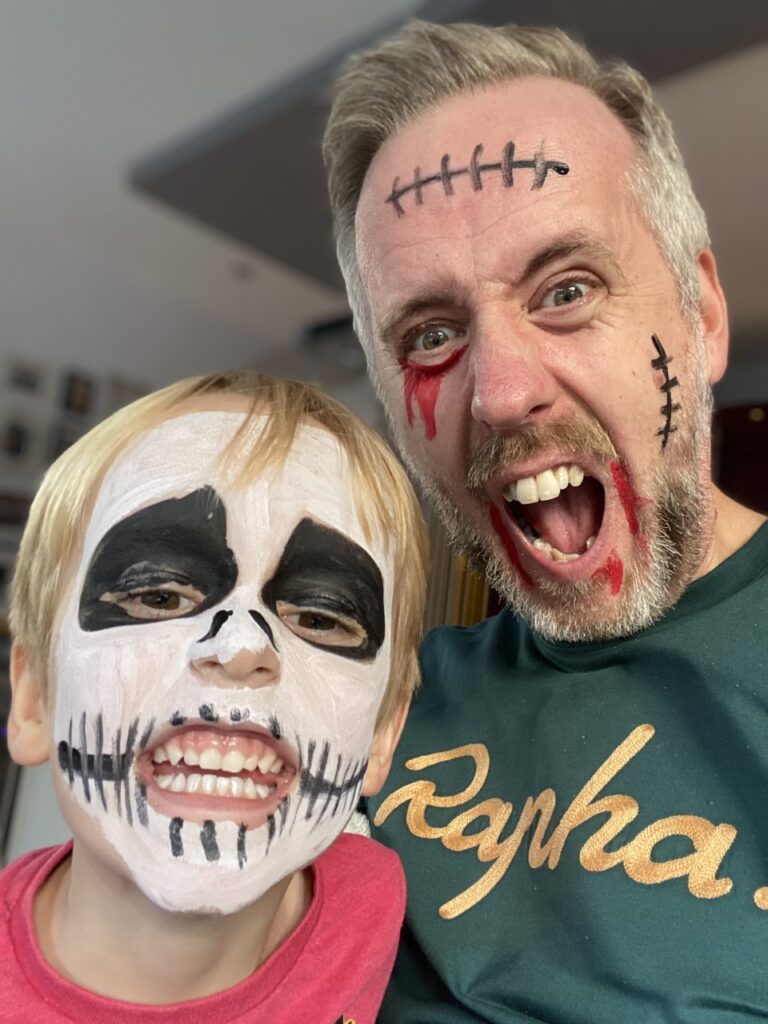 Create A Halloween Scavenger Hunt
Throw up some spooky decorations, then send your kids on a scavenger hunt to track down some hidden items. You could hide things around the house or in the garden. Write out some clues to send them in the right direction and reward them at the end with a little treat. It's one of those great Halloween activities that the kids will love.
Make Your Own Mummies
Thankfully toilet rolls are back in good supply again, as you will need some rolls for this. Split up into teams and pick one person to be the mummy. Then, it's up to the rest of the group to wrap them in toilet paper until they actually look like a mummy. The group that works the quickest is the winner.
Hanging Doughnuts
This Halloween activity requires two things: string and ring doughnuts. From there, all you have to do is hang doughnuts from somewhere such as a clothes rail or if you are in the garden a tree branch. The kids then need to try and eat the hanging doughnuts with their hands behind their backs.
Pumpkin Carving Is One Of The Most Popular Halloween Activities
After you've picked your pumpkins get the kids to give them a good wash in the sink. Then, let them do the dirty work. Cut a hole in the bottom of the pumpkin and give the children a spoon each and a bucket, they can then scoop out the innards. Once the pumpkin is clean, choose a design and help the kids to carve the pumpkins. Or if you're like me, leave it to the Other Half to do!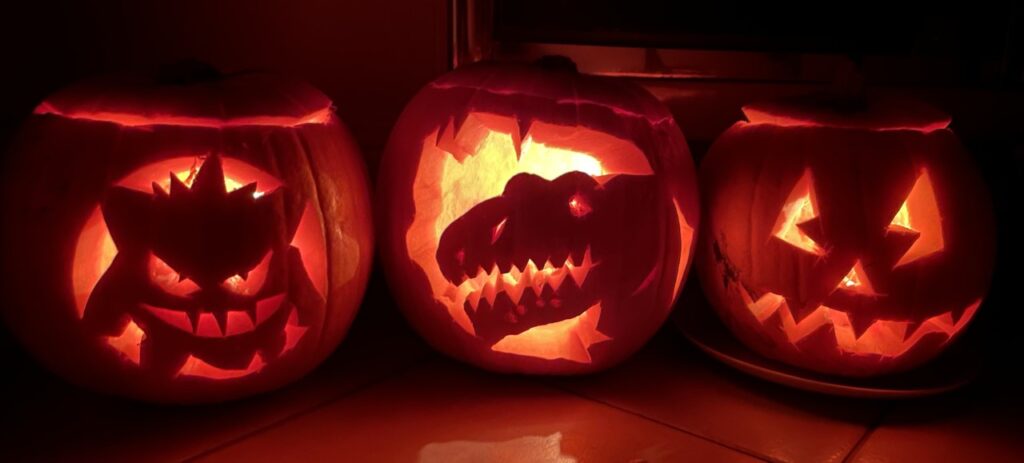 Have a Halloween Movie Marathon
Classics such as Hocus Pocus, Ghostbusters or The Nightmare Before Christmas are all pretty child friendly movies. Grab the popcorn and the snacks and light the tea lights in your pumpkins and get all cosy under the blankets, ready for a Halloween movie marathon.
Do you celebrate the spooky season? What is your favourite thing about Halloween?
This is a collaborative post
How did I do?
Did you enjoy this post? Why not hang around and read a few more whilst you're here. If you want to read some more of my usual kind of stuff, head over to my Mum Life section. You'll find all things parenting with a tongue-in-cheek twist. Or if you want some days out and UK family holiday inspiration, click on the Travel section.
If you like a bit of social media madness, pop over to my Facebook page where you'll be able to have a laugh at what ridiculousness goes on in my house with three very small boys on a daily basis. Warning – there is often sarcasm, and usually swearing. There are also great travel reviews and some AWESOME giveaways. Feel free to join my Twins, Tantrums and Cold Coffee – Shits and Giggles Parenting Group too, where everyone shares their hilarious stories.
If you like what you see, how about you check me out on Pinterest, Instagram and Twitter too.
And if you want to work with me, feel free to give me a shout here or at helen@twinstantrumsandcoldcoffee.com and I'll get back to you.