If you're planning a festive trip to celebrate Christmas in London with kids, you'll be spoiled for choice on where to take them.
This is a collaborative post.
Whether you want to meet Santa in his grotto, see the famous Christmas lights, go ice skating, take in a show, or have a festive day out at some of the best London attractions, this guide is sure to help.
CHRISTMAS EVENTS FOR KIDS IN LONDON
HOGWARTS IN THE SNOW
See how the wizarding world celebrate Christmas at the Warner Bros. Studio Tour London – The Making of Harry Potter's Hogwarts in the Snow. You can explore the Forbidden Forest as it undergoes a wintery transformation. The trees and woodland have been given a festive makeover along with the magical shop fronts and cobbled streets of Diagon Alley, Hagrid's Hut and the Hogwart's castle model. The Great Hall is ready for Christmas with the long dining tables set for the seasonal feast, complete with flaming Christmas puddings and prop versions of roast turkeys and hams. The Hall is also dressed for the occasion with wreaths, garlands and trees topped with witches on miniature broomsticks. It sounds a must for all Harry Potter fans!
ICE SKATING IN LONDON
You can't do Christmas in London with kids without taking them ice skating. It's surely a rite of passage? And there are so many rinks on offer, you'll be spoilt for choice. Whether you want to skate in modern surroundings or at some of the capital's most historic locations, there will be a pop up ice rink to suit you. Most have already opened and run until mid January. Great ones to try include:
SEEING SANTA IN LONDON
What better way to top off a Christmas visit to London with kids than to meet the Big Man himself? There are some fabulous Santa's Grottos in London to choose from, but hurry as they sell out quick. Some of the best include ZSL London Zoo where you can also have breakfast with Santa, world-famous toy shop Hamleys, Alexandra Palace, you can have breakfast with Santa at Selfridges, story time with Father Christmas at the Royal Albert Hall or see him at Hyde Park's Winter Wonderland.
HYDE PARK WINTER WONDERLAND
If you've ever been to Hyde Park's Winter Wonderland you'll know there's not much that will get you into that Christmas mood more than here. Running from November 19 to January 3, attractions include an ice rink, the Magical Ice Kingdom, Zippo's Christmas Circus, Cirque Beserk, the Giant Wheel, ice-sculpting workshops, an ice bar, fairground rides, a Christmas market, Santa Land and grotto, an ice slide, and loads of places to eat and drink.
SEE A CHRISTMAS SHOW
Surely one of the best things to do in London with kids is take them to see a show in the West End? There are some amazing children's shows all year round but if you want something particularly festive, there are some fabulous Christmas shows and pantomimes to choose from in 2021. How about:
Pantoland at the Palladium
The Nutcracker
The Snowman
Matthew Bourne's Nutcracker
Aladdin
Potted Panto
Circus 1903
Dick Whittington (over 14s)
Stick Man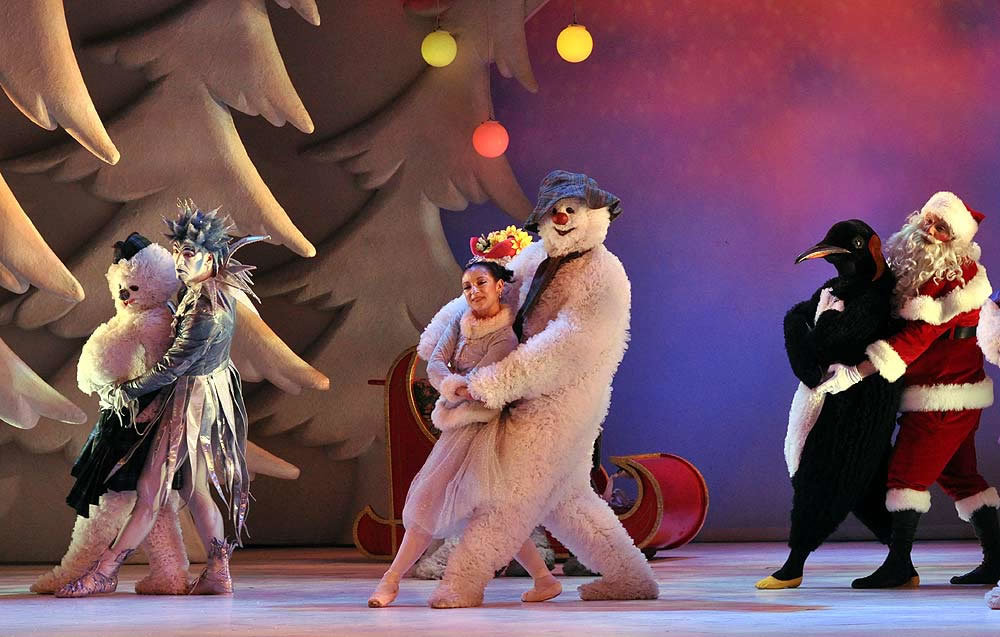 If your kids love the theatre, then taking them to see a show in London will blow their minds. And make life easier by booking all the shows through Seatplan where you can also use seat view photos on the seating plan, uploaded by fellow theatregoers, to choose the best seats for your budget. Which is ideal for us parents! There are also some child-specific theatres in London which focus on producing shows specifically for under 10s and often pre-schoolers. The Unicorn Theatre even has a production just for babies called Scrunch, and also The Bolds for over 6s. And the Little Angel Theatre is showing The Storm Whale for 4-8 year olds, and There May Be A Castle for over 7s.
THE MAGIC OF CHRISTMAS AT LONDON ZOO
Kids are promised everything they need for a fun-filled festive day out at London Zoo's Magic of Christmas event this December. There's a fun festive trail where children need to gather information around the zoo for Santa and his elves and report back to Mrs Claus in the polar post room. There's also a brand new fantasy Sensory Sweet Shop where you'll find clouds of candy floss, a marshmallow meadow and a forest of candy canes. Children can also meet Santa in his grotto or have breakfast with him.
LONDON'S CHRISTMAS LIGHTS
Your kids would be hard pushed to not get excited by all the Christmas lights that wrap London in a magnificent festive glow at this time of year. Best ones to see are Regent Street, Oxford Street, Carnaby Street, Covent Garden, Bond Street, the South Bank and Trafalgar Square. But we all know little legs won't go on forever, so why not try a Christmas Lights Tour. You could take a guided bus tour by night to see all the sights on an open top bus, or an Illuminations of London on Christmas Eve coach tour. They'd be the perfect way to see all the festive displays but without the moaning children! There are also bike tours and black cab tours available.
CHRISTMAS AT KEW GARDENS
Kids will love a festive wander around Kew Gardens followed by a yummy hot chocolate and marshmallows. They'll be blown away by the magical winter trail which lights up the evening skies. There are sparkling tunnels of light, dancing waterside reflections, trees covered in colour, a panoramic light display and a Fire Garden. They might even get a chance to say hello to Father Christmas.
GINGERBREAD CITY EXHIBITION
Forget making a gingerbread house at home this Christmas, the Museum of Architecture has created a whole city out of gingerbread for 2021. There has been over 100 architects, engineers and designers involved in its construction. Some 60 structures are on show with biscuits, cakes, icing, strawberry laces and sweets being used as building materials. It's definitely something to behold – just make sure your children have eaten beforehand so aren't tempted!
CHRISTMAS AT COVENT GARDEN
Get into the festive spirit with a visit to Covent Garden at Christmas. As well as its iconic decorations, legendary Christmas tree, and daily 'snowfall' there are also a few new things for 2021. There will be a Frozen takeover where the children will think they're in Arendelle. There's a Frozen Forest, Frozen Infinity Chamber, Frozen Ice Sculptures and Frozen Flower Barrows. And every hour there's a rendition of Let It Go to accompany the flurry of snow. LEGO fanatics will also be in their element with a Christmas Carousel of Creativity on display. The legendary brick makers have made a rocket race, firefighting dragon and a cactus Christmas tree.
CHRISTMAS AT THE TOWER OF LONDON
A magical, festive experience is promised at the Tower of London this Christmas which children will love. They can discover the history of the iconic tower through the animals that once lived within its walls. Be wowed by spectacular displays of Christmas decorations and illuminated animal-themed areas across the fortress. Discover something royally different with majestic elephants, and a twinkling winter wonderland scene where polar bears roam and playful ravens nest.
How did I do?
Did you enjoy this post? Why not have a look at some others whilst you're here, particularly Christmas in London: Where To Stay For Your Festive Trip To The UK's Capital. Also, have a look at some of these Christmas posts:
If you want to read some more of my usual kind of stuff, head over to my Mum Life section. You'll find all things parenting with a tongue-in-cheek twist. Or you'll discover lots of UK holiday inspiration and family days out in my Travel Section.
If you like a bit of social media madness, pop over to my Facebook page where you'll be able to have a laugh at what ridiculousness goes on in my house with three very small boys on a daily basis. Warning – there is often sarcasm, and usually swearing. There are also great travel reviews and some AWESOME giveaways. Feel free to join my Twins, Tantrums and Cold Coffee – Shits and Giggles Parenting Group too, where everyone shares their hilarious stories.
If you like what you see, how about you check me out on Pinterest, Instagram and Twitter too.
And if you want to work with me, feel free to give me a shout here or at helen@twinstantrumsandcoldcoffee.com and I'll get back to you.