So, the pregnancy test has come back positive, you've booked in with the midwife, started to read books on pregnancy and babies and you've had your first scan. Exciting times! But what exactly are the baby essentials that you'll need to buy?
*Disclosure: This post contains Amazon affiliate links I may receive payment for. It does not affect what you pay. It also contains links I have been paid for.
Having babies is indeed exciting but pretty overwhelming for first time parents. Let's face facts, having a baby (or babies) is an expensive business. You'll be bombarded with advice from people who mean well and from the internet, even before you've had all your pregnancy scans. They'll throw ideas at you, as to what you should be buying for your little bundle and leave you totally confused. Some of these essentials are very essential and others – not so much.
Baby essentials for new parents
From clothing and bedding to car seats and prams, here's everything you will need on your list.
Feeding essentials for newborns
Nursing bras, breast pump and breast pads
One of the first things that happens after you've been handed your baby and they've been put onto your chest is they will instinctively go to latch on and feed. This is not always as easy as it seems and doesn't always come naturally. If you are struggling at first a breast pump can work wonders whilst your milk is coming in. If the baby won't latch on at least you can express milk and feed them from a bottle. There are hand pumps and electric pumps on the market. Make sure you invest in some comfortable nursing bras and tops as well as breast pads to catch leakage and keep some nipple cream indoors for relief of soreness.
Bottles, formula and dummies
Regardless of whether you choose to breast feed or not, having bottles and formula on stand-by is a good idea. And if you have unopened tubs you don't use, you can even sell formula. And remember breastfeeding is NOT the be-all-and-end-all. Read my experience here to see it doesn't matter. You can get various sized bottles with teats that produce a variable flow to suit your baby's age. If you are using bottles you will also need a steriliser, the electric sterilisers are great or a cold water steriliser which you can just leave to work its magic are even better. Formula wise there are many choices from powder to ready mixed liquid. You may also want a feeding pillow. Having a newborn is exhausting, if your baby is not settling don't be put off by using a dummy, some may disagree with them but they can give you and baby some much needed comfort and sleep.
Muslin squares or flannels
As a new parent you will get pretty used to being covered in gross bodily fluids. Keeping muslin squares or old towels next to you is a very good idea. Babies regularly burp up their feed all over you so keeping a cloth on your shoulder helps to save your clothes. Bibs are great but not really necessary until babies start teething and weaning.
Nappies
Stock up on nappies, your babies will go through multiple changes every day. Start off with new born sizes and size up as your baby grows. And don't feel like you have to go for the top brands. Supermarket brands work just as well, you just need to find the ones that suit your baby (and your budget!). Just be aware you are going to go through A LOT of them. Especially if you have twins, For the first year, we were going through 100 a week as all three of my boys were in them! If you are planning on going down the eco-friendly route, there are plenty of washable reusable nappies on the market too. Scented nappy sacks are also useful to keep with you when you are out and about.
Wipes and nappy rash cream
Baby wipes are useful for so many things, trust me you'll be using them to clean the floor and all sorts. If you are choosing wipes go for scent free ones as some can cause irritation, and try different makes to see which ones you like. Again you could use washable cloths if you would prefer. Keep a pot of good old Sudacrem with you too as it really does work wonders on nappy rash and will last you ages.
Changing mat
A wipeable changing mat is essential for all of those messy nappy changes. Some like to use a changing station, others choose to use the floor or some of us become pros at changing a nappy on our laps. I was never that brave!
Baby essentials – Clothing
Sleepsuits, vests and baby grows
As tempting as it is to buy loads of miniature outfits (and yes they are very cute) in the early days your best buys are sleepsuits or baby grows. Just good old plain cotton ones with poppers that cover their little feet. Poppered vests are also great for keeping nappies in place too. Go for cheap plain ones when you're staying at home and have a few 'nicer' ones too. Just remember they'll soon be thrown up on! A great idea is to create a capsule wardrobe for your baby which includes all your essentials.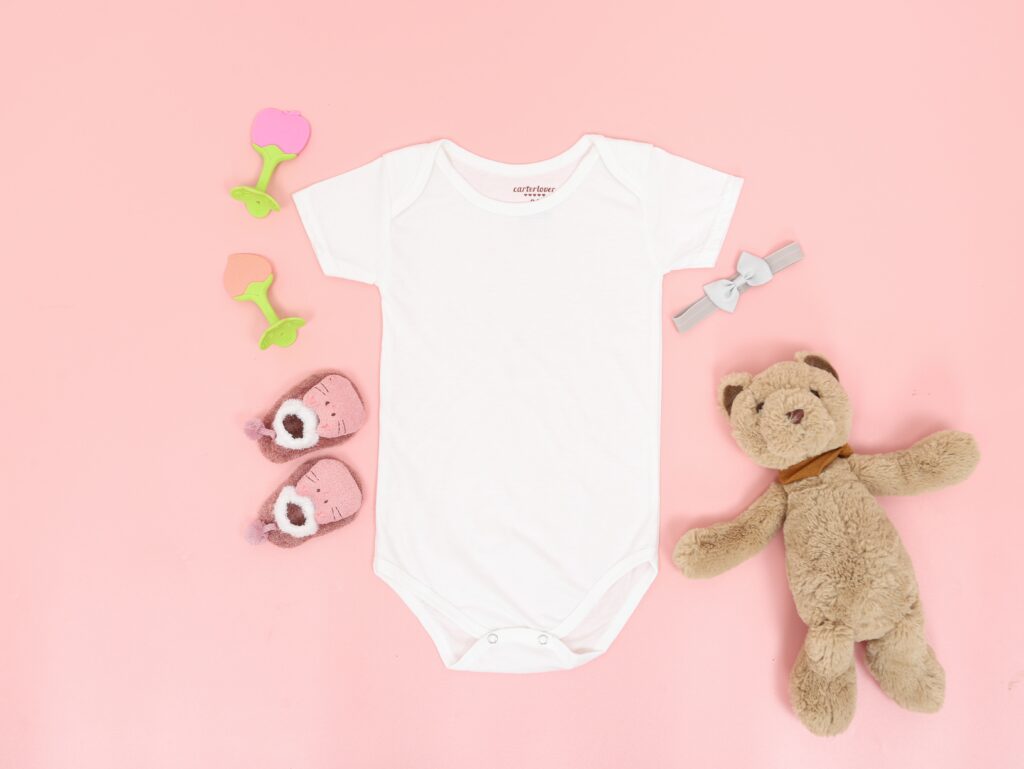 Cardigans and coats
Granny may have done lots of knitting and those little cardigans are great for newborns. Small hooded jackets are perfect for those first trips out in the pram too.
Socks or booties
Yes, they don't stay on easily, especially baby socks but soft baby booties that are elasticated at the ankles are great for keeping tiny toes warm. Or sock-ons are pretty handy at keeping them on too.
A hat
Whether it is knitted or a little cotton hat with teddy ears – having a hat is also on my list of new born essentials for keeping baby warm.
Travelling essentials
Car seat
Even if you don't drive you will still need a car seat in order to leave the hospital to carry your baby outside in. The car seat must be rear facing and in group 0 to 0+ or aged 0-12 or 0-15 months.
Pram, travel system or baby carrier
The pram can often by one of your priciest purchases. There are lots to choose from and many of them convert cleverly from prams to buggies which have removable carry cots and car seats. These are often the most sensible choice as you will get a few years use out of them. Prams with a storage basket underneath is very useful for carrying all of your essentials (and your shopping). A baby carrier or sling is also a great alternative for hands-free baby wearing whilst out and about or even for trying to get a bit of housework done. A baby carrier helps babies to maintain a close connection with mom and dad. And if you want to be prepared for when they start toddling look at investing in some reins. Toddler walking reins are a great idea for those who want to keep little ones close without restricting their freedom. Mum-run brand ONK has a great selection of designs that include leopard print, camouflage and pirates. Plus they make phone lanyard straps to match – perfect to help keep hands free!
Baby essentials – Sleeping
Moses basket, cribs and cots
The safest place for your newborn to sleep is in your room in a Moses basket or a crib. Moses baskets are great as they are portable so you can easily carry your baby to sleep in the same room as you. When you buy a crib, Moses basket or cot you will also need to buy the mattress separately along with cotton sheets and cellular blankets.
Baby Monitor
Great for extra peace of mind if your baby is napping in a different room. There are many available including video monitors. They can also provide great entertainment!
Bath time essentials
Bath support
I must admit, baby baths rarely get used. It is far easier to bathe them in the bath, either with yourself or using a bath support. When they can sit up, a bath seat is also useful. Always test the water with your elbow to make sure it is not too hot or too cold.
Soft-hooded towels
A hooded towel is great for swaddling your baby whilst they are getting dry after a bath. I would massively recommend Cuddledry ones. Read my review of them here and you can even get 10% off by using discount code TWINSTANTRUMS.
Baby wash and shampoo
Go for a baby shampoo, there are lots of choices for sensitive skin and many are unscented but there are also mild baby washes that are gently fragranced with lavender.
Baby essentials – Medicine
Keep your medicine cabinet stocked with Infant suspension such as Calpol in case of fever, a thermometer, Infacol for colic and Sudacrem are all good things to have indoors. Note you shouldn't give a baby Calpol until they are two months old. Baby nail clippers are also useful, you would not believe how sharp their little nails are. For Mums, you will feel like you've been hit by a bus after giving birth – there's no easy way of putting it, sorry! Big maternity pads will be needed and you will need more than you think so stock up, breast pads, comfortable clothes and I would recommend taking arnica tablets too as they help with internal bruising.
These are my newborn baby essentials for first-time parents – some things on baby lists are really not needed and rarely used. Once you have all of these, then you're pretty much set up and ready for bringing home the new edition. If you're having twins then also check out 10 Must Haves To Survive The Early Days of Twins.
How did I do?
If you liked this post, you should really read this Practical Advice For New Parents or How To Make Baby Formula When You're On The Go. Then how about you hang around and have a read of some more. You'll definitely like this one about how I ignored advice to survive the newborn days. Or this one about how my toddler wasn't too keen on the twins, ooh, for about six months. Then head over to my Mum Life stuff for more tongue-in-cheek parenting rants, or the Twins section for more hacks about looking after twins. If you want some UK travel inspiration, then there's also my Travel Section too.
If you like a bit of social media madness, pop over to my Facebook page where you'll be able to have a laugh at what ridiculousness goes on in my house with three very small boys on a daily basis. Warning – there is often sarcasm, and usually swearing. There are also great travel reviews and some AWESOME giveaways. Feel free to join my Twins, Tantrums and Cold Coffee – Shits and Giggles Parenting Group too, where everyone shares their hilarious stories.
If you like what you see, how about you check me out on Pinterest, Instagram and Twitter too.
And if you want to work with me, feel free to give me a shout here or at helen@twinstantrumsandcoldcoffee.com and I'll get back to you.