We've all been there, struggling to think of the best presents for six year old boys. Whether it's for a Christmas present or a birthday gift, there's just too much to choose from!
You either figure out what they're into or take a stab in the dark. Is it dinosaurs? Lego? Superheroes? Here are some brilliant presents for six year old boys to choose from. My six year old would be over the moon with ANY of these.
*Disclosure: I have been gifted some items for this post. It also contains affiliate links I may receive payment for. It does not affect what you pay.
22 OF THE BEST PRESENTS FOR SIX YEAR OLD BOYS
HEROES OF GOO JIT ZU – GALAXY ATTACK
From £10.99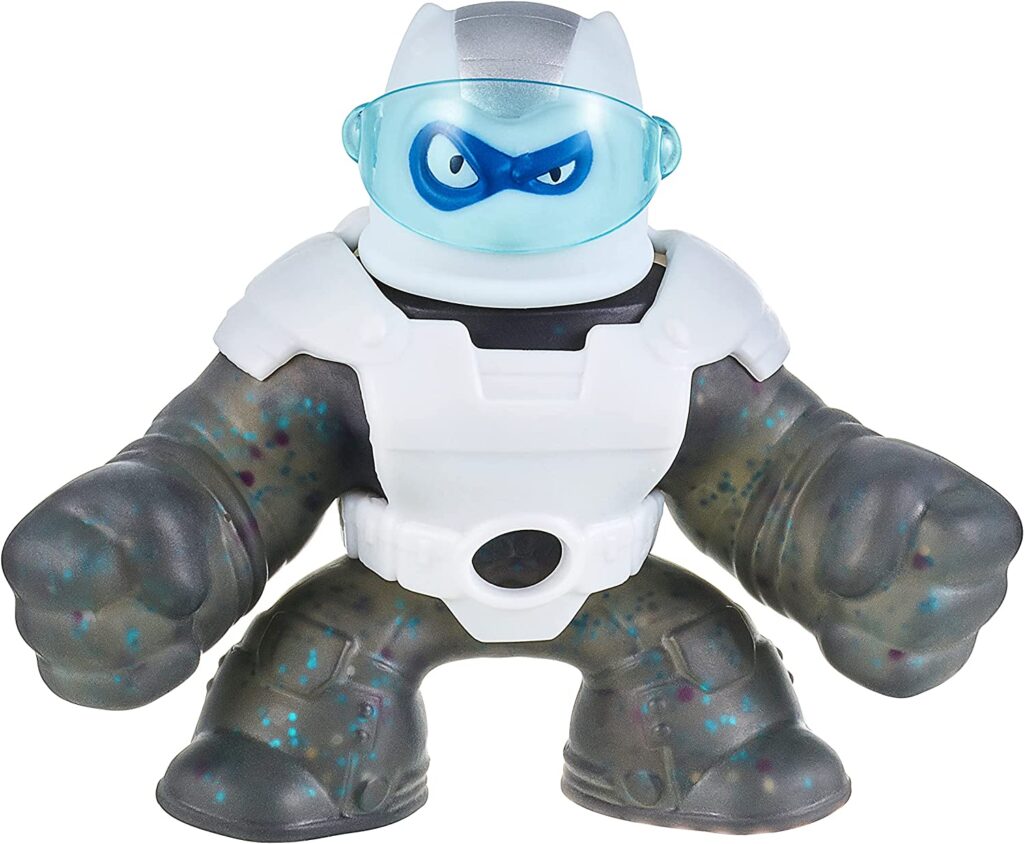 My boys love Goo Jit Zu and now there are even more figures to choose from. This year your children will love the all-new Galaxy Attack series including Cosmic Pantaro, Saturnaut and the ultra rare Crusticoid. The seven new stretchy figures have blasted into space to search the Galaxy for the origins of Goo! The Goo has gone Galactic and some of the Heroes are back to battle against the squishiest, stretchiest and scrunchiest aliens in the universe.
​
KLIKBOT ZANIMATION STUDIO
From £19.99
From the makers of Stikbot, KLIKBOT is a line of collectible, all-action figures. With interchangeable pieces, articulating limbs and accessories, your KLIKBOT is ready to travel the universe and go on any adventure your child can come up ! This supercool racer transforms into a rocket glider, and the Klikbot Zanimation set comes with a green/blue screen. This allows your child to upload their own background images or use backgrounds included in the free Stikbot Studio mobile app to make their own stop-motion videos. The set includes a phone tripod and the app helps you to create professional movies with built-in music and sound effects. This is one of the best presents for six year old boys around right now.
THE #UPSIDEDOWN CHALLENGE GAME
£19.99
How flipping funny does this game look? The #Upsidedown Challenge Game literally turns your world upside down! Put on the special upsidedown goggles and experience how easy tasks such as drawing, high fiving, and pouring water into a cup become a LOT harder! It's great for a family games night and will have you laughing out loud for hours.
VTECH KIDIZOOM SMART WATCH
From £37.99
This new generation VTech Kidizoom Smart Watch is a great introduction for your little one to the world of tech and would make a great gift for a six year old who's into it. The durable and splashproof watch has got two cameras, an alarm, a pedometer, games and a variety of educational features.
STOMP ROCKET STUNT PLANES
£29.99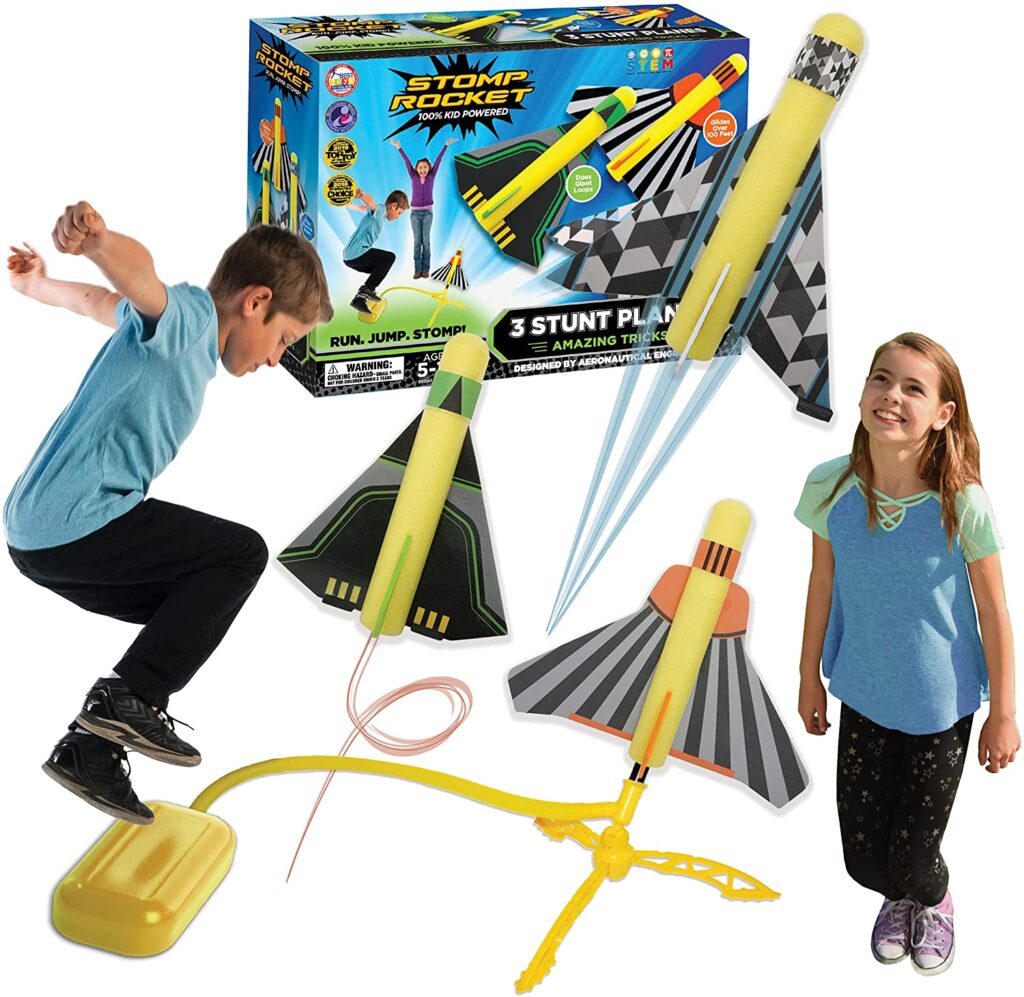 Is your child a budding engineer, pilot or astronaut? Why not inspire them with these brilliant Stomp Rocket Stunt Planes? This set includes three unique planes: the Looper which makes giant loops, the Glider which does tricks and glides over 100 feet, and the Wild Cat which flips, turns and soars. Kids can learn about trajectory by changing the launch angle, about force by stomping harder or softer, and about aerodynamics by launching with wind or no wind. No wonder it's on my list of best presents for six year old boys. It would make a great birthday or Christmas gift for a six year old ready for those days in the garden or to take out and about.
WOOLLY MAMMOTH 3D WOODEN PUZZLE
£10.84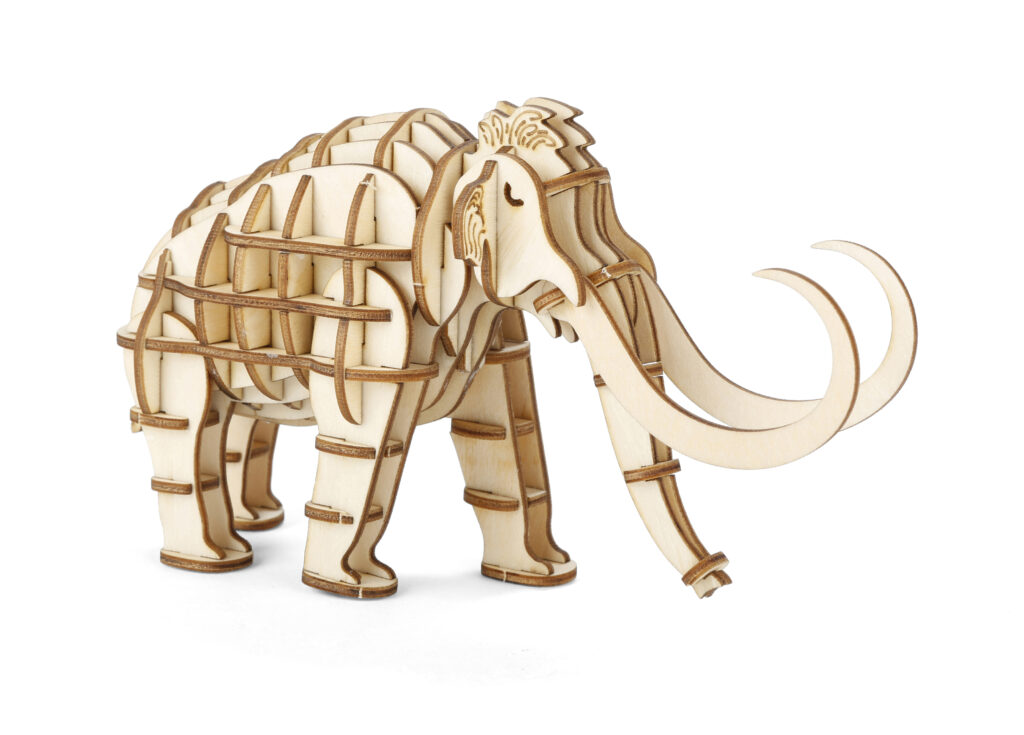 This Kikkerland Woolly Mammoth 3D Wooden Puzzle is bound to cause excitement. No tools or glue are needed, simply push out the pieces and assemble according to the accompanied diagrams. It will help your kids improve their concentration, problem solving and fine motor skills. And gives them an awesome mammoth model at the end!
PULL BACK INVINCIBILITY CAR
£7.99
If you're looking for a great birthday or Christmas present for a six year old, then this pull back Invincibility Car is sure to go down a storm. It has 132 pieces, with bricks also being compatible with other leading brands, and includes an easy to use instruction manual. It's simple to use for children aged 5 and over, so they get the enjoyment out of building it then playing with it.
MORE OF THE BEST PRESENTS FOR SIX YEAR OLD BOYS
TOM FLETCHER – DINOSAUR THAT POOPED 6 BOOK SET
£20.99
Books are always an awesome present for six year old boys, and they're guaranteed to enjoy these brilliant ones from Tom Fletcher. The Dinosaur That Pooped book set includes six of Tom's funny stories – and who doesn't like a story about poo? They include The Dinosaur That Pooped A Princess, The Dinosaur That Pooped The Bed, The Dinosaur That Pooped A Planet, The Dinosaur that Pooped A Pirate and The Dinosaur That Pooped The Past. Perfect for sharing at story time.
T REX 3D PUZZLE
£10.99
How fab does this T Rex 3D puzzle look? It's from the New Discovery Dinosaur range in Super 3D. It has 150 pieces and using the new Prime 3D lenses, the 3D motion jigsaw puzzle has greater depth and movement. It's roarsome!
​
ROBOTS IN MOTION BUILDING SET
£46.00
If your child is into building things, then they will love this Gears! Gears! Gears! Robots in Motion Building Set. The special components mean kids can use this construction set to build machines that move and transform. You can build your own unique robo-toy or follow the instructions to create a machine with rolling treads, spinning eyes and more. Gears! Gears! Gears! Building sets provide open-ended play opportunities to encourage hands-on learning and problem-solving so no wonder it's among the best presents for six year old boys.
CONTIGO GIZMO FLIP DRINKS BOTTLE
£14.39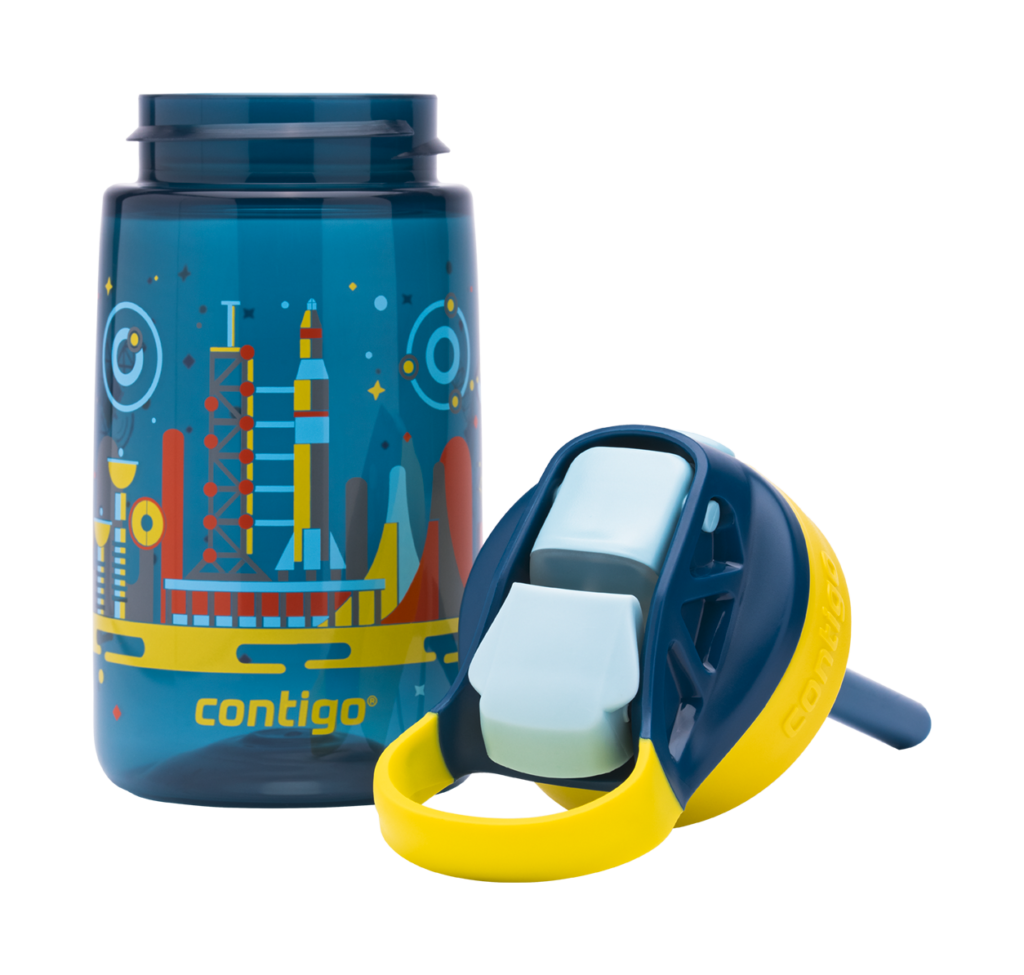 If they're anything like mine, your kids go through drinks bottles like pairs of socks! We are forever buying new ones and it drives me mad. How about trying the Contigo Kids Autospout Gizmo Flip bottle? Kids get a kick out of pressing a button to open the pop-up straw for effortless one-handed drinking, and they can easily push the spout under the cover to protect the mouthpiece from the elements. Us parents will love the spill-proof valve, that all parts are dishwasher safe, and the lid is designed to eliminate all nooks and crannies in which dirt and grime might hide. And there are SO many to choose from including SuperHero, nautical with space, dancer, cat, dinosaur, and butterfly.
KIDZLABS
POCKET VOLCANO
£5.99
Science lovers will be delighted with this pocket volcano present. They'll be able to perform volcanic eruptions on the table, in the bath or even inside a glass. They'll be captivated from the off, and are sure to grab their friends' attention with this fab gadget.
SPARKLZ WIND UP TOY
£19.50
Have you ever seen anything like this? Meet Sparklz Wind Up Red from Kikkerland. The cute little wind-up wanderer lights up its way as it sparkles around the floor aimlessly looking for a friend to play with. Your kids will be mesmerised by it!
CHRISTMAS WINTER WONDERLAND DUVET SET
£14.99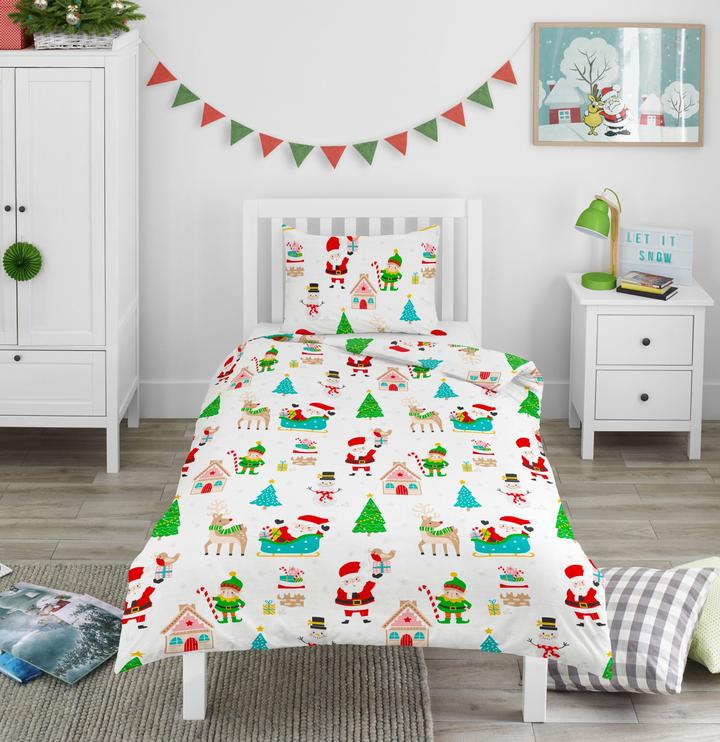 If you're feeling festive, why not let the kids get even more excited with this fabulous winter wonderland printed bed set. From Santa and his sleigh to reindeers and elves, this fun and festive set is the perfect way to bring the magic of Christmas into any kids' bedroom. It's made from an easy-care cotton blend so is supersoft, durable, quick drying and requires minimal ironing – so it's a winner for me!
EVEN MORE OF THE BEST PRESENTS FOR SIX YEAR OLD BOYS
GEOMAG
From £8.00
Have your children discovered Geomag yet? There's a complete range of Geomag magnetic kits to choose from, then all they have to do is let their imagination run wild. There is virtually no limit to the creations kids can make, and it opens the door for all children to explore science, creativity and engineering. An educational AND fun toy – it's got to be on the list, surely?
VINTAGE STYLE DINOSAUR POSTER
From £13.00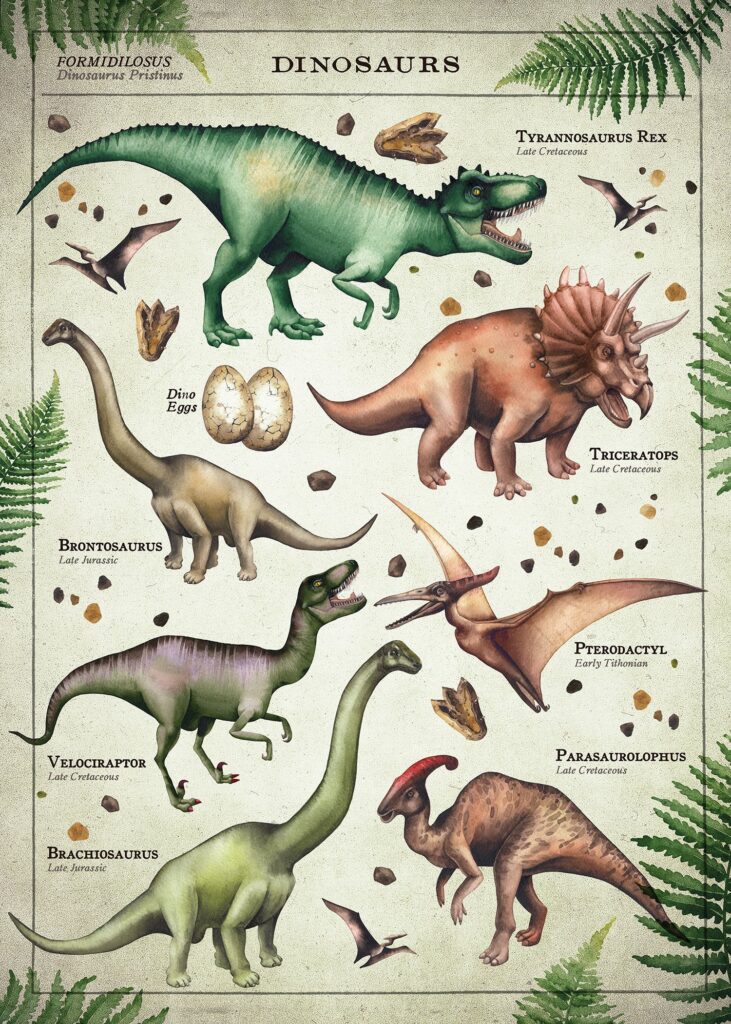 Is your child a dinosaur fanatic? If so they'll love this vintage dinosaur poster in the style of a retro chart. Featuring seven different dinos from a Brontosaurus to a Brachiosaurus it comes in matte or gloss, and in seven various sizes. It's an ideal gift for a six year old dinosaur fan, and will look great in either their bedroom or playroom.
SOLBOUNCE SANDAL
£14.00
If you're looking for an easy shoe for the kids to put on after swimming then you need look no further. The new totes SOLBOUNCE collection is ideal to slip on quickly and easily. It's the bounciest, springiest most super-comfy sandal totes has ever made. Ideal for the summer in the garden or on the beach, and perfect to slip on rather than struggling with socks and shoes after swimming lessons. They come in 9 different colours so the children will be spoilt for choice and they make a great present.
HUCKLEBERRY MOTORBOAT PROPELLOR
£10.00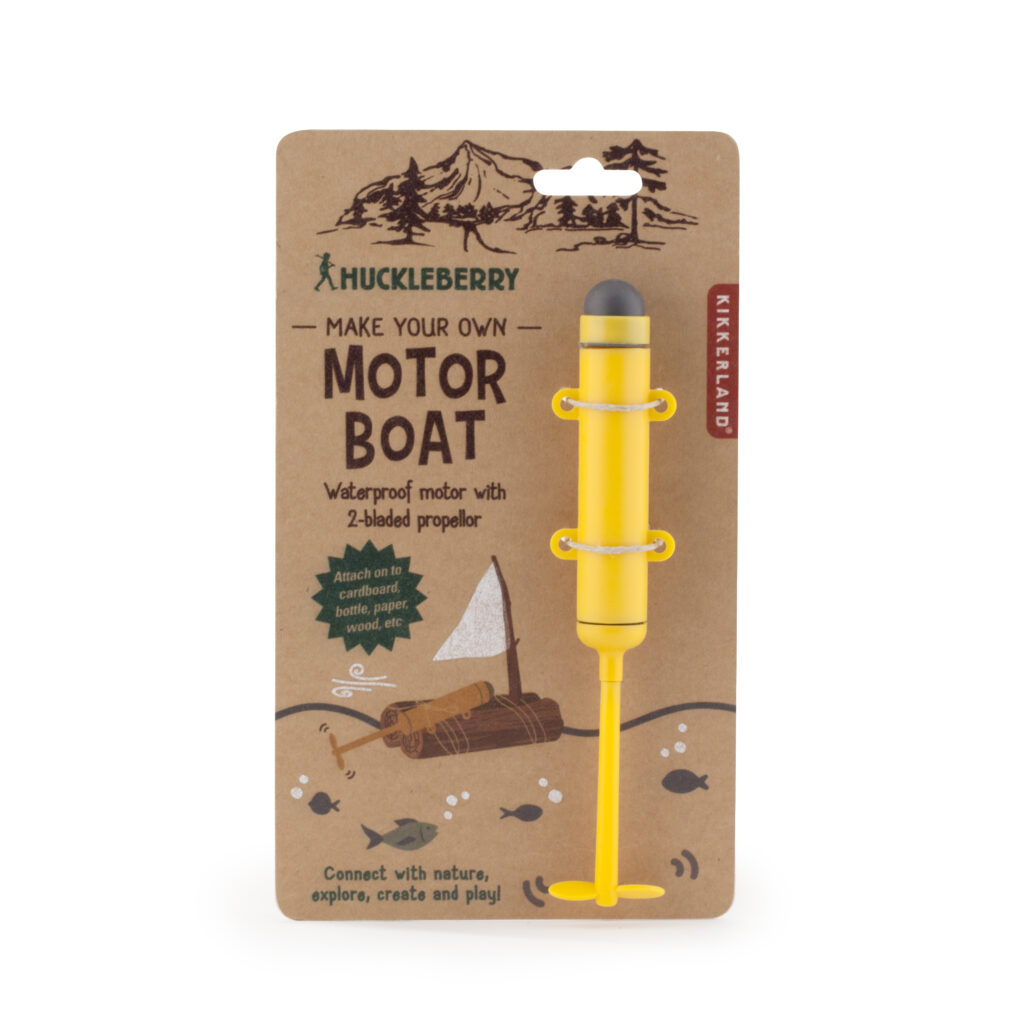 Kids can get creative and use this Motorboat Propellor to build their own boat out of a small plank of wood or thick paper. Then just add the Kikkerland Huckleberry motor to the boat and place it in the water. Press the button the top and watch it set sail. My boys would love this!
GENROUND OUTDOOR EXPLORER KIT
£23.00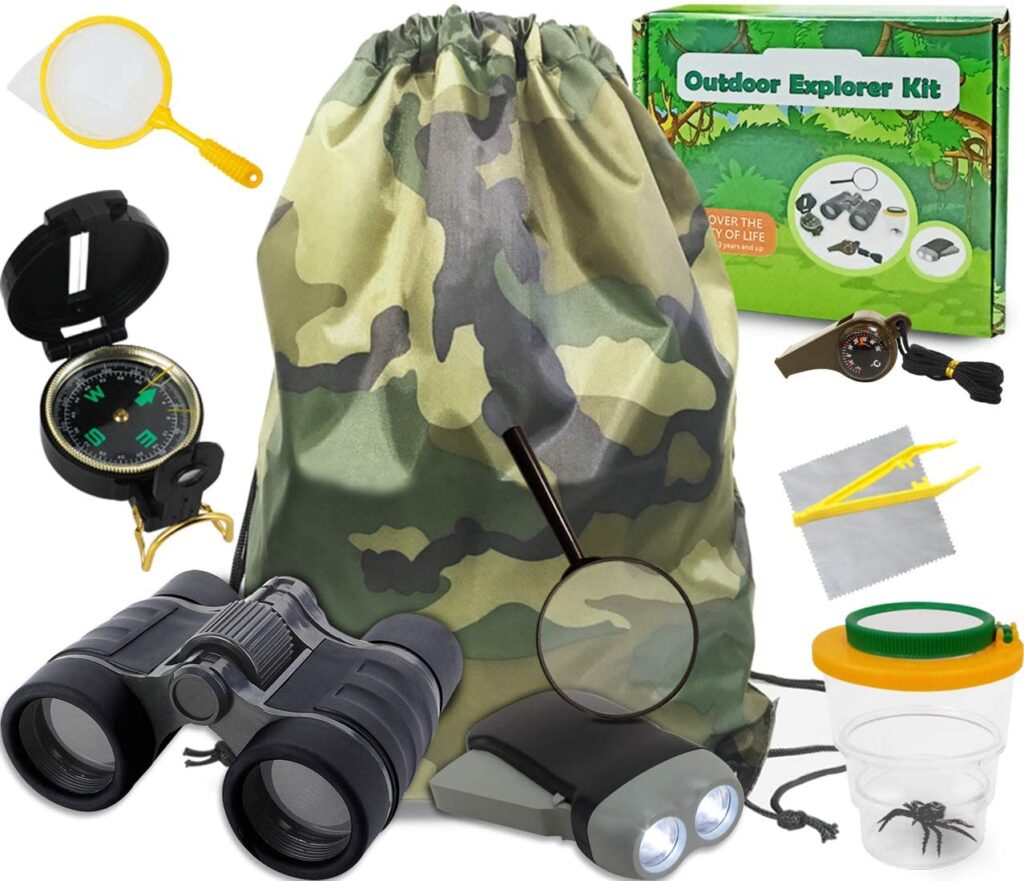 Get set for some fun with nature with this Outdoor Explorer Kit. Whether they're exploring the back garden or the local woods, this set includes loads to turn them into little adventurers. There is a flashlight, binoculars, insect net, cleaning cloth, compass, whistle, magnifying glass, bug viewer jar and storage bag. It's an ideal present for six year old boys and encourages children to explore nature and learn.
KIDS MAGIC SET
£16.99
Abracadabra! Set up your own magic shows at home with this Heyzeibo kids' magic set. It's designed to give children their first successful journey into the world of magic. The set is full of easy-to-learn tricks and high-quality props so they can learn the same tricks as professional magicians.
NINJAGO LEGO LEGACY JUNGLE RAIDER CAR
£8.97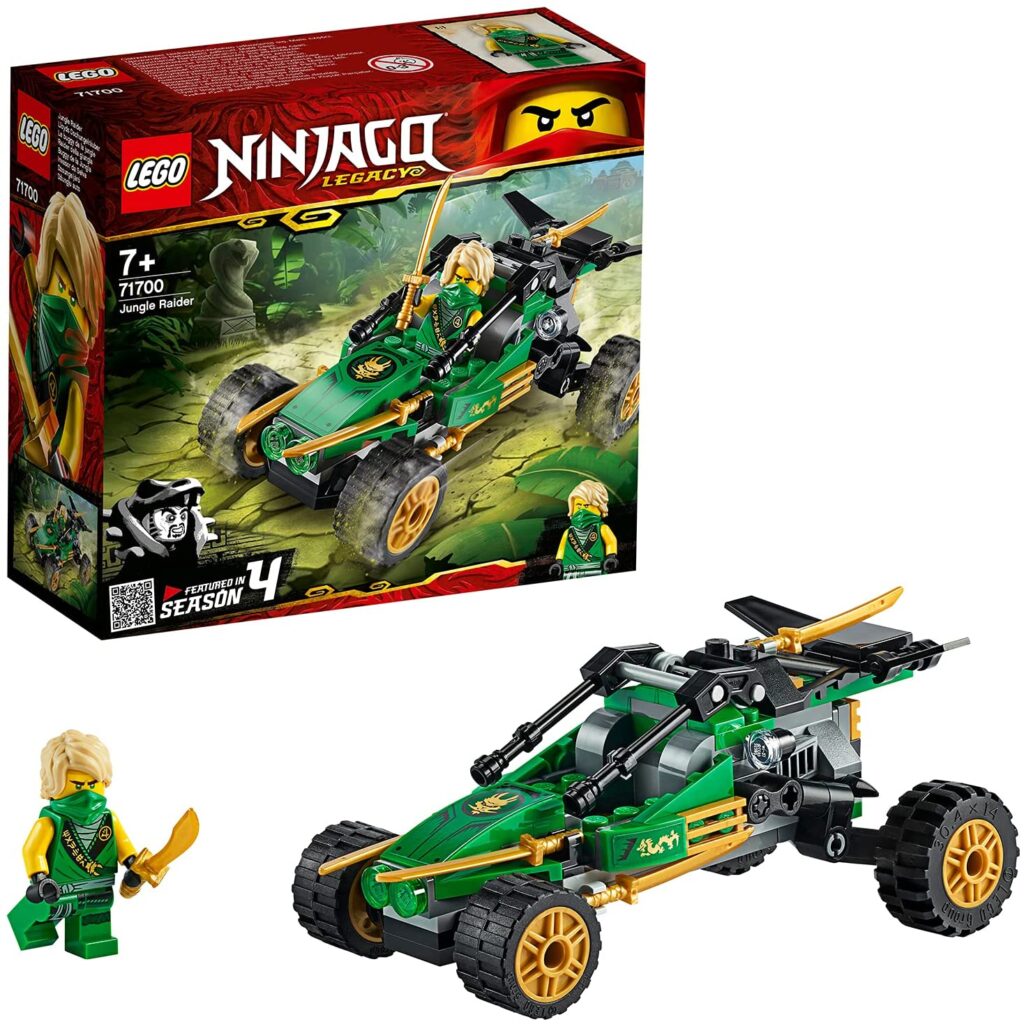 My six year old has this and it's one of his absolute favourites. He's obsessed with Ninjago Lego so it's an awesome Christmas gift or birthday present. And it comes with the all-important Lloyd minifigure. This Legacy Jungle Raider Car features a brilliant buggy with built-in suspension and large rubber tyres to help Lloyd tear across the jungle terrain, race or battle.
BAKUGAN BATTLE BRAWLERS STARTER SET
£21.99
Another obsession in our house is Bakugan. Have your kids discovered it yet? If not this Bakugan Battle Brawlers Starter Set is the perfect way to introduce them to the world of the transforming creatures called Bakugan. Everything you need is here including three Bakugan, BakuCores and character cards. So they can now collect, trade and battle.
WALKIE TALKIES
£21.98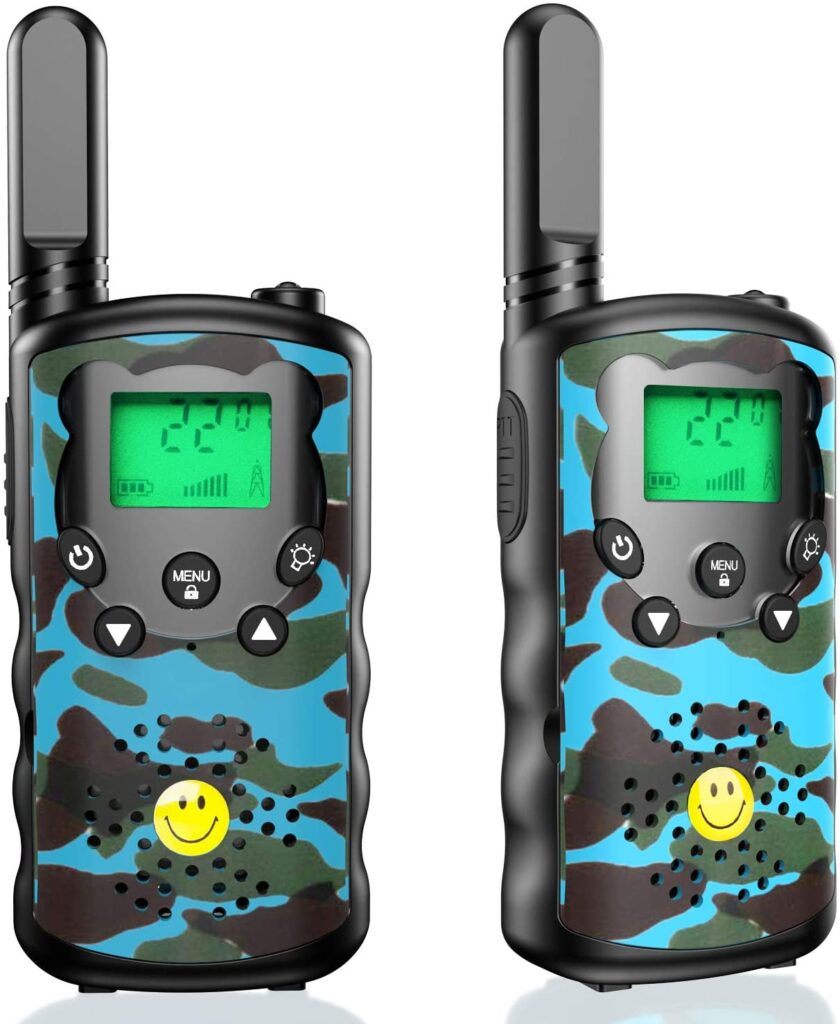 Open up a world of possibilities in your child's outdoor play with these easy-to-use Nehope Walkie Talkies for Kids. They can feel like true agents on a real mission with 8 channels and a 4 mile range.
So there you have it, some of the best presents for six year old boys currently on the market. Which ones would you choose?
If you want some other gift ideas, check out these posts: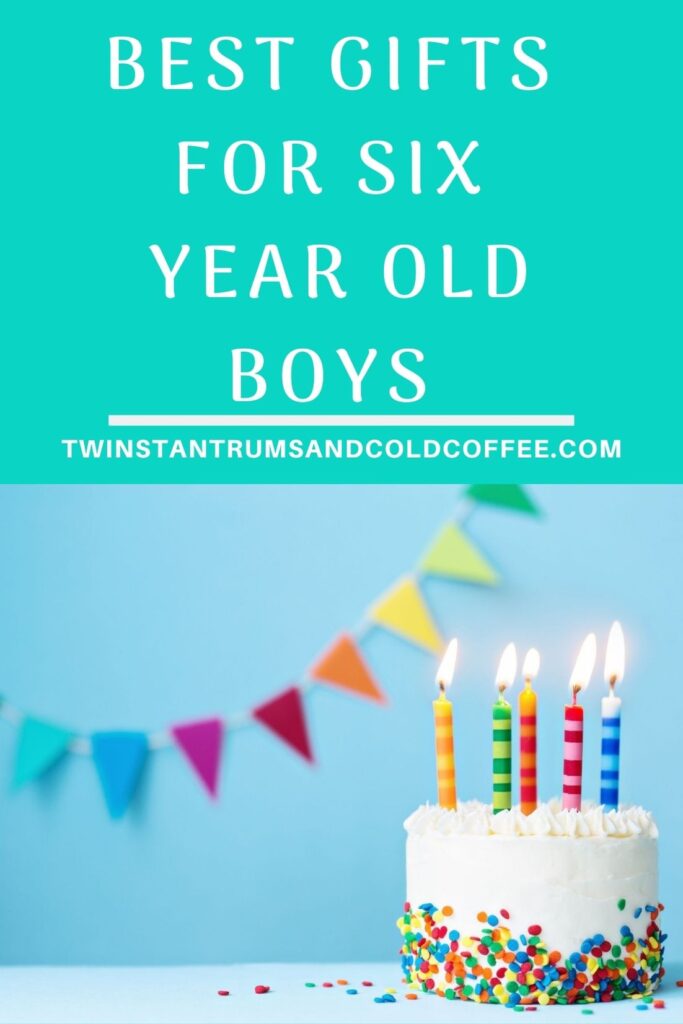 How did I do?
Did you enjoy this post? What a great list of best presents for six year old boys. So why not hang around and read a few more whilst you're here. If you want to get in the Christmas spirit I've got several posts you'll like:
If you fancy reading more of my usual kind of parenting stuff, head over to my Mum Life section. You'll find all things parenting with a tongue-in-cheek twist. And if you want some family holiday inspiration or days out, head to my Travel Section.
And if you like a bit of social media madness, pop over to my Facebook page where you'll be able to have a laugh at what ridiculousness goes on in my house with three very small boys on a daily basis. Warning – there is often sarcasm, and usually swearing. There are also great travel reviews and some AWESOME giveaways. Feel free to join my Twins, Tantrums and Cold Coffee – Shits and Giggles Parenting Group too, where everyone shares their hilarious stories.
You can also find me on Pinterest, Instagram and Twitter too.
And if you want to work with me, feel free to give me a shout here or at helen@twinstantrumsandcoldcoffee.com and I'll get back to you.