Having a child learn to read is one of the most rewarding and crucial parts of parenthood. Storytime is unquestionably one of the most important building blocks of any child's development, and learning to read early on will give them a headstart when it comes to tackling more difficult literature at school. And using personalised children's books can help massively.
This is a collaborative post.
In today's modern world of TVs, tablets and TikToks, persuading a little one to sit quietly and read a book is no mean feat – try doing it with three of them! But it is possible, and there are a couple of hacks that help massively.
For me, one of the best ways to get my kids excited about reading and help them learn to read is by creating a reading nook and using personalised story books, which include their name and photo, instantly making them the centre of attention. And what kid doesn't love that! Below are a few reasons why personalised books for children can be a Godsend.
Personalised children's books make them the centre of attention
As I just mentioned, personalised books feature a name of your choice on the cover, so as soon as they pick it up, your child knows that this is a unique, special book just for them. But my favourites are the ones that include that name throughout the book, making your child a genuine character in the story.
This is a fun and gratifying experience for any child, but can also be particularly beneficial for the more reserved, nervous child. Making them the star of the show, portraying them as a hero or heroine that saves the day, can help to boost self-esteem and enforce a positive self-image in their mind. As kids grow up, they consume countless stories about superheroes and positive role models. And letting them believe that they can be on par with their favourite characters, or even just help them out in some way as a supporting character, is a sure-fire method to fill them with a confidence they can transfer over to their real life too!
Personalised children's books do the hard work for you!
The oldest cliché of storytime begins with "Once upon a time, in a land far, far away, there lived a prince/princess called…" followed of course by your child's name and a few recognisable details about their life. But the real question is: what happens after that?! If you have a vivid, creative imagination you may well be able to weave a wonderful tale of mystery and heroism that has your child hanging on your every word. But the rest of us can only dream of this when we're trying (and failing) to rip off every fairytale we've ever heard without being sussed out!
This is the great thing about personalised books – they have the tried-and-tested individual appeal of a fairytale all about your child, but fortunately the story is already written for you!
It's not just about the stories, either – you can also get educational books to help with learning the alphabet, shapes and numbers, again featuring your child's name to create a more exclusive learning experience. They're such a good resource to help your child learn to read.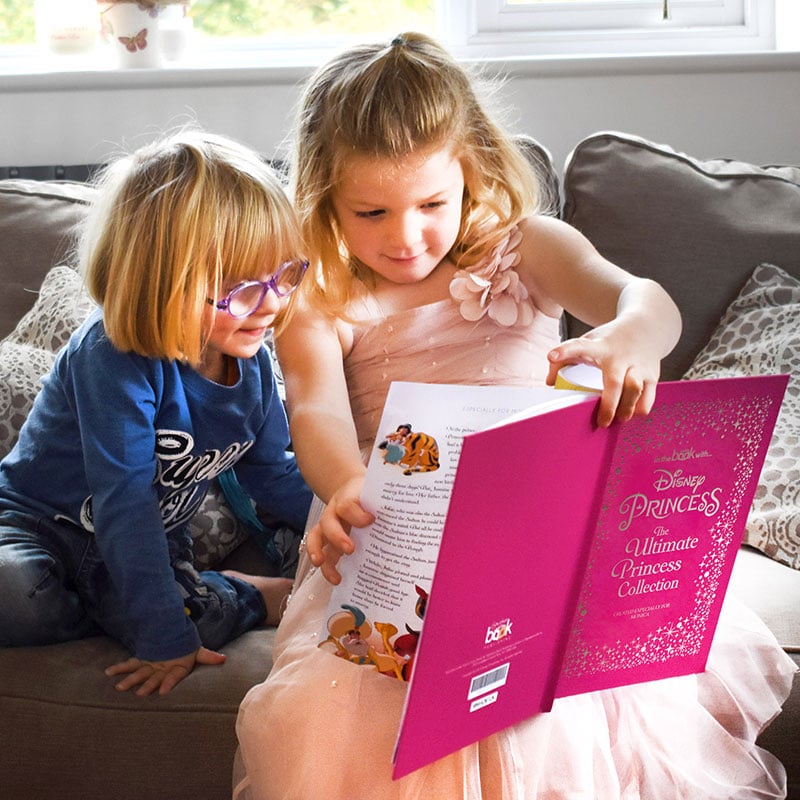 A fresh take on their favourite characters and stories
Probably the best thing about personalised children's books for my family is that it's not just fairy tales that are available. Tales of a princess living in a castle or a tower are usually perfect for young girls, but it didn't take me long to work out that for three little men, it's all about cowboys and spacemen and flying cars and one-eyed monsters!
Luckily, there is a wide range of books featuring their favourite characters – from Peter Rabbit and Thomas the Tank Engine to SpongeBob and Spider-Man. For my boys, though, nothing beats Disney. Obviously you can never go wrong with Toy Story and the Lion King, or old classics like Jungle Book and Pinocchio, but the books featuring the newer characters like Moana and Onward go down a treat too. And if you do have girls, you're fully covered with all the princesses – Belle, Ariel, Mulan, Tiana and the rest! You can even get Disney Princess collections featuring numerous princesses (and of course your little one) in one book.
One book we'll definitely be making the most of this month is the Disney Christmas Collection book, which features short Christmas stories about well-known characters like Winnie the Pooh and the guys from Monsters Inc, but also opens with a story all about your child!
All in all, personalised children's books are a great way to get even the most reluctant kids interested in reading, which is pivotal for their long-term development both academically and professionally.
How did I do?
Did you enjoy this post? Why not have a look at some others whilst you're here. If you want to read some more of my usual kind of stuff, head over to my Mum Life section. You'll find all things parenting with a tongue-in-cheek twist. Or you'll discover lots of UK holiday inspiration and family days out in my Travel Section.
If you like a bit of social media madness, pop over to my Facebook page where you'll be able to have a laugh at what ridiculousness goes on in my house with three very small boys on a daily basis. Warning – there is often sarcasm, and usually swearing. There are also great travel reviews and some AWESOME giveaways. Feel free to join my Twins, Tantrums and Cold Coffee – Shits and Giggles Parenting Group too, where everyone shares their hilarious stories.
If you like what you see, how about you check me out on Pinterest, Instagram and Twitter too.
And if you want to work with me, feel free to give me a shout here or at helen@twinstantrumsandcoldcoffee.com and I'll get back to you.