The festive season is well and truly upon us, and I've been busy coming up with some brilliant Christmas gifts from Boots for my family.
AD: This is a collaborative post with Boots UK.
I'm hoping so much that things will be different this year after Christmas 2020 was so hard. Though we were lucky enough to bubble up with my parents, we couldn't see my brother, sister-in-law, nephews or my husband's dad – and it felt so wrong!
After the past two years, it's even more important this Christmas to put a smile on loved ones faces, and that's exactly what I'm planning to do. And to see people in person to swap Christmas presents, rather than watching them be opened over FaceTime or Zoom will be wonderful.
This year I want to make a particular fuss of my mum. Regular readers of my blog and social media will already know how amazing she is. I would never have survived the early years of having newborn twins and a toddler without her. And she still helps me just as much these days too. But this year she deserves to be even more pampered. And not just because of the pandemic. My dad has undergone major heart surgery, and due to Covid his op was cancelled twice. One of those times, when he was on the hospital bed waiting to be taken to theatre. I'm pleased to say it was third time lucky and he is now recovering brilliantly, but it was a worrying time for everyone – particularly my mum.
But it never stopped her helping my sister in law and I out with childcare though. Her five grandsons mean the world to her, and nothing was keeping her away from them. And at the same time giving us mummies a break and childcare to be able to work. Lockdowns when we couldn't see her and Dad were the absolute worst for us all, so it's fabulous that we can all celebrate Christmas together as a big family again this year.
To make her feel extra special, I've teamed up with Boots to choose some wonderful presents from their Christmas Gifts for Her range to put in a Bag of Joy ready for Christmas Day.
Hopefully what I've chosen will inspire you with some gift ideas for that special someone in your life – whether that's a partner, sibling, parent or friend. I can't wait until she sees it all.
BRILLIANT CHRISTMAS GIFTS FROM BOOTS
JOULES COSY NIGHT IN FLUFFY SOCKS AND FOOT CREAM GIFT SET
Who doesn't love some fluffy socks to put on in the evening when you cosy up in front of the TV? I'm a sucker for a thick pair of socks, and usually end up wearing them to bed in the winter. This Joules Cosy Night In Fluffy Socks and Foot Cream gift set is awesome and such a treat for your feet. Give them a pamper with this beautifully smelling foot cream, then pop the socks over the top for wonderfully soft and moisturised skin the next morning. My mum will love them.
JOULES COSY NIGHT IN PYJAMA BOTTOMS AND BODY SOUFFLE GIFT SET
By the looks of this gift list, anyone would think I'm a fan of Joules! And I love buying their products as presents too. My mum will adore this Joules Cosy Night In Pyjama Bottoms and Body Souffle gift set. The floral pyjama bottoms and skin softening body souffle look amazing. It's a perfect combo for after a soak in the bath before you cosy up with a good book. You can buy this set in different sizes for the pyjamas.
BOOTS BELGIAN BISCUITS TIN
Diets go out the window at this time of year, right? So I'm going to indulge my mum (and Dad) with this tasty-looking Boots Belgian Biscuit Tin gift. I mean, who doesn't love crunchy biscuits with Belgian chocolate? There's a mixture of milk, dark and white chocolate Belgian biscuits, wafers and cookies. Definitely need to make sure the boys don't get near these if there's going to be any left for Granny and Grandad! And I love the tin they come in too. Great for putting your own biscuits in once you've polished this lot off. It's one of many Christmas gifts from Boots that keeps on giving!
NO 7 SKINCARE DELIGHTS – THE SKINCARE DISCOVERY COLLECTION
My mum loves the No 7 range, as do I, so one of their gift sets is a must for her Bag of Joy. This No 7 Skincare Delights – The Skincare Discovery Collection has the complete regime for radiant, fresher, younger looking skin. She'll be able to indulge herself with her favourites whilst also discovering something new. This set has everything you need for the perfect routine, day and night. It even tells you the steps you need and which products to use:
1 – No7 Radiance+ Daily Energising Exfoliating Cleanser
2 – No7 Radiance+ Vitamin Glow Toner
3 – No7 Protect & Perfect Intense advanced Serum
4 – No7 Laboratories Line Correcting Booster Serum
5 (morning) – No7 Protect & Perfect Intense Advanced Day Cream
5 (evening) – No7 Protect & Perfect Intense Advanced Night Cream
SANCTUARY SPA MINI SPA SELECTION GIFT SET
If you're in need of even more pampering, then this Sanctuary Spa Mini Spa Selection Gift Set is the one for you or your loved one. Envelope yourself with a treasure trove of must-have miniatures from Sanctuary Spa. It's perfect for a tranquil relaxing experience with a beautiful, reusable box. It includes miniatures of salt scrub, body wash, body lotion, foaming bath soak, hand cream and a body puff. And is definitely one of my favourite Christmas gifts from Boots this year.
DOVE TRULY PAMPERED COMPLETE COLLECTION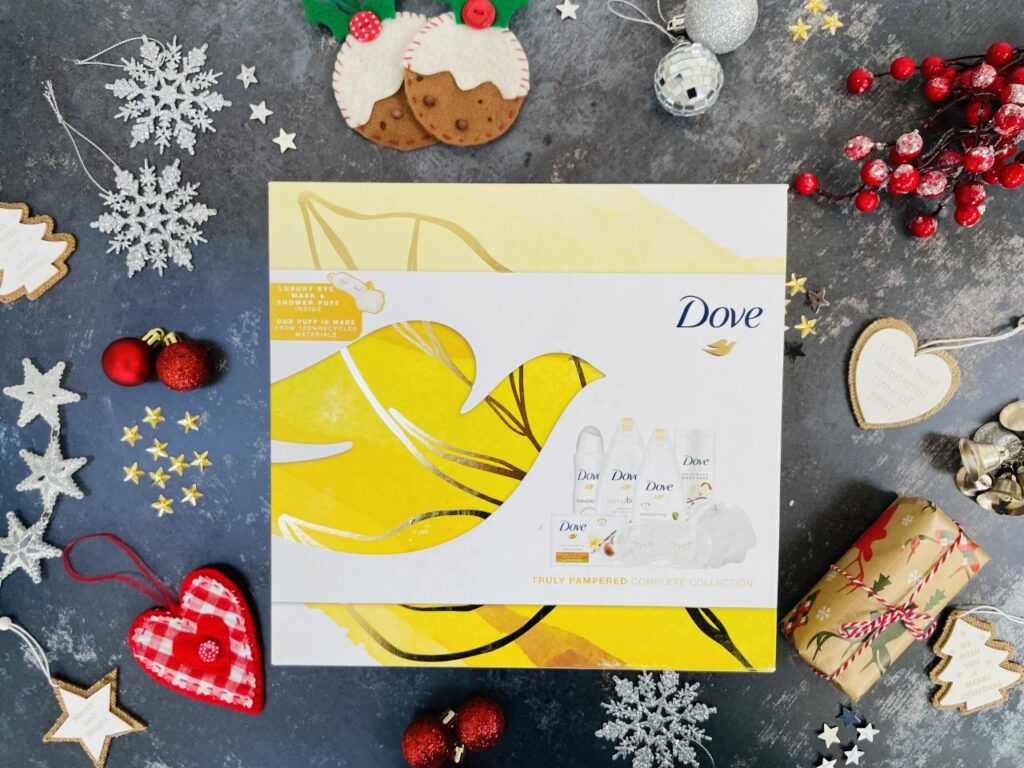 My mum loves a soak in the bath, so now she can properly pamper herself with this fab Dove Truly Pampered Complete Collection gift set. It combines 5 full-size Dove products and two luxurious extras; a shower puff and a fluffy eye mask to take relaxation to the next level. There is a Dove Caring Bath Soak, Dove Pampering Body Wash, Beauty Cream Bar, Dove Nourishing Body Care Pampering Body Lotion, and Dove Invisible Dry Anti-perspirant aerosol deodorant.
ELEANOR BOWMER WASH BAG
With all these fab beauty and pampering products, you'll definitely need somewhere to keep them. Especially if you're going on your travels. All your favourite toiletries and bathroom bits and bobs can be stored in this gorgeous Eleanor Bowmer Designs wash bag. Based in the Northwest of England, Eleanor Bowmer is a bold, bright illustration and textile design studio founded on a passion for all things print. And I love this funky, stripy design. Never mind Mum, I might have to put it on my own Christmas list!
HOT CHOCOLATE MUG GIFT SET
What with super cosy pyjamas and fluffy socks, my list is crying out for this Hot Chocolate Mug Gift Set. You'll get all the Christmas feels sipping luxurious hot chocolate out of this festive mug. And it comes with mini marshmallows too, so it doesn't get better than that! It would also make an amazing Secret Santa gift too.
TED BAKER NAIL POLISH DUO
My Mum loves painting her nails. In fact I've probably seen her with bare nails only about a handful of times in my life! So I know she will absolutely love the glossy Ted Baker Nail Polish Duo. The red and burgundy colours are absolutely perfect for the Christmas season too, aren't they?
SO…? ICONIC MINI GALORE SET
If you're like me, you don't always want to waste your nice perfume. Especially if the only place you're going to that day is the school run! But it's nice to have another fragrance to use instead, and this So…? Iconic Mini Galore Set is perfect for those days. It contains four mini body sprays of different So? fragrances that will not only bring back memories of when you used to cover yourself in this back in the day, but they are perfect for day or evening wear. They're also a great size for popping in your handbag.
SELECTED BOOTS FACE MASKS
Whether you want to add moisture to your face, improve the appearance of fine lines under your eyes, try out a hand mask, or pamper your feet, Boots has a mask for it. They're currently on a 5 for £10 offer which is flipping brilliant. My favourites include:
Collagen Hydrogel Eye Patches
Moisturising Face Mask with Coconut Oil and Aloe Vera
Moisturising Foot Socks with Tea Tree and Peppermint,
Moisturising Hand Mask with Coconut Oil and Vitamin E
Hydrating Mask with Vitamin E and Aloe Vera
What do you think of my choices? I know my Mum will be over the moon with all of these presents. And if by any chance she isn't, I just happen to know someone who would HAPPILY take them off her hands! Now I just need to do the rest of the shopping and I'm sorted. I've been checking out the Boots Christmas Gifts For Him range too, and I reckon I'll be able to choose for my husband, Dad and brother just as quickly and easily, and find them some fabulous presents.
With all these amazing Christmas gifts from Boots, and the chance to actually be together in person again, this year is surely set to be a good one. Merry Christmas!
How did I do?
Did you enjoy this post? Why not look at a couple of my other Christmas post Christmas Traditions to Start With Your Family, and Top Must-See Christmas Movies for Kids, 20 ideas for Christmas Eve Boxes, or Simple Christmas Crafts for Kids. Or check out some of my more usual parenting rants in my Mum Life section or Travel section for days out and family holiday inspiration.
If you like a bit of social media madness, pop over to my Facebook page where you'll be able to have a laugh at what ridiculousness goes on in my house with three very small boys on a daily basis. Warning – there is often sarcasm, and usually swearing. There are also great travel reviews and some AWESOME giveaways. Feel free to join my Twins, Tantrums and Cold Coffee – Shits and Giggles Parenting Group too, where everyone shares their hilarious stories.
If you like what you see, how about you check me out on Pinterest, Instagram and Twitter too.
And if you want to work with me, feel free to give me a shout here or at helen@twinstantrumsandcoldcoffee.com and I'll get back to you.