If you have to have a kids' birthday party at home due to lockdown, it might feel like you're pretty limited on what you can do.
There are no all singing and dancing parties for 30 kids in the class. No manic soft play get togethers. No taking 10 kids to the cinema or bowling.
And no inviting a load of friends to the local trampoline centre which is what my eldest wanted to do.
June is birthday month for my three boys
All three of my boys have their birthday this month. In fact their birthdays are within three days of each other – after I gave birth to twins two days before my eldest's second birthday.
Great for having joint birthdays. Not great for having to spend out on all three of their presents in one go!
Back in March when we all went into quarantine and naively intended to be bloody supermums, I was hopeful things would have changed and we wouldn't need to do a birthday party at home.
And even though restrictions are easing, the joint trampoline part for 25 kids that was kind of in the planning, seems a long way off. Thank goodness we'd not booked it.
Mind you, I'm very glad I don't have to do the 30+ kids in a sports hall kind of thing I did last year. Which quite frankly stressed me right out! You can read about it here – The ridiculous things mums stress over when organising a kids' birthday party.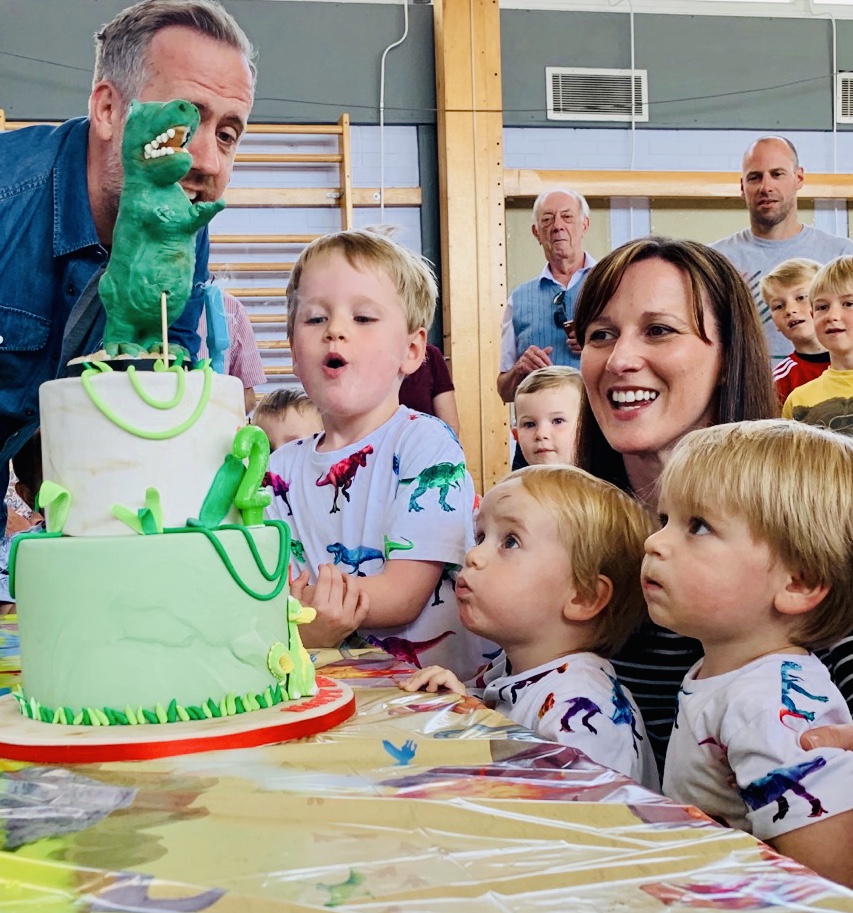 No choice but to have a birthday party at home
So a birthday party at home it is, then! But how do we make it special for them?
We're lucky enough to have a reasonably big garden so we've hired a bouncy castle for the day. I've stocked up on balloons and banners, themed paper plates, and I've got a cake organised along with party food.
I'm also thinking I'll do little party bags for each of them, and even give them an invitation (albeit to their own party) the night before.
But I feel like if you're going to have a birthday party at home due to lockdown, it needs something else?
Tips on how to throw a kids birthday party at home:
Here are some great ideas from my fellow bloggers:
Have a zoom party with friends and/or family. Get everyone to have a cake with candles, balloons and party blowers when the birthday boy turns on his screen. Anna from Twins and Travels.
Give them the power to choose something they want to do and something they want to eat. My eight year old thought it was thrilling to decide that we would all eat stuffed crust pizza and Vienetta for her birthday tea and her four year old brother is already making plans for what he will put on the menu on his birthday. Jodie from Maindenhead Mum.
I created a party poster which had all the party games and activities we had planned on. My four year old could tick them off as went down the list. It also gave them a distraction if we got to a stale moment. It really worked to focus everyone and helped with the four year age gap between my two boys. I tried to keep activities manageable and interchangeable to give us as much flexibility as possible. There were some traditional party games mixed with some down time as well as a lot of fun. Clare from Mudpie Fridays.
Birthday parties at home can be just as enjoyable
Offer a special breakfast of pancakes with a big choice of toppings and fruit at the table with birthday decorations and balloons. Raimonda from Cosmo Mum.
Our eldest loves Tweedy clown who is a huge hit locally through Giffords Circus and annual pantomimes. He recorded her a really special birthday message! That and we playeld virtual pass the parcel over Zoom where our friends all had identical parcels and we made it look like they went through a 'magic portal' to the other houses. She loved it! Danni from Monkey and Pal.
Birthday cake for breakfast, fill the lounge with balloons overnight and hang bunting. Put a disco light bulb into the main light in the room (around a five in B&M) and have a teddy bears' picnic with jelly and ice cream, build your own bears and decorage cupcakes. We used www.splodgeted.co.uk for our three year old this year and she loved them. Sarah from the The Penniless Parent.
We have a group WhatsApp for our street and each time it is a child's birthday, the parent posts in the group to let people know a few days beforehand. Then lots of the households put pictures and sometimes even decorations in their windows. Others draw chalk messages for the child outside their houses. Then take the birthday boy or girl for a walk up and down the road. People love getting involved and the child loves it too. Clare from My Tunbridge Wells.
Awesome ideas your kids will love
We did a crepe paper obstacle course for our children. It was probably the biggest hit and the thing that made it feel the most special and different. All you need is crepe paper and blutac. You cut strips of the crepe paper and then stretch it across the hallway so that they have to work their way through to get to their birthday presents. It was so much fun and our five year olds loved it. Kirsty from Navigating Baby.
We're planning a movie night. She's turning seven and will get to pick any movie, will get the movie style popcorn boxes and slushies, and it will be a family movie night just like at the cinema. Carly from Mom of Two Little Girls.
A special shout out/message or song from their favourite character. A happy birthday message from Spiderman or a sing-a-long to Let It Go with Elsa! Chantelle from The English Family.
And if you want to hold an adult party at home (once we're allowed!) then check out some hosting tips here. You can also check out other day-to-day needed DIY Tips on Three Two Home.
Have you had a birthday party at home since lockdown? What did you do?
Feature photo by Lidya Nada on Unsplash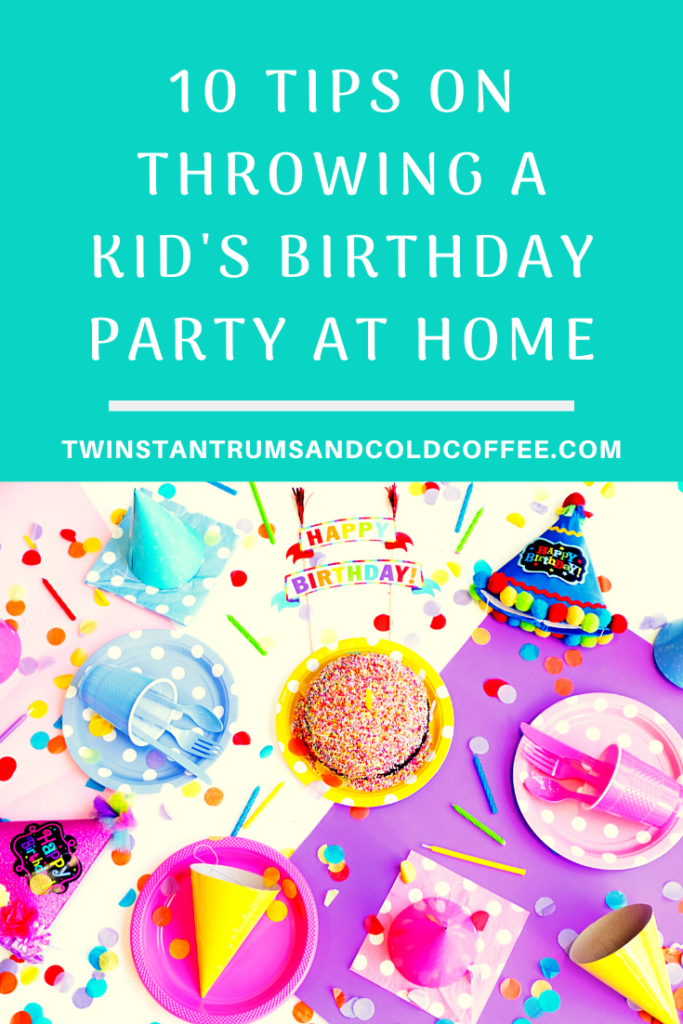 How did I do?
If you enjoyed this post, why not hang around and read some others. Read all about how last year's joint party went, or the best and worst things about being a mum in lockdown. And if you fancy some other mum rants about all sorts of stuff from mum guilt, to potty training, to the REAL baby milestones, have a look at my Mum Life section.
If you like a bit of social media madness, pop over to my Facebook page where you'll be able to have a laugh at what ridiculousness goes on in my house with three very small boys on a daily basis. Warning – there is often sarcasm, and usually swearing. There are also great travel reviews and some AWESOME giveaways. Feel free to join my Twins, Tantrums and Cold Coffee – Shits and Giggles Parenting Group too, where everyone shares their hilarious stories.
And if you want to work with me, feel free to give me a shout here or at helen@twinstantrumsandcoldcoffee.com and I'll get back to you.