Legoland Windsor is one of the most popular days out for families in the UK, but how do you make sure you get the best out of your day there? Here are some top tips and answers to any questions you may potentially have.
We went to Legoland Windsor a couple of weeks ago for our boys' birthdays instead of the dreaded parties. They're 8, 6 and 6 – Lego fanatics (along with their Dad) and perfect ages for the place.
Legoland Windsor Resort is made up of 12 themed 'lands' with rides, attractions and shows. It brings Lego and Duplo to life and is certainly fabulous fun.
Living 3.5 hours away, we made a three-day weekend of it with my parents. Visiting Windsor Castle on the Saturday, then doing Legoland Windsor on the Sunday and Monday. We also spent one night at the Legoland Resort Hotel.
To sum it up, we had a GREAT time, but it was expensive, intense and exhausting. So steel yourselves, people!
Who is Legoland Windsor suitable for?
I would say children aged 4 to 10 or 11 would get the most out of a day here. There are rides that pre-schoolers could go on, and they'd no doubt love Duplo Valley where the rides for younger kids are. But be aware this place is basically one big queue-fest. Think about how your kids are going to deal with being stuck in ride queues for more than an hour for certain ones.
What are the height restrictions?
For nearly all rides you need to be 0.9m tall, but the majority of rides we went on, kids under 1.2m or 1.3m tall (depending on the ride) needed to be accompanied by an adult.
There are several attractions that have no height restriction such as Miniland, the Magical Forest, Lego Game Zone and The Brick but these are places to build or look at Lego and aren't rides. Also make sure you know exactly what your child's height is, especially if you have younger children, and research ride restrictions as the staff are ON it checking everyone. The last thing you want is to have queued then be turned away when you get to the front.
Do we need to do anything before we go?
Yes! You need to do your research and make a plan. Download the Legoland app, think about what rides you want to go on and see where they are on the park map. This place is big, so factor in the time you'll spend moving around it and make sure you've had a look at the Legoland map to familiarise yourselves with the geography of rides, shows, Lego-building spots, shops and food outlets. Also considering buying fast passes if you don't want to face ridiculous queue time – but more of that later.
How long do we need at Legoland Windsor?
Legoland Windsor is a full (and full-on) day out. You will absolutely not be able to do everything in one day, so prioritise what you want to go on. We went for 2 days, and had the top level Reserve and Ride passes on the first day and STILL didn't go on absolutely everything. So manage your expectations before you go. The park opens at 9.30am and the rides open at 10am so get there as early as you can.
When is the best time to go to Legoland Windsor?
I literally don't know! Obviously peak season of the summer months and school holidays are going to be busier than term time, and weekends busier than weekdays. BUT having said that, we did a Sunday and Monday thinking the Monday would be loads quieter and it didn't work out like that. We were astonished at how busy it still was on the Monday. I would say it was only about 20% quieter than the Sunday. There were A LOT of people there. People clearly tag a Friday and Monday onto weekends, so maybe if you could, head there mid-week for less busy days. You really need to just accept that this place is heaving at all times and that you're going to have to queue. If you don't like people or queuing, then Legoland Windsor is absolutely not for you!
Which rides should we head to first?
It will obviously depend on which rides take your fancy, but when talking about the most popular rides it seems the majority are keen to try out Legoland's newest ride, Flight of the Sky Lion. It's the UK's first flying theatre ride which is a huge flight simulator brought to life with sounds, sights, and smells. It's pretty mind-blowing (although possibly a bit much for younger ones), so is therefore the most popular. And that means the longest queues.
It's located in Lego Mythica which is right at the back of the park, the furthest point away from the main park entrance (unless you're staying at either of the Legoland Hotels in which case you're in prime position for it). So if you're desperate to go on it, I would recommend heading there first at the start of the day. Basically just run! You'll still probably end up queuing for 40 minutes minimum unless you've made it there first from the hotel. We were lucky and managed to get on the first ride of the day each day. First day because of the Reserve and Ride, the second day because I shamelessly pegged it across from the hotel entrance and beat everyone else coming in from the park's main gates. To me it was absolutely one of the best rides.
Most people seem to queue for the rides as they come across them, meaning the ones at the top of the park near the entrance will be busier earlier on. I'd recommend bypassing all of these and heading further down in the hope they'll be a bit quieter. There's a hill train that you can catch from the top down through the park to save tired legs. Especially later on in the day when you're ready to leave.
Some rides are hectic all day, but others seem to quieten down around lunch time and again about an hour before the park closes at 6pm. For example the wait for the jet boat water ride Hydra's Challenge in Lego Mythica was crazy all day and for some reason you can't use your fast pass. So we waited until just before we headed back to the hotel on our first day and waited about 25 minutes at the end of the day.
Is there anything new at Legoland Windsor for 2023?
The new attraction for 2023 is the Lego Ferrari Build and Race Experience which the boys (plus car nuts Daddy and Grandad!) loved. It features three interactive zones where you can create your own Ferrari race car and fine-tune it while you test drive it through three extreme test tracks. Then you can digitally build and race on a virtual track too.
Examples of queue times for rides at Legoland Windsor
It will depend on when you go, but here's an idea of queue times you can expect at peak times.
Long queues over 60 minutes:
Flight of the Sky Lion
Hydra's Challenge
Lego Ninjago The Ride
The Dragon
Lego City Deep Sea Adventure
Pirate Falls Treasure Quest
Fire Academy
Queues between 30-60 minutes:
Duplo Dino Coaster
Lego City Driving School
Haunted House Monster Party
Mia's Riding School
Jolly Rocker
Coastguard HQ
Laser Raiders
Balloon School
Destiny's Bounty
Fire and Ice Freefall
Shorter queues under 30 minutes:
Duplo Express
Duplo Airport
Fairy Tale Brook
L Drivers
Desert Chase
Thunder Blazer
Aero Nomad
Spinning Spider
Scarab Bouncers
Merlin's Challenge
Are any of the Legoland Windsor rides scary?
On the whole I would say no, but you know your own children and what will freak them out. Legoland has no, what I'd describe as 'big' rides or giant rollercoasters that flip you upside down and make you fear for your life (or sanity). The fastest is probably the Dragon Rollercoaster which rattles you around a bit, and Mia's Riding School spins you around at speed, but it's more likely to make you want to throw up than scare you. If you have adrenaline-junkies who are after their next thrill-seeking fix, then Legoland is not the place for it. Most of the rides are pretty tame, and ideal for the age they're aimed at. This place is definitely not Alton Towers in terms of its rides but it's a good place for young children to try out some major rides.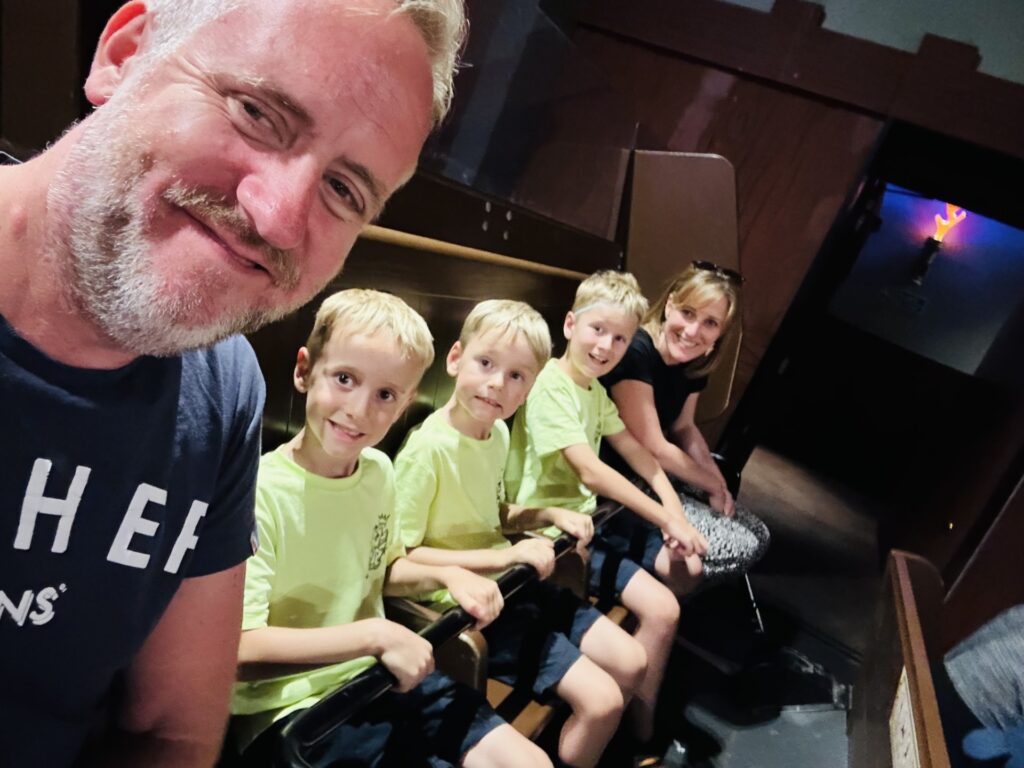 How do I manage if there are more children than adults?
I was worried about this, assuming that most rides you'd have to go on in pairs, and we have 3 kids. But it actually wasn't a problem at all. A lot of the rides you sit in rows of four or more, so we'd split into a two and a three. On the very few rides that you did have to sit in twos, my husband and I had to sit with a twin each because of their height, and my eldest was tall enough to sit on his own. Legoland Windsor also do a parent swap scheme where you can queue up with all your children, go on with one of them, whilst the other(s) waits with a member of staff, then go straight back to the front of the queue and swap the children over and go on again with the other kid(s).
Will I get wet on anything?
In a word – YES! The Pirate Falls Treasure Quest (one of the water rides that's basically a log flume) got us drenched. Not only do you get wet on the actual final drop but you have water squirted at you from all angles all the way around the route too. It was fun, but be prepared. There are driers next to the ride entrance but these are at an extra cost.
Drench Towers and Splash Safari, which you need to pre-book a slot for, are giant fountain splash park areas that require swimming costumes so don't forget to bring swimwear or a change of clothes. We didn't bother with these, and we saved the Pirate Falls Treasure Quest until the end of our first day when we were staying at the hotel so that we could head back there for a quick change once we were wet. But the splash park is a great place to cool down on a hot day.
Is there much to do other than rides at Legoland Windsor?
Yes, loads! Miniland is arguably the best attraction to head for when you want a break from the rides. It's a huge area of amazing model scenes from Europe, the USA and around the world and contains nearly 40 million Lego bricks. It's just SUPERB. We all know kids tend to rush around things like this, but mine were mesmerised with it, pointing out famous London landmarks such as Canary Wharf, the London Eye, and Buckingham Palace. They also loved the American scene with the Statue of Liberty, Empire State Building and Times Square. I personally could have spent hours here, looking at the tiny detail on everything. It's insanely clever and super impressive. If your kids want to rush on send and adult with them down to The Brick at the bottom of Miniland where they can build Lego to their heart's content, whilst you finish swooning over the models. Honestly, I loved it!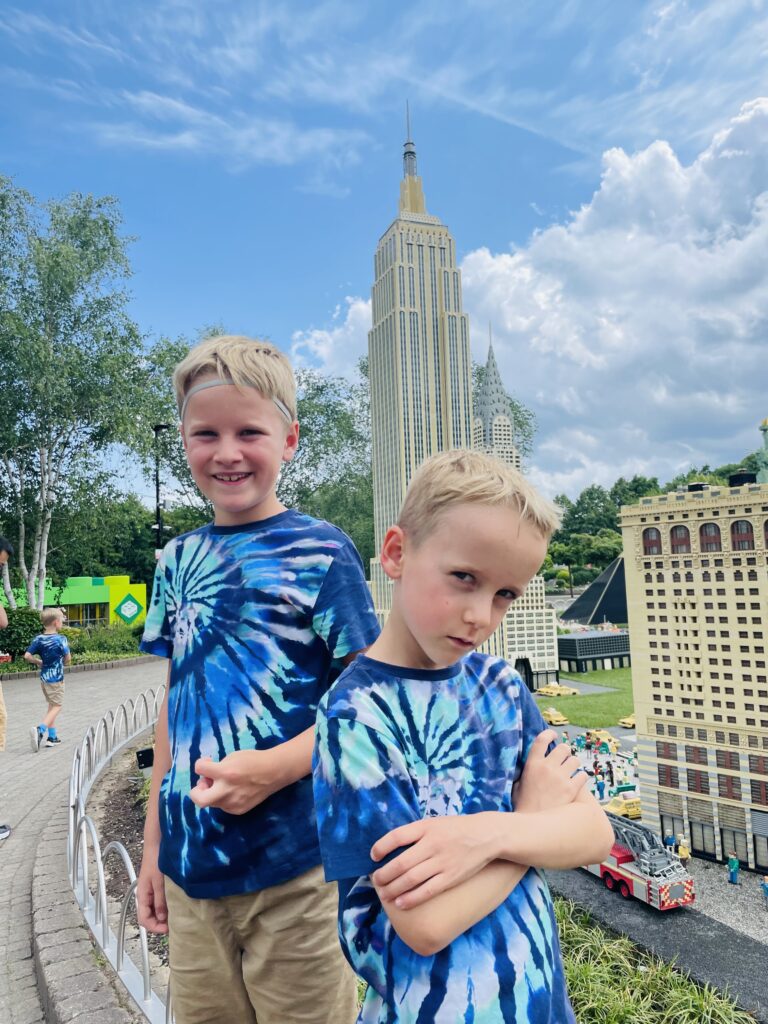 You can also watch several shows throughout the day. Pirates of Skeleton Bay is a live-action swashbuckling adventure around the lake and harbour area in Heartlake City, which sees actors tell the story of fearless Captain Georgie and her band of pirates fight against the evil Pirate Captain to win back the gem of Barracuda Bay. Is it worth it? Nah, not really. The actors are good, and there are some impressive acrobatics off the giant lighthouse, but in hindsight I wished we'd not bothered. We used it as a 'snack' break and a chance to find a bit of shade for the whole family out of the sun, but by the time we got there a bit early and watched it, we ended up losing an hour. An hour that would have been better spent getting on another ride. But we thought it was a good idea at the time.
Something that IS worth it though is any of the 4D cinema experiences in Bricktopia. We happened to be there at the right time and walked straight into see Lego City Officer in Pursuit and it was FANTASTIC. Hands down the best 3D/4D show we'd ever seen. But be aware if you sit in certain seats you'll get pretty wet.
If your kids are up for meeting their favourite Lego characters, there are lots of opportunities around the park at certain times of the day. We weren't bothered, but happened to meet Lego Dracula on our way out of the Haunted House. If you want to meet certain ones, check on the app for times and locations of the character meets.
Legoland Windsor is also opening the world's first Lego themed indoor golf experience. Legoland Adventure Golf has 4 different Lego themed courses to master – although you have to pay extra to play.
How much are Legoland tickets?
Make sure to book your park tickets online at the Legoland website at least the day before to save a huge amount. Day tickets to the theme park start from £34 for a midweek day, up to £43 at weekends. If you buy them on the day, we're talking about a ticket price of £66 per person. If you go for two days there is a package deal available for cheaper second day tickets. There are no adult and child price differences (cheeky), but children under 90cm go free. And rightly so seeing as they can't really go on anything!
You can buy Reserve and Ride tickets to reduce queue times (see below), an annual pass if you're local, and also VIP entry – with bundles starting from £249, £279 and £399 per person.
Should I buy a Reserve and Ride fast pass ticket?
This is the question everyone is asking me. Legoland Windsor has a Reserve and Ride system where you can pay extra and it queues for you. There are several different levels, each at different prices, and using the app on the mobile phone, it enables you to virtually queue for a ride rather than physically standing there, freeing you up to visit other attractions whilst you wait. You cannot wait for more than one ride at a time though so can't be queuing for one ride whilst on another one. Also check which rides are included in the level you are buying. You use the app to join a queue then arrive back at the set time.
The higher the level (the more money you fork out), the less time you wait between making your reservation and being able to ride. And remember these prices are per person ON TOP of the ticket you've already paid for and vary in prices depending on the time of year and day of the week you go.
Different types of Reserve and Ride tickets.
Reserve and Ride Regular – from £25 to £30 per person
This level offers the same wait as the physical queue. So you're not actually queuing for any less time, but you don't have to physically stand in line. You can go off around the park whilst you wait.
Rides in Lego Mythica are not included.
Reserve and Ride Express – from £35 to £90 per person
This level is the same as the Regular, but reduces your virtual wait by 50%. So you can join the queue virtually and go off around the park, and only wait for half the normal queue time. Again rides in Lego Mythica are not included.
One Shot Bundle – from £35 per person
You can only buy the One Shot Bundle after 1pm on the day you're there, rather than in advance online. It basically gives you access to 5 rides without the wait, so choose carefully! It includes The Dragon, Lego Ninjago The Ride, Laser Raiders, Lego City Deep Sea Adventure and Coastguard HQ.
Reserve and Ride Ultimate – £70 to £110 per person
This is the top level you can get and offers the fastest ride access with minimal waiting time. You book your ride on the app and join the shortest (if any) queue. This level includes Flight of the Sky Lion, Fire and Ice Freefall, Coastguard HQ and Destiny's Bounty.
So the question is should you go for a Reserve and Ride ticket? It's all down to how much you can afford, but I would say if you can afford it, do it. We bought the Reserve and Ride Ultimate passes for our first day and as much as they are eye-wateringly expensive, we are so glad we did. We managed to get on 17 rides during that one day, waiting a maximum of about 15 minutes on a few and literally nothing on the majority of others. The only ones we waited a bit longer for were the Lego Ninjago Ride and Laser Raiders where the fast pass queues seemed to weirdly just merge with the regular queue. So we bypassed the first half but then queued with everyone else. The rest of the time we sailed onto everything. A couple of rides were so quick we even had to stand and wait for the 90 seconds it takes from booking the ride on the app, to the member of staff being able to scan your pass. They were stupidly expensive, but we don't regret it. Especially when the next day (when we didn't have the pass) we waited (only!) 45 minutes for a ride in the sunshine with all three boys fighting constantly and wanted to punch ourselves in the face!
I had a friend who went just yesterday and didn't buy a pass and only got on a few rides. She was so fed up with the whole place and the queue times that they gave up at 3.30pm and left. Whereas we were squeezing every last bit of fun out of it right up until 6pm on the dot and had a great day on both visits. Just don't calculate how much per ride the passes end up working out to, as that's where you'll die a little bit inside for spending that much money. BUT having said that we went to Legoland to get on as many rides as we could, not to stand in queues all day with fighting children, and that's what we achieved. Just in a very expensive way. Good job it was a special birthday trip! Would I do the same again? Yes – once I've spent a few more years saving!
Eating at Legoland Windsor – what's it like?
There are lots of restaurants, cafes and snack bars at Legoland so you won't go hungry. You will go home poor though! They are extremely expensive and actually not that great. For example, we refused to pay £18 per person for all you can eat pasta and pizza, but the cheapest thing we could find was a £6 hot dog instead, which weren't even nice!
If you're able to, you MUST bring your own food and plenty of snacks. It's tricky when you're not going straight from home and are in a hotel both previous nights, but if you can, it's 100% worth it. You'll also avoid even more endless queuing. Don't get me started on how long the member of staff took making ice creams at a Ben and Jerry's kiosk. I think I could have pretty much milked the cow and made the ice cream quicker myself! For our second day my parents stopped at a shop and bought packets of sandwiches on their way in, to prevent another rip off hot dog situation.
What should I take with me?
Snacks, food, drinks, more snacks, and maybe a few more snacks. If you're going to spend a lot of time queuing then the best way to keep kids entertained is with snacks, right? If it's likely to rain then wet weather gear might be an idea. We carted our coats around all day for it to only start raining at 4pm, but actually we were pretty glad of them then – especially on the log flume! And there's no 'if it rains we'll refund your ticket' type scheme at Legoland. You just have to get wet and get on with it. Likewise take sun cream on a sunny day, but you know all this! If you're also able to take a full packed lunch and water bottle then definitely do it. Might as well save money where you can.
Can I rent a pushchair at Legoland Windsor?
If your kids are too old for a pushchair but you think they might need a bit of extra help on the day then you can rent one. They're £10 for a single and £15 for a double. They can't be pre-booked and are available on a first come first served basis from the Lego Store at the main entrance. Wheelchairs are also available to hire.
What are the Lego shops like?
There are shops selling Lego throughout the theme park, including at the hotels as well as the main shop at the entrance – the biggest Lego Store in the UK. My boys (husband included) are Lego MAD, so we'd said we'd save one of their birthday presents to buy at a Legoland gift shop. Top tip – they all had a budget and every time they misbehaved in a queue, they lost money. So choosing what they wanted in the main Lego shop was a big deal. HUGE! I've seen people complain online about how expensive the shop is and I'm only assuming they've never bought Lego in their life. Fact, Lego is expensive. Another fact, it's no more expensive at Legoland than it is elsewhere. And there were also some good offers on, and Lego sets that are only available at Legoland and nowhere else. Some complaints say there's not much for under a tenner. (I found keyrings for much less), but what do you expect? You're at Legoland – everything is expensive! If you don't want to buy it, don't go to the shops. And luckily you don't have to go through the shop to get out, like most places annoyingly force you to do.
Are the Legoland Hotels worth staying in?
There are two hotels at Legoland Windsor – The Legoland Castle Hotel and the Legoland Resort Hotel. We stayed in the Ninjago room at the Resort hotel as part of the boys' birthday present. And I have to say it was good fun. The room was Ninjago-themed decorated with a double bed for us, complete with Ninja swords above our head, and a separate sleeping area with a bunk bed and single bed for the boys. There was a mini treasure hunt to complete to open the safe to find three goodie bags for the boys. These contained a Lego set, a Lego beach towel, Lego magazine and a lanyard. There was a TV in both sleeping areas, loose Lego bricks to play with and huge Lego models as well as free wifi.
If you stay at the hotel you have access to the pirate-themed indoor water play area and swimming pool, which you have to book. We didn't bother with this, having just swum every day in Majorca the week before and wanting to spend our time in the theme park or making the most of the Lego. Which the boys were able to do in the hotel's Lego Playroom – just wow. The models on display were fabulous and the amount of bricks available to make their own creations was ridiculous. We couldn't get them out of there until they closed the doors at 9pm, they were having great fun.
We had both dinner and breakfast (breakfast included with your stay) at the hotel's Bricks Restaurant. The food was good, not outstanding, and the place is busy. Make sure if you go you book your restaurant reservations at the time of booking the hotel. We thought we'd do it nearer the time and were limited in choice. I'd also recommend arriving early for your reservation. The queue at 8am for breakfast was out the door. Luckily we had an earlier table and were already in.
Benefits of staying at one of the hotels is that your day tickets are included in your room price. Certain rides are open to hotel guests from 9.30am, and you get free parking (otherwise you have to pay). You park at the hotel on the morning of your stay and enter the theme park through the hotel entrance. You then receive a text when your room is ready. One advantage is also being so close to Lego Mythica and the popular rides when it opens at 10am. You're literally less than a minute walk away. Guaranteed to beat all the other visitors coming through the main entrance.
Would I bother with the hotel again? I don't think so. It was fantastic to do as a birthday treat, but was very expensive and not great value for one night. The room was brilliant with the Ninjago theme and the boys loved the Playroom but if you wanted to save money, head to any of the various other hotels nearby. We spent our other two nights at the Premier Inn – Slough Industrial Estate which was about 12 minutes away and ideal.
Do I need two days at Legoland Windsor?
This is a tricky one, and totally depends on what you want to get out of it. If you want to get on every single ride, then yes. There's absolutely no way you'd do all of them in one day even with the Ultimate Reserve and Ride and would need a second visit. We are proof of that. If you're happy to only cover a certain number of rides then maybe one day is enough. But don't underestimate how long your kids will want to spend playing in the play areas, looking at Lego models, browsing the shops if you let them and actually BUILDING the stuff throughout the day. If you don't have any Reserve and Ride tickets you will spend the majority of your day queuing (did I mention how busy this place is?). If you go for two days, you'll get on more rides, but still spend the majority of both days queuing. So it's a difficult one to call.
Do I need priority parking?
Unbelievably you have to pay to park at Legoland Windsor, £8 for standard, and £13 for priority (closer) a day – if you book in advance. It's even dearer if you wait and pay on the day. If you are staying in one of the Legoland Hotels parking is free and in a different area. We were in the hotel car park but I've heard that if you get to the general car park early enough in the morning you don't really need priority parking.
Would we go to Legoland Windsor again?
This was our first visit to Legoland Windsor as a family of five (plus my parents). We spent a lot of money on it as it was a birthday treat for all three boys. If we were to go again we wouldn't stay in the hotel, but we would buy the fast passes. If we lived closer then we'd no doubt go again, but when you consider the cost of fuel to get there and hotels, it was an expensive weekend. If I'm honest by the time we're prepared to do it again (for cost and stamina reasons!), our boys would have probably outgrown it, especially our eldest. So we'd be more inclined to look at Chessington or Alton Towers in search of a bit more adrenaline!
To sum it up, we had a fabulous time at Legoland. For the age my boys were on this visit (8,6,6), it was perfect. I know several people who didn't have the same experience as us, but I have to say all 7 of us had a great time.
If you're intending to go, just be prepared to queue, spend money, and consider the Reserve and Ride tickets. Do your research beforehand and PLAN, PLAN, PLAN.
Have a great time!
How did I do?
If you liked this post, then you might want to have a look at this one – Best Places To Stay Near Legoland Windsor. Or have a look at my Travel Section for other ideas for UK family holidays and days out. These might be handy:
Or if you've got a holiday booked but can't face the packing, check out this helpful list – Packing List For Babies and Toddlers. And if you fancy a giggle but still on the subject of UK family holidays, read this – Five Ways A Holiday Is Never The Same After Kids. If you STILL want more after that head over to my Mum Life section for funny rants about all sorts of parenting things. And if you're local to me in Plymouth, keep up to date with the latest in my Local Stuff section.
If you like a bit of social media madness, pop over to my Facebook page where you'll be able to have a laugh at what ridiculousness goes on in my house with three very small boys on a daily basis. Warning – there is often sarcasm, and usually swearing. There are also great travel reviews and some AWESOME giveaways. Feel free to join my Twins, Tantrums and Cold Coffee – Shits and Giggles Parenting Group too, where everyone shares their hilarious stories.
If you like what you see, how about you check me out on Pinterest, Instagram and Twitter too.
And if you want to work with me, feel free to give me a shout here or at helen@twinstantrumsandcoldcoffee.com and I'll get back to you.