Sleep deprivation! It is one of the things we all suffer with once becoming parents. When you're a parent of multiple little ones it can be even harder to try and set a bedtime routine for your kids.
I have spent many a night with crying twins who are over-tired and in turn have kept their brother awake, you then have to choose which one to try and comfort first and it can quickly turn into a real nightmare! (Although sometimes if they've been a pain in the arse during the day, it kind of makes your decision a bit easier at night. I'm joking, honest!)
Getting all of them to bed is never easy but you can put a few tried and tested methods into place that may help your children drift off to sleep. Full disclosure here – I've STILL not nailed this.
1. A bedtime routine
A regular bedtime routine starting at around the same sort of time each evening for young children, such as getting pyjamas on or having a bath, then quiet time and a story, seems to get their brains ready for sleep. For older children, make sure all devices are turned off, dim the lights and allow them to have a bit longer staying up with you.
2. Time to relax
Try your best to get them to chill before bedtime. Older children might like to read or listen to a bit of music whereas younger kids may like to be tucked up in bed and listen to you read a story to them.
3. Attempt to keep regular bedtimes
This can differ from family to family, some children are naturally exhausted by 6.30pm whereas others may not feel tired until later. Either way try and keep to within 1-2 hours of their usual bedtime even at the weekends. This helps to keep their body clock in a regular pattern.
4. Nap times can mess up your bedtime routine
Most children stop napping at 3-4 years of age. And that's if the parents have been REALLY BLOODY LUCKY! All mine stopped napping the second they turned 2.5. But if they are still of an age where they do nap, try and keep them short, I know it's so tempting to leave them sleeping for a bit of peace and quiet. But, danger naps can cause havoc to the bedtime routine. Havoc, I tell you!
5. A safe environment is vital for a good bedtime routine
My kids don't like it to be too dark upstairs, so leaving the landing light on or having a small night light in their bedrooms makes them feel much happier. Make sure they feel nice and cosy in bed, tuck them in and don't forget the obligatory teddy bear to cuddle. Even though it gets chucked across the room at some point.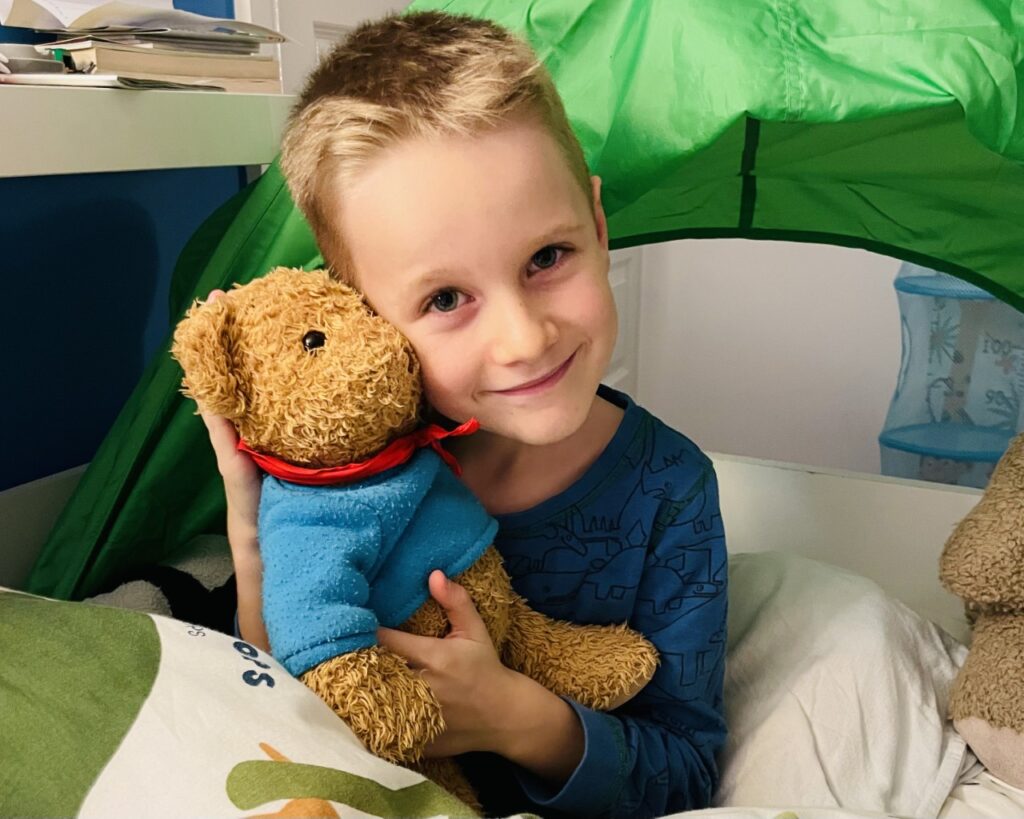 6. Background noise and lights
Some children fall asleep more easily with a little bit of white noise in the background and others like it quiet. You'll soon learn what they prefer and can maybe leave a radio on very quietly whilst they are falling asleep. If you have twins that are anything like mine, they'll just talk at each other until they fall asleep.
It also helps to:
turn off devices at least one hour before bedtime (hands up now, that I'm not very good at this!)
keep screens out of your child's room at night
dim the lights an hour before bed
7. Don't go to bed hungry
Feeling hungry before bed can make your child more uncomfortable, making it harder to get to sleep. Try and make sure they have eaten regularly throughout the day and have had a decent meal at dinner-time. Without a doubt, avoid sugary snacks or desserts at least two hours before bed, I have learnt this the hard way on many occasions.
8. Get plenty of fresh air during the day
Try your best to spend some time outdoors during the day. Bright light suppresses melatonin. This helps your child feel awake and alert during the day and sleepy towards bedtime. I tend to think of my three 'spirited' boys as hectic little puppies who need exercising!
We all have our own bedtime routine, nobody's way is perfect. Mine certainly isn't. Kids will wake in the night and you will have awful nights where they refuse to go to bed. Some nights you will just have to keep your cool and go with the flow. Eventually you will all get into a routine that suits you as a family.
Good luck!
How did I do?
Did you enjoy this post? If so, have a read of some of my other stuff. You might like Does Setting A Sleep Schedule For Your Baby Really Work? Or Why I Hate Co-Sleeping.
Then check out my Mum Life section for more amusing ramblings about parenting three young boys. And if you want some UK family holiday inspiration go to my Travel Section.
If you like a bit of social media madness, pop over to my Facebook page where you'll be able to have a laugh at what ridiculousness goes on in my house with three very small boys on a daily basis. Warning – there is often sarcasm, and usually swearing. There are also great travel reviews and some AWESOME giveaways. Feel free to join my Twins, Tantrums and Cold Coffee – Shits and Giggles Parenting Group too, where everyone shares their hilarious stories.
If you like what you see, how about you check me out on Pinterest, Instagram and Twitter too.
And if you want to work with me, feel free to give me a shout here or at helen@twinstantrumsandcoldcoffee.com and I'll get back to you.