A child's birthday party. Four words that are sure to send chills down every parents' spine.
Whether you're hosting them or just having to take your kid to one, is it really how us mums want to be spending our time?
Well, no. Not really. But of course we do it, because that's what us mums (and dads under duress) do.
My eldest has been in pre-school since September so this is the first time I've experienced the whole birthday party thing properly. We've been in a bit of a party bubble whereby there's been quite a run of them most weekends for what seems like a LONG time.
And that's even without being invited to several I know some of his friends are having to go to. (Definitely dodged a bullet not being invited to the 'arts and crafts' one though. Thank FUCK he's not friends with that girl at pre-school!)
Over to me
So of course now it's my turn.
This week my eldest turns four, and obviously I feel obliged to throw him a birthday party like all of his friends have had.
Slight problem is the twins also turn two this week. (Whose idea was it to have three birthdays within the space of three days?) So the birthday party is a joint one and getting bigger by the minute. (You can read about how it ended up going here The highs and lows of throwing a kids' birthday party)
Last year we did the same for their first and third birthdays, but it was in our garden, with lots of close friends – pre-ordered party food on trays, squash, beer and prosecco, job done. Luckily it was at the start of the heatwave so nobody had to come inside and trash my house.
Mind you, by the looks of this picture, it was all TOTALLY worth it for the twins, don't you think?
This year I decided not to take the risk of bad weather and trashed house, and I've booked a hall. And that's basically when the panic set in.
Under pressure
Is it just me or do most mums planning a kids' birthday party feel a massive amount of PRESSURE to make it a good one?
Some people might think I'm being overdramatic (I totally am, btw), but shit the bed, I'm DREADING it!
I have 32 kids to entertain on Saturday. THIRTY TWO!
I can't even keep my own three entertained for more than two hours inside without a) a meltdown b) plying them with snacks c) reaching for some sort of electronic device.
What hope do I have with 32?
Obviously the most important thing is that my boys have fun. (I have to say that, right?) But is that what us mums are really thinking? REALLY? If you're totally honest with yourself.
Nope. What is ACTUALLY playing on your mind is what the other mums will think of you and the amazing/average/pretty shit party you throw.
Birthday party = Judgement Day
We don't want to be JUDGED! Let's face it, that's what this is all about. Nobody wants to be the mum who throws the crap party. There, I've said it for all of us.
And I know I'm not the only one, because some of the mums (whose parties I went to) have said exactly the same.
I'm not worried what my close friends think. They'll muck in and help (break up the fights) and not think anything of it. Whether it's rubbish or amazing.
It's the mums you don't know, or have only ever said hello to at the school gate that you fear. (In my overdramatisation of the whole thing, of course).
Reasons throwing a kids birthday party can stress you out
Random thoughts in the middle of the night may have already included:
What will they think of your party?
Will they think your children are total dicks high on sugar showing off because it's their birthday?
Is the local school sports hall just a little bit shit?
How the fuck am I going to decorate an entire sports hall with dinosaur crap in just half an hour at the same time as ensuring my twins don't escape out the door?
Why do the balloons I've bought look like slightly dodgy condoms?
How will the mums feel about 32 kids risking life and limb trying to get on a bouncy castle at the same time?
Will they be too scared of the big kids to let their little ones into the ball pool?
Do I need more activities for the kids?
Do I have to feed the adults?
If so, what do I give them?
Should I provide drinks for them? (In an ideal world, I'd love to be sipping something alcoholic but I guess a coffee is better than nothing)
How the fuck am I ACTUALLY going to keep 32 kids (ranging in age from one to 9) entertained for two hours?
What do I feed the kids?
Do I do party boxes or a full on buffet?
If I do a buffet, that means I'll have to cater for the adults and I am too tight for that.
If I do party boxes, is there REALLY any point putting a token satsuma in there just to look good to other mums?
At what point between 12-2pm do I feed them so nobody voms all over the bouncy castle?
Do I have to do party games? Pleeeeease don't make me have to do party games. For the love of God, no.
What kind of music do kids want? Mine love utter shite like Parry Gripp's 'Cat Flushing A Toilet' but is this REALLY the image I want to portray?
Do I even have anything to play music on loud enough to fill a sports hall?
Fuck! What about party bags?
Can I realistically pay someone to make an insanely amazing dinosaur birthday cake and pass it off as my own? (Answer, no. But will try anyway).
Should I have just booked an entertainer to do it all?
Why didn't I just book the local soft play and let them handle it all for me?
Seriously, again. WHY DID I NOT JUST BOOK AN ENTERTAINER?
How many times can I justify spending a small fortune on a kids birthday party by reminding myself it's for three of them?
Fuck it, why am I even bothering with a sodding party at all?
Is it over yet???
So you can see I'm really looking forward to it, can't you? And notice it's only judgement from other mums that bothers me. Couldn't give a shit what the dads think. But chatting to other mums it seems I'm not alone.
Why can't we just go back to the good old days of pass the parcel in our parents' dining room with cheese and pineapple on sticks for 8 kids?
Wish me luck, people!
And find out how the whole thing went here.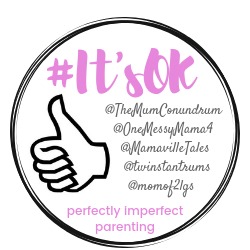 Twins, Tantrums and Cold Coffee
How did I do?
Did you enjoy this post? If so, you might like some of my others. Have a read of one I wrote this time last year – Surviving a year with three boys under three – the good, the bad and the ugly, or my attempts at keeping up appearances and failing miserably in Yummy Mummy or Slummy Mummy?
If you like a bit of social media madness, pop over to my Facebook page where you'll be able to have a laugh at what ridiculousness goes on in my house with three very small boys on a daily basis. Warning – there is often sarcasm, and usually swearing. There are also great travel reviews and some AWESOME giveaways. Feel free to join my Twins, Tantrums and Cold Coffee – Shits and Giggles Parenting Group too, where everyone shares their hilarious stories.
And if you want to work with me, feel free to give me a shout here or at helen@twinstantrumsandcoldcoffee.com and I'll get back to you.