If you're looking for a campsite with absolutely LOADS to do for children, then you need to look at River Dart Country Park in Devon.
AD: We were given a 3 night stay at River Dart in return for this honest review.
The 90-acre site in the beautiful Dartmoor National Park is one of Devon's best-loved family tourist attractions and one I remember having many days out to as a child.
But it wasn't until we got into camping in the last couple of years that it came up on my radar again – because you can also camp there or take a caravan.
We'd not taken our boys (aged 7 and 5 year old twins) before as I thought they'd be too small, but it's now firmly on the list of places to take them for a great day out. As there is just SO much for them to do.
In fact, the hilarious thing is, the boys now think that River Dart Country Park is just a flipping awesome campsite with the most activities they've ever seen for kids. They don't even realise that it is a multi-award-winning day visitor attraction in its own right!
River Dart Country Park is a brilliant day out or campsite
So even if you're not into camping, I can highly recommend going for a day out. The children will absolutely love it.
The site is mainly made up of parklands and playgrounds, set on the edge of the River Dart, with something exciting for you to do at every turn. You can pay extra for certain activities, but you could also easily spend the day (or more if you camp) just doing the free stuff. Especially if you're blessed with the wonderful Westcountry sunshine. – sadly we weren't!
Free activities include extensive adventure playgrounds, agility trails, bike trails, a Commando assault course, the Anaconda tube slide, climbing pods, a football zone, a low ropes course, Jungle fun, mini zip wire, obstacle course, observation tower, and pirate ship in the lake.
There are also speedy snake slides, a space net to climb up and down, Spiders web, toddlers beach, toddlers playground, a trim trail fitness challenge, tyre swings and a wooden play fort.
My boys' favourites activities
Huge favourites for my boys were the bike pump track, where they seemed to spend hours! And also the adventure playgrounds and park's play forts. Perfectly situated in the shade with picnic tables for us mums to sit at and watch!
My boys are mad about riding their bikes, so we always take them when camping, and we're so glad we did. We stayed at River Dart Country Park for 4 days and what can I say – they were very well used! Not just at the bike pump track, but also around the path of our campsite field too.
They also loved the Pirate Ship lake, which is one of the main bits I remember from going as a child and is part of the River Dart that has been made bigger and is pretty much a wet adventure playground.
Don your wetsuits (or brave the cold water if you dare!) and get stuck in swinging on tyres, swimming to an island, climbing onto the pirate ship or walking the plank. Or take your inflatables and get your dad to pull you around – if you're like my boys.
One of my twins isn't quite so adventurous but there's a little beach area with shallow water that he enjoyed playing in whilst Daddy and his brothers went in the lake. Next to the lake there's also a mini dam pool with a rope swing that older children were absolutely loving.
The lake is surrounded by picnic tables for parents to base themselves, there are also changing rooms, and kiosks selling not only refreshments and ice creams, but also buckets and spades, inflatables, wetsuits and shoes to wear in the lake. If the weather is good, you could literally base yourselves here for the duration and your kids would be over the moon.
But unless you're staying at River Dart Country Park you need to cram as much into your day out as possible.
You can pay to do extra activities at River Dart Country Park
If by some miracle you run out of free stuff to do with the whole family, there are lots of heart-racing fun 'Dare Devils' activities you can pay extra for. We let our boys pick one thing each as a treat. The seven year old and Twin One chose climbing, whilst Daddy was roped into canoeing with Twin Two.
The climbing cost £11 each for a 20 minute session on two 5.5m and 7.5m high climbing towers with 6 various routes as well as a bouldering box. Note that it's not just your child on the walls though, they have to take it in turns so are not climbing for the full 20 minutes. Unless you're lucky enough to be the only ones booked into that slot. The boys loved it though, reaching the tops to press the buzzers then starting all over again. Kids need to be a minimum of 3 stone in weight to take part.
After nearly bursting with excitement whilst waiting for his brothers to finish climbing, it was Twin Two's go on the canoes. Him and my husband had a 30 minute slot to explore the lake on the Native American Indian open canoe. It costs £11 for the 30 minutes and you can have up to 3 people in the canoe. Minimum age is 2, and under 8s have to be with an adult.
We decided the fight wasn't worth it choosing one of the other two to go in the boat as well, so it was just Twin Two and my husband. Funnily enough the balance of who did the paddling was unsurprisingly a little unfair. But it was worth it to see Twin Two's face – he absolutely LOVED IT, declaring it was the best day of his life. And for someone who isn't adventurous at all, it was super to see. You can also pay to have a go on kayaks individually on the same lake.
Other activities with an additional cost include the high ropes course which looked fantastic (although I'd be too scared to do them!) with their 23-element tree top challenge. This is £21 and you have to be 8 to do it, with under 10s accompanied by an adult. We stood and watched for ages and the children were so good!
There is also a caving experience which is for over 5s and costs £6. It's two goes around the site's cave system which is a clever replication of real caving. You can test your skills by navigating the 90 feet of passageways, tight tunnels, boulders and chambers. I'm sure it's awesome if you like that sort of thing. Funnily enough I won't be trying it! A bouldering room is also available to try out at an extra cost of £6 for an hour, and that can be for kids as young as two.
But the one activity my boys (or should I say two out of three of them!) were gutted they were too young for was the Mega Zip Wire. You have to be 8 to try it (and pay £10), and you climb up to a 15m tree top platform, then zip down the 150m wire over the top of the canoe lake. We watched it for ages and I have to say, it looked fantastic. Next year at least one of them can do it!
All these activities looked brilliant, and my boys loved the ones they did, but I can honestly say you don't need to pay for extra things to do – there's more than enough to keep your family busy at River Dart Country Park without the extras.
The only time you might want to consider them is if you're camping and staying for longer.
As part of the campsite price, you get free entry into River Dart Country Park for each day you are there. We stayed for 3 nights and didn't leave the place – that's how much stuff there is to keep the kids occupied. We just didn't need to go anywhere else.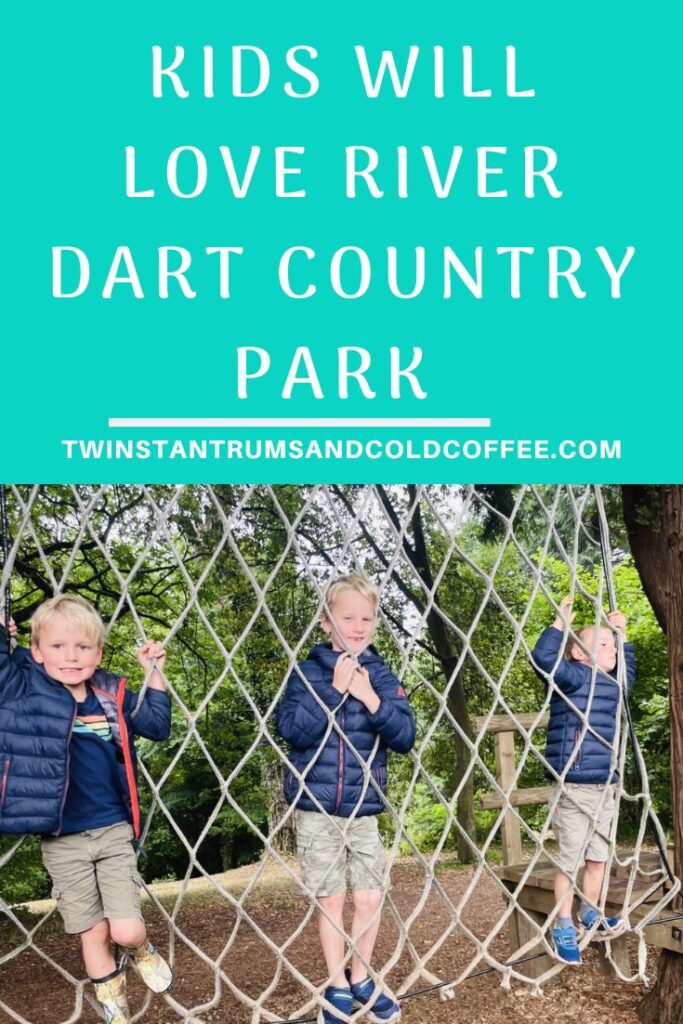 So what about camping at River Dart?
The campsite, right next to the country park has 234 camping generous pitches – so this is a big and busy place spread over several fields. You can opt for a hardstanding pitch for a motor caravan, camper or touring caravan, or either electric or non-electric hook up tent pitches. 
The pitches are some of the biggest we've seen, but it didn't help that where we were positioned, three pitches were sharing one electric hook up spot, so we had to put up our tent right on the edge of our pitch for our electricity cable to stretch. Which was really annoying, especially when there was actually loads of space.
Looking back through correspondence, it's advised to bring a 20m long cable in your original booking confirmation, but it's not mentioned again in the multiple welcome emails you receive the week before. So if you don't want to be pitched within inches of the next door caravan, bring a long cable!
We were also right next to the toilet/shower block, washing up area and rubbish points, which was handy for the boys to be able to go to the loo on their own without us – not so nice that the whole field walked across our pitch every time they needed a wee! But this was all luck of the draw, I guess. And my husband would say I'm being fussy!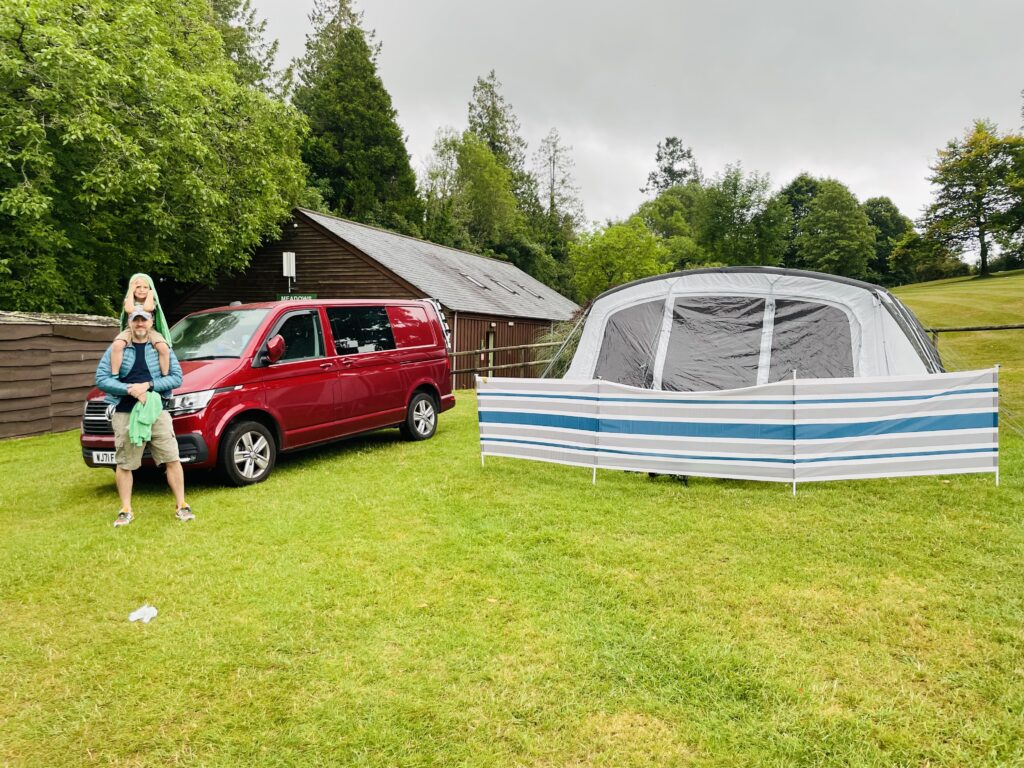 Each of the campsite areas have its own amenity blocks, along with free hot water and showers, toilets, sink cubicles and a hair dryer. If I'm totally honest (which you know I always am), these weren't the cleanest campsite toilet blocks I've ever seen. It didn't help that it rained a lot when we were there so grassy, muddy shoes were being traipsed in. But the cleaning checklist on the wall made for pretty disappointing reading too. I never once saw a cleaner in there. But hey, we're camping! We're supposed to be grubby, right?!
There are coin-operated laundry rooms in each amenity block, and if you have little ones who you can't shower, there are also family bathrooms which have a toilet, bath and sink. Which is way easier than trying to get a baby or toddler clean in a campsite shower!
Campsite is just a few minutes' walk to the country park
The campsites are behind a secure barrier entry system, and have easy access of just a few minutes walk to the rest of the country park which was perfect when we didn't want to carry our lunch with us. We spent the morning at the park, came back to the tent for a bite to eat, then headed back in. It was the perfect base.
There are also a couple of small play areas on the campsite, and tennis courts you can book, but the main source of entertainment for our boys, was of course their bikes. Our part of the campsite had a circular path so they were able to ride around that whilst we were at the tent. I dread to think how many times they did it!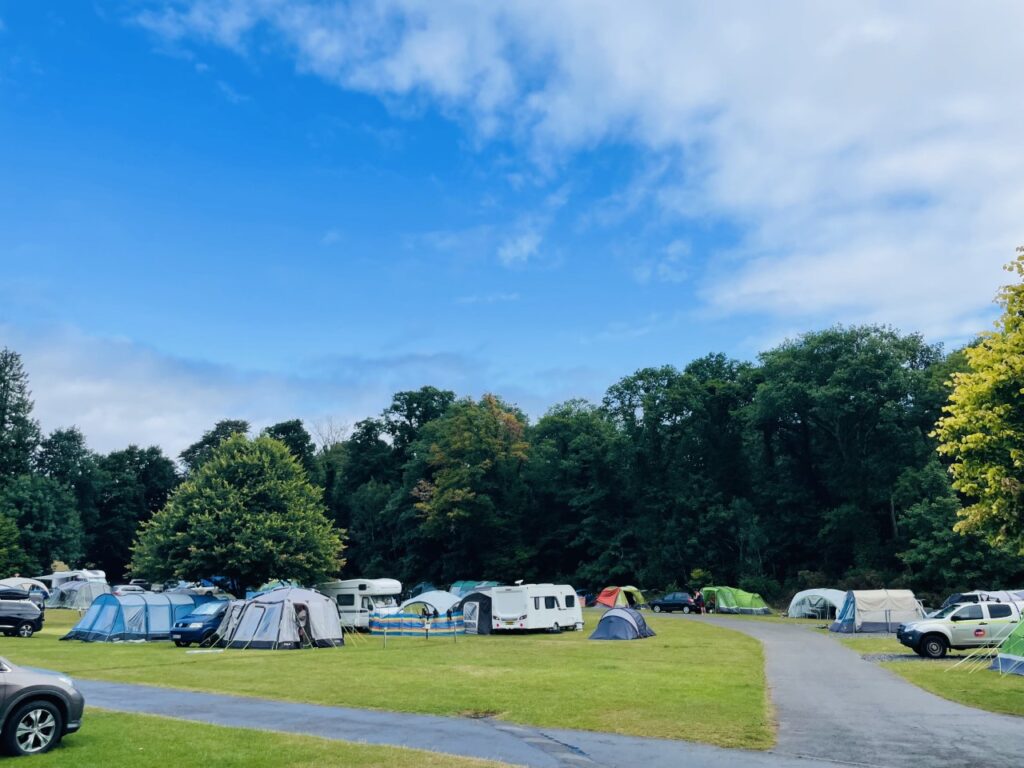 They also played with other children on the site, which is one of the best bits about camping to me! River Dart Country Park states online that they are a family campsite, and operate a quiet time after 11pm. There were loads of groups camping together, and yes it was busy with tents very close to each other, but it never felt too noisy. Or maybe that was because it was my boys making the noise?! Dogs are also welcome so long as they are kept on leads.
The site has a shop that stocks everyday items such as newspapers, groceries, meat for the obligatory open-air cooking and camp barbecue we all have to have, and emergency camping equipment if you've forgotten something vital.
Games room, shop and restaurant onsite
There's also a small games room full of arcade machines – always a winner for my boys and the Old Sawmill Cafe and Restaurant which also does takeaway. We ate there on our second night and our food was delicious. There's a great kids' menu and a salad bar that you can tuck into whilst you wait. Which was just as well as it was so busy our food took over an hour to arrive – not great when you're trying to keep three boys quiet and entertained. Ipad anyone? Yet the following night I overheard fellow campers say their takeaway food was ready within 10 minutes. So I guess we were just unlucky.
If you're staying onsite there is a River Dart Country Park app you can download with loads of useful information for your camping holiday. You can use it to book a whole host of exciting activities, order food, and find your way around with the park map. Our phone signal was okay, but the internet wasn't great (I wouldn't expect anything else on Dartmoor, so absolutely not complaining). You can pay £2 a day for WiFi which I was more than happy to do, and it was excellent.
And if camping and caravanning isn't your thing, then you can always stay in River Dart's beautiful Holne Park House on a bed and breakfast basis. It has 9 beautiful bedroom suites that are available during the local school holidays. Hell, you can even get married there if you love it that much!
Site is well-placed to explore Dartmoor National Park
Once you've done all the activities at the park, there are loads of great Devon days out you can choose from if you're on holiday. There are a number of other top attractions such as Pennywell Farm, Paignton Zoo, Totnes Rare Breeds or Buckfast Abbey nearby. If you want a bit of retail therapy head to nearby cities of Exeter or come and see me in Plymouth. There are some brilliant days out in my neck of the woods. There are plenty of great nearby attractions to visit, or head out and take in the stunning Devon countryside whilst you're on the edge of Dartmoor National Park. You're in a perfect spot for exploring.
If you're in Devon or nearby and haven't been to River Dart Country Park at least for the day, it needs to go on your list for this summer right now! And if you're further away then pack your camping gear and come and experience the beauty of Devon in this unique setting.
Having said that, we only live half an hour down the road but spending 3 nights there meant we could do all the activities at our own pace, and the boys could go back to their favourites again and again. You'll have a wonderful time and it's definitely worth a stay! If you're after an unforgettable holiday experience, then River Dart Country Park is sure to tick all the boxes.
What it costs to stay at River Dart Country Park
The cost of staying at River Dart Country Park varies on whether it's low, mid or high season. Bookings are accepted for a minimum of 2 nights during low or mid season, and 3 nights during high season. For example the camping pitch price for 2 people with electric in high season costs £50 a night. You then have to add on each extra person at £13.50 per night, and a dog at £5.00 a night. So our stay was just over £90 a night at the end of July. Had we been for the day, it would have cost us, a family of 5, £66.
To find out more about River Dart Country Park, as a day out or to stay click here.
How did I do?
Did you enjoy this post? Then why not check out a few of my other travel reviews. Can't get enough of camping? I have posts on:
If you still want more, head to my Travel Section, where you'll find packing tips, how to keep kids entertained on car journeys and travel essentials for twins. And if you fancy reading more of my usual kind of stuff, head over to my Mum Life section. You'll find all things parenting with a tongue-in-cheek twist. In fact, on the subject of travel, you'll like this one Five Ways A Holiday Is Never The Same After Kids.
If you like a bit of social media madness, pop over to my Facebook page where you'll be able to have a laugh at what ridiculousness goes on in my house with three very small boys on a daily basis. Warning – there is often sarcasm, and usually swearing. There are also great travel reviews and some AWESOME giveaways. Feel free to join my Twins, Tantrums and Cold Coffee – Shits and Giggles Parenting Group too, where everyone shares their hilarious stories.
If you like what you see, how about you check me out on Pinterest, Instagram and Twitter too.
And if you want to work with me, feel free to give me a shout here or at helen@twinstantrumsandcoldcoffee.com and I'll get back to you.