If you're like me and not into making things with your kids (at all!) but still need some stuff to do in the upcoming holidays, here are some great easy Easter Craft ideas.
If you're stuck at home and fancy being creative, here are some easy Easter craft ideas to do with your children. Or check out more fun Easter activities here.
Easy Easter Craft ideas
Easter Jars
Maria from Suburban Mum says these jars are a simple and easy Easter Craft that can be used as gifts or decorations. You'll need a glass jar, shredded paper in different colours, Easter decorations, optional mini eggs, Easter Bunny chocolate, and ribbon. Find out what to do with it all here.
Bunny Card
Maria also suggests a Bunny Card is an easy Easter Craft idea. You'll need white card, pink felt or card, googly eyes, glue, scissors, and a black pen. Follow the instructions here to make a cute card to send to friends and family.
Easter Button bunny cross stitch
If you have older children who are up for something a little trickier, this cross stitch bunny pattern is great. Ruth from Craft With Cartwright has created a free pattern for you to download here to create your cute button.
Super Simple Easter Baskets
Vikki from Best Lodges With Hot Tubs also hates craft but said her and her children loved making these simple Easter baskets. All you need is a cup, a pipe cleaner, some paint, some card and some googly eyes and away you go!
Pom Pom Painting Easter Eggs
How cute do these look? Anna from In The Playroom suggests using little pom poms or cotton wool balls to paint the different colours on this Easter egg, to create different effects. You'll need some white paper or card, washable paints, clothes pegs, pom poms or cotton wool balls, and a market pen. It's also a way to get in some fine motor skills practice with your kids too. Then use the final painting as Easter cards or decorations.
Handprint Easter Chick
Wendy from Daisies and Pie says kids love creating this Easter Chick. Although it might not be for you (or me!) if you don't like mess! You'll need white paper, yellow paint, paint tray or old plate, scissors, paper plate, scrap paper cut into small triangles, yellow and orange paper, brown pencil and sticky tape. Read about how to do it here.
Easter Egg Suncatchers
I bet these Easter Egg suncatchers would look amazing in your window on a sunny day. All you need is an egg shape cut out of acetate or clear plastic, a selection of craft jewels or acrylic gems, glue, and a piece of ribbon for hanging. Find out here how Jane from HodgePodgeDays created it.
Easter gift basket
Steve from Diary of Dad said young kids will love this cute basket, either making it or receiving it! You need a cereal box, glitter paper, crepe paper, lollipop sticks, small Easter eggs and a bit of creativity! Read more about it here.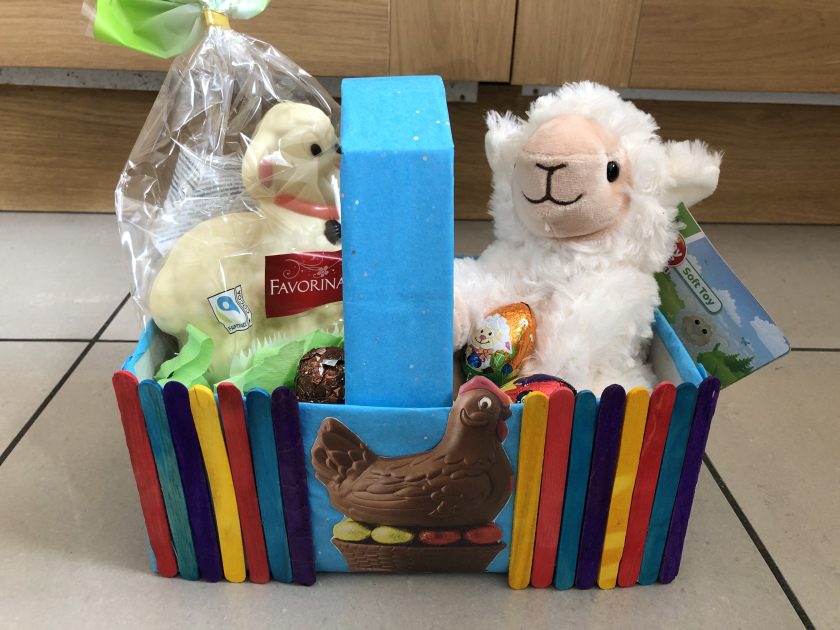 Easy Easter Chick Painting
If you don't fancy the handprint chick, then what about this one? Kate from Crafts On Sea says it's ideal for preschoolers and toddlers as the big painting materials are perfect for small hands.You'll need a shower sponge, a reusable plate, scissors, glue, yellow paint, card for the background, black or white card for the eyes, orange card for the legs, optional pink and black paper. Find out what to do with it all here.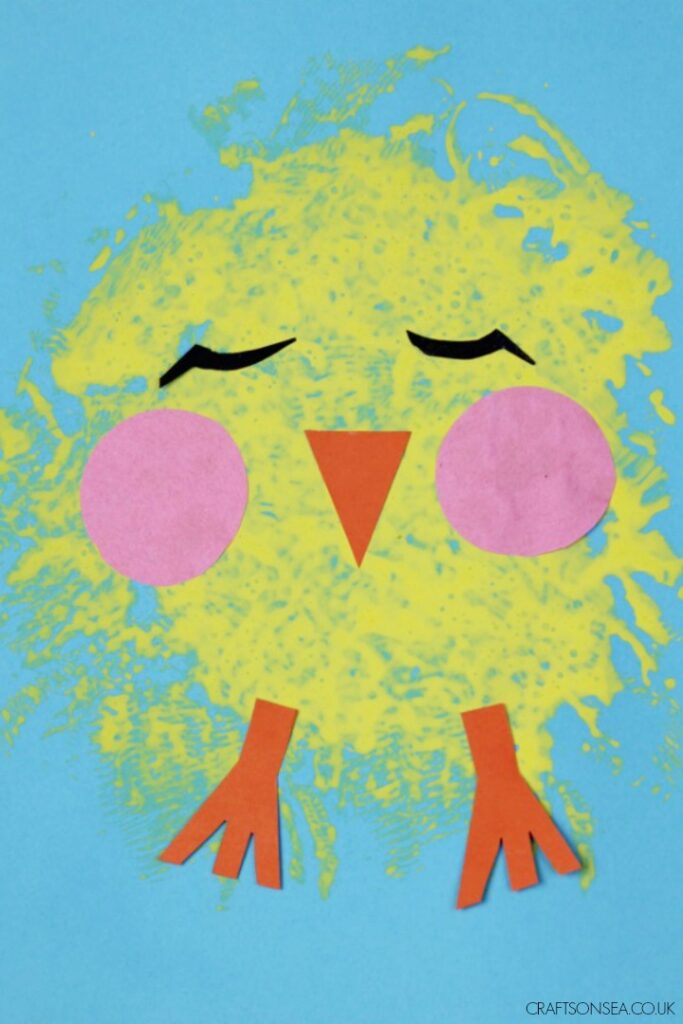 Washi Tape Easter Egg
This looks lovely and pretty simple to do – so gets my vote! You'll need washi tape, which is basically decorative masking tape, some sticky back plastic, card and scissors. It's a great craft for little ones. Read how to make it here.
Moving Bunny
Louise from Messy Little Monster has a template to make this lovely moving Easter Bunny. As well as the template, you'll need white card, googly eyes, marker pens, scissors, split-pins, and a glue stick. It feels like we're back in homeschooling making moving pictures for design and technology! Find out how to put it together here.
Sock bunny
If you've got a few odd socks lying around Claire from Red Kite Days says this is the perfect Easter Craft idea for kids. You will need a small sock, uncooked rice, thick thread or small elastic bands, a pen and some scissors. Find out here how to turn all of that into these little cuties! I reckon even I could handle that.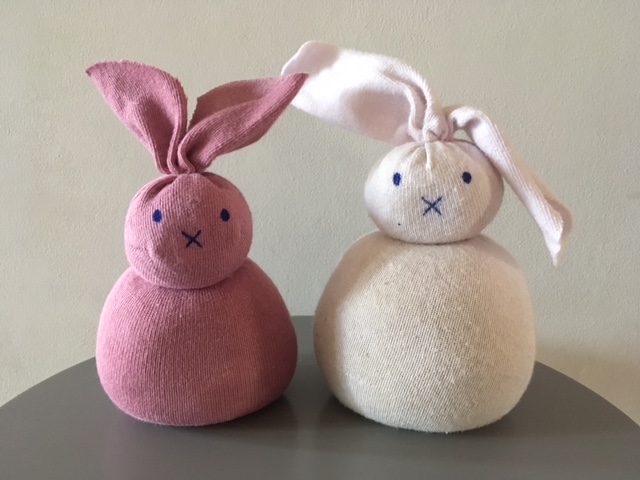 Easter Egg Hanging Decorations
I love these hanging eggs, it even makes me want to bother with an Easter tree for the first time! They look pretty simple to do and Emma from Little Miss Eden Rose has a printable sheet of the egg designs to make it even easier. Once you've printed the templates off onto card, you'll need scissors, ribbon and glue. That's all! Find out how to put them together here.
Salt dough handprint chick
As well as a salt dough mix, you'll need acrylic paint, markers, a sealer and some straw or ribbon. To find out how to make the dough, and what to do afterwards, click here. This is a great way to remember your child's handprint for ever, with this Easter salt dough chick.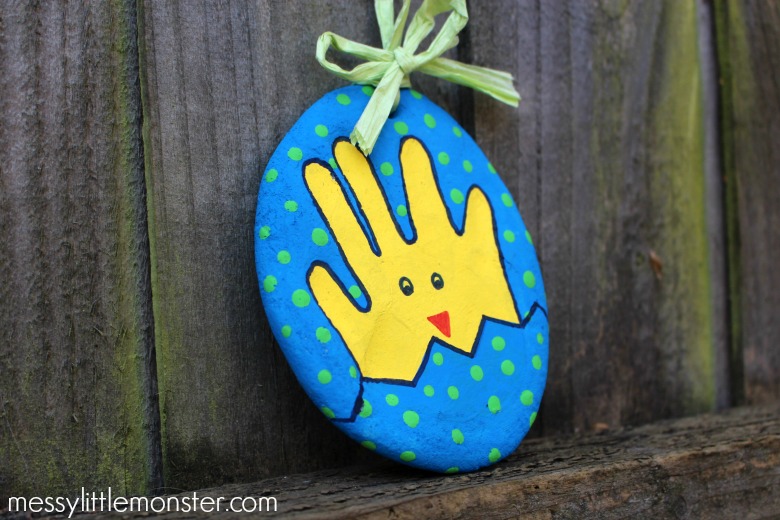 Mini Egg Easter Cake
Okay, so this one isn't strictly an Easter craft, but it's cake and as far as I'm concerned cake is life and if I could include it in all my blogposts I would. And I think Emily from Twin Mummy and Daddy would agree. She's put together this amazing recipe for a mini egg cake, and it looks delicious!
There you have it, some great Easter craft ideas for kids. Which ones will you try?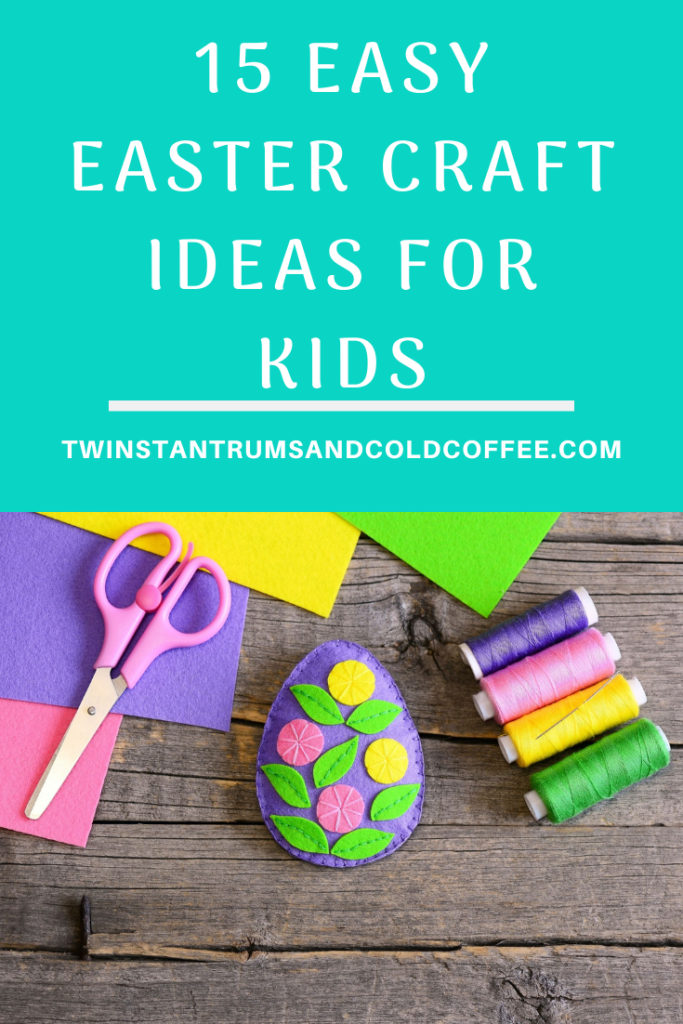 How did I do?
Did you enjoy this post? If you're thinking of doing an Easter Egg Hunt for the kids, check out Emma and 3's Outdoor Easter Egg Hunt Clues which even has its own free printable. Or why not have a look at some of my other craft round ups – 15 Simple Christmas Crafts. And if you're like me this one is useful – 20 Easy Craft Ideas For Mums Who Hate Craft.
But craft isn't my thing and it's most unlike me to write about it. Check out the 'usual' type of stuff I write. Honest, relatable rants about parenting three young boys. With a touch of swearing and a lot of sarcasm. You'll like it! Check out my Mum Life section or head to my Travel Section for some UK family holiday and days out inspiration. And if you're local to me in Plymouth, see what is happening this Easter with Things To Do Over Easter 2021 In and Around Plymouth.
If you like a bit of social media madness, pop over to my Facebook page where you'll be able to have a laugh at what ridiculousness goes on in my house with three very small boys on a daily basis. Warning – there is often sarcasm, and usually swearing. There are also great travel reviews and some AWESOME giveaways. Feel free to join my Twins, Tantrums and Cold Coffee – Shits and Giggles Parenting Group too, where everyone shares their hilarious stories.
And if you want to work with me, feel free to give me a shout here or at helen@twinstantrumsandcoldcoffee.com and I'll get back to you.