With so many awesome gifts on the market these days, choosing what to get can be a minefield. Whether it's for a birthday or Christmas, here are some of the best presents for six year old girls available.
Whether they're into arts and crafts, dinosaurs or dolls, there is something they will love on this list.
*Disclosure: I have been gifted some items for this post. It also contains affiliate links I may receive commission for. It does not affect what you pay.
THE BEST PRESENTS FOR SIX YEAR OLD GIRLS
RED FOX HOT WATER BOTTLE COVER
£28.99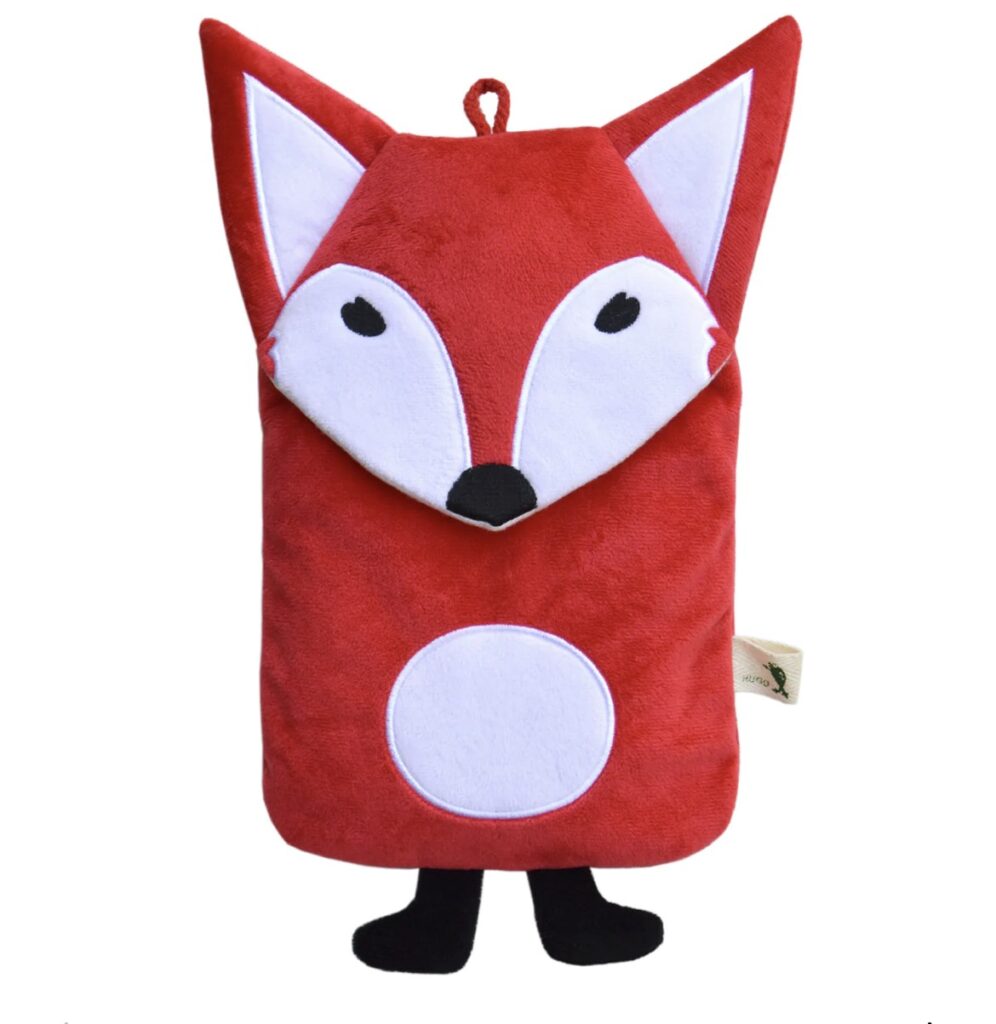 Keep your little ones warm and cosy this winter with this Eco Hot Water Bottle with Red Fox Cover. The 0.8 litre cover uses an ultra-modern, rubberless design which not only makes it easy-to-use and comfortable but eco-friendly too. The inner bottle is made from more than 90% renewable materials such as sugar cane, is PVC free, recyclable and unlike many other hot water bottles is odourless. Isn't it seriously cute too? And the lovely people at the Hot Water Bottle Shop are giving my readers £5 off when they spend £15 using COLDCOFFEE5.
TEDDY'S TAILS BOOK
£7.99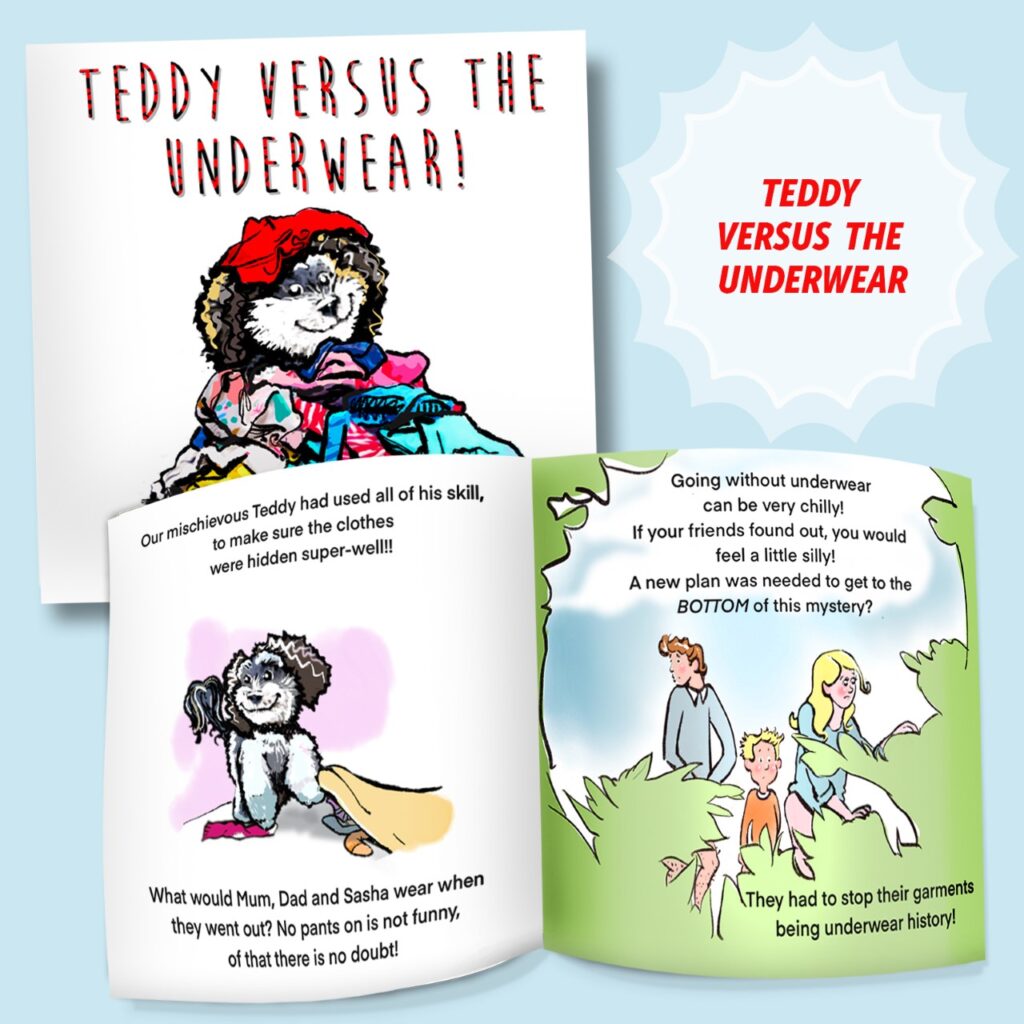 Teddy's Tails is a new series of children's picture books inspired by the adventures of Teddy, a beloved family dog. The books are written in rhyme and are beautifully illustrated by Jake Biggin. The verse encourages children to experience the flow and rhythm of language whilst learning new vocabulary. It's rare to find a child that doesn't love stories about animals and these very gentle, simple and positive stories show the love a boy and his family have for their puppy and vice versa. Suitable for children aged 2-6 years. Teddy Versus the Underwear is new and out now and involves the mysterious disappearance of the family's underwear… nobody suspects Teddy is hiding it. This book is funny and could help children understand problem solving.
RAINBOW HIGH DOLLS
£23.99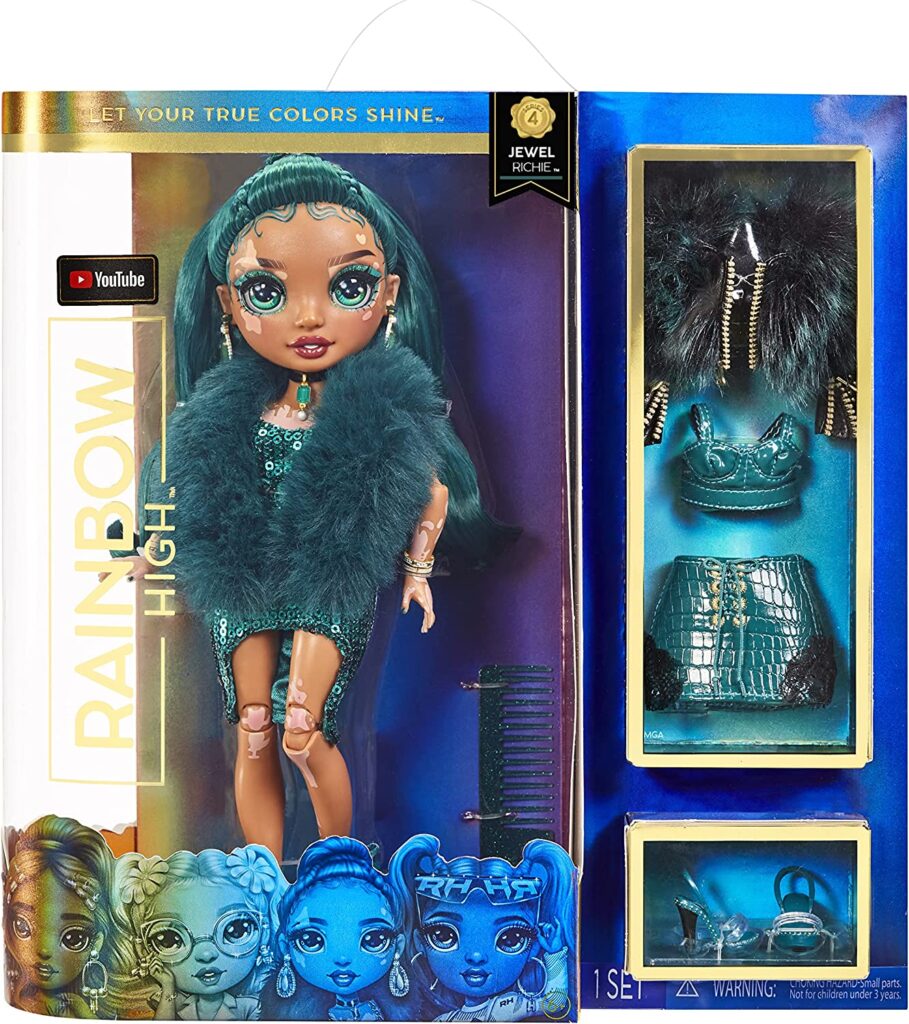 Six year old girls will love the Rainbow High fashion dolls with lots of fashionable surprises, particularly this one called Jewel Richie. The beautiful, fully articulated fashion doll has amazing eyelashes, a chic outfit and long hair to style! Jewel is wearing her favourite colour, emerald green, and even comes with a second stylish outfit. What's not to love, eh?!
KINETIC SAND SWIRL N' SURPRISE
£29.99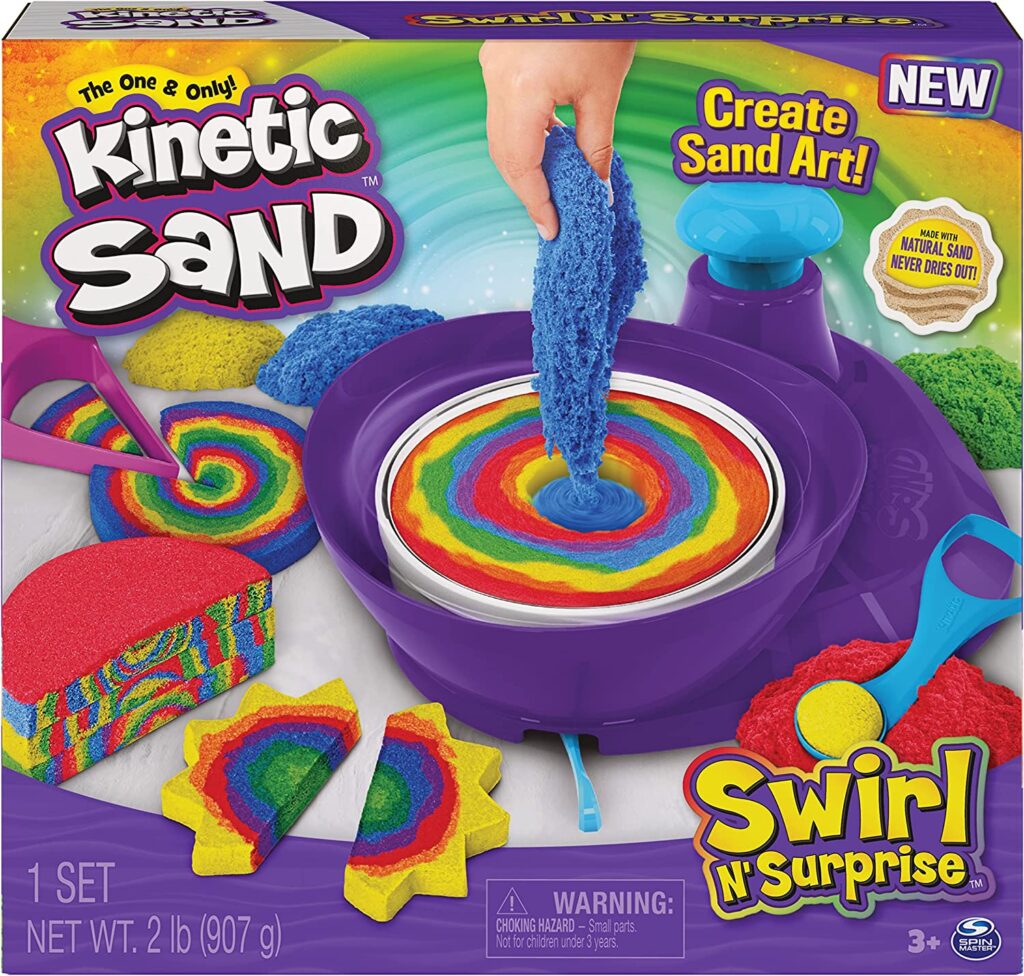 Let their creativity flow freely this Christmas with the Kinetic Sand. Swirl sand to magically create beautiful sand art with the Swirl N' Surprise playset. The most hands-on approach to Kinetic Sand art play, this playset lets kids flow, swirl and stack sand with four tools and 907g of sand in red, blue, green and yellow. They can fluff the sand and fill the sand swirler, shut the lid for mess-free play, then press down on the pump to swirl the sand around. Swirl, carve and slice again and again – it looks so much fun. My kids love playing with Kinetic Sand, it never dries out, and is relatively easy to clean up afterwards – which is a big winner for me!
POKEMON PLUSH TOYS
£15.99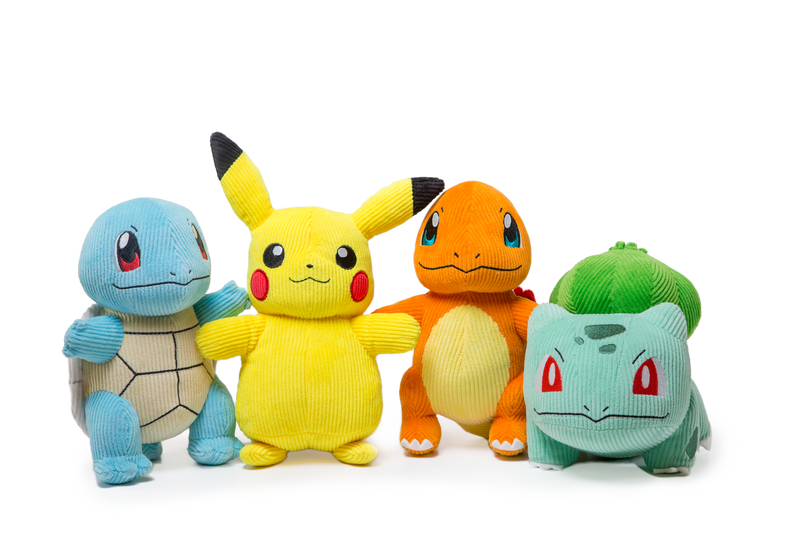 Get cozy with Pokémon and the new Corduroy Plush toys. These unique 8-inch assorted plush are woven with high quality corduroy and look different from any other Pokémon plush. Their special fabric not only feels fun to touch but makes for a superior snuggle session apparently! These Select Corduroy Plush carry a Black and Silver tag and are only available in 2022. Snatch one up before they're gone.
GIDDY UP
£18.99
If your girls are into horses, then they will love this Giddy Up game! It's three fun games in one where you can ride Giddy Up in cross country, challenge and training. In Cross Country you place 10 command cards in an open space and then 'Giddy Up'. When you reach the card, you do the command and gallop to the next. But how fast can you complete the track that you set? It sounds like great fun!
NA NA NA SURPRISE TEENS DOLLS
£19.99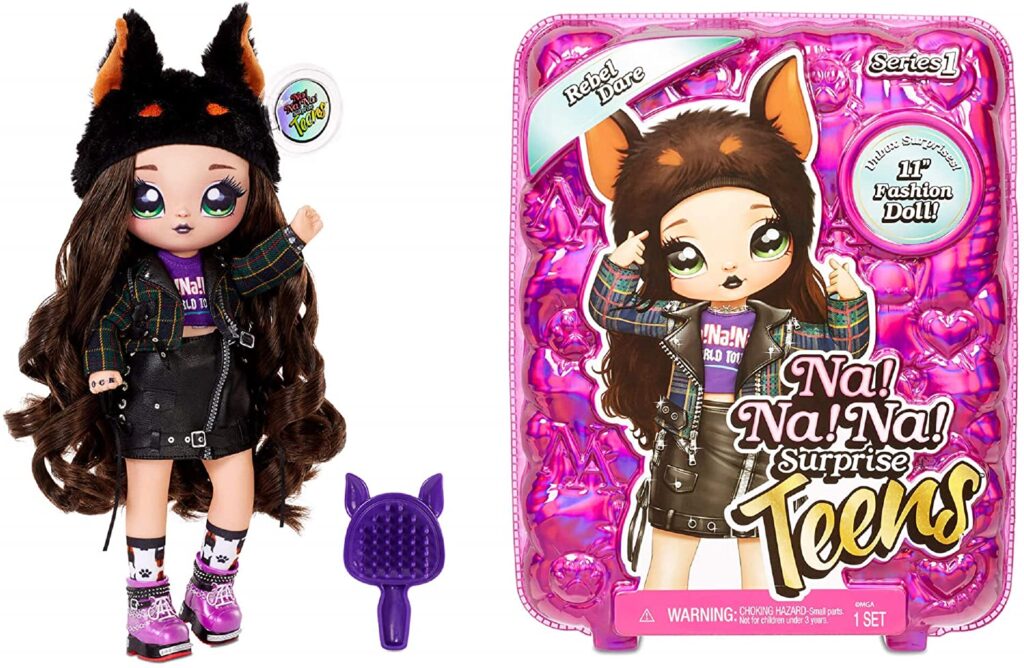 If you're looking for one of the coolest Christmas presents for six year old girls you can get, well you may have just found it. Na Na Na Surprise Teens are where it's at for young girls this Christmas. These dolls are all about the plush and glamorous with a soft spot for great fashion and hanging out with their friends. They're 'wild for style' and can't you just see it with the 28cm Rebel Dare Doll. She's the one you don't want to mess with and controls the guest list. She has a rock star look with tour t.shirt and faux leather skirt. Or there's owl-inspired Samantha Smartie, who has long, red hair and printed face and clothing detail. She's the smart one and has a cute, schoolgirl style.
GIANT DINOSAUR FLOOR PUZZLE
£12.85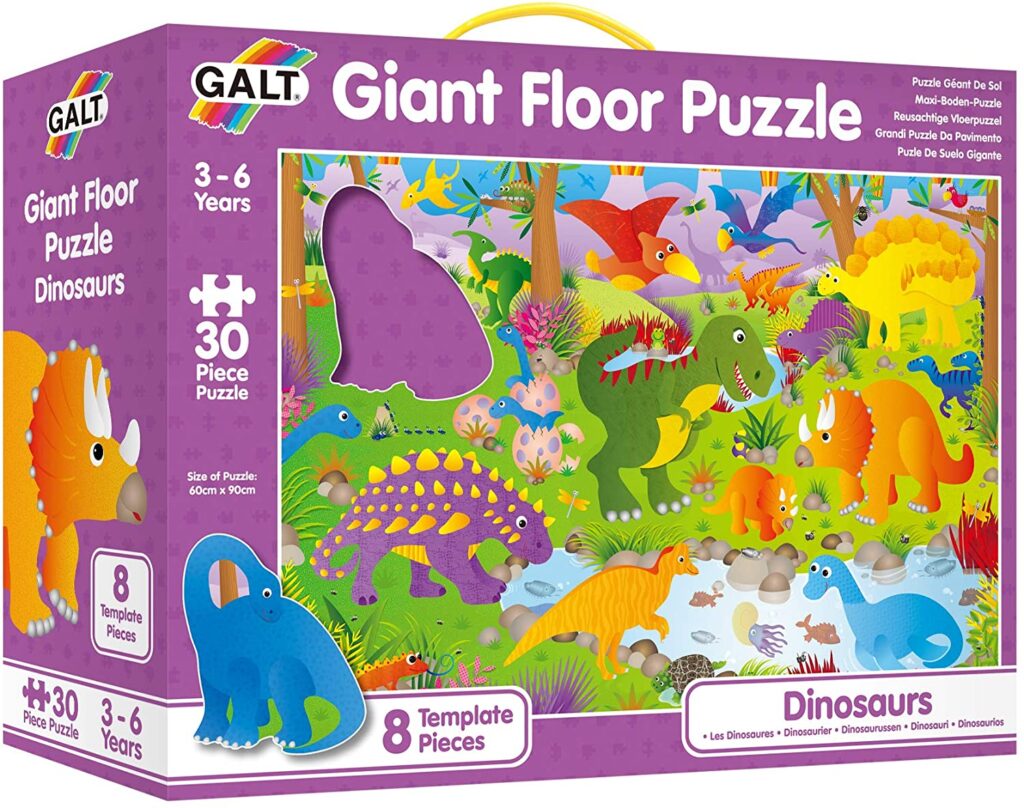 This extra large 30-piece Giant Dinosaur Floor Puzzle is totally roarsome. (I can say that, I have it!) Jigsaw fans will love the 8 special pieces in the shape of dinosaurs to slot in once they've made the rest of the picture. Then it's a great talking point, they'll want to come back to again and again. It measures 60cm x 90cm.
LEGO FRIENDS HORSE PLAYSET
£24.89
LEGO Friends is massively popular at the moment, and you can totally see why with toys such as this fabulous Horse Playset. It's a perfect entry level to LEGO brick building and includes a cute toy horse barn and tractor, Mia the mini-doll figure, two horse figures and a rabbit. It's definitely one of the best presents for six year old girls you can get.
LOL SURPRISE DOLLS
£14.99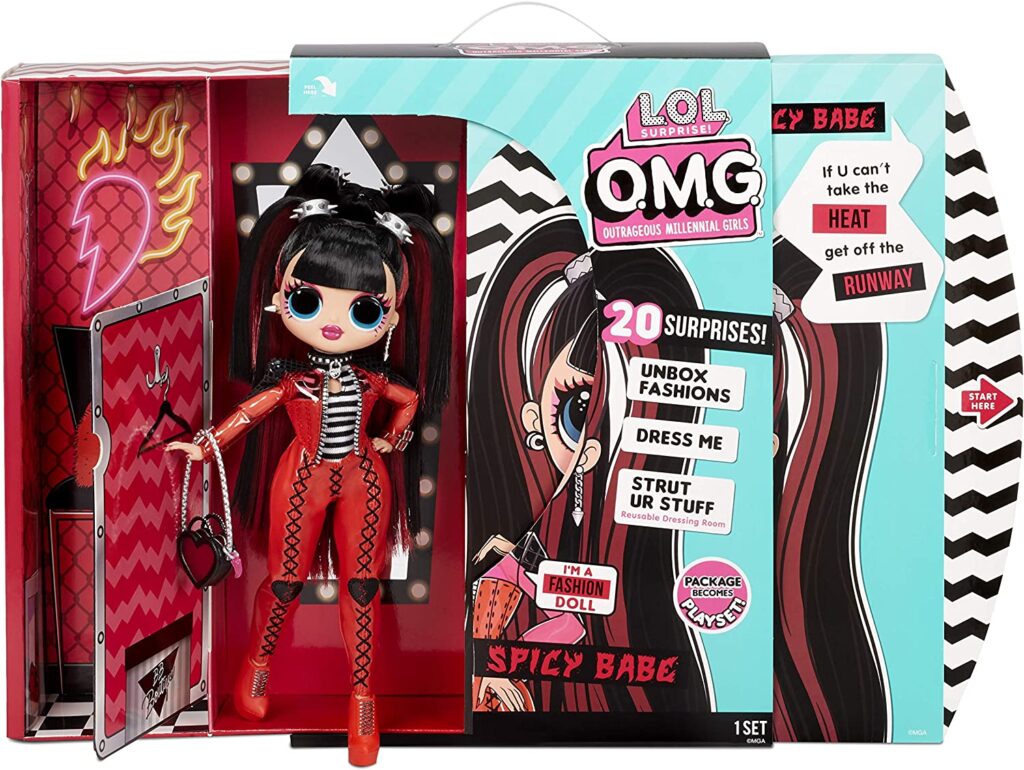 LOL Surprise Dolls would make a great present for six year old girls. With lots to collect, and 20 surprises to unbox including a beautiful fashion doll and the packaging that becomes a play set, what's not to love!
RAINBOCORNS
£28.49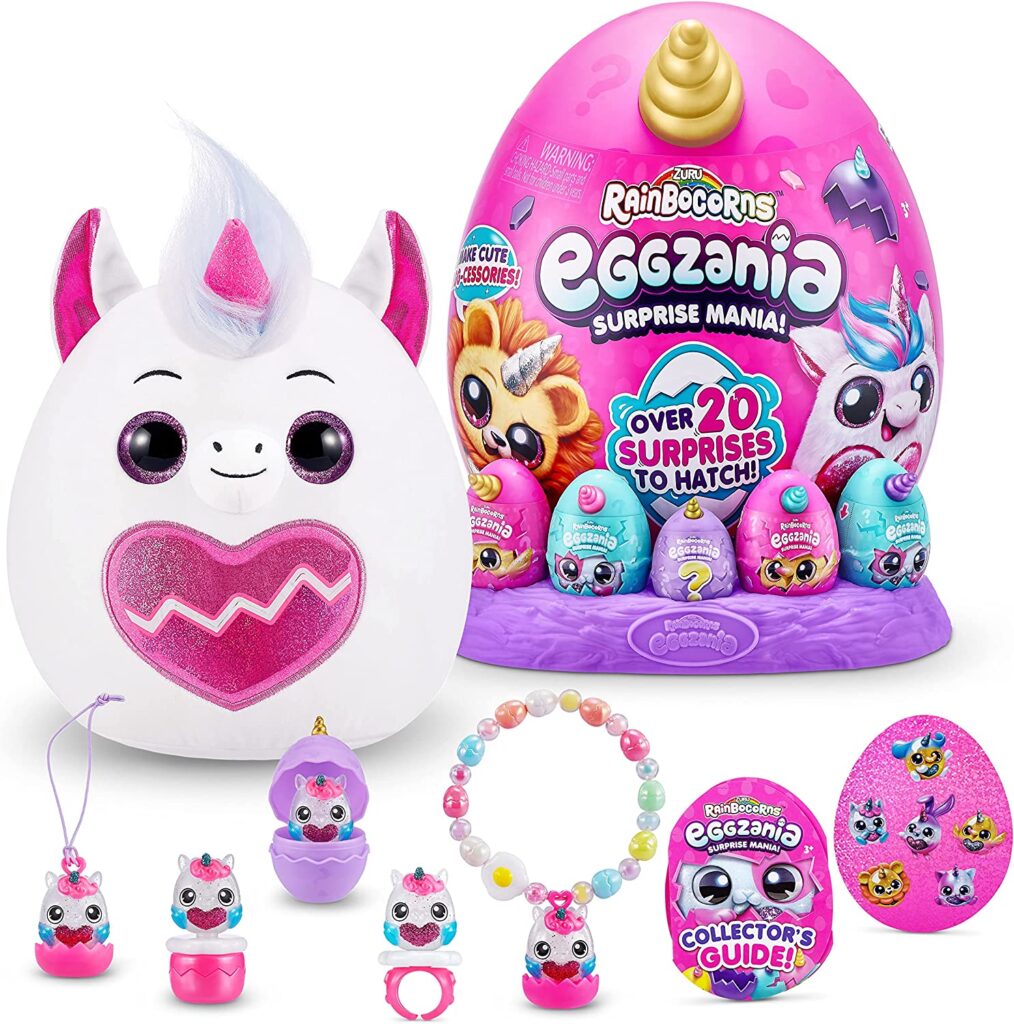 My friends with daughters tell me these Rainbocorns are all the rage this year – and who am I to argue? Rainbocorns Eggzania is packed with over 20 unbeatable surprises. So crack into your egg to meet your new plush toy, complete with matching Yolkie, 5 mini egg surprises, slime, jokes and wearable accessories like rings, stamps, bracelets and stickers. Looks pretty good to me!
SQUISHMALLOWS
From £6.99
Well hello cute little thing! These Squishmallows are taking the world by storm (almost) and come in all different shapes and sizes. The loveable and squeezeable plush toys look great to cuddle up to and are some of the softest and cutest cuddly toys around.
PLAYFOAM – 8 PACK
£9.74
If you've not seen this before, it's definitely worth checking out. A great alternative to play doh or kinetic sand, Playfoam can be squished, sculpted and shaped into anything you can imagine. The bead-like structure helps stimulate the sense of touch, and the pliable texture is ideal for developing hand strength, fine motor skill and hand-eye co-ordination. It will only stick to itself, not to hands, hair, clothes or carpet. It doesn't dry out so can be used time and time again and the colours can be sculpted separately or mixed together. This set includes 8 pods of four original colours and four sparkly ones. It looks great to me!
CHRISTMAS DUVET SET
£14.99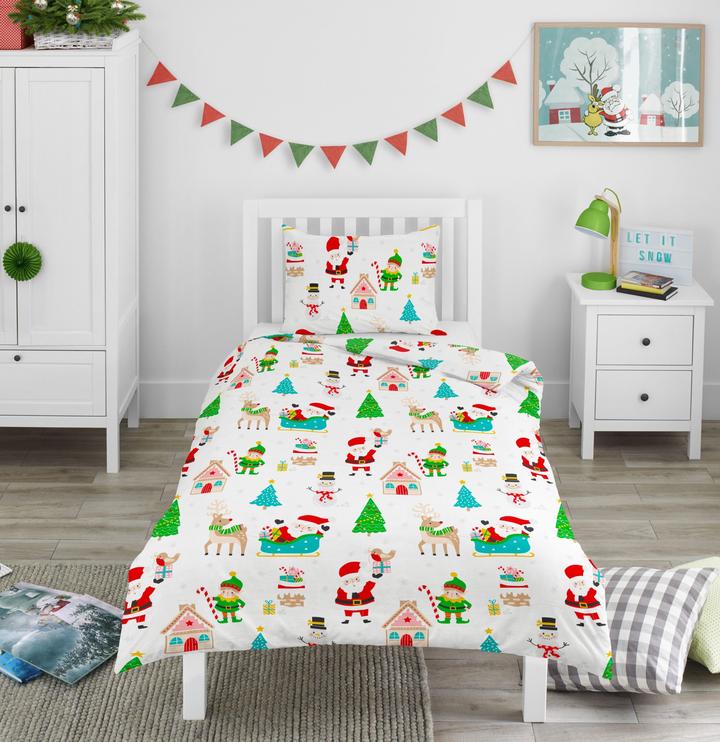 If you're feeling festive, why not let the kids get even more excited with this fabulous winter wonderland printed bed set. From Santa and his sleigh to reindeers and elves, this fun and festive set is the perfect way to bring the magic of Christmas into any kids' bedroom. It's made from an easy-care cotton blend so is supersoft, durable, quick drying and requires minimal ironing – so it's a winner for me!
SHIMMER N SPARKLE INSTA GLAM DOLL
£7.95
Glam your doll, glam yourself, and glam your world with a Shimmer n Sparkle InstaGlam doll! This range of fashion dolls have real makeup that fits inside. The 'wicked nails' range come with two on trend nail polishes, plus nail accessories that can all be kept inside the doll. So whenever it's time to glam up your own nails, your child will know exactly where to turn to – her InstaGlam doll! 
FAIRY PENDULUM CLOCK
£16.99
Perfect for children's bedrooms and when they're learning to tell the time is this cute Pendulum Fairy Clock. The fairy's wings act as a pendulum and flutter on the hour.
POLLY POCKET SHOPPING MALL
£12.98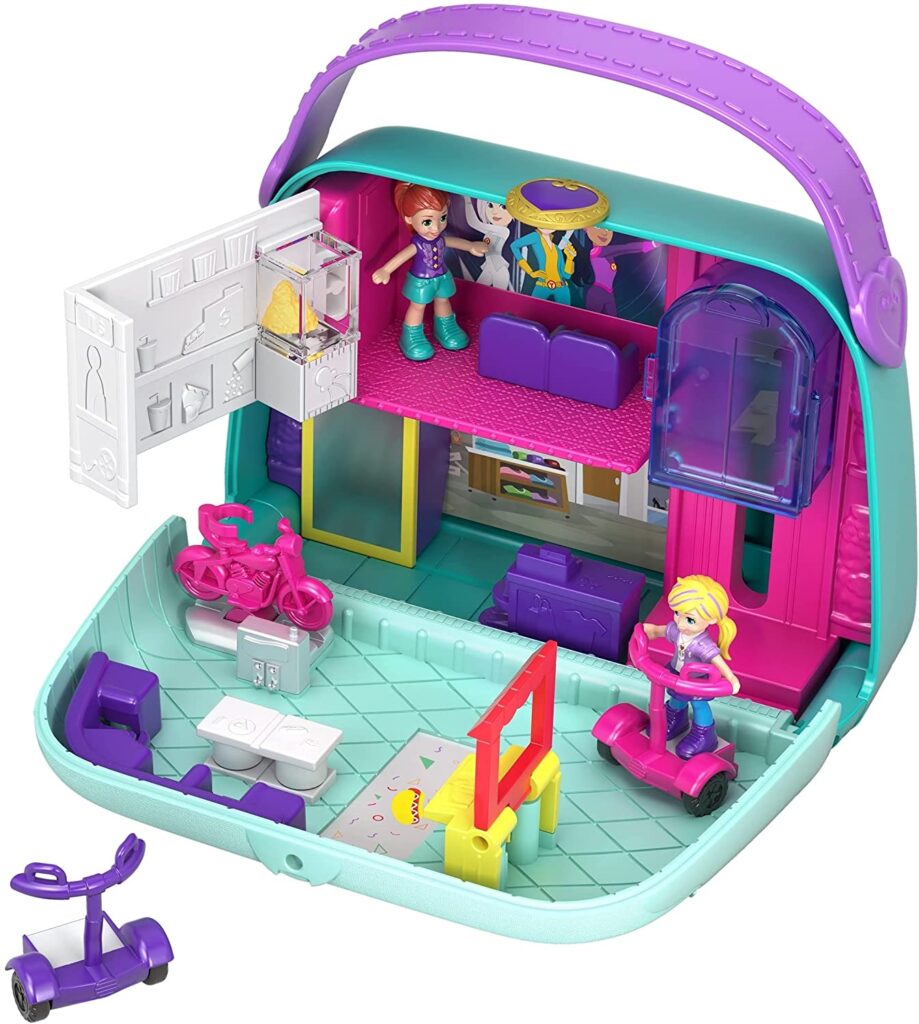 If you're wondering what the best presents for six year old girls are, then how about Polly Pocket? Shaped like a handbag, this Polly Pocket Pocket World Shopping Mall Compact Play Set opens to a mall-themed world with Polly and Lila dolls. Doors open to a cinema with seats and popcorn machine, a snack stand and dressing room. There's even an elevator inside and the girls have segways to zip around the mall.
HAPPY NAPPERS PLAY PILLOW AND SLEEPING BAG
£24.92
Whether it's for a sleepover, camping, or just snuggling up to watch a movie at home, these Happy Nappers play pillow and sleeping bags look super cosy. In seconds they change from a fun play pillow to a portable and cosy lightweight sleeping bag with built-in pillow. It's got an easy-grip handle so your child can take it anywhere. I can't vouch for whether they actually make them sleep all night though!
MORE OF THE BEST PRESENTS FOR SIX YEAR OLD GIRLS
CONTIGO GIZMO FLIP DRINKS BOTTLE
£12.99
If they're anything like mine, your kids go through drinks bottles like pairs of socks! We are forever buying new ones and it drives me mad. How about trying the Contigo Kids Autospout Gizmo Flip bottle? Kids get a kick out of pressing a button to open the pop-up straw for effortless one-handed drinking, and they can easily push the spout under the cover to protect the mouthpiece from the elements. Us parents will love the spill-proof valve, that all parts are dishwasher safe, and the lid is designed to eliminate all nooks and crannies in which dirt and grime might hide. And there are SO many to choose from including SuperHero, nautical with space, dancer, cat, dinosaur, and butterfly.
SYLVANIAN FAMILIES COUNTRY TREE SCHOOL
£39.99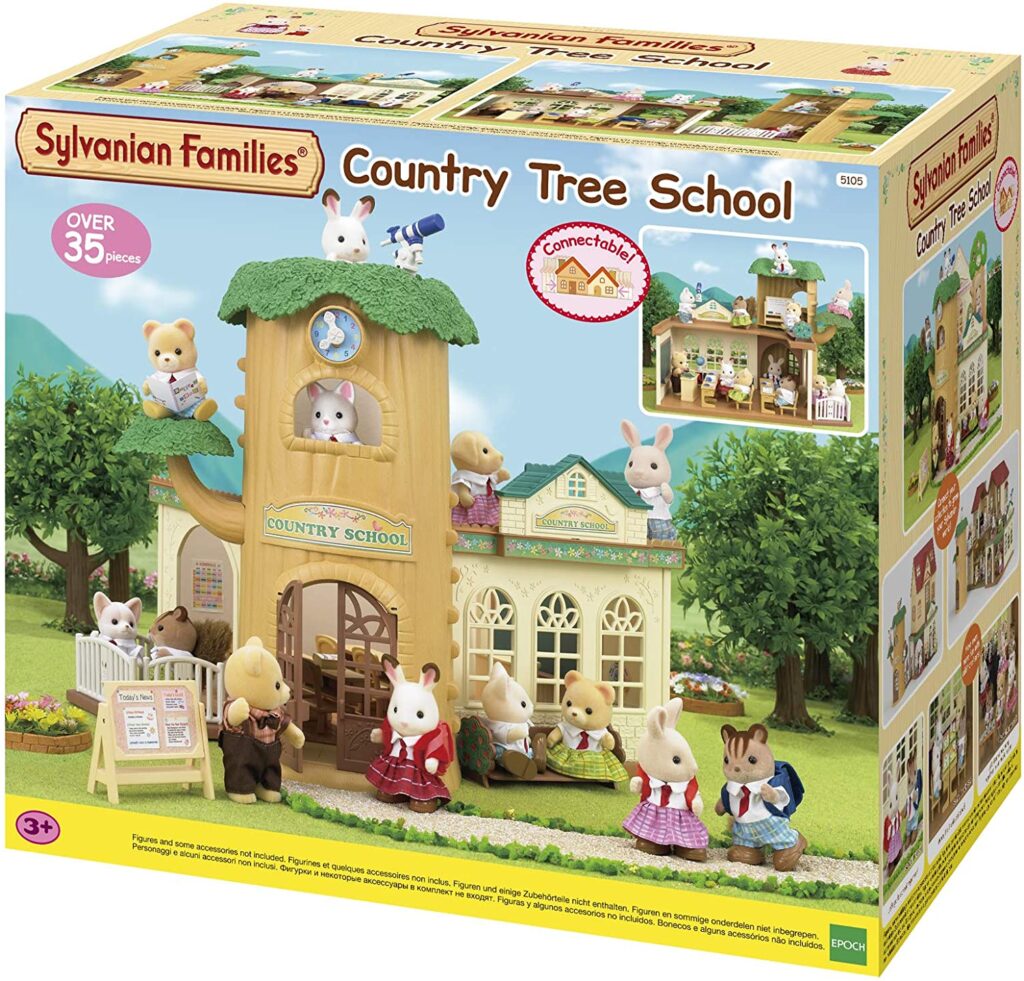 A popular choice that's stood the test of time is Sylvanian Families. And you can see why. This Country Tree School looks to be a seriously fun place to learn! There's a furnished classroom for up to six Sylvanian children, a teacher's desk and whiteboard, and then a tree to climb at break time. What a great school to play with!
CUDDLEDRY HOODED TOWELS
£39.99
If your little one loves bathtime or swimming, then why not treat her to one of these awesome Cuddledry bamboo hooded towels. They come in various fun animal designs from bunny rabbit, dinosaur, monkey, panda and penguin and are SO good. Just wrap your little one up in the towel, and they are literally dry within minutes. Perfect for after swimming lessons too – and my boys still fit into them. Read my review of them here and you can even get 10% off by using discount code TWINSTANTRUMS.
PAPERCRAFT SWEET BOUTIQUE
£10.40
Get their creative juices flowing with thai paper dolls craft kit. Papercraft Sweet Boutique contains 3 double-sided paper dolls and 100 clothing pieces ready for some pretend play fun. The reusable sticky backs mean the clothing can be removed and replaced again and again with no sticky residue. The kids can then convert the box into a chic boutique playset ready to show off the latest fashions.
EVEN MORE OF THE BEST PRESENTS FOR SIX YEAR OLD GIRLS
KINDI KIDS PEARLINA SCENTED SISTERS DOLL
£19.99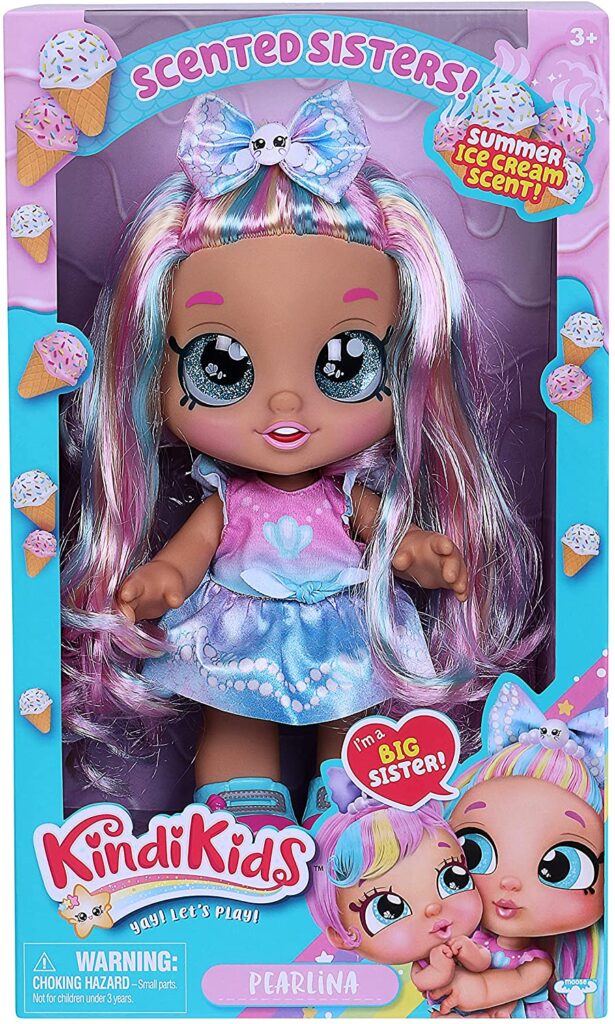 The hugely popular Kindi Kids family just got bigger. The range of dolls have welcomed new members to the range with Scented Sisters. The Kindi Kids now have baby sisters who have cute matching themes to look just like their older siblings and are sweetly scented. Squeeze their tummy and they will blow you a scented kiss. There are three sets to collect – Pearlina, Tiara Sparkles and Berri D'lish.
MELISSA AND DOUG FRIENDSHIP STAMP SET
£7.99
This Melissa and Doug Friendship Stamp Set includes everything your little one needs to create a cute art project. It includes 9 stamps, a two-colour ink pad and 5 colouring pencils. The Friendship stamps feature hearts, rainbows and flowers. Other sets include Animals, Horses, Princesses, Vehicles and Favourite Things.
BARBIE DOLLS
From £6.99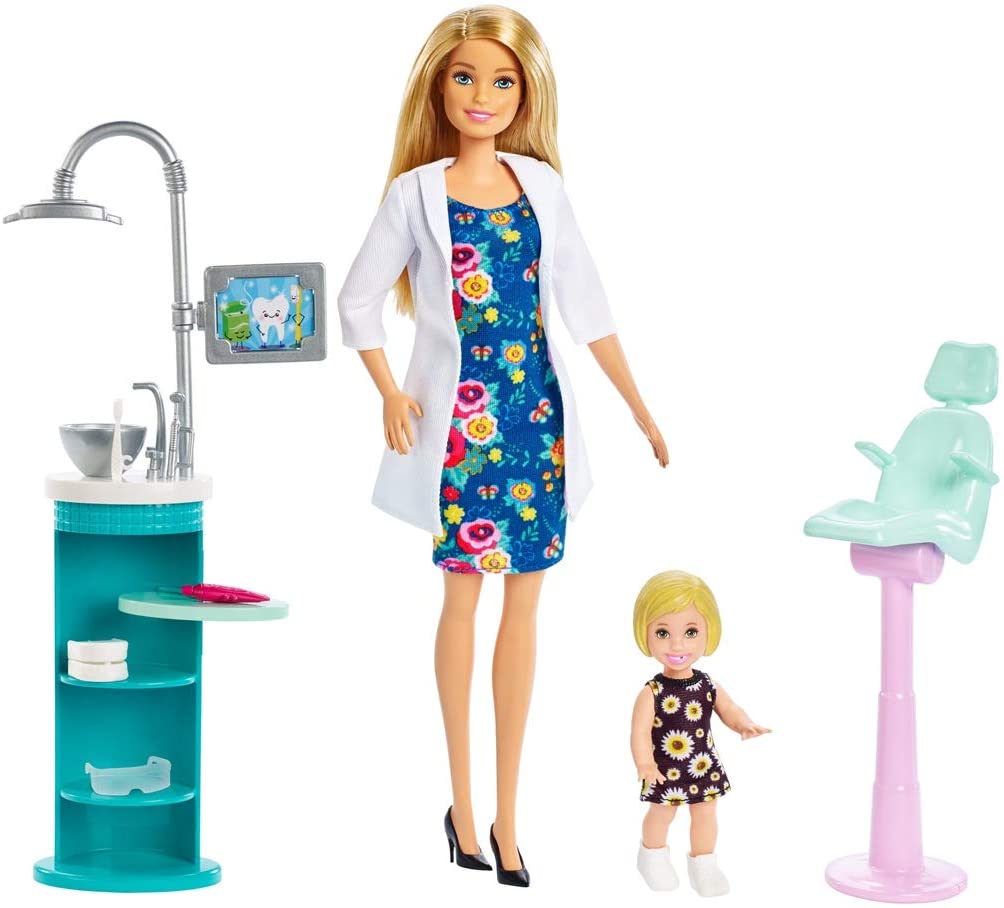 Still as popular as they've ever been, Barbies are right up there when it comes to the best presents for six year old girls. And the choice of them seems endless. Go for this Barbie Dentist Doll and Playset which comes with a small patient doll, dentist chair and sink. Or opt for Big City, Big Dreams Barbie, Leopard Rainbow Hair Barbie, or Dreamtopia Barbie – to name a few. And if you want to go ALL OUT for your Barbie fan, then read on…
BARBIE MALIBU HOUSE
£149.99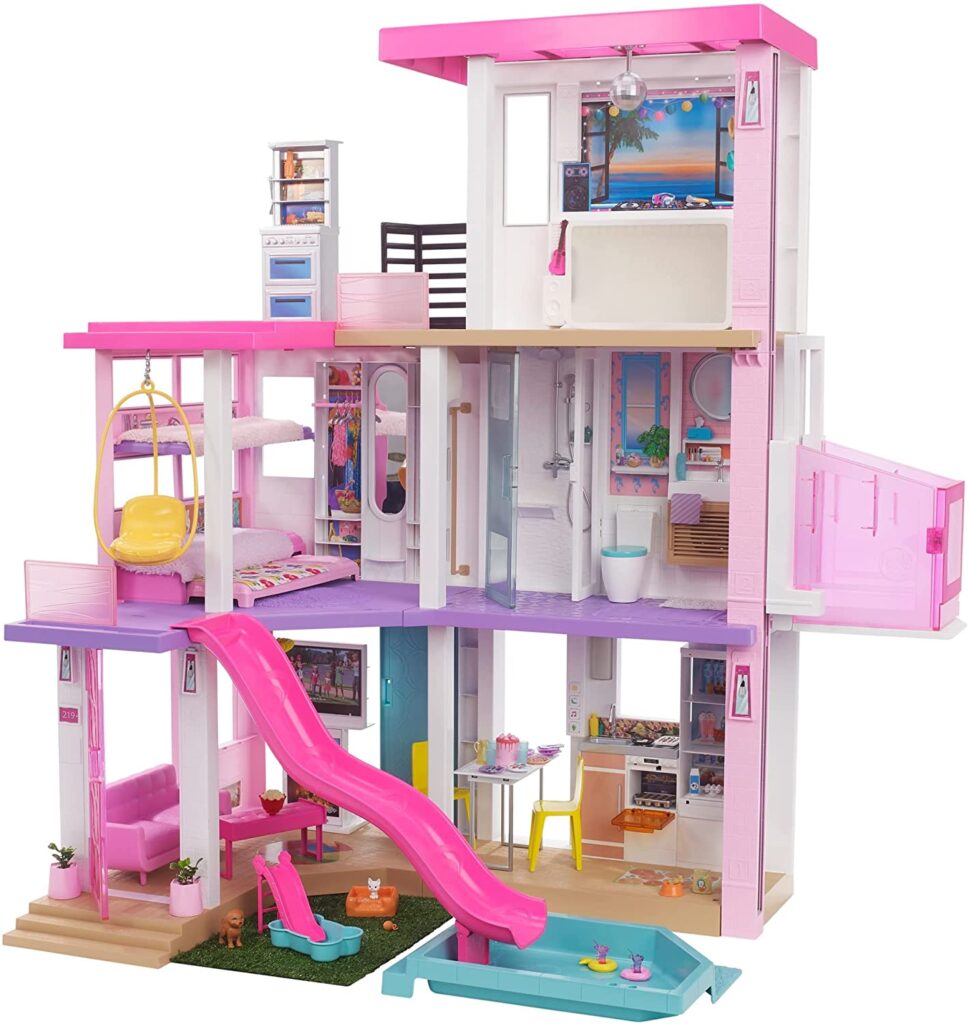 If you're looking for the wow factor when it comes to gifts for six year old girls, then look no further. The Barbie Malibu House is where it's at. It opens right up to create a play space for your children that's more than 2 feet wide and has 6 rooms to play in over 2 storeys including a kitchen, dining room, living room, bedroom, bathroom and outdoor patio. Still popular is also the Barbie Dreamhouse . This stunning 43 inch tall dolls house is fully furnished and has 10 indoor and outdoor play areas, customisable features and more than 75 storytelling pieces. Features include a working elevator, party room with a DJ booth, second-story slide with a pool, balcony with a repositionable hammock swing and a puppy play area with its own pool and slide. Discover wow moments on every floor, and any child who receives wither of these houses is SERIOUSLY lucky.
UNICORN STATIONERY SET
£13.99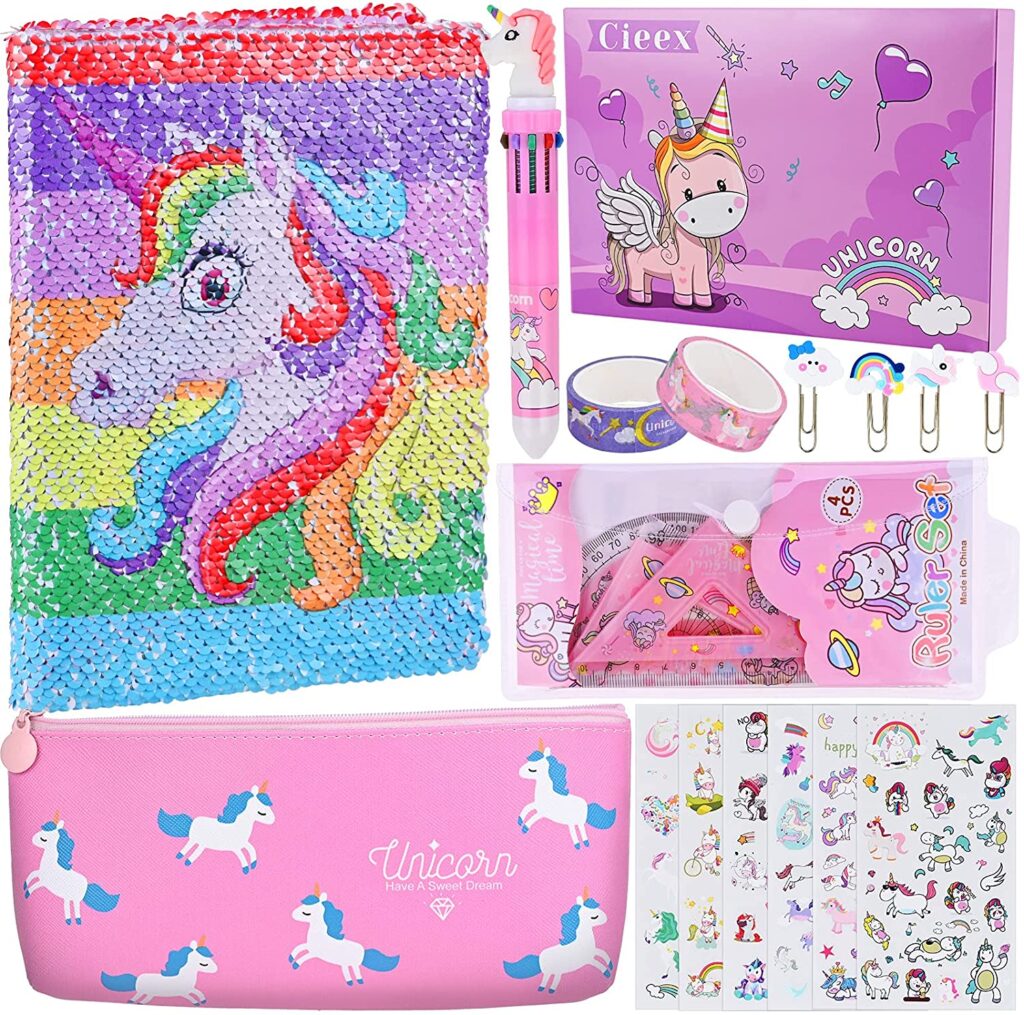 We all know how much little ones love stationery, so combine it with unicorns and you've got yourself one of the best presents for six year old girls. And what's not to love?! This Unicorn Stationery Set includes a reversible sequin unicorn notebook, a 10 colour ballpoint pen, bookmark, washi tape, ruler set, stickers and pencil case. Perfect for any child who loves to write and draw.
NUMBERBLOCKS MATHLINK CUBES
£24.95
Perfect for if they've just started or about to start school, these Numberblocks Mathlink Cubes are based on the hit CBeebies TV show. The activity set has 251 pieces to create the Numberblocks characters from Zero to Ten. Children can also use the 30 write-and-wipe activity cards or play along with the TV episodes as they learn to count, add, subtract and much more. The cubes, which are easy to click together and twist apart, can be customised with faceplates and stickers.
SCHOOL ROLE PLAY SET
£39.95
This fabulous School Role Play Set enables children to get to work marking books, giving out stickers, ringing the bell and organising playtime. The tri-fold board includes a calendar, dry erase board, notepad, worksheets, and register. There's also a school map to discover different countries. The kids will have hours of fun with this!
HOW WE'RE MADE – MONTESSORI GAME
£19.95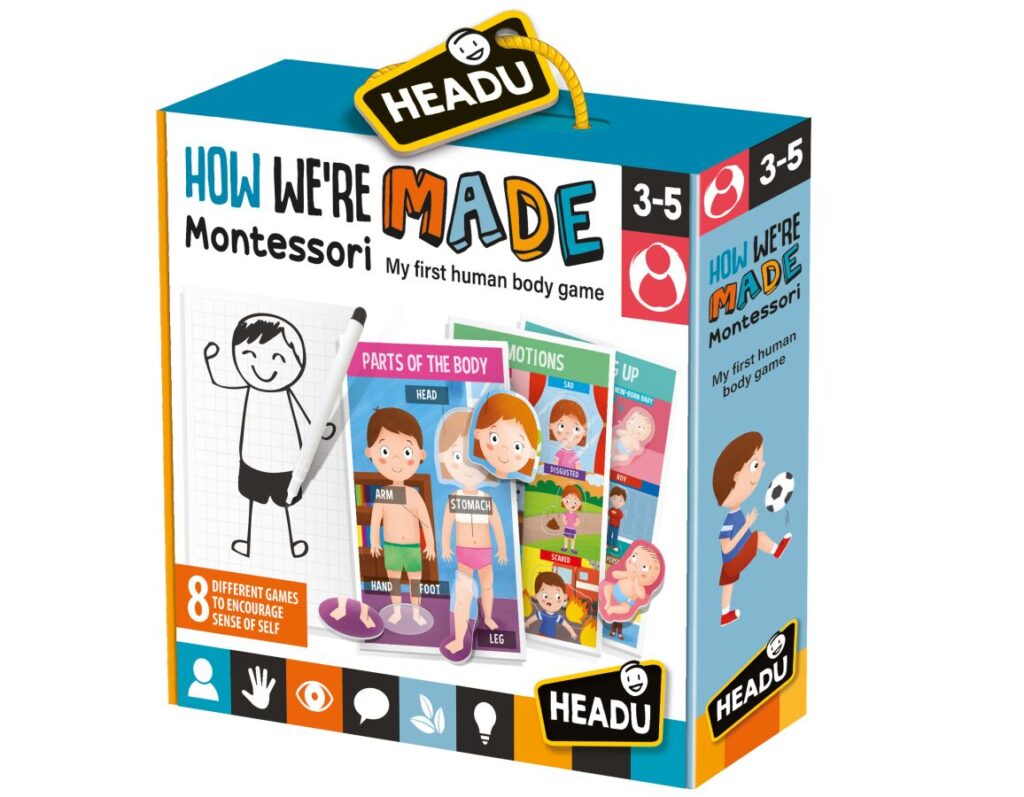 This How We're Made Montessori Game contains 8 different games to learn about the human body based on the well-known Montessori method. It's both fun and educational and has 42 colourful cut-out shapes which children can fit into matching slots to discover senses, emotions, growing up and the human body.
DISNEY PRINCESS ARIEL STYLING HEAD
£36.00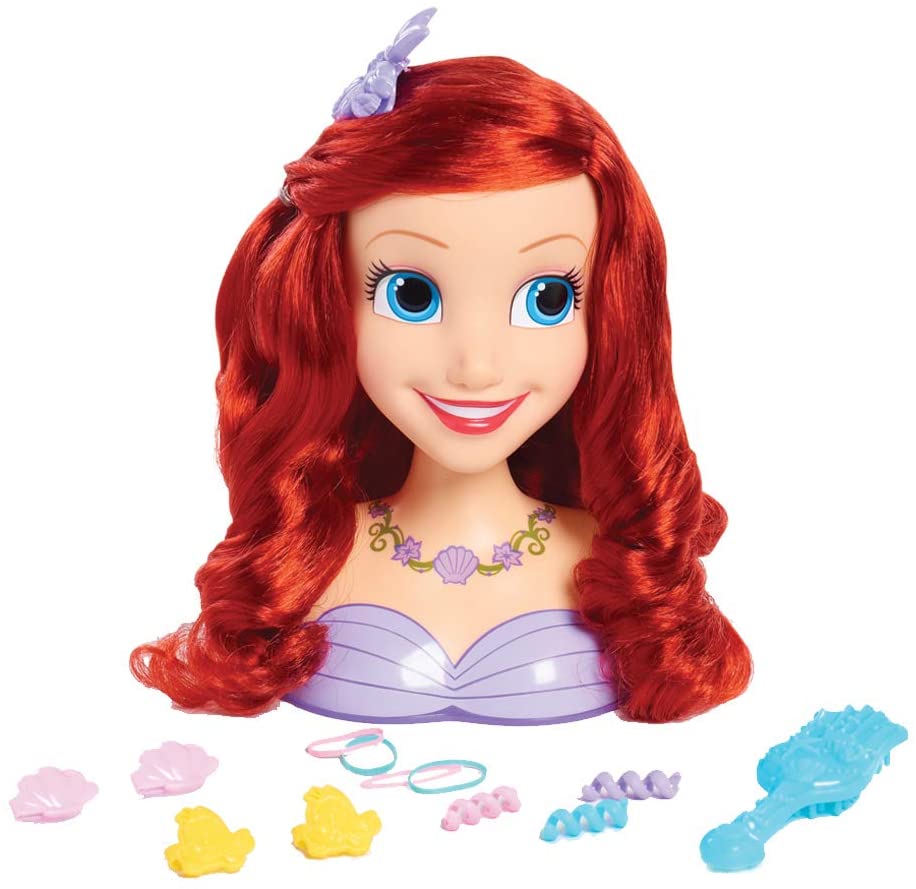 Your child might be into Disney Princesses, but rather than buying another doll, how about this Ariel Styling Head? It holds endless hair play possibilities with Ariel's beautiful, shiny red hair to brush and style. It comes with 13 fun, wear and share accessories including a hair brush, two seashell hair clips, two flounder hair clips, a sea flower hair comb and three hair spirals. Kids can even use the hair clips in their own hair. And if Ariel isn't one of their favourites, you could always go for Moana, Belle, or Rapunzel.
TANGLE PETS
£9.99
If your kids need something to occupy their hands then they'll love these popular Tangle Pets fiddle toys. They're incredibly addictive, you'll even find you're playing with them yourself! The pieces twist, bend and tangle and there are six to collect including Twisty the Kitty, Snap the Sloth, Uba the Unicorn, Linky the Flamingo, Bendy the Bunny, and Pop the Puppy.
MESSY ME CHILDREN'S BAKING SET
£19.50
Are your children into baking? If so, treat them to this beautiful Messy Me Children's Baking Gift Set. It comes in a cute material bag and includes a wipe-clean grey stars apron, a mini rolling pin, and three cookie cutters. Perfect for the little bakers in your house. The apron is for children aged 3-5. I have a Messy Me grey stars oilcloth table cloth and it is pretty much the most useful thing in my house! Read my review of the Messy Me products here.
JULIA DONALDSON 10 STORY COLLECTION
£16.80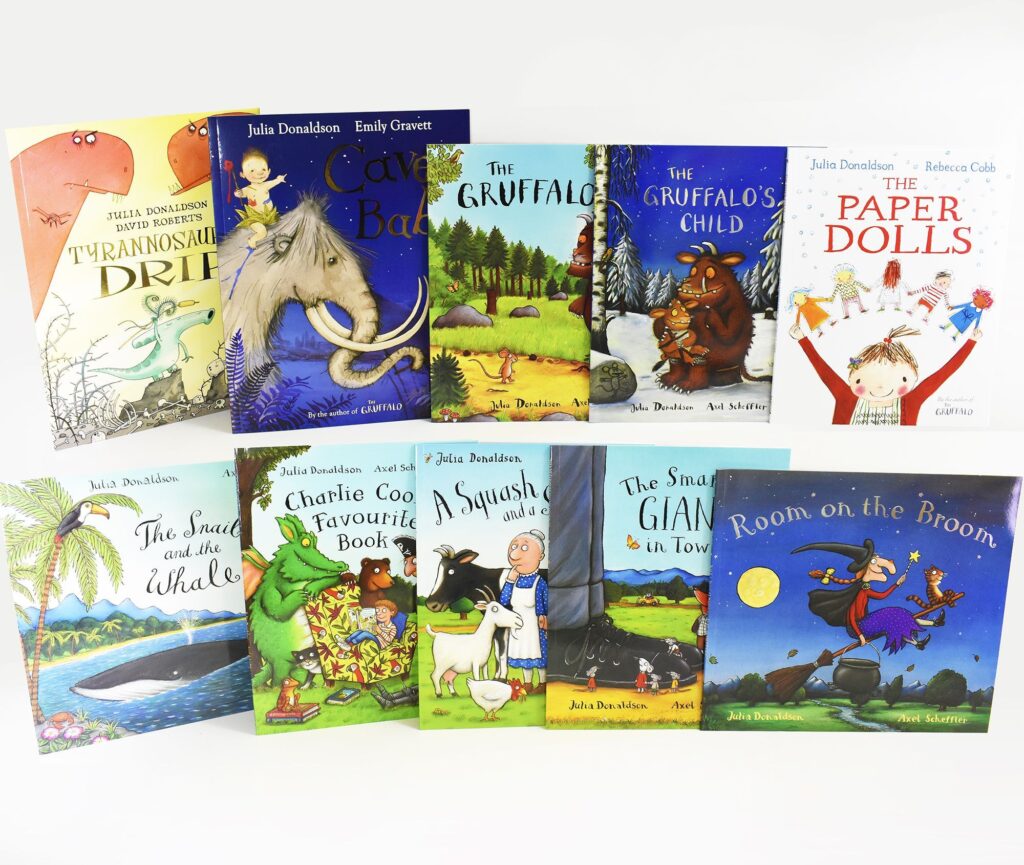 I can't put together a list of best presents for six year old girls without including some books. And we all know what fabulous stories the Julia Donaldson ones are. Well check out this Julia Donaldson Story Collection – 10 favourite paperback books all in a fantastic blue picture bag. The stories include The Gruffalo, The Snail and the Whale, Room on the Broom, The Smartest Giant in Town, The Paper Dolls, Cave Baby and Tyrannosaurus Drip. And what a great price for all 10 books!
So there you have it, some of the best presents for six year old girls currently on the market. Which ones do you have your eye on?
If you want some other gift ideas, check out these posts: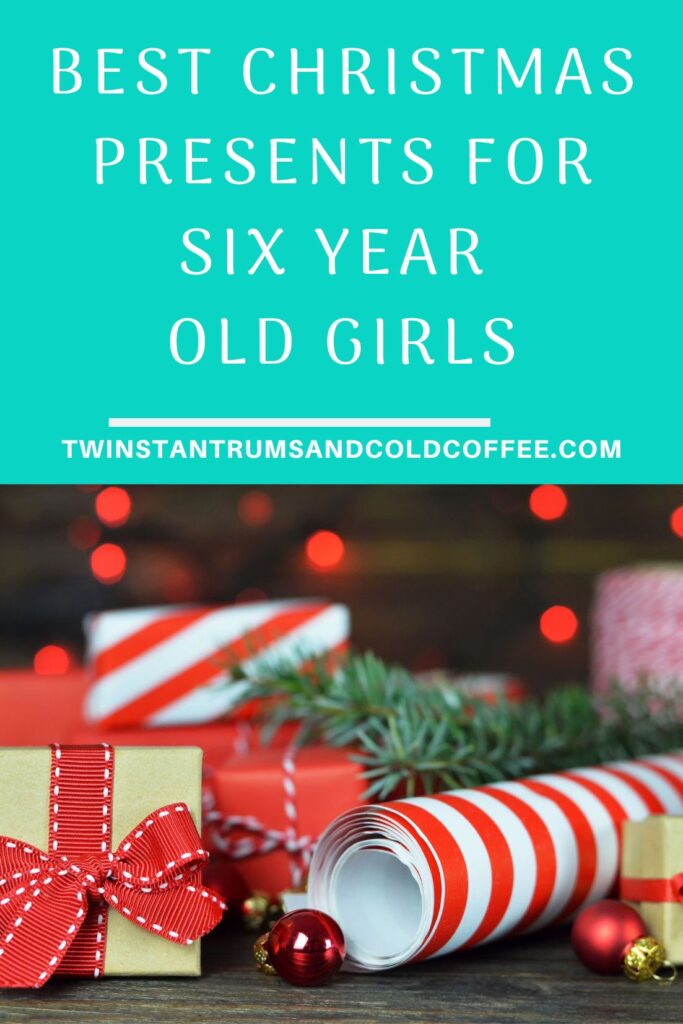 How did I do?
Did you enjoy this post? What a great list of best presents for six year old girls. So why not hang around and read a few more whilst you're here. If you want to get in the Christmas spirit I've got several posts you'll like:
If you fancy reading more of my usual kind of parenting stuff, head over to my Mum Life section. You'll find all things parenting with a tongue-in-cheek twist. And if you want some family holiday inspiration or days out, head to my Travel Section.
And if you like a bit of social media madness, pop over to my Facebook page where you'll be able to have a laugh at what ridiculousness goes on in my house with three very small boys on a daily basis. Warning – there is often sarcasm, and usually swearing. There are also great travel reviews and some AWESOME giveaways. Feel free to join my Twins, Tantrums and Cold Coffee – Shits and Giggles Parenting Group too, where everyone shares their hilarious stories.
You can also find me on Pinterest, Instagram and Twitter too.
And if you want to work with me, feel free to give me a shout here or at helen@twinstantrumsandcoldcoffee.com and I'll get back to you.