What are the best presents for six year old boys right now? That's something I find myself asking a lot when it comes to birthdays and Christmas for my twins.
There's so much on the market, where do you even start when it comes to making a decision. Well hopefully this list of awesome gifts for six year old boys will help a little bit. Good luck!
*AD Disclosure: I have been gifted some items for this post. It also contains affiliate links I may receive payment for. It does not affect what you pay.
BEST PRESENTS FOR SIX YEAR OLD BOYS
BUNCH OF BUTTS GAME
£14.99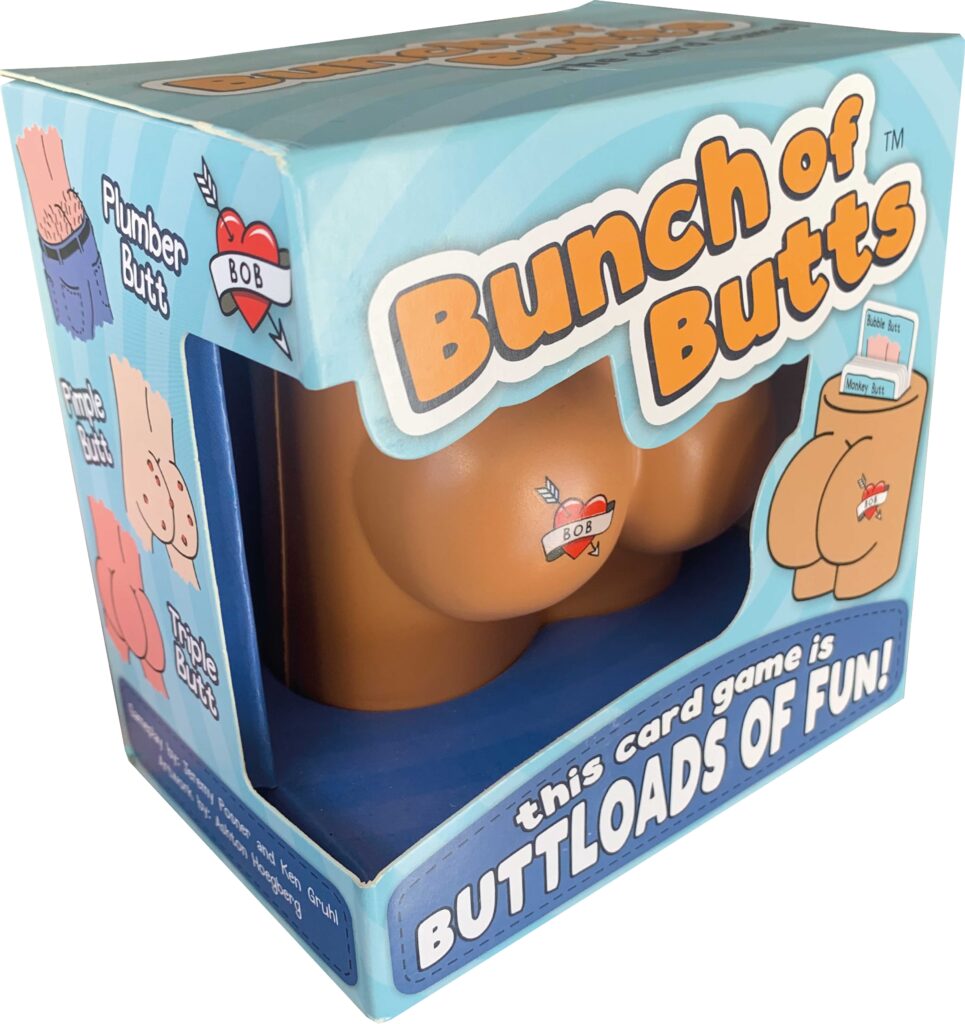 Anything with the word 'Butts' in, is going to go down a storm with a six year old boy, right? So they're going to love this one. Bunch of Butts is the cheeky, shouty out card game, and it's apparently 'butt loads of fun'! Find matching butts, shout them out and collect the cards, but watch out for the Silent Butt Deadly card. After you collect cards, flip them over so their letters 'BUN', 'CH', 'OF', 'BU', 'TS' are showing and the first person to collect one of each card to spell out 'Bunch of Butts' and shout it out is the winner! Sounds like great fun to me!
PLUSH BLUE DRAGON MICROWAVE TOY
£24.99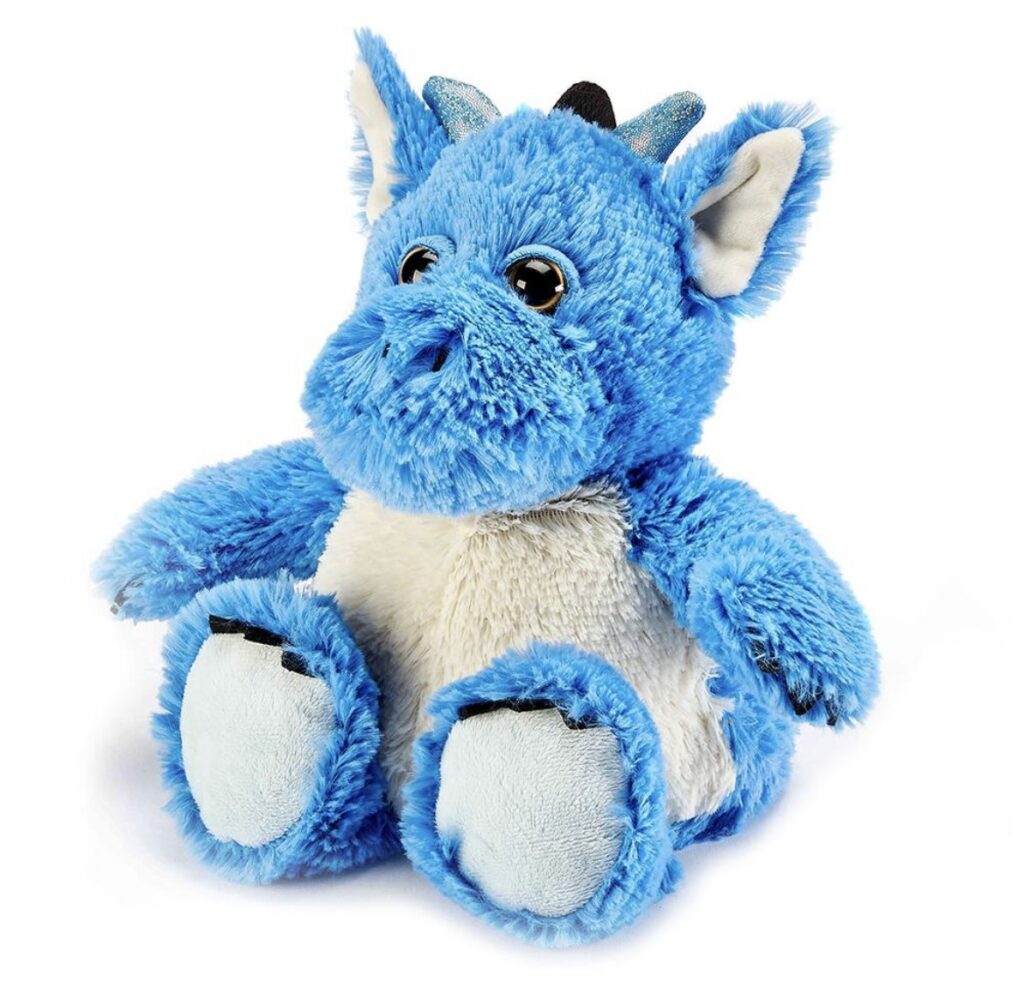 Make bedtime more fun, and keep warm at the same time with this Cozy Plush Blue Dragon Microwave Animal Toy. You can heat it up in the microwave in just 90 seconds and you'll be amazed by the soothing warmth and comfort it will provide. It's filled with natural grain and when heated will release a gentle French Lavender scent over time to help your child feel soothed and relaxed. They'll be able to snuggle up with the dragon and keep cosy and warm for up to 2 hours. It can also be used as a cold pack by simply putting it in the freezer. And the lovely people at the Hot Water Bottle Shop are giving my readers £5 off when they spend £15 using COLDCOFFEE5.
GLOW DREAMING SLEEP AID
£64.95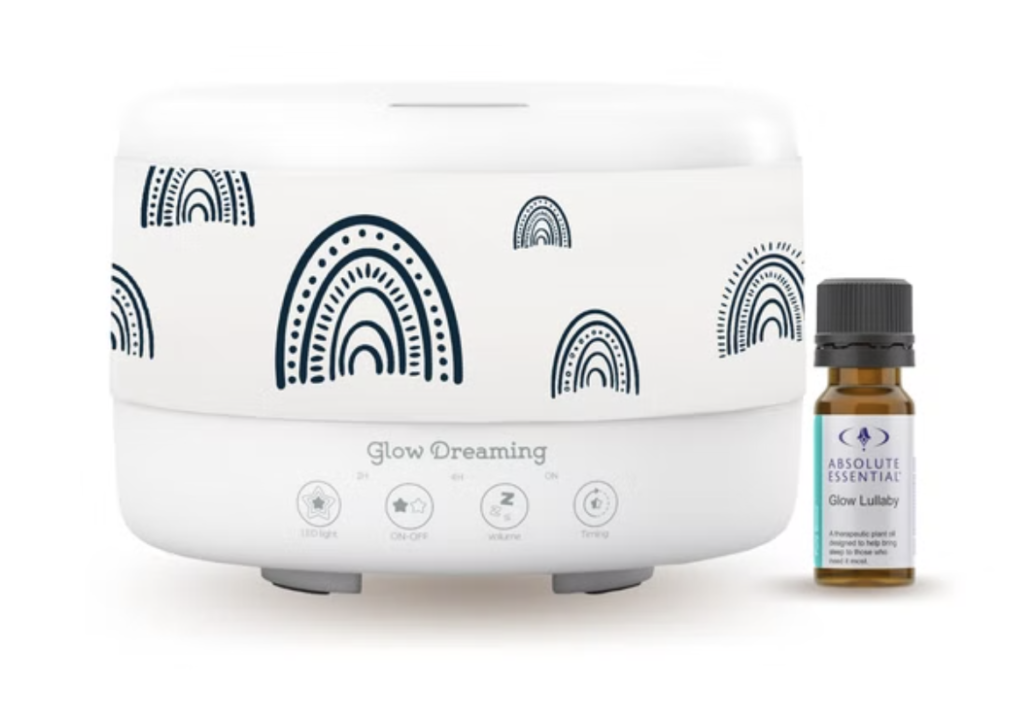 It might be a present for the child, but the parents are going to get a whole load of benefit from this Glow Dreaming Sleep Aid too! It's a 5-in-1 sleep aid that is scientifically engineered for sleep. Glow Dreaming is the creation of one desperate mum who struggled with her daughter's inability to fall asleep. The device combines light therapy, aromatherapy, pink noise and a humidifier, which work together to relax and calm children and help them fall asleep. The product was created in Australia and within months of launching had sold out. It has now been snapped up by more than 200,000 families in Australia and across the world. So if your kids struggle to fall asleep, maybe this is what you need!
POKEMON CLIP 'N' GO
£8.99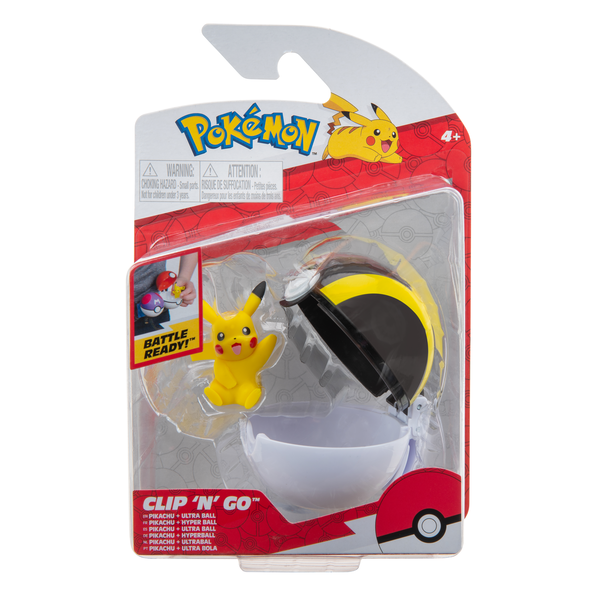 Bring Pokemon battle play to life anywhere you go! Clip 'N' Go Poke Balls allow you to carry and hold your Pokemon like a real Pokemon trainer. Each set includes one Poke Ball and one 2-inch Pokemon figure. Simply open the latch to reveal the figure inside. Add them all to your Pokemon team! My boys would love this, they are all Pokemon obsessed. And we all know, you've 'Gotta Catch 'Em All!'
MONSTER JAM REMOTE CONTROL MEGALODON MOSNTER TRUC
£49.99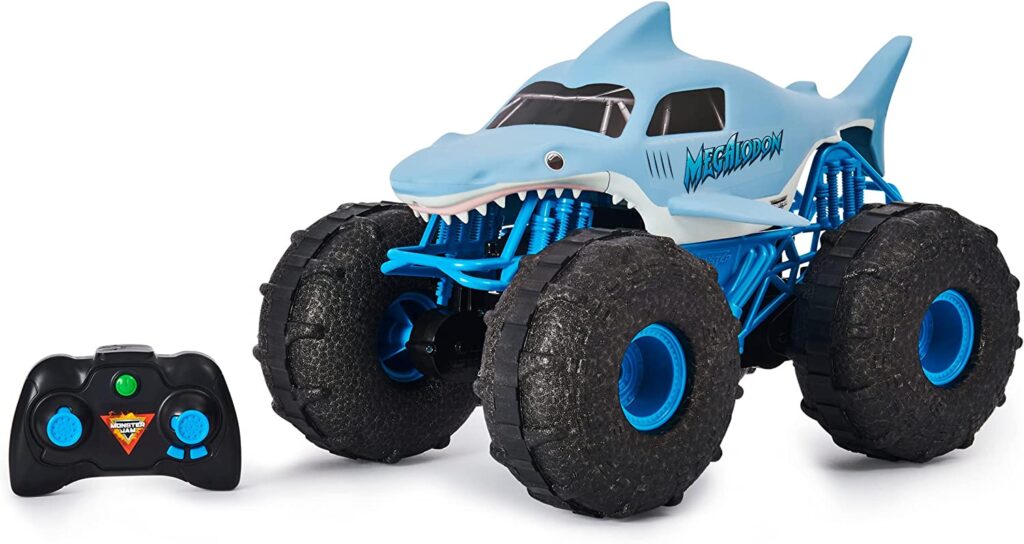 My kids have a few of these Monster Jam Official Monster Trucks and absolutely love them. Whether they're racing them along the hallway floor, or sending them off ramps in the garden or at the park, they provide loads of fun. They have realistic features such as working suspension to absorb more impact and rubber tyres to offer greater traction. This all-terrain remote control Megalodon is pretty much the bees knees though as it goes through water and can race on snow, mud, rocks and grass. And there are more trucks to collect than ever before so the kids can hold their own Monster Jam event.
HOT WHEELS 20-PIECE SET
£26.45
If your little ones are into cars, then they'll have an instant collection of them with this 20-piece Hot Wheels set. The popular vehicles feature both classic decos and hot designs, and the kids will have so much fun with them.
RYAN'S WORLD TOUR PASSPORT FIGURE PACK
£11.99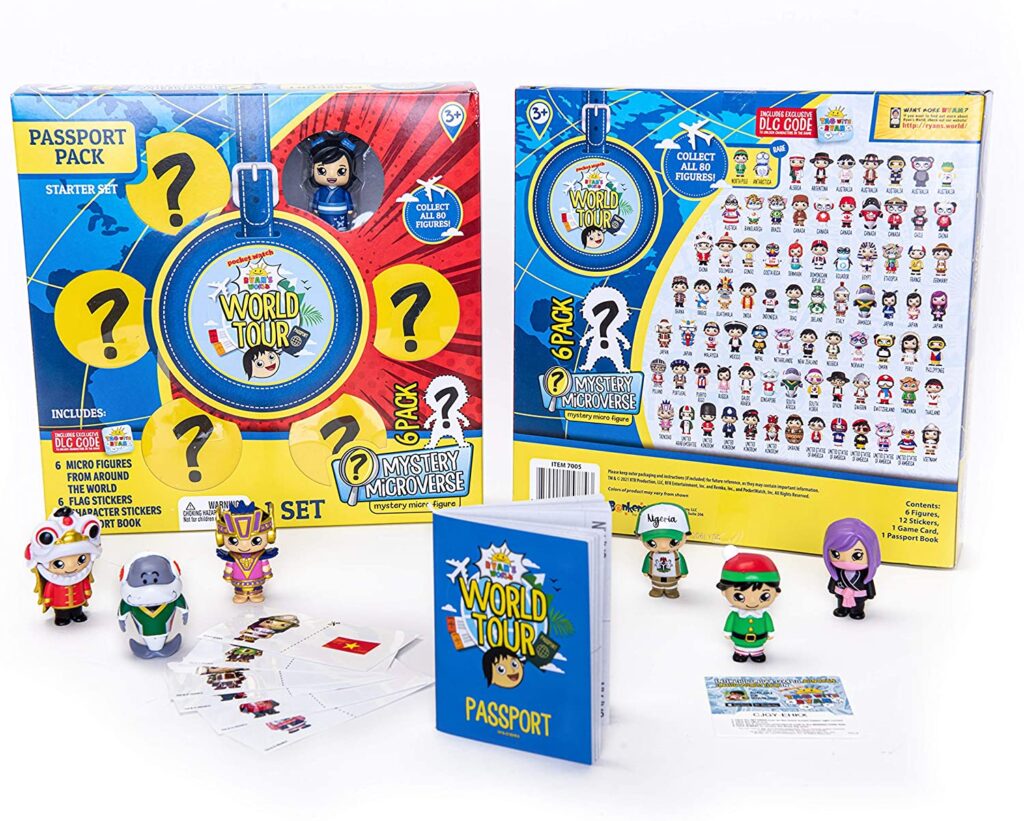 If your kids are fans of You Tube sensation Ryan, then they are going to LOVE this. In Ryan's World Tour Passport Figure Pack, Ryan is off on his travels taking part in the ultimate World Tour collecting 80 different Ryan's World Tour figures and wants you to join him. Each figure from different countries has two stickers. Build your collection, find the stickers and complete each page of your World Tour Passport to be the ultimate globe trotter, just like Ryan. The pack includes six figures, 12 stickers and a World Tour collector passport.
FLIP FROG BOARD GAME
£11.50
Flip Frog is a fun action game of feeding flies. The kids will love feeding the hungry frogs, but be careful as you place them on his tongue. Eating too many makes him flip out! Players have to spin the spinner and feed the Flip Frog the number of flies indicated. But you have to feed him gently or he'll do a 360 degree somersault, make you jump, and you're out of the game.
TEDDY AND THE TYGERS BOOK
£7.99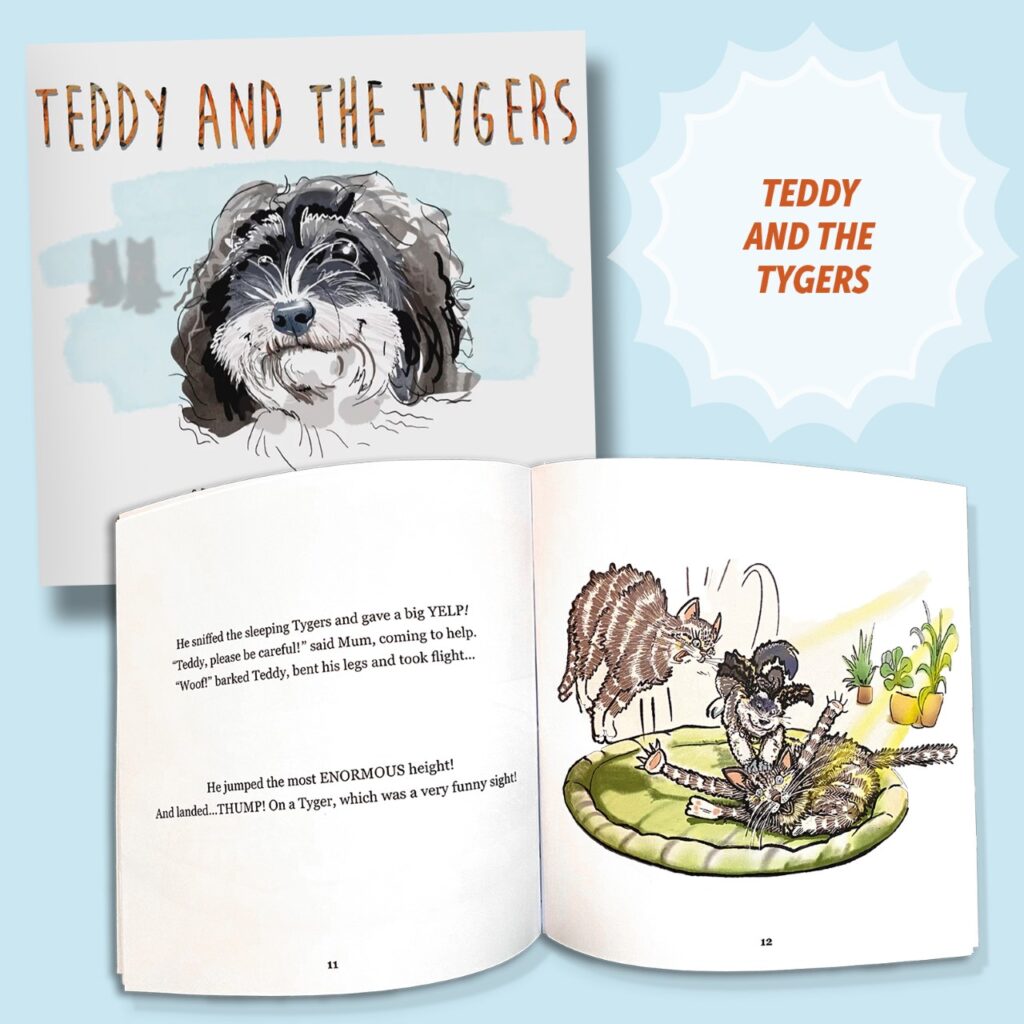 Teddy's Tails is a new series of children's picture books inspired by the adventures of Teddy, a beloved family dog. The books are written in rhyme and are beautifully illustrated by Jake Biggin. The verse encourages children to experience the flow and rhythm of language whilst learning new vocabulary. It's rare to find a child that doesn't love stories about animals and these very gentle, simple and positive stories show the love a boy and his family have for their puppy and vice versa. Suitable for children aged 2-6 years. Teddy and the Tygers is available here and explores the relationship between the family's new kittens and Teddy, and how they all adjust so they can live happily together. An ideal book if you're welcoming a new sibling into your family.
STOMP ROCKET DUELLING ROCKETS
£22.90
Inspire the next generation of engineers and astronauts and keep kids active and screen-free with Stomp Rocket, a great range of fun and STEM-inspired toys. Ideal for the garden, days out in the park or holidays, they make great educational gifts. Learn scientific concepts such as trajectory, force, projection and motion. All products are portable, fast, easy to assemble, with no batteries required. Full power to kids and parents: run, jump and STOMP for 100% thrills and spills!
Battle for the title of strongest stomper with Stomp Rocket Duelling Rockets. This set comes with two launch pads so friends can face off simultaneously, sending their rockets up to 200 feet.
GEOMAG
£19.99
Have your children discovered Geomag yet? There's a complete range of Geomag magnetic kits to choose from, then all they have to do is let their imagination run wild. There is virtually no limit to the creations kids can make, and it opens the door for all children to explore science, creativity and engineering. An educational AND fun toy – it's got to be on the list, surely?
HEROES OF GOO JIT ZU – GALAXY ATTACK
From £7.00
My boys love Goo Jit Zu and now there are even more figures to choose from. This year your children will love the all-new Galaxy Attack series including Cosmic Pantaro, Saturnaut and the ultra rare Crusticoid. The seven new stretchy figures have blasted into space to search the Galaxy for the origins of Goo! The Goo has gone Galactic and some of the Heroes are back to battle against the squishiest, stretchiest and scrunchiest aliens in the universe.
BRIDGET AND GINGER BIG BOOK OF FUN
£9.99
Bridget & Ginger is a colourful pre-school children's brand which follows the lives of two mischievous sausage dogs. The Big Book Of Fun lets children join Bridget and Ginger for loads of exciting stories and activities. The 88 page book contains three separate stories as well as puzzles, colouring, activities, drawing, games and stickers to keep the kids entertained for hours. You can also buy a soft cuddly toy of each dog too, and watch their YouTube channel.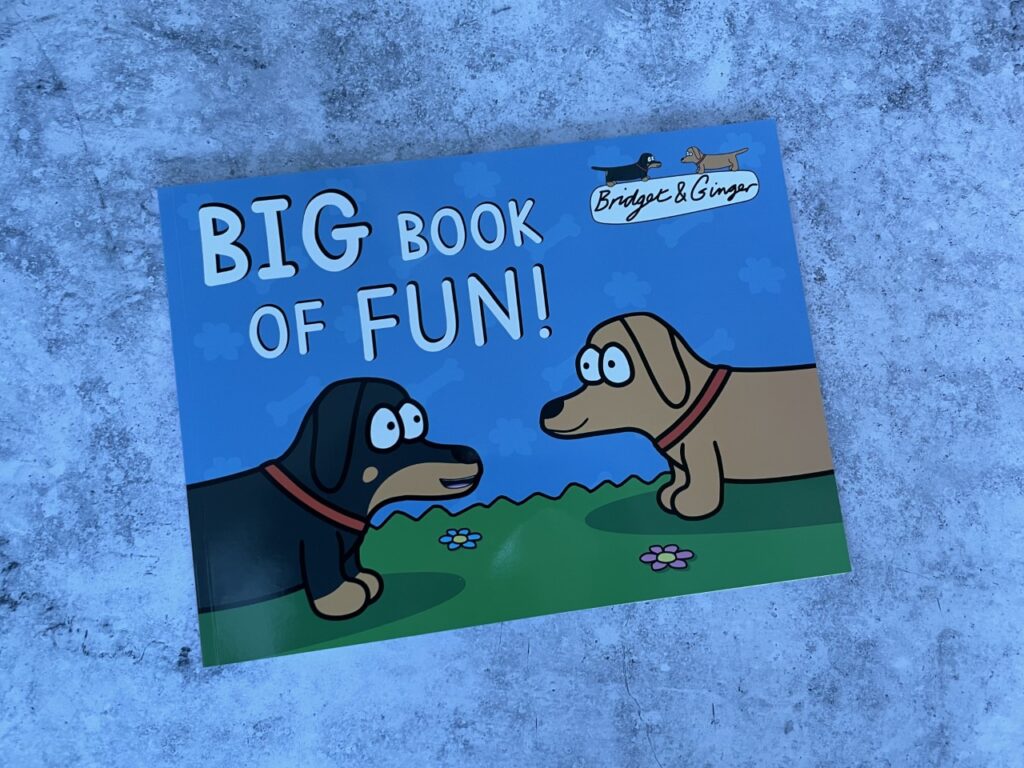 KIDS MAGIC SET
£16.99
Abracadabra! Set up your own magic shows at home with this Heyzeibo kids' magic set. It's designed to give children their first successful journey into the world of magic. The set is full of easy-to-learn tricks and high-quality props so they can learn the same tricks as professional magicians.
VINTAGE STYLE DINOSAUR POSTER
From £13.00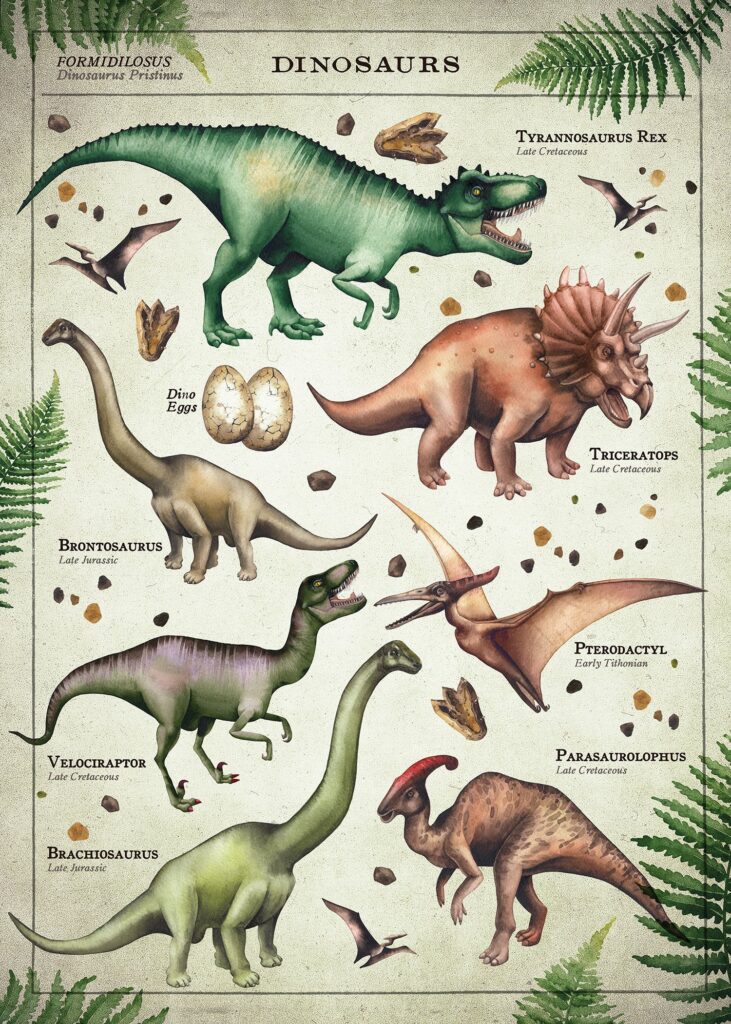 Is your child a dinosaur fanatic? If so they'll love this vintage dinosaur poster in the style of a retro chart. Featuring seven different dinos from a Brontosaurus to a Brachiosaurus it comes in matte or gloss, and in seven various sizes. It's an ideal gift for a six year old dinosaur fan, and will look great in either their bedroom or playroom.
LEGO CITY FIREFIGHTER TRUCK TOY
£10.00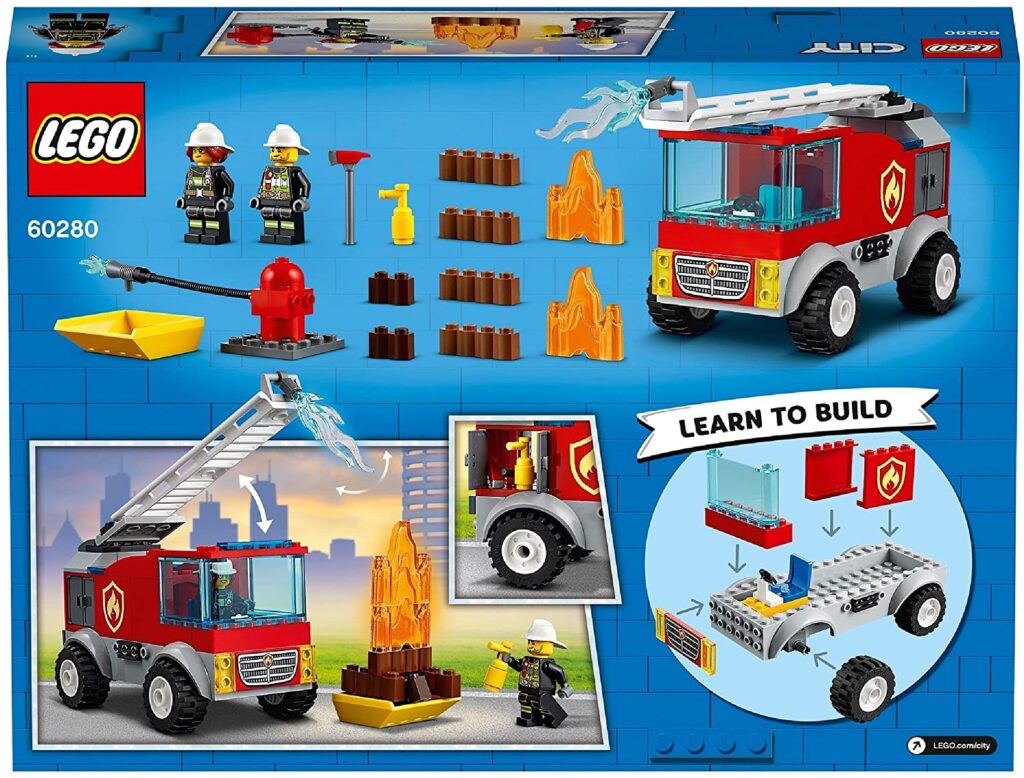 If you ask me, you can't go wrong with Lego as one of the best presents for four year old boys. Or in fact any age of girl or boy! My kids LOVE it and would happily play with it all day given half the chance. This Lego City Firefighter Truck Toy is a perfect gift for six year olds and features a fire engine with a ladder, extinguisher, stackable flames, and a water hydrant plus accessories such as a firefighter axe and helmet. The all important mini figures include fire chief Freya McCloud from Lego City Adventures TV series.
MORE OF THE BEST PRESENTS FOR SIX YEAR OLD BOYS
'SELFIES' 3D ANIMAL PUZZLE
£10.99
These fabulous Howard Robinson Super 3D 'Selfies' puzzles are aimed at children aged 3+ so would make an ideal birthday or Christmas gift for six year olds. The images of the cheeky animals make fantastic jigsaw puzzles with amazing depth, colour and movement. This one is 48 pieces and looks beautiful.
MONSTER JAM REMOTE CONTROL MEGALODON MOSNTER TRUC
£49.99
My kids have a few of these Monster Jam Official Monster Trucks and absolutely love them. Whether they're racing them along the hallway floor, or sending them off ramps in the garden or at the park, they provide loads of fun. They have realistic features such as working suspension to absorb more impact and rubber tyres to offer greater traction. This all-terrain remote control Megalodon is pretty much the bees knees though as it goes through water and can race on snow, mud, rocks and grass. And there are more trucks to collect than ever before so the kids can hold their own Monster Jam event.
LOFEE MAS MAGNA SKETCHING PAD
£14.99
If your kids like to draw on things they shouldn't then why not give them this Loffee Mas Magna sketching pad for their doodlings. There's no mess, no ink, no paint, and (hopefully) no more drawing on the walls! It comes in green, blue, yellow and red and kids can erase their doodles with just one slide ready to start again.
LOYO MARBLE RUN
£18.99
This LOYO Marble Run toy is a brilliant present for a six year old. There are countless ways to set it up and watch the marbles whizz down. It not only encourages their imaginations but also improves their problem solving skills. With all the different attachments, this LOYO Marbles STEM toy can exercise kids' fine motor skills and logical thinking. But most of all it's just really good fun! This is one of the best presents for four year old boys you can choose.
MARVEL SUPER HERO MEGA MIGHTIES FIGURES
£11.99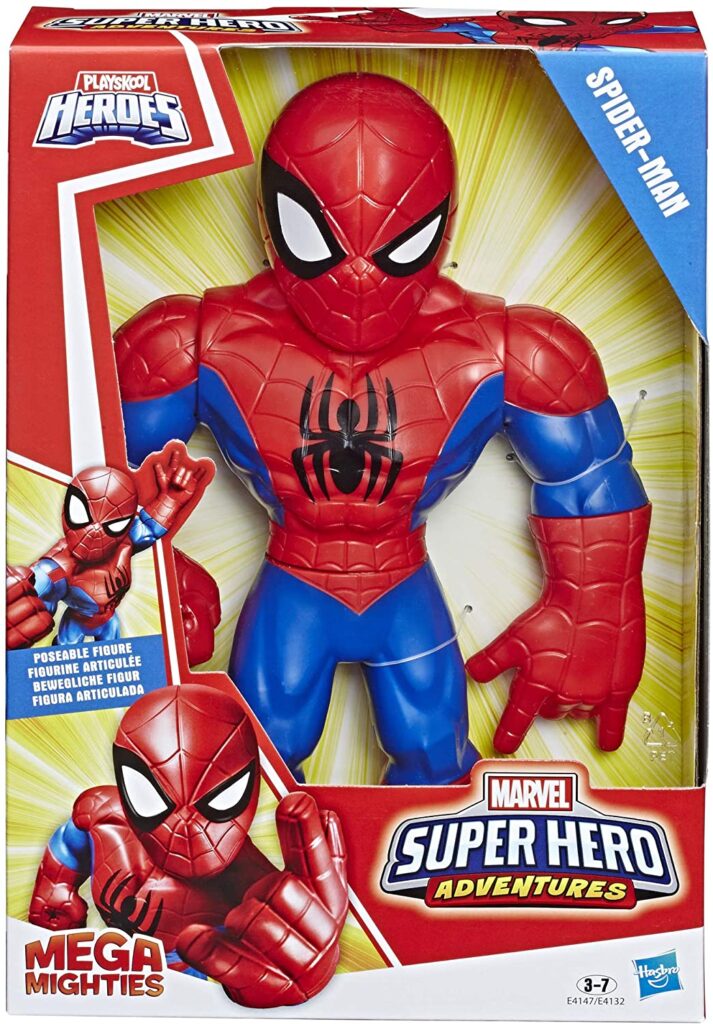 If Super Heroes are their thing, then four year olds will love these Marvel Super Hero Mega Mighties Collectible Figures. The 10 inch figures can be articulated into different poses ready to fight crime and save the day. They're sized right for small hands and inspire hours of adventurous imaginative play.
V TECH SWITCH 'N' GO DINOS
£11.99
Combine their love of dinosaurs and their transforming skills with these brilliant V Tech Switch n Go Dinos. Within a few easy steps, children can change their vehicle into a lively dinosaur. It plays sound effects as you push it along and when switching. You can also press the action buttons to activate some cool dinosaur facts. And there are various dinos to choose from.
EVEN MORE OF THE BEST PRESENTS FOR SIX YEAR OLD BOYS
CHRISTMAS DUVET SET
£14.99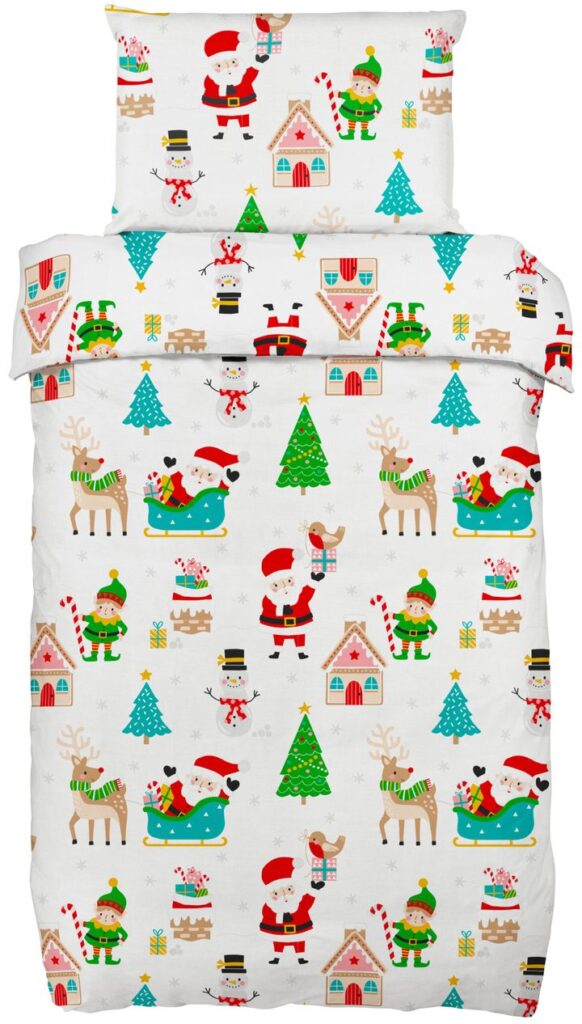 If you're feeling festive, why not let the kids get even more excited with this fabulous winter wonderland printed bed set. From Santa and his sleigh to reindeers and elves, this fun and festive set is the perfect way to bring the magic of Christmas into any kids' bedroom. It's made from an easy-care cotton blend so is supersoft, durable, quick drying and requires minimal ironing – so OBVIOUSLY that means it gets the thumbs up from me!
MEGA BLOKS PAW PATROL THE MOVIE: MARSHALL'S CITY FIRE RESCUE SET
From £18.50
If they're still into Paw Patrol, this Paw Patrol Mega Bloks set would make a fabulous gift for a six year old. Inspired by Paw Patrol: The Movie, it has 32 mini building blocks including special pieces to build Marshall's fire truck featuring a functional launcher, Zuma's hovercraft and a house fire to set the scene. It also has poseable figures of Marshall and Zuma. This is definitely one of the best presents for six year old boys you can get your hands on.
LITTLE BRIAN PAINT STICKS
From £9.00
If you're the type of mum who doesn't like the mess that comes with arts and crafts (like me) but your kids still want to create, you HAVE to buy some of these Little Brian Paint Sticks. They are literally the best thing we have in our house right now. The solid paint stick twists up and down like a glue stick and dries within minutes. There's no need for brushes, water or the usual mess so it's a fun, clean and convenient way to paint. Honestly, they've saved me!
BATMAN FIGURES
£6.99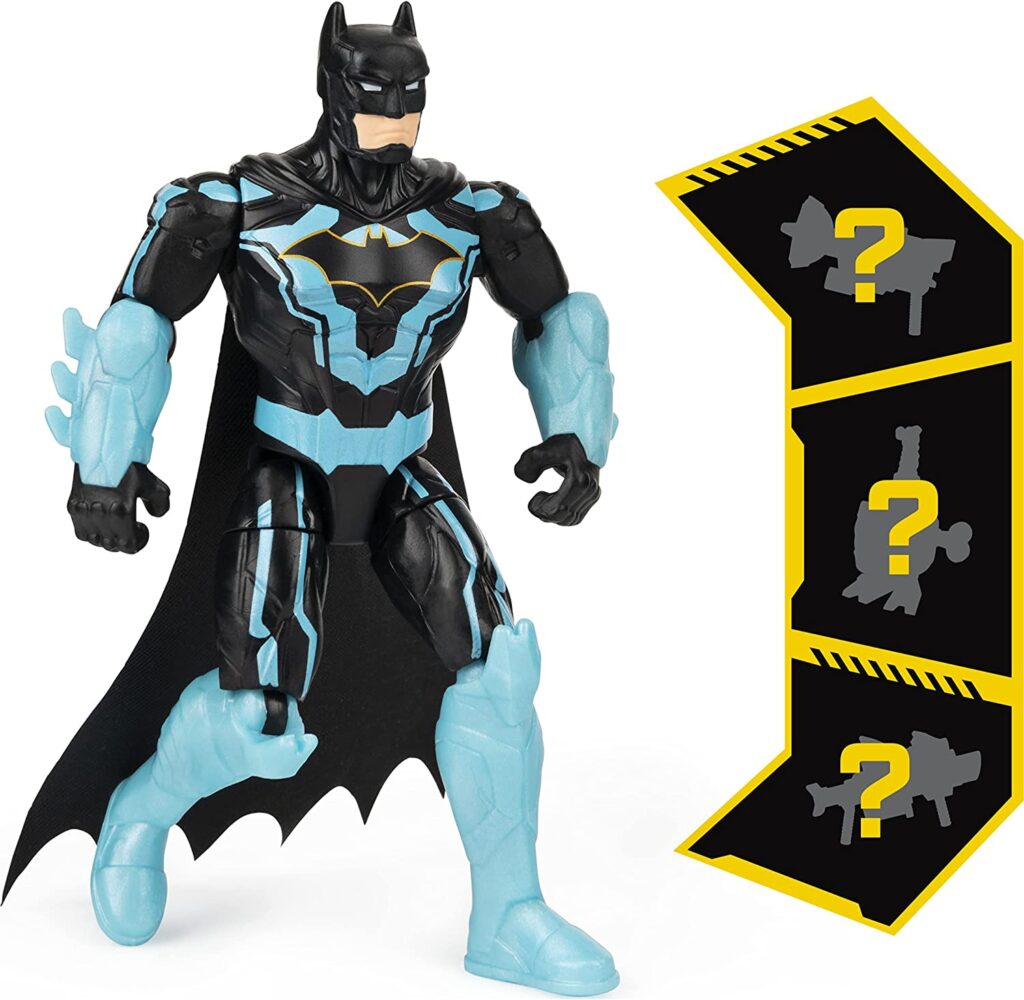 Join Batman, the Caped Crusader on an exciting mission. Open the box to discover your mission on a collector card and three mystery accessories hidden in compartments. Armed with his mission-specific accessories, help BATMAN defend against the villains of GOTHAM CITY. With a highly detailed sculpt and 11 points of articulation, you can pose your figure any way you want. Each 4-inch BATMAN action figure also comes with a collector's guide, so you can easily keep track of your collection. The fate of Gotham City is in your child's hands!
KINETIC SAND SANDWHIRLZ PLAYSET
£19.99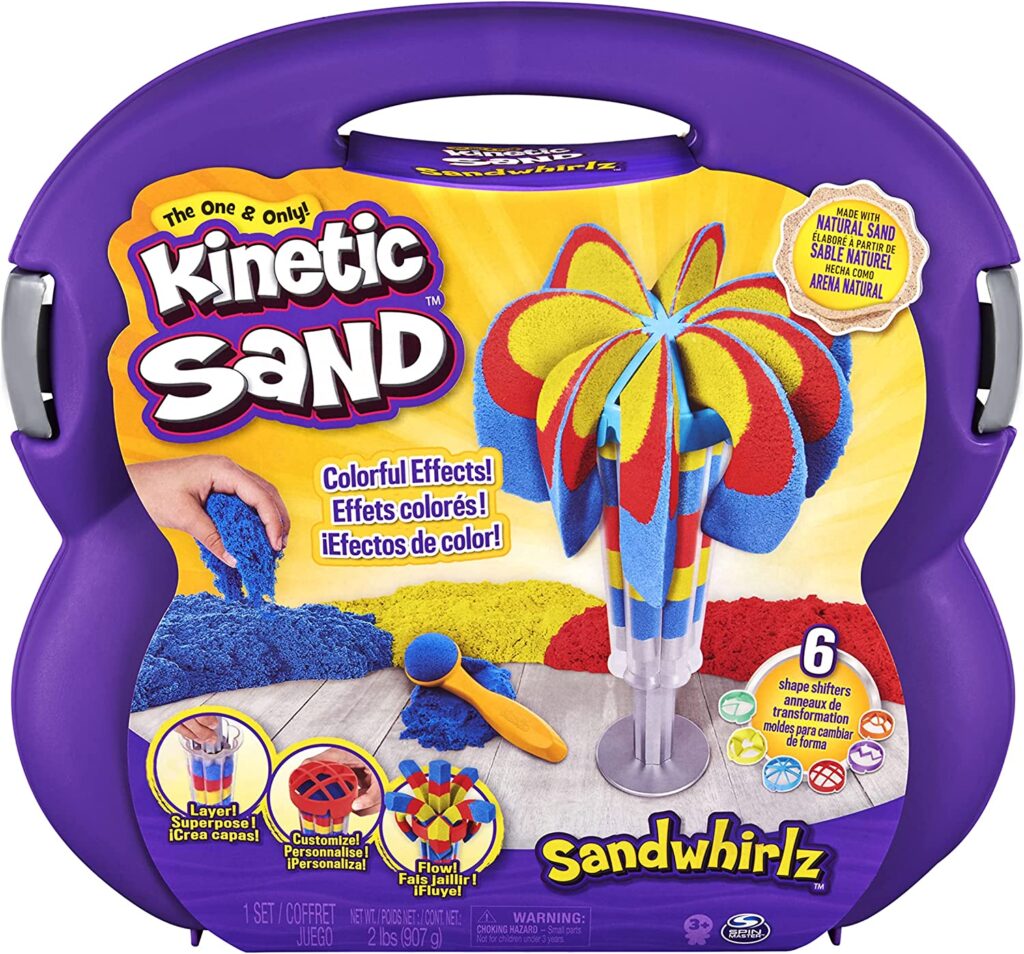 Flow Kinetic Sand in a whole new way with the Sandwhirlz Playset. This set has everything you need for amazing sand transformations: 907g of Kinetic Sand (red, yellow and blue), six shapeshifters, two extruder tubes, a scoop and more. Inspired by the drop and squish play pattern on social media, the Sandwhirlz Playset makes it easy to customise your sand effects with the shape shifters and tools. It also comes with a handy case to keep the sand safe and ready to go for the next playtime.
CONTIGO GIZMO FLIP DRINKS BOTTLE
£14.39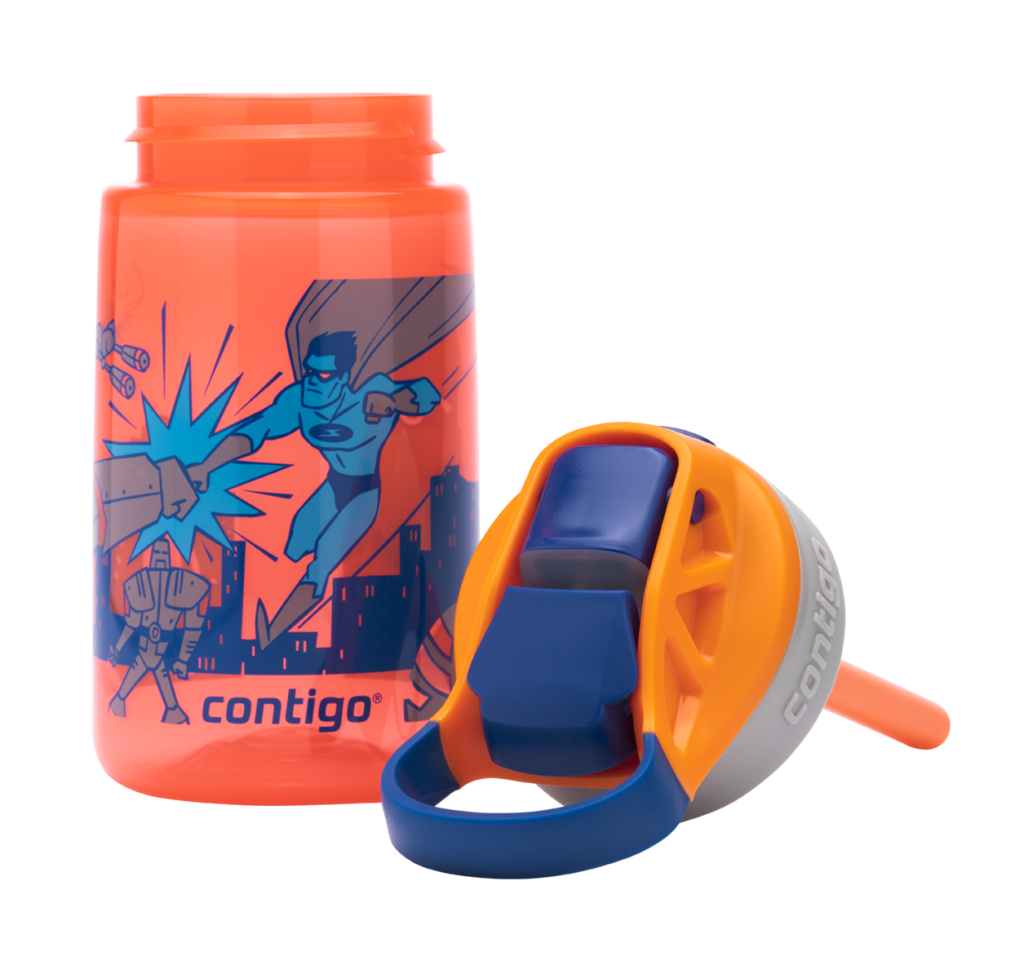 If they're anything like mine, your kids go through drinks bottles way too quickly! We are forever buying new ones and it's getting seriously annoying. How about trying the Contigo Kids Autospout Gizmo Flip bottle? Kids love the button to open the pop-up straw for effortless one-handed drinking, and they can easily push the spout under the cover to protect the mouthpiece from the elements. Us parents will love the spill-proof valve, that all parts are dishwasher safe, and the lid is designed to eliminate all nooks and crannies in which dirt and grime might hide. And there are SO many to choose from including SuperHero, nautical with space, dancer, cat, dinosaur, and butterfly.
Well, what do you make of that? If you're looking for the best presents for six year old boys, these are definitely great suggestions, aren't they? Which one would your boys fancy?
If you want some other gift ideas, check out these posts: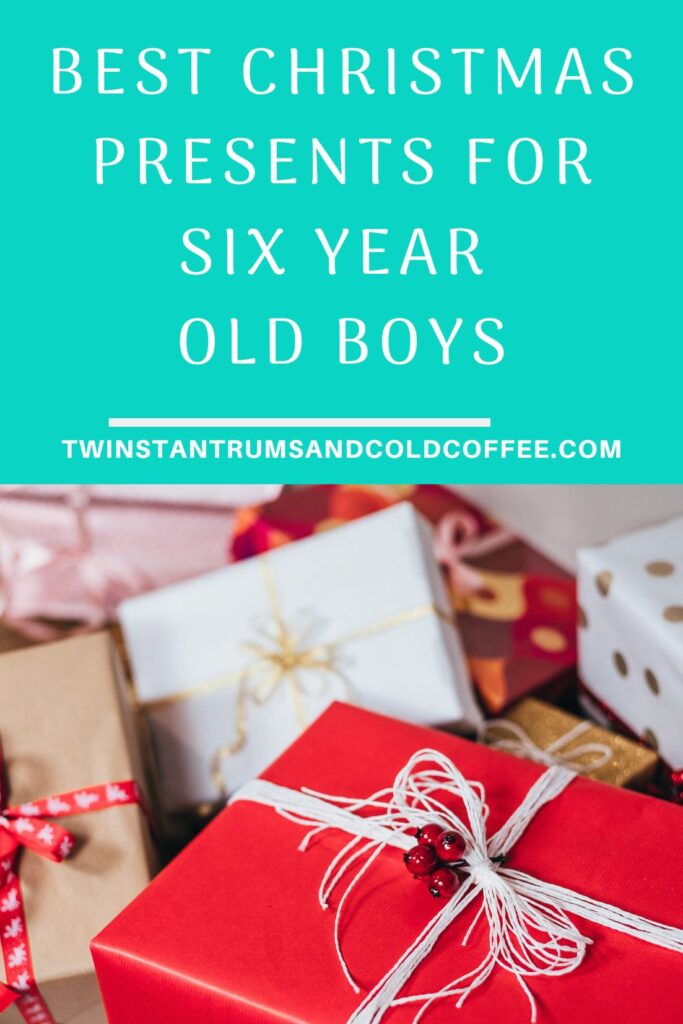 How did I do?
Did you enjoy this post? What a great list of best presents for four year old boys. So why not hang around and read a few more whilst you're here. If you want to get in the Christmas spirit I've got several posts you'll like:
If you fancy reading more of my usual kind of parenting stuff, head over to my Mum Life section. You'll find all things parenting with a tongue-in-cheek twist. And if you want some family holiday inspiration or days out, head to my Travel Section.
And if you like a bit of social media madness, pop over to my Facebook page where you'll be able to have a laugh at what ridiculousness goes on in my house with three very small boys on a daily basis. Warning – there is often sarcasm, and usually swearing. There are also great travel reviews and some AWESOME giveaways. Feel free to join my Twins, Tantrums and Cold Coffee – Shits and Giggles Parenting Group too, where everyone shares their hilarious stories.
You can also find me on Pinterest, Instagram and Twitter too.
And if you want to work with me, feel free to give me a shout here or at helen@twinstantrumsandcoldcoffee.com and I'll get back to you.