Christmas in the middle of a cost of living crisis isn't exactly the ideal situation, but I've found some great Christmas gifts from Boots that definitely won't break the bank.
AD: This post is in conjunction with Boots UK but all thoughts are my own.
I don't know about you, but it doesn't feel quite right splashing hundreds of pounds on extravagant Christmas presents when there are people who can't afford to turn the heating on. And that's even if we had hundreds of pounds spare to splash!
This year more than ever, people are having to think more wisely about what they spend. When there are people in the UK who can't afford to put food on their tables or pay their energy bills, Christmas during a cost of living crisis could easily be quite bleak.
I've teamed up with Boots and have discovered that you absolutely don't have to spend ridiculous amounts of money to give your loved ones amazing presents and light up their faces this festive time.
As usual the Christmas gifts from Boots are fabulous. There really is something for everyone whether you're looking for your partner, parents, kids or friends. They also have some awesome Advent calendars this year to choose from, if you like to go for something other than a chunk of chocolate each day throughout December.
I know some people who buy presents for a LOT of different people. They buy for all their friends, and their friends' children, next door neighbours, even the postman! Who knows if they'll still be able to afford to do that this year. I'm clearly not so generous as my list tends to be focused on family.
Having said that, now all 3 boys are at school, I'm feeling the pressure to buy their teachers a present – having seen loads of other mums do it last year! Problem is they have 5 teachers between them, not to mention teaching assistants, so this could get seriously pricey. If I decide to do it, I'll definitely have to be price-conscious about what we buy.
I'm also thinking my husband might have to come up with some ideas for Secret Santa gifts for his work colleagues. So that adds even more cost to the list.
But that doesn't mean anyone will miss out on a great present. We can still show our loved ones we care whilst still playing it safe. I'm going to do a lot of my shopping from Boots, and by looking online already I can see I'll still be able to give more but for less cash. I'd say that's a win-win, wouldn't you?
Whoever you're looking to buy for, you can certainly find something at Boots. If you're looking for Christmas Gifts For Her, there is an astonishing choice of health and beauty products that your mum, sister, gran or niece would love. And if you're struggling to find that absolute perfect present, then you can use the Boots Gift Finder to help.
Here are some items I've got my eye on for my family this Christmas. Just nobody tell them, please!
Christmas Gifts For Her
No 7 Make Up Set – £35
Do you have anyone on your gift list who loves make-up? If so, this No 7 Limited Edition Ultimate Face Collection 6 Piece Gift Set will go down a storm. I absolutely love No 7 makeup, so if my Mum doesn't fancy this, she knows where to send it! Whoever you give it to will be able to make an entrance and steal the show with this product. It contains a 4 shade eye palette, multipurpose stick, mascara, lipstick, and a fixing mist – and all comes in a beautiful velvet clutch bag. So you are literally good to go to that festive or New Year party!
Joules Tin Full of Happiness – £10
You all know how much I absolutely love Joules, so you won't be surprised at me veering towards their beauty items to give as presents. This Joules A Tin Full of Happiness Body Care Minis Set looks gorgeous. Not only does the flowery tin look lovely (imagine all the different uses you could have with that afterwards!), but it contains four minis including a body wash, body souffle, soap and body scrub. Perfect for that special woman in your life but a gift that won't break the bank.
Christmas Gifts For Him
Whether you are looking for something for your husband, dad, brother or best friend, Boots has loads of fabulous Christmas Gifts for Him to choose from. Here are some of my favourites I've spotted, and they are so reasonably priced, it's a no-brainer.
Totes Cycling Mug and Socks – £10
If you have a cyclist in your family like I do, choose this Threads by Totes Cycling Mug and Socks set and you'll be onto a winner. I mean who doesn't love a novelty mug and socks? And for a tenner, it doesn't get much better than that.
Say What You See Movie Quiz – £10
Is there a man in your life who is a film buff? If so, this Say What You See Movie Quiz will make a brilliant present to play at Christmas. It's a quick-fire catchphrase game for all ages, where players are asked to decipher pictogram clues to guess the name of the film. Titles such as Batman, The Little Mermaid and Four Weddings and a Funeral feature, so I'm sure there would be something everyone could guess.
Christmas Gifts For Kids
If you're on the hunt for presents for children, Boots do a huge range of items that the kids would love – especially stocking fillers. Here are some I know my boys would gladly unwrap on Christmas morning.
Avengers Tattoo Pack – £2.50
It might only cost £2.50, but to one of my twins, this Avengers Tattoo Pack would be the best present he'd receive. He is obsessed with temporary tattoos and is constantly trying to get away with adding more and more to his arms. So he'll be in his element with two sheets of Battle Ready Avengers tattoos to adorn himself with!
Red5 Retro Mini Games – £16.00
Got children who love computer games? Why not send them back in time to show them some of the old retro ones we all used to play? This Red5 Retro Mini Games is suitable for over 6s and contains over 100 8-bit games. Just make sure you don't hog it too much, okay!
Teachers or Secret Santa Christmas Gifts
Most of us need to buy at least a few smaller gifts at Christmas. Although, these might be the ones we're trying to steer clear of this year due to the cost of living crisis and to save money. But if you're involved in a Secret Santa or decide to buy for friends or teachers and really don't want to splash too much cash, Boots has plenty of smaller gifts that won't give the bank balance a hammering. I love these ones. (That kind of goes without saying because they're Joules).
Joules Bath Fizzers – £6.00
Okay, so I'm back to Joules – I can't help myself! But who doesn't love a bath fizzer, eh? This Joules Bath Fizzers Set would make an ideal small gift for a teacher or Secret Santa, and they only cost six quid!
Joules Lip Balm set – £5.00
Secret Santa budget just a fiver? If you work with ladies, then this Joules Lip Trio is a sure-fire triumph. I've not met a woman yet who doesn't love a lip balm, especially in the winter. And with pretty packaging, this set of Honey lip balm, Elderflower lip balm, and Blackberry lip scrub totally fits the bill.
Christmas Cranberry and Vanilla Face Mask Sheet – £2.50
If you want a little something to either drop into a stocking filler for a loved one or add to another present, how about a Christmas Cranberry and Vanilla Face Mask Sheet? For £2.50, it's a steal, and whoever you give it to will love getting a boost to their skin at the same time as settling down with a hot chocolate and a Christmas movie. Possibly even a mulled wine…
There you have it, some fabulous Christmas gifts from Boots that won't break the bank during this cost of living crisis. If you're worried about spending lots this Christmas, I hope this has shown you that you don't have to go mad to still be able to put a smile on your loved ones' faces and surprise them with some wonderful presents.
What would you choose? Merry Christmas!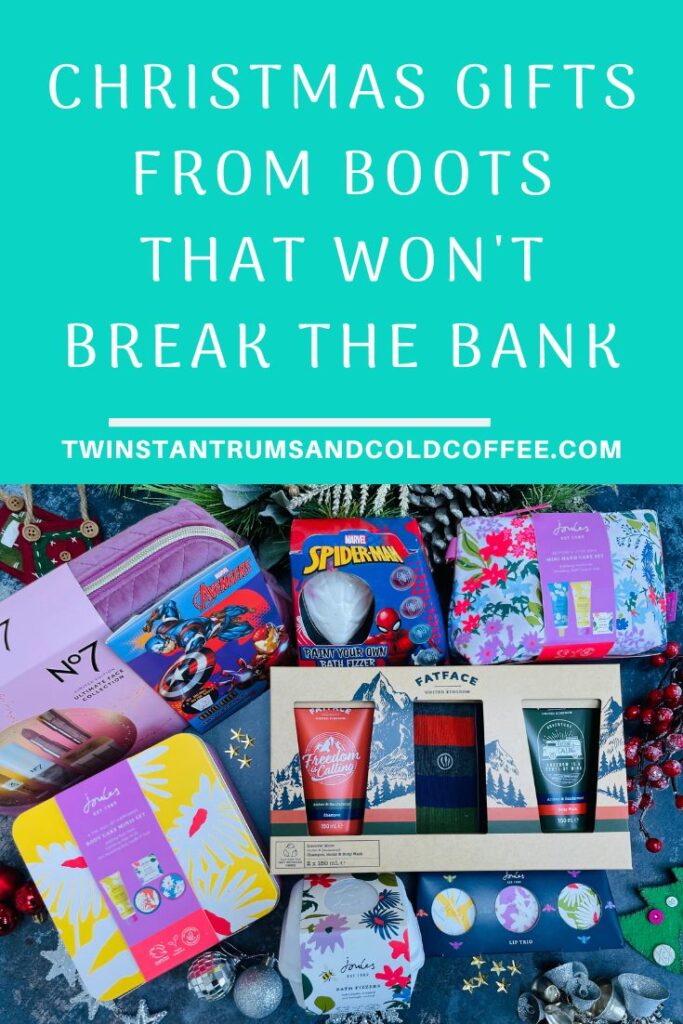 How did I do?
Did you enjoy this post? Why not look at a couple of my other Christmas post Christmas Traditions to Start With Your Family, and Top Must-See Christmas Movies for Kids, 20 ideas for Christmas Eve Boxes, or Simple Christmas Crafts for Kids. Or check out some of my more usual parenting rants in my Mum Life section or Travel section for days out and family holiday inspiration.
If you like a bit of social media madness, pop over to my Facebook page where you'll be able to have a laugh at what ridiculousness goes on in my house with three very small boys on a daily basis. Warning – there is often sarcasm, and usually swearing. There are also great travel reviews and some AWESOME giveaways. Feel free to join my Twins, Tantrums and Cold Coffee – Shits and Giggles Parenting Group too, where everyone shares their hilarious stories.
If you like what you see, how about you check me out on Pinterest, Instagram and Twitter too.
And if you want to work with me, feel free to give me a shout here or at helen@twinstantrumsandcoldcoffee.com and I'll get back to you.