Every baby is different when it comes to their sleep schedule. Some like a routine, some struggle to self-settle and others are all over the shop with their sleep patterns. New-born babies typically sleep for no longer than four to five-hour stints – much to their parent's dismay.
This is a collaborative post. So I may have received payment for including one or more of the links it contains.
Your baby might be waking up in the night because they are teething, too hot or cold, or they don't feel well. There are numerous reasons why your baby might be struggling to sleep and a few things you can do to help them out.
Switch up your feeding routine
Babies need regular feeding, so they grow and reach development milestones. This involves feeding them during the night, early in the morning and throughout the day. Feeding times can impact your baby's sleep schedule and might even be the reason they are struggling to find a sleep pattern.
Try dream feeding your baby by giving them a big meal just before you go to sleep yourself. Your baby will be full, and hopefully, you both will sleep for longer. Or you can introduce brief delays before feeding them in the night. For example, you could change their nappy before feeding them, so they don't associate waking with feeding.
Avoid blue light when considering a sleep schedule
Turn off any artificial light before bedtime and try to curate a relaxing atmosphere. You could bathe them before bedtime, an evening bottle and a little cuddle. Put them into a new-born baby sleepsuit to help them self-soothe and stay safe in their cot.
Are they old enough for a sleep schedule?
You can start sleep training when your baby is around four to six months old.
However, at just two months, your baby will start to develop an internal clock, and you can implement a new-born sleep schedule. This involves setting the same time every day for your baby's bedtime, naptime and wake-up time. Try to choose these times based on the natural ebb and flow of your baby's energy. This will also help your baby to learn how to fall asleep on their own eventually as well.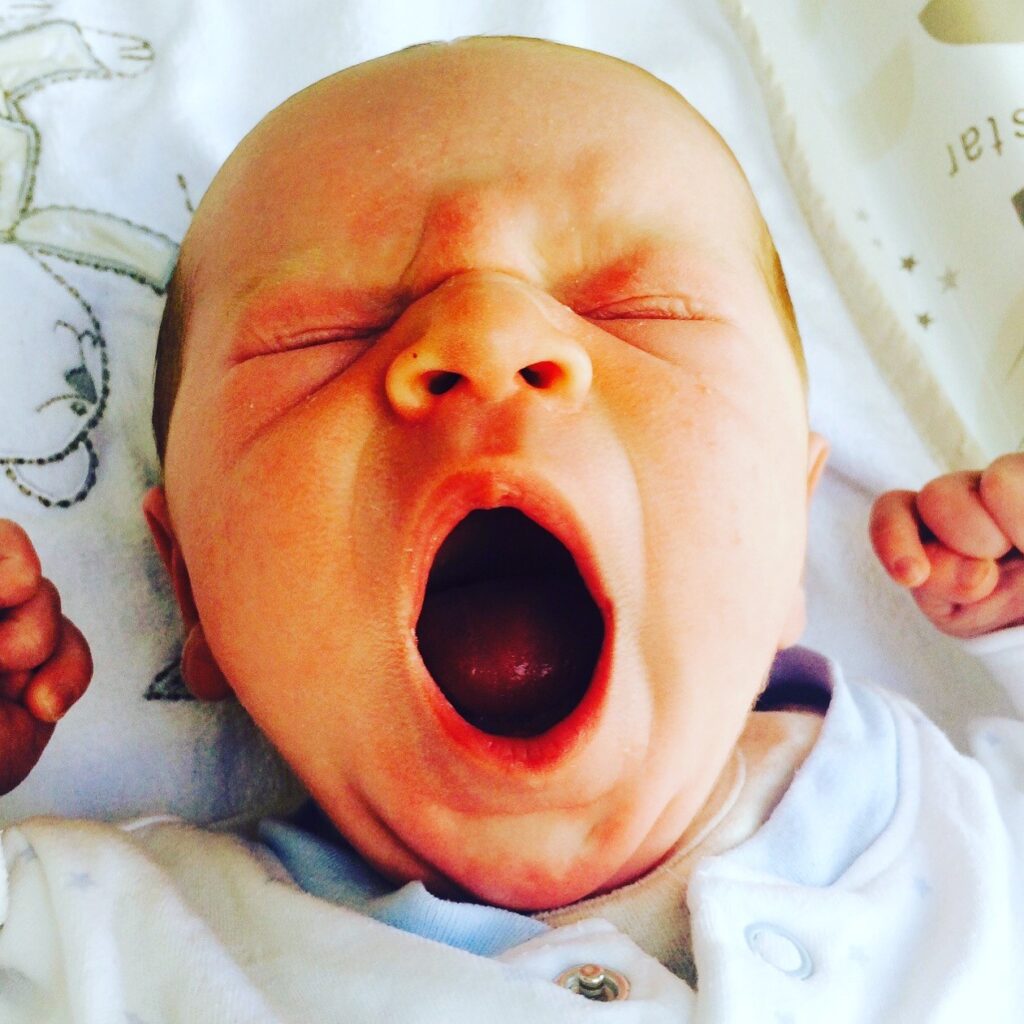 Rigid schedules can help some babies
Babies who struggle to sleep consistently can benefit from a more rigid schedule to set their biological body clock. A rigid schedule can help you plan play dates and work events around their sleep, and your baby will get used to the same routine every day. Make sure to put your baby down at the same time every day.
A rigid schedule is advised for babies who are struggling to sleep consistently. And there's also a sleep schedule for your teething baby worth trying.
Flexible schedules may help if your baby doesn't adjust
If your baby doesn't seem to be adjusting to the routine, it might be time to add a little flexibility into your routine. A flexible schedule can help you fit everything into the day and provides your baby with a little more variety in their routine. If you need anymore help, then try these 10 tips to help your newborn baby sleep.
How did I do?
Did you enjoy this post? Why not read a few of my others. You may like How I Dealt With My Toddler Twins Stopping Napping, or Why I Hate Co-Sleeping. Or what about Practical Tips For Looking After Twins.
And if you want to read some more of my usual kind of stuff, head over to my Mum Life section. You'll find all things parenting with a tongue-in-cheek twist. Or if you want some days out and UK family holiday inspiration, click on the Travel section.
If you like a bit of social media madness, pop over to my Facebook page where you'll be able to have a laugh at what ridiculousness goes on in my house with three very small boys on a daily basis. Warning – there is often sarcasm, and usually swearing. There are also great travel reviews and some AWESOME giveaways. Feel free to join my Twins, Tantrums and Cold Coffee – Shits and Giggles Parenting Group too, where everyone shares their hilarious stories.
And if you want to work with me, feel free to give me a shout here or at helen@twinstantrumsandcoldcoffee.com and I'll get back to you.