Not everyone is keen to jet off abroad when they have young kids, so UK family holidays are always going to be a popular choice for thousands of us.
Whether you want a campsite, a hotel, luxury cottages, farm stay or static caravan on a holiday park, the choice for UK family holidays is fabulous.
We've not taken our boys abroad yet (quite frankly I can't keep control of them in a local park, let alone an airport or holiday resort) preferring to enjoy what this country has to offer. And I have to say not once have I thought we could have possibly had a better time in a different country.
There are so many brilliant places we've been that have catered perfectly for young children, ideal for staycations, so I thought I'd share some of them, mainly in the beautiful South and South West (not that I'm biased or anything) with you in one blogpost to whet your appetite. Whether you're looking for a summer holiday, overnight stays, a short family break, or a weekend break, there are loads of family friendly holiday destinations and great places to choose from.
And if these aren't enough to get your holiday juices going then check out this child-friendly UK holiday blogpost too.
GLYNN BARTON is as good as it gets when it comes to UK family holidays
This has to be one of the best places we've been to. The Cornish farm stay could literally not have more to entertain young children on site with outdoor activities, a indoor heated swimming pool, farm animals and a perfect setting.
My boys had so much fun during our stay at Glynn Barton we didn't have to leave the place – although located slap bang in the between the north and south Cornish coasts, there's plenty to explore if you want to go out and about. It's the perfect UK family holiday. It has eight beautiful 18th century self-catering cottages based around an enclosed lawn, perfect for the little ones to run around on. There's a heated indoor swimming pool, outdoor hot tub, soft play, table tennis, trampoline, and an indoor play barn full of toys, games, books, DVDs to borrow, a pool table and table football.
So much to do outside at Glynn Barton
Outside there is a fab enclosed toddler ride on area, a 18m x 18m maze, a mini football goal, a Wendy house, play kitchen, tennis court and petanque court. There is also a giant outdoor fun fort and toddler play park. Activities laid on by owners Pippa and James include animal feeding and egg collecting six days a week, a campfire and dinosaur hunt in the woods (complete with toasted marshmallows and hot chocolate), arts and crafts, den building, bug hotels, mud kitchen, and outdoor pizza making.
Read my full Glynn Barton review here.
SANDY BALLS is ideal spot for exploring New Forest
Yes it really is called that, and what an awesome name it is too! Based on the edge of the New Forest, Sandy Balls is a great place for kids – and adults too. There are different types of accommodation set in amongst the trees, but we stayed in a luxury lodge which was effectively a huge static 'caravan' done out as a New York-style loft apartment. I'd never seen anything like it and the whole family loved it. The best thing about it was the hot tub outside – I could be found there every evening after bedtime sipping a glass of fizz. It was sheer bliss. 
There's loads to do at Sandy Balls for the kids, including fantastic facilities and on-site amenities such as an indoor and outdoor swimming pools, play areas, woodland bike trails, soft play, and even Alpaca walking! There also two age-appropriate activity clubs you can book your kids into offering a huge range of fun things. They can do activities such as arts and crafts, pottery painting, marble art, science workshops, imaginative play with a Superhero Academy, pirate play, teddy bears picnics, foresteering, forest caching, pond dipping, woodland survival, catapult building, creating bug hotels and archery. There is so much choice especially in the summer months!
Great activity options for under 5s
There are also specific activities designed for the Under 5s. These include baby ballet, musical instrument making, balanceabililty and special water confidence sessions. And come the evening, if you've not packed them all off to bed to hit the hot tub like I did, there is plenty of entertainment for all ages too. There's also a gym, fitness classes and spa!
And if you're planning some days out, Sandy Balls is just a half hour short drive across spectacular scenery to Paulton's Park and Peppa Pig World, one of the most popular attractions in the UK.
Read my full review of Sandy Balls here, and how to make the most of a day out at Paulton's Park here.
POLURRIAN hotel and villas offers best of both worlds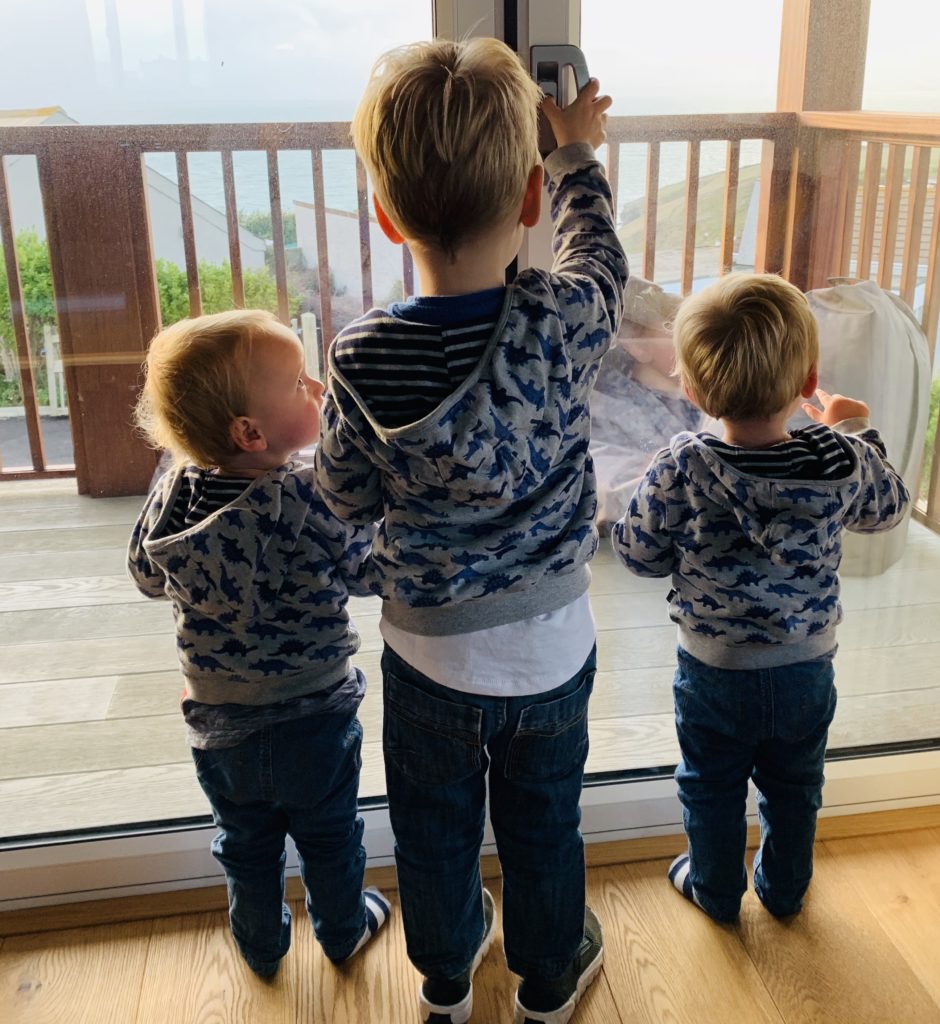 If you like going to hotels but are a little nervous taking kids, then I can highly recommend the Polurrian on the Lizard Hotel on Cornwall's most southerly point. This place isn't just family-friendly, they welcome children with open arms, making your entire stay all about them. They've got outdoor and indoor pools, an outdoor play area, games room, and play corner overlooking the sea which is ideal for rainy days. But the best bit of all is that each family gets two hours FREE in their children's club creche each day you're there. Which mine absolutely loved. And we absolutely loved the two hours 'off' during our family stay to enjoy some quality time together.
Family suites make it easy for parents
The hotel provides everything you need for young children in family suites. They also do special early meal times to accommodate younger kids. But if you like the flexibility of self catering, then try one of the hotel's stunning new villas to get the best of both worlds. Use the hotel's facilities, but stay in a villa and do your own thing. I've done both and had a fabulous time on both occasions. Read about the first time I visited here. Polurrian is in a great location near to sandy beaches so is a popular spot.
BUTLINS offers fun choice from list of UK family holidays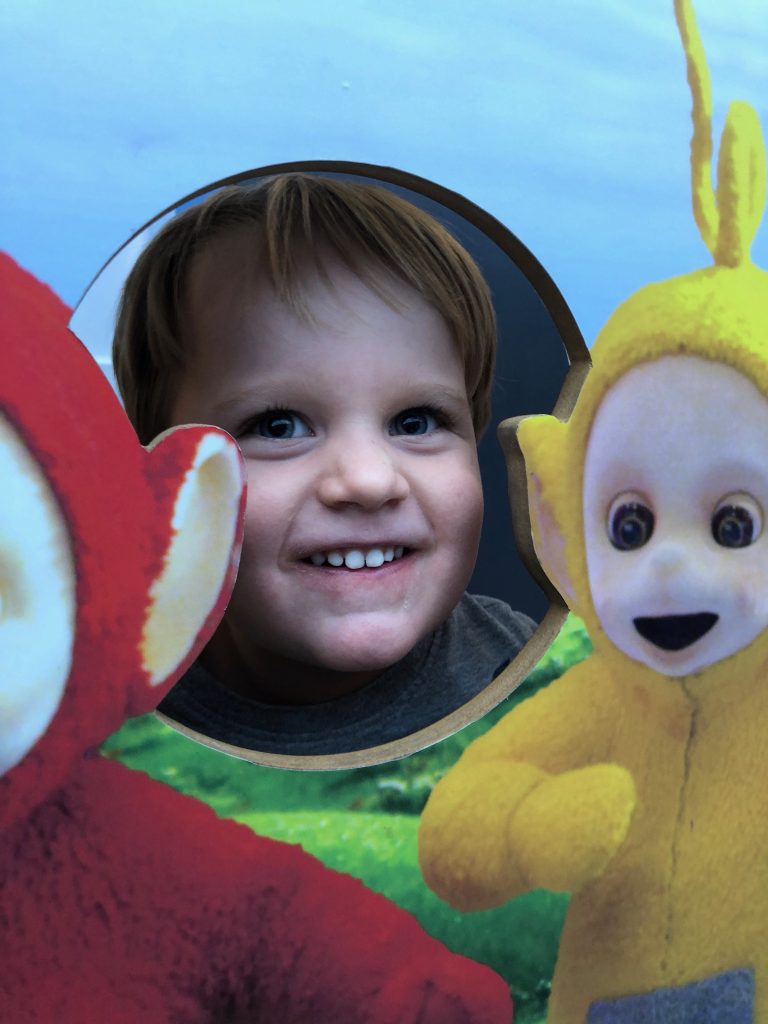 For something completely different, how about Butlins? Yes I did say that, and I'm a total snob. We went to one of the Just For Tots breaks, and if I'm 100% honest, I wasn't expecting much. But we actually had a GREAT time! The special breaks are designed for kids under the age of 5 which was perfect for us. Children can use everything Butlins has to offer normally, but on top of that there are special shows and activities put on for the little ones.
Activity schedule ensures no fun is missed
Justin Fletcher was there when we went, but be warned, the queues are massive! My lot loved watching the Teletubbies and Mr Men. Activities are scheduled on a loop and repeated so you can drop in and do them when it suits you. Butlins also puts on special early mealtimes to suit younger children and the choice of food was fantastic. I've heard from others that accommodation at Butlins can sometimes make or break your holiday, but we were lucky and stayed in a posh Bayside apartment.
You can read more about it here in my full review.
THE PARK, CORNWALL is great for large family breaks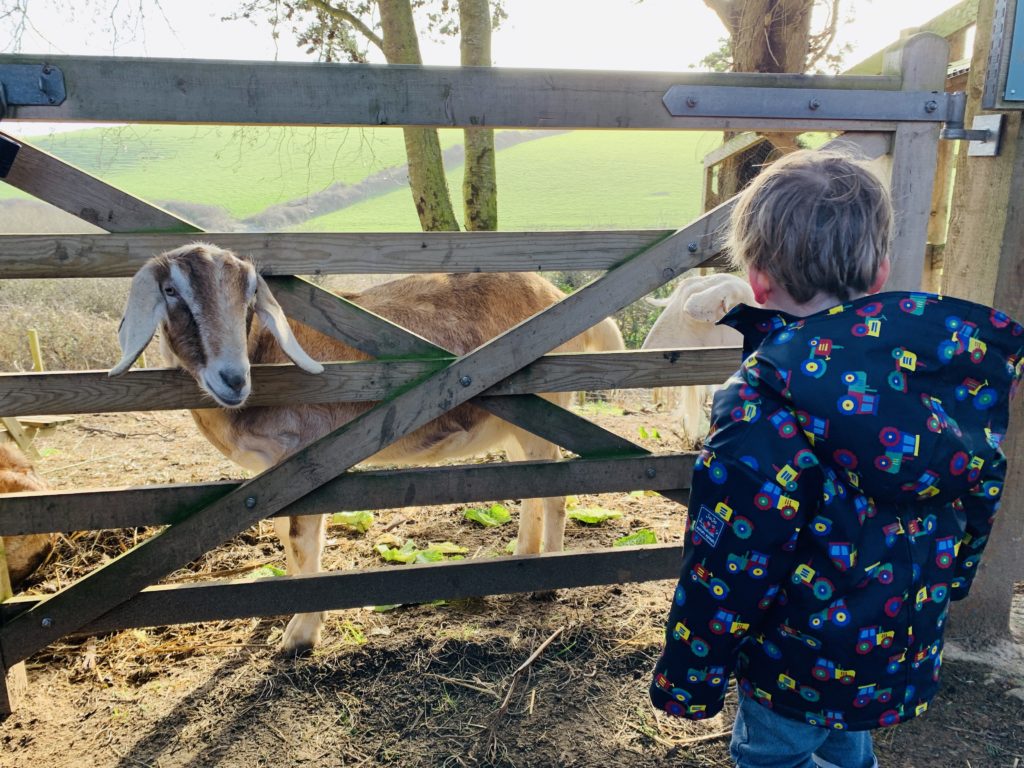 One of the last places we went to before dreaded lockdown was The Park, Cornwall. It seems like a lifetime ago now! This was the perfect place for a big family break. We went with my mum and dad, brother, sister in law and nephews. And despite us all living within 10 minutes of each other, little did we know it would be the last time we were all together for six months. We had five boys under the age of 9 with us. So pretty full-on but they had the best time and entertained each other. Which is always a good thing in my book!
Wonderful beach location
The Park, Cornwall is at Mawgan Porth on the north Cornish coast, just a two minute walk to the beach. It has loads for both adults and children to enjoy. Fun can be had in both indoor and outdoor pools, a toddler park, soft play, trampoline, animals, picnic areas, a play yurt, and a conservation area for nature explorers. In the holidays they have a programme of activities such as den-building, fire-lighting, foraging and outdoor cooking.
There's a range of self-catering accommodation. Choose from luxury lodges that sleep up to 12, cosy cottages, park cabins, caravans and yurts. We stayed in a luxury eco lodge which is possibly one of the nicest places I've ever stayed. Read more about it in my review here.
ROCKLEY PARK is perfect caravan holiday in Dorset
Rockley Park in Dorset is an ideal choice if you want to explore what the area has to offer. But there is still plenty to do for children on site. The Haven site is on a nature reserve and overlooks Poole Harbour so the views are stunning and there is direct access down to a beach. In terms of location it's towards the top of the list when it comes to UK family holidays.
My three loved the soft play and outdoor play areas. And there are also fab indoor and outdoor pools – with no adult to child ratios that helped us A LOT! The highlight for my boys was the site's amusement arcade. I'm not sure the twins (who were 23 months at the time) knew what had hit them with such sensory overload. They were buzzing!
Did someone say pizza delivered to your caravan?
For older children there's an all-weather bowling green and multi-sports court, bungee trampolines, a climbing wall, crazy golf course, tennis courts, a nature trail and park ranger activities, arts and crafts sessions and watersports on the beach. There's even a spa for us adults! If you don't want to cook, there are four food and drinks venues. These include a pizza place that can deliver to your caravan, and a mini market shop on site for all the essentials. There's also evening entertainment for kids and adults.
If you go, then make sure you pop along to Farmer Palmer's Fun Park . I can promise you'll have a BRILLIANT day out with the kids. Read more about Rockley Park here, and our day out to Farmer Palmers Fun Park.
GREENWOOD GRANGE has stunning site and lots for kids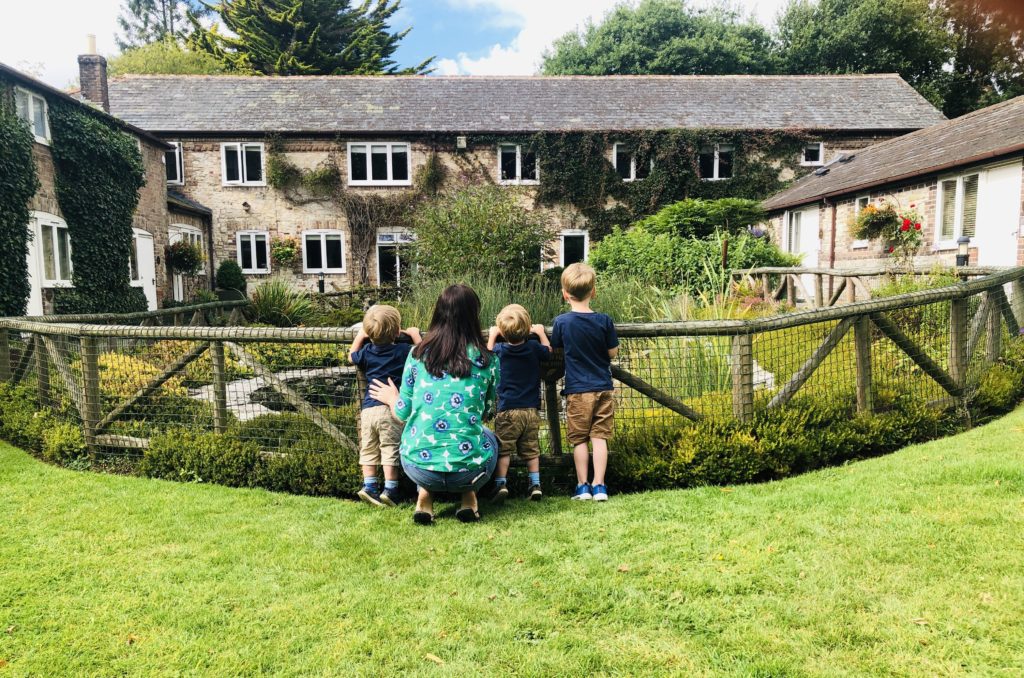 Sticking with Dorset, if you love the county and want other ideas of places to stay, you MUST check out Greenwood Grange. Tucked away in Hardy country, it is an absolutely stunning set of 17 self-catering cottages with lots to do for children. We took Granny and Grandad and had a fabulous time there. Not least due to the fact we had a hot tub again! (You know I love a hot tub).
Beautiful accommodation
The accommodation is so beautiful you might not actually want to step outside the door. But if you can tear yourself away there's loads to keep the children busy. There's an indoor pool, play park, trampoline, donkeys, chickens, and an awesome play yurt filled with wonderful toys for toddlers and young children. There's also a huge games room. One side is for younger kids filled with books, puzzles, games, crafts, table football, DVDs and a widescreen TV. The other side housed a pool table, billiards and table tennis so there's something for all ages. Special activities are also held during the school holidays. For the energetic, there are two tennis courts, a badminton lawn, croquet and boules area. There was also a lawn right outside our cottage with football nets which my boys loved. If you like the sound of it, read my review here.
TREVORNICK offers easy camping option for a UK family holiday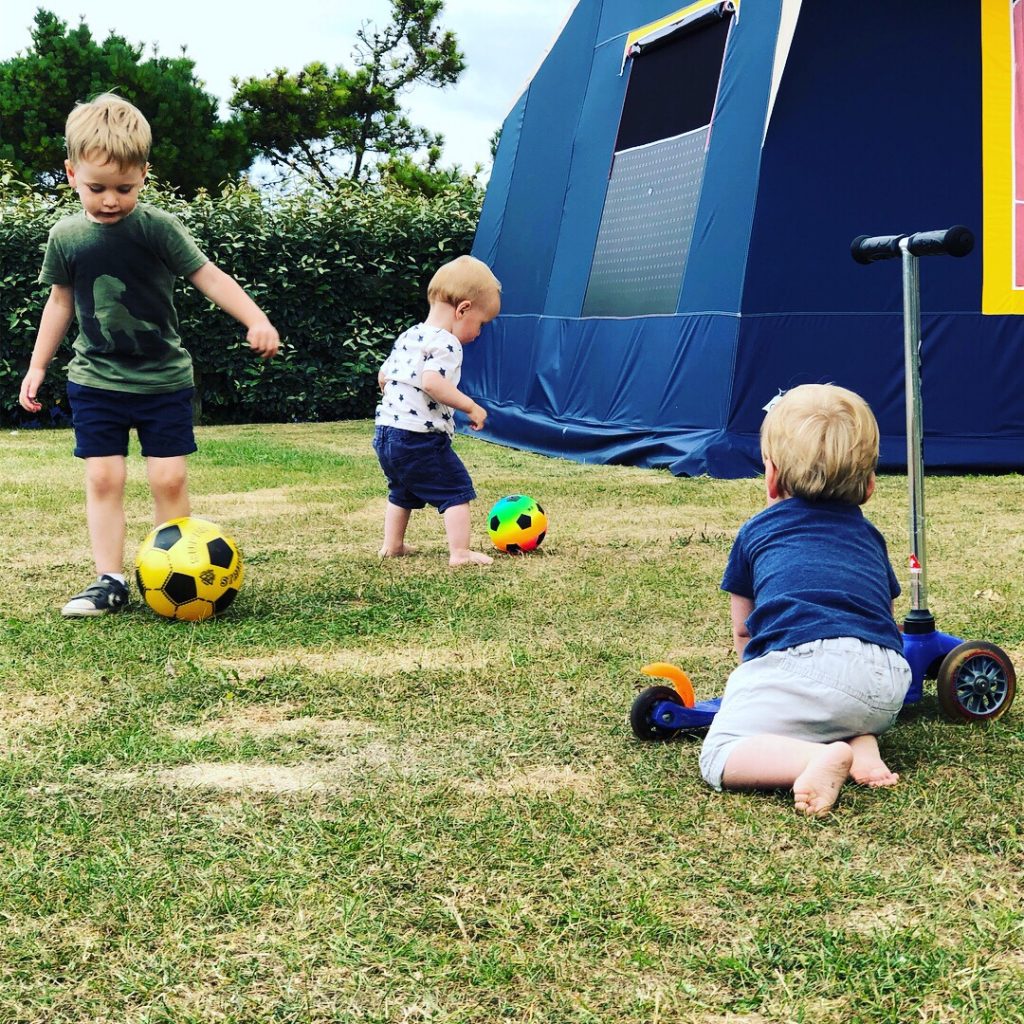 Maybe you don't want a self-catering cottage or luxury hotel – so how about taking the kids camping? I can totally recommend Trevornick. It's based just metres from the beach at Holywell Bay in Cornwall, five miles outside of Newquay. And if you don't think camping is your thing, Trevornick have the perfect solution – a Eurotent! It's a large (can sleep six!) tent that is already up when you get there so no messing about with tent poles and runaway children. It also has (wait for it) beds, TV, DVD player, microwave, toaster, cooker and fridge! All you need to take is your bedding. It's not quite glamping, and some would say it's not 'proper' camping. But if you want a campsite it's a perfect way to try out life in the great outdoors, especially if you're thinking of getting into it but don't have all the gear.
Endless things to do
Trevornick is a great site too. Not only with a wonderful location on the coast, and loads to do for the kids, but is right next door to Holywell Bay Fun Park with more than 20 rides and attractions. On the 200-acre Trevornick site there is an outdoor pool, three tiered indoor soft play, outdoor adventure club, sports field, games room, playground, 18 hole golf course, pitch and putt, its own surf school, table tennis, a nature trail, fishing lake, and a spa. There are two restaurants, and a jam-packed schedule of entertainment for all ages. With six different pitch types over seven fields, there are plenty of camping options. As well as the Eurotents, there are also static caravans and two cottages. Read all about how I survived camping with baby twins and a toddler here. And if you want more ideas of campsites in neighbouring Devon read this Ultimate Guide to Camping in Devon with Kids, or Why You Should Go Glamping in Moreton in Marsh.
TREDETHICK FARM COTTAGES offers fabulous fun for kids
If you've read my travel section before, you'll know I love a farm stay. And this all started with a trip to Tredethick nearly two years ago. It rained pretty much the entire time we were there but we still had the BEST time. I'd go back there in a heartbeat. Anywhere that can entertain a three year old and 17 month old twins for an entire weekend is doing something right in my book.
Children will love 'farm experience'
Cornwall's Tredethick has eight stylish holiday cottages converted from barns and contain everything you need for young kids. It saves you having to take about five cars worth of 'stuff'. On site there is an indoor pool, soft play, play park, balance bike track where you can ride your two seater bike, trampoline, indoor play barn, farm trail, and even a hot tub garden. But the highlight for us was the animal feeding. Owner Ashlyn and manager Jenny gave the kids a real 'farm experience' each morning letting them feed the piglets, pigs, goats, alpacas and chickens. The boys were in their element. Read more about Tredethick here.
BLUESTONE is great choice when looking at UK family holidays
No travel round-up from me would be complete without a mention of my favourite place *Bluestone. Okay, so it's not in the South or South West like the others. But I would say it's worth travelling to West Wales from wherever you are in the country. You will have the BEST time. We've got our sixth trip booked for December. That's how much we love it, and it's always been amongst the best of our UK family holidays.
If you've not been before, I have several reviews on this site all about it. But essentially it's a 500-acre site of Pembrokeshire countryside with 300 luxury lodges, studio apartments and cottages which surrounds its own private village and lake. The village has its own pub, restaurant, coffee shop, shop and play park, and there's even a takeaway chippy.
Huge choice of entertainment to keep children of all ages busy
In terms of entertainment, there is literally something for everyone of all ages, and SO much is free. This includes the Blue Lagoon Water Park, the indoor Adventure Centre and the adrenaline pumping Steep Ravine. And there is now the brand new Serendome undercover activity area. You can easily spend five days here without booking onto any activities.
But if you want more there is a choice of more than 100 things to do. I'm talking about shows and workshops for preschoolers. Or baby sensory, yoga or massage classes or messy play for the little ones. And for the older ones the choice seems endless. They can try their hands at archery, crossbow, laser clay, rock, tree and wall climbing, a sky trail, high ropes and sky wires as well as all sorts of sports and nature trails. There are five restaurants to choose from, and did I mention an amazing spa retreat? I can HIGHLY recommend it for a spot of child-free relaxation.
Festivals throughout the year to choose from
Bluestone holds different festivals throughout the year. We've been to the Winter Lights, Green Man Festival and last year we LOVED Christmasland (so much so we booked it again for this year within days of getting home).
The accommodation is superb, whether you're going on your own or with another family. So if you've not been, you should definitely check it out. And read this Everything You Need To Know About A Stay At Bluestone post I've written.
Generally most of these places I've mentioned are a bit off the beaten track so you'd be hard pushed to visit them on public transport. But if you don't have your own car and want to have a holiday like these, why not rent a car for your trip? Head to car rental comparison website Discover Cars to find the best deal for you. They compare prices of some of the top car rental companies in the UK.
There are some other suggestions here in 5 Beautiful UK Staycations for a Weekend Getaway. Or what about a Staycation in Your Own Home?, a city break for kids, or Birmingham Days Out for Families. This is also a great read – The Long Road Back to Sustainable Tourism.
*This post contains paid for links and an affiliate link indicated with a *. Clicking this link and booking a holiday means I may earn a small commission, but it does not affect the price you pay.
How did I do?
If you liked this post, have a look at my Travel Section for more ideas for UK family holidays. Or if you've got something booked but can't face the packing, check out this helpful list – Packing List For Babies and Toddlers. And if you fancy a giggle but still on the subject of UK family holidays, read this – Five Ways A Holiday Is Never The Same After Kids. If you STILL want more after that head over to my Mum Life section for funny rants about all sorts of parenting things. And if you're local to me in Plymouth, keep up to date with the latest in my Local Stuff section.
If you like a bit of social media madness, pop over to my Facebook page where you'll be able to have a laugh at what ridiculousness goes on in my house with three very small boys on a daily basis. Warning – there is often sarcasm, and usually swearing. There are also great travel reviews and some AWESOME giveaways. Feel free to join my Twins, Tantrums and Cold Coffee – Shits and Giggles Parenting Group too, where everyone shares their hilarious stories.
If you like what you see, how about you check me out on Pinterest, Instagram and Twitter too.
And if you want to work with me, feel free to give me a shout here or at helen@twinstantrumsandcoldcoffee.com and I'll get back to you.