AD | We were invited to stay at Bluestone in exchange for this review, but all thoughts, opinions and most pictures are my own. This post also contains affiliate links. Clicking these links and booking your holiday at Bluestone means I may earn a small commission, but it does not affect the price you pay.
LET'S be honest, there's no such thing as a holiday when you have young children. I mean it's just same shit different location, isn't it?
It's not an actual BREAK.
Having three boys under the age of three (hands full, yes I know, thanks), I can pretty much tell you for definite that's how I feel. It's the same sleepless nights/shitty nappies/toddler tantrums/food throwing as at home – just without any of your own stuff around, making everything even more stressful.
So when I was given the chance to take the Other Half, Toddler and the Twins to Bluestone in Wales, I was looking forward to it. But by no means thought it would be an actual holiday.
How WRONG I was!
I'm in love with Bluestone
I've just come back from the best week I've had since the Twins were born 9 months ago. Although I suppose the first 9 months of any baby's life isn't exactly a walk in the park so a 'holiday' was bound to be a nice thing to do.
And all I've done since returning home is tell everyone how much I loved it. If you saw any of my social media posts whilst I was there, you might have got that impression…
For those of you who don't know what Bluestone is, it was described to me as 'Like Center Parcs but better. And in Wales'. I've not been to Center Parcs but from what I've heard, that to me seemed like massive praise. And also meant Bluestone probably had pretty big boots to fill in terms of expectations.
Obviously I can't compare the two, but WE LOVED IT!
Children are happy at Bluestone
The age-old adage of happy children, happy parents most certainly came into play. And I'm sorry but if your child can't find something to enjoy and be entertained by at Bluestone, I suggest maybe leaving them at home with the cat next time.
There is literally something for children of any age, from tiny babies to teenagers and everything in between. But more of that later.
Bluestone National Park Resort is in the Welsh Pembrokeshire Coast National Park, close to the famous seaside town of Tenby. In driving terms, it's a 4.5 hour journey from Plymouth. Six if you have to stop off to give pain in the arse weaning babies their lunch. But before you let that put you off (the journey, not the weaning babies), it was TOTALLY worth it.
All weather fun at Bluestone
It prides itself on being an 'all year, all weather short break holiday destination offering free range fun'. Considering we were snowed in there when the 'Beast from the East' hit the UK a few weeks back, I can 100% vouch for it being all weather fun.
Bluestone is set in 500 acres of private countryside, and has more than 300 luxury lodges, cottages and studio apartments which surround its very own private village. The village has all the essentials: shop, pub, coffee shop and park. It actually has way more than that (including a chippy), but let's face it once you're a mum all you want is a park, coffee and alcohol. And not necessarily in that order.
The resort has the indoor Blue Lagoon Water Park, undercover Adventure Centre, and the adrenaline pumping Steep Ravine with zip wires, high ropes, tree climbing and outdoor forest restaurant Camp Smokey. It also has a tournament field where fun battles take place, a Well Spa Retreat for all us mummies to hide away in if we're lucky, five restaurants, walks and cycle routes, and amazing wildlife.
Once you book your stay you can then go on to choose from over 100 activities online before you arrive. So once you get there you can just get on with it and not have the annoying 'what shall we do today?' debate every morning.
Baby activities at Bluestone
We already had a couple of things booked for our three, including Baby Sensory for the Twins which was great. It also meant they didn't have to miss their usual session just because we were away. We could've chosen from baby yoga and massage, messy play or even put them in a creche for three hours. Very tempting.
We also took Thomas to watch some of the family entertainment on offer including Tawny Tails shadow puppet show, and a story session with one of Bluestone's mascots Buzby Bumbles. There was basically an activity or workshop every morning and afternoon that he could've done and as your children get older, there's more to do for every age.
Older children will love what's on offer
They could try their hand at archery, crossbow, laser clay, rock, tree and wall climbing, a sky trail, the high ropes and sky wires, as well as all sorts of sports and nature trails. We kind of felt Toddler might have been a bit too young to shove off a zip wire though, so we stuck to the sessions designed for pre-schoolers. Activities that you book beforehand are paid for ones, and I'd suggest organising them before you arrive. We tried to add more whilst we were there and found most were so popular they were fully booked. Rookie mistake for us Bluestone newbies.
Plenty of free stuff to do at Bluestone
If you don't want to fork out for the paid-for stuff, there is still plenty to do which is free. Firstly there is the Blue Lagoon, which is a beach-style pool with a wave machine. This was declared Toddler's absolute favourite part of the week. It has river rapids rides, two water flumes, a lazy river that takes you outside (slightly chilly when it's snowing), a pirates' shipwreck and a separate wet play area for little ones in the water cove.
Toddler loved the Blue Lagoon and went three times with the Other Half. And due to a friend being at Bluestone the same week coincidentally, we took all three boys swimming together. This was the first time we'd been able to do this. Not enough hands and all that, plus adult to child ratios. Twin One was beside himself kicking his way round the lazy river. Twin Two just kept face-planting the water and looking confused at why he was wet.
Adventure Centre is perfect in bad weather
Due to the slightly chilly (!) weather, we also spent a lot of time in Bluestone's Adventure Centre. It's a giant space where the fun of the outdoors has been brought inside. So you can be guaranteed a good time whatever the weather. For the older kids there is the Sky Trail and The Wall. Families can get competitive on the crazy golf course. Whilst the little ones can enjoy soft play, a bouncy castle, ball pools, diggers, and climbing frames. There is also a massive Circus Zone soft play room for younger children which all three of ours loved. And with the enchanted Wildwood Cafe serving delicious food, it's easy to spend a whole day at the Adventure Centre.
Bluestone is a safe environment for families
With no cars allowed once you're unpacked getting around the resort is totally safe. You can hire bikes with tag-along trailers for little ones, but if you want even more fun – hire a golf buggy! I didn't think we'd all fit in but the Other Half was determined to prove me wrong and he did. Although I'm not quite sure driving whilst baby wearing is the done thing?
With all that full-on fun, it was great returning to our luxury lodge each day. I was about to write 'to chill out' but then remembered that doesn't happen anymore.
Great choice of accommodation
We stayed in a four bedroom St David's lodge which is one of Bluestone's flagship accommodation choices. It had a double and three twin rooms, three bathrooms, as well as a playroom (complete with toys of course), and a massive open plan kitchen, dining area and lounge. We were totally spoilt!
Bluestone lodges range in size from two to six bedrooms and are capable of accommodating between two and 14 people. They come with digital TVs, DVD players, WIFI, dishwasher, microwave and fridge freezer. BUT they don't have washing machines. Which not only was bizarre in my opinion for a family-orientated resort, it was a MASSIVE PAIN IN THE ARSE with three children still in nappies. So take note, and take plenty of clothes! I've only just recovered from the mountain of laundry our family of five created in the seven days we were away.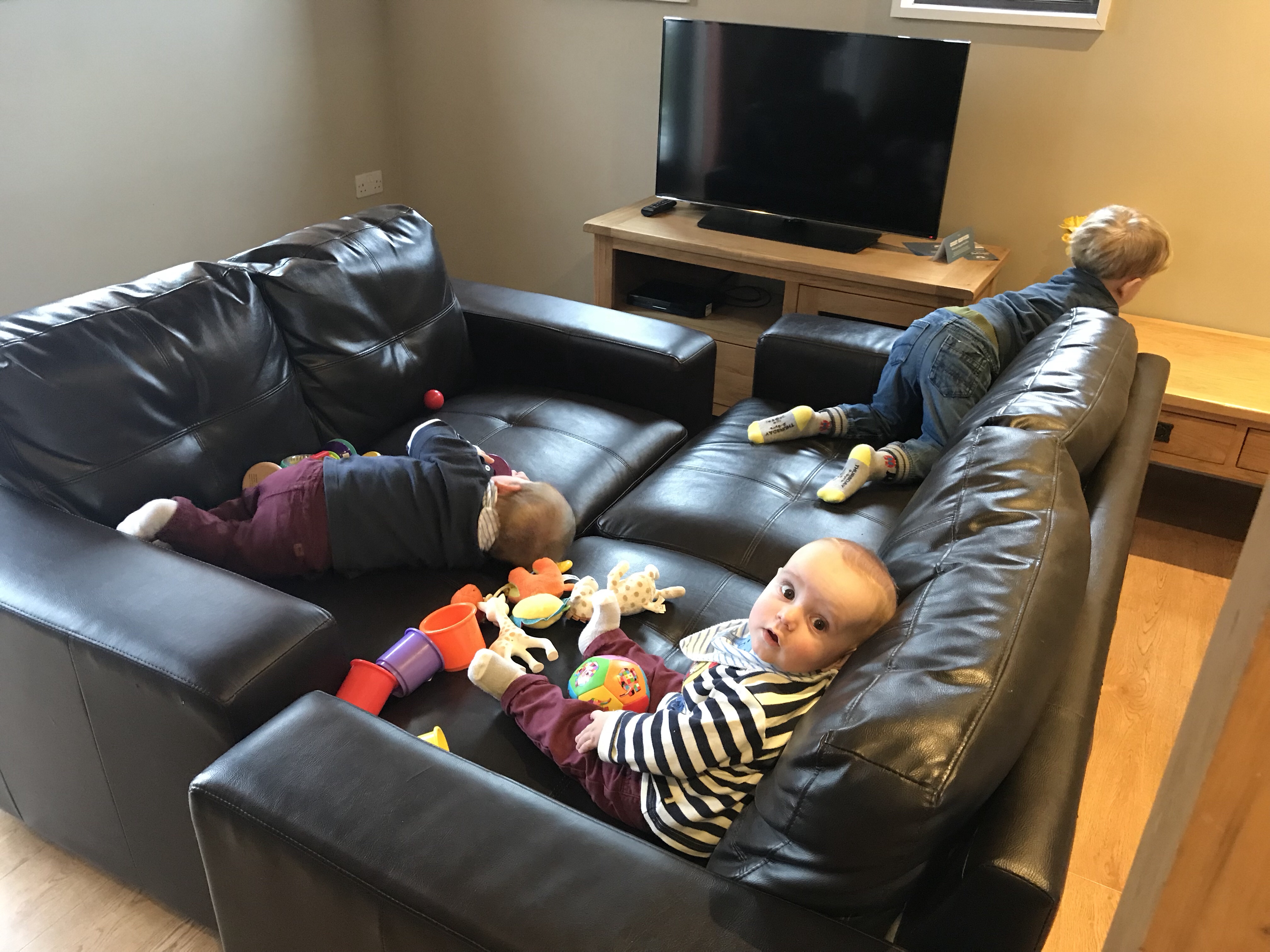 With such great self-catering facilities and a well-stocked shop on site, we cooked and ate in our lodge every evening. Because let's face it eating out with babies and a toddler is absolutely no fun whatsoever. But we did grab our lunch on the go whilst we were having fun. And there are plenty of eating options to choose from. Five restaurants and a village pub to be exact.
Winter Lights festival is a must-see
One of the highlights of our stay was a visit to the magical Winter Lights. It runs from January to March every year, and was just awesome!
Set in the woods, the enchanted walk featured hundreds of sparkling lights a fairy village, noisy bugs, huge foxes, a singing snake, ice skating mice and even a giant washing line.
Add a spa visit to your Bluestone to-do list
Determined to check out every bit of Bluestone, I felt it was only appropriate I took a little visit to the Well Spa whilst I was there. (Obviously only so I could let you know what it was like). And I'm pleased to report it was none too shabby!
There's an outdoor hydro pool – which I was too scared to wade through the snow to get to. I was afraid of falling on my arse and embarrassing myself. The spa also has brick and celtic saunas, herbal and marine steam rooms, an ice cave, salt room and 'experience' showers. I had a 'fire and ice' massage and facial which was amazing. Although not entirely sure the ice bit was the best choice I'd ever made considering the temperature outside. But it certainly did the job – I then fell asleep for half an hour in the spa's tranquil relaxation room afterwards. Although thinking about it, the fact I've not slept for nine months might have something to do with that too.
Snowed in at Bluestone – what a shame!
We were having such a great time I didn't want to come home. And it just so happened Storm Emma had the same idea – and snowed us in!
We were lucky Bluestone were able to accommodate us for a further three nights. So we didn't end up being 'those' parents stuck on the motorway with a young family. The resort was fully booked but a waiting list for cancelled trips came up trumps. And let's face it there are definitely worse places to be stranded.
The staff were phenomenal too. With a quarter of their 700-strong workforce unable to get in, the remaining workers stayed for three days. Some slept in offices in sleeping bags, to help guests who were stuck. The Other Half even spoke to the owner who was out helping clean lodges. And we had our beds changed by the finance director. Not many businesses would do the same, I reckon, so hats off to them.
I've fallen for the place
So you might've guessed I've kind of fallen in love with Bluestone. There was just so much for Toddler to do, which therefore made it so easy for us not having to think of ways to entertain him. (I'm not a messy play/arts and crafts type of Mum). I'm already looking to book an even longer break for next year, and I never go to the same places. So it must be bloody good!
Although it has just dawned on me that next time I go I'll have three boys running off in three different directions just to make things that little bit more fun. Maybe I'll shove them on the zip wire after all…
If you want to find out more about Bluestone and book your holiday, click here 

www.bluestonewales.com

 Then get planning how to wear your kids out so you can enjoy a peaceful, wine-filled evening and even, dare I say it, a bit of a holiday.

And if you've already booked and started planning read this post Everything You Need To Know About A Stay At Bluestone for some top tips and advice on how to make the most of it.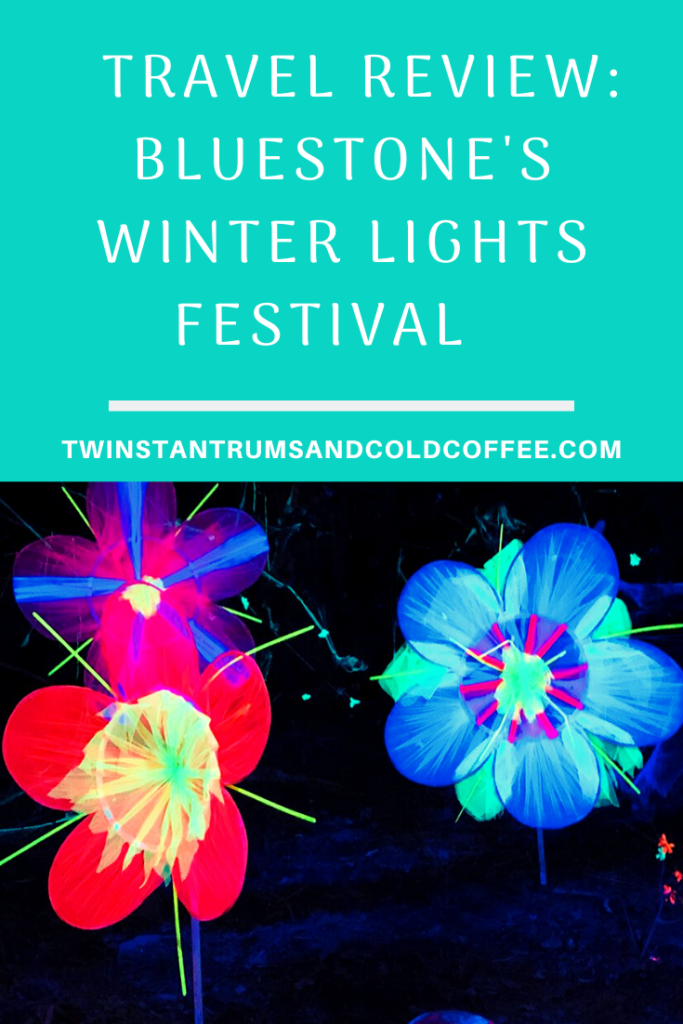 *This post contains an affiliate link. If you book a holiday by clicking through my website, I receive a small commission.
How did I do?
Did you enjoy this post? If so, you might like some of my other Bluestone ones. Check out Why A Visit to Bluestone's Christmasland Is A Must For Festive Families, or Why A Holiday To Bluestone Is Awesome With Another Family. Or if you want to read about more UK family holidays, go to my Travel Section.
If you like a bit of social media madness, pop over to my Facebook page where you'll be able to have a laugh at what ridiculousness goes on in my house with three very small boys on a daily basis. Warning – there is often sarcasm, and usually swearing. There are also great travel reviews and some AWESOME giveaways. Feel free to join my Twins, Tantrums and Cold Coffee – Shits and Giggles Parenting Group too, where everyone shares their hilarious stories.
And if you want to work with me, feel free to give me a shout here or at helen@twinstantrumsandcoldcoffee.com and I'll get back to you.