If you are looking for a great day out that will keep the kids from moaning too much, you might want to look at some National Trust places which have fun outdoor areas or houses with activities that will keep them occupied.
Kids tend to love mud, water, or den building in the woods – there's nothing quite like playing outdoors. I've picked some of the best National Trust places for kids in the UK, which all have nature areas, playgrounds and cafes. There's lots to do outdoors and indoors, come rain or shine. Whether you want to let them burn off energy in the beautiful gardens, learn about the past in the historic houses or take part in a woodland trail, National Trust sites are the perfect place for a family day out.
Many of them have play equipment in a woodland play area, rope swings, a storybook play den, bird hides or secret tunnels. Whilst others have balance beams, a zip wire, lots of places to do a bike ride or family trail in the stunning gardens, and plenty of room to plonk yourself down on one of the picnic tables and know your small children and bigger kids will love the wide open spaces.
National trust locations often have cafes or a tea room, a visitor centre, and a gift shop. As well as that all important ice cream! And with plenty of space and great views for the whole family to enjoy everyone will have a great time.
Many have free entry into the acres of parkland or woodland, and if you have National Trust membership, you will be able to get into the formal gardens or National Trust property without paying extra. It also gives you free entry into the car park.
So here is a list of brilliant National Trust places for kids, albeit it's by no means an exhaustive one. There are so many to choose from!
Saltram House, Devon
My boys having fun with their cousins at Saltram
No list of National Trust places would be complete without me including Saltram House and Gardens, seeing as it's been literally my favourite place to go since having kids. Overlooking the River Plym in Plymouth and set in a rolling 18th-century landscape, the house is full of treasures, stories and intrigue to discover. The gardens in which the house is set are ideal for letting your young children run around – as no dogs or bikes are allowed. There always trails and activities for them to do both in the house and formal gardens during the school holidays too. The 18th-century estate, on which the property is located includes farmland, beaches, salt marshes, meadows, woodland and an estuary, perfect for family walks, cycling and exploring with four legged friends. There are two great cafes, a play park and a bike pump track for kids to enjoy.
Brownsea Island, Dorset
Brownsea Island is the largest of the islands in Poole Harbour in Dorset. The kids will love seeing habitats including woodland, heathland and a lagoon. You may spot some of the local wildlife such as the rare red squirrel, birds, including kingfishers, common terns and oystercatchers. Free trails help you explore the island and there is a new natural play area and plenty of picnic spots. Their café is open, serving a range of hot and cold drinks, sandwiches and light lunches. Visit the website for further details
Belton House, Lincolnshire
Belton House by Deep In Mummy Matters
Belton House in Lincolnshire is a Grade I listed country house.It is an impressive building with an Orangery in the Italian garden, indoors you can gaze at the collections of silver, porcelain, and a world-renowned library. Outdoors you can explore the ancient deer park, picnic in the pleasure grounds, or burn off energy in the National Trust's largest outdoor adventure playground. The Outdoor Adventure Playground is open daily and the miniature train is running Thursday and Friday 12 – 5pm and Saturday and Sunday, 11am-5pm. Daily services operate during school holidays. The Stables Café is open, with indoor seating. They serve a range of hot and cold lunches and snacks as well as a full range of drinks.
Fountains Abbey, Yorkshire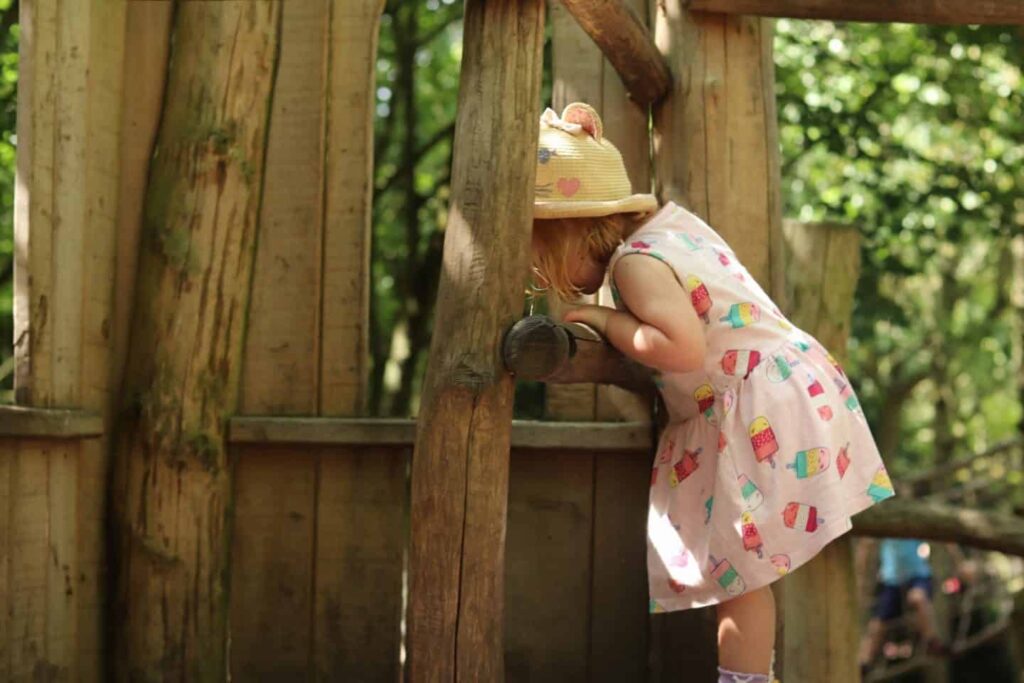 Fountains Abbey by The Ladybird Adventures
Fountains Abbey is one of the largest and best preserved ruined Cistercian monasteries in England. This magnificent abbey was established by devout monks seeking a simpler existence. Green lawns stretch down to the riverside, a perfect spot for a picnic. Riverside paths lead to the deer park, home to Red, Fallow and Sika deer and ancient trees. Bikes and scooters are welcome for under 5s, but don't bring them if you have older children. The cattle graze in Mackershaw deer park. Cycling is allowed in the Studley deer park which makes up part of the Way of the Roses cycle route.
Calke Abbey, Derbyshire
Calke Abbey is a Grade I listed country house near Ticknall, Derbyshire. The house and stables are little restored, with many abandoned areas portraying a period in the 20th century when numerous country houses did not survive to tell their story. Discover powerful stories of a family who amassed a vast collection of hidden treasures. Visit the beautiful walled gardens and explore the orangery, auricula theatre and the kitchen gardens. Escape into the ancient and fragile habitats of Calke Park and its National Nature Reserve. Spot the 'Old Man of Calke', a 1,200 year old oak tree. Visit the red and fallow deer in their restored enclosure. Explore the Tramway Trail by bike or by foot. Stroll through the pleasure grounds to the flower garden with its unique auricula theatre. There is a Natural Play trail available at Calke Explore. Drinks and snacks are available from the restaurant from 9.30am.
More of the best National Trust places for kids
Killerton, Devon
Killerton is an elegant 1778 National Trust house with landscaped gardens, plus a costume collection with dressing up. Today, you'll find a friendly Georgian house set in 6,400 acres of working farmland, woods, parkland, cottages and orchards. There's plenty of calm space in the glorious garden, beautiful year-round with rhododendrons, magnolias, champion trees and formal lawns. You can explore winding paths, climb an extinct volcano, discover an Iron Age hill fort and take in distant views towards Dartmoor. The house, gardens, chapel, park, shop, plant centre and second-hand bookshop at Killerton are open. The Stables Coffee Shop and Killerton Kitchen Café are open and serving hot and cold food and drinks, sandwiches and light snacks.
Kingston Lacy, Dorset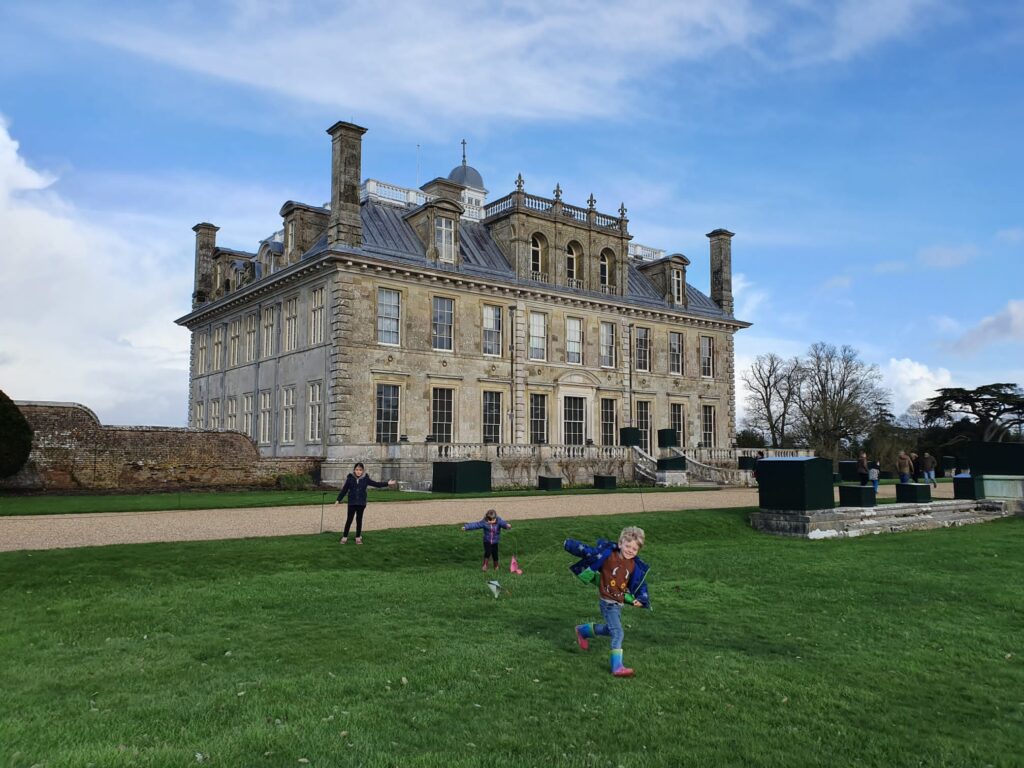 Kingston Lacy by Confessions of a Crummy Mummy
Kingston Lacy is a country house and estate near Wimborne Minster, Dorset. There's plenty to see, from spectacular artworks to beautiful landscapes. Enjoy a summer picnic on the south lawn, or let the kids run wild in nearby play areas. Wander through the Japanese Garden to the Kitchen Garden, where Queen Victoria once sent her own gardeners for inspiration. Explore the vast 8,500 acres of estate, featuring Iron Age hill forts, colourful heathland, water meadows and the world's oldest pedigree herd of Red Ruby Devon cattle. The house is a miniature 'national gallery' for the South West, and includes Bankes' collection of ancient Egyptian artefacts, the largest private collection in the UK. The café is open and serves a range of hot and cold drinks, sandwiches and light lunches.
Tyntesfield, Bristol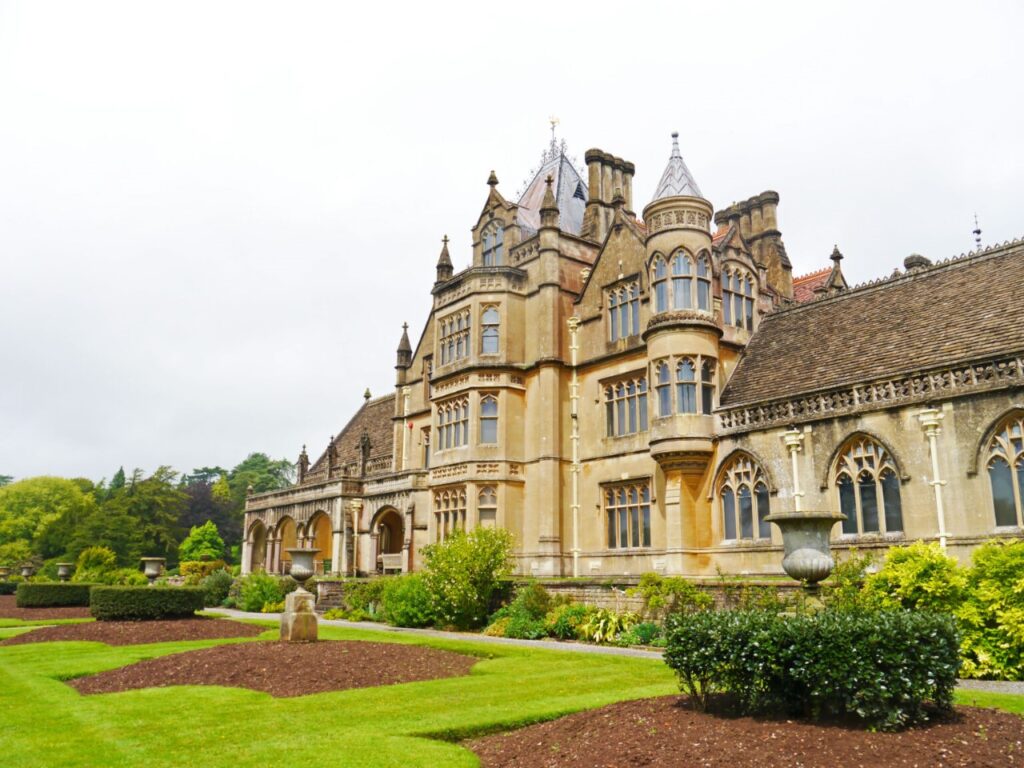 Tyntesfield House by Real Girls Wobble
Tyntesfield is a Victorian Gothic Revival house and estate near Wraxall, North Somerset. Originally a smaller Georgian house, Tyntesfield was transformed into a Gothic Revival masterpiece. The garden and estate has an abundance of nature. Flower-filled terraces, an empty lake, extensive woodland, champion trees and a productive kitchen garden give many opportunities for exploration. And with each season you can experience a new side to Tyntesfield. The Cow Barn cafe is open 10am-4pm with outdoor and indoor seating.
Knole Park, Kent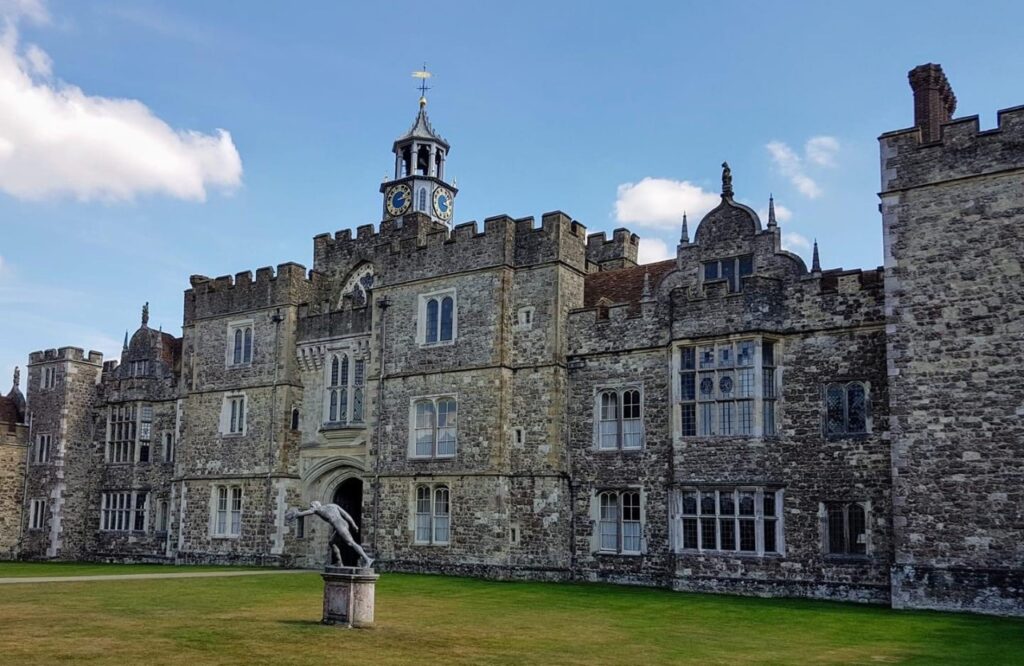 Knole Park by Things To Do In Kent
Knole is a country house and former archbishop's palace in a medieval deer park owned by the National Trust. It is situated within Knole Park, a 1,000-acre park located immediately to the south-east of Sevenoaks. Originally built as an archbishop's palace, Knole passed through royalty to the Sackville family, who still live there today. Take in the scale and magnificence of this 600 year old estate by exploring the grand courtyards and Orangery or wander the winding paths in the parkland, still populated by wild deer. You can explore the life and loves of former resident Eddy Sackville-West in the Gatehouse Tower and climb the spiral staircase to take in panoramic views from the rooftop. The parkland is open daily to pedestrians from dawn to dusk (jointly owned by National Trust & the Sackville family's Knole Estate). The Brewhouse Cafe is open. There is seating inside, on the Rooftop Terrace and the picnic area, it's definitely one of the best National Trust places for kids.
Frensham Ponds, Surrey
Frensham Little Pond and Great Pond were originally created in the 13th century, to supply fish to the Bishop of Winchester and his court, whilst visiting Farnham Castle. Today the pond and surrounding area is a sanctuary for wildlife with always something new to see. Around the pond you can spot many common and rare birds, such as reed bunting, sedge warbler and great crested grebe, as well as nightjars and woodlarks. There are damselflies and dragonflies darting over the water in warmer months, and the banks of the pond are fringed with wild flowers. The heathland is colourful with purple heathers, yellow gorse and green bracken. There are ancient oaks and pines to be found scattered across the site, and many footpaths to explore. Frensham is internationally important for the variety of rare and endangered wildlife that thrive on the heath and is a Site of Special Scientific Interest, a Special Protection Area and a Special Area of Conservation. Water sports and swimming are not permitted at Frensham Little Pond to protect its wildlife habitats. But you can swim in Frensham Great Pond.
These are just a few of the best National Trust places for kids to enjoy. There are so many more. If you've not seen one yet near to you, have a look on their website to find your nearest one. 

How did I do?
Did you enjoy this post? If you still want more, head to my Travel Section. You'll find tips on how to keep kids entertained on car journeys and travel essentials for twins. And if you fancy reading more of my usual kind of stuff, head over to my Mum Life section. You'll find all things parenting with a tongue-in-cheek twist. In fact, on the subject of travel and days out, you'll like this one Five Ways A Holiday Is Never The Same After Kids.
If you like a bit of social media madness, pop over to my Facebook page. You'll be able to have a laugh at what ridiculousness goes on in my house with three very small boys on a daily basis. Warning – there is often sarcasm, and usually swearing. There are also great travel reviews and some awesome giveaways. Feel free to join my Twins, Tantrums and Cold Coffee – Shits and Giggles Parenting Group too, where everyone shares their hilarious stories.
If you like what you see, how about you check me out on Pinterest, Instagram and Twitter too.
And if you want to work with me, feel free to give me a shout here or at helen@twinstantrumsandcoldcoffee.com and I'll get back to you.