The snob in me would never have even contemplated going to Butlin's. Not for me, thank you very much. I know lots of you are reading this thinking the same. Admit it…
Then you become a mum of three young children and everything changes. You remember holidays aren't all about you anymore and that if you can wear those kiddies out so they'll sleep, you're winning at life.
A friend had told me how great a time she'd had taking her two year old to a Butlin's Just for Tots weekend – a special break where all the children must be under 5.
So I tentatively started looking online at it. Still convinced it wasn't for us, but you know, I'll have a look anyway. But then I saw everything they had to offer, all the activities, all the fun. All the things I knew my nearly-three year old would love.
And before I knew it, we were there. Living it up at Butlin's – and, I have to say – absolutely LOVING IT!
Yes I did just write that. I LOVE BUTLIN'S! I am converted.
We went to the Minehead resort on a Just for Tots weekend, and oh my god, what a difference not having older children around made.
When you have twin babies and a toddler the last thing you need is boisterous older children careering around the place, scaring the younger ones and potentially sending them flying. Maybe a generalisation? Possibly, but I've been to enough soft play centres to see it for myself. And clearly I've heard a lot about Butlin's – not all complimentary I have to admit – to know what kind of holiday I could possibly have when you mix 12 year olds with 12 month olds. No thanks.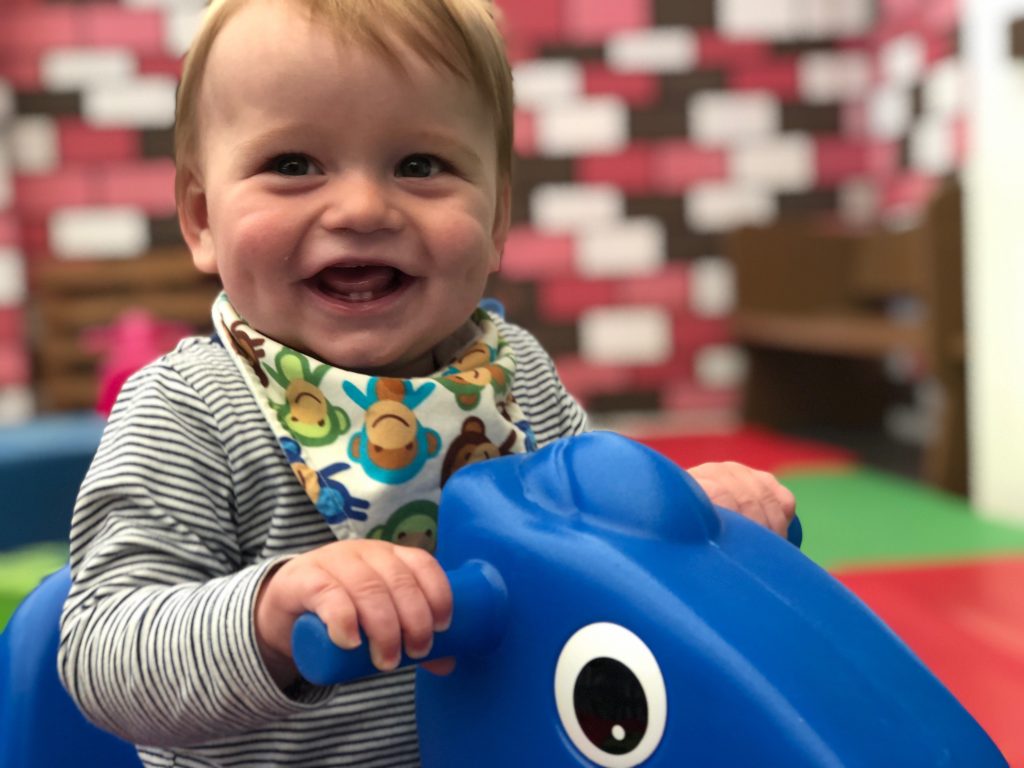 But those people in charge at Butlin's obviously know what us mums want, and their Just for Tots breaks, which happen a few times a year at all three resorts, couldn't be more suitable.
You still have the run of the resort with all its facilities, but there are added extras designed just for babies, toddlers and pre-schoolers – which of course means happy parents.
They've thought of what young kids need to keep them in their routines – early mealtimes, entertainment on repeated schedules so it can fit in with you, and 'drop in' activity sessions. So if there's suddenly a toddler meltdown, it doesn't matter, you won't miss anything.
The activities available on a Just for Tots break are right up any toddler's street, and are perfect to burn off all their energy. We all know they need to be exercised like a dog if you've got any chance of them sleeping, right?
They can run free in any of the outdoor parks, or indoor soft play areas, as well as try out the rides in the traditional fairground with parents – the Go-Karts being a particular favourite – or opt for being more independent in the Tots Indoor Funfair where all the rides are designed with the under 5s in mind. Toddler loved it in there. As well as a bouncy castle, and bumpy slides, he also enjoyed the little train, a teacup ride, and vehicle roundabout. There was also a mini soft play area for under 3s we were able to let our 11 month old twin boys crawl around in safely.
If you need that extra something to wear them out, head to the Splash Waterworld swimming pool where they can paddle in the warm water, or go for a gentle float in the lazy river. There is a special shallow area for little ones with mini slides and fountains, and during the Just for Tots breaks there is also Puddle Ducks baby swimming lessons you can book onto. We couldn't do any of this because we don't have enough pairs of hands to take three swimming – but if you were sensible and only had two or less children, it would be great!
One of Toddler's favourite activities was a visit to Little Tikes Town where the little ones can ride on a variety of cars or trikes and make their way around the track. It was all very leisurely, with lots of pit stops for fuelling, and swapping of vehicles, and all the children – including lots of really young ones – were loving it. Toddler didn't want to leave!
The other highlight was a session of Balanceability, a national 'learn to cycle' programme for children from 2.5 to 6. The 30 minute session involved some basic balance exercises before the children were able to ride around an astro-turf sports pitch on balance bikes. They then got a certificate at the end of it. This was the only activity we had to book into, but it was on practically every half an hour throughout the day, so there was no problem with availability. It made Toddler even more enthusiastic about his balance bike when we got home.
If the weather isn't too clever or your tot is flagging a bit, there is plenty of quieter indoor activities you can drop-in to, including a Little Library tent with children's chairs and beanbags, it was ideal to while away half an hour when a bit of downtime was needed.
If your kids want to get creative, there are special Play-Doh Activity Sessions run by the famous Redcoats who have all be trained in Play-Doh modelling to show you how it's done – they even encourage mixing of colours. A big no-no for me – would never happen on my watch..
There are also Creative Drop-in Sessions where the little ones can make as much mess as they want, and the parents can leave it all to the Redcoats to clean up. Now that's more like it.
I wouldn't recommend taking children to a Just for Tots break until they're walking and tall enough to go on the rides, as there wasn't a whole load of things to do for our twins. We could've taken them to swimming lessons and there is also baby yoga available – but both are tricky to do when the adult to child ratio isn't in your favour!
But one thing the babies could do was enjoy a show, and let's face it, that's what Butlin's is famous for!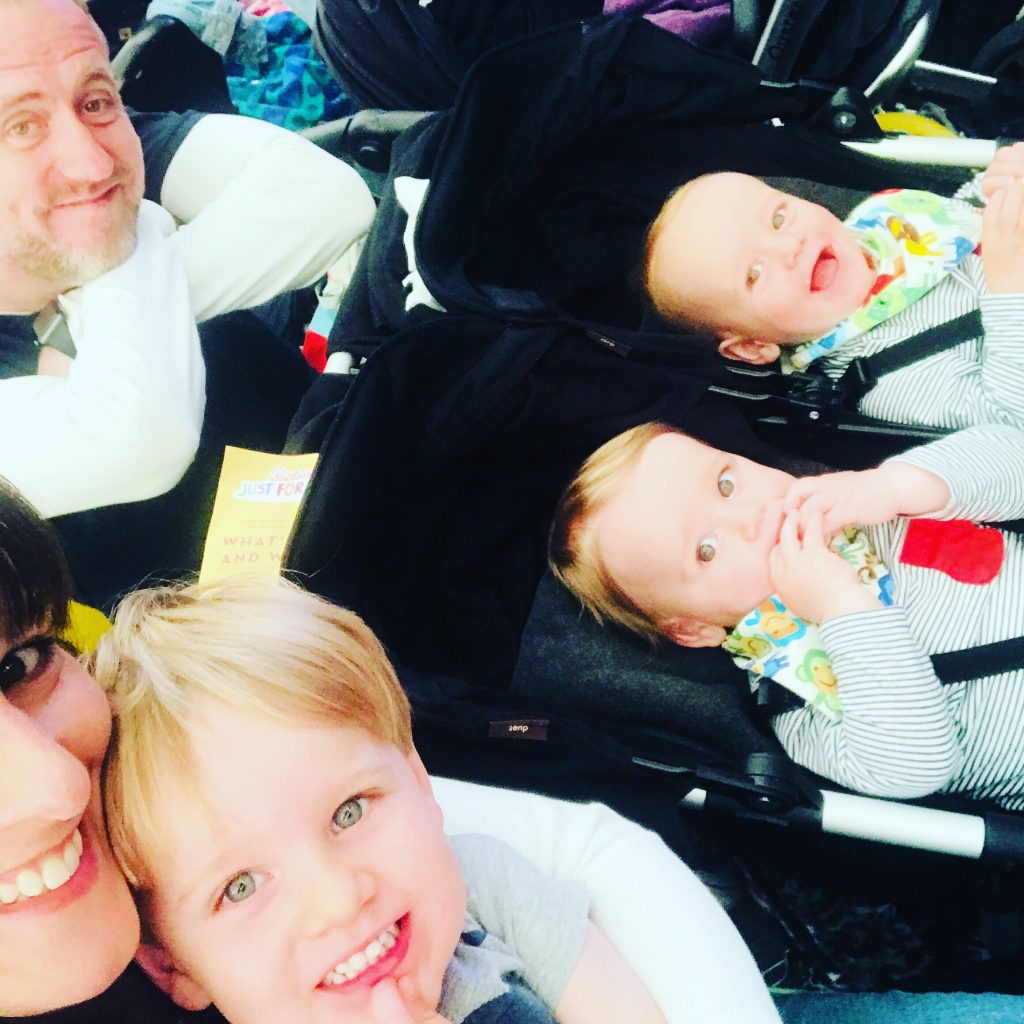 The Just for Tots breaks are well-known for featuring appearances by children's television stars, and during the dates we went it was Justin Fletcher's turn.
Now, I'm not being a total spoilsport, but we didn't see him perform, because the queue was INSANE! I'd been warned parents queue up a fair while beforehand, but I had no idea it would be so long. The last time I saw a line that long I was at Wembley Stadium queuing up for 11 hours to get to the front of a Robbie Williams concert! Luckily we'd not told Toddler it was on, and as he's not a huge fan I had absolutely no mum guilt as we walked past hundreds upon hundreds of parents with little ones whinging about having to stay in line. It was just crazy. I did hear that the kids loved it, and somebody I knew even queued up again for his early evening performance!
Stars performing on the various Just for Tots breaks include Justin Fletcher, Mr Bloom, Paw Patrol and Danger Mouse. Teletubbies and the Little Miss and Mr Men were also performing, but this was on the Skyline Pavilion stage rather than in the Centre Stage arena, so we didn't have to queue. (Do you get the impression I don't like queues?). All three boys loved the Teletubbies, and we watched two lots of Mr Men which they enjoyed.
We also watched a traditional string puppet show at Puppet Castle, and looked in on Finley's Fantastic Animals, where a stage show brings a book to life and the audience can see some of the real animals featured on each page.
Now let's talk about the nitty gritty – what you all want to know – where you stay.
At Butlin's you can stay in self-catering accommodation where you can make your own food, or take advantage of the variety of restaurants on site. Our breakfast and dinners were included in our break. With a fussy toddler I initially thought this could be disastrous, but it turned out to almost be the best bit of the whole break for me! No cooking, and more importantly no clearing up after weaning twins.
You can help yourself to the buffet, so there is no meltdown-inducing wait, and there is a dedicated children's section where they can choose from favourites such as fish fingers, chicken nuggets or pasta, but also for the more adventurous (the Twins, not Toddler) meals such as chicken pie or curry. All three of mine loved it, and whilst they tucked into theirs, we were able to choose from a massive selection of cuisines, both traditional and international and there were even Live Cooking Stations where food was cooked to order right in front of you.
The selection of desserts was just as wide and tasty, and there was fruit, jelly or ice cream for the children. My twins have eaten normal food from the word go, but if you needed baby food, Butlin's have Ella's Kitchen pouches available too. Breakfasts were just as amazing with anything and everything you could wish for.
Dinner was served from 4.30pm so it meant we spent the whole day from breakfast right through to dinner having fun on the resort, then headed back to our accommodation (tired and slightly jaded) ready for bath and bedtime. It meant we didn't have to 'pop' back for anything during the day, which with three kids, would mean at least an hour was wasted.
We were lucky enough to stay in Minehead's flagship accommodation, their luxury Bayside Apartments overlooking the sea. Ours had a modern kitchen, spacious dining and lounge area, two bedrooms and two bathrooms. It was complete with washer/dryer, dishwasher and microwave, underfloor heating, housekeeping, bed linen and towels, a widescreen TV in the lounge and a small TV in the twin bedroom. But the best bit was it's large balcony with full sea view. Perfect to sit out on with a glass of wine once the children were in bed and you could relax after a full-on hectic day of fun.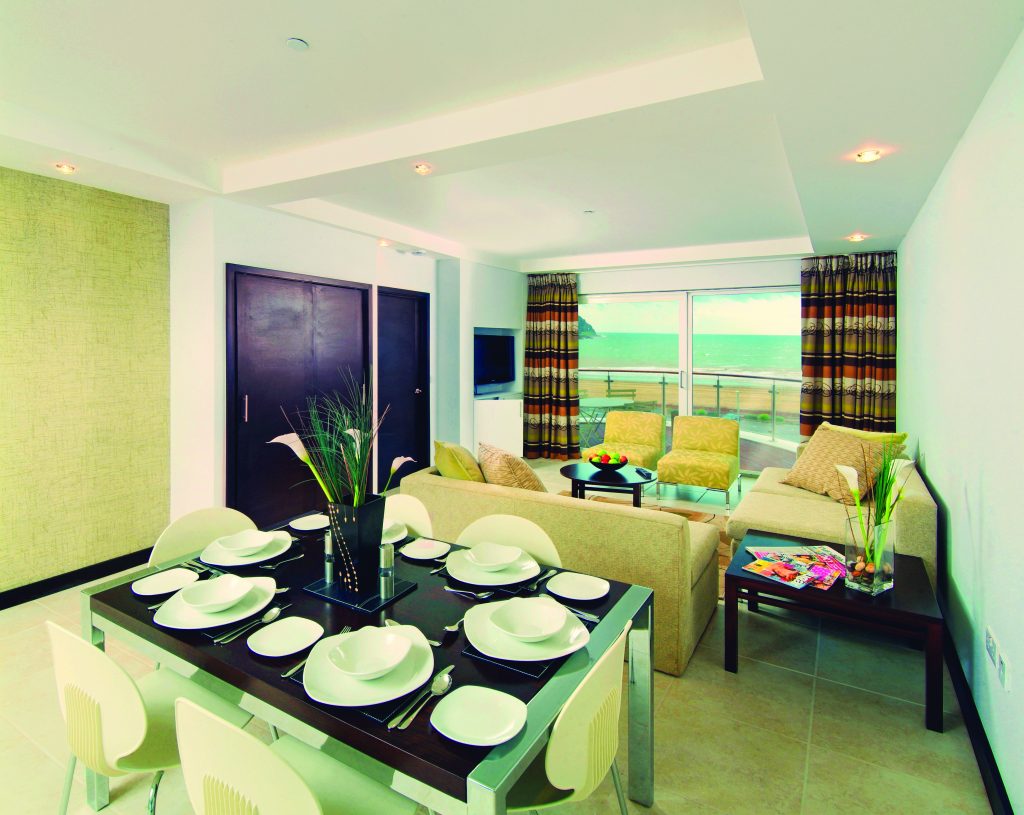 I've heard from others that the accommodation you choose at Butlin's can make or break your holiday there – the Bayside Apartments are positioned away from the rest of the accommodation which made them just perfect. My inner snob was VERY happy, especially after I'd seen a mum effing and blinding at her toddler in front of everyone outside the restaurant. Eek!
All budgets can be catered for at Butlin's in terms of where you stay, from a one bedroom room only option, through to the newly built four bedroom Lakeside Chalets and the Bayside Apartments where we stayed. I would totally recommend pushing the boat out and opting for the Bayside if you want to get away from the crowds – you obviously get what you pay for – on both ends of the scale.
So back to my original statement – I am a Butlin's convert! (Although that is tempered with the fact I would only go on a Just for Tots break without older children there) If you'd told me five years ago I would be embracing all things Butlin's had to offer, including its fast-pace, noise, and other holidaymakers, I may well have used a rude word.
But now having done it, not only have I embraced it happily, I actually want to go back!
For more information or to book a Just for Tots weekend, log onto https://www.butlins.com/