I think I can safely say we hit the holiday jackpot at Glynn Barton Cottages in Cornwall, with my four year old answering 'EVERYTHING' when asked what his favourite bit was.
To be fair I was expecting him to say Oscar the cat, or the sticks he collected in the woods, or even the ice cream and sprinkles he had – so 'everything' is high praise indeed.
But I can't blame him. Our three night luxury Cornish stay was one of the best family breaks we've had – none of us wanted to leave.
And it's no wonder when there was so much to entertain all three boys without needing to get in the car.
Perfectly positioned in the heart of Cornwall
Glynn Barton is on a 13 acre woodland site at Cardinham near Bodmin, so took us less than an hour to reach from the outskirts of Plymouth – perfect on a Friday night after work. It's pretty much slap bang between the north and south Cornish coasts so perfectly positioned to explore the county.
Its eight 18th Century self-catering farm cottages are all done out with children in mind, but it's what surrounds them that's the best bit.
You just need to step out of your front door to let them run free (in my case Twin One ran a little too free on a couple of occasions!) with a beautiful enclosed lawn for them to enjoy and make friends, and a barbecue area for guests.
There is an indoor heated swimming pool with enclosed terrace and garden – featuring a hot tub the whole family can use, an indoor soft play barn with comfy settees and magazines for the parents, table tennis, a huge trampoline, and amazing indoor play barn full of toys, games, books, DVDs to borrow, a pool table, and table football.
Outside there is a fabulous enclosed toddler ride on area, full of all sorts of ride on toys and a pirate ship sandpit, there is a 18m x 18m maze for the kids to momentarily get lost in, a mini football goal, outdoor Wendy house and play kitchen as well as an all weather tennis court and petanque court.
When I could get my boys out of the toddler ride on area, other highlights were a giant outdoor fort play area for them to climb all over and slide down, as well as a smaller toddler friendly play fort with swings and slides. My boys would have spent three whole days on these if they could.
Plenty of kids' activities at Glynn Barton
There's no chance of the kids getting bored though, with activities laid on by owners Pippa and James for them to take part in.
We started our first morning with animal feeding at 9am. It was a chance to meet others staying at Glynn Barton, as well as getting a real feel of the place whilst giving the animals their breakfast.
The children were able to feed Ben and Jerry the goats, Shane and Merv the wallabies, Del Boy and Rodney the pigs, donkeys, sheep, alpacas, ducks, and chickens before doing a spot of egg-collecting. It was also a chance for Twin One to plan his best escape routes for the rest of the weekend…
Guests can join in the animal feeding daily, except Sundays when the animals are given a break. But instead children are invited to a campfire in the woods – kicked off with a dinosaur hunt much to my four-year-old's delight – then marshmallows toasted on the fire and hot chocolates before bed. All whilst being kept an eye on by the two resident alpacas. What a great way to spend a Sunday evening!
There's arts and crafts once a week, as well as den building and bug hotels, and a mud kitchen in the woods, you can also try your hand at pizza making at the outdoor Pizza Point, or Pippa and James will supply you with everything you need for an afternoon of baking in your cottage with the Little Bakers Box.
If you fancy wearing the kids out even more, there are lots of woodland trails from Glynn Barton to explore, or book them into a swimming lesson or Rookie lifeguard course, join the young farmers club onsite, or head to Cardinham Woods, just minutes down the road for a bike ride.
Children have a ball at Glynn Barton
Pippa and James took over Glynn Barton 18 months ago after spending 10 years living and working in Dubai and Sri Lanka – and already they've made the site completely family-orientated.
In my experience, lots of places are 'family-friendly', but Glynn Barton is totally 'family-focused'. Everything is geared to children and making sure they are having the time of their lives but in a safe environment.
Even poor Oscar the Glynn Barton cat is kid-friendly. Just as well seeing as my four year old wouldn't leave him alone and hasn't stopped going on about him since!
There are gates everywhere containing little ones – much to my Twins' dismay, so they can roam free, but to a point. The enclosed toddler ride-on area is perfect for the little ones to play whilst the parents take the chance to sit on either a sunny or shaded bench with a cuppa. I *may have taken a glass of prosecco in there one of the evenings…
The swimming pool is warm, and the poolside air is heated too so no shivering whilst getting changed. There are noodles, floats and arm bands provided, and the best bit of all – a play pen nicknamed fondly as 'the cage' to put little ones in whilst you get changed yourselves. For a family of five like us, this is a LIFESAVER. There was absolutely no panic they'd wander off and end up in the pool – even the four year old wanted to get in on the action.
You're provided with a key to the pool area, and Pippa asks guests to keep the door locked at all times so children can't escape, or any child going for a wander can't end up in the pool either. It's so simple, but so AMAZING! You may be reading this thinking, so what, but when you have 2 two year olds whose favourite past-time is escaping, this is exactly what we need.
Cottages have everything a family needs
You're allowed to borrow toys from the play barn for the children to enjoy in your cottage during your stay – there's even an empty basket for you to use to tidy up each day. Pippa rings before your stay to check what you need, and can provide you with high chairs, travel cots (which are already put up – THANK GOD!!) bed guards, toddler beds, baby monitors, and microwave steam sterilisers. There are black out curtains to help them sleep (like they need any help after all the fun they've had!), plastic crockery and cutlery, non-slip bath mats, toddler steps for the bathroom and stairgates in the two storey cottages. There's a whole collection of kids and adult wellies in case you've forgotten yours and the all important washing machines and tumble driers!
There's a little onsite honesty shop which sells children's homemade frozen meals from Cook such as macaroni cheese, fish pie, meatballs and spaghetti, and delicious adult meals from Angels in the Kitchen, as well as ice creams, desserts and tasty Scrumpy cider – all from local producers. And if you're arriving late Pippa will happily put a meal in the oven of your cottage to be ready when you get here with hungry/hangry children.
'Baker Tom' in Wadebridge delivers to Glynn Barton three times a week, so we were lucky enough to have fresh bread, croissants and pain au chocolats hanging on our cottage door at 7.30am. Think Twin One liked them a little bit…
Luxury accommodation for everyone
The 8 cottages range from the one bedroom Tack Room, several two and three bedroom properties, to the four bedroom Granary's Mill.
We stayed in the three bedroom Old Stables and it was beautiful. Centred around an open plan living/dining/kitchen area, with fabulous high beams, there were then three bedrooms and a bathroom at either end. The four year old had a huge double bed to himself (which Pippa had thoughtfully already put bed guards on) and the twins' travel cots were in a room with bunk beds. Did I mention the cots were already up? This in itself makes me LOVE Glynn Barton! The four year old decided on the last night he was missing out on the action, so opted for a bunk in with his brothers.
The cottage had everything you needed – the kitchen had all the essentials including dishwasher and full-sized fridge freezer. There was even a blender for making baby food if you're in that hideous weaning stage. There was a TV and DVD player, woodburner, huge corner settee to sink into, and importantly for some (like, us!) brilliant Wifi signal – easily coping with two laptops, two tablets and two phones. We literally couldn't have asked for more.
Out and about in Cornwall
If you really HAVE to drag yourselves away, Glynn Barton is well-positioned to explore what Cornwall has to offer – which let's face it, is loads. With stunning beaches on both the north and south coasts, that's the go-to option on a sunny day. You're also really close to some great walking and cycling routes – Cardinham Woods just down the road, or the Camel Trail. Or head to the National Trust property of Lanhydrock House just 12 minutes away, the Lost Gardens of Heligan or Bodmin and Wenford Railway.
If the weather isn't looking too great and you can get the kids out of Glynn Barton's pool or soft play, the Eden Project is only 20 minutes away, or try Kids Kingdom at Colliford Lake, the National Maritime Museum Cornwall or Carnglaze Caverns. Or just borrow a movie from the play barn and snuggle up under a warm throw for the afternoon.
One thing I can say for sure though is that whatever you end up doing, a stay at Glynn Barton is going to be a memorable one. Guests return year after year, and I can totally see why. I absolutely loved everything about this place. If you're thinking of going, get in there quick!
*Frantically checks diary for next year…
Disclaimer – we were given three nights at Glynn Barton free of charge for the purpose of this review, but opinions, words and pictures are my own.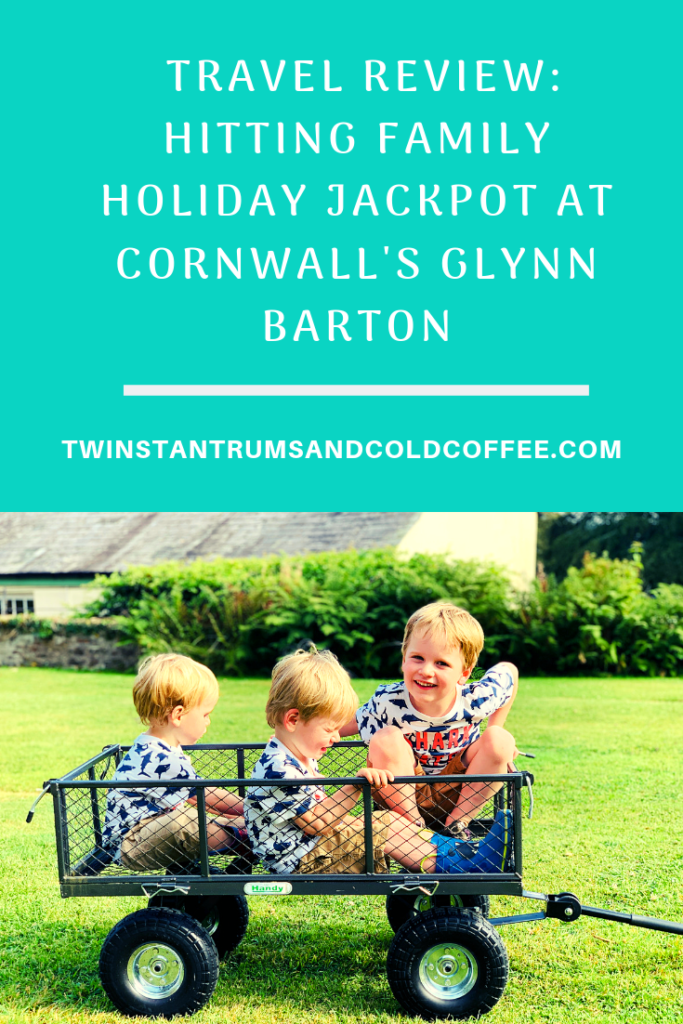 How did I do?
Did you enjoy this post? You might like some of my other travel reviews, so how about you check out a Dorset Haven holiday at Rockley Park, or Why a holiday to Bluestone is awesome with another family, or have a read about an awesome New York-style caravan break at the AMAZINGLY named Sandy Balls in the New Forest.
If you like a bit of social media madness, pop over to my Facebook page where you'll be able to have a laugh at what ridiculousness goes on in my house with three very small boys on a daily basis. Warning – there is often sarcasm, and usually swearing. There are also great travel reviews and some AWESOME giveaways. Feel free to join my Twins, Tantrums and Cold Coffee – Shits and Giggles Parenting Group too, where everyone shares their hilarious stories.
And if you want to work with me, feel free to give me a shout here or at helen@twinstantrumsandcoldcoffee.com and I'll get back to you.