*We were given tickets to Farmer Palmer's Farm Park in return for this review, but thoughts, opinions and pictures are my own.
If you're in Dorset and looking for a day out to entertain the little ones, Farmer Palmer's Farm Park has got to be at the top of a must-visit list for a fun family day out.
We've been there twice before whilst on holiday but couldn't resist a third time – especially when we had Granny and Grandad in tow for a weekend.
Farmer Palmer's is near Poole and there's so much to do there we actually struggled to get it all done in a day. None of my three boys (two year old twins and a four year old) wanted to leave one activity to do the next.
Something to keep everyone happy at Farmer Palmer's
We basically divided and conquered between the four of us adults, ensuring everyone was happy. Apart from the four year old when we made him stop having fun to eat. Such bad parents!
The park has a fabulous 'straw mountain' where children can climb up varying heights and come down slides into piles of straw – their faces are a picture. Especially when they realise they don't actually like the feel of straw! We couldn't get our twins away from the pedal tractors, they wanted to return again and again, and the two bouncy castles, both indoor and outdoor, were also a hit.
The boys were taken with all the ducks on the pond whilst queuing up for a tractor trailer ride, and a particular highlight of the day for the four year old was a pony ride in the barn. Especially when Bryan the pony had to stop to do a poo mid-ride. You can imagine how this made it literally the best day ever for my eldest!
The twins loved taking Granny and Grandad into the sand playground – full of traditional play park equipment such as swings, slides and seesaws, with some great extras such as water pipes, wooden animals to climb on and Wendy Houses to explore.
Beach day fun on the farm
Next to the park is the chance to have beach day fun at a farm, with Farmer Palmer's Sand and Splash Zone. Children can pump the water and let it flow in the great interactive water play area, as well as squeal with delight as they press the button and get soaked under a shower.
All three of our boys – with just a little bit of help from the Other Half and Grandad – did a few laps on the pedal go-karts and also loved the bumpy tractor trailer ride.
The Little Farmers Fun Barn proved one of the most popular attractions with my three, especially Twin One and the four year old who spent the entire time climbing through sensory tunnels and chasing each other around the loop and down the curly slide. Over and over and over again. Twin Two was a bit more cautious and enjoyed the soft play, blocks and exploring the farmhouse while his hectic brothers raced around.
Farmer Palmer's animal activities
There is also a whole timetable of animal activities to take part in – including meeting and holding guinea pigs, pony grooming, cow milking, bottle feeding lambs and goats, as well as meeting the resident pigs or hand-feeding deer. But all of these would have meant my boys actually sitting or standing still for longer than 10 seconds, so they weren't interested this time.
There's also a maize maze to play hide and seek in. We decided it was just asking for trouble letting our escape artist twins in there, seeing as they could get themselves lost in an empty room, but it looked great fun. We headed for a buggy stroll around the animal pens with the twins once they started flagging, whilst Daddy and the four year old tried out the soft play next to the cafe.
It's safe to say they all had the best day, and promptly fell asleep on the journey back to Greenwood Grange where we were staying. (You can read my travel review of our weekend here.)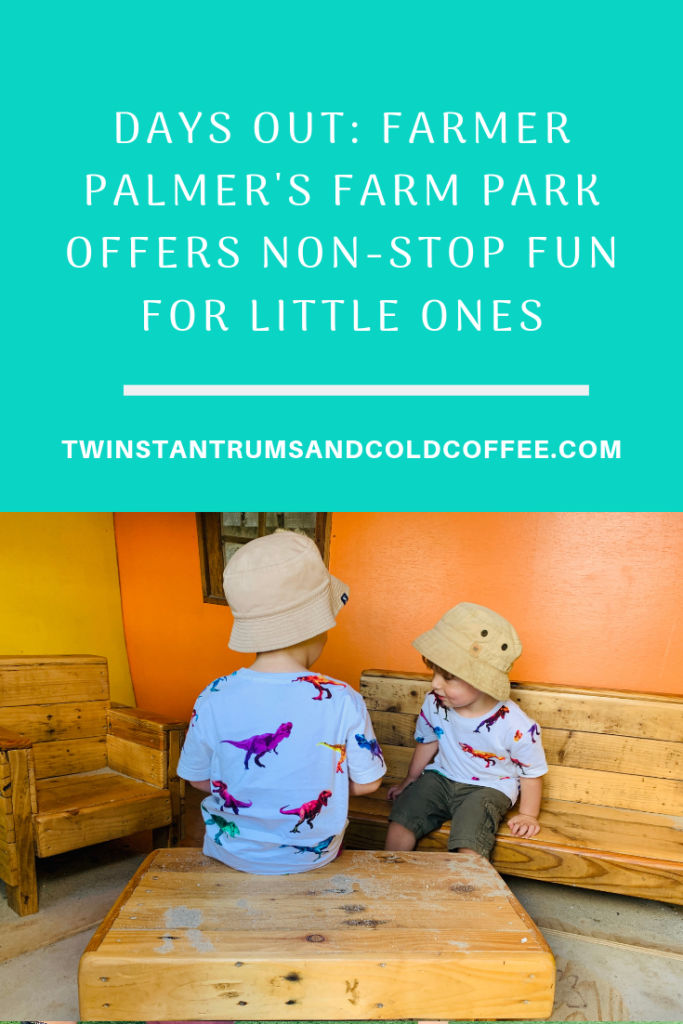 How did I do?
Did you enjoy this post? You might like some of my others days out reviews. Have a look at How to make the most of Paulton's Park and Peppa Pig World or Prehistoric Sea Monster fun at Princesshay, or how about Medieval Madness at Powderham Castle. Or if you're looking at UK holidays with little ones, read my travel reviews section.
If you like a bit of social media madness, pop over to my Facebook page where you'll be able to have a laugh at what ridiculousness goes on in my house with three very small boys on a daily basis. Warning – there is often sarcasm, and usually swearing. There are also great travel reviews and some AWESOME giveaways. Feel free to join my Twins, Tantrums and Cold Coffee – Shits and Giggles Parenting Group too, where everyone shares their hilarious stories.
And if you want to work with me, feel free to give me a shout here or at helen@twinstantrumsandcoldcoffee.com and I'll get back to you.