It's a well-known fact I love going on holiday to Bluestone. But what I've realised recently is going on holiday there with another family makes it even MORE awesome.

Cos let's face it, a break away with three children under four isn't exactly a holiday. There is literally nothing relaxing about it whatsoever, is there?

And I know you'll think I'm bloody crazy by suggesting adding even MORE kids into the equation could do anything other than make the whole thing 10 times worse (10 times louder yes, but not worse) but it really didn't!

I've just been to Bluestone for the third time, and absolutely loved it – for the third time.

Five kids under 4? No problem
But this holiday was different. This one involved FIVE children under four, a lot of shouting, a considerable amount of dirty nappies, several early mornings, the odd potential fisty-cuffs, and a few successful escape attempts by the one year olds. It also involved a WHOLE load of fun.

Each of my holidays to Bluestone have been different. The first one we were snowed in by the Beast from the East (you can read about that one here), the second one was the start of 2018's glorious heatwave, and now this one, with one of my best friends, her husband and children. In fact she's one of the mates I 'bought' when I forked out for an NCT course, and sums up Why Every Mum Needs Mummy Mates. Luckily the men get on well too.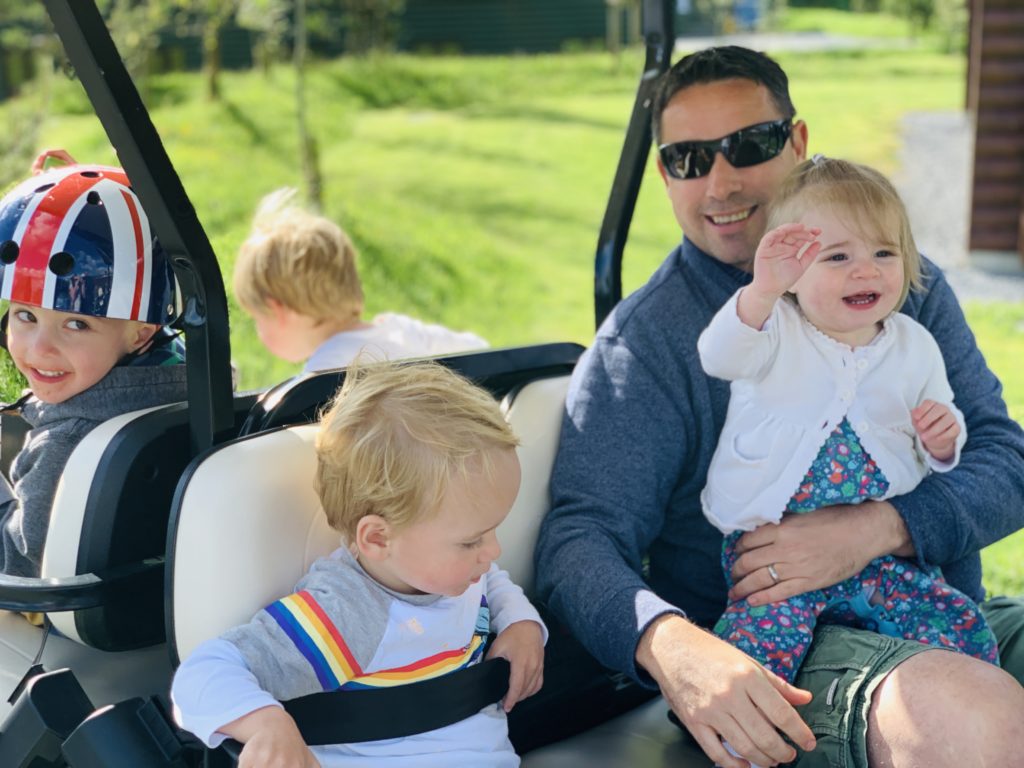 So with my three boys who turned four and two (twins) the week after our holiday, and their four year old boy and 16 month girl it was basically a constant game of 'spot the child'.
But it worked, so here are five reasons you should definitely go on a holiday to Bluestone with another family.
Double the families means double the help
We all know that going on holiday with very young children isn't a relaxing experience in any way, shape or form. Since having our twins, and being parents to three children under three, we'd basically resigned ourselves to returning home from a break away more tired than when we went. BUT having said that, when you go away with another family, yes you might have more children to contend with, but there is also more help available.
We pretty much had an unspoken rule that all four parents were in charge of all five children, no matter who they belonged to. And suddenly it all felt a whole lot easier (apart from when Twin Two realised he could get out the front door. FFS.)
Cooking together was easier, sitting down and ensuring the children actually ate something was easier, stopping the little ones throwing it on the floor wasn't quite so simple, but you get my drift.
Also one of the biggest issues for us is taking all three boys swimming on our own – all pools require a ratio of 1:1 for children that young and we simply don't have enough hands. Bluestone's Blue Lagoon pool rules are that children under 4 must be accompanied by an adult (1 to 1), and 4-7 years is one adult to two children. This meant with four adults, we could take all five children, and have a great time. I felt relaxed that all three were fine and safe. Hurrah for more pairs of hands! Although getting all three changed afterwards wasn't such a happy experience – I think my ears are still ringing from surround sound screaming x 3.
The children play together
Okay so this is pretty obvious, but is a huge bonus when it comes to entertaining them. Our kids are too young to do anything by themselves (especially the Twins who like to run off in different directions ALL THE TIME) but in our lodge all five of them loved being together. They played with each other's toys so felt like Christmas, they had new people to chase around, and they had extra parents to mess about with too. They were loving life!
The first thing the four year olds did when they woke up at stupid o' clock was to find each other. It was non-stop fun for all of them.
Basically for children, everything is WAY more exciting when you're doing stuff with a mate.
Date nights become reality at Bluestone
If you're all staying in the same accommodation, parents get to have date nights. We were there for four nights so both couples managed to have a night out. Alone. With no children. And had actual conversations. It was great! Plus there are loads of places to eat at Bluestone – we opted for an amazing steak at the Bluestone Farmhouse Grill. Okay so the couple left behind had to look after five children, but luckily they all stayed quiet. Pretty much.
And on the flip side of date night, the other two nights you actually get to have a sociable evening with your friends once the children are asleep. We ended up drinking far too much until far too late, but hey, it was our holiday too, right? Beats sitting in front of the tele or on your phone, like you'd be doing at home. (Obviously I've just heard people do that, I'm not actually talking about myself. Much)

Chance for the adults to enjoy themselves at Bluestone
If you're with another family, it seems there's a green pass for either the mums to have a break, or the dads. Nobody is begrudging the other, because they still have company, and no-one is having to look after the kids by themselves. This is exactly what we did. One of the mornings we were there, the mums headed off to the spa for a few hours leaving the Dads in charge. The safety in numbers rule came into force so everyone was fine.
Bluestone's Well Spa Retreat is the perfect choice for a girly morning. I mean let's face it, we could have gone tree climbing or zip wiring at Steep Ravine, but mmm, well, er, not a chance. A session in the thermal suite with its six different pods of steam rooms, saunas and ice room was the ideal way to forget the noisy kids, and get us ready for our AMAZING Celtic Combo treatments we'd both opted for. A 50 minute treatment of back, neck and shoulder massage, then a facial was insanely good. I literally didn't want it to ever end. Then a quick dip in the outdoor hydrotherapy pool was a great way to end our morning.
Five minutes and five under fours later, and obviously it felt like a distant memory but it was fabulous at the time.
Our spa morning meant we 'owed' the dads some time off. So they headed to the pub for a couple of drinks whilst we took all five children to Senses Toddler Time, and then we were extra generous and even let them watch the England football game in the pub one evening whilst we started on the wine within seconds of bedtime. See, there are definite advantages of holidaying with other people!
Bluestone's group accommodation
Bluestone offers a whole host of different accommodation types for different sized groups, and so many of them are big enough for two families to stay in one lodge. Depending on how many children you have, you could go for the Dinas, Grassholm or St Davids that all sleep 8, the Pembroke or Dinas Bunkhouse that sleep 12 and 14 respectively. Or go for the Caldey Connect or Tenby Connect which have two kitchens, lounges, dining areas plus bedrooms with a connecting door you can open up to make it one big lodge. This is what we did and it worked really well. We kept the door open 99% of the time, only closing it when we needed to contain the children a bit to calm things down at bedtime!
So if you're thinking of going away with another family, I can definitely recommend it, and it made this Bluestone holiday even more special.

Basically I'm never going on holiday without other people ever again…
If you're thinking of going, or you've already booked a trip to Bluestone read this post Everything You Need To Know About A Stay At Bluestone for some top tips and advice on how to make the most of it.
DISCLOSURE: This post contains an affiliate link. If you book a Bluestone holiday by clicking through my website, I receive a small commission.
How did I do?
Did you enjoy this post? You might want to read a few more of my travel reviews. How about one on Rockley Park caravan park in Dorset, staying in a New York loft apartment-style caravan at the New Forest's Sandy Balls, or something completely different with a farm stay experience at Tredethick Farm Cottages in Cornwall. And if you're about to head off on your hols, use my packing list for babies and toddlers to save you time. Then have a giggle about 5 ways holidays are never the same after having kids.
If you like a bit of social media madness, pop over to my Facebook page where you'll be able to have a laugh at what ridiculousness goes on in my house with three very small boys on a daily basis. Warning – there is often sarcasm, and usually swearing. There are also great travel reviews and some AWESOME giveaways. Feel free to join my Twins, Tantrums and Cold Coffee – Shits and Giggles Parenting Group too, where everyone shares their hilarious stories.
And if you want to work with me, feel free to give me a shout here or at helen@twinstantrumsandcoldcoffee.com and I'll get back to you.