Mountain Buggy Nano Duo Stroller: If you're a twin mum or have kids close in age, finding the 'right' double buggy can be a massive pain.

AD: I was gifted this stroller in return for an honest review. This post also contains affiliate links marked with a *.
I have tried about six so far and there are things I like and things I really can't stand about all of them. I've yet to come across 'the one'. Does it even exist?
I see on Facebook groups a lot of people asking for suggestions on which double buggies to take on holiday, and out of the ones I've tested, I reckon this is the best solution.
It's the *Mountain Buggy Nano Duo.
If you've seen pictures on my blog or social media, you may well have seen that my 'main' buggy is a *Mountain Buggy Duet which I love, albeit you need to be a weightlifter to get it into the boot of the car. It's my packhorse buggy that goes anywhere and everywhere – and could really do with a bloody good clean. (That'll never happen).
So the Mountain Buggy Nano Duo is the 'lightweight' version stroller. And it really is so much lighter than its beefy big bro.

Here's what I thought of the Nano Duo:
In a nutshell, the Nano Duo is a lightweight, compact double stroller which is easy to push around the city and store away at home or in the car, it can be used from birth with an additional carrycot but can't be used as part of an actual travel system with a car seat. It's also expensive compared to other double strollers.

GOOD BITS: It's lightweight, can be used from newborn with carrycot, easy to push on pavements, comfortable, extra large sun canopies, very compact and light when folded.

NOT SO GOOD BITS: It's expensive, can be tricky to fold and unfold, harder to push offroad, can't be used as a travel system
First impressions of the Nano Duo:
My first impressions of the Nano Duo were great. I was pleasantly surprised the first time I used it. It was much sturdier than I was expecting it to be as I usually find 'strollers' (especially those being sold as lightweight) to be flimsy – which massively does my head in if I'm being honest. I don't do flimsy.

How does the Nano Duo compare to other double buggies I've used?
I've used 'lightweight' buggies before when I just had my toddler and they've been flimsy and unsturdy but I didn't find this at all about the Nano Duo. Having said that it's not a patch on my Mountain Buggy Duet in terms of how strong and robust it feels – but I guess it's not supposed to be in the same league.
The only thing I didn't like about it when I got it out of the box was the colour of the hood known as 'cyber' – the brightest yellow you've ever seen. Not my thing at all. We attracted a LOT of flies in last summer's sunny weather. But I guess my friends won't lose me when I'm using it!

How does the Nano Duo fold and unfold?
On paper, as with most buggies, it should be relatively simple to fold and unfold. But as usual, I struggled. I'm surprised there's not some kind of masters degree in buggy folding yet, as some of them are so difficult you need to be a sodding genius to figure it out! It's ALMOST pointless describing to you how it works as you just need to do it, but I will anyway. But first I'll show you the little videos I did.

There's a velcro strap which handily holds it together when folded that you have to undo, then unclip one hook on the left of the frame. You then have to hold onto the steering bar and as you pull that up, the whole buggy unfolds and clicks into place. As I say, sounds simple, doesn't it? It took me about 10 goes to get this right. Not what I need when I'm out and about with three young children.

To fold there are two buttons you have to press simultaneously on the inside of the steering bar which then enables you to fold that bar down. You then have to effectively fold the whole buggy in half down to the floor, squash it down, then hold it all together with the velcro strap. Again, I didn't find this easy and even once I got the knack, every so often I couldn't get it to work. Like last month when we took it on the train with us for a day out – lucky it fitted through the train door as could we get the sodding thing down? Er, nope!

How compact is the Nano Duo when folded and unfolded?
One of the Nano Duo's selling points is how compact it is when folded, and this for me is one of the best bits about the product. It hardly took up any room in my car boot – unlike the Duet which takes up two-thirds of it. Get your tape measures out – the Nano Duo measures 51.5cm x 73 cm x 28cm when its folded and stands on its end so is one of the most light and compact buggies available. When it is unfolded it measures 100cm x 73cm x 84cm so is pretty tall, with very high seats (idea for taller toddlers) but is still pretty narrow for a double. Although it's wider than the Duet which is 65cm wide.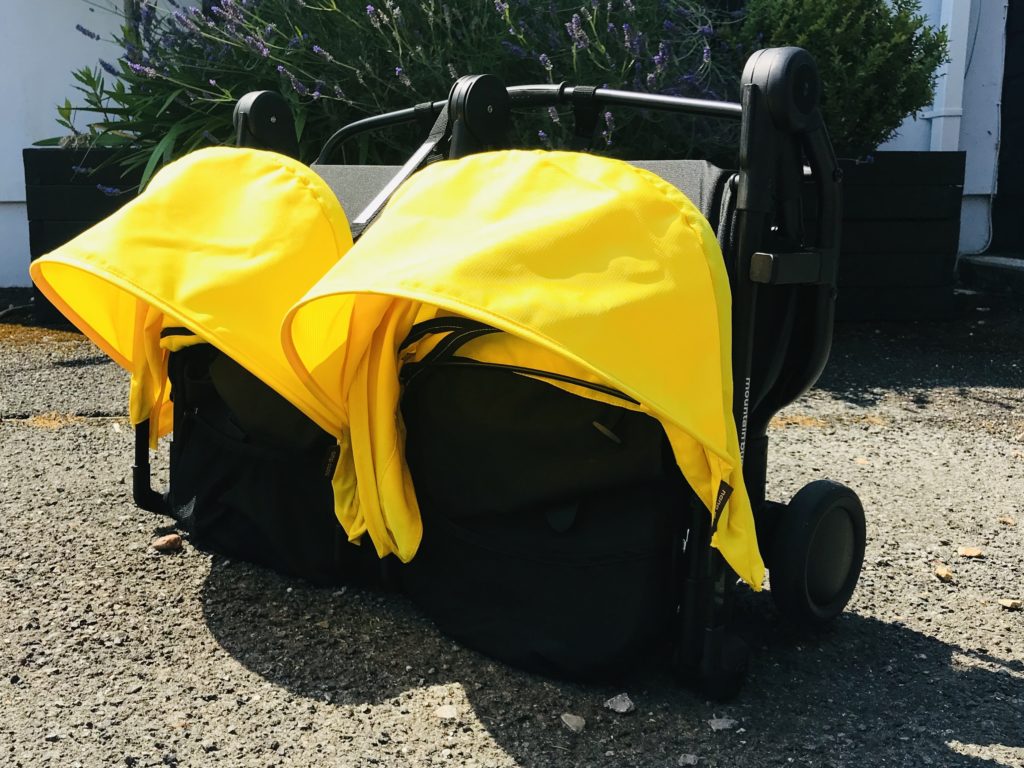 How lightweight is the Nano Duo?
More numbers for you… The Nano Duo weighs 9 kilograms or 20lbs so is REALLY lightweight. It has a strap so when it's folded you can carry it over your shoulder. I'm always suspicious of this sort of thing, normally they say you can do it, but you have to be a built like a brick sh*thouse to get it up past your waist, but this was really easy. So if you ever need to get the kids out and carry the buggy, this is a great feature. This is never going to happen with three children though! This is also the main reason it's good to take on holiday – good folded up in the car, or even on public transport, or dare I say, an aeroplane??

How easy is it to push?
For a lightweight stroller, the Nano Duo is incredibly easy to push. I was actually surprised as from experience just because it's lightweight doesn't mean it's easy. But once we realised we needed to unlock the front wheels we were away!

How does it ride on different surfaces?
The Nano Duo was great on pavements, and mounting kerbs was no problem due to its perfect weight distribution. But as soon as I went off-road it was trickier. It was even much harder to push on grass in the park. I spend a lot of time in our local National Trust gardens (as you all know!), and it was a bit of a tough ride on gravel.

How easy is it to store the Nano Duo?
This has got to be the Nano Duo's winning feature – it folds down so narrowly that it can easily be stored in your house without taking up too much room. Both other double buggies and travel systems I've owned, I've had to keep in the car as they are too bulky to even easily get through my front door let alone find space for them indoors. But the Nano Duo could easily fit in the bottom of a cupboard or even behind a door!
Is the frame strong and durable?
The frame felt pretty strong, although not as solid as more expensive, sturdier buggies I've tried. It was durable enough though, and for a lightweight buggy it was better than I'd expected it to be.

What did I think of the Nano Duo handles?
I liked the main steering handlebar, and this is always important to me as I'm often pushing one-handed whilst either holding my three year old's hand or carrying his bike/scooter so it needs to be easily manoeuvrable. The one thing I didn't like was when the sunhoods were folded back, the material covered my hands on the handlebar. It didn't affect my pushing – it just IRRITATED THE HELL OUT OF ME!

What are the seats like?
The seats were plenty wide enough for my 12 month old twins. They are extra tall at 66cm, suitable for a child up to 15kg – so this could mean my toddler could use it if I'm ever feeling generous! I also liked the five-point harness to secure them in. It releases with the push of one button so is extremely easy to use. The straps can be put in three different height positions so can be moved as your child grows.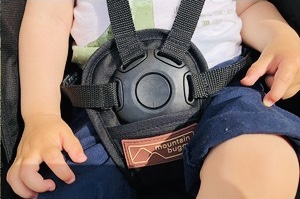 How many recline positions does the Nano Duo have?
The buggy has a 'deep seat recline' so rather than it having a set number of positions, you can lean them back by loosening a strap on the back of the seat. I like this idea but find it hard to tighten it back up when the babies are sat in there. The Nano Duo also has a mesh back seat panel to let air through in warmer weather which was so useful in the heatwave we experienced last summer when I got the buggy. It then has a fabric extension overlay for cooler days – although I didn't realise this can be folded up, and it annoyed me how it hung down. Should probably have read the instructions a little better! Both babies have been really comfortable in the buggy.

What did I think of the hood?
If I'm honest, I have a love/hate relationship with the hood! I love how big it is, (it's in 3 panels) and how once it's pulled right down – including an extra mesh section that can be untucked, it provides almost total sun protection. As I've mentioned before though, when it's up the material hangs down on my hands, and it doesn't have a peek-a-boo window to peer through to see your child, so interaction isn't brilliant.
But my main issue with the hood was the colour. We had a 'cyber' one to review, which was BRIGHT yellow. It attracted flies and I'm sure we could be seen from space! But obviously it's all down to personal taste – some people have told me they love the colour. The hood comes in five different colours as well as a special edition print, and you can buy them separately for about £24 which I think is excellent value.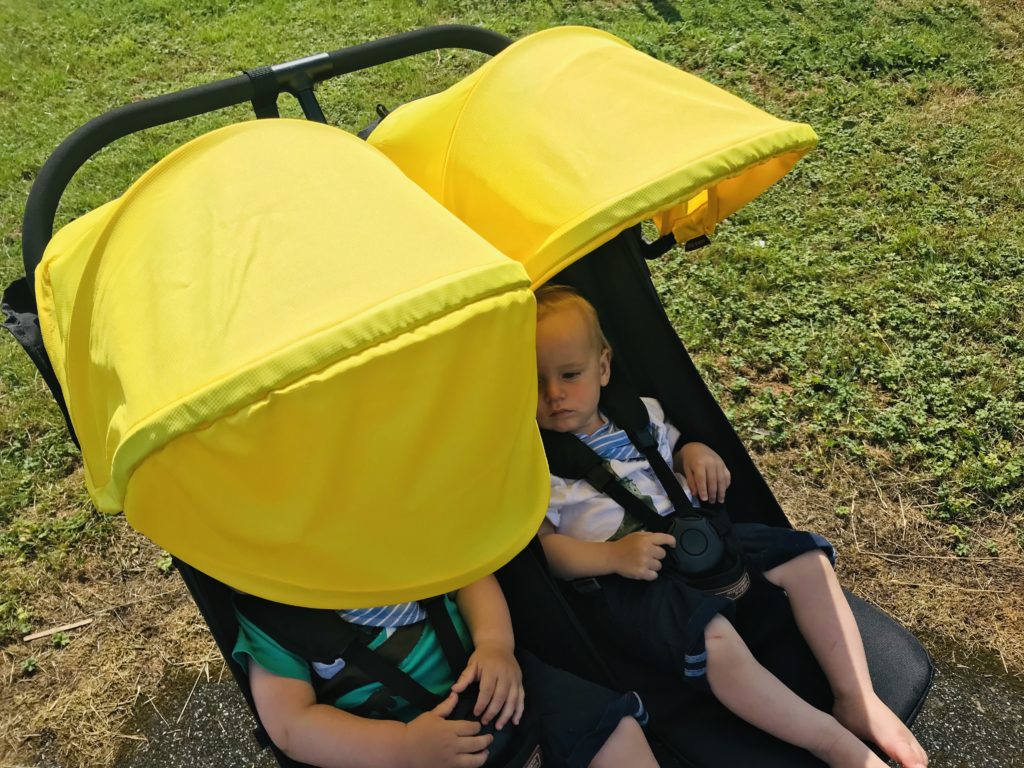 What about the brakes?
I loved the colour-coded foot brake. Rather than having to hook your foot under to lift it up, you just have to step onto it and it switches – making it flip-flop friendly! It doesn't have a hand brake which I love on my Duet, but I wouldn't expect a lightweight stroller to have one.

Does the Nano Duo fit in the boot of my car?
Yes! We have a VW Touran as it is one of only a few cars with a back seat wide enough to fit three baby car seats in, so we have a big boot. (Did I mention the car saga? If you're literally the only person in the world who hasn't heard my car moan, then read it here) But the Nano Duo hardly took up any room at all which I LOVED. I'm used to my buggy taking up more than two thirds of the space and having to put shopping bags, bikes, scooters, the kitchen sink on the top of it. But because the Nano Duo stands on its end, it frees up so much space. This feature alone for me makes it worth buying!

What age children is it best for?
The Nano Duo is designed to be able to add a cocoon carrycot, so can be used from newborn to about 3 years with one, and from six months to about 3 years without one. It's maximum weight load is 33lb per seat.

What's the Nano Duo's basket like?
With baby twins and a toddler, and all the sh*t we cart around, no basket is ever going to be big enough for me. But the Nano Duo isn't too bad. The basket is easily accessible once the babies are in the seats, and I could manage to get a rucksack, separate lunch bag and picnic rug under there which is about as good as I'd expect. It's much better than some buggies I've used.

Who would the Nano Duo be most useful for?
I'd say the Nano Duo would be perfect for anyone who has a lack of storage at their house, or has a small car boot. It folds down so compactly, this has to be its best feature. It would also be an ideal second buggy to take on holiday, to take up less space in the car, or to easily sling over your shoulder and take on a plane. I can't see that it would be that good a purchase for anyone who does a lot of off-roading. It's designed for city parents, and I definitely think it's ideal for them and city pavements.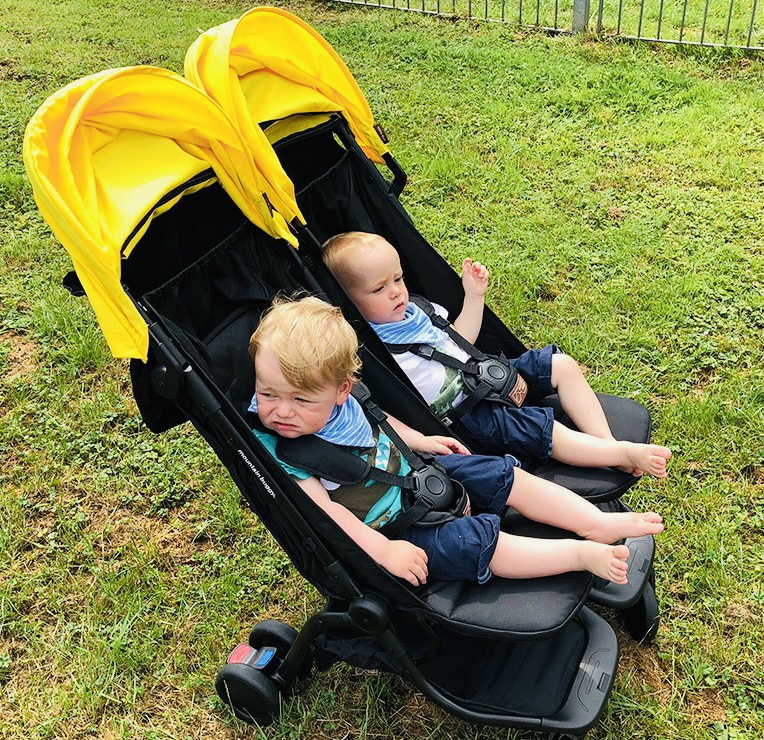 Okay, hit me with the price
So here's the catch. The Nano Costs £399 which is expensive compared to other lightweight strollers. Pitched against sturdier side-by-side buggies it's among the cheapest, but it's nowhere near as good in terms of strength and ride. Compared to lightweight strollers which cost between £120 and £200, this is on the pricey side so I'm not entirely sure it's amazing value for money.
Mind you, keep an eye on what Amazon are selling it for here:
You can also buy additional extras such as the cocoon, a grab bar, storm and sun covers, travel bag, sleeping bags, blankets and even a matching satchel. But apart from a rain cover, you're good to go with what comes in the box. Unless you don't like the hood colour…
MY VERDICT ON THE NANO DUO:
So should you buy it? If you want something that can easily be stored or to take on holiday but is still a pretty decent stroller then yes. But it is expensive and if you're going to chuck it around and not look after it (let's face it, we all have better things to worry about than our strollers), then it's a lot of cash to fork out.

You can find out more about the Nano Duo here. I was gifted the stroller to review for Made For Mums but all opinions are my own.

How did I do?
Did you find this review useful? You might like some of my others. If you have teething babies, have a read of this Gummee Glove review. Or if you're in weaning hell, try this one about Messy Me products. And why not have a read of my usual sweary, sarcastic Mum Life stuff, or grab some holiday inspiration in my Travel Section.
If you like a bit of social media madness, pop over to my Facebook page where you'll be able to have a laugh at what ridiculousness goes on in my house with three very small boys on a daily basis. Warning – there is often sarcasm, and usually swearing. There are also great travel reviews and some AWESOME giveaways. Feel free to join my Twins, Tantrums and Cold Coffee – Shits and Giggles Parenting Group too, where everyone shares their hilarious stories.
And if you want to work with me, feel free to give me a shout here or at helen@twinstantrumsandcoldcoffee.com and I'll get back to you.
This post contains Amazon affiliate links marked with a *. If you click on and purchase a product through these links I earn a small commission. It doesn't affect the price you pay, but helps me buy clothes for my kids and wine for me. Thanks!