*We were invited to stay at Greenwood Grange in exchange for this review, but all thoughts, opinions and pictures are my own.
When you've got young children, taking the grandparents on holiday with you is always a winner. And Greenwood Grange in Dorset is the perfect location to do just that.
Tucked away deep into Hardy country, the site has 17 self-catering cottages and a whole host of child-friendly activities to keep the kids (and parents) happy.
And the best bit is, there's room to bring Granny and Grandad too. If you've read my blog before, you'll know not only that my parents are awesome, but I'm all about a multi-generational weekend away. The grandparents love it, (albeit I think Grandad may have been slightly fed up with the noise by the end of it), the boys love it, and they help out so much that we feel like we've had a break too. Win win, if you ask me. 
So when we were invited to stay at Greenwood Grange, it was a no brainer to see if my parents wanted to join us – especially as it was my Dad's birthday weekend.
Greenwood Grange offers 5* accommodation
We stayed in the 5 star Durbaville cottage which was quite frankly massive, so it was perfect for a stay with extended family or a group of friends.
The bungalow has four bedrooms, sleeping eight, but with the twins in cots still, we had the luxury of an empty bedroom. I say luxury, as this was where I headed for an extra half an hour's kip when all the boys descended on us at some ridiculous hour on the first morning. (My Other Half is kind. He also went out at cycling at 7am the next morning, leaving me with all of them.)
The master suite is off one side of a large open plan living area, then the other bedrooms, toilet and bathroom are off the other side. We pretended to be generous and let the grandparents have the king size master bedroom – complete with its roll-top bath in the room. It was like they had their own wing! But really we were just being sensible, knowing that with all the kids the other side of the bungalow, we'd not hear them when they woke up at 3.30am. I say 'when' rather than 'if' as the number of times all three have slept through at the same time can be counted on, ooh, about three fingers.
Perfect for extended families
It worked really well, knowing the boys wouldn't disturb my mum and dad. Plus I wasn't too gutted about the bath, as there was a HOT TUB in our own private garden. And you all know how much I LOVE a hot tub on holiday – and this one didn't disappoint.
In our 'wing' of the cottage was a double bedroom, a twin with zip link beds and an ensuite shower room, a bunk beds kid's room which also contained a cot and the travel cot we requested, as well as a huge family shower room, and another separate toilet.
The living area had stylish settees and a huge dining table, as well as a log-burner, TV and DVD player, and the kitchen had everything you need – including a washing machine which would definitely have come in handy had we been there any longer. (There's also a laundry on site though, so you're pretty sorted either way.)
Everything you need for kids
If you've got young children Greenwood will cater for pretty much everything you need including high chairs, stair gates, baby baths, bed guards, night lights, bath mats, changing mats, black out blinds, toddler steps, waterproof mattress protectors, plastic cutlery and crockery. You just need to tell them what you need beforehand and it's all there ready and waiting.
Durbaville's private garden had a barbecue and large seating area, and oh, did I mention the hot tub? And luckily for us it had gates to keep our twins contained. Unluckily for us, they figured out how to open them…
Loads to do on Greenwood Grange site
Greenwood Grange is a seven acre site just outside Dorchester in Dorset, so there's plenty to do on the doorstep, but there's also so much to do onsite, we spent our first full day exploring what was on offer.
First stop was the indoor swimming pool. Our boys love swimming but anyone with three or more young children will know, that public pool adult to child ratios make it impossible for us to take them on our own. So it was a good job Grandad was on hand at Greenwood Grange to come in with us – the four year old hasn't stopped going on about it since!
The 10m x 5m pool was perfect for a dip, and we were lucky enough to have it to ourselves on our first visit. There's also a sauna if we'd fancied it. Twin One wasn't too happy he got the shabby hand-me-down costume whilst Twin Two had a shiny new one though…
Plenty of rainy day fun at Greenwood Grange
Next was onto the play park and meet Greenwood's friendly donkeys. The open and spacious grassed park area was lovely, with all sorts for the boys to climb on and enjoy as well as a trampoline. But when the rain started, we were glad of the play yurt in the park – a full sized yurt full of fabulous toys for toddlers and young children. My three couldn't believe their luck!
There is also a huge games room on site divided into two. One side is for the younger children filled with books, puzzles, games, crafts, table football, DVDs and a widescreen TV, whilst the other houses a pool table, billiards and table tennis. So there's something to keep all ages happy. During school holidays special activities are held for the children too.
And if you're feeling a bit more energetic you could head to Greenwood's two tennis courts, badminton lawn or croquet and boule areas. There was also a large lawn right outside our cottage with football nets that the boys loved running around on.
They were also pretty taken by the chickens on site – trying to escape at any opportunity to see them. Guests are allowed to collect their eggs for breakfast, and there's also a vegetable patch and pick your own fruit area in the kitchen garden which is popular with little guests.
Inside the play yurt

Inside the play yurt

Park and play yurt

Flip flops even in the rain!

Becoming attached to the digger

You can't catch us!

Hey chickens.

Table football fun in the games room

How do we play pool, Daddy?

Beating Daddy at Connect Four in the games room

Train set in the games room

Showing Grandad how it's done

Blackboard fun

Games room
Greenwood Grange is also a dog-friendly holiday park, and has an enclosed dog exercise area for when both owner and pet want to let off a bit of steam.
Extras offered for those who want more
And if you're wanting something that little bit extra, the staff at Greenwood Grange offer a concierge service and can organise all sorts of things for you during your stay such as caterers or beauticians, baby and dog sitters if you fancy a night out, and deliveries of local produce. There's also a little shop on site selling all the essentials. We found them really helpful – even unpacking our online supermarket shop for us when it arrived before we did! (Sorry about that.)
Greenwood Grange is literally a stone's throw away from Thorncombe Woods and the cob and thatch cottage which was the birthplace English novelist and poet Thomas Hardy. We took a walk up through the woods to the cottage, run by the National Trust. Just be aware when you book in at the visitor's centre that they offer you a time slot in about ten minutes time – clearly not realising how slowly two two year olds walk!
It was a bit of a trek with them through the woods, but a National Trust trail in the gardens of the cottage once we got there soon distracted them. They literally lasted precisely 1 minute 27 seconds inside the house, (even the four year old announced rather loudly "Mummy, this is a bit old for me") but they loved playing hide and seek in the orchard where we had our picnic. We then opted for the 'accessible' route back which I'd recommend if your little ones are walking it or if you want to take a buggy or pram.
Heading out and about from Greenwood Grange
We headed out and about on our second day. There's a whole host of family-friendly places we could have gone in the area, but we opted for the award-winning Farmer Palmer's Farm Park, just 20 minutes away. We'd been before and knew we'd have a cracking day there.
Farmer Palmer's Farm Park is just outside Poole and is designed for children aged 0-8. And it's literally perfect for them. With over 100 animals and dozens of fun things for them to do, they had a whale of a time. Read my full review of our day out here.
If you were staying in the area for longer, other days out that look great are the Teddy Bear Museum and Dinosaur Museum in Dorchester (I didn't tell my dino-mad eldest about that one), or Monkey World nearby. Or you're only a few miles from the Jurassic Coast which is perfect for fossil hunting or rock pooling.
Greenwood Grange has stone-built cottages which sleep just two people, up to accommodating a group of 12 in their largest property. So it really does cater for everyone. Check out my Instagram stories highlights for some more pics and video of our stay.
I would totally recommend taking the grandparents with you though. And get in that hot tub quick!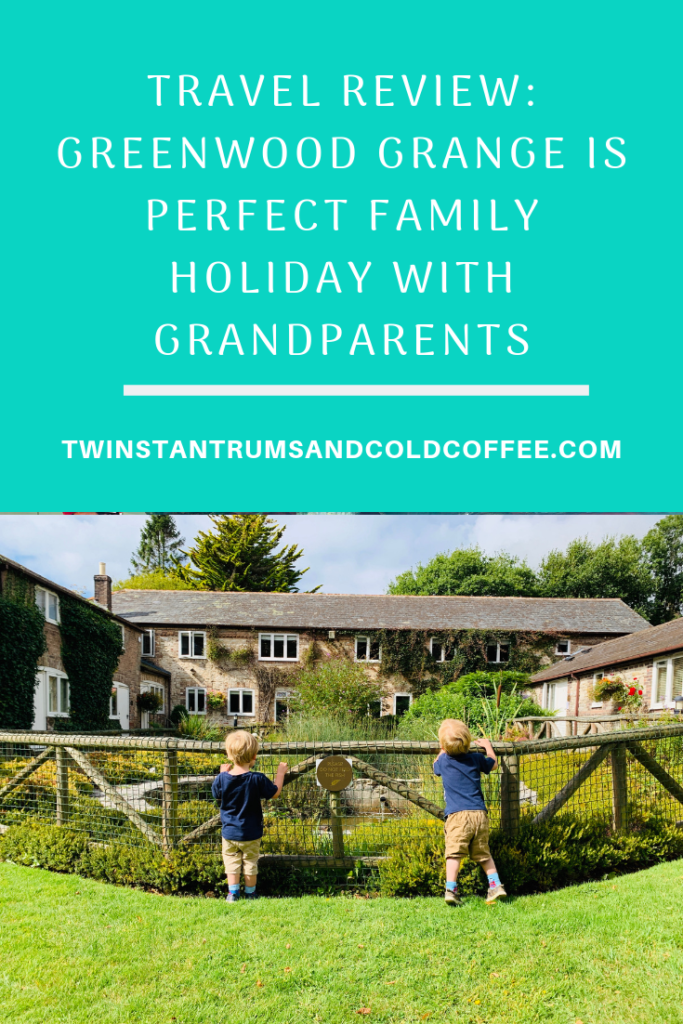 How did I do?
Did you enjoy this post? If you want to find out more about Dorset, then check out Dorset Country Life. You might also like some of my others travel reviews. Why not read about how much we loved Cornwall's Glynn Barton farm stay, Why A Holiday To Bluestone Is Awesome With Another Family, or how you can enjoy the best of both self catering and hotel worlds at the Polurrian Bay Hotel.
If you like a bit of social media madness, pop over to my Facebook page where you'll be able to have a laugh at what ridiculousness goes on in my house with three very small boys on a daily basis. Warning – there is often sarcasm, and usually swearing. There are also great travel reviews and some AWESOME giveaways. Feel free to join my Twins, Tantrums and Cold Coffee – Shits and Giggles Parenting Group too, where everyone shares their hilarious stories.
And if you want to work with me, feel free to give me a shout here or at helen@twinstantrumsandcoldcoffee.com and I'll get back to you.