If you're taking a trip to the Big Apple, then a helicopter tour over New York is definitely one of the most memorable ways to see all the sights.
I've just been on one, and I have to say it's one of the most amazing experiences I've ever had. 
I was gifted the helicopter ride by Original Travel but all opinions are my own.
I mean, if you're going to see Manhattan, then why not do it in style, right? And could taking a helicopter tour over New York City 'BE' anymore stylish? (Said in a Chandler from Friends voice!) If you're planning a New York holiday, you simply have to look into a NYC helicopter ride.
I went to New York last month with one of my best friends, Nicky, who is currently living in America for 3 years. And I went as a surprise for her birthday! Her husband, Mike, and I organised it without her knowing and it was just brilliant. They live in Connecticut and it's the second time I've been out to stay with them since they've been there.
Both times Nicky and I have caught the train from Connecticut into New York for a few days and absolutely loved it. 
Helicopter tour over New York was highlight of trip
This time, the New York helicopter ride was the absolute highlight of our trip and a unique experience I'll never forget. I mean, if we're talking sightseeing tours, this is surely the best way to do it?
There are several helicopter tour companies who offer helicopter rides over Manhattan, but we went with HeliNY who are based down at 6 East River Piers, at Downtown Manhattan Heliport, close to the Staten Island ferry. And they do the BEST helicopter rides!
Their helicopters take you far above the ground to see all the major NYC landmarks on a flight up the Hudson River and back. And although you may have already seen many of these sights such as the Empire State Building, Freedom Tower and Central Park during your stay in New York, you've most definitely not seen them from this bird's eye view perspective.
Wow. Just WOW! 
HeliNY offers three different tours including the New Yorker Tour, the Ultimate Tour and the Deluxe Tour which are all different prices and durations.
Depending on which tour you take, you can fly as far north as the George Washington Bridge where you'll go past the Upper West Side, Hamilton Heights, Washington Heights and The Bronx. You can also go as far south as the Verrazano Bridge for the best views of Brooklyn Bridge and Brooklyn.
The three different New York helicopter tour types:
The New Yorker Tour
Flight time: 12-15 minutes
Price: From $199
Sights you'll see on the New Yorker Tour include: Statue of Liberty, Ellis Island, One World Trade Center, Chrysler Building, Empire State Building, Chelsea Piers, Times Square, The Intrepid Sea Air and Space Museum, and Central Park.
The Ultimate Tour
Flight time: From $249
Price: 17-20 minutes
Sights you'll see on the Ultimate Tour include: Statue of Liberty, Ellis Island, One World Trade Center, Chrysler Building, Empire State Building, Chelsea Piers, Times Square, The Intrepid Sea Air and Space Museum, and Central Park. In addition you'll see Columbia University, Grant's Tomb, Yankee Stadium (not on game days), the Palisades, George Washington Bridge and the Northern tip of Manhattan.
The Deluxe Tour
Flight time: 25-30 minutes
Price: From $339
Sights you'll see on the Deluxe Tour include:  Statue of Liberty, Ellis Island, One World Trade Center, Chrysler Building, Empire State Building, Chelsea Piers, Times Square, The Intrepid Sea Air and Space Museum, and Central Park. In addition you'll see Columbia University, Grant's Tomb, Yankee Stadium (not on game days), the Palisades, George Washington Bridge and the Northern tip of Manhattan. You'll also get to see the Verrazzano Bridge and Brooklyn. 
Nicky and I went on the New Yorker Tour and from the moment we arrived at the heliport it was just FABULOUS.
Staff were professional and welcoming. Directing us with the serious stuff we needed to do at the heliport, but also having some friendly banter with us. Lots of fuss made over our English accents – as happens everywhere in New York!
There were 6 of us in our particular helicopter – Nicky and I, then a French couple and an Italian couple. Once booking confirmation was checked, we all had to be weighed at the heliport and were told where to sit on the helicopter due to the safe weight distribution of us all. I sat in the back left hand side, and Nicky got to sit up the front with dishy pilot Aiden! She was totally living her best life. You can request to sit next to the pilot, but it's all down to weight distribution and the final decision is down to HeliNY.
We were given life jackets to tie around our waists, lockers to stash our bags (you're only allowed cameras/phones and sunglasses onboard) and shown a safety video, before being led out to the departure point on the pier by our own guide and told where to stand safely ready for our scheduled departure time. As you can imagine with several helicopters taking off and landing all around us, it was not only exciting, but pretty windy too!
Photos were taken in our individual pairs next to the helicopter that we could buy afterwards, and once we were inside the chopper we were allowed to take our own pictures. 
Helicopter ride gave us breathtaking views of Manhattan
Once we were strapped in and given a few instructions through our headsets by pilot Aiden, off we went!
First we flew over New York Harbor out to Liberty Island and got the most AMAZING view of the Statue of Liberty. It felt like it couldn't get any better and we'd only just taken off. Our flight was at 4pm and the weather conditions were perfectly clear and bright. We couldn't have been luckier.
The route that the pilot takes means you double back on yourself so that whichever side of the helicopter you're sitting on, you get the full view of the Statue of Liberty through the floor to ceiling glass windows. And it's stunning! 
Looking back at the Manhattan skyline with the Statue of Liberty in the foreground is something I'll never forget. It was like a scene from a movie. There couldn't have been a better way to see the spectacular views of the famous landmarks.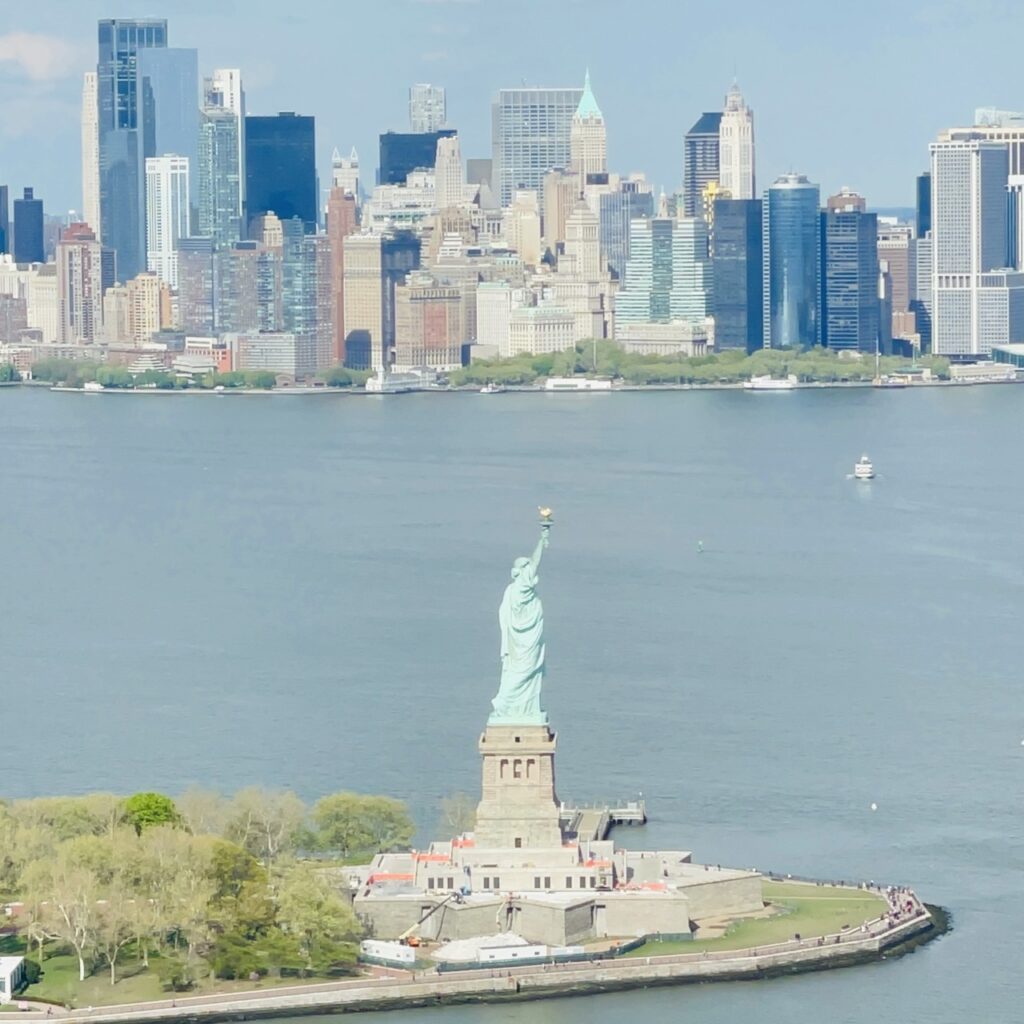 We then headed north up the Hudson River with Manhattan out to the right of the helicopter, so I was looking out over the Italian couple next to me. But it was fine, as I knew we'd turn around and then I'd have the closest view on the way back.
Although his main priority was flying and keeping us safe, so a full commentary isn't part of the deal, Aiden the pilot was excellent and continuously pointed out the main sights of New York for us the whole way.
We've all seen hundreds of images of the Manhattan skyline, and during your stay you'll no doubt go up at least a couple of the skyscrapers to get a great look of it all. But the views from this helicopter tour over New York were just breathtaking.
So special to have bird's eye view of famous landmarks
It felt so incredibly special to be able to see tourist attractions such as the Empire State Building, Central Park, the Chrysler Building and the Freedom Tower from the air. You could obviously pick them out easily. But it was also brilliant to see the not so well known ones that Aiden was pointing out to us. Like Battery Park, South Street Seaport, the financial district, views of lower Manhattan, and The Edge (the highest outdoor sky deck in the Western Hemisphere with a glass floor 100 stories up!) where we visited after our helicopter flight.
Although the helicopter's route was up the river and back, and not over the buildings itself, it didn't matter. The skyline view was what it was all about. And it was a great way to to take in the breathtaking views and get a whole new perspective of the main attractions.
This sort of treat might not be in everyone's budget, but if you are looking for a perfect gift for a special occasion or something extra special and indulgent to do in New York, I can't think of many better things that would even come close. I'm lucky enough to have been to New York three times now, and this is by far, the most fantastic, memorable experience I've had there. I mean, seriously – a helicopter tour over New York City!!
So get it on your NYC to-do-list!
Helicopter tour over New York: what you need to know
The helicopter flies between 1500 ft and 2000 ft during the tour. 
Due to airspace restrictions around the Statue of Liberty the closest the helicopter can fly to Liberty Island is half a mile. But believe me, when you're up there, it feels so close. 
The City of New York has strict regulations on the Helicopter Tourism Industry so they are not allowed to fly over any part of the actual city – hence why the helicopters fly above the Hudson River and New York Harbor. 
The Bell 407 helicopters seat 6 passengers with one pilot. There is a seat in the front next to the pilot that you can request but it is done on weight distribution so there's no guarantee. In the cabin behind the pilot there are then 2 seats facing backwards and 3 seats facing forwards.
All flights are usually fully booked with all 6 people, so you will be in the helicopter with people you don't know. You can book a private tour for just your party, but obviously this costs more.
Flights are weather dependent as you'd expect. If there is bad weather such as heavy rain or strong winds and the flight has to be cancelled, HeliNY will reschedule it if they can. So it is a good idea to book your helicopter tour early on in your trip in case it is rescheduled and you don't run out of time. If they can't reschedule it, you'll get a full refund if booked through HeliNY.
Children aged 2 and over are full price as they must have their own seat due to regulations. Under 2s must sit on an adult's lap and are free of charge.
The weight limit is 275 lbs per passenger. Passengers who are more than or close to this, may have to wait for a flight that can safely accommodate their weight taking into consideration the weight of other passengers. 
Those with mobility issues or wheelchair users can do the tour if they can be transferred into the helicopter and sit with their legs bent. Staff can assist passengers under 150 lbs into the helicopter and bring your wheelchair to and from the heliport. For passengers over 150lbs you must be able to transfer into the helicopter on your own or have someone with you to help.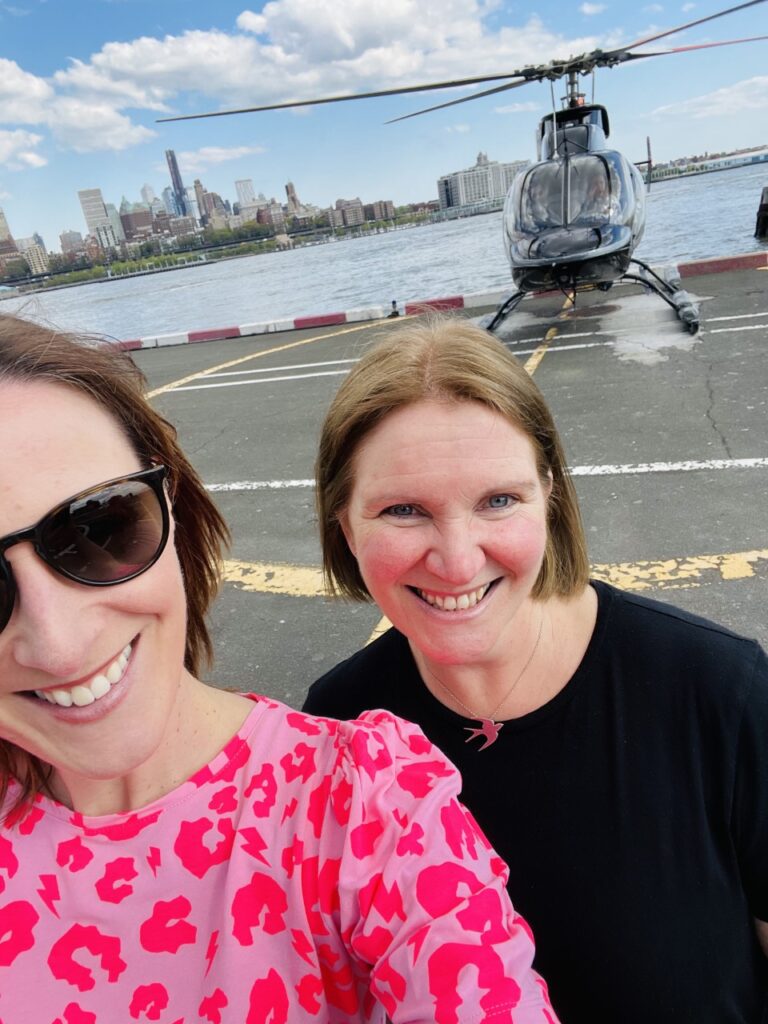 How did I do?
Did you enjoy this post? If so, you'll love this 37 Best Things To Do In New York With Kids one. Why not hang around and read a few more whilst you're here? If you want to read some more of my usual kind of stuff, head over to my Mum Life section. You'll find all things parenting with a tongue-in-cheek twist. Or if you want some days out and UK family holiday inspiration, click on the Travel section.
If you like a bit of social media madness, pop over to my Facebook page where you'll be able to have a laugh at what ridiculousness goes on in my house with three very small boys on a daily basis. Warning – there is often sarcasm, and usually swearing. There are also great travel reviews and some AWESOME giveaways. Feel free to join my Twins, Tantrums and Cold Coffee – Shits and Giggles Parenting Group too, where everyone shares their hilarious stories.
If you like what you see, how about you check me out on Pinterest, Instagram and Twitter too.
And if you want to work with me, feel free to give me a shout here or at helen@twinstantrumsandcoldcoffee.com and I'll get back to you.