If you are heading to Devon for your summer holidays, there are certainly plenty of things to keep you all occupied during your visit. We have some of the most beautiful beaches in the UK as well as plenty of outdoorsy things to do with the kids. I say 'we', as I'm lucky enough to call this fabulous county my home, and the best family days out in Devon are right here on our doorstep.
From National Trust properties to rugged coastline or sandy beaches – in Devon you really are spoilt for choice with some of the best family days out. So here are just a few for you to check out.
Best family days out in Devon your kid will love
Combe Martin Wildlife and Dinosaur Park
Combe Martin, Ilfracombe EX34 0NG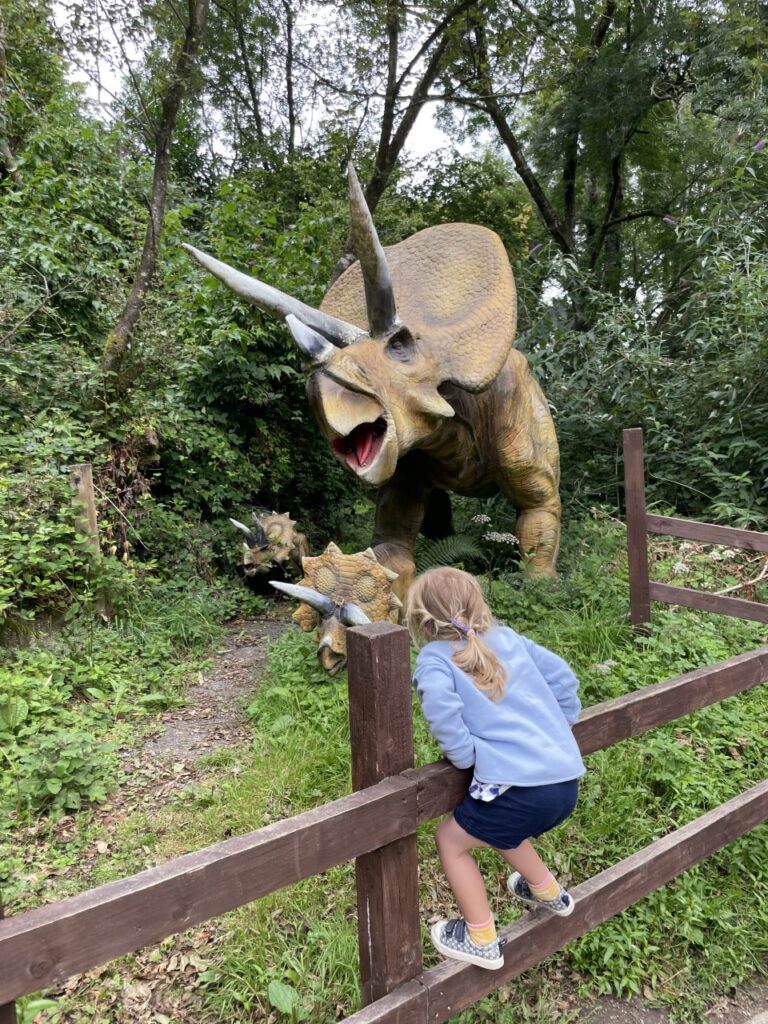 Combe Martin is a family-run wildlife and dinosaur park set in 28 acres of gardens within the North Devon Area of Outstanding Beauty. You'll enjoy daily talks and encounters. There's indoor soft play, a dino express train ride, critter cavern, dinosaur museum and cinema. There are also a huge array of animals to see including lions, wolves, monkeys, meerkats, sea lions and penguins. They also have impressive life size animatronic dinosaurs – perfect for all of those dino fans. We've been a couple of times an the boys LOVE it.
Prices: Adults £15.99; child (3-15 years) £14.99; under 3s free.
Opening times: Monday to Sunday 10.00am – 5.00pm (last admission at 3pm)
The Donkey Sanctuary
Slade House Farm, Sidmouth EX10 0NU
The Donkey Sanctuary in Sidmouth relies entirely on donations and legacy gifts so that they can provide the best lives for the donkeys and continue to improve the lives of donkeys and mules around the world. The gift shop and indoor attractions are all open, as well as walkways around the sanctuary providing plenty of opportunities to interact with the resident donkeys.
Free admission
Open daily from 9.00am – 5.00pm (last entry 4.00pm)
Clovelly Village
Clovelly, Bideford EX39 5TL
Clovelly is a beautiful fishing village steeped in maritime history and was once owned by the Queen. The private village has a selection of shops, galleries and museums. There are arts and crafts workshops and fishing trips. Your entry fee also goes towards tree planting and conservation initiatives that you can see around the village and also the maintenance of the village itself. Just be prepared for how steep Clovelly is – especially when you're dragging/carrying/bribing kids back up the cobbled hill. It's pretty hard-going and I wouldn't advise taking a buggy.
Prices: Adults £8.25; child (7-16 years) £4.80; young child (under 7) free; family of four £22.25.
Crealy Theme Park and Resort
Sidmouth Road, Clyst St Mary, Exeter EX5 1DR
Crealy Theme Park & Resort is the largest theme park in Devon and boasts over 60 rides and attractions. With spectacular entertainment, live shows and animals galore. This resort also offers a range of accommodation including five star luxury hot tub lodges and themed glamping tents. There are is loads to do for the kids, however big or small they are. Check opening times before you visit to avoid disappointment as these can change seasonally.
General admission is £18; children under 92cm tall free.
Pennywell Farm
Lower Dean, Buckfastleigh TQ11 0LT
Pennywell Farm is in South Devon near the town of Buckfastleigh with views over Dartmoor National Park. You can join in with farm activities like goat milking, ferret racing, deer feeding, egg collecting and much more. One of Pennywell's most popular activities is cuddling with the world-famous Pennywell Miniature Pigs. You can't go to South Devon without visiting Pennywell, especially if you have children. I had an annual pass for years before all my boys started school and have SUCH fond memories of days out there with my mum mates. It's just lovely.
Adults £15.95; children (3-15 years) £12.95; senior (65 +) £14.95; infant (0-2 years) free. Open daily from April to November
The Big Sheep
Abbotsham Road, Abbotsham, Bideford EX39 5AP
The Big Sheep is an amusement farm park set in 40 acres of landscaped parkland which previously was a busy sheep farm owned by six generations of the same family. There are thrill rides as well as animals and hilarious live shows and an epic indoor play area.
Full admission: Adults £14.95; children £14.95; children (under 3 ft) £6.00;babies £2.00.
Opening days and times vary depending on time of year.
The Milky Way Adventure Park
The Milky Way Adventure Park, Bideford EX39 5RY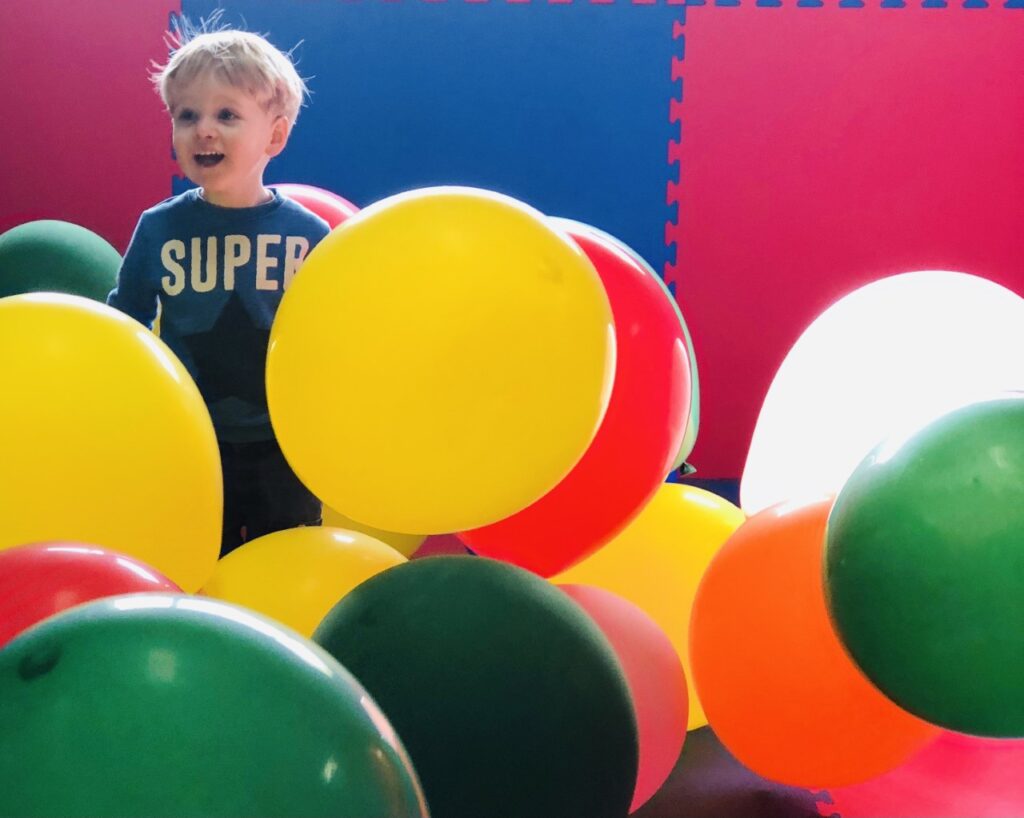 The Milky Way Adventure Park is one of the 10 best theme parks in the UK. There's plenty to do for adventurers including a gravity rider donut slide, cyber scooters, dodgems and blast quest. There's also a maze, Birds of prey displays, and the Milky Way Railway. We went there when my eldest was a toddler and he had a whale of a time. I can't wait to go back now the boys are older and can do more.
Prices: Adults £16.95; children (4-15 years) £16.95; children (1-3 years) £7.95
Opening days and times vary depending on time of year.
More family days out in Devon
Powderham Castle
Exeter EX6 8JQ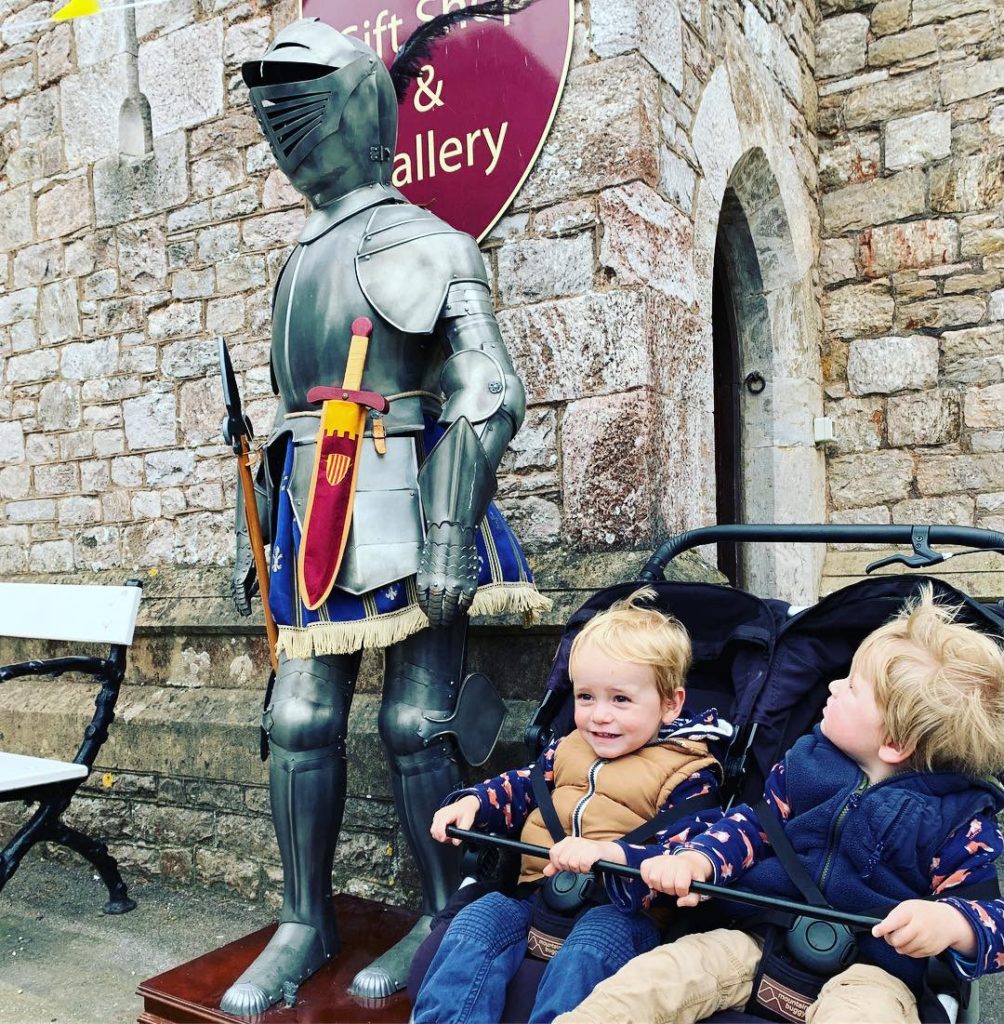 Powderham Castle is set with an ancient deer park beside the Exe estuary, just south of Exeter. Over 600 years of history can be discovered within the walls of one of Devon's oldest family homes. Little has changed inside the castle and there are lots of attractions in the grounds for visitors of all ages to enjoy including a Secret Garden Play area and Pet's Corner. The castle often puts on special events – we watched jousting there during a Medieval Madness day once – which was great fun.
Prices: Adults £12.95; senior £11.95; child (5-16 years) £10.95; under 5s free; family £39.95
Opening times: Castle 11.00am – 4.00pm; grounds and secret garden: 10.00am – 5.00pm
Exmoor Zoo
Twitchen Lane, South Stowford EX31 4SG
Exmoor Zoo has the only black leopard on exhibit in the UK and the zoo staff endeavour to instil the importance of looking after the environment and respect for the habitat of native and exotic animals. There are over 35 breeding programs to maintain the captive population of endangered species. During your visit you'll see a large variety of mammals including monkeys and wild cats and dogs, birds and reptiles.
Prices: Adults £15.95; child (3-15 years) £11.95; under 3s free.
Opening times: 9.00 am – 5.00 pm (last entry 4.00 pm)
Paignton Zoo
Totnes Road, Paignton TQ4 7EU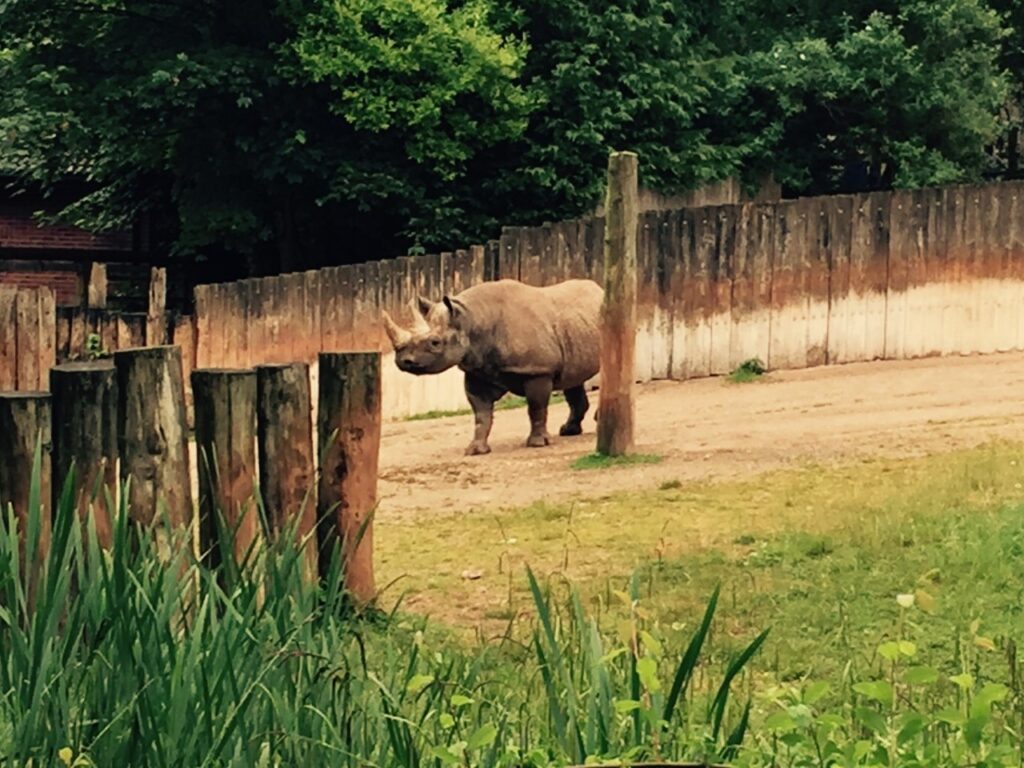 Talking of zoos, no list of family days out in Devon would be complete without mentioning Paignton Zoo. A favourite amongst basically anyone who lives within an hour's drive of it, Paignton Zoo is home to over 2,000 animals across 80 acres. It's a place to roam, discover and get in touch with your inner animal. Whether your favourites are the gorillas, orangutans, lions, rhinos, cheetahs, crocodiles or giraffes (or pretty much anything in between!), you are in for a treat here. With keeper talks, adventure playgrounds, soft play and nature trails, it really is a full day out.
Prices: Adults: £18.55; child £13.90; under 3s free.
Opening times: from 10am every day of the year apart from Christmas Day.
South Devon Railway
The Railway Station, Buckfastleigh TQ11 0DZ
The South Devon Railway recreates the golden days of travel between the 1930s and 1960s taking you on a trip on the traditional Great Western Railwaybranch line running from Buckfastleigh and Totnes Riverside. The railway often holds special events throughout the year too so do check out their timetable. And if you're in Devon around Christmas then you're in for a treat with the Polar Express at South Devon Railway. We did it last year and it is SO much fun.
Prices: Return tickets adult £16; child (3-15 years) £10; child (0-2 years) free; family £47; dogs £2.
Kents Cavern Prehistoric Caves
89 Ilsham Road, Torquay TQ1 2JF
Kents Cavern is one of the most important Stone Age sites in Europe and one of Britain's best show caves. On your visit you'll go back to a time when the cave was home to ancient humans. As you walk through the labyrinth of caverns, you'll be surrounded by 400 million year old rocks, stalagmites and stalactites. How to blow your children's minds on one of the best family days out in Devon, eh?
Prices: Adult, including seniors £14.00; child (2-15 years) £12; under 2s free.
Opening times: Open daily from 10.00am-5.00pm.
National Marine Aquarium
Rope Walk, Coxside, Plymouth PL4 0LF
The National Marine Aquarium is the UK's largest aquarium located in Plymouth. The aquarium is made up of four zones, with lots of different exhibits and animals found in each. The layout starts your journey in the local waters of Plymouth Sound, and as you move around the aquarium you journey around the world's ocean – ending up in the Great Barrier Reef. Sharks and 'Friday' the green turtle are my boys' favourites.
Standard prices: Adult £22.00; child £11.00; student £17.00, under 3s free. Once you pay, you can go as many times as you like in the following year.
Opening times: Daily 10.00am – 5.00pm (last entry 4.00pm)
Lydford Gorge
Lydford, near Tavistock, Devon, EX20 4BH
Discover ancient woodlands, waterfalls and fascinating rock formations carved out by the River Lyd. You can easily spend two hours exploring here but be warned some areas are steep and have big drops. Dogs on leads are also very welcome at Lydford Gorge. The Devil's Cauldron tea-room is open every day serving a range of drinks, light snacks and sweets. If National Trust Properties are your thing then Devon has some fabulous ones. Our particular favourites are Saltram, Buckland Abbey, Cotehele and Killerton.
Prices: Adult £8.50; child £4.25; family £21.25
Open daily 10.00am – 5.00pm
Woodlands Theme Park
Woodlands Leisure Park A3122, Totnes TQ9 7DQ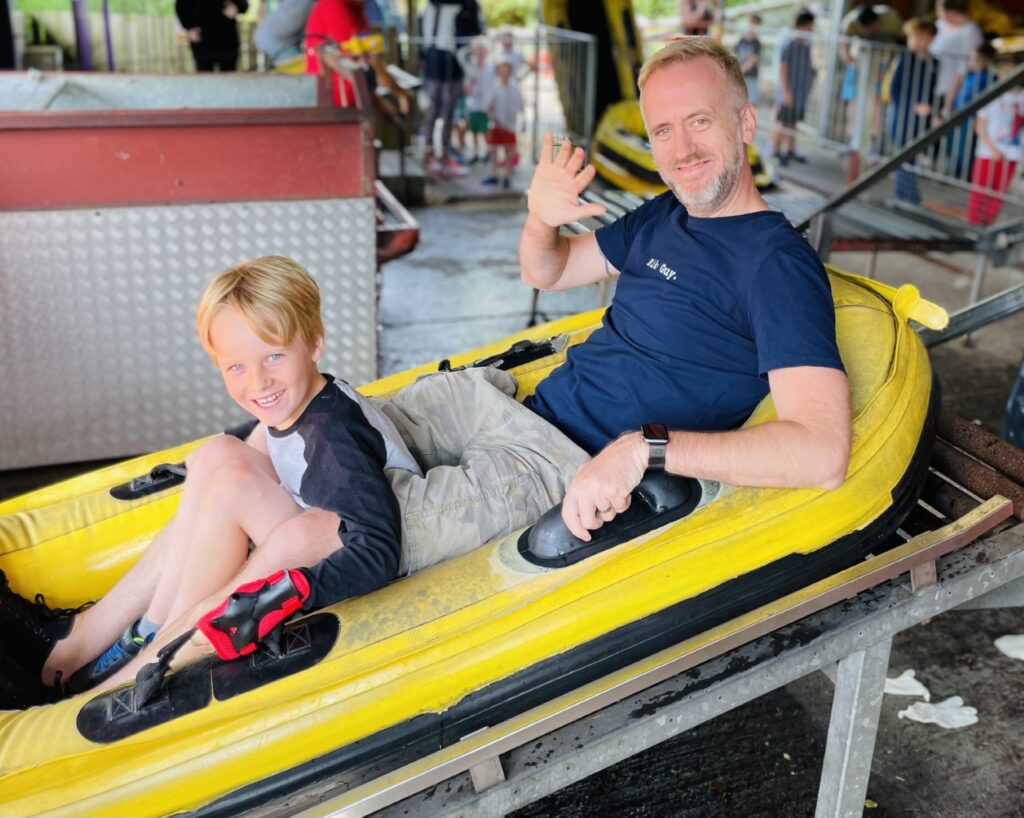 One of our absolute favourite family days out in Devon is a trip to Woodlands Theme Park near Totnes. We buy the annual pass we love it that much! My boys love the water slides, toboggan, assault course, indoor Master Blaster, the biggest soft play they've ever seen and the rides such as the pirate ship and Vertigo. There are pedaloes, bumper boats, a jumping pillow, SO many adventure play grounds and play areas, as well as dinosaurs, animals and a its very own campsite. There's so much there we never get it all done in a day, which is why we love going back time and time again.
Prices: Adult and child over 110cm from £10.45 to £21.51; child between 92cm to 110cm from £10.45 to £15.75 (depending on dates); under 92cm free.
Open 9.30am to 5.00pm, check online for dates.
Diggerland Devon
Verbeer Manor, Cullompton, Devon, EX15 2PE
We've just been to Diggerland Devon for the first time and we will CERTAINLY be back. It was absolutely awesome. It's where children and adults alike can ride, drive and operate real diggers, dumper trucks and other full-size construction machinery. There are a handful of theme-park-type rides, all made out of diggers that send you up 50ft in the air or whizz you around at speed. I'd literally never seen anything like it. And my twins loved operating the mini diggers to knock the skittles over and dig for buried treasure. Whilst my seven year old, who was tall enough to do everything by himself ended up driving a full-size JCB by himself around a track! There's also go-karts, a cafe, indoor soft play, and huge play area with giant slides and zip wires. Such a great day out.
Prices: Adults and children over 90cm: £25.95 (pre-booked), £32 on the day. Children under 90cm free. Over 65s: £12.97 (pre-booked), £16 on the day.
Open 10am to 5pm during summer holidays and weekends until end of October. 10am to 4pm October half term. Check online for dates.
There you have it some of the best family days out in Devon. You are literally spoilt for choice in this county! There are loads more places to go with kids. And if you want even more check out:
How did I do?
Did you enjoy this post? You might like some of my others whilst you're here. Keep an eye out for the latest Local Stuff here or the days out and holiday reviews in my Travel Section. And if you want to read some of my usual tongue-in-cheek parenting rants, head to my Mum Life section for a giggle.
If you like a bit of social media madness, pop over to my Facebook page where you'll be able to have a laugh at what ridiculousness goes on in my house with three very small boys on a daily basis. Warning – there is often sarcasm, and usually swearing. There are also great travel reviews and some AWESOME giveaways. Feel free to join my Twins, Tantrums and Cold Coffee – Shits and Giggles Parenting Group too, where everyone shares their hilarious stories.
If you like what you see, how about you check me out on Pinterest, Instagram and Twitter too.
And if you want to work with me, feel free to give me a shout here or at helen@twinstantrumsandcoldcoffee.com and I'll get back to you.