If your kids are big Peppa Pig fans and you want to give them a treat, head to the theme park in Hampshire for a great day out. Here are some brilliant places to stay near Peppa Pig World and Paultons Park.
Peppa Pig World is a large Peppa themed area which is set in Paultons Park. There are rides and attractions that are obviously, all themed around Peppa Pig and the characters. And the rest of the park is flipping awesome too! Read my review and how to make the best of your day out there here.
If Peppa Pig World is a bit too far for a day trip, you may want to think about staying in a hotel nearby. There is plenty of family-friendly accommodation that is just a short drive away to suit all budgets.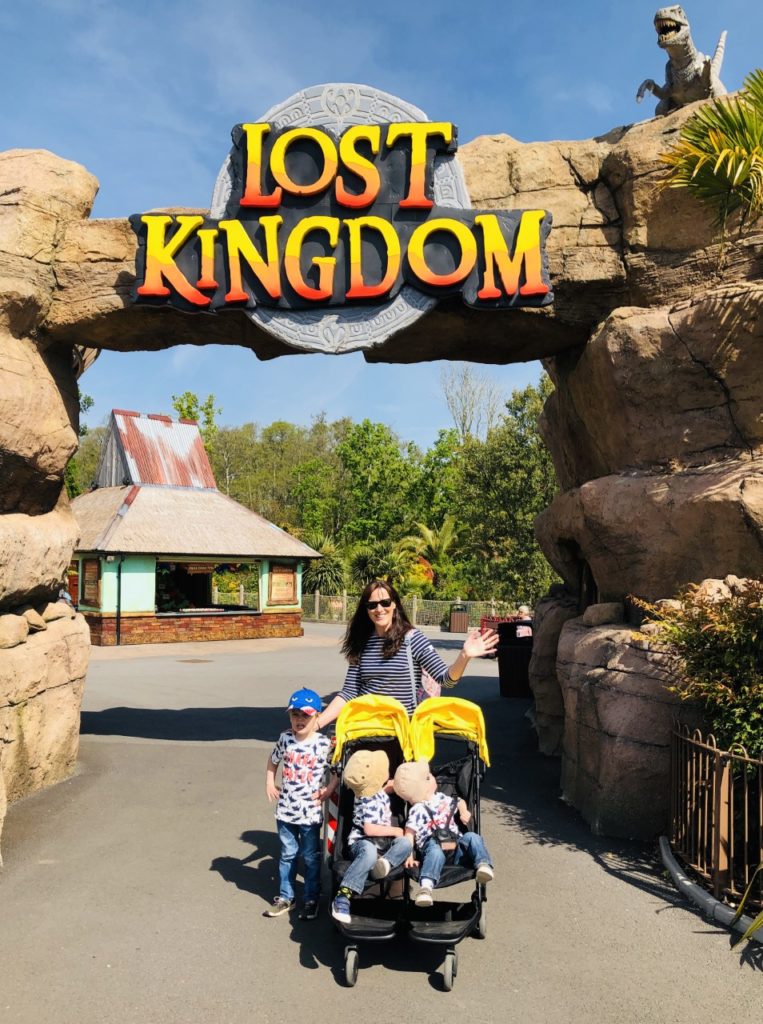 Hotels near Paultons Park and Peppa Pig World
Days Inn, Southampton
Roadchef Motorway Service Area, Southampton SO16 8AP
The Days Inn is a budget-friendly hotel which includes free parking, free Wi-Fi and comfortable en suite rooms. The double rooms are equipped with a sofa bed for the kids. Each bedroom also has a TV and tea and coffee making facilities. At the service area there are places to eat as well as a coffee shop. The hotel is also pet-friendly.
Premier Inn Southampton West
Romsey Road, Southampton, Ower, Romsey SO51 6ZJ
The Premier Inn is ideally located for Peppa Pig World being just a short distance away. There are lots of room options for families, from triple to quadruple rooms as well as family rooms and double rooms. Rooms are equipped with tea and coffee making facilities, a TV and free WiFi. There is limited free on-site parking available at this hotel. The hotel also has a Wacky Warehouse play area. The Premier Inn often books up fast due to its close distance to Paultons Park, so do get in there quickly.
Bartley Lodge Hotel
Lyndhurst Road, Cadnam, Southampton SO40 2NR
The Bartley Lodge Hotel has family rooms available with a double bed and bunk beds. There is an indoor pool that you can make use of and the grounds there are absolutely stunning. This hotel is often associated with weddings but being close to Paultons Park it also makes a great base to stay.
Woodlands Lodge Hotel
Bartley Road, Woodlands, Southampton SO40 7GN
The Woodlands Lodge Hotel is situated in the New Forest surrounded by beautiful gardens. There is free parking onsite and also free WiFi and a TV in your room. Their family suites have a bedroom and a living room area with a sofa bed. Cots are available on request. Rooms also come equipped with tea and coffee making facilities.
More places to stay near Paultons Park and Peppa Pig World
Best Western Chilworth Manor
Chilworth, Southampton SO16 7PT
The Best Western Chilworth Manor has free WiFi and free parking. Some of their rooms are suitable for a family of three, however connecting rooms are available if you are a bigger family. There is an on-site restaurant and an indoor swimming pool, however children are only allowed to use the pool during certain times so bear this in mind.
Novotel Southampton
1 West Quay Road, Southampton SO15 1RA
The Novotel Southampton has family rooms with a double bed and a sofa bed with cots available on request. Unfortunately there is no free parking at this hotel. Rooms have complimentary water bottles, a fridge, safe, tea and coffee facilities and a TV and free WiFi. There are double beds alongside sofa beds. There is also a heated swimming pool and a mini kids play area.
Potters Heron Hotel
Winchester Road, Romsey SO51 9ZF
The Potters Heron Hotel has double rooms, but there aren't actual family rooms, so if you are in a group of over four people you will need an extra room, children do stay for free though. Some rooms have an extra large double bed and others are twin rooms. Cots are also available on request. They have an on-site restaurant and bar with an outdoor area.
Forest Lodge Hotel
Pikes Hill, Lyndhurst SO43 7AS
The Forest Lodge Hotel has family rooms with a double bed and bunk beds and cots are available on request. There is free WiFi and car parking plus complimentary tea and coffee making facilities and an indoor swimming pool. It is just a short walk into the village of Lyndhurst where there are two pubs.
Stoney Cross Lyndhurst
Stoney Cross, Nr. Lyndhurst,, SO43 7GN
The Stoney Cross Lyndhurst hotel, close to the New Forest, is the perfect spot for visiting Peppa Pig World. All standard double rooms feature a comfy king size bed with four plump pillows and a cosy duvet. Guests can enjoy a variety of food and drink choices just a short drive away from the theme park.
Le Chateau
Newbridge Rd, Cadnam, Southampton SO40 2NX
Le Chateau is a family run bed and breakfast with a bistro. It is situated on the edge of the beautiful New Forest National Park. There are five boutique styled ensuite letting rooms which consist of one twin room and four doubles. There are tea, coffee and hot chocolate making facilities and some biscuits for you to enjoy too.
Self-catering places to stay near Paultons Park and Peppa Pig World
Kennel Farm
Kennel Farm, Southampton Road, Salisbury, SP5 3DG
There are three properties on offer at Kennel Farm. The Old Dairy which sleeps 4-6 people is set over two floors. The downstairs has an entrance hall and downstairs toilet and the lounge has a TV and DVD player. There is a well equipped kitchen and upstairs there are two double bedrooms with en-suite showers. The courtyard where the barns are situated has a few ride-on toys to use as well as a toddler activity frame and slide.
Sandy Balls
Southampton Road, Fordingbridge SP6 2JZ
Sandy Balls Resort is a self catering caravan and lodge resort in the New Forest. There are plenty of accommodation choices with multiple bedrooms to choose from; some of these luxury lodges even have hot tubs. There are lots of activities for kids and adults. You could even take part in an Alpaca walk, archery or paintballing. We stayed here the first time we went to Paultons Park and Peppa Pig World and it was brilliant. Read a review of our stay here.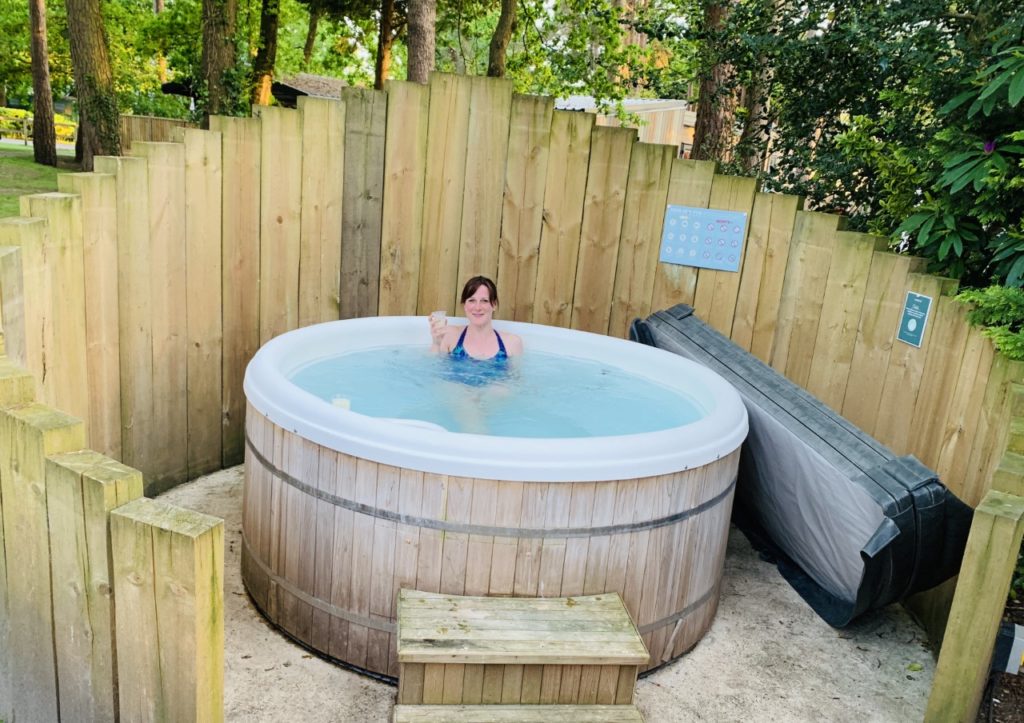 Campsites near Paultons Park and Peppa Pig World
Paultons Campsite
Paultons Campsite offers various glamping options as well as hard standings for caravans, motorhomes and camper vans. It has the bonus of being directly opposite the entrance to the theme park so is one of the best places near Paultons Park and Peppa Pig World. Grass pitches for tents all have 16amp electric hook-ups. There are toilets and shower facilities, a covered washing up area with running water, a freezer and free use of the campsite BBQs.
Ashurst Campsite
Lyndhurst Road, Ashurst SO40 7AR
The Ashurst campsite is open seasonally so it is best to check the website for opening times. It has a laundrette on-site, toilets and showers and battery charging facilities. The campsite is a short walk away from heathland with cycling and walking trails.
There you have it, some brilliant places to stay near Paultons Park and Peppa Pig World. Let me know where you decide to go, and have a great time!
How did I do?
Did you enjoy this post? You might like some of my other Travel posts. How about you have a read of How having a 'proper' holiday with three young children really is possible at Bluestone . Or How I survived camping with baby twins and a toddler.
If you like a bit of social media madness, pop over to my Facebook page where you'll be able to have a laugh at what ridiculousness goes on in my house with three very small boys on a daily basis. Warning – there is often sarcasm, and usually swearing. There are also great travel reviews and some AWESOME giveaways. Feel free to join my Twins, Tantrums and Cold Coffee – Shits and Giggles Parenting Group too, where everyone shares their hilarious stories.
If you like what you see, how about you check me out on Pinterest, Instagram and Twitter too.
And if you want to work with me, feel free to give me a shout here or at helen@twinstantrumsandcoldcoffee.com and I'll get back to you.